5 ways for pros to organize WordPress for efficiency
Get up to 30%* off! Get going with GoDaddy!
We've all probably heard it and maybe even live by it: Organization is the key to success. This applies to everything, from your business to your home, all the way to the websites you work on. Many web developers start off fresh and clean, and design an amazing, responsive website, but the backend — the WordPress admin dashboard — can be a huge mess with plugins, alerts, posts and more just cluttered everywhere.
This can be extremely annoying, counterproductive, and even stressful, having to navigate through irritating clutter whenever you visit the dashboard.
It may seem unavoidable, but it doesn't have to be. From my experience as a web developer and designer, and as someone with an often annoying tendency to ensure everything is correctly organized and in its place, there are certain strategies that have helped in organizing the dashboards of sites that I have designed and developed, making my WordPress life easier and satisfying.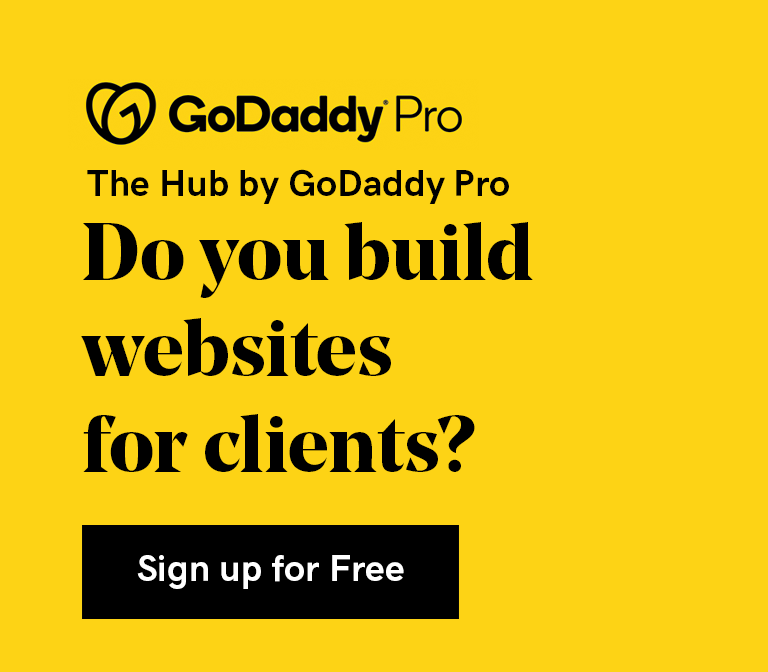 And here are five notable ones:
1. Organize the WordPress dashboard
Often neglected and underused, the dashboard is something we often always see but rarely ever use to our advantage. But I don't blame you, there's just an overload of unnecessary information there, from upcoming WordPress events to unneeded "overviews" of published posts, articles, and even notifications.
How can we make the dashboard useful so when we log in, we see information that can provide us important insight?
How do you declutter your dashboard and remove what you don't want? Why bother seeing the same information and widgets whenever you log in that you don't ever use? The easiest way to do that is a tiny button at the top of your dashboard labeled Screen Options.
Clicking this brings down a dropdown menu of screen elements, or these dashboard widgets, that you can hide or show with a click of a button. You don't want to see the Site Health Status or the Welcome Message? You don't need to, just uncheck those boxes and declutter your dashboard.

A quick plugin I'll mention here is Dashboard Widgets Suite that includes a bunch of awesome widgets you can add to your dashboard to help with a variety of tasks, from displaying system info and error logs (as well as resetting error logs), to adding notes for users and displaying RSS feeds.
I love using it for the system information since it shows me everything about the server, the WordPress application, database, PHP, and security and gives me a wonderful overview just from the dashboard itself. No more cluttering, now we're adding useful stuff to our dashboard!
2. Organize the WordPress admin menu
Another area that you can organize and minimalize is the admin menu, the black horizontal menu in WordPress backends. It can often get cluttered with items as you download different plugins and use different themes, and that can get very confusing.
Some plugins end up going under Settings, others have their own main menu entry, some are under Appearance. It can be a nightmare finding the right settings for plugins you just installed! However, there's an extremely handy plugin that can come to our rescue here.
Admin Menu Editor does exactly what its name suggests: edits the admin menu and lets you customize it as much as you want.
You can change the ordering, change the name or the link, and even create submenus. You can also group different menu items together, like grouping together all plugin menu items, or all theme related menu items, etc.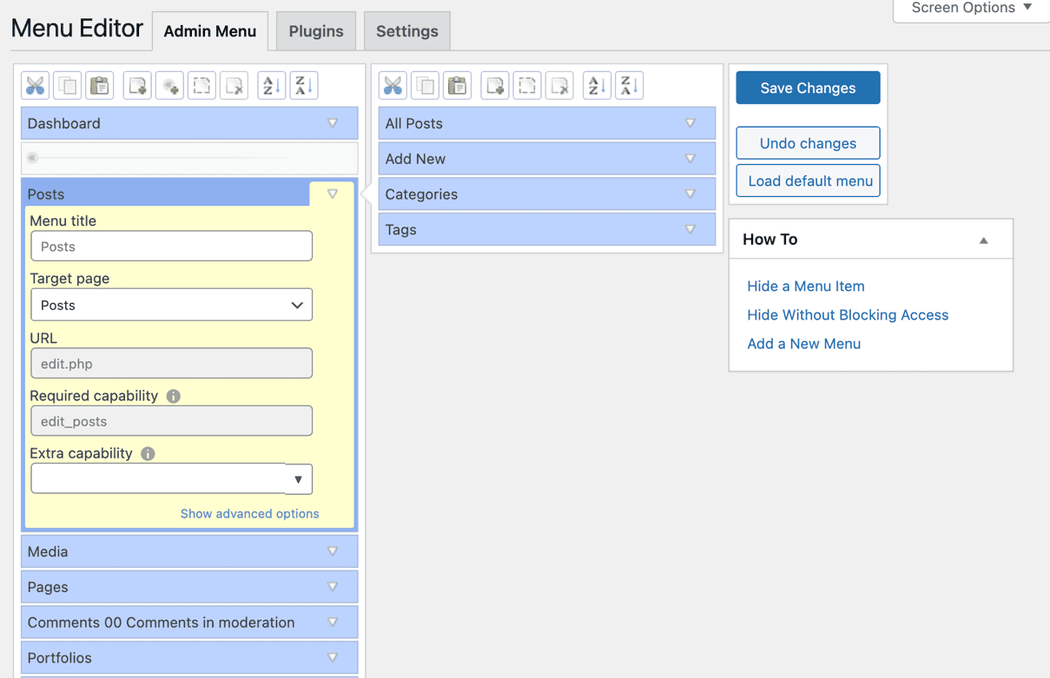 You can also completely remove menu items you never use. On top of that, you can also set role-based menus for different users, make menus open in new tabs, make them available for specific users only, and more.
You can customize your heart out and organize the admin menu to have a cleaner and more efficient website backend, one that works for you!
3. Get the most from folders
The concept of folders, in my opinion, is the simplest yet one of the most powerful and time-saving inventions ever. From actual physical folders to organize files and documents on your desk to folders on your desktop (and folders inside those folders inside those folders), I don't think anyone can imagine how life would be without folders.
Imagine having every single file on your computer scattered all over your desktop, without any structure, hierarchy, or association, and no folders.
You wouldn't even want to touch that computer.
Unfortunately, though, this is how it feels whenever I go to WordPress' media or posts and pages sections. Every single image that I uploaded, every post or page just displayed out there in a grid or list, sorted by the date uploaded, but no smart structure or association. Wouldn't it be cool if you could organize them into folders so you can find them easier later?
Well, there's good news; you can! Folders is an amazing plugin that, as its to-the-point name suggests, helps you organize your images, posts, pages, and more into folders. You can activate folders for anything, from media to posts, pages, portfolio items, menu items, anything.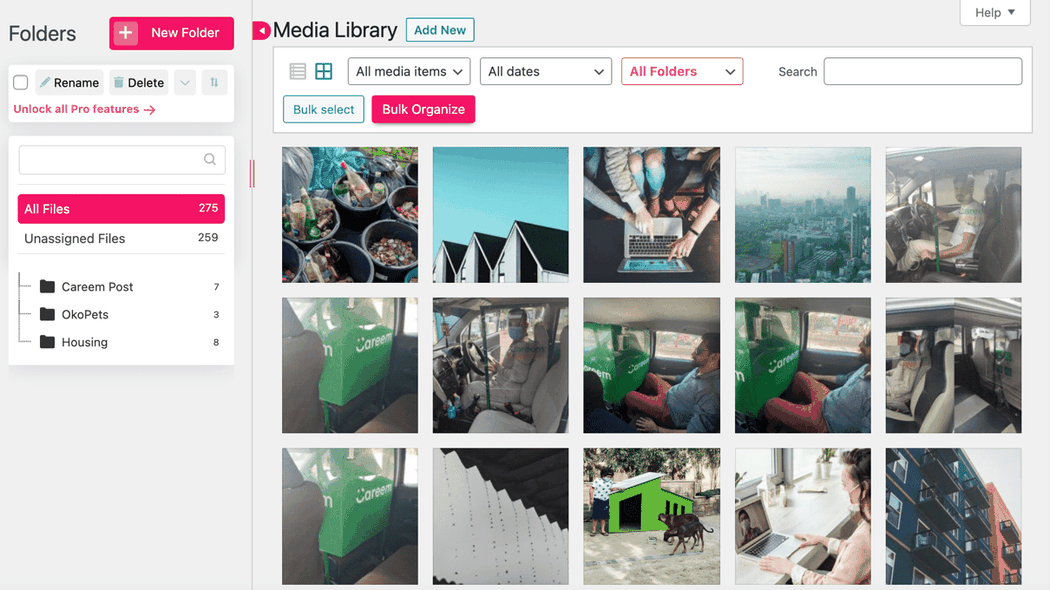 And within them, you can put an image/post in multiple folders, make special folders by starring them, name them whatever you wish, and organize your website like never before. It gives you a whole new dimension in helping organize your website, making it easier for you to navigate through the backend with less clutter.
4. Categorize & tag everything
Labeling your posts and content with categories and tags is another great way to not only have an organized site for your visitors, but it helps organize your WordPress backend as well. Whenever you create a blog post or any custom post/item, like products, items, courses etc., you can set both categories and tags to sort them out and help filter through them later.
There are two distinct tools here: categories, which are more for general grouping, and tags, which as the name suggests, help in tagging posts with certain keywords.
So for example, if I have a blog on cloud computing, I could use different categories to describe which cloud service I'm using, for example "Azure" or "AWS" or "Google Cloud," and the tags could be used more liberally describing what the blogs are talking about.
Tags could be about "cloud computing", "machine learning", "storage", or more. Most WordPress themes and blogs can sort posts according to categories and tags, which makes it easier for visitors to get what they want, and in the backend, you can also see which posts are in which categories or contain what tags.
You can then filter them out with a click of a button. So, if you want to review all the posts you have about "Azure" to add in a link you want, you can simply click "Azure" in the categories and get every post written about "Azure."
5. Sign up for The Hub by GoDaddy Pro
Saving the best for the last, the ultimate tool in organizing all your WordPress websites in one place: The Hub by GoDaddy Pro. Think of The Hub as a control center for all your WordPress sites. You can add sites hosted both on GoDaddy and other hosts/servers, login with your credentials, and manage important aspects of your sites all in one place.
The Hub is an amazing way to organize all your websites in one place, instead of you worrying about tracking login details for every WordPress site you have, and allows you to bulk update plugins, set up and perform periodic security and performance checks, set up alerts for any performance or security related issues, and even allows you to back up your sites.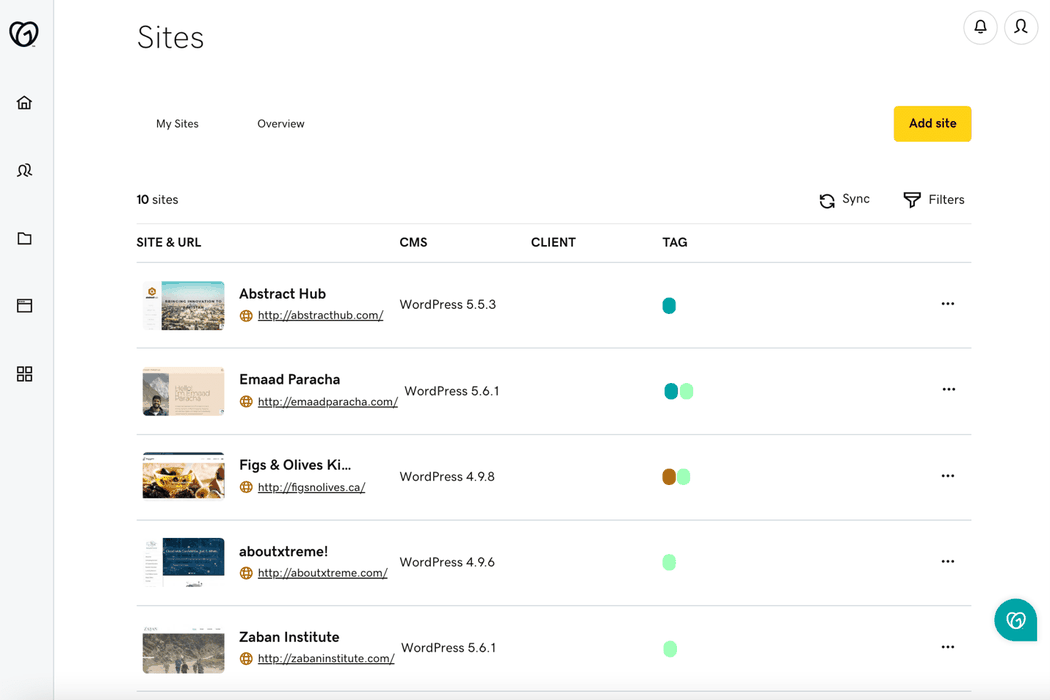 And my personal favorite, it allows you to manage your GoDaddy clients and attach sites and projects to them, allowing you to organize a list of your clients and the sites you've made for them, as well as letting you login directly to your client's GoDaddy backend (given you have the right delegated permissions), and create "Projects" within the Hub, keeping your progress and work-to-do organized and in check.
The Hub truly takes WordPress management to a whole new level.
You can also do other periodic cleanups, such as going to your website occasionally to delete unneeded pages or posts, or deactivating old plugins once every month or two months, but just organizing the dashboard, menu, media, and posts as described above, and using The Hub to organize all the WordPress sites you manage, can help immensely in decluttering and organizing your website(s), making working in them a pleasure rather than a chore, having to navigate through rubble.
---
More time = happier clients
When you use the Hub by GoDaddy Pro, suddenly there's more time in your day to focus on what matters most. Forget about juggling admin tasks. Reclaim your time and use it to make clients feel like the center of your universe.
Accion Business Loans: 2022 Review
Our Take
The bottom line: Accion loans are a good option for borrowers who've been in business for three months or more and have been turned down by other lenders.
Pros and Cons
Pros
A broad range of loan amounts from $5,000 to $100,000.

Loans are available to businesses in operation for as little as three months.

Expanded credit guidelines for borrowers.
Cons
It can't be used to get a business off the ground.

Shorter loan repayment periods of one to five years.

Slow processing speed compared to online lenders.

Not available in all U.S. states.
Full Review
Accion Opportunity Fund is a nonprofit community lender offering customized loans to small business owners throughout most of the U.S.
Over 80% of Accion clients identify as women, people of color or immigrants. In addition to small business loans, educational resources and coaching support in English and Spanish are also provided.
Accion is best for borrowers who:
Prefer customized options. Loan terms are structured based on your business needs.

Don't have perfect credit. Factors other than your credit score can be used to determine qualification.

Have new businesses and can't get funding elsewhere. Businesses only need to be in operation for three months to apply.
Accion loan features
5.99% to 14.99% for Small Business Progress loans.

4% subsidized rate for Southern Opportunity And Resilience, or SOAR, loans for businesses located in certain southern states.

12, 24, 36 or 60 months.
(No penalty for repaying early.)

5-7 days for loan application to be processed.
Where Accion stands out
Expanded credit guidelines for borrowers
Accion says that most of its borrowers have not been able to get loans with traditional lenders because they have poor credit, no credit history or require a small loan amount. Accion can use more than a borrower's credit score to determine qualification for a business loan.
Customized loan terms
Accion can structure a loan to meet your specific business needs. After submitting an application, you may be able to choose from several loan options with different term lengths, interest rates and payment amounts. In addition, if Accion can't provide a loan, it will refer you to one of its partners or provide other financing options for you to explore.
Additional services offered
Accion does more to help small businesses than just offering loans. Business coaching and mentoring are also available. You can set up an appointment for one-on-one assistance provided by a business expert. Your coach can also help you enroll in training programs to enhance your leadership skills. In addition, its resource center offers videos, articles, and interactive learning materials.
Where Accion falls short
Funds can't be used to start a business
Accion loans are designed to support existing small business owners. But, again, your business must be in operation for a minimum of three months to qualify for an Accion loan. That means you won't be able to use loan funds to start a business.
Loan programs aren't available in all U.S. states
Accion loans are available in most U.S. states, but you won't be eligible if your business is located in Montana, North Dakota, South Dakota, Tennessee or Vermont. Also, Southern Opportunity and Resilience (SOAR) funding is limited to businesses located in Alabama, Arkansas, Delaware, Florida, Georgia, Louisiana, Maryland, Mississippi, North Carolina, Oklahoma, South Carolina, Texas, Virginia, or Washington, D.C.
Accion loan requirements
Credit score: No minimum required.

Time in business: Minimum of 3 months in business.

Annual revenue: Varies depending on the loan program.
How to apply for a loan from Accion
After completing an application online, you'll receive a quote. Accion says that the quote won't affect your credit score. You will need to provide some basic information about your business, including revenue and expenses. Accion will then review your loan options with you, including interest rates, repayment amounts and the repayment period. If there are no options that work for you, Accion can refer you to other resources.
If you decide to move forward with the loan offer, you'll be asked to provide documents that Accion can use to verify the information you provided on your application. After that, your loan will be finalized; you'll sign loan documents and then receive funds.
Alternatives to Accion
SBA loan
An SBA loan is another option to consider. These loans are offered through banks but partially guaranteed by the Small Business Administration. This can make it easier to qualify because the lender takes on less risk. In addition, funds from an SBA loan can be used to start a business. This differs from an Accion loan, which requires your business to operate for a minimum of three months to qualify. SBA loans also offer flexibility when a borrower has less-than-perfect credit.
Kiva U.S.
Kiva is another nonprofit that is an option to ponder. You can get up to $15,000 at 0% interest if you qualify. Kiva loans don't require a minimum credit score or collateral. Still, there are other eligibility requirements, such as the business must be based in the U.S. and you can't currently be in foreclosure, bankruptcy or under any liens. One unique Kiva provision is that borrowers are asked to demonstrate their strength of character by having friends and family make loans to them.
Compare business loans
If you'd like to compare loan options, NerdWallet has a list of best small-business loans. All of our recommendations are based on the lender's market scope and track record, the needs of business owners, rates, and other factors so that you can make the right financing decision.
13 Best Credit Card Readers for Small Businesses
A credit card reader is essential to many small businesses, and choosing the right card reader can help your company operate more smoothly.
The best choice depends on your budget, features needed and whether you're accepting payments at a counter or on the go. Some card readers — such as those that work with iPhones — are portable, while others are attached to a countertop register. A basic card reader without a screen is the cheapest option, and sometimes free. A comprehensive POS system, on the other hand, comes with sophisticated features and can cost over a thousand dollars.
Below is a list of the best credit card readers for small businesses and what they can do for your business.
Quick comparison: Take a quick side-by-side look at our top picks in this table.
Accept payments without worry
See our payment provider recommendations that fit your business.
Square Contactless and Chip reader
Best free option with basic functions
Style: Connects to compatible phone or tablet via Bluetooth.
Price: $49 for reader and $29 for optional dock.
Fees: 2.6% plus 10 cents for most in-person transactions; no monthly fees.
Square's contactless and chip card reader enables you to accept credit cards with chips and digital wallets, such as tap-and-pay credit cards and smartphone apps, including Apple Pay, Google Pay and Samsung Pay. It uses Bluetooth technology instead of connecting directly to a device, which means you don't have to keep your cell phone or tablet out with you all the time.
The reader must be charged, but the charging dock can double as a support for the reader for a counter or table. You can also charge it with a USB charger.
| | |
| --- | --- |
| | Doesn't swipe credit cards. |
| Reads chip cards, digital wallets and contactless cards. | Takes up to two hours to charge. |
Best for on-the-go payments for all card types
Style: Connects to compatible phone or tablet via Bluetooth.
Price: $99 for reader.
Fees: Varies from 2.3% plus 10 cents up to 3.5% plus 10 cents depending on method.
This credit card reader by Clover works with phones and tablets via Bluetooth. It also processes every type of credit card payment your customers could want: magstripe-only cards, chip cards and contactless payments. It costs $99 and requires users to purchase a monthly plan.
Features depend on the plan you choose. The Essentials Plan for $9.95 per month provides basic payment processing, inventory management, taxes, reporting and employee management with 24/7 support.
| | |
| --- | --- |
| Includes interest-free installment plans. | Takes about 2 hours and 20 minutes to charge. |
| Charges via standard USB charger. | Requires a monthly fee for advanced POS features. |
| Uses passcodes for employees. | |
Best for PayPal and Venmo payment options
Style: Connects to compatible phone or tablet via Bluetooth.
Price: $79 for reader; new customers can get their first one for $29.
Fees: Varies by method, starting at 1.9% plus 10 cents for PayPal and Venmo QR code transactions over $10.
PayPal's Zettle accepts chip and contactless payments, but it doesn't read magstripes. It does, however, let customers pay with QR codes on PayPal and Venmo platforms. Its POS software offers invoice creation, inventory management, tracking sales performance and more.
Transaction fees generally fall in line with competitors with lower rates available for transactions made by QR code. All funds go into your PayPal account rather than a bank account. You'll need to request a transfer to move the funds to your business bank account before you can use them outside of PayPal.
| | |
| --- | --- |
| Has lower rates for PayPal and Venmo platforms. | Deposits funds into your PayPal account, not a bank account. |
| Includes new customer discount for first reader purchase. | |
| Has a screen to show transaction details. | |
Best for a low-cost do-it-all reader
Style: Connects to compatible phone or tablet via Bluetooth.
Price: $19 for reader.
Fees: Varies from 2.75% and up depending on method.
Powerful and compact, the SumUp Plus credit card reader works through Bluetooth with Apple and Android devices and promises more than 500 transactions on one charge. In addition to having a screen to show transaction details, the reader comes with a few helpful POS software features, like inventory management and permissions for employee access, as well as customizable invoicing. However, you might find that the overall POS is lacking when compared with the more robust options on the market.
SumUp charges only for transactions and doesn't require a monthly fee. You can order the reader for $19 and start accepting card transactions in a matter of minutes once it's connected to the SumUp app.
| | |
| --- | --- |
| Accepts swiped, inserted and contactless payments. | Has less robust POS software features. |
| Has a screen that displays transaction details. | |
Best for an all-in-one handheld system
Style: Standalone handheld reader.
Price: $499 for reader; monthly contract required.
Fees: Varies from 2.3% plus 10 cents up to 3.5% plus 10 cents depending on monthly plan.
The Clover Flex is a small but powerful handheld credit card reader. It can process all three credit card payment types, scan bar codes and even print receipts. It's one of the few options in this category that has its own screen, removing your personal device from the equation and allowing customers a bit more of a professional experience when checking out on the spot.
Depending on your monthly plan, the Clover Flex can help you manage inventory, view sales data and set up individual logins for employees. It costs $499, but the company offers payment plans to break up the cost. Payment processing rates depend on your pricing plan.
| | |
| --- | --- |
| Works without connecting to a personal device. | Requires an initial investment. |
| Has payment plans available. | Requires monthly plan for advanced features. |
| Has a free monthly plan for basic features. | |
Best for low-cost transaction fees with volume-based discounts
Style: Connects via Bluetooth.
Price: $109 for the reader.
Fees: Varies by card type and monthly average transaction total.
Helcim's card reader processes all three types of payments and connects via Bluetooth, meaning it needs to be charged. It also provides POS software with well-developed features, including customer management and inventory tracking that notifies you when your supply gets low. A standout feature is its self-service portal, which allows customers to log in to see their payment information and purchase history.
Helcim's processing fees can be difficult to calculate because it bases its fees on the type of card and interchange fees, which are set by card networks. It also offers volume-based discounts based on transaction tiers. The more you average in transactions per month, the higher your discount. The processor doesn't require you to sign a contract, choose a monthly fee or pay to cancel your service.
| | |
| --- | --- |
| Has volume discounts available. | Might change processing rate if monthly transaction average drops. |
| Has robust POS software features. | Might be difficult to calculate monthly cost in advance. |
Best for tableside payments at restaurants
Style: Standalone handheld reader.
Price: $389 plus $50 per month.
Fees: Typically quote-based; lowest listed price is 2.49% plus 15 cents per in-person transaction in Standard Starter plan.
The Toast Go 2 allows you to submit orders at tables and accept all three styles of payment. It's also spill proof, will hold a charge for 24 hours and has a 6.4-inch touchscreen for quick checkout. The free version of Toast's POS software comes with basic features, including point-of-sale and payment processing, but advanced features are available with paid plans.
The free pay-as-you-go monthly plan with basic features has a processing rate of 2.99% plus 15 cents for every in-person transaction. That rate drops to 2.49% plus 15 cents if you pay for your hardware upfront. Other plans come with quote-based pricing. One downside: The company requires contracts with a standard term of two years.
| | |
| --- | --- |
| Is designed specifically for restaurants. | Requires quotes for advanced monthly plans. |
| Offers 24/7 customer support. | |
| Is versatile and durable. | |
Best compact countertop reader
Style: Standalone countertop reader.
Price: $299 for the reader.
Fees: Varies from 2.6% plus 10 cents up to 3.5% plus 15 cents depending on method; no monthly fees.
Square Terminal allows you to accept all three methods of credit card payments: chip, contactless and magstripe. And priced at $299, it comes in on the lower end of the all-inclusive card readers.
The company's standard flat-rate processing fees apply and depend on whether you run the card in person or enter it manually. There's no monthly contract.
| | |
| --- | --- |
| Doesn't require a separate device. | Can take over four hours to charge. |
| Shows transaction details. | |
| Is compact and easy to use. | |
Best iPad-compatible register
Style: Register that connects to compatible iPad.
Price: $169 for the reader.
Fees: Varies from 2.6% plus 10 cents up to 3.5% plus 15 cents depending on method; no monthly fees.
The Square Stand is designed specifically for a single smart device: the iPad. Snap an iPad into the Square Stand, and use it as a desktop point-of-sale. The configuration allows you to provide a larger screen for transaction details, and the swivel feature allows customers to sign on the iPad without having to pass the device around. It can process magstripe, chip and contactless payments and connect with a receipt printer. However, it works only with certain iPad models.
The company's standard fees of 2.6% plus 10 cents apply for credit cards and can raise up to 3.5% plus 15 cents for methods outside a swipe, chip or contactless payment.
| | |
| --- | --- |
| Swivels for customers to use. | Only works with certain iPad models. |
| Can be mounted to a countertop. | |
Style: Standalone countertop register.
Price: $749.
Fees: Varies from 2.3% plus 10 cents up to 3.5% plus 10 cents, depending on monthly plan.
The Clover Mini is a countertop setup that doesn't require a tablet. It allows your business to accept all types of payments, print receipts and scan barcodes. You also get some nifty POS features, including inventory, customer and employee management functions with paid monthly plans.
This product is $749. Payment processing rates depend on your Clover pricing plan.
| | |
| --- | --- |
| Can be mounted to a countertop. | Requires paid monthly plan for advanced features. |
| | |
| Has free monthly plan available. | |
| Has payment plans available. | |
Best full register with a single screen
Style: Standalone countertop register.
Price: $1,349.
Fees: Varies from 2.3% plus 10 cents up to 3.5% plus 10 cents, depending on monthly plan.
The Clover Station Solo is a register-style system that offers merchants a 14-inch high-definition screen and a receipt printer for the full checkout experience. The system works with Clover's POS for retail, offering payment processing, inventory and staff management, reporting and more. For restaurants, the Station Solo fits nicely with customizing and tracking orders, managing table mapping and much more for streamlined service.
| | |
| --- | --- |
| | Requires one of the larger upfront investments. |
| Uses fast processing speeds. | Doesn't have a free monthly plan option. |
| Has robust POS software options. | |
Best full register setup with a customer-facing screen
Style: Standalone countertop register.
Price: $799 for reader.
Fees: Varies from 2.6% plus 10 cents up to 3.5% plus 15 cents depending on method; no monthly fees.
The Square Register is the first fully integrated credit card scanner system from Square and is a complete countertop POS system that can accept magstripe, chip card and contactless forms of payment. It boasts two screens — one for the employee and one for the customer to show transaction details — for a seamless experience. It also offers an extra-long cable that allows businesses to separate the Register and customer's screen to encourage social distancing. Its software provides merchants inventory, employee and customer relationship management functions, plus a reporting suite where you can view sales data.
This small-business credit card reader option will cost your business $799, but there are payment plan options available. It processes transactions at the standard Square rates.
| | |
| --- | --- |
| | Must be plugged in at all times. |
| Can be mounted to a countertop. | |
| Has advanced apps and software options. | |
Best system for full checkout experience
Style: Standalone countertop register with dual screens.
Price: $1,649.
Fees: Varies from 2.3% plus 10 cents up to 3.5% plus 10 cents, depending on monthly plan.
The Clover Station Duo ups the game with a combination of a 14-inch screen for you and a 7-inch screen for your customers. This makes it easier for customers to confirm orders and pay however they want — credit card, debit card, and contactless payment methods. Designed for retail and restaurant environments, the Station Duo offers the same features of the Station Solo with more power.
While this option tops the list for the most expensive system, the Station Duo is currently sold with a cash drawer and a receipt printer, giving you the gamut of checkout features.
| | |
| --- | --- |
| | Requires one of the larger upfront investments. |
| Uses fast processing speeds. | Doesn't have a free monthly plan option. |
| Has robust POS software options. | |
| | |
Make payments make sense
Find the right payment provider to meet your unique business needs.
Credit card readers comparison table
| | | | | | Additional device required |
| --- | --- | --- | --- | --- | --- |
| Square Contactless & Chip Reader | | $49 (reader); $29 (dock). | | 2.6% plus 10 cents and up. | Compatible smartphone or tablet. |
| | | | Chip, contactless and magstripe. | 2.3% plus 10 cents and up. | Compatible smartphone or tablet. |
| | | | | 1.9% plus 10 cents and up. | Compatible smartphone or tablet. |
| | | | Chip, contactless and magstripe. | | Compatible smartphone or tablet. |
| | | | Chip, contactless and magstripe. | 2.3% plus 10 cents and up. | |
| | | | Chip, contactless and magstripe. | Varies by card type and monthly transaction average. | Compatible smartphone or tablet. |
| | | | Chip, contactless and magstripe. | 2.49% plus 15 cents and up. | |
| | | | Chip, contactless and magstripe. | 2.6% plus 10 cents and up. | |
| | | | Chip, contactless and magstripe. | 2.6% plus 10 cents and up. | |
| | | | Chip, contactless and magstripe. | 2.3% plus 10 cents and up. | |
| | | | Chip, contactless and magstripe. | 2.3% plus 10 cents and up. | |
| | | | Chip, contactless and magstripe. | 2.6% plus 10 cents and up. | |
| | | | Chip, contactless and mapstripe. | 2.3% plus 10 cents and up. | |
Your Payment Processor Froze Your Account — Now What?
It's a small business's worst nightmare: You've been notified by your payment processor that your transactions are being investigated for potentially fraudulent activities. Your account has been frozen, you're not allowed to process any transactions until further notice and what funds were being processed aren't going to be deposited. Your entire revenue stream is stalled.
But there are a few things you can do to work with your payment processor to try to speed up the release of funds and reinstatement of your account. Here's what you need to know about processing account freezes and how to respond.
Account freeze vs. account hold
An account freeze differs from an account hold. When a payment processor puts a hold on a merchant account, usually only certain transactions are held by the processor. It doesn't stop all transactions, so you still have access to some funds. If a payment processor puts a hold on certain transactions because it requires a minimum reserve to cover the potential costs of chargebacks and fraudulent transactions, it will keep these funds indefinitely while allowing you to continue to process payments from customers. Think of it as a deposit that you'll get back if you ever close your account in good standing.
When a payment processor freezes a merchant account, however, it halts all activity and holds funds until it can investigate suspected fraud or agreement violations. During an account freeze, a merchant is unable to process any transactions and cannot have any pending funds transferred to their bank account. Essentially, a business's ability to accept cards can be stalled until an investigation proves the transactions are legitimate.
How long will your account be frozen?
Payment processors generally stipulate in their contracts that they can freeze accounts and investigate merchant activity for up to 120 days. But that doesn't mean that your account will be frozen for that long. If you work with the payment processor to resolve the issue quickly, the freeze might be lifted sooner. Two businesses can raise the same red flag and have different results: The one that provides the right information immediately can have its account unfrozen within a week, while the business that drags its feet could wait a month or more to have access to funds.
Regardless of how cooperative you are, it's smart to think about what you'll do financially if your account is frozen for the full 120 days.
Most payment processors outline in their terms of use what actions they can take in certain situations, like suspected fraud, and what they are legally allowed to do to combat potential payment fraud. While it is frustrating to have your account frozen without warning, learning why it happened can help you avoid similar situations in the future.
Talk with your processor
You need to understand what caused the account freeze and what you can do to resolve the issue quickly. The processor might not be able to give you a full explanation of what it's looking at to ensure it can carry out an investigation, but it should be able to tell you why your account has been frozen and what you can do to assist the investigation.
Provide information
If your processor requests information or documentation relating to specific transactions, provide it as quickly and transparently as possible. The more quickly you offer up details, the more quickly your payment processor is likely to resolve the issue.
How to accept other payment methods
To keep up some revenue while your account is being reviewed, you can accept other payment methods. Consider how the following payment methods might work for your business:
Cash. This is a great option for in-person transactions because there are no processing fees attached to the payment. Be sure to alert customers in advance so they know to stop by the ATM.

Checks. With customers you know well and trust, checks can be a credit card alternative. But be wary of accepting checks from everyone: Having several bad checks bounce won't help your situation.

Peer-to-peer apps. Apps like PayPal, Venmo, Zelle and Cash App offer business accounts that allow customers to send you money directly, which is deposited into your app account. This can be a good backup for accepting card payments — but note that these transactions are still subject to terms and conditions and, as with other processors, your account could be frozen for suspicious activity.

Backup payment processor. This is an option if you absolutely have to process credit cards while your account is being investigated, although don't rush into a new contract that could put you on the hook for more fees. However, this is not an option for businesses that are labeled high risk because of consistent fraudulent behavior and that have been added to the Member Alert to Control High-Risk Merchants — or MATCH — list, which is shared among payment processors while reviewing new merchant applications.
Prioritize your business-critical expenses
After speaking with the processor and providing its team with information, your next step is to make a plan for how to mitigate any harm to your business finances. You'll need to think about how you're going to handle:
Pausing subscriptions that you won't be able to afford, such as automatic inventory purchase.

Paying for overhead that can't be paused, like rent.

Alerting customers about changes in payment processing.

Disabling e-commerce payment options on your website.
If you don't have a savings fund to fall back on, consider looking for someone to help you address financial concerns and research how to find assistance in the meantime.