6 ecommerce lessons to learn from Amazon's success
Get up to 30%* off! Get going with GoDaddy!
Amazon has come a long way from its humble beginnings as an online bookseller. Since its launch in 1994, Amazon has grown to become an ecommerce behemoth. These days, it's one of the first places shoppers turn to buy anything from cleaning products to the latest tech gadgets.
And with $470 billion in sales globally, Amazon is the uncontested ecommerce leader and continues to grow and innovate.
This success took years to achieve and is due in part to Amazon's strategic approach to growth. Although Amazon has now expanded into other avenues like streaming and food delivery services, any ecommerce business, regardless of where they start, can learn from Amazon's example to grow their business and attract and retain more customers.
Here are six lessons that are at the center of why Amazon is so successful. Use them to make your ecommerce business more popular and profitable.
1. Highlight what other customers love
Long-term growth requires a customer-focused approach. When every aspect of the business prioritizes and anticipates the customer's needs, your company is set to increase customer satisfaction and retention.
One way Amazon meets the needs of its customers is by tapping into the power of social proof through reviews and recommended products. On each product page, Amazon includes a section of recommended products based on what other customers who viewed that product have also viewed.

[Source]
Amazon gives its consumers the evidence and options they need in order to make a purchasing decision. Providing users with a "customers also bought/viewed" section taps into the consumer's fear of missing out on the best or trendiest options. These sections also work to keep Amazon users engaged and continuously browsing.
Providing social proof pays off for brands. According to a Brightlocal consumer survey, 79% of people trust online reviews as much as word of mouth. Moreover, 94% said they are more likely to purchase from a business with positive reviews, and 92% said they are less likely to purchase from those with negative reviews.
What you can do
We live in an age where people share their experiences online, and reviews hold more weight than brand marketing.
Use this audience preference to your advantage by focusing on ways to make your customers happy. If you do a good job, your customers are more likely to share their experiences, which will help grow your customer base and increase your revenue — by lowering customer acquisition cost (CAC) and potentially boosting lifetime value (LTV).
2. Incorporate data analysis into your decision making
Amazon prides itself on its commitment to innovation and testing. They test every aspect of their business — from pricing to product selection — so decisions are based on customer needs and not what Amazon thinks customers might want.
As Bezos puts it, "Our customers are loyal to us right up until the second somebody offers them a better service. And I love that. It's super-motivating for us."
In part, it's this constant threat of customers switching to the competition that drives Amazon's innovation. Even though it's the largest ecommerce retailer, with a worldwide revenue of $469.82 billion, Amazon is constantly in competition with other businesses.
Improving the products they already sell also helps Amazon achieve success. For example, as more customers choose to equip their homes with devices that make modern-day living more interactive and seamless, smart home devices increase in popularity. To compete with a smart speaker like Google Home, Amazon continues to upgrade its Echo to include more distinctive features. As a result, the Amazon Echo dominates the global smart speaker market.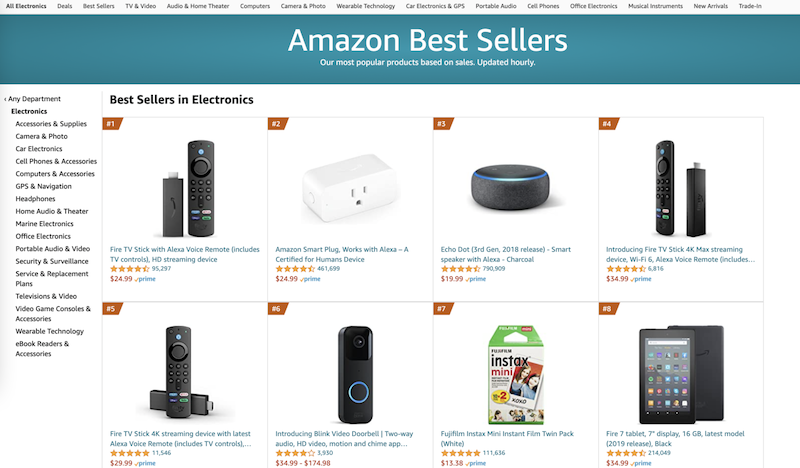 [Source]
When it comes to features, Alexa on Amazon Echo was one of the first versions of voice-controlled tech. Amazon has gone further with its smart speaker tech to release the Amazon Echo Dot, a smaller, more affordable version, as well as the Echo Show to further cater to customers' need to be connected.
What you can do
Be strategic about testing your products regularly and coming up with new ideas to meet evolving customer needs. For example, run A/B tests by selling limited edition products to test customer interest, send customer surveys, or use a Net Promoter Score (NPS) survey to find who your promoters are and how many, so you can cater to their specific needs. Combine these efforts so it's easier to make decisions and create innovative products, features and services based on data.
3. Get to know your customers
Amazon is constantly tracking and learning about its customers. As customers search and add products to their cart, Amazon uses this behavioral data to make product recommendations. The online marketplace shows customers products related to items they've recently browsed and based on their search habits:
At the bottom of the homepage, customers can also see more recommendations based on recent purchases and a history of products they've recently viewed. All of this information guides customers to buy more.
This personalization pays off. According to Evergage research, 78% of marketing professionals believe that personalization has a strong or extremely strong impact on advancing the customer relationship. Moreover, 92% say that customers or prospects expect a personalized experience. Whether it's through email, website, or in person, successful marketers use data to provide better customer experiences and increase loyalty.
What you can do
Personalize your customer's shopping experience based on their past behavior, location, and interest list of the customer's recently searched items at the bottom of your product pages. This makes it easy for them to find the items and add them to their cart.
On your homepage, list products customers might be interested in based on what they've purchased or browsed in the past. If you let customers set up accounts on your store, consider setting up a past orders menu option. This feature makes it quick and easy for customers to find what they need and buy it again.
4. Build a community of trust through reviews and Q&As
When it comes to purchase decision-making, people often look to one another for guidance. Online reviews and question-and-answer sections can help increase trust and purchases. Research shows the most important aspect of a customer's purchasing decision is high ratings and reviews. Consumers even prefer positive product feedback over discounts, coupons, or loyalty program offers.
Amazon taps into this trait of human nature by offering user reviews and a question-and-answer section. Through these features, the online marketplace builds a community where consumers can educate each other and move along the customer journey.
Amazon proactively asks recent customers to rate and review their experience. This feedback appears on the product page with a "verified purchase" flag, which adds to the trustworthiness of the review.
[Source]
Amazon also offers a customer question-and-answer section at the bottom of its product pages to give shoppers the option to ask specific questions before they buy something. Past customers provide answers: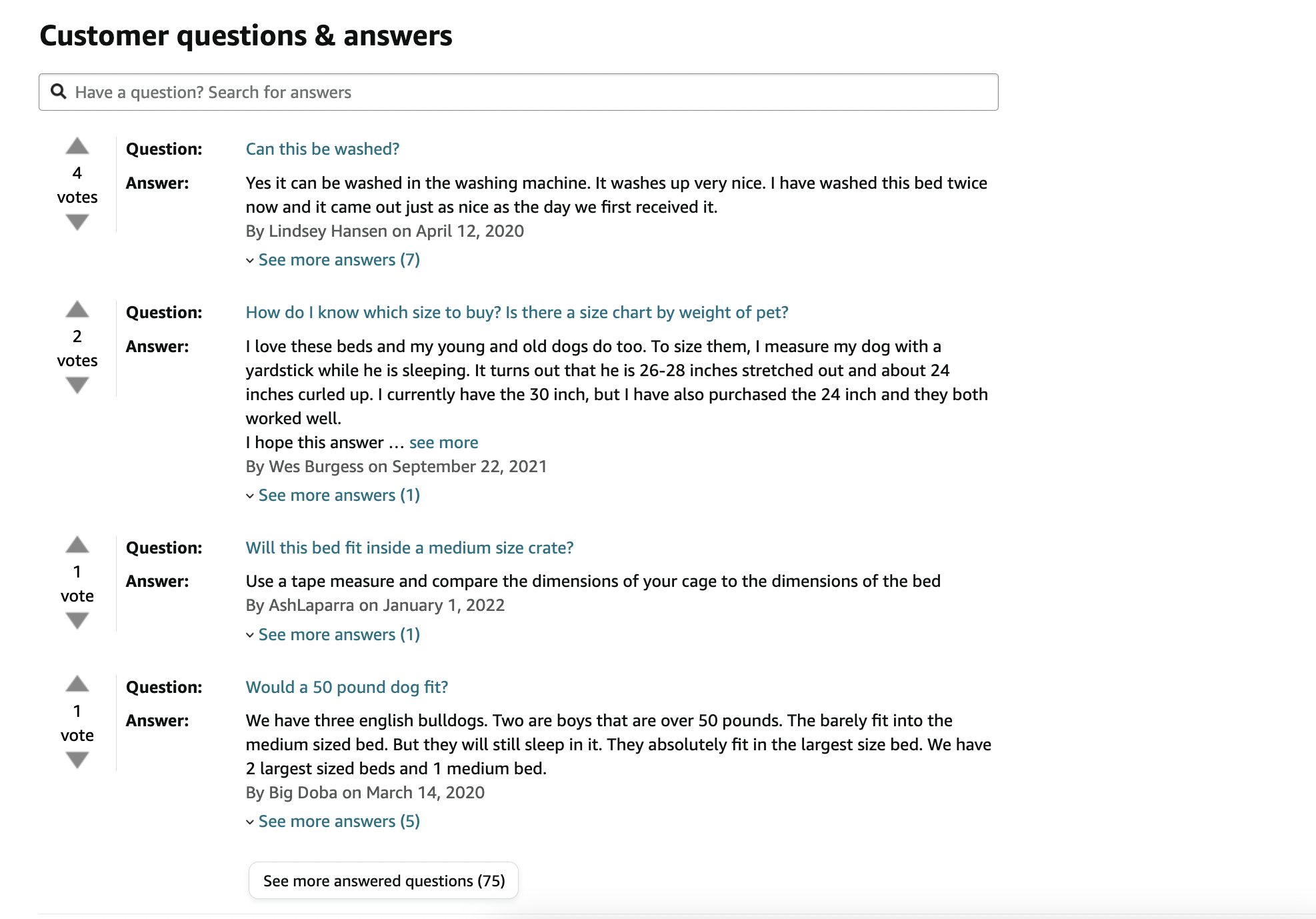 [Source]
Both of these options make it possible for shoppers to rely on other customers for information and not solely on Amazon. Shoppers can read about honest experiences from other customers and base their purchasing decisions on feedback from those with similar needs.
What you can do
Send follow-up emails to customers to request a review of your product. You can also post requests for reviews in each customer's personal dashboard, so when they log in, they're reminded to submit a review directly on your site. Like Amazon, you should flag reviews to make it clear they're submitted by people who actually bought the products they're reviewing.
5. Build a loyalty program to incentivize customers
Loyalty programs increase engagement and profitability for companies. 79% of consumers stated that loyalty programs make them more likely to continue doing business with brands.
Amazon launched their loyalty program, Amazon Prime, in 2005 as a membership service that offered two-day free shipping and other benefits, like no minimum purchases or consolidating orders. In 2015, the service gained even more attention when Amazon Prime Day was launched. For one day only, Amazon Prime members have access to deep discounts and exclusive offers.
Prime has evolved since then to also include exclusive offers at Whole Foods grocery stores, access to their streaming platform and music service, and much more. As of 2021, Prime Day continues to be extremely popular with its members, bringing in $11.19 billion in global sales.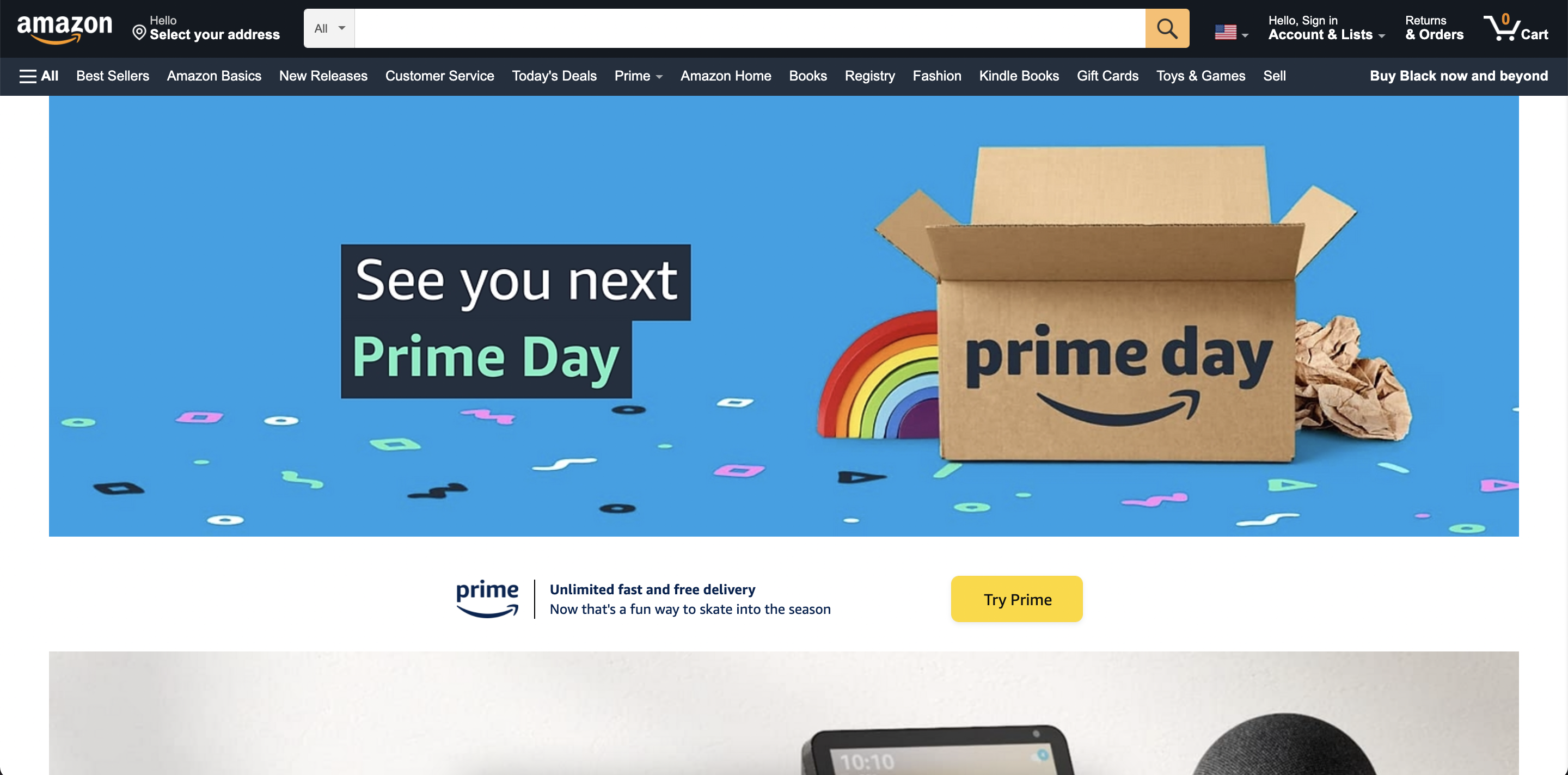 [Source]
Prime isn't a loyalty program where customers automatically qualify — they have to pay an annual fee to join. But for many consumers, this fee is worthwhile as long as the program offers decent benefits. According to ClarusCommerce, over 70% of customers are even willing to pay a premium to join a loyalty program.
Shoppers are willing to pay for a Prime membership to gain access to all the benefits—special discounts, free shipping, entertainment, and more. The program taps into customers' classic desires of saving money, fast deliveries, and easy returns.
What you can do
Create a program that offers incentives that get customers to come back to the store regularly and take advantage of special offers. For example, include access to free shipping, limited-time discounts, and other membership perks.
You can also personalize your membership benefits by offering timely gifts. Studies show that, in addition to saving money, 79% of customers want loyalty programs that care about them. Offer customers special rewards and bonuses during important occasions — like a membership anniversary or birthday — to show customers your brand values them.
6. Think of new ways to evolve
Amazon continues to grow as a result of its dedication to trying new things. If you maintain a mindset focused on evolution, you can foster more opportunities for growth. Amazon continues to grow as a result of its dedication to research and development, from scientific discoveries to improving its inventory planning system to developing the Amazon Fire Stick. The marketplace's commitment to innovation keeps their business running smoothly and continuously growing.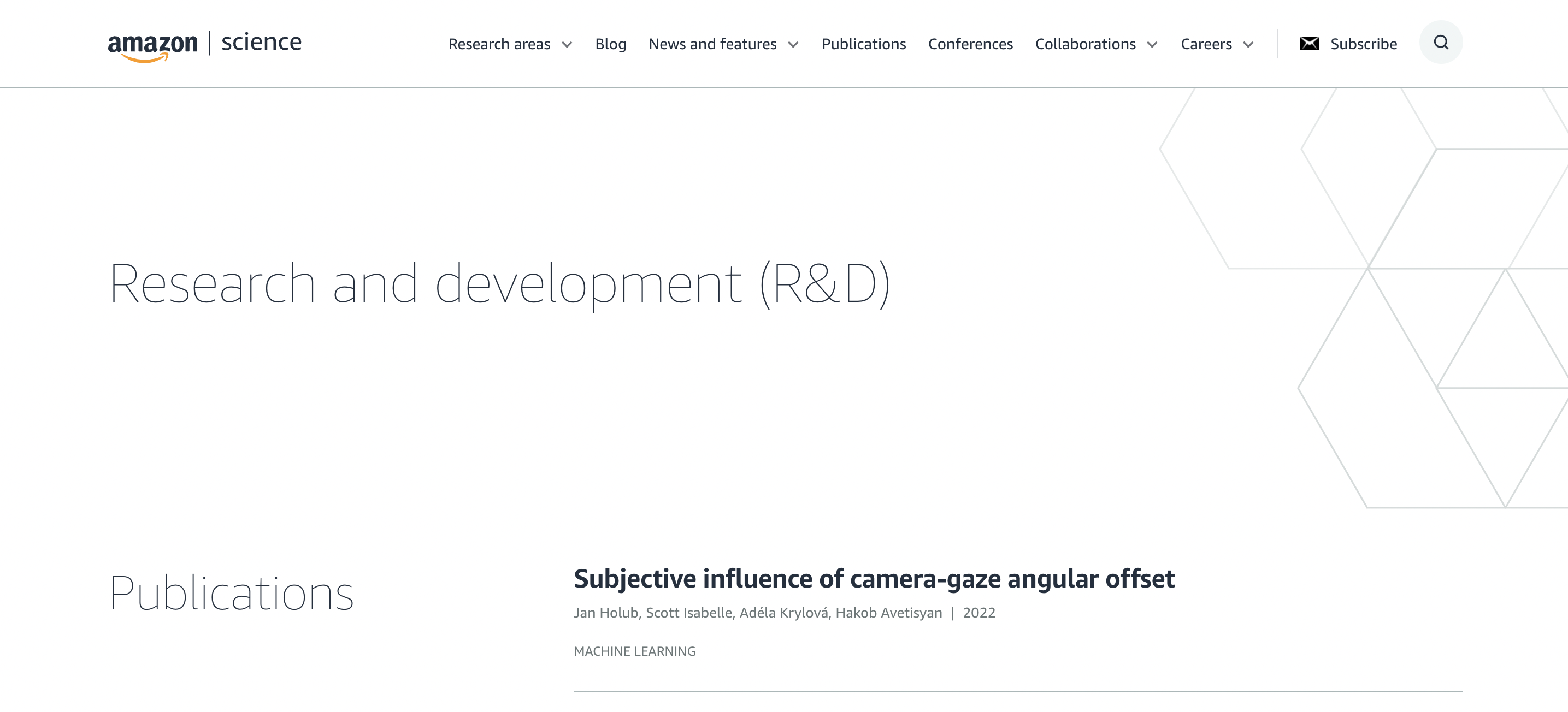 [Source]
In the U.S., Amazon has made returns as simple as bringing your items (sometimes even unboxed) to locations like UPS, Whole Foods, or Kohls. They've partnered with these companies and introduced a QR code each place can scan to process your returns.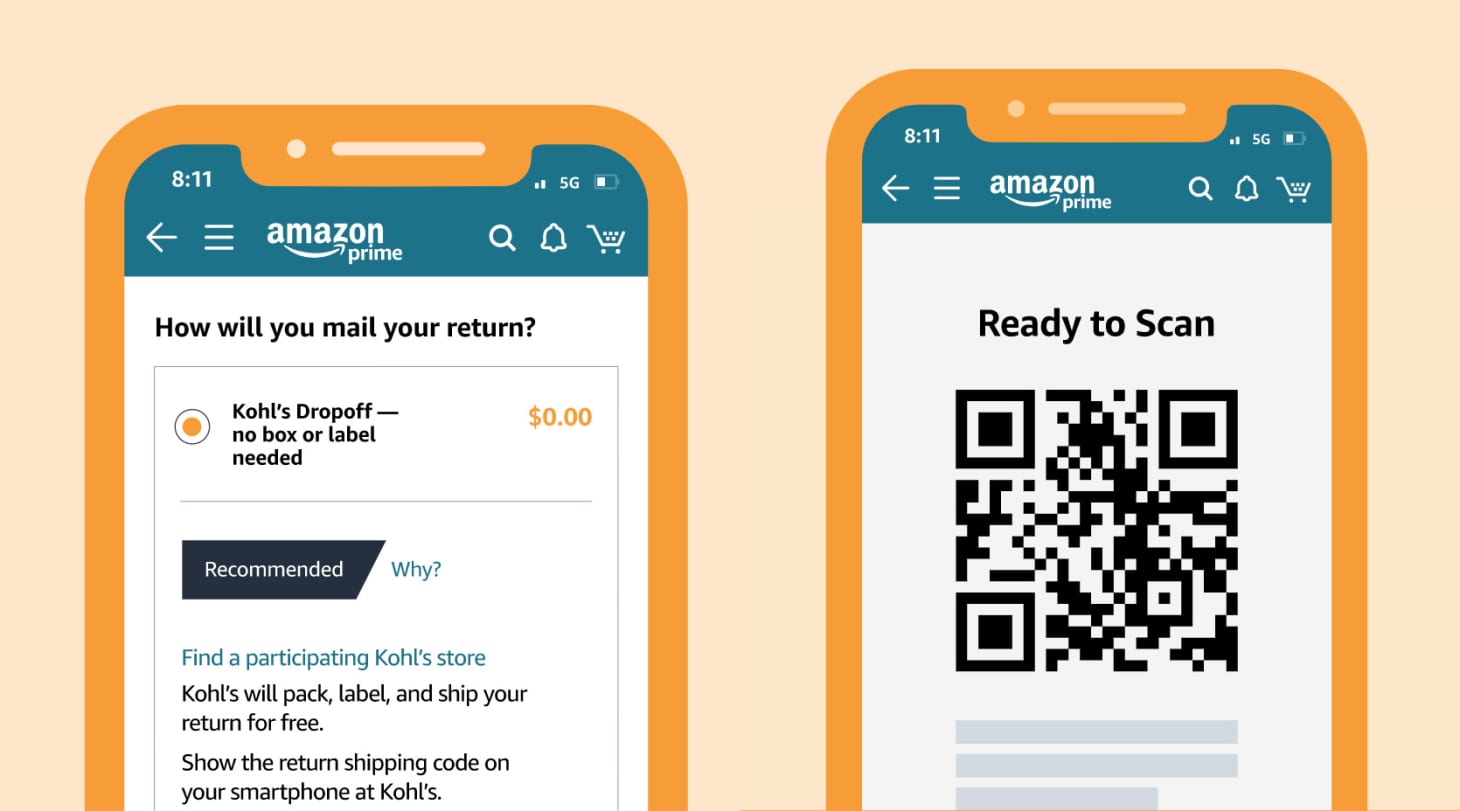 Source: Kohls/Amazon via Apartment therapy
Amazon's focus on producing new ways to make the customer experience simple, seamless and entertaining keeps their shoppers engaged. Whether it's by introducing new TV and movie programming as part of Prime membership or access to new audio content, Amazon is always looking for new opportunities to capture its audience.
What you can do
To innovate, look at what your competitors offer and find gaps you can fill. Listen to what customers are saying on social media, and ask your customer support representatives to log insights they get when customers call in.
Use any avenue where customers share information as an opportunity to learn from them and improve your business and product offerings.
Leveraging examples of what makes Amazon so successful
Since launching in 1994, Amazon has experimented and learned lessons to become the ecommerce giant it is today. Follow in the marketplace's footsteps by tackling your growth strategically. Start with small changes, test and adjust. Pay attention to your customers and the changing landscape of ecommerce. Be persistent and dedicated with your innovation. If you have patience with the process, over time, you'll see results.
4 tips to find the funding that fits your business
The facts are clear: Startups are finding funding increasingly difficult to secure, and even unicorns appear cornered, with many lacking both capital and a clear exit.
But equity rounds aren't the only way for a company to raise money — alternative and other non-dilutive financing options are often overlooked. Taking on debt might be the right solution when you're focused on growth and can see clear ROI from the capital you deploy.
Not all capital providers are equal, so seeking financing isn't just about securing capital. It's a matter of finding the right source of funding that matches both your business and your roadmap.
Here are four things you should consider:
Does this match my needs?
It's easy to take for granted, but securing financing begins with a business plan. Don't seek funding until you have a clear plan for how you'll use it. For example, do you need capital to fund growth or for your day-to-day operations? The answer should influence not only the amount of capital you seek, but the type of funding partner you look for as well.
Start with a concrete plan and make sure it aligns with the structure of your financing:
Match repayment terms to your expected use of the debt.
Balance working capital needs with growth capital needs.
It's understandable to hope for a one-and-done financing process that sets the next round far down the line, but that may be costlier than you realize in the long run.
Your term of repayment must be long enough so you can deploy the capital and see the returns. If it's not, you may end up making loan payments with the principal.
Say, for example, you secure funding to enter a new market. You plan to expand your sales team to support the move and develop the cash flow necessary to pay back the loan. The problem here is, the new hire will take months to ramp up.
If there's not enough delta between when you start ramping up and when you begin repayments, you'll be paying back the loan before your new salesperson can bring in revenue to allow you to see ROI on the amount you borrowed.
Another issue to keep in mind: If you're financing operations instead of growth, working capital requirements may reduce the amount you can deploy.
Let's say you finance your ad spending and plan to deploy $200,000 over the next four months. But payments on the MCA loan you secured to fund that spending will eat into your revenue, and the loan will be further limited by a minimum cash covenant of $100,000. The result? You secured $200,000 in financing but can only deploy half of it.
With $100,000 of your financing kept in a cash account, only half the loan will be used to drive operations, which means you're not likely to meet your growth target. What's worse, as you're only able to deploy half of the loan, your cost of capital is effectively double what you'd planned for.
Is this the right amount for me at this time?
The second consideration is balancing how much capital you need to act on your near-term goals against what you can reasonably expect to secure. If the funding amount you can get is not enough to move the needle, it might not be worth the effort required.
5 Simple Tips to Grow Your Business the Best Way
To achieve success in your business, you need to be ready to keep it growing. You can't just treat your business with no passion and with no goal for further growth. It's best for you to grow and expand your business, even though it's just one small step at a time.
Here are 5 simple tips to grow your business the best way:
1. Expand Your Business Promotion
It's important for you to expand your business promotion further, so that you can attract new customers to your business. You can do this in various ways, such as by running promotional campaigns on social media, spreading flyers and pamphlets around your local area, offering free bonuses to your customers, and so on.
By expanding your business promotion, you will expand the target audience for your business, meaning that you can increase your potential revenues from time to time.
2. Improve the Quality of Your Products and Services
The best way for you to grow your business is to improve the quality of your products and services. The more you can provide the best products and services to your customers, the more your customers will recommend your business to their friends and family.
This is the best way for you to attract more customers through word-of-mouth marketing.
3. Improve Your Customer Service Quality
Another aspect you need to improve in your business is the customer service quality. Your customers will rely on your customer service team to help them solve their problems with your products or services.
The better you can handle the customer's problems, the more they will trust your business. Also, the more trustworthy your business, the more people will come to your business and use your products and services.
4. Increase Your Business Productivity
You also need to increase your business productivity, which will allow you to use your work hours in the most efficient way, both for you and your employees. The more productive you are in your business, the more tasks you can complete each day, and the better the results you will get.
Increasing your business productivity also means to stop wasting your time on doing unnecessary things. For instance, when you invest on a money counter from Ribao Technology. you can avoid the loss of counterfeit bills and stop wasting your time counting for the money you have received in your business, as you can get it done much faster by using a money counter machine.
5. Establish a Strong Online Presence
Nowadays, it's important for you to have a strong online presence. You can do it by building a social media account for your business, and you can also build your own business website. By establishing a strong online presence, it will make it easier for people to get to know about your business.
You also need to make your business available online to make it easier for anyone to order your products and services. This is one of the best ways to grow your business.
Conclusion
Are you ready to grow and expand your business?
Follow these tips to get better at growing your business and increasing your business revenues. Take it one step at a time and make growing your business your biggest long-term goal to achieve.
Common SEO Mistakes That You Should Avoid
There are a number of great strategies that businesses can use when aiming to improve the performance of their SEO campaign, working to increase their online visibility and boost the amount of traffic being directed towards their website. However, it is not uncommon to find that many of these optimisation approaches could actually be causing your site more harm than good.
Of course, a wide variety of the of the search engine optimisation tactics that can be found on line will prove to be highly valuable resources, but trusting all of the tips and tricks that you come across could have adverse effects for your campaign, especially if the content that you are reading details out of date practices.
In the article below, we will discuss some of the most commonly seen mistakes made within SEO, helping you to avoid unnecessary damage to the performance of your company website.
Your Site Lacks Quality Backlinks
The creation of quality backlinks to your business page from reputable, high authority external sites is an extremely popular SEO management recommendation, these aforementioned links playing a vital role in the improvement of many aspects of your campaign.
Link building is a great off-page optimisation technique, allowing you to build the authority of your company website as a way to improve your ranking position within the organic search results. This is a must for any business looking to improve their online visibility or brand recognition, meaning that their website will be shown to a wider target audience and will thus see a boost in overall traffic and sales as a result.
While the creation of links leading back to your website from various external sources is vital for the optimisation and management for your SEO campaign, the quality and relevance of these backlinks is also a factor of great importance. If you are aiming to rank well within the search engine results (which is a goal that all businesses should strive towards!), the links that you are forming should be of a high quality and relevance to the industry in which your company operates.
The overall quality of the sites that your business is linking to can have a knock-on effect on the performance of your own website. Forming backlinks with sites that are completely irrelevant to your field, or those known for their poor reputation, will do more to hinder your website than help it. Associating your brand with poor quality pages will affect the authority of your own company website, and should thus be avoided at all costs.
Your Site Misuses Outbound Links
Outbound links are something that are often avoided completely within modern day SEO strategies, being the reason as to why so many marketing experts would now consider guest posting to be an ineffective and outdated technique. However, this is far from the truth, and is actually one of the many common misconceptions within SEO.
While filling your site's main navigational channels with endless external links is not a recommended practice and would definitely cause some issues for the performance of your SEO campaign, this does not mean that outbound links should be avoided altogether. Creating natural links within your on-page content to reputable sources that provide your readers with additional information is actually a great way to enrich the blog articles and landing pages that you publish to your website. This will cause no damage to your brand's SEO campaign, but can actually assist in the improvement of your authority and reputation.
The issue with outbound links comes not with their use on your company website, but in how they are used, as the placement of such links will play a vital role in whether this common SEO practice will either help or hurt your online presence. Any outbound links that you choose to feature on your site should occur naturally within the on-page content that is presented to your customer base.
Whether it be your landing page content or a blog post, links should only be placed if and where it makes sense to do so. Placing outbound links randomly throughout your text or all in one place is considered bad practice, increasing the likelihood that your content be picked up as spam and your site ultimately be penalised by the search engines.
To avoid outbound links negatively impacting the quality score and performance of your website, links should only be placed as and when it makes sense to do so, using these to provide readers with additional information that will enrich the text published to your company website. As with link building, the quality and reputation of the websites that you link to will impact the authority of your own business site, so it's important that your brand avoids linking to pages that could harm your domain.
The setup and maintenance of a successful search engine optimisation campaign can be a difficult, and sometimes even daunting, task for those who find themselves unsure of where to start. With so many different strategies claiming to provide the best tactics for effective website optimisation, how do you know which advice you can trust?
Luckily, there are a number of highly reputable online SEO courses made readily available to entrepreneurs across the globe, providing expert advice and a helping hand to those looking to optimise their business' online presence.
SEO is an excellent tool for improving your ranking position and visibility within the organic search results, but it's vital that your campaign is managed correctly, helping you to avoid any unnecessary mistakes!