7 Winter Business Ideas for 2021
There's no point in resisting the winter season—it comes every year like clockwork and along with it can sometimes come a lull in business, especially if your business is one far more conducive to the spring or summer months.
If you're looking for a way to revamp your business for winter or want to start a business geared toward the winter season, you've come to the right place. We're going to go over seven winter business ideas, as well as how you can prepare your business for the cold months to come and tips any seasonal business owner should know. Let's get started.
Winter business ideas
Before choosing one of these winter business ideas, make sure you do some research into what's needed in your area and what the competition is like so you know there's actual demand for what you're going to be offering.
After all, the most common reason businesses fail is that there's no market need for the products or services they're offering. Before starting your winter business, make sure there's demand for what you'll be offering.
1. Sell Christmas trees
If you have the extra outdoor space, consider selling Christmas trees around the holidays as a winter seasonal business.
Stocking this specific and in-demand item can lead to some extra income. This winter business idea is especially good for those who already own hardware stores or garden centers, and it can help replace the lost income your business may typically experience during the winter season when people are doing fewer home or landscaping projects.
See if there are any farms near you with trees they're willing to sell you. Consider starting this winter business idea fairly small with a few dozen trees and see how they sell, then get more if you can or keep it in mind for next year. You can also sell other Christmas greenery like wreaths or garland for those who are looking to add some extra holiday cheer to their homes.
2. Make winter gift baskets
Our next winter business idea can be done by a variety of different businesses. Whether you're a bakery or a boutique retailer, you can put together festive gift baskets and offer them for sale as great gifts for coworkers, friends, or family. You can include your own products in the gift basket, as well as some weather-oriented or other seasonal items people might enjoy.
If you don't want to premake each basket ahead of time and instead offer more customization, you can also offer different packages and allow customers to choose what they'd like in the basket before putting it all together and wrapping it nicely. For an added bump in income, offer to deliver the baskets within a certain radius of your business, or ship them to farther destinations.
3. Snow removal
Businesses like contractors and landscapers might find that they have less work in the winter when it's difficult to do any work outside. However, a related winter business idea is to offer snow removal services to fill this gap.
If you already run a contracting or landscaping business, you likely already have trucks necessary for such work but might need to invest a bit more for plowing equipment or a snowblower in order to be successful in this winter business. If those additional pieces of equipment are too expensive to buy outright, equipment financing could be a solution.
Snow removal is an in-demand winter business—as long as you live someplace where it snows—and contractors or builders likely already have a client list of people who might need some digging out when the time comes. However, you don't need to be in one of these careers to leverage this winter business idea for yourself. As long as you have the equipment and enough potential customers, this can be a lucrative winter business for just about anyone.
4. Host corporate events
If you own a wedding venue, restaurant, or other event space, you might find it lucrative to offer packages to companies looking to host their annual holiday parties. These parties are often scheduled for the early evening and usually during weekdays when you may not be as bust as you are on the weekend, for example.
The nice thing about hosting these parties is that they likely don't vary much from one another: You can offer each company set menu options to choose from and standard decoration options. Hosting such parties can be an added boost and bring in more revenue than a regular weeknight might.
5. Home winter weatherproofing
Making the winter weatherproofing process quick and easy is another one of our winter business ideas. This is another idea that might be best suited to the handymen and contractors out there, but wouldn't be off-limits for a hardware store to take on. During the wintertime, people are always looking for better ways to weatherize their homes and keep the heat in and the cold out without having to do too much work.
You could offer a premade kit someone can buy and use themselves, or your own services in the form of house calls, for weatherizing windows and doors to keep the drafts from getting in and driving up your customers' electric bills. Consolidating all of the items customers will need for them makes the process simpler, and if you want to take it a step further you could offer services to complete the process for them.
6. Home cleaning business
No matter the time of year, no one enjoys cleaning. However, during the winter months, people are not only extra busy, but they are also likely expecting family to visit or to host a party of their own. So offering a cleaning service to people in your area could be a lucrative winter business idea to help people prep for their home-based winter events.
A big perk about this winter business idea is that, for the most part, you'll have reasonable daytime hours, as many people will have their parties at night.
Consider offering a special package to help your customers prepare for visiting in-laws or a family party like a package with a deep kitchen cleaning, or offer to set up their decorations in addition to cleaning.
7. Fitness instructor/personal trainer
With the new year comes resolutions, and there is no shortage of people looking to get in better shape and be healthier in the coming year. You can be a personal trainer or fitness instructor at any time of the year, but you might see more of a demand as the year starts out.
In order to become a personal trainer, you'll need some specific training and certifications; so this might be a better business for those looking to start a more long-term business. However, becoming a fitness instructor who teaches specific classes often has fewer requirements and could be easier to break into, especially part-time. Check with your local gym and boutique fitness studios about openings, as well as what qualifications you'll need to become an instructor.
Tips to run an effective seasonal business
No matter when your business high season is, any seasonal business has a specific set of challenges to keep their business profitable year-round. Whether you opt for one of these winter business ideas above or are trying to pivot your own seasonal business to another market, keep these tips in mind.
1. Think outside of the box.
As the weather changes, it's easy to let yourself slip into a bout of seasonal, business-related depression. But, now's your time to think creatively. Your market is still there—they're just focusing on other products and pursuits. Find what they're interested in, and figure out how your core strength can adapt to be included in the conversation.
For instance, you can discover how to repurpose your product for a new time of year. Maybe that means expanding your product line or recreating something on your menu. Perhaps your ice cream shop turns to lattes for the cooler weather, or you switch from lavender to pine scents for your candle company. Let yourself explore outside of your default season.
2. Look deeper into your niche.
If you have a hyperspecific product, figure out what other products your niche would respond to, as well. There's a good possibility that if your market is a devotee to your product, you've caught onto something special about your group of consumers.
Step back and understand not only what's special about your product—but what's special about your customers. You may find it useful to send your customers a survey to find out more about what they'd like to see your business offer. Not only will your customers appreciate that you want their input, but you'll also likely walk away with some new ideas.
3. Be flexible.
Does anyone actually love to be adaptable? Every business owner works incredibly hard on their business plan, and among the most difficult things is to have to scrap hard work. But the hard truth is that just like seasons, markets change. Tastes change. And your business needs to change, too.
The more flexible and ready to adapt you can be as a business owner—whether that means turning your summer getaway into a winter resort, expanding your product line, or changing your model entirely—the better positioned you'll be for success.
How to prepare your business for winter
All of the business ideas we discussed thrive in the wintertime, but along with that comes the threat of winter weather and storms, which might not be so conducive to running your business smoothly. If you're considering launching one of the above winter businesses, or just want to prepare your year-round business for inclement weather, here are some tips.
Be prepared
Monitor local news and check weather forecasts at the National Weather Service website. Here are some terms you might hear and what they mean.
Winter storm: Winter storms involve snow, sleet, or freezing rain.

Ice storm: When 1/4 inch of ice or more builds up, driving and walking are hazardous, and power lines can break because of the weight of the ice.

Blizzard: A blizzard involves snow, gusty winds up to 35 mph or more, near-zero-visibility conditions, and a wind-chill factor that can be life-threatening.

Winter storm watch: Severe winter conditions might occur in the next 12 to 36 hours.

Winter storm warning: Severe winter conditions are expected in the next 12 to 24 hours. This is defined as four to six inches of snow or sleet, or at least 1/4 inch of ice.

Blizzard warning: A blizzard is expected in the next 12 to 24 hours.
Find and fix your business's vulnerabilities
When severe weather strikes, you need to protect your building or store, your employees, and any customers in the building, and your equipment.
Start by inspecting your building for any weaknesses that might lead to structural damage in case of a storm—leaks in the roof, cracks near doors and windows, and loose trim that could blow off and injure someone. Ask your landlord to repair any problems.
If your building maintenance doesn't already handle this, make sure snow and ice are regularly removed from entryways, sidewalks, and roofs. If a customer slips on ice outside your doors, you could face a lawsuit.
Check your small business insurance coverage to make sure it's adequate for any damages that might occur from a storm, and upgrade it if necessary.
Compile the phone numbers you might need in an emergency, such as the fire department, insurance company, landlord, electrician, plumber, snow removal service, and local utility companies. Store it in the cloud, and print out several copies in case you can't get online or use your computer in an emergency.
Review the equipment and systems that keep your business running, such as computers and manufacturing equipment. What would happen if the power went out or the building didn't have heat? A backup generator can help keep things running during a power outage.
Make a plan and stick to it
Even if a storm doesn't damage your building, it could lead to local power outages, downed trees, highway closures, or other obstacles to business as usual. Think through what might happen to your business in various scenarios—such as public transportation shutting down and preventing your employees from getting to work—and plan how to deal with each situation.
You, your employees, and even customers may need to shelter in place at your business if you get snowed in. Stockpile enough food and water for three days (you can ask employees to bring their own "emergency kits" with food and blankets). Have plenty of flashlights, at least one battery-operated radio, batteries, and a first-aid kit.
Plan how you will communicate with employees, vendors, and suppliers in case of an emergency. Create a list of contact information that includes alternative ways to communicate. For example, if phone lines are down, you might need to text employees. If you must close for a few days (or weeks), let customers know via your business website and social media accounts.
Decide at what point in a storm watch or warning you will let employees go home, close the business, or tell employees not to come into work. Create a chain of command so that if you aren't available to make these decisions, someone else can.
Create a continuity plan
To keep your business running during or after a severe storm, set up the capability for people to work from home (if your type of business supports this). Having employees access your business network from home can expose it to vulnerabilities, so use cloud-based file-sharing and storage systems instead.
What if your building is uninhabitable after the storm or half your employees can't get to work for a week? Figure out how you will keep the business running for an extended time if necessary. Business interruption insurance can help replace income lost if your business can't operate after a disaster.
Talk to vendors and suppliers about their emergency preparedness, too. If you rely on steady delivery of inventory from a certain vendor, what will you do if the storm shuts them down? Do you have a backup vendor in place?
Be ready, be set, be safe
Clearly, there's a lot to think about when it comes to winter weather—so prepare a plan before the wind starts to howl. Rate your business's emergency preparedness at ReadyRating.org; then visit PrepareMyBusiness.org to get a checklist you can use to prepare your business for winter weather.
The bottom line
Generally, the biggest concern you should have about your business when it comes to the wintertime is whether or not it can survive the winter months. We mean both financially and physically.
If your business is seasonal or has a slow period during the winter months, but you still need income, consider one of the winter business ideas we listed above. They can either be added to your existing business or started independently and can help you make it through the winter and holiday seasons without losing much in the way of cash flow.
Keep in mind the weather risks that come with winter weather and potential storms and have a plan to take action if there is such a storm, even for your side hustle winter business.
This article originally appeared on JustBusiness, a subsidiary of NerdWallet.
Starting a new online business during the pandemic: Two COVID-era tales of renewal in Miami
Get up to 30%* off! Get going with GoDaddy!
The pandemic forced more than three-quarters of small businesses across the U.S. to temporarily close up shop in the spring of 2020, and thousands have since shut down for good.
But the COVID-19 pandemic also led to a record number of people trying to start their own businesses: 4.5 million filed new business applications in 2020, according to an analysis of U.S. Census Bureau data by the Economic Innovation Group.
That's the highest number ever and a 24% increase from 2019.
And the momentum isn't slowing. The Census Bureau says 492,000 new business applications were received in January 2021, a 43% jump over the previous month. Many more informal businesses are believed to have been created, often as side hustles, but never registered.
Few cities saw more aspiring entrepreneurs than Miami. Although new business creation was not distributed evenly across racial and socio-economic lines, green shoots of entrepreneurship popped up across the metro area, helping to bring a dose of resilience to the local economy.
[At the same time, untold numbers of existing small businesses — restaurants, neighborhood shops, salons — decided to establish a digital presence, allowing them to find new customers and take orders from beyond their immediate area.
In all, the number of digitally connected microbusinesses in Miami-Dade County rose 6.7% from 2019 to 2020, according to data from GoDaddy's Venture Forward project, which studies the economic impact of these small online businesses. The Miami metro area, which includes the neighboring cities of Fort Lauderdale and Pompano Beach, has more microbusinesses per 100 people than any other large metro area in the country.
These everyday entrepreneurs make a big impact on their communities, with each new one leading to the creation of two additional jobs, Venture Forward data shows. Additionally, each new microbusiness per 100 people can reduce the unemployment rate by .05 percentage points.
And between 2016 and 2019, every microbusiness per 100 people that's active online was associated with a $485 increase in a community's household median income.
Here are the stories of two inspiring women entrepreneurs who took the initiative when the pandemic upended their lives.
Natasha Nails: Rethinking the press-on
It took a painful case of contact dermatitis, a type of allergy, following a visit to a nail salon for Natasha Williams to come up with an online business idea for the future of press-on nails.
The Miami native, who lives in Little Havana, has had her nails done since her teens.
But after her allergic reaction in March 2020, she was forced to switch to press-on nails that used hypoallergenic adhesive pads.
Unhappy with the appearance of what was available — they felt cheap and plasticky — Williams started buying clear nails and hand painting them with her favorite colors and designs.
Around the same time, the pandemic shut down the local economy. A well-known tap dance performer and teacher around Miami, Williams suddenly had a lot of time as lessons and gigs dried up.
By July, buoyed by the admiring comments she got from friends and strangers on the street, she realized there was a market for her creations, so she quickly built an online store and Natasha Nails opened for business.
At first, it was as much a hobby as a career plan. But soon she started asking questions and understanding the opportunity was real.
Why did women tend to apply press-on nails and leave them on and then throw them out? Given how easy they are to remove and reapply, particularly the adhesive-pad type, wouldn't it be more fun and affordable to have collections of nails so they could match outfits or daily moods, the way they choose which shoes to wear or purse to carry?
"I want people to be able to mix and match, like 'let's see what I have in my closet to wear today,'" she says.
If she can popularize this approach, women may one day not feel obliged to suffer the daily inconveniences of wearing long nails.
"Just try typing all day with these things on," she laughs, showing off long, olive nails. "You really can't do much. And anyone who tells you differently is lying!"
While her new business doesn't make enough money for her to quit her teaching, she spends about the same number of hours on both.
That includes 30 minutes each morning tending to her growing Instagram account — where she has amassed more than 5,000 followers who account for most of the orders on her website — and a few hours in the evening painting nails, including custom orders, and packaging up boxes for customers who opt for her monthly subscriptions.
Many challenges remain ­— particularly how to scale production beyond her ability to hand-paint nails while maintaining the artistic quality. But Williams is definitely a long-term thinker who hopes that, some day, her creations will be featured at major retailers.
"I don't see obstacles as problems, but as challenges," she says of the process of building a company. "You just have to follow the steps."
Read more about Natasha's story here.
Starting an online charcuterie-to-go
Like so many healthcare workers around the world, Maryam Kheirabi faced new demands when the pandemic hit. An oncology pharmacist with a Miami-area hospital, she suddenly had more hours, more stress and more fears of the unknown.
To deal with the growing pressure, Kheirabi decided she needed a new activity, something that would take her mind off her stressful job and give her a newfound source of fulfillment.
That's when
Fig & Brie
, a charcuterie-to-go business, was born.
"I'm happiest when I'm extremely busy, and I wanted to create something beautiful for people to share," she says. "In a way, I think the business got me through the worst days of the pandemic. It gives me hope, and hopefully it gives other people hope, as well."
The idea came to her soon after the pandemic began, when she saw groups of friends eating from plastic containers full of snacks at a park across the street from her home for socially distanced get-togethers.
"How cool would it be to have a charcuterie box to go," she remembers thinking. It would give people the option to pre-order a food board that could be delivered just when it was needed.
A native of Queens, N.Y., who moved to Miami with her speech pathologist husband in 2016, Kheirabi grew up being responsible for creating food platters for family gatherings.
"We Persians are very big on hospitality, and I never lost my love for creating beautiful, delicious things," she says.
Once the first spike in COVID-19 cases began to ease in August, she started doing research, which included the creation of a variety of charcuterie platters for colleagues at the hospital.
A cousin in New Jersey agreed to help her secure a domain name and choose website-building tools.
"The rest was left up to me, but it was mostly dealing with aesthetics, which I love, anyway," she says.
In early November, Fig & Brie officially launched, with a range of offerings, from a $20 "solo" platter to an $85 "soiree" box.
The seed capital was $2,000 that her husband, Francisco, urged her to take from their savings, with the understanding that they wouldn't spend any more if the business wasn't profitable after a month. She ended up spending $1,900 of it in that time, but by early December the business was making money.
Kheirabi's digital marketing strategy initially was solely based on Instagram, in part because she wanted to grow slowly at first. But sales jumped more quickly than expected over the holidays, as friends and fans spread the word. One local real estate broker ordered platters as gifts to her clients.
It wasn't easy, but she and her husband managed to keep up with demand while maintaining their jobs in healthcare. It helps that most orders come on Thursdays or Fridays, for delivery on Saturday.
Francisco does everything from taking photos to taste-testing to driving their only car around the city making deliveries. When he once asked what he would be paid for all his work, she quipped, "Sorry, but we pay in cheese."
Her near-term goal is to have enough demand to hire a driver or two, and then to find a way to ship around the U.S. (That will require some innovation, to either find a way to keep fruits and veggies crunchy and fresh, or to come up with boards that meet her standards without those foods.)
Ultimately, she'd like to open a storefront in Miami and share her business model so women in other places could follow suit.
"I wouldn't be doing this if it was only for the money," she says. "That's just icing on the cake." The primary reward, other than enriching customers' lives, is to empower women, including herself.
"We're living in a time when women are standing up and taking charge of themselves," she says. She even welcomes the competition from other female-owned online charcuteries in the city. "There's enough demand to go around," she says. "Women shouldn't compete with each other. We should lift each other up."
Related: Research shows that women have what it takes to make great CEOs
The post Starting a new online business during the pandemic: Two COVID-era tales of renewal in Miami appeared first on GoDaddy Blog.
The 15 Best Franchise Opportunities of 2021
If you're looking for a new business venture, but don't want to take on the difficult work of developing your own brand image and identity, a franchise opportunity might be the best fit for you. Since there's already a strong corporate and management framework in place as well as guidelines around everything including marketing, merchandising, and production, owning a franchise can be a great choice for some.
Still, just knowing you're interested in a franchise is only the beginning; in reality, finding the best franchise opportunities can be a challenge. There are more franchises out there than one can reasonably count and consider, making it tough to figure out which one is right for you.
That's why we've reviewed many of the different options for franchise businesses, and picked out some of the best franchise opportunities of 2021 across several different sectors. Their fees and requirements vary, but you should hopefully be able to find a franchise opportunity that piques your interest and aligns with what you're hoping to build.
As we go through these businesses, remember that all costs and fees listed here are averages or approximates, and will change based on when you inquire, so make sure you contact each company for the most up-to-date numbers.
15 franchise opportunities
1. McDonald's
Initial investment: $1,263,000 to $2,235,000

Liquid cash requirement: $500,000
We're pretty positive this is a name you know. McDonald's is one of the more expensive franchises around, but has perhaps the best brand recognition in the world. If you're able to open a McDonald's franchise in a well-trafficked area without much competition, you may be able to quickly recoup the initial investment.
2. Sonic
Initial investment: $1,236,800 to $3,536,300

Net-worth requirement: $1 million to $2 million

Liquid cash requirement: $500,000 to $1 million

Initial franchise fee: $45,000

Ongoing royalty fee: 2.45% to 5%

Ad royalty fee: 3.25% to 5%
Sonic is an American fast-food staple with unmissable branding, mostly fueled by their drive-in style of service and unique soft drinks. With franchises in 46 states, Sonic offers a strong franchise opportunity that comes with a cult following for their unmistakable menu items (cherry limeade, anyone?) as well as core staples that customers expect and love.
3. Dunkin'
Initial investment: $395,500 to $1,597,200

Net worth requirement: $250,000 to $500,000

Liquid cash requirement: $125,000 to $250,000

Initial franchise fee: $40,000 to $90,000

Ongoing royalty fee: 5.9%
Formerly Dunkin' Donuts, Dunkin' certainly costs less than a McDonald's and has strong name recognition to boot. In fact, when Dunkin's first franchises returned to southern California, customers lined up at 5 a.m. in some locations, just to be among the first to get their fix.
4. Anytime Fitness
Initial investment: $107,500 to $722,800

Net-worth requirement: $300,000

Liquid cash requirement: $100,000

Initial franchise fee: $35,000

Ongoing royalty fee: $549 per month

Advertising fee: $300 per month
Few fitness franchises are as hot right now as Anytime Fitness. This gym franchise focuses on offering group workouts as well as solo workout equipment. Best of all, the franchise provides members with a keycard to access the gym during off-hours, allowing people to work out on their schedule. Operating costs are low, and name recognition is high—so high, in fact, that there are currently 4,000 locations worldwide.
5. Planet Fitness
Initial investment: $1,084,600 to $4,178,000

Net-worth requirement: $3 million

Liquid cash requirement: $1.5 million

Initial franchise fee: $20,000
Planet Fitness differentiates themselves with their iconic purple and yellow branding, low membership fees, and mission to create a welcoming atmosphere for first-time gym members and avid fitness fans alike. Gyms tend to be challenging to open, but Planet Fitness's main market is fitness first-timers, which means that these gyms can benefit from high retention rates through low prices and high sign-ups.
6. Orangetheory Fitness
Initial investment: $575,422 to $1,497,372

Net-worth requirement: $500,000

Liquid cash requirement: $150,000

Initial franchise fee: $59,950
Group workout studios are a booming business for the fitness franchise market. The desire for high-intensity interval training programs makes the desire for new programs a compelling draw for people looking to get in shape or take their training to the next level. Orangetheory's combination of running, rowing, and cross-training with a focus on heart rate is a unique way for customers to get in shape and—most importantly—keep coming back for more.
7. Primrose Schools
Initial investment: $637,900 to $6,375,500

Net-worth requirement: $750,000 to $1.2 million

Liquid cash requirement: $350,000 to $1.2 million

Initial franchise fee: $80,000
Early childhood education is a prime market for franchise opportunities as parents look to give children every opportunity to learn—even within their early years of education. Primrose Schools are a solid franchise because they offer educational programs all year round, are licensed facilities for educational child care, and give their teachers continuing education access to keep their skills sharp.
8. Kiddie Academy
Initial investment: $425,000 to $4,163,000

Net-worth requirement: $700,000

Liquid cash requirement: $225,000

Initial franchise fee: $135,000
Kiddie Academy also offers a compelling opportunity in the early childhood education market, serving up a hybrid of child care and educational development that helps keep children entertained and learning at the same time. There are franchise opportunities throughout 49 states (sorry, Montana), and plenty of room to grow.
9. Kumon Math and Reading Centers
Initial investment: $73,373 to $154,825

Net-worth requirement: $150,000

Liquid cash requirement: $70,000

Initial franchise fee: $1,000

Ongoing royalty fee: $34 to $38 per student, per month
The Kumon Method for improving math and reading comprehension was first created in 1958, based on a curriculum developed by Toru Kumon in Osaka, Japan. Today, Kumon Math and Reading Centers help students learn critical math and reading skills that prepare them for more complex concepts later on in their education. With a low cost to entry and high demand, Kumon can be a great opportunity to help students get a leg up on their education, while also creating a great business opportunity for prospective franchisees.
10. Ace Hardware
Initial investment: $286,000 to $2,110,230

Net-worth requirement: $400,000

Liquid cash requirement: $250,000

Initial franchise fee: $5,000
Ace Hardware is an excellent franchise prospect for providing an antidote to the big-box home improvement store experience, which is typically marked by unhelpful staff and overwhelming product choices. Instead, Ace Hardware locations pride themselves on hiring staff that put customer service at a premium and keeping product choices to a reasonable selection. Their franchises make it easier for local hardware stores to remain competitive against mega-stores by way of their cooperative structure and store-brand products.
11. Snap-On Tools
Initial investment: $172,207 to $375,265

Net-worth requirement: $37,999 to $55,377

Liquid cash requirement: $37,999 to $55,377

Initial franchise fee: $8,000 to $16,000

Ongoing royalty fee: $125 per month
Any gearhead, DIY aficionado, mechanic, or professional contractor will tell you that few tool brands have as high a reputation for quality—and even a cult following—as Snap-On does. This high brand affinity makes Snap-On a great franchise to consider if there's a strong opportunity in your determined area. The low investment threshold and net worth requirement also make Snap-On a promising option for would-be owners that aren't flush with the kind of cash needed to sign on with other franchise businesses.
12. Pillar to Post Home Inspectors
Initial investment: $37,100 to $45,900

Liquid cash requirement: $10,000

Initial franchise fee: $21,900
Home inspection services are always in demand, particularly in parts of the country where home sales are hot and the real estate market is hopping. Pillar to Post makes the process of starting a home inspection business easy, providing franchisees with everything they need to drum up new business, train staff as necessary, and their proprietary software makes home inspections easy for staffers to complete.
13. Keller Williams
Initial investment: $183,947 to $336,995

Liquid cash requirement: $150,000

Initial franchise fee: $35,000

Ad royalty fee: $1,000 per year
Keller Williams has a reputation for providing real estate agents with opportunities to grow professionally while helping their clients find their dream homes. The company began in 1987 and has been attracting agents through profit-sharing agreements and other perks, which can make it easier for franchise owners to recruit and retain top talent.
14. FastSigns
Initial investment: $197,172 to $313,136

Net-worth requirement: $300,000

Liquid cash requirement: $80,000

Initial franchise fee: $49,750

Ad royalty fee: 2% per year
If you're going to own a store, then you'll quickly realize how important signage is. FastSigns has been franchising their signage shops since 1986. With more than 600 locations, the Texas-based company offers opportunities for entrepreneurs to get involved with this high-visibility "visual problem-solving" company both in the U.S. and abroad, too.
15. Merry Maids
Initial investment: $89,619 to $125,023

Net-worth requirement: $90,000

Liquid cash requirement: $35,000

Initial franchise fee: $37,500 to $51,500

Ongoing royalty fee: 5% to 7%

Ad royalty fee: 1.3% per year
The home cleaning sector can be overwhelming for many consumers as options abound. This means that operating a business that has a household name provides a competitive advantage that can turn into tangible business opportunities for franchise owners. Merry Maids has this in spades: As one of the largest house cleaning companies in the United States, this franchise is easy to set up and doesn't require a ton of startup capital to get things rolling.
Financing your franchise
As you're looking into the best franchise opportunities for 2021, one thing to keep in mind is how you're going to pay your franchise fees.
All franchises come with some kind of investment, which usually comprises corporate fees, startup costs, real estate, staff, equipment, and other expenses, too. Your investment will be contingent on several things, but the two most important are the mandatory expenses set by the parent company to get up and running as well as the regional expenses that dictate costs (in other words, some markets are more expensive than others).
Make sure you take into consideration where the capital to finance your franchise will be coming from. Many entrepreneurs choose to take advantage of a business loan, including SBA loans, business lines of credit, term loans, and equipment financing. To begin, check out the best franchise financing options.
Also note that some companies offer internal financing, as well as discounts for certain types of business owners (such as women, veterans, and more). Make sure to check with headquarters for their options if you are seriously interested in pursuing their franchise option.
The bottom line
One thing you'll find as you search through franchise opportunities: There's no shortage of great companies with strong brands and quality products and services to explore.
Still, it's important to keep in mind that the best franchise opportunity for one person isn't necessarily the best franchise opportunity for you. When you're weighing options, don't forget to take into account how much you're willing to spend on an opportunity, and, perhaps most crucially, what you're interested in doing.
There are both advantages and disadvantages to franchising, so make sure you weigh the pros and cons before moving ahead. A great franchise leader is one who truly believes in what's being sold, and wants to stand out both in their local business landscape, and also as a franchisee across their parent corporation.
Industry franchise guides
Have a specific industry in mind? Learn more about it with these franchise guides:
This article originally appeared on JustBusiness, a subsidiary of NerdWallet.
Best Craft Business Ideas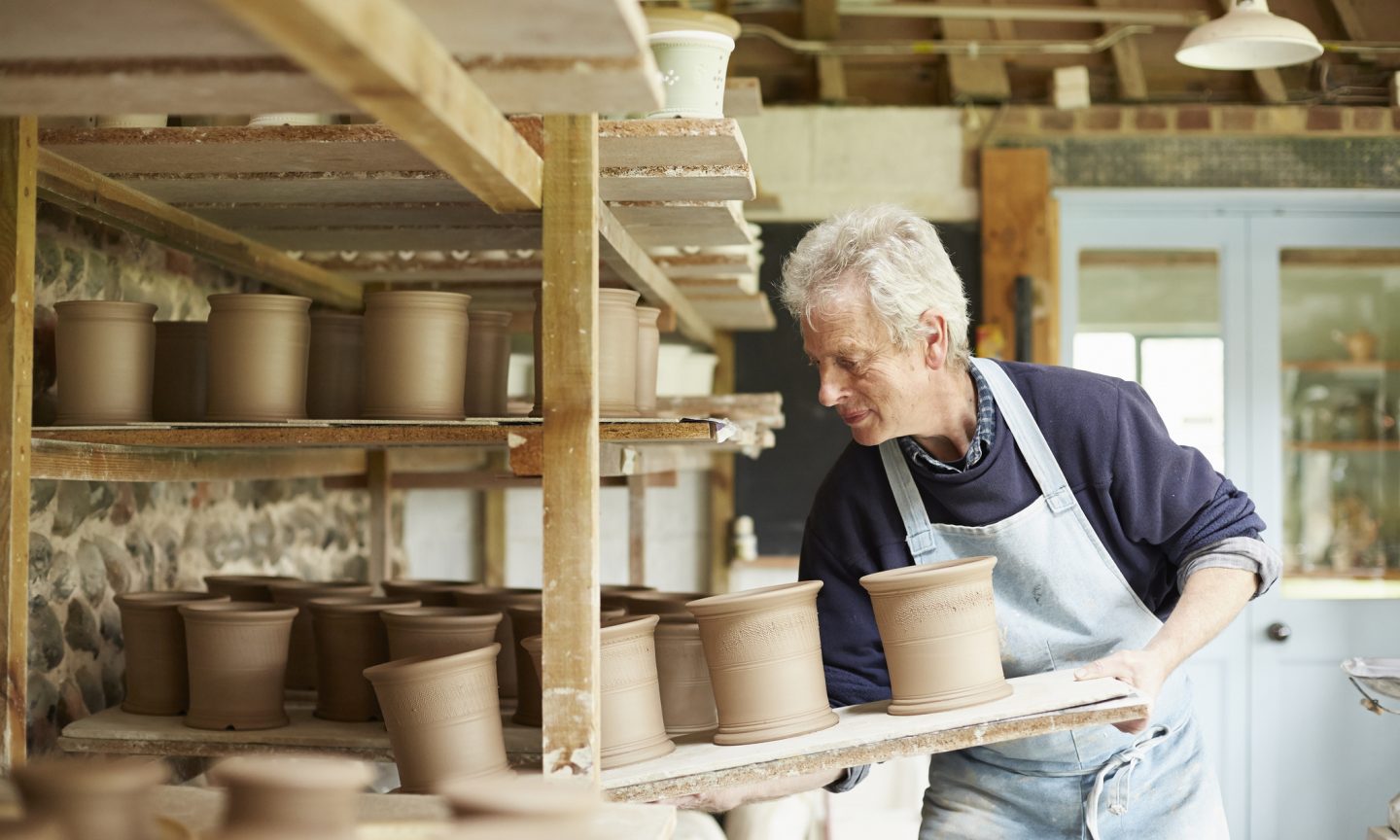 Thanks to the popularity of craft-focused, online marketplaces like Etsy, starting a business making crafts can be a lucrative endeavor for creative types. And depending on your bandwidth, it's certainly possible to turn any of the following craft business ideas from an entrepreneurial hobby to a full-time gig.
Of course, the best craft business ideas for you are those that align with your particular interests and skill set. It'd be hard to start a successful woodworking business, for instance, if you've never laid your hands on a power jointer (or if you just had to Google what a "power jointer" is). But if you're inspired to take up a new, potentially monetizable hobby—or if you're one of the gifted few whose artistic talent spans several mediums—then we'd recommend giving one of the following craft businesses ideas a go.
These 10 craft business ideas all involve different materials and skillsets. But they all require relatively few upfront and overhead costs, they're totally viable home-based businesses, and there's a market for all of these products, which makes them ideal if you want to dip your toe in the field.
10 craft business ideas to try in 2021
If you're ready to explore the best craft business ideas, the following options have something for everyone.
1. Rehab old furniture
Refurbishing or flipping furniture is an excellent craft business idea for people with basic carpentry, upholstery, and furniture stripping and painting skills (and with a garage or basement space that can double as their home studio). An overall aptitude for fixing fiddly things is key here too, as upcycling old furniture often involves revamping or replacing broken knobs, legs, and drawers. That said, it's entirely possible to learn these skills as you go, simply by searching for tutorials on YouTube. However, do make sure that you understand how to properly repair antiques and other fragile furniture before you dive in.
For this side hustle, your main upfront cost will be the furniture itself. Look for inexpensive vintage or secondhand furniture at antique stores and outlets, garage sales, flea markets, and on eBay. You won't know what materials you'll need to purchase until after you've picked up your furniture and evaluated its condition, but you can find basic upcycling tools and materials (like paints, stains, and sprayers) relatively cheaply online.
2. Jewelry making
Whether you like to work with beads, precious and semi-precious stones, charms, metals, or more unconventional materials like rope, leather, and resin, there's a market for every style of jewelry you want to create.
When you're just starting out, you can purchase materials and basic jewelry-making equipment relatively cheaply at crafts stores like Michael's. Use these preliminary pieces to "test-run" your designs and processes. At this stage, you can ask your family and friends to wear your pieces and provide feedback about their comfort, the integrity or strength of the construction, and any other helpful advice.
As you nail down your aesthetic, branding, designs, market, and the materials you enjoy working with, you can purchase higher-quality materials in bulk from wholesale suppliers. And when you feel ready, consult our guide on how to start a jewelry business for step-by-step advice on how to turn your craft into a full-blown business.
3. Printmaking
In this context, "printmaking" can refer to a number of mediums. Platforms like Printful and Society6 enable illustrators and designers to print their designs on virtually any product you can imagine: blankets, apparel, tapestries, laptop and phone cases, yoga mats, stickers, mugs, pillows… the list truly goes on. Of course, you always have the option of going traditional and sticking with framed wall art. Both of these particular services handle shipping and fulfillment processes as well, which cuts out one of the major lifts involved in running your own craft business.
4. Knitting
A knitting business is potentially the lowest-cost venture on this list, as your material costs are essentially limited to yarn and knitting needles (though we assume you already have the latter). If you're already a hobbyist, we can also safely assume that you know where to buy high-quality yarn, potentially in bulk, so you won't need to sink time into finding a vendor.
To start, focus on creating simple, smaller items—more hats and potholders, less sweaters and blankets—so you can more quickly produce, sell, make a profit, and garner feedback from your customers so you can shape your offerings and branding accordingly. As a supplement to selling your knit products, consider designing your own knitting patterns and selling them along with instructions.
5. Stationery and greeting card design
If you have a talent for lettering, illustration, and calligraphy, and you're interested in the printing process, consider putting your unique skill set to use as a stationery and greeting card designer. (Bonus points if you love a good pun, too.)
Spend some time researching the market and industry so you know how to tailor your designs and branding, and how to position your own designs in the market. Spend some time coming up with your preliminary designs in a range of formats, like bespoke stationery, wedding and other event invitations, and several types of greeting cards. Test out a few materials and colorways, as well. In addition to your design materials, like papers and pens, you'll also need to invest in stationery tools like paper cutters and trimmers.
When you're just starting out, you can likely print your own work with an inkjet printer. But ultimately, you'll likely need to find a trustworthy printer who can print your designs in larger volumes. Look into both local printers and online print services, and ask for sample prints from both. Work with the service that prints your work in a timely manner, according to your standards, who works within your budget, and who can answer your questions about the printing process (which can be tricky and complex for people with no prior experience).
6. Ceramics
To start a ceramics business, you'll need a dedicated studio space with a sink, kiln, clay, shaping and finishing materials, and glazes. A pottery wheel is incredibly useful as well, but it's possible to make ceramics without a pottery wheel. We'd recommend scouring Pinterest, Etsy, design blogs and magazines, and both small and large retailers to get a pulse on current ceramics trends, and forge your own aesthetic from there (without compromising your own design values in the process, of course).
7. Floral design
In addition to creating custom and readymade flower bouquets, floral designers are responsible for the greenery displays and designs at various events, in stores and restaurants, and, potentially, in people's homes as part of a holistic interior design strategy.
It helps to have an existing network of potential clients, so people with home or interior design experience, or who have previously worked in floral shops or in landscaping, will likely find the most (or the fastest) success in this field. That said, if you have a natural flair for floral arranging and a good eye for design in general, it can't hurt to start by designing for your family and friends and letting them talk up your skills to their networks.
Either way, we'd recommend taking a floral design class, either in-person or online. These classes teach you how to properly handle several types of flowers and plants, key design elements to floral displays, and how to tailor your designs to particular events or clients. Some courses even specialize in starting a floral design business.
8. Candle making
You only need to glance at Instagram, Pinterest, or candle hauls on YouTube to know that there's a huge demand for candles, especially those with yummy scents and design-forward packaging. (Maybe it's an enduring obsession with hygge, the Danish and Norwegian term for coziness that's become a home-decor phenomenon in the English-speaking world.)
Other than learning how to make candles (which you can easily learn through your own research and handy YouTube tutorials), the first step in starting a candle-making business is to develop your scent and gather your materials. Purchase a collection of fragrance oils and develop a few scents you're happy with. Then, you can purchase your other materials—including paraffin, soy, or beeswax, plus wicks, measuring instruments, a thermometer, molds, and containers for your candles—either from a wholesaler in bulk, or with a readymade DIY candle-making kit. We'd recommend the latter when you're just starting out, then seeking wholesale vendors when you're ready to make bulk orders.
In order to price your items, you'll need to define your market. Candles run the gamut from $1 unscented tea lights to $85 luxury candles (check out Byredo for some serious candle envy). Your price point depends on the quality and type of materials and ingredients you're using, of course, but you should also shape your pricing around what your target market will realistically spring for.
9. Gift baskets
This craft business idea may require more overhead costs than others on this list, since you'll have to source and purchase several items and gift wrapping material for each type of gift basket you offer. But your offerings can be incredibly varied, so your market may be less limited than other craft businesses we've mentioned here.
Most importantly, you'll need to develop your angle. Think about theming your gift baskets according to an occasion or event—back-to-school for college students, baby showers, sleepaway camp, holidays, anniversaries, bachelor and bachelorette parties, graduation, and retirement are just a few options. You can also design specialty baskets for certain food or beverages, like a wine-and-cheese lovers' box, an all-chocolate basket, or a basket that sources from local businesses. Get creative with the items you provide within each theme, too. Thinking outside the box, so to speak, along with a sense of humor (like laundry detergent and aspirin for your college freshmen box) will help set your gift basket business apart from your competitors.
10. Bath and body products
Much like starting a candle business, creating bath and body products firstly involves deciding which products you want to create and nailing down your formulas and scents. This step might take some experimentation, so enlist your (consenting) friends and family to find out what works, what doesn't, and the scents and ingredients people respond to best. You can start by sourcing your ingredients from local crafts or beauty supply stores, but eventually, you'll want to work with vendors who can supply you with ingredients in bulk.
Your packaging is almost just as important as your product, so take the time to design a logo and packaging that aligns with your overall brand strategy and market positioning. If you're not confident in your own design skills, hire a graphic designer to do this for you. Trust us—the money will be worth it when you draw in more customers.
The next step: Selling your crafts
Until you actually sell your crafts, your craft business is actually just a crafting hobby—and since you're reading this article, we'd guess that you'd prefer to achieve the former. But as we mentioned earlier, the barrier to entry for selling your crafts is very low when you leverage craft-centric online marketplaces, galleries, and your own ecommerce store. And since most people shop online these days, we'd seriously recommend that you leverage as many relevant online sales channels as you're able.
Etsy is hands-down the best marketplace for crafters to sell their work online, but it's worth looking into selling on Amazon and eBay, as well. You could also look into selling on Society6, an online gallery geared toward crafters.
At the same time, prioritize building a business website with ecommerce functionality. That way, you can redirect all the customers you'll garner from these highly trafficked platforms onto your own, dedicated store—and, hopefully, start to build up a loyal customer base. Don't forget to create a Facebook Business page and Instagram account dedicated to your craft business, too
All your online sales channels should be supplementary to in-person sales tactics, like crafts fairs, trunk shows, asking local businesses if they'd consider selling your work, and—most importantly—word of mouth marketing. Start by selling your crafts to your friends, neighbors, colleagues, and family members, and ask them to spread the word to their network about your new venture. Happy crafting!
This article originally appeared on JustBusiness, a subsidiary of NerdWallet.