Changes coming to Google Search in June 2021
Get up to 30%* off! Get going with GoDaddy!
Starting in mid-June through August, Google will be bringing page experience to Google Search. Things that make a website great to use — like page speed, stability, and mobile-friendliness — will be playing a contributing factor in how your website ranks on Google.
If you need help making any of these changes, we can do it for you! Godaddy's Website Design Services can make sure your site is built using Google's best practices.
What is Google Lighthouse?
Google Lighthouse is a development tool that can measure your website's overall health. Each element that Google checks for factors into your site's SEO performance. Here are the kinds of things that Google tests on your website:
Your performance score is made up of these key metrics.
First Contentful Paint is the time from the page starts loading to when any part of the page shows up on the screen.
Speed Index is how quickly content shows up when your website loads.
Largest Contentful Paint is how long it takes for the largest image or text block on your website to load.
Time to Interactive is how long it takes from when your page starts loading to when someone can interact with the loaded resources (like clicking another page or form)
Total Blocking Time is the total amount of time between First Contentful Paint (FCP) and Time to Interactive (TTI).
Cumulative Layout Shift is the total layout shift score for your entire website.
Here are three additional categories that Google measures:
Loading time is how fast the main content on your page loads.
Interactivity measures the time from when someone first clicks on your page to when the browser (like Google Chrome or Safari) begins processing that info.
Visual stability means that your site is free of distracting or unexpected content like pop-up windows.
Your accessibility score is another important metric. It measures how accessible your site is to different kinds of people. Here are some examples of things Google checks for:
High contrast between your site background and your text
Captions on videos
Alt text on images
Google also grades sites on their overall SEO performance, adherence to best practices, and speed and reliability. Sites that get a high score across all these categories will perform better in Google Search.
So, what's changing?
Google has always rewarded sites with good design and content. When this update goes live in June, Google will be incorporating user experience criteria, including Core Web Vitals — metrics measuring speed, responsiveness, and stability. Sites that meet these guidelines will be prioritized in Google Search. Let's dive into each metric more deeply.
What are Core Web Vitals?
Largest Contentful Paint (LCP) measures loading performance. Sites should aim to have an LCP of less than 2.5 seconds of the page starting to load.
The Cumulative Layout Shift (CLS) measures visual stability. Sites should strive to have a CLS score of less than 0.1.
First Input Delay (FID) measures interactivity. Sites should strive to have an FID of less than 100 milliseconds.

Other search signals
Mobile-friendliness — The site is easy to view on a mobile phone. You can scan your site to see if it's mobile-friendly here.
Safe browsing — The site doesn't contain any malicious or deceptive content.
HTTPS — The page is served over HTTPS, which means the site connection is secure. This is achieved by adding an SSL to your website.
No intrusive interstitials — The content on the page is easy to access, without any distracting or unexpected content like pop-ups covering the main content.
Related: Everything you need to know about Google Core Web Vitals for small business
What does this mean for me?
Test your website using one of the Google tools below. Then, if certain scores on your website need attention, you can review the tips on how to impact top-contributing factors.
Remember: if your site doesn't accommodate Google's new requirements, it's likely that your SEO ranking will suffer, and it will be harder to find your website online.
GoDaddy's Website Design Services can make this simple by building or rebuilding your website for you. You'll get a stunning professional website that is secure, mobile-friendly, and built with Google's best practices and new requirements in mind. Request a call with our experts today.
Testing your Core Web Vitals
First, you'll need to use one of these tools to measure your Core Web Vitals. The first on the list, Chrome User Experience Report, uses anonymous data to help website owners figure out how they're doing without needing to install metrics tools. Imagine if you could take a census taken across thousands of websites — that data helps power these tools.
Chrome User Experience Report collects real, anonymized user measurement data for each Core Web Vital. This data enables site owners to quickly assess their performance without requiring them to manually insert analytics tracking on their pages. The data also powers tools like PageSpeed Insights and Search Console's Core Web Vitals report.

How to fix your website's Core Web Vitals
General guidelines
The typical goal of a website for a business is to provide information to increase conversions, whether to generate more sales or to garner leads for a service, and a great design will only get you so far.
It's critical to prioritize superior performance over a flashy design. Having a website with lots of dynamic features and animations (especially on mobile) can be impressive but might perform poorly. Ultimately, a solid site with reliable performance will always generate more leads than a site designed without performance in mind.
According to WPO Stats, here are some examples of why this is important:


Making fixes
Fix everything labeled "Poor" first, since they're the lowest-scoring parts of your site. Next, you can prioritize work by the issues that affect the most URLs on your site or by fixing the issues that affect your most important URLs. Anything you see labeled "Needs improvement" can be fixed but isn't as crucial as the "Poor" label.
Fixing LCP (Largest Content Paint)
Did you know that the longer your page takes to load, the lower your conversion rate will be? Vodafone improved their LCP by 31%, resulting in an 8% increase in sales, a 15% increase in their lead to visit rate, and an 11% increase in their cart-to-visit rate.
The following items can contribute to a high LCP: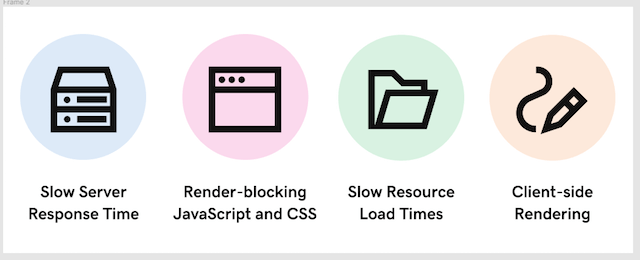 Slow resource load times
This is primarily impacted by the type of content you have on your site. You can use a tool like the developer console Performance tab in Google Chrome to identify how long each element on your page is taking to load and address it accordingly. Here are a few suggestions that will help improve your resource load times:
Videos used as a design element, in headers or as a background, can add a lot of visual impact on your website but should be used sparingly and on desktop only, if possible. Default to images on mobile or tablet devices
Be sparing with animation. Try to include videos only when they're not resource-heavy. You should also only include videos that are critical to your site goals
Optimize your images. Here are key ways to ensure your images are optimized:

Remove anything that isn't relevant. If the visual isn't there to serve a purpose, then it's just increasing the size of your website without providing any additional value.
Compress your images. Make sure that your images are the right size for the content area. You can also use tools that are tailored to compression that will help retain image quality.
Convert to next-gen image web formats like WebP over JPEG. Next-gen images are formatted for compression and quality, helping website pages load faster while using fewer resources. Be sure you have a common version as a fallback (like JPEG) in case your visitors' devices don't support the modern format.
If you use varied sizes of the same image for different device situations, consider removing any large <srcset> images and keeping more common sizes. [Editor's note: <srcset> defines the set of images the browser can choose from, and what size each image is when working with responsive images.]
Use lazy loading tools or code to delay loading images. This means that images won't load until a user scrolls to that placement on the page.
Related: How to optimize images for the web
Slow server response time
There are several items that impact your server response time.
Lack of CDN (content delivery network): A CDN will help accelerate your content delivery, increasing your site speed, by reducing the amount of distance between your customer and the server that is providing the content for your website. When choosing a CDN, you will want to ensure it has PoPs (Points of Presence) located near or throughout the areas where you target customers the most.
If your database is too large and needs to be optimized, here are some items you can try to get better performance:
Remove page revisions that you no longer need. In some cases, a database could keep all your revisions of every change made, causing your performance to degrade over time. Pro tip: if you don't want to continuously maintain your revision history, you can add code to your website specifying a specific number of revisions to keep.
If you don't plan on using certain content, consider deleting pages and posts.
Keep your website tidy by removing spam and trashed comments.
Your hosting environment can play a key role here. You'll want to make sure you choose a strong hosting environment that focuses on speed and performance.
Related: Building a server — home or hosted server?
Render-blocking JavaScript and CSS
To eliminate render-blocking JavaScript and CSS, you'll need to minify and combine CSS and JavaScript files where you can. Set JavaScript to load deferred so you won't block any other content or asset downloads. This can slow down your site performance.
Optimize CSS delivery by building some tooling that will prioritize your critical CSS over content below the fold. Remove unused JavaScript too, as this will just create unnecessary bloat on your website. You can find more details on LCP here.
Fixing CLS (Cumulative Layout Shift)
If you've ever gone to a website and been redirected by a sneaky ad, you've experienced poor CLS. This happens when a page shifts and causes a visitor to interact with an ad or pop-up by accident.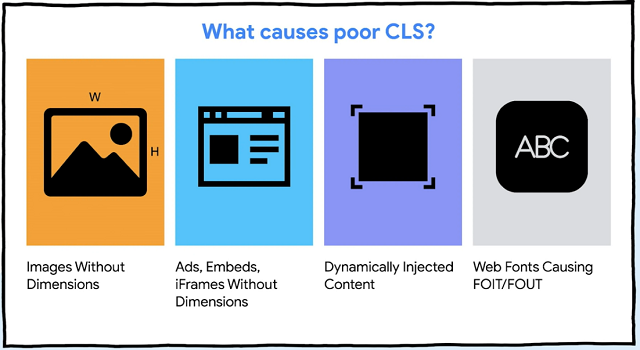 To avoid poor CLS, make sure your content has dimensions. Always include width and height attributes for images and videos so modern browsers can translate the aspect ratios for different devices. Without these elements, the content will be pushed around on the screen and can cause unpredictable shifts in your layout.
If you have ads or embeds on your website, specify the content container width and height to match the expectations of how the content should be displayed on your site. More details on CLS can be found here.
Fixing FID (First Input Delay)
First Input Delay is the amount of time between when a user interacts with your page and the browser responds to their interaction.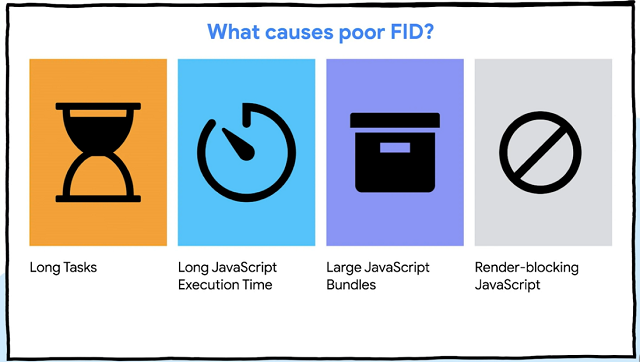 First Input Delay uses field data, real-world anonymized performance data, to measure the time between when a user interacts with your page and when the browser responds to that interaction.
FID is closely related to LCP. LCP is lab data (a simulated, though comparable experience) that measures how fast your page takes to load enough data to be interactable. This is called "painting" your site, hence Largest Content Paint.
FID is measuring how responsive your website is when customers try to interact with your painted page, like clicking your call to action (CTA) link or button.
The main factor affecting FID is heavy JavaScript execution. It's key to break up the JavaScript work, serving up what the user needs when they need it.
For further improvements, you can use the Google Lighthouse to scan your website to receive a performance audit and fix any opportunities referenced. More details on how to optimize FID can be found here.
The changes coming to Google Search will present a challenge to many website owners. But, with some hard work, making the necessary fixes will pay off. Or, if you need some extra help, contact the SEO experts at GoDaddy.
Heather Rudnick contributed to this article.
The post Changes coming to Google Search in June 2021 appeared first on GoDaddy Blog.
3 Ways Marketers Can Earn — and Keep — Customer Trust
A 2021 survey of 1,000 consumers concluded that more than 80% consider trust a deciding factor in their buying decisions, despite the fact that only 34% trust the brands they use. As trust in institutions diminishes, consumers are increasingly skeptical of where they put their money and receive their information. The author recommends three marketing strategies for brands to maintain and foster trust in their brands: 1) Do not overspin, 2) Avoid half-truths, and 3) Read the room and adjust.
It is no big secret that our world has a trust problem. Amid a global pandemic, economic crisis, and political instability set against a backdrop of deep cultural malaise, people no longer know where (or whom) to turn to for dependable information amid widespread disinformation and propaganda.
Similarly, government leaders, briefly seen as the most trusted institutions at the beginning of the pandemic per the 2021 Edelman Trust Barometer, squandered that goodwill when they could not halt the virus or restore economic stability. And per the 2021 Edelman Trust Barometer, trust in U.S. CEOs is at 47%, and credibility has basically hit rock bottom in Japan (18%) and France (22%) as consumers wake up to the indignities and absurdities of unfettered capitalism.
Yes, trust is in short supply, yet it remains a vital currency in sustainable customer relationships. A 2021 survey of 1,000 consumers concluded that more than 80% consider trust a deciding factor in their buying decisions, despite the fact that only 34% trust the brands they use. Consumers, of course, are not a monolith. And as it so happens, age is a key differentiator in understanding the intricacies of the public's confidence in and perception of the news media, in particular.
Per a Gallup/Knight Foundation survey, older Americans tend to rely on maybe one or two sources for all their information, and they prioritize brand reputation and political slant when evaluating an outlet's credibility. Conversely, younger adults (18- to 34-year-olds) are more likely to gather information from numerous sources and place more of a premium on how open that outlet is with its facts, research, and processes.
Younger consumers also view national news outlets with more skepticism, with just 29% saying they trust them compared to 41% of adults over 55. A credible media landscape is always critical, but with the line between marketing and media blurring each day, news organizations' morale fiber can sometimes be linked to that of a brand.
To summarize, ​​older adults are more brand-conscious, while younger adults are more process-conscious. As marketing experts, we can apply these findings to our brand messaging to develop credibility with our intended audiences as they age and evolve. Here is how.
1. Do not overspin.
Though Edelman found that trust in CEOs hit an all-time low in 2021, the same study revealed that businesses are still considered more trustworthy than governments, NGOs, and the news media. With such power comes great responsibility. CEOs and other business leaders must address today's most pressing challenges and focus on societal engagement with great fervor. According to the 2021 Edelman Trust Barometer, 53% of respondents believe that business leaders have a duty to fill the information void left by the news media.
This is not the time for corporate platitudes. People are smarter than you think. If you attempt to fool them, they will find out — and the hit to your credibility will outweigh any short-term gains that you made.
Think back to summer 2020, when PR teams across industries jumped to distribute public denouncements of systemic racism. People were quick to call out the performative allyship of companies such as Glossier, whose public anti-racism pledge was at odds with former employees' recounts of on-the-job discrimination and toxicity. So make sure you back up any announcements with actual steps. For example, Ben & Jerry's is not one for empty promises, and its statement on racial injustice held a lot more weight because company leaders have a track record of on-the-ground activism.
Keeping your message free of excessive spin goes a long way with the public and protects you from potential PR gaffes down the line.
2. Avoid half-truths.
Pfizer has been in the news a lot this past year — mostly for good reasons. CEO Albert Bourla and his team cleared myriad hurdles to develop an innovative, effective Covid-19 vaccine in record time. But back in 2006, Pfizer was in the news for less-than-glowing reasons after launching a $258 million ad campaign for a cholesterol drug with Robert Jarvik, inventor of the first permanent artificial heart, as the face of it.
The tagline — "Just because I'm a doctor doesn't mean I don't worry about my cholesterol" — was catchy, but there was one problem: Jarvik was not licensed to practice medicine and, in fact, had never practiced medicine. The ads drew swift criticism that resulted in a congressional investigation and millions in monetary losses for Pfizer.
In the court of public opinion, omission is akin to lying. If a claim requires omission, then do not use it; and if you do make a mistake, own up to it. In fact, you may find consumers more forgiving if you show any semblance of contrition. Being vulnerable about where you have fallen short in the past suggests honesty, which sits at the foundation of consumer trust, brand affinity, and long-term engagement.
3. Read the room and adjust.
When was the last time you checked the pulse of your customer base? You should be continually evaluating the effectiveness of your marketing efforts by asking yourself these key questions:
What is our customer sentiment? Negative? Positive?
What are our favorability ratings? Are they rising? Dropping?
Is our audience engaging with our content?
And did we follow through on our promises?
By regularly checking whether consumers are picking up what you are putting down, you will find that you can more easily meet and even exceed their ever-evolving preferences. For example, Bryanna Evans, the social media manager at home fragrance brand SECC, told Buffer that her team's social media-powered strategy focuses on in-feed customer engagement. Not only does the social team respond whenever someone leaves a comment, but it also nurtures consumer interest by regularly posting quizzes, contests, and giveaways. As a result, SECC has built an army of loyalists and grown its monthly revenue from $20,000-$30,000 to more than $100,000.
The fight for consumer trust is ongoing — and it will not be going away anytime soon. But savvy marketers can use authentic brand messaging to engender stronger customer relationships that stand the test of time. Implement these three steps to begin building a reputation as a reliable information source that people depend on.
How to Improve Email Deliverability
If you're running a business, you need an email list. And you need to send great emails, obviously. But if those great emails aren't making it to people's inboxes, then what's the point?
If you've been putting a lot of hard work into your email marketing but not seeing the results you want, then maybe your email deliverability could use some help. I'm going to share the four key factors that will help make sure more of your emails stay out of spam and land in the inbox.
And if you don't have an email list yet, this will set you up for success right from the start!
The Four Pillars of Email Deliverability
When it comes to email, it's all about deliverability. You can have the fanciest automations, the best copy, the best upsells, downsells, follow-ups… But if nobody's getting those emails in their inbox, then it's all for nothing.
This is where you're up against the algorithms of the email giants that control more than 50 percent of the world's inboxes: Google, Microsoft, and Yahoo!. You've got to understand what they're looking for—and play by their rules.
The good news is that it's not that difficult to stay on the good side of the algorithms. Anyone can avoid the spam folder as long as they follow a few key guidelines.
There are four main pillars of email deliverability, and they form the acronym RACE:
Reputation
Authentication
Content
Engagement
Pat and email deliverability expert Adrian Savage covered these four pillars in depth in SPI episode 498:
Reputation
In business, as in everything, reputation matters. If you've got a lousy reputation, no one's going to want to listen to you.
When it comes to email marketing, you need to focus on what's known as your sending reputation.
You see, the big mailbox providers are monitoring the emails you're sending, and most importantly, how people are reacting to them.
The more they see people marking your emails as spam or ignoring or deleting them, the more they're going to mark down your sending reputation. And they're more likely to send your emails right to the spam folder.
That's the simple version, but it means that everything you do with your email marketing has to be focused on preserving and improving your sending reputation.
How to Improve Your Sending Reputation
So what can you do to improve and maintain your reputation with the big email services?
First, use common sense. If you feel like you're gaming the system, you probably are—and you're eventually going to get found out.
A (not so) great example is downloading lists of email addresses from the internet.
The only legitimate way to get ahead now with your email list is to send emails only to people who have specifically asked you to contact them.
If you buy a list and start emailing people who haven't given you permission, you're much more likely to get spam complaints, which will hurt your sending reputation.
And what's the only definition of spam that matters in the eyes of the mailbox providers? Whatever the recipient thinks it is.
There are also businesses out there, like Spamhaus and Cloudmark, that operate email addresses called spam traps. If you send an email to a spam trap address, then you may be added to blocklists that tell the world you're a low-reputation sender.
If you do decide to buy a list of addresses for some reason, make sure you really trust the person providing the data—it's much better to control it yourself.
Next, you'll want to clean your email list regularly. That way, you'll avoid hitting what's called a recycled spam trap.
Here's how that works.
Suppose 10 years ago you had a Hotmail address that you'd stopped using, and Microsoft canceled your account. For the next few months, if anyone tried to email you, they'd receive an error saying the mailbox didn't exist. But a few months later, Microsoft might reopen that address and repurpose it to catch senders who weren't looking after the hygiene of their email list.
Send enough emails to spam trap addresses, and you'll end up on a blocklist.
So, only send emails to people who have said they want to hear from you, and keep your email list clean so you don't get caught in recycled spam traps.
Authentication
Authentication is the second crucial piece of improving your email deliverability.
It's all about telling the world that you're sending legitimate emails.
You've probably received spam from someone spoofing an email address that isn't theirs. It's relatively easy to spoof an address you don't own—what's not so easy is to authenticate one.
Authentication is what sets you apart from the spammers, and there are two steps you need to take to authenticate your email address.
The good thing is, this is usually a one-time thing you do when you're setting up your email platform.
The two authentication steps involve a couple of acronyms.
Domain Keys Identified Mail (DKIM)
The first one is domain keys identified mail, or DKIM. This is how you get your email platform to digitally sign every email that you send.
You'll need to look at your platform to determine how exactly to configure DKIM, because they all do it slightly differently. If you're stuck, then find someone who can help you, because it is probably the most important single thing that will make the difference between hitting the spam folder and hitting the inbox.
Here's guidance on setting up DKIM with some of the most popular email service providers (ESPs):
Sender Policy Framework (SPF)
The second side of authentication is something called sender policy framework, or SPF.
SPF helps identify which mail servers are allowed to send email on behalf of your domain. This communicates which platforms you trust to send emails on your behalf, which can reduce the incidence of email spoofing—people pretending to send mail as you. Like DKIM, it's a one-time thing, but crucial.
Doing those two things—setting up your SPF and DKIM settings—is going to make a huge difference in deliverability. And don't be afraid to seek help if you need it.
Here's guidance on setting up SPF with the popular ESPs:
Content
In the recent past, it was relatively easy to avoid the spam folder by being careful about the content in your emails: don't use swear words, don't mention Viagra, and don't mention "free."
Today's spam filters are much more sophisticated, and the big email providers use a ton of artificial intelligence to figure out what's junk and what's legit.
In 2005, you might have gotten away with writing "free" as "fr.e–e" in an email, but today that's a one-way ticket to the spam folder.
Making it to the inbox in 2022 is a lot more about being authentic with your email content. Here, another acronym comes in handy: WILF, which stands for:
Words
Images
Links
Frequency
Words
Words are important, obviously. And when it comes to email deliverability, it means writing emails the way you'd have a conversation with someone.
Write like yourself. The more your emails sound like they've been coming from you, the more authentic it sounds, the more likely those big sophisticated algorithms are going to recognize it as authentic.
In most cases, shorter is also better. Don't cut it down at the expense of not getting your message across, but don't waffle unnecessarily. Because, let's face it, people's attention spans are getting shorter.
At the same time, don't stress too much about content either. There are no hard and fast rules here, and you don't want to follow a rule at the risk of ruining your message.
You can always send a few test emails and see what happens. Just remember, however, that email has evolved, and no two people have exactly the same email experience anymore. The same email might end up in Spongebob's inbox and Squidward's spam folder.
But you can still learn some things by looking at the big picture of what you're sending over time. If you notice that emails written a certain way are getting delivered more often than others, use that as a data point to guide how to craft your email content going forward.
Images and Links
Here's where things get even more interesting. To include images or not include images in your emails? And what about links? One? None? Many?
First, remember that there are exceptions to every rule. But in general—and testing bears this out—the more images you've got in an email, the more likely it's headed to the junk folder. And the same goes for the number of links.
One of the quickest ways for an email to be viewed as a promotion by Google is if it has a graphical banner at the top, because that makes it look like a promo. So just cut to the chase with your message.
If you need images in the middle of the email to reinforce or illustrate things, that's a different story. But only include them if they're going to actually add value, not just for the sake of it. If you can manage three or fewer images in total, perfect.
It's the same with links: the more you use, the more your email looks like a promotion. One of the biggest mistakes people make is using a bunch of little social media icons in their email signature. Before you know it, you've got five additional images with links in your email, you're in the promotions tab.
When it comes to links, also be careful about linking to websites you don't control. You can't always be certain whether the domain you're linking to has a good domain reputation or not. It's much better to only link to content that you're in control of—like the stuff on your own website.
Frequency
Finally, there's frequency. The more frequently you send emails to the people who want to receive them, the better you're going to do. In the good old days, it was sufficient to send an email newsletter out once a month, but these days, mailbox providers are looking for consistency and engagement (which we'll talk about in a second).
The more frequently you send emails to the people that want to read them, the better it's going to look for your engagement. If you're sending out an email three times a week, then you're a lot more likely to reach more of your audience more quickly than if you're sending one email a month.
That doesn't mean you need to send an email every day—if you can, then great, if you've got enough to talk about—but the more frequently you can share some really cool value, the more people are going to love you, and more importantly, the more the mailbox providers will love you as well.
Engagement
While authentication is something you set up once and pretty much forget, engagement is something you need to pay attention to on an ongoing basis.
By engagement we're talking about, are people reading your emails? Are they opening them? Are they clicking the links? Are they actually reading them properly? Or are they just deleting it without reading?
One of the worst ways to hurt your engagement is when you send something out, it lands in the spam folder, and no one rescues it.
When someone signs up to your email list for the first time, that may be the only chance you've got to keep your emails out of their spam folder. So direct them to a thank-you page that instructs them to check the spam folder for your first email and move it to their inbox if need be. If they don't, they may never see another email from you in their inbox again.
That's the most important thing.
The other is maximizing the number of people engaging by improving your open rates. Here's where it's important to clean your email list regularly, so you're only sending email to the people who are likely to read it.
It can be scary to clean your email list regularly—because it means deleting people from your list—but it's absolutely a great thing to do for your email engagement, and for the health of your email list.
Why? It will show Google and Microsoft and Yahoo! that what you're sending is of greater interest to your subscribers. The higher they see your open rate, the more likely they are to increase your domain reputation. The better your reputation, guess what? The next email you send is more likely to land in the inbox. It's a virtuous cycle.
More Email Marketing Resources
If you're just getting started building your email list, the best time to start thinking about and implementing these email deliverability best practices is now.
And if you've had a list for a while and things have gotten stagnant, the best time to start is… also now.
If you need more support with your email marketing, you're in the right place! Here are a few more resources to help you build an audience and create more revenue with a robust email marketing practice:
Branding Mistakes That Can Cripple Small Businesses
Small businesses operate in a highly competitive market, and branding can be vital in standing out. The branding process should be done thoughtfully and deliberately.
Small businesses need to invest in their brands keenly to create a winning identity. However, in branding, emerging businesses need to avoid common mistakes like lack of brand strategy and failure to research market competition.
Lack of a Brand Strategy
You need to develop a brand strategy while detailing your business objectives. The strategy should be comprehensive and understand the business landscape while highlighting your competition. You also need to define your brand alongside your type of customers.
Note that an ideal brand strategy is developed as a creative partnership involving the client, the strategist, and the designer. In some cases, you can leverage services of third parties like Agency Boon to get ideas on different strategies.
A comprehensive strategy will assist you in working out what products and services you should focus on. From this position, you can make the right decisions to enter and grow in the market. With a strategy, every team member is aware of their role in advancing your business goals. Even when you are alone, the strategy will guide you on how to win over customers.
Not Researching Your Competition
A new small business should understand its competition since it acts as a guide to attracting customers. Researching the competition enables you to understand what other established companies in your niche have done. Understanding competition allows you to determine where other businesses have failed and how you can avoid their mistakes in your new venture. While reviewing your competition, look at products, services, target audiences, websites and social media platforms.
Note that failure to consider these factors will likely result in you being unable to understand the competition better alongside running the risk of replicating their strategy, which might fail.
Not Understanding the Target Audience
Before you start selling your products into the market, you need to understand who your right audience is and how you plan to satisfy their needs. Generally, understand their demands and expectations. Once you do identify your target audience, designing the brand message becomes easier. Additionally, having knowledge of your audience is an indicator that your customers feel valued and likely to engage with your business.
Inconsistency
Inconsistency in any business sends a message that you don't understand what you are offering. Small businesses need to present a consistent identity mainly due to benefits like fostering a sense of trust and comfort for clients. In most cases, starting a business with an inconsistent image can be viewed as unprofessional and untrustworthy.
To meet consistency, consider having a style guide for your business's visual and verbal elements.
Failure to Collect Feedback
Feedback is key to improving your business. If you have feedback channels, your customers will feel at home as they consider your business trustworthy. Additionally, you need to focus on collecting feedback from the proper channels and sources. However, limiting your sources to positive reviews will not give you an accurate picture of the business.
Avoid feedback from friends, family members, employees, and relatives.
Endnote
Managing a brand has its challenges, especially for small businesses. However, following the right branding strategies will likely elevate your business, especially if you have the right strategy in place.