Copywriting tips for your small business
Get up to 30%* off! Get going with GoDaddy!
When it comes to brand communications – whether it's through a website, a mailer, a display advertisement or an Instagram Story – the visuals are only half the battle. The other equally important half is the copy. That's why it's important to brush up on the latest copywriting tips to ensure your advertisements portray a clear message.
When designing, you'll need to think about the words you use alongside, below, or within your ad. This will help qualify what you're saying and drive a message home to your target market.
Remember, a pretty picture doesn't necessarily mean much unless it's accompanied by some sort of copy for context.
For example, think about an image-heavy platform like Instagram. People often leverage their content with a written caption under each post. Pairing this with visual branding makes your message impactful – especially for folks who like to read copy to get more details. It may even give someone that final nudge to make a particular purchasing decision.
Successful ad content maximizes the power of both words and images.
It creates harmony to craft a targeted message that evokes a particular feeling. This tango between art and copy is the backbone of most traditional advertising. And a good team will often consist of a Copywriter and Art Director working in tandem to develop ideas.
Key copywriting tips to boost your content game
Now that we've established the importance of copy to your brand communications, it's time to build up your copywriting skills. Here are 10 copywriting tips to help your ads resonate and most importantly sell.
1. Create a narrative arc
Like any good story, copy works best when there's a narrative arc present. A newsletter, for example, should contain a beginning, middle and end. The same goes for a blog post or even a captivating Instagram caption. Think of the structure like this:
Beginning: An introduction to guide your audience through
Middle: Content that's substantial, but not overwhelming
End: A conclusion that ties everything together and leaves your audience feeling satisfied, inspired or wanting more.
Crafting your copy in this way helps paint a picture that can really hit home with the person reading it. Visual tools are constantly evolving and a properly crafted narrative can help you pull the customer along.  Advancements likecarousels in Instagram can help encourage viewers to scroll to the next slide.
Similarly, you can produce video content with the same arc.  Start by introducing the topic and drawing the reader in. Then, deliver your main message (or call to action) and end with something memorable or punchy.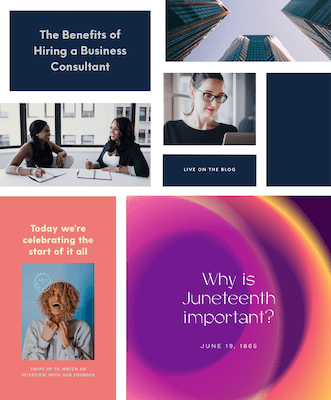 2. Calls-to-action
At the end of the day, sales copy is only as good as the actions your customers take to engage with it. Your goal may be to sell something, but your message may need to be more subtle.
One way to do this is to create brand awareness.
For example, your copy should encourage your audience to do something at the end. Think of what you'd like to accomplish and consider the following questions:
Is it to subscribe to your email database for future updates?
Aiming to have them buy a product?
How about getting them to browse your website?
Should you ask them to give their opinion on your next product?
Whatever your goal is, it's important to make their next step in the customer journey super obvious and super easy.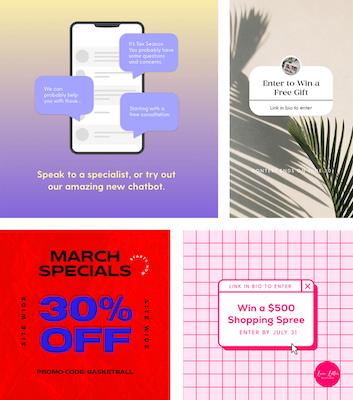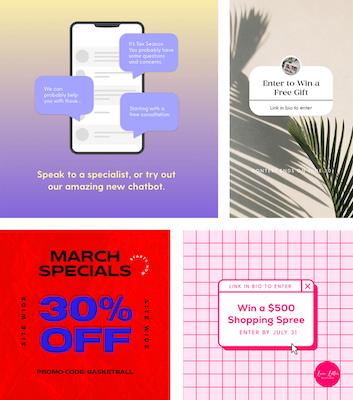 3. Keep your customer engaged
We're in an attention-driven economy, where brands are constantly vying for consumers' eyes, hearts and wallets. Any content you write needs to offer the consumer something in return. This could include:
Information that's helpful to their lives or something educational
A highly unusual or thought-provoking post
Something that's extremely relevant to the time
An entertaining post that's funny or light-hearted
You could even consider a blend of the concepts above. Just make sure you're not writing filler text for the sake of taking up space. You don't want to broadcast irrelevant information to your potential customers.
Instead, focus on the engagement. Think about what you want to say and how you can say it in a way that keeps your customer's time in mind. This will help encourage viewers to read your message and, hopefully, take action.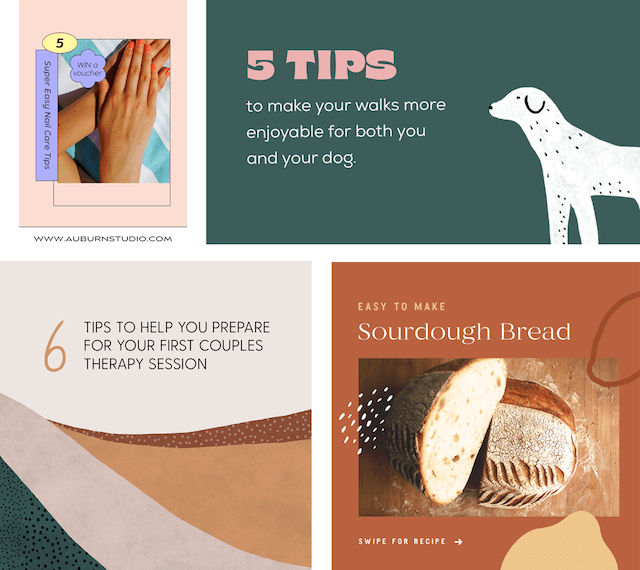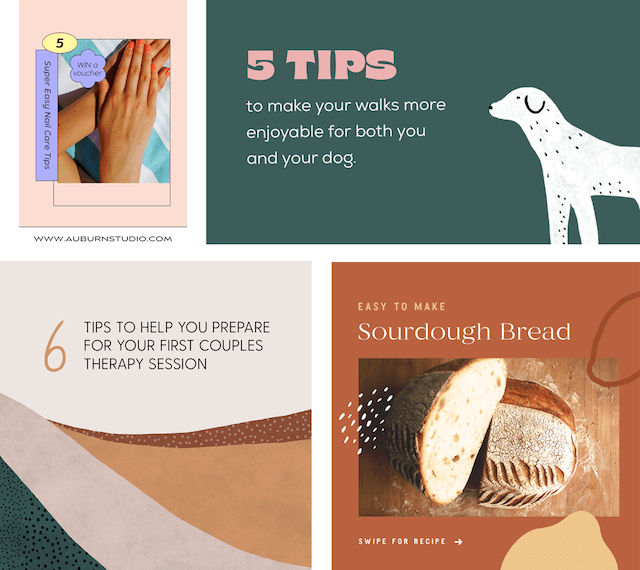 4. Know your target audience
If you know who you're marketing to, you'll be in a better position to make more sales. The key is to know your target audience's pain points, needs, and desires.
To solve these, you're going to need to do a little research. Find areas where you can help and offer them things like:
Information
Resources
Price deals that'll suit their budget
Combining graphics and copy helps build a strong line of communication between you and your audience. Take time working out who it is you're talking to and the language they respond to. Examples of different languages styles could include:
Formal
Informal
Chatty
Businesslike
Remember, the approach you take should be relevant to your brand. You'll want to take proactive measures to stay ahead of the game. You can do this by:
Conducting marketing research (surveys or polls)
Spending time where your customers are online
Noting what they respond to and how they engage with the world
Make sure that what you're saying resonates with them. That way they'll be more likely to continue interacting and buying from you.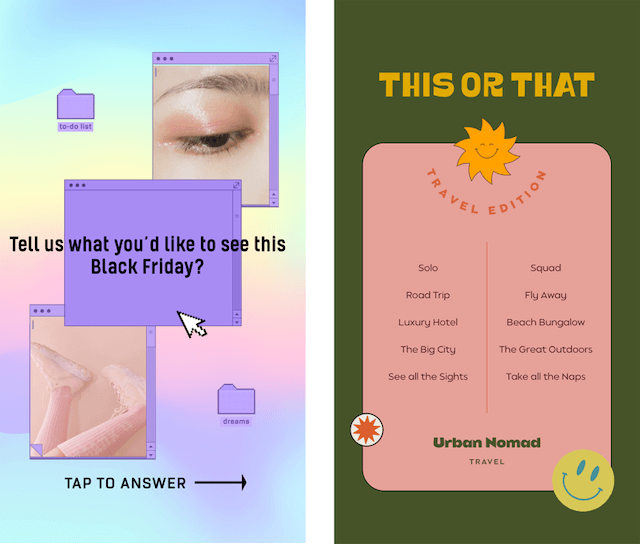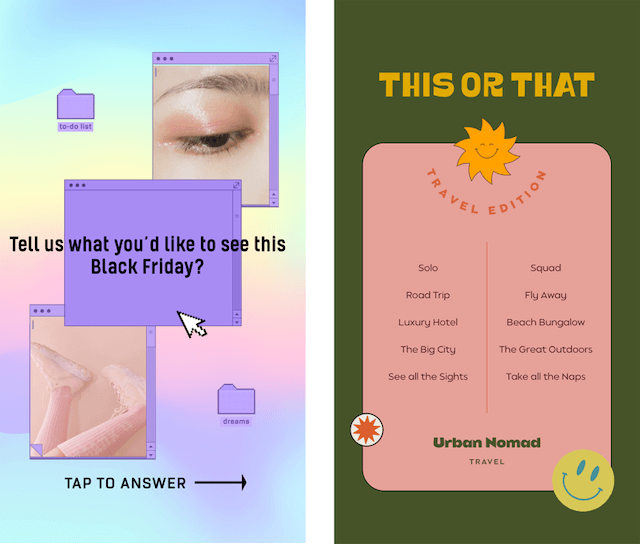 5. Headlines are crucial
The headline will be what draws your user in first and grabs their attention. It should spark interest in just a few words while giving your audience an accurate idea of what the rest of the content is about. This also applies to subheaders within your post (to a lesser extent) and should maintain consistency throughout the text.
In other words, they should be closely related. You can get creative here, but don't get too obscure or abstract. If you do, make sure that your subheading is close by to qualify what your headline says. You can apply these concepts to copy you create for:
Flyers
In-store posters
Banner ads
Instagram posts
Page on your website
Remember, the more strategic you are with headlines the better equipped you'll be at capturing your audience's attention.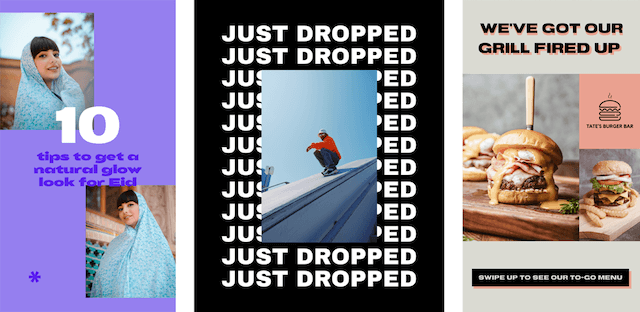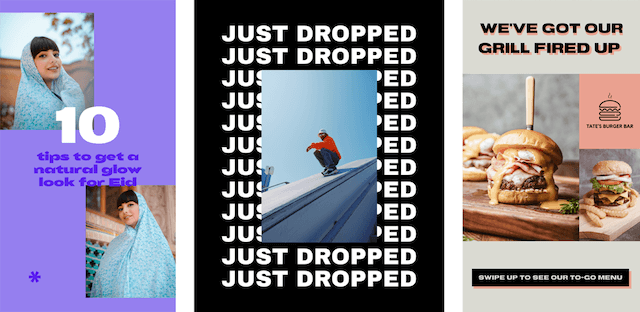 6. Get your grammar right
Grammar may not be top of mind, but mistakes in your writing reflect badly on your brand. That's not to say you can't write informally on occasion. Sometimes jargon or slang can be effective in certain situations.
But it's always important to remember the basics of sentence structure, punctuation and spelling.
Clean copy can show your customer's that you're credible and trustworthy. They often seek this reassurance before they part with their hard-earned dollars for your product or service.
Even if it's on a subconscious level, good writing can go a long way. That's why you should always  double-check whether it's "your" or "you're"; "it's" or "its." Taking a minute or two to double-check these things can make all the difference between sounding professional, or sub-consciously sketchy.
7. Be specific
A vague approach is the enemy when it comes to sales copy. Now is not the time to be abstract. If you're talking about a new offering, make sure to be specific about:
What it is
What its features are
Why your customers should buy it
If you're communicating about a sale or special offer, try to spell out the details rather than leave your customers guessing. The last thing you want to do is make them confused.
Instead, keep it simple and don't over-complicate your writing when explaining things. Focus on shortening sentences in the active voice (see below) and use visual aids like lists and bullet points to make your message even clearer.
In turn, shaving an extra ten seconds off your copy helps keep your audience engaged – especially in the age of short attention spans.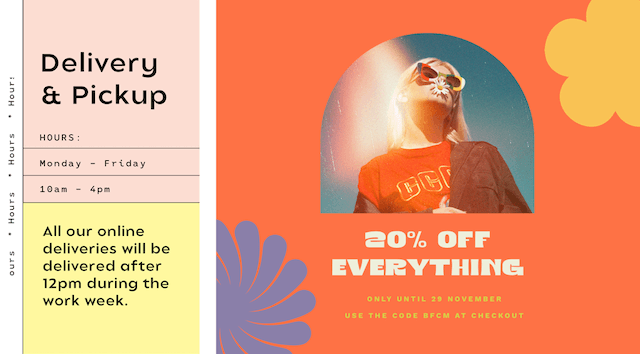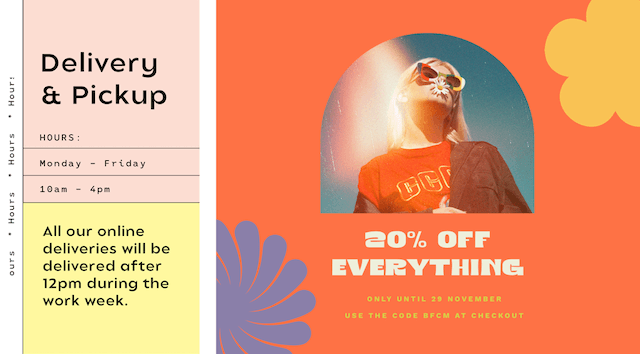 8. Use the active rather than passive voice
As we mentioned above, sales copy is all about getting your customer to do something. That's why a key copywriting tip is to write in the active voice rather than the passive whenever possible.
For example, "Buy two items today and get 15% off!" is far more powerful than "15% off every two items purchased." It subconsciously etches an action into our minds, as opposed to a concept.
The act of buying something is a lot more vivid than the concept of something being on sale.
Although the difference is subtle, it's an all-important tool in customer engagement — especially in those precious moments between consideration and purchase.
9. Sell the sizzle, not the steak
This is an old concept, but it's worth repeating: When trying to sell something, emphasize its benefits over its features. Focus on the details that show how it makes your customers' lives better, simpler, or more fun.
For example, let's say you own a juice shop. Instead of listing the fruits and vegetables in your pressed juices, talk about how the vitamins and minerals from each ingredient can benefit someone's health. You could even explain how it helps them detox or gives them more energy.
The same concept of benefit-boasting applies with services, too.
If you were to market a tax consultancy, for instance, you'd likely focus on how much stress you'd take away rather than your competitive rate. The prospect of not tearing your hair out or losing a week of sleep might be more compelling than saving $15.
10. Develop your brand's personality
Just like your brand's visual identity, your copy needs an identity too. Think of your copy style as a person and imagine how they would speak and what they would say. Ask yourself:
Are they formal or informal?
Young or old?
Quirky or traditional?
It's important to get your tone and style right, that way you can use it consistently throughout all your communications.
Remember your audience is probably interacting with your brand in more than one place, both online and offline.
The way you speak to them needs to remain consistent across all your touchpoints. It'd be weird to find a joke-cracking brand acting one way on Instagram and business-like on their website, right?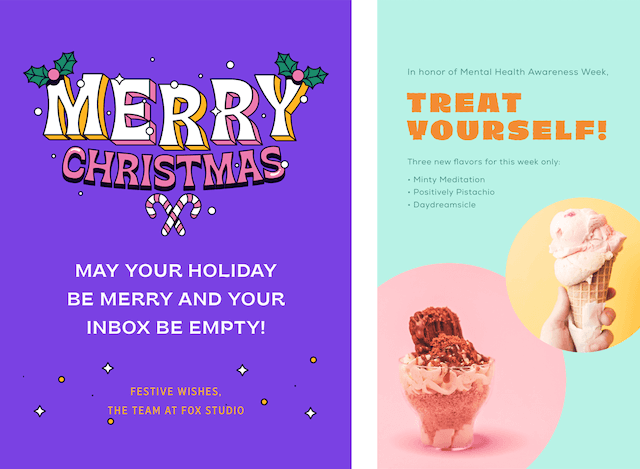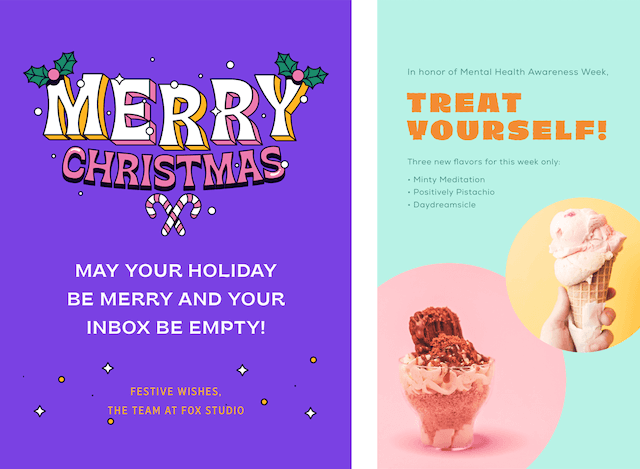 Final thoughts
While you may be tempted to judge a book by its cover, it's ultimately the words on the inside that counts. The same goes for branding. If the words across your content don't live up to your reader's expectations, they probably won't get to the final stage in the purchasing journey.
And while visuals are important, words are potentially even more powerful in retaining attention. They keep your customers engaged, help make strong calls to action, and direct your audience to do something.
By keeping these copywriting tips in mind, you can really stand out in a crowded marketplace. Crafting quality copy can make all the difference between generating casual views and acquiring loyal, repeat customers.
4 tips to find the funding that fits your business
The facts are clear: Startups are finding funding increasingly difficult to secure, and even unicorns appear cornered, with many lacking both capital and a clear exit.
But equity rounds aren't the only way for a company to raise money — alternative and other non-dilutive financing options are often overlooked. Taking on debt might be the right solution when you're focused on growth and can see clear ROI from the capital you deploy.
Not all capital providers are equal, so seeking financing isn't just about securing capital. It's a matter of finding the right source of funding that matches both your business and your roadmap.
Here are four things you should consider:
Does this match my needs?
It's easy to take for granted, but securing financing begins with a business plan. Don't seek funding until you have a clear plan for how you'll use it. For example, do you need capital to fund growth or for your day-to-day operations? The answer should influence not only the amount of capital you seek, but the type of funding partner you look for as well.
Start with a concrete plan and make sure it aligns with the structure of your financing:
Match repayment terms to your expected use of the debt.
Balance working capital needs with growth capital needs.
It's understandable to hope for a one-and-done financing process that sets the next round far down the line, but that may be costlier than you realize in the long run.
Your term of repayment must be long enough so you can deploy the capital and see the returns. If it's not, you may end up making loan payments with the principal.
Say, for example, you secure funding to enter a new market. You plan to expand your sales team to support the move and develop the cash flow necessary to pay back the loan. The problem here is, the new hire will take months to ramp up.
If there's not enough delta between when you start ramping up and when you begin repayments, you'll be paying back the loan before your new salesperson can bring in revenue to allow you to see ROI on the amount you borrowed.
Another issue to keep in mind: If you're financing operations instead of growth, working capital requirements may reduce the amount you can deploy.
Let's say you finance your ad spending and plan to deploy $200,000 over the next four months. But payments on the MCA loan you secured to fund that spending will eat into your revenue, and the loan will be further limited by a minimum cash covenant of $100,000. The result? You secured $200,000 in financing but can only deploy half of it.
With $100,000 of your financing kept in a cash account, only half the loan will be used to drive operations, which means you're not likely to meet your growth target. What's worse, as you're only able to deploy half of the loan, your cost of capital is effectively double what you'd planned for.
Is this the right amount for me at this time?
The second consideration is balancing how much capital you need to act on your near-term goals against what you can reasonably expect to secure. If the funding amount you can get is not enough to move the needle, it might not be worth the effort required.
5 Simple Tips to Grow Your Business the Best Way
To achieve success in your business, you need to be ready to keep it growing. You can't just treat your business with no passion and with no goal for further growth. It's best for you to grow and expand your business, even though it's just one small step at a time.
Here are 5 simple tips to grow your business the best way:
1. Expand Your Business Promotion
It's important for you to expand your business promotion further, so that you can attract new customers to your business. You can do this in various ways, such as by running promotional campaigns on social media, spreading flyers and pamphlets around your local area, offering free bonuses to your customers, and so on.
By expanding your business promotion, you will expand the target audience for your business, meaning that you can increase your potential revenues from time to time.
2. Improve the Quality of Your Products and Services
The best way for you to grow your business is to improve the quality of your products and services. The more you can provide the best products and services to your customers, the more your customers will recommend your business to their friends and family.
This is the best way for you to attract more customers through word-of-mouth marketing.
3. Improve Your Customer Service Quality
Another aspect you need to improve in your business is the customer service quality. Your customers will rely on your customer service team to help them solve their problems with your products or services.
The better you can handle the customer's problems, the more they will trust your business. Also, the more trustworthy your business, the more people will come to your business and use your products and services.
4. Increase Your Business Productivity
You also need to increase your business productivity, which will allow you to use your work hours in the most efficient way, both for you and your employees. The more productive you are in your business, the more tasks you can complete each day, and the better the results you will get.
Increasing your business productivity also means to stop wasting your time on doing unnecessary things. For instance, when you invest on a money counter from Ribao Technology. you can avoid the loss of counterfeit bills and stop wasting your time counting for the money you have received in your business, as you can get it done much faster by using a money counter machine.
5. Establish a Strong Online Presence
Nowadays, it's important for you to have a strong online presence. You can do it by building a social media account for your business, and you can also build your own business website. By establishing a strong online presence, it will make it easier for people to get to know about your business.
You also need to make your business available online to make it easier for anyone to order your products and services. This is one of the best ways to grow your business.
Conclusion
Are you ready to grow and expand your business?
Follow these tips to get better at growing your business and increasing your business revenues. Take it one step at a time and make growing your business your biggest long-term goal to achieve.
Common SEO Mistakes That You Should Avoid
There are a number of great strategies that businesses can use when aiming to improve the performance of their SEO campaign, working to increase their online visibility and boost the amount of traffic being directed towards their website. However, it is not uncommon to find that many of these optimisation approaches could actually be causing your site more harm than good.
Of course, a wide variety of the of the search engine optimisation tactics that can be found on line will prove to be highly valuable resources, but trusting all of the tips and tricks that you come across could have adverse effects for your campaign, especially if the content that you are reading details out of date practices.
In the article below, we will discuss some of the most commonly seen mistakes made within SEO, helping you to avoid unnecessary damage to the performance of your company website.
Your Site Lacks Quality Backlinks
The creation of quality backlinks to your business page from reputable, high authority external sites is an extremely popular SEO management recommendation, these aforementioned links playing a vital role in the improvement of many aspects of your campaign.
Link building is a great off-page optimisation technique, allowing you to build the authority of your company website as a way to improve your ranking position within the organic search results. This is a must for any business looking to improve their online visibility or brand recognition, meaning that their website will be shown to a wider target audience and will thus see a boost in overall traffic and sales as a result.
While the creation of links leading back to your website from various external sources is vital for the optimisation and management for your SEO campaign, the quality and relevance of these backlinks is also a factor of great importance. If you are aiming to rank well within the search engine results (which is a goal that all businesses should strive towards!), the links that you are forming should be of a high quality and relevance to the industry in which your company operates.
The overall quality of the sites that your business is linking to can have a knock-on effect on the performance of your own website. Forming backlinks with sites that are completely irrelevant to your field, or those known for their poor reputation, will do more to hinder your website than help it. Associating your brand with poor quality pages will affect the authority of your own company website, and should thus be avoided at all costs.
Your Site Misuses Outbound Links
Outbound links are something that are often avoided completely within modern day SEO strategies, being the reason as to why so many marketing experts would now consider guest posting to be an ineffective and outdated technique. However, this is far from the truth, and is actually one of the many common misconceptions within SEO.
While filling your site's main navigational channels with endless external links is not a recommended practice and would definitely cause some issues for the performance of your SEO campaign, this does not mean that outbound links should be avoided altogether. Creating natural links within your on-page content to reputable sources that provide your readers with additional information is actually a great way to enrich the blog articles and landing pages that you publish to your website. This will cause no damage to your brand's SEO campaign, but can actually assist in the improvement of your authority and reputation.
The issue with outbound links comes not with their use on your company website, but in how they are used, as the placement of such links will play a vital role in whether this common SEO practice will either help or hurt your online presence. Any outbound links that you choose to feature on your site should occur naturally within the on-page content that is presented to your customer base.
Whether it be your landing page content or a blog post, links should only be placed if and where it makes sense to do so. Placing outbound links randomly throughout your text or all in one place is considered bad practice, increasing the likelihood that your content be picked up as spam and your site ultimately be penalised by the search engines.
To avoid outbound links negatively impacting the quality score and performance of your website, links should only be placed as and when it makes sense to do so, using these to provide readers with additional information that will enrich the text published to your company website. As with link building, the quality and reputation of the websites that you link to will impact the authority of your own business site, so it's important that your brand avoids linking to pages that could harm your domain.
The setup and maintenance of a successful search engine optimisation campaign can be a difficult, and sometimes even daunting, task for those who find themselves unsure of where to start. With so many different strategies claiming to provide the best tactics for effective website optimisation, how do you know which advice you can trust?
Luckily, there are a number of highly reputable online SEO courses made readily available to entrepreneurs across the globe, providing expert advice and a helping hand to those looking to optimise their business' online presence.
SEO is an excellent tool for improving your ranking position and visibility within the organic search results, but it's vital that your campaign is managed correctly, helping you to avoid any unnecessary mistakes!