Designing a campaign for holiday sales with GoDaddy Studio
Get up to 30%* off! Get going with GoDaddy!
With Black Friday and the holiday season fully upon us, it's time to pull out all the stops and get selling. Now's your best chance before 2021 draws to a close, so here's some advice — and visual inspiration — to set your campaign for holiday sales up for success.
The final months of the year bring with them an ongoing series of promotional opportunities. Consumers are looking for bargains, and they're ready for the celebratory rituals of giving and receiving gifts. After a difficult two years, they want to treat themselves and those they care about — and as a business owner, here's your opportunity to give your customers exactly what they're looking for.
In addition to any seasonal promotions for winter that bring your product or service into the spotlight (think all things snowy and cozy like candles, sweaters, soup, hot yoga and ski trips!), the end of November marks Black Friday, which flows seamlessly into the holiday season, and then the new year.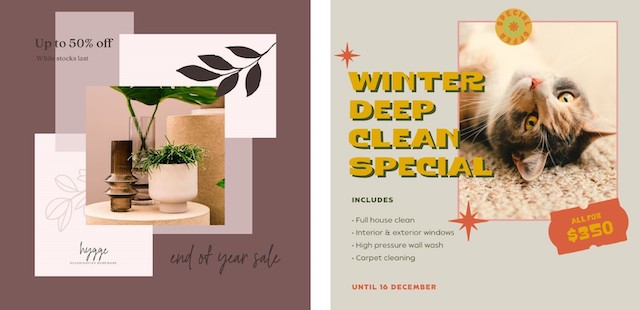 Also bear in mind that Black Friday is no longer just a single day on the calendar. Not only is it extended into the following week via Cyber Monday (and the more benevolent Small Business Saturday and Giving Tuesday), but there's also a growing trend to minimize gridlock on Black Friday by running "early bird sales" up to a month ahead.
Related: The seller's guide to Black Friday/Cyber Monday (BFCM)
This is your chance to shine, to step into the spotlight and seize your moment. Bear in mind that you need to do it properly though. The competition is fierce, so throwing out a single post the day before your sale starts just isn't going to cut it.
Devote some time to developing a simple strategy for your seasonal sales campaign — trust us, you'll reap the benefits from just some basic planning.
What's the simplest way to do this? Think in phases.
To make the most of your campaign, we'd suggest moving through five interconnected stages, but feel free to pick out any individual ideas that you think would work for you.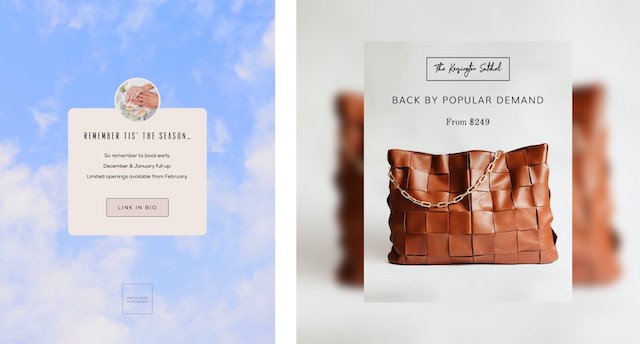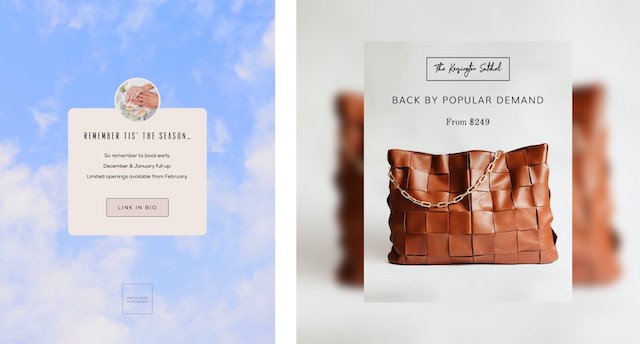 Phase 1: Engage your audience and find new leads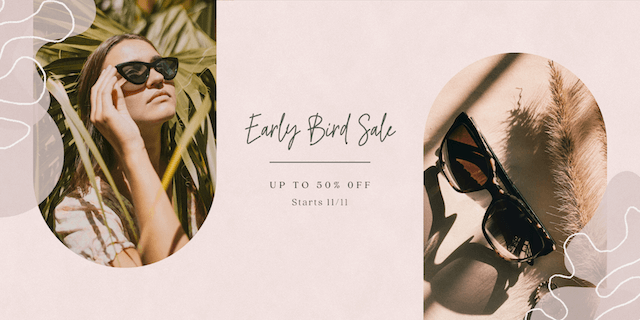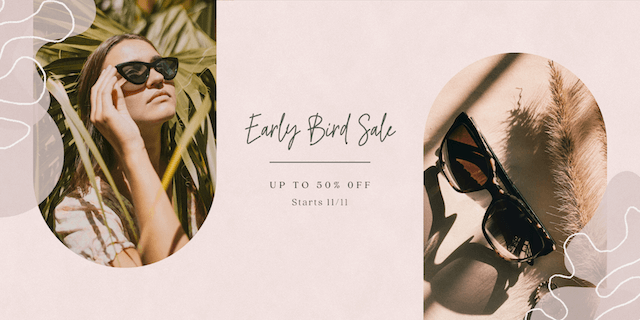 Before you start slashing your prices, take the time to ensure that you have a receptive audience.
Have you been engaging with them lately, or have you let that slide a little bit?
The easiest way to do this is to shift your thinking to your customer's perspective. It's not only about the promotion you're willing to offer — what about the type of promotion that your audience really wants? Before you lock in your strategy, ask your followers what types of promotions they're hoping for. What products would they love to see on sale, or in their Christmas stocking this year.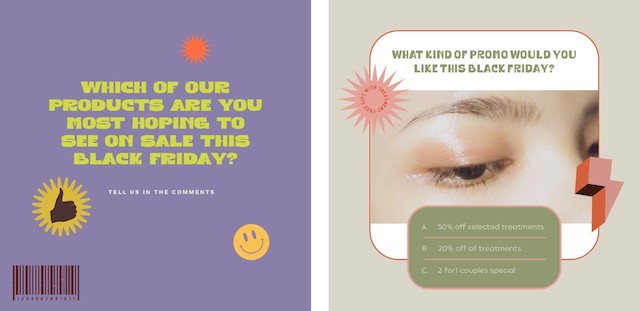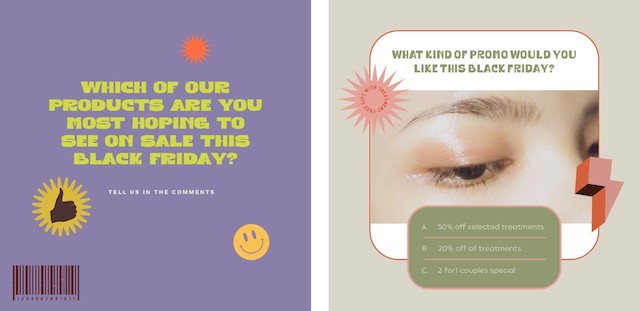 Try polls, "This/That" posts, or asking your audience to share wish lists and gift guides. With the prospect of a bargain in sight, it's a great time to get some good data on what products or services are most in demand.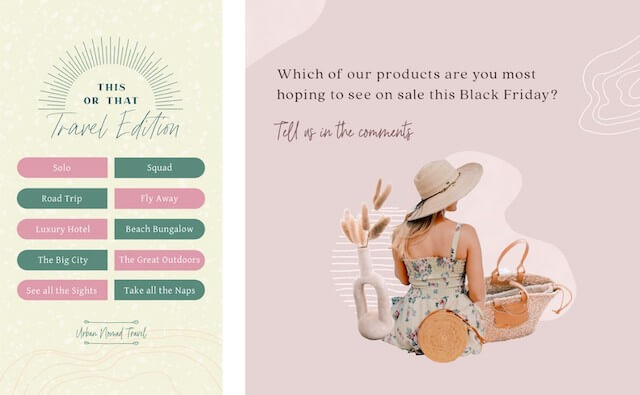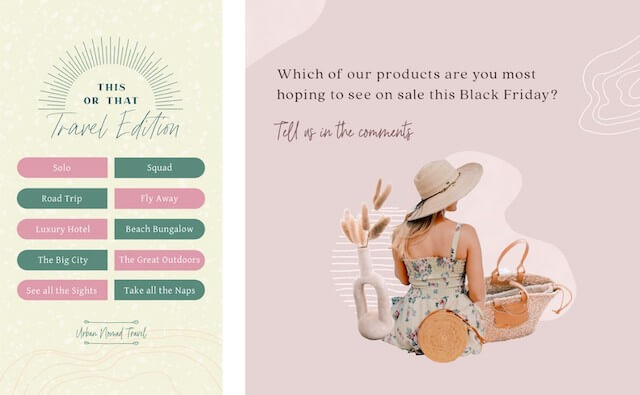 Now is also a great time to generate new leads. The prospect of an exclusive deal, or early access to a great sale, is as good a reason as any for somebody to sign up to your mailing list.
It's also a smart idea to target this mailing list with particular focus since these are amongst the most likely customers to act on a promotion as they've already expressed some interest in your brand.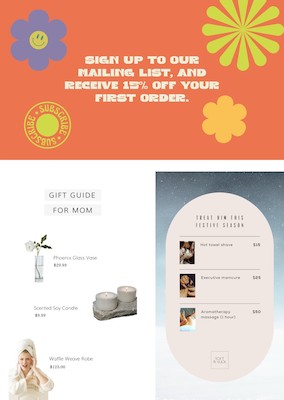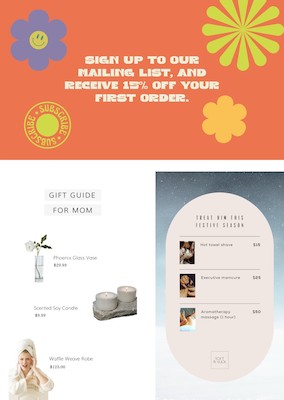 If you're going to put time and energy into your promotion and offer a fantastic deal that will activate engagement, it makes sense to gather the largest possible audience you can in the days leading up to the main event.
Remember, this is a two-way conversation — not a company broadcast.
Actively gauging your audience's interests by chatting with them builds your brand in their eyes, makes your seasonal promotion more desirable, and ultimately makes an impact on your bottom line.
Phase 2: Hype it up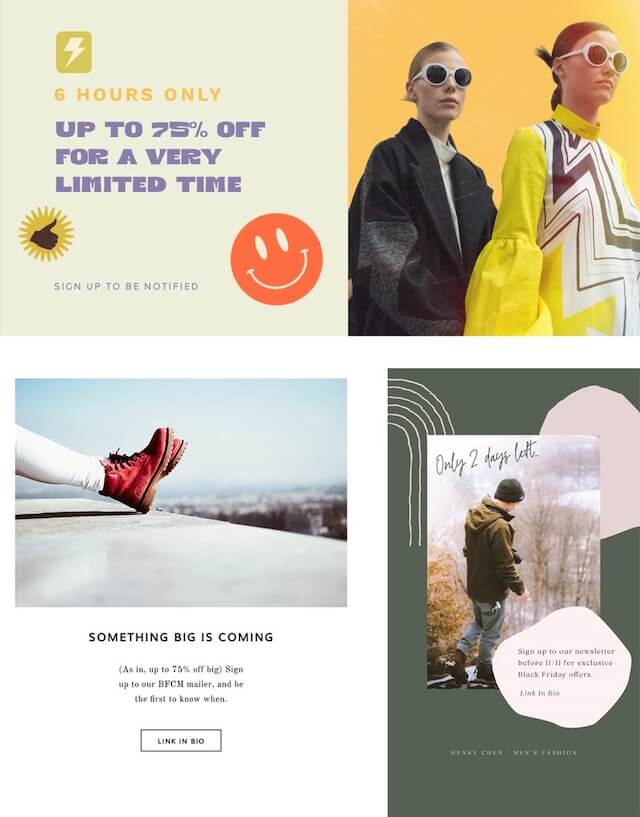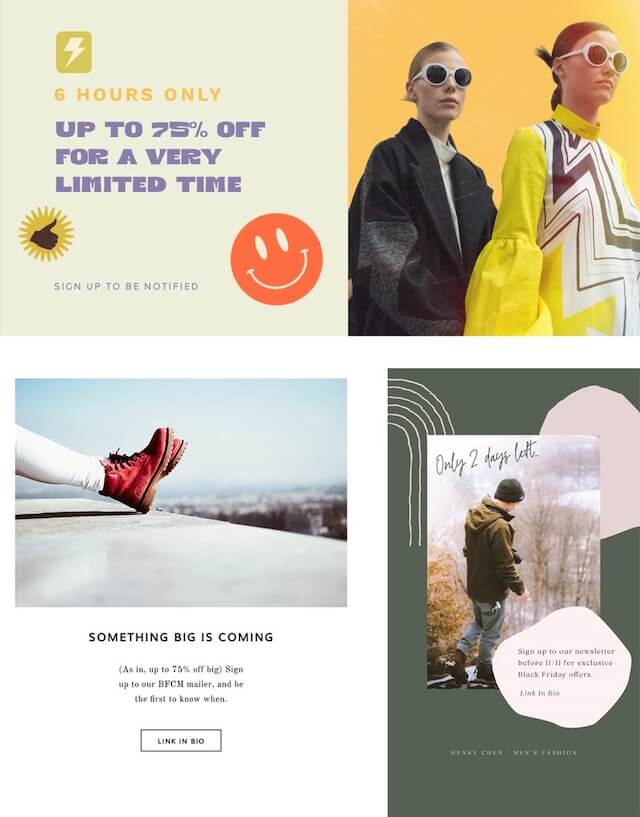 Once you've established the kind of seasonal promotion you're running, it's time to gradually build anticipation. To do this, you should stagger announcements strategically, not bombard your audience constantly, otherwise they'll quickly log off — or worse, unfollow your account.
Instead, start off by announcing the promotion on your social platforms. An email to your mailing list is also a great idea. And why not update your website headers while you're at it? Make it unmissable.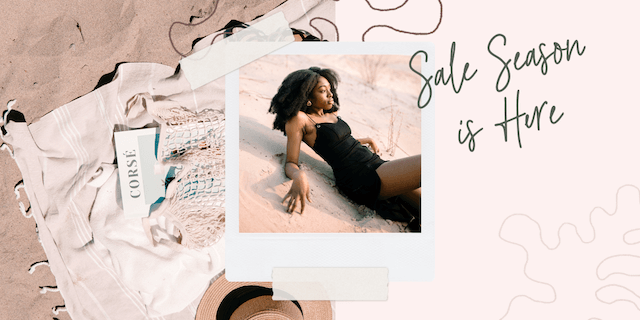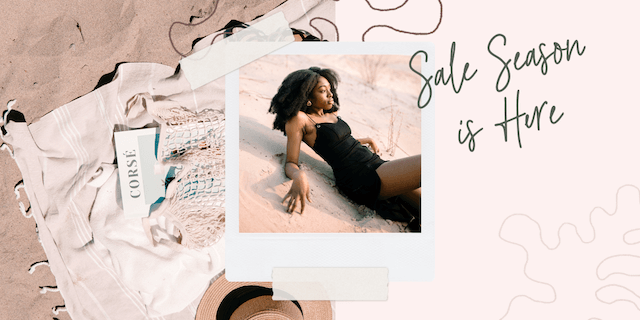 Perhaps offer a sneak peek, or gradually reveal elements of your special offer.
If you're offering multiple deals, you can start announcing these one at a time. Whether you sell products or services, consider building packages that offer a great incentive to make a bigger purchase. Perhaps smaller discounts build up to a much bigger one on Black Friday itself?
If your promotion is a big deal, let it infuse your brand's identity for the campaign period. That's the difference between a campaign and a once-off promotion — a campaign can take on an entire look and feel of its own, as it has its own unique identity.
By taking some time to design your series of posts, you also infer a certain presence to this promotion and in turn to your brand. If it looks professional and well considered, we're more likely to trust it amidst the selling frenzy.
Crazy bargains aside, it's still essential to project yourself as a brand that will follow through with all its promises.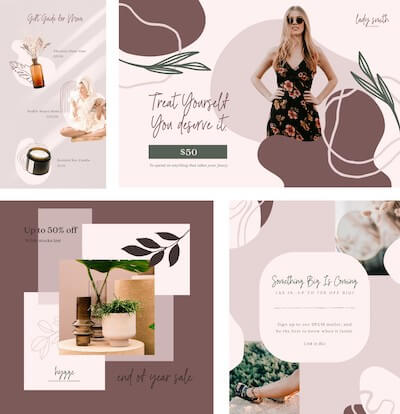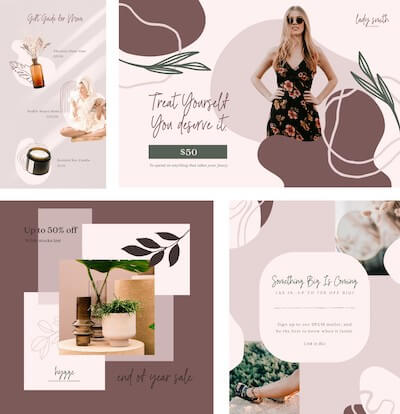 As we mentioned, be wary of over-hyping to the point that your audience becomes immune to new messaging — or even annoyed.
Each announcement should add some new, updated information. Avoid reposting the same content — keep evolving.
Don't only highlight the special deals either. Make customers aware of your general offerings, with price lists and featured products/services.
If you have very popular items or packages, or have recently restocked a bestseller, let everybody know about it while you're doing the work of drawing more attention to your brand.
It's still a good time to gather new leads and engage your audience, so continue to do this with posts that elicit responses or sign ups.
Anybody who pauses long enough to like, comment, or visit your site via one of these posts has more than likely taken note of your promotion.
It might be worth diverting some marketing dollars into a paid ad during the lead up to your promotion, since the return on your investment is an audience guaranteed to extend well beyond your reach of existing followers, letting you get quite specific as to who you're targeting.
And our final tip here: Don't underestimate the power of video in this crucial stage, where it's more important than ever to get your content noticed.
Moving images will always give you that little edge.
Phase 3: Sell, sell, sell!
As you approach the big day(s) of your sale, competition, giveaway or special event, draw as much attention as possible to the limited time offer. A deal like this doesn't come every day, remember. Cut to the chase: This is a time for some hard selling.
Flash sales are a great device to limit the window for decision making, and get folks pouncing on a once-in-a-lifetime deal.
People love a bargain and a little urgency is a great way to cut through contemplation. After all, nobody wants to miss out.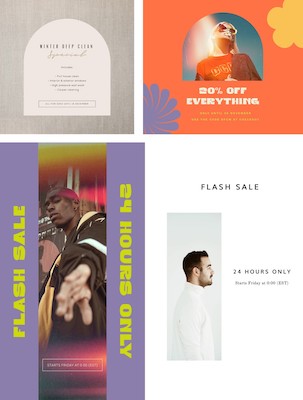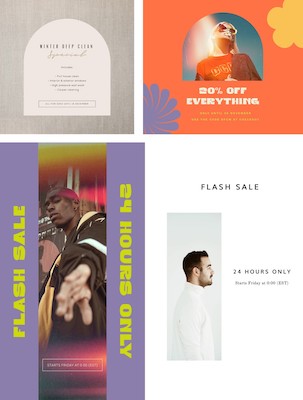 This is a rare opportunity to really activate your customer base. Many might have been sitting on the fence for months, even years, and your promotion is ready to convert them from a fan into a customer.
With the hyping and teasing done, it's time to lay bare what you have to offer.
Put your product or service front and center, publish menus and price lists, and make your sale prices visible.
Design is your best friend here, in the pursuit of eyeballs on your content.
This season we're loving the use of old school discount stickers in digital form. There's no easier way to highlight a discount or call-to-action (CTA) than with one of these incorporated into your design. As complex as the human mind is, it's still hardwired to notice these bright pops of color and associate them with a special offer of some sort.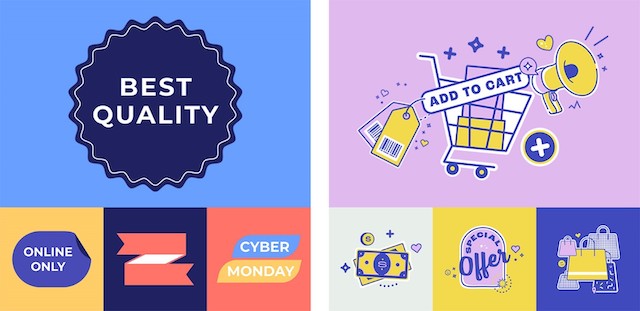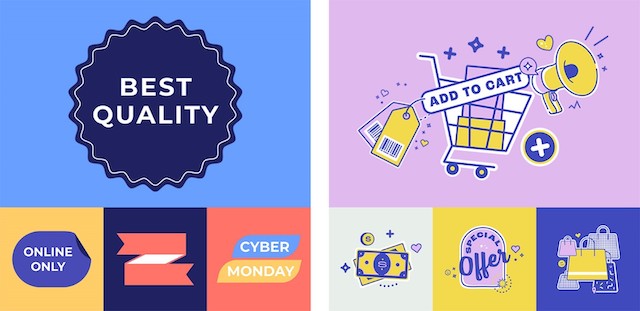 Make it unmistakably clear how to activate or redeem your promotional offer.
The number of steps it takes a customer to finally get their hands on what they're after is directly proportional to the number of potential customers you'll lose along the way. Make it simple and foolproof. Anybody who needs to puzzle through your promotion mechanism will quickly lose interest and spend their money at the online shop next door.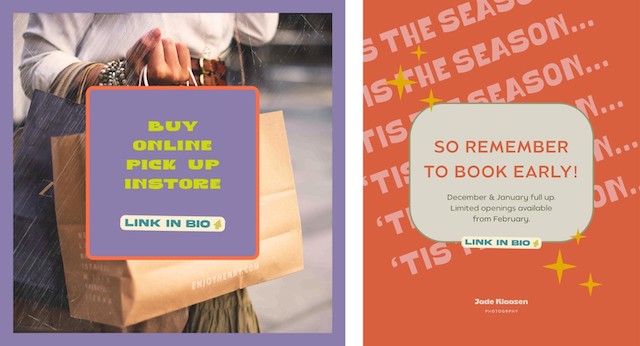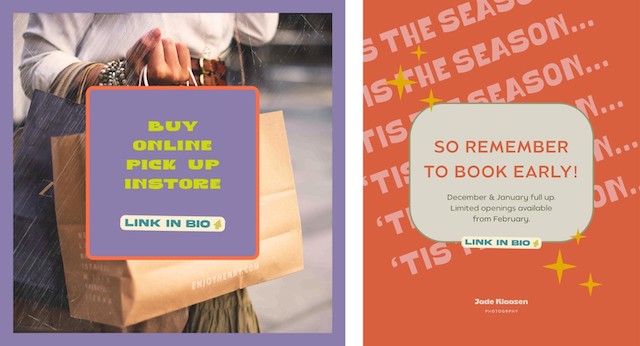 Don't forget the (less sexy) administrative side of running a successful promotion.
Make sure you cover the basics like posting holiday operating hours, delivery windows, terms and conditions and any other relevant notices you need to share.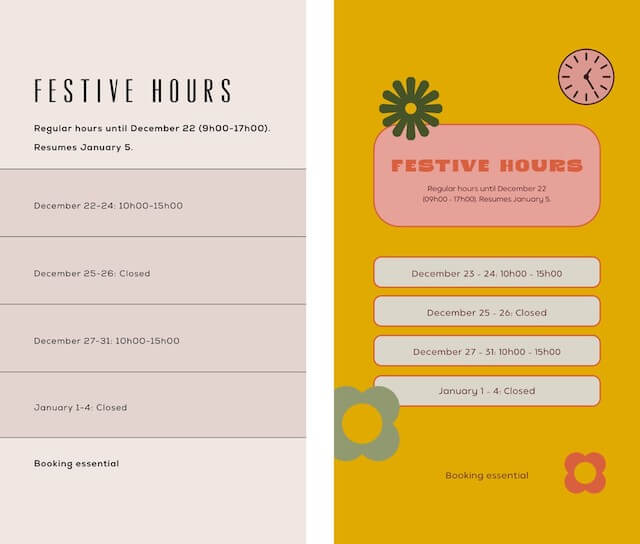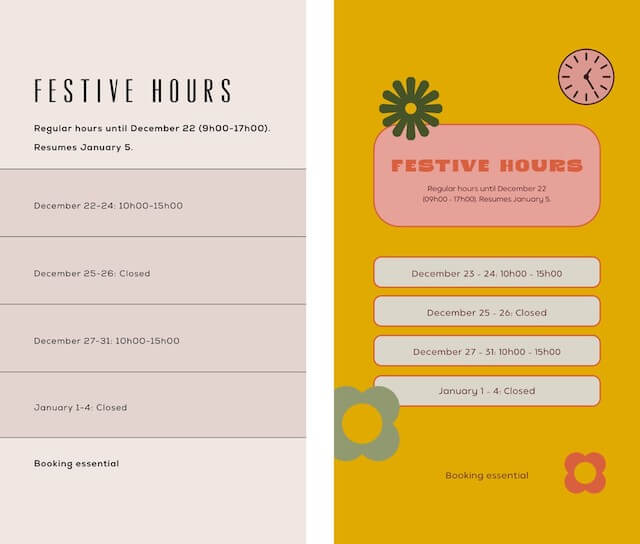 During the active period of your promotion, use your more ephemeral platforms (like IG and Facebook Stories) to post regular reminders to book, purchase, or otherwise take advantage of your seasonal deals.
It's worth giving that extra bit of steam here.
Phase 4: Seal the deal
The promotion is still in play until your customer is smiling, product in hand. Follow through is vital, so keep this in mind before you're stuck with too many orders to fulfill or a delivery service closed for the holidays.
But if delays or complications with fulfillment do arise, make sure you post this info and communicate with customers.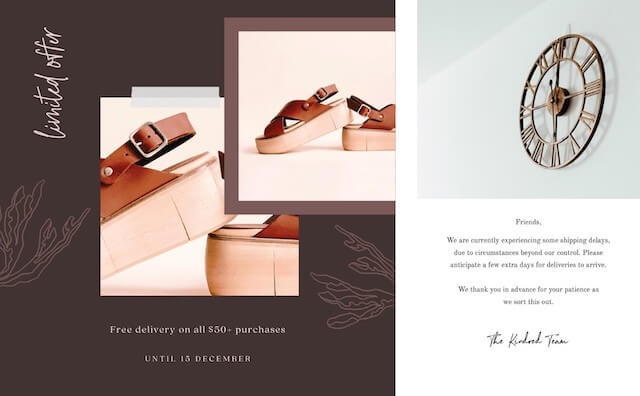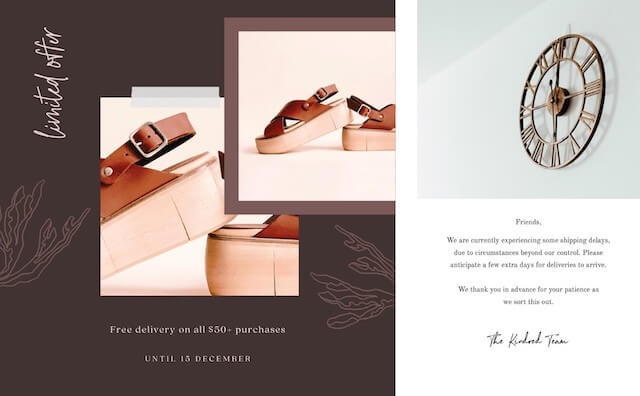 Your packaging is also an opportunity to sprinkle a little more joy on the experience of doing business with you. Consider thank you notes, stickers on the packaging (or inside as free gifts), and personalized messages to your customers. All of these can be created in GoDaddy Studio, using your campaign identity.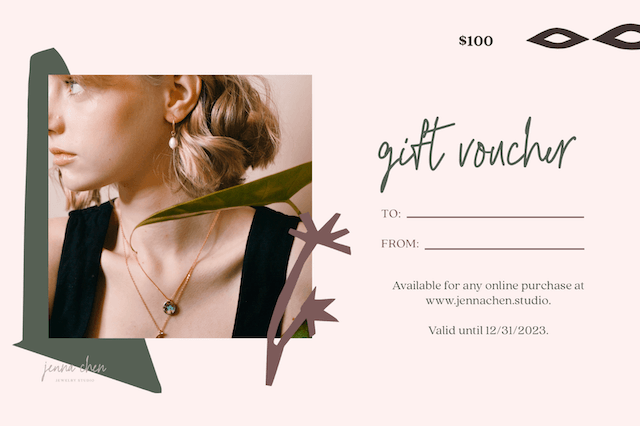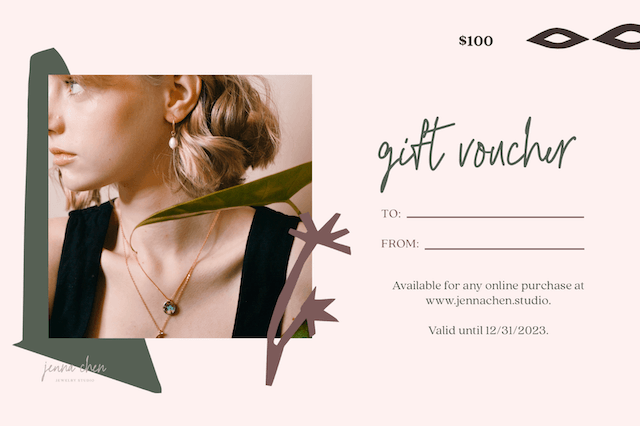 See this as an opportunity to thread the needle of your full campaign, using the same design look and feel all the way from announcing your special to the unboxing moment.
That kind of follow through leaves an afterglow of professionalism, increasing your odds of return business. It also adds that personal touch and spirit of connection — something we're all seeking more of these days.
And don't forget about sowing the seeds for re-engagement, encouraging customers to share their experience as soon as it lands.
In the next phase we'll look at how to do that, but it's much easier to get customers to respond in the midst of their excitement or delight than days or weeks later.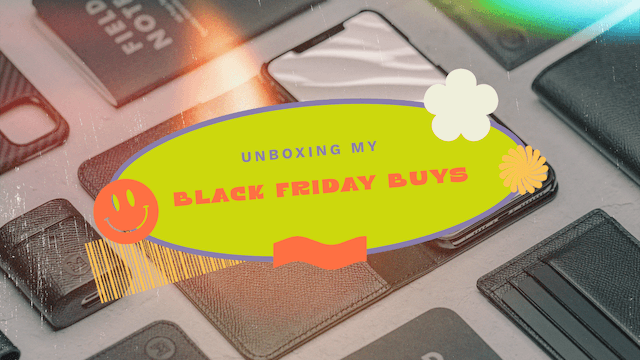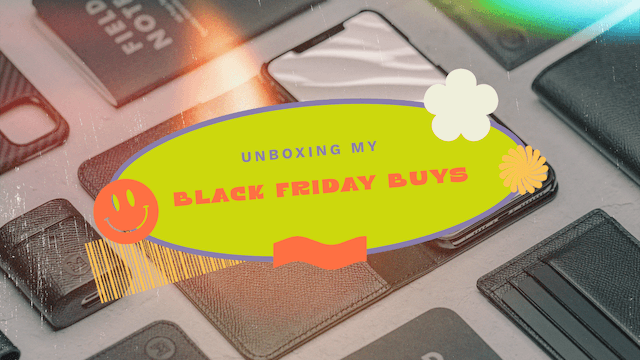 Phase 5: Re-engage your customers
The initial experience of your product or service is the best time to garner positive feedback from your customers.
Unboxing the product, using it for the first time, trying on the outfit/accessory for the first time, experiencing your service real time (spa, tour, meal, haircut), or the immediate post-satisfaction (freshly cleaned house, post-massage bliss, makeover glow-up, new tattoo) all present a window of opportunity to get happy customers giving you the best kind of advertising that money just can't buy: word of mouth.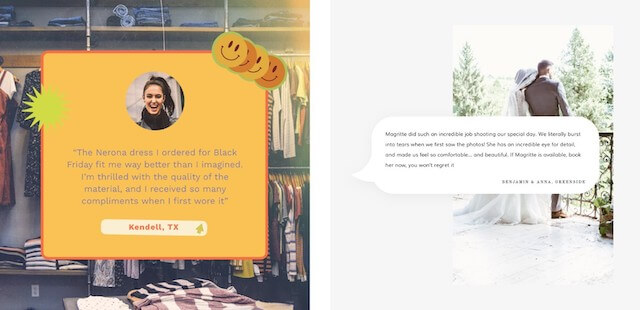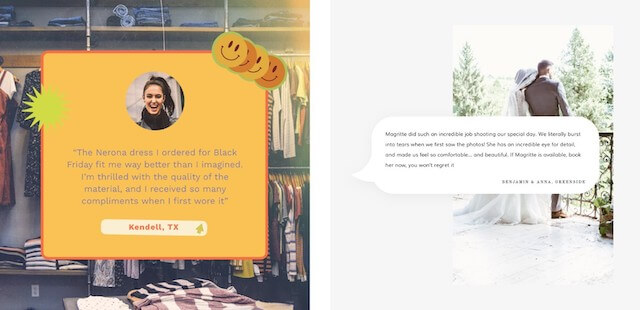 Try out incentives to activate customers during this moment.
Perhaps you can have some kind of competition for showing off your new dress, or haircut, or a creative moment with your product? Maybe trade a review for a discount on their next purchase.
It's a win-win situation: Already-satisfied customers stand a chance of gaining something extra, and you get some extra reach to new potential customers in their channels (make sure you make it obvious how to tag you though).
Testimonials are another form of pure gold you can mine during this period. We all know how valuable these can be when deciding whether or not to trust a new product or service, so always follow up with an email asking for feedback after the sale — you can use this as marketing collateral later.
Crucially, you're engaging your audience on the back of your promotion, using that momentum to keep your business moving from strength to strength, instead of simply sitting back and waiting for next year's big sale. This "after party" stage could last for a couple of days or even weeks — just enough time to bridge the gap between the next phase of your ongoing content strategy.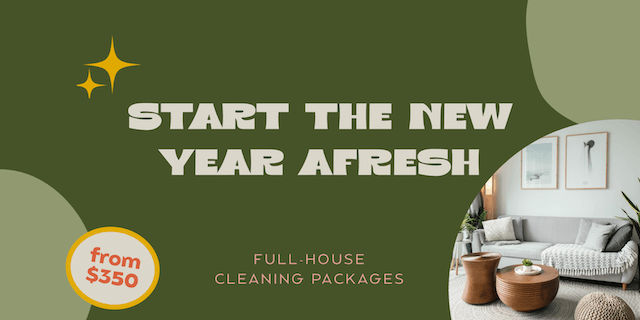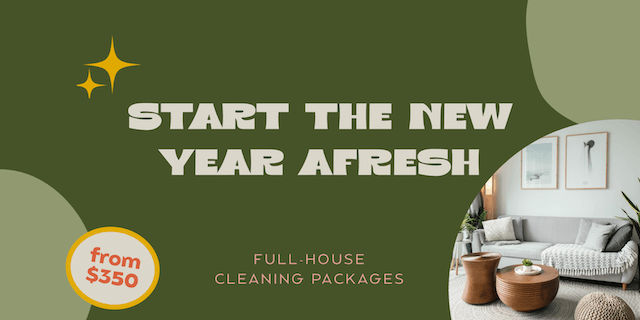 Best Barcode Label Printers for Small Business
The best barcode label printers make it easy to create and print codes that help you track your inventory. Thermal printers, which use heat to print, eliminate the need for ink and can print hundreds of labels per minute.
Some barcode printers are also compatible with point-of-sale systems, so keep an eye out for your preferred software. However, just because your POS system isn't listed doesn't mean you can't use the associated printer; it may just require exporting and reformatting your labels to print from a computer.
Rollo Label Printer: Best overall
Phone, chat and email support.

Integrated shipping platform.

Option to print for a wide size range, from barcodes to shipping labels.
Not wireless; connects through USB.
Why we like it: The Rollo is the industry standard for shipping label printers, and it works for barcode labels and a variety of other uses, too. You can print on any direct thermal label, including free UPS labels, unlike other brands which are only compatible with their own branded label paper. The device is compatible with Windows, Mac, and all major shipping platforms and marketplaces including Shopify and Etsy. The wireless version is available for about $280.
Brother QL-810W: Best for portability
Compatible with Mac, Windows, and mobile apps AirPrint and Brother iPrint&Label.

Prints in black and red. (Most label printers only print in black.)
Software can be complicated to set up.
Why we like it: Brother's QL line of label printers are lightweight and durable. Reviews note some difficulties with setup, but once online these devices are among the best for wireless, high-speed and portable label printing. You can access and customize label templates with the Brother iPrint&Label mobile app. This model is our top pick, but the QL-800 and QL-1100 are similar in function and price.
Zebra ZD421: Best for durability
Compact

Compatible with Android and iOS.

Can be used for shipping labels.
Pricier than other options.
Why we like it: Zebra makes reliable, industrial-quality printers that can withstand long-term use. Reviewers say the ZD421 is a consistent, speedy model. Like other Zebra printers, it's ideal for high-volume retail businesses and warehouses. Zebra printers are an investment, but they're known to be high-performing and long-lasting.
Phomemo-M110: Best low-cost option
Compatible business software not available.
Pros
Low

Lightweight and portable.
Android and iOS app includes label templates and editing feature
Cons
Less powerful than higher-priced options.

Only for barcode and product labels; can't create shipping labels.

Only compatible with Phomemo app.
Why we like it: The Phomemo-M110 is small, but fully capable. It's a great option for businesses making sales on-the-go, like at farmers markets and festivals. The rechargeable device is unlikely to last as long as most of the other options listed here, but it works well for businesses on a budget. For a slight upgrade, the Phomemo-M220 for $91.99 can connect with USB and has more label size options.
Dymo LabelWriter 550: Best high-speed option
Compatible business software includes: Shopify, Lightspeed, Square.
Compatible with Mac and Windows.

Can print directly from e-commerce websites, including Shopify and Etsy.
Can only be used with authentic Dymo brand label paper.

Not wireless; connects through USB.
Why we like it: The LabelWriter is a high-speed device, printing up to 90 labels per minute. You can access and customize templates with the company's free software, and print in high resolution. However, newer Dymo models, including this one, are only compatible with Dymo-brand paper, so materials can get costly. For a larger option that can print shipping labels as well as barcode labels, try the similar LabelWriter 4XL.
Accion Business Loans: 2022 Review
Our Take
The bottom line: Accion loans are a good option for borrowers who've been in business for three months or more and have been turned down by other lenders.
Pros and Cons
Pros
A broad range of loan amounts from $5,000 to $100,000.

Loans are available to businesses in operation for as little as three months.

Expanded credit guidelines for borrowers.
Cons
It can't be used to get a business off the ground.

Shorter loan repayment periods of one to five years.

Slow processing speed compared to online lenders.

Not available in all U.S. states.
Full Review
Accion Opportunity Fund is a nonprofit community lender offering customized loans to small business owners throughout most of the U.S.
Over 80% of Accion clients identify as women, people of color or immigrants. In addition to small business loans, educational resources and coaching support in English and Spanish are also provided.
Accion is best for borrowers who:
Prefer customized options. Loan terms are structured based on your business needs.

Don't have perfect credit. Factors other than your credit score can be used to determine qualification.

Have new businesses and can't get funding elsewhere. Businesses only need to be in operation for three months to apply.
Accion loan features
5.99% to 14.99% for Small Business Progress loans.

4% subsidized rate for Southern Opportunity And Resilience, or SOAR, loans for businesses located in certain southern states.

12, 24, 36 or 60 months.
(No penalty for repaying early.)

5-7 days for loan application to be processed.
Where Accion stands out
Expanded credit guidelines for borrowers
Accion says that most of its borrowers have not been able to get loans with traditional lenders because they have poor credit, no credit history or require a small loan amount. Accion can use more than a borrower's credit score to determine qualification for a business loan.
Customized loan terms
Accion can structure a loan to meet your specific business needs. After submitting an application, you may be able to choose from several loan options with different term lengths, interest rates and payment amounts. In addition, if Accion can't provide a loan, it will refer you to one of its partners or provide other financing options for you to explore.
Additional services offered
Accion does more to help small businesses than just offering loans. Business coaching and mentoring are also available. You can set up an appointment for one-on-one assistance provided by a business expert. Your coach can also help you enroll in training programs to enhance your leadership skills. In addition, its resource center offers videos, articles, and interactive learning materials.
Where Accion falls short
Funds can't be used to start a business
Accion loans are designed to support existing small business owners. But, again, your business must be in operation for a minimum of three months to qualify for an Accion loan. That means you won't be able to use loan funds to start a business.
Loan programs aren't available in all U.S. states
Accion loans are available in most U.S. states, but you won't be eligible if your business is located in Montana, North Dakota, South Dakota, Tennessee or Vermont. Also, Southern Opportunity and Resilience (SOAR) funding is limited to businesses located in Alabama, Arkansas, Delaware, Florida, Georgia, Louisiana, Maryland, Mississippi, North Carolina, Oklahoma, South Carolina, Texas, Virginia, or Washington, D.C.
Accion loan requirements
Credit score: No minimum required.

Time in business: Minimum of 3 months in business.

Annual revenue: Varies depending on the loan program.
How to apply for a loan from Accion
After completing an application online, you'll receive a quote. Accion says that the quote won't affect your credit score. You will need to provide some basic information about your business, including revenue and expenses. Accion will then review your loan options with you, including interest rates, repayment amounts and the repayment period. If there are no options that work for you, Accion can refer you to other resources.
If you decide to move forward with the loan offer, you'll be asked to provide documents that Accion can use to verify the information you provided on your application. After that, your loan will be finalized; you'll sign loan documents and then receive funds.
Alternatives to Accion
SBA loan
An SBA loan is another option to consider. These loans are offered through banks but partially guaranteed by the Small Business Administration. This can make it easier to qualify because the lender takes on less risk. In addition, funds from an SBA loan can be used to start a business. This differs from an Accion loan, which requires your business to operate for a minimum of three months to qualify. SBA loans also offer flexibility when a borrower has less-than-perfect credit.
Kiva U.S.
Kiva is another nonprofit that is an option to ponder. You can get up to $15,000 at 0% interest if you qualify. Kiva loans don't require a minimum credit score or collateral. Still, there are other eligibility requirements, such as the business must be based in the U.S. and you can't currently be in foreclosure, bankruptcy or under any liens. One unique Kiva provision is that borrowers are asked to demonstrate their strength of character by having friends and family make loans to them.
Compare business loans
If you'd like to compare loan options, NerdWallet has a list of best small-business loans. All of our recommendations are based on the lender's market scope and track record, the needs of business owners, rates, and other factors so that you can make the right financing decision.
13 Best Credit Card Readers for Small Businesses
A credit card reader is essential to many small businesses, and choosing the right card reader can help your company operate more smoothly.
The best choice depends on your budget, features needed and whether you're accepting payments at a counter or on the go. Some card readers — such as those that work with iPhones — are portable, while others are attached to a countertop register. A basic card reader without a screen is the cheapest option, and sometimes free. A comprehensive POS system, on the other hand, comes with sophisticated features and can cost over a thousand dollars.
Below is a list of the best credit card readers for small businesses and what they can do for your business.
Quick comparison: Take a quick side-by-side look at our top picks in this table.
Accept payments without worry
See our payment provider recommendations that fit your business.
Square Contactless and Chip reader
Best free option with basic functions
Style: Connects to compatible phone or tablet via Bluetooth.
Price: $49 for reader and $29 for optional dock.
Fees: 2.6% plus 10 cents for most in-person transactions; no monthly fees.
Square's contactless and chip card reader enables you to accept credit cards with chips and digital wallets, such as tap-and-pay credit cards and smartphone apps, including Apple Pay, Google Pay and Samsung Pay. It uses Bluetooth technology instead of connecting directly to a device, which means you don't have to keep your cell phone or tablet out with you all the time.
The reader must be charged, but the charging dock can double as a support for the reader for a counter or table. You can also charge it with a USB charger.
| | |
| --- | --- |
| | Doesn't swipe credit cards. |
| Reads chip cards, digital wallets and contactless cards. | Takes up to two hours to charge. |
Best for on-the-go payments for all card types
Style: Connects to compatible phone or tablet via Bluetooth.
Price: $99 for reader.
Fees: Varies from 2.3% plus 10 cents up to 3.5% plus 10 cents depending on method.
This credit card reader by Clover works with phones and tablets via Bluetooth. It also processes every type of credit card payment your customers could want: magstripe-only cards, chip cards and contactless payments. It costs $99 and requires users to purchase a monthly plan.
Features depend on the plan you choose. The Essentials Plan for $9.95 per month provides basic payment processing, inventory management, taxes, reporting and employee management with 24/7 support.
| | |
| --- | --- |
| Includes interest-free installment plans. | Takes about 2 hours and 20 minutes to charge. |
| Charges via standard USB charger. | Requires a monthly fee for advanced POS features. |
| Uses passcodes for employees. | |
Best for PayPal and Venmo payment options
Style: Connects to compatible phone or tablet via Bluetooth.
Price: $79 for reader; new customers can get their first one for $29.
Fees: Varies by method, starting at 1.9% plus 10 cents for PayPal and Venmo QR code transactions over $10.
PayPal's Zettle accepts chip and contactless payments, but it doesn't read magstripes. It does, however, let customers pay with QR codes on PayPal and Venmo platforms. Its POS software offers invoice creation, inventory management, tracking sales performance and more.
Transaction fees generally fall in line with competitors with lower rates available for transactions made by QR code. All funds go into your PayPal account rather than a bank account. You'll need to request a transfer to move the funds to your business bank account before you can use them outside of PayPal.
| | |
| --- | --- |
| Has lower rates for PayPal and Venmo platforms. | Deposits funds into your PayPal account, not a bank account. |
| Includes new customer discount for first reader purchase. | |
| Has a screen to show transaction details. | |
Best for a low-cost do-it-all reader
Style: Connects to compatible phone or tablet via Bluetooth.
Price: $19 for reader.
Fees: Varies from 2.75% and up depending on method.
Powerful and compact, the SumUp Plus credit card reader works through Bluetooth with Apple and Android devices and promises more than 500 transactions on one charge. In addition to having a screen to show transaction details, the reader comes with a few helpful POS software features, like inventory management and permissions for employee access, as well as customizable invoicing. However, you might find that the overall POS is lacking when compared with the more robust options on the market.
SumUp charges only for transactions and doesn't require a monthly fee. You can order the reader for $19 and start accepting card transactions in a matter of minutes once it's connected to the SumUp app.
| | |
| --- | --- |
| Accepts swiped, inserted and contactless payments. | Has less robust POS software features. |
| Has a screen that displays transaction details. | |
Best for an all-in-one handheld system
Style: Standalone handheld reader.
Price: $499 for reader; monthly contract required.
Fees: Varies from 2.3% plus 10 cents up to 3.5% plus 10 cents depending on monthly plan.
The Clover Flex is a small but powerful handheld credit card reader. It can process all three credit card payment types, scan bar codes and even print receipts. It's one of the few options in this category that has its own screen, removing your personal device from the equation and allowing customers a bit more of a professional experience when checking out on the spot.
Depending on your monthly plan, the Clover Flex can help you manage inventory, view sales data and set up individual logins for employees. It costs $499, but the company offers payment plans to break up the cost. Payment processing rates depend on your pricing plan.
| | |
| --- | --- |
| Works without connecting to a personal device. | Requires an initial investment. |
| Has payment plans available. | Requires monthly plan for advanced features. |
| Has a free monthly plan for basic features. | |
Best for low-cost transaction fees with volume-based discounts
Style: Connects via Bluetooth.
Price: $109 for the reader.
Fees: Varies by card type and monthly average transaction total.
Helcim's card reader processes all three types of payments and connects via Bluetooth, meaning it needs to be charged. It also provides POS software with well-developed features, including customer management and inventory tracking that notifies you when your supply gets low. A standout feature is its self-service portal, which allows customers to log in to see their payment information and purchase history.
Helcim's processing fees can be difficult to calculate because it bases its fees on the type of card and interchange fees, which are set by card networks. It also offers volume-based discounts based on transaction tiers. The more you average in transactions per month, the higher your discount. The processor doesn't require you to sign a contract, choose a monthly fee or pay to cancel your service.
| | |
| --- | --- |
| Has volume discounts available. | Might change processing rate if monthly transaction average drops. |
| Has robust POS software features. | Might be difficult to calculate monthly cost in advance. |
Best for tableside payments at restaurants
Style: Standalone handheld reader.
Price: $389 plus $50 per month.
Fees: Typically quote-based; lowest listed price is 2.49% plus 15 cents per in-person transaction in Standard Starter plan.
The Toast Go 2 allows you to submit orders at tables and accept all three styles of payment. It's also spill proof, will hold a charge for 24 hours and has a 6.4-inch touchscreen for quick checkout. The free version of Toast's POS software comes with basic features, including point-of-sale and payment processing, but advanced features are available with paid plans.
The free pay-as-you-go monthly plan with basic features has a processing rate of 2.99% plus 15 cents for every in-person transaction. That rate drops to 2.49% plus 15 cents if you pay for your hardware upfront. Other plans come with quote-based pricing. One downside: The company requires contracts with a standard term of two years.
| | |
| --- | --- |
| Is designed specifically for restaurants. | Requires quotes for advanced monthly plans. |
| Offers 24/7 customer support. | |
| Is versatile and durable. | |
Best compact countertop reader
Style: Standalone countertop reader.
Price: $299 for the reader.
Fees: Varies from 2.6% plus 10 cents up to 3.5% plus 15 cents depending on method; no monthly fees.
Square Terminal allows you to accept all three methods of credit card payments: chip, contactless and magstripe. And priced at $299, it comes in on the lower end of the all-inclusive card readers.
The company's standard flat-rate processing fees apply and depend on whether you run the card in person or enter it manually. There's no monthly contract.
| | |
| --- | --- |
| Doesn't require a separate device. | Can take over four hours to charge. |
| Shows transaction details. | |
| Is compact and easy to use. | |
Best iPad-compatible register
Style: Register that connects to compatible iPad.
Price: $169 for the reader.
Fees: Varies from 2.6% plus 10 cents up to 3.5% plus 15 cents depending on method; no monthly fees.
The Square Stand is designed specifically for a single smart device: the iPad. Snap an iPad into the Square Stand, and use it as a desktop point-of-sale. The configuration allows you to provide a larger screen for transaction details, and the swivel feature allows customers to sign on the iPad without having to pass the device around. It can process magstripe, chip and contactless payments and connect with a receipt printer. However, it works only with certain iPad models.
The company's standard fees of 2.6% plus 10 cents apply for credit cards and can raise up to 3.5% plus 15 cents for methods outside a swipe, chip or contactless payment.
| | |
| --- | --- |
| Swivels for customers to use. | Only works with certain iPad models. |
| Can be mounted to a countertop. | |
Style: Standalone countertop register.
Price: $749.
Fees: Varies from 2.3% plus 10 cents up to 3.5% plus 10 cents, depending on monthly plan.
The Clover Mini is a countertop setup that doesn't require a tablet. It allows your business to accept all types of payments, print receipts and scan barcodes. You also get some nifty POS features, including inventory, customer and employee management functions with paid monthly plans.
This product is $749. Payment processing rates depend on your Clover pricing plan.
| | |
| --- | --- |
| Can be mounted to a countertop. | Requires paid monthly plan for advanced features. |
| | |
| Has free monthly plan available. | |
| Has payment plans available. | |
Best full register with a single screen
Style: Standalone countertop register.
Price: $1,349.
Fees: Varies from 2.3% plus 10 cents up to 3.5% plus 10 cents, depending on monthly plan.
The Clover Station Solo is a register-style system that offers merchants a 14-inch high-definition screen and a receipt printer for the full checkout experience. The system works with Clover's POS for retail, offering payment processing, inventory and staff management, reporting and more. For restaurants, the Station Solo fits nicely with customizing and tracking orders, managing table mapping and much more for streamlined service.
| | |
| --- | --- |
| | Requires one of the larger upfront investments. |
| Uses fast processing speeds. | Doesn't have a free monthly plan option. |
| Has robust POS software options. | |
Best full register setup with a customer-facing screen
Style: Standalone countertop register.
Price: $799 for reader.
Fees: Varies from 2.6% plus 10 cents up to 3.5% plus 15 cents depending on method; no monthly fees.
The Square Register is the first fully integrated credit card scanner system from Square and is a complete countertop POS system that can accept magstripe, chip card and contactless forms of payment. It boasts two screens — one for the employee and one for the customer to show transaction details — for a seamless experience. It also offers an extra-long cable that allows businesses to separate the Register and customer's screen to encourage social distancing. Its software provides merchants inventory, employee and customer relationship management functions, plus a reporting suite where you can view sales data.
This small-business credit card reader option will cost your business $799, but there are payment plan options available. It processes transactions at the standard Square rates.
| | |
| --- | --- |
| | Must be plugged in at all times. |
| Can be mounted to a countertop. | |
| Has advanced apps and software options. | |
Best system for full checkout experience
Style: Standalone countertop register with dual screens.
Price: $1,649.
Fees: Varies from 2.3% plus 10 cents up to 3.5% plus 10 cents, depending on monthly plan.
The Clover Station Duo ups the game with a combination of a 14-inch screen for you and a 7-inch screen for your customers. This makes it easier for customers to confirm orders and pay however they want — credit card, debit card, and contactless payment methods. Designed for retail and restaurant environments, the Station Duo offers the same features of the Station Solo with more power.
While this option tops the list for the most expensive system, the Station Duo is currently sold with a cash drawer and a receipt printer, giving you the gamut of checkout features.
| | |
| --- | --- |
| | Requires one of the larger upfront investments. |
| Uses fast processing speeds. | Doesn't have a free monthly plan option. |
| Has robust POS software options. | |
| | |
Make payments make sense
Find the right payment provider to meet your unique business needs.
Credit card readers comparison table
| | | | | | Additional device required |
| --- | --- | --- | --- | --- | --- |
| Square Contactless & Chip Reader | | $49 (reader); $29 (dock). | | 2.6% plus 10 cents and up. | Compatible smartphone or tablet. |
| | | | Chip, contactless and magstripe. | 2.3% plus 10 cents and up. | Compatible smartphone or tablet. |
| | | | | 1.9% plus 10 cents and up. | Compatible smartphone or tablet. |
| | | | Chip, contactless and magstripe. | | Compatible smartphone or tablet. |
| | | | Chip, contactless and magstripe. | 2.3% plus 10 cents and up. | |
| | | | Chip, contactless and magstripe. | Varies by card type and monthly transaction average. | Compatible smartphone or tablet. |
| | | | Chip, contactless and magstripe. | 2.49% plus 15 cents and up. | |
| | | | Chip, contactless and magstripe. | 2.6% plus 10 cents and up. | |
| | | | Chip, contactless and magstripe. | 2.6% plus 10 cents and up. | |
| | | | Chip, contactless and magstripe. | 2.3% plus 10 cents and up. | |
| | | | Chip, contactless and magstripe. | 2.3% plus 10 cents and up. | |
| | | | Chip, contactless and magstripe. | 2.6% plus 10 cents and up. | |
| | | | Chip, contactless and mapstripe. | 2.3% plus 10 cents and up. | |