Don't Let Employees Pick Their WFH Days
It's clear that as the U.S. economy reopens after Covid precautions that many organizations will be pursuing a hybrid future in which employees work from the office some days and at home on other days. While some managers may be inclined to let employees choose their schedule, the author recommends not pursuing this approach for two reasons. First, is the challenge in managing a hybrid team, which can generate an office in-group and a home out-group. The second concern is the risk to diversity. Current surveys show that younger women with children at home are most likely to want to work from home permanently. The author's previous research found that WFH employees had a 50% lower rate of promotion after 21 months compared to their office colleagues. The best solution is for managers to decide which days their team should WFH and which days everyone should be in the office.
As U.S. states and the federal government start to roll back Covid-19 restrictions, and companies and workers start to firm up their office return plans, one point is becoming clear: The future of working from home (WFH) is hybrid. In research with my colleagues Jose Maria Barrero and Steven J. Davis, as well as discussions with hundreds of managers across different industries, I'm finding that about 70% of firms, from tiny companies to massive multinationals like Google, Citi, and HSBC, plan to move to some form of hybrid working.
But another question is controversial: How much choice should workers have in the matter?
On the one hand, many managers are passionate that their employees should determine their own schedule. We've been surveying more than 30,000 Americans monthly since May 2020 and our research data shows that post-pandemic, 32% of employees say they never want to return to working in the office. These are often employees with young kids, who live in the suburbs, for whom the commute is painful and home can be rather pleasant. At the other extreme, 21% tell us they never want to spend another day working from home. These are often young single employees or empty nesters in city center apartments.
Given such radically different views it seems natural to let them choose. One manager told me "I treat my team like adults. They get to decide when and where they work, as long as they get their jobs done."
But others raises two concerns — concerns, which after talking to hundreds of organizations over the last year, have led me to change my advice from supporting to being against employees' choosing their own WFH days.
One concern is managing a hybrid team, where some people are at home and others are at the office. I hear endless anxiety about this generating an office in-group and a home out-group. For example, employees at home can see glances or whispering in the office conference room but can't tell exactly what is going on. Even when firms try to avoid this by requiring office employees to take video calls from their desks, home employees have told me that they can still feel excluded. They know after the meeting ends the folks in the office may chat in the corridor or go grab a coffee together.
The second concern is the risk to diversity. It turns out that who wants to work from home after the pandemic is not random. In our research we find, for example, that among college graduates with young children women want to work from home full-time almost 50% more than men.
This is worrying given the evidence that working from home while your colleagues are in the office can be highly damaging to your career. In a 2014 study I ran in China in a large multinational we randomized 250 volunteers into a group that worked remotely for four days a week and another group that remained in the office full time. We found that WFH employees had a 50% lower rate of promotion after 21 months compared to their office colleagues. This huge WFH promotion penalty chimes with comments I've heard over the years from managers. They often confided that home-based employees in their teams get passed over on promotions because they are out of touch with the office.
Adding this up you can see how allowing employees to choose their WFH schedules could contribute to a diversity crisis. Single young men could all choose to come into the office five days a week and rocket up the firm, while employees with young children, particularly women, who choose to WFH for several days each week are held back. This would be both a diversity loss and a legal time bomb for companies.
So I have changed my mind and started advising firms that managers should decide which days their team should WFH. For example, if the manager picks WFH on Wednesday and Friday, everyone would come in on the other days. The only exceptions should be new hires, who should come in for an extra office day each week for their first year in order to bond with other new recruits.
Of course, firms that want to efficiently use their office space will need to centrally manage which teams come in on which days. Otherwise, the building will be empty on Monday and Friday — when everyone wants to WFH — and overcrowded mid-week. To encourage coordination, companies should also make sure that teams that often work together have at least two days of overlap in the office.
The pandemic has started a revolution in how we work, and our research shows this can make firms more productive and employees happier. But like all revolutions this is difficult to navigate, and firms need leadership from the top to ensure their work force remains diverse and truly inclusive.
Planning your September social media calendar with GoDaddy Studio
Get up to 30%* off! Get going with GoDaddy!
When it comes to planning your social media content, the important thing is to think about what engages your target audience most. Businesses across varying industries can utilize their social content for strategic advertising purposes. Using GoDaddy Studio can help you plan your September social media calendar more efficiently with tools to create content based on this month's trending events.
Examples of social content you can plan for this month include:
Auto specials
Live music events
Outdoor craft fairs
Last-chance summer clothing offers
Late summer meal specials at restaurants
Below, we'll share our best tips for success and give you plenty of ideas to plan out your September social media calendar.
Key tips for a successful September social media calendar
Before we dive into specific dates to start planning for, it's important we review a few logistics that'll help your social campaigns attract more viewers. Think about these points as you get started.
Go for a design that's warm and cozy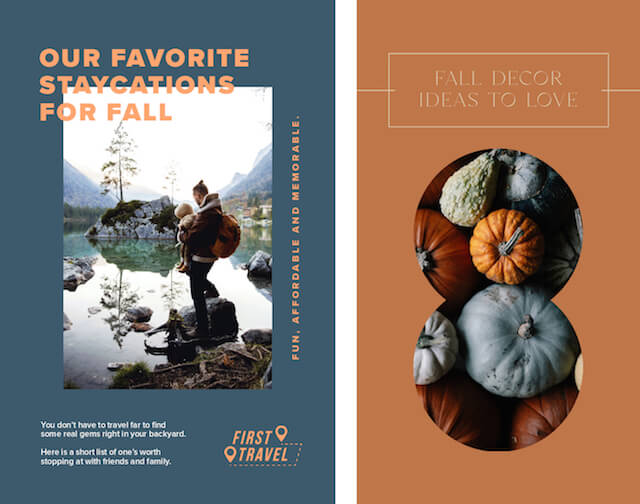 As you look forward to planning your September social media calendar, think about adopting a fall look for your marketing campaigns. This could mean adorning your messages with warm hues like:
Burnt orange
Lemony yellow
Deep crimson
Anything that inspires a sense of coziness is good here. You can add these touches to:
Seasonal sales
New ranges
Fall menus and more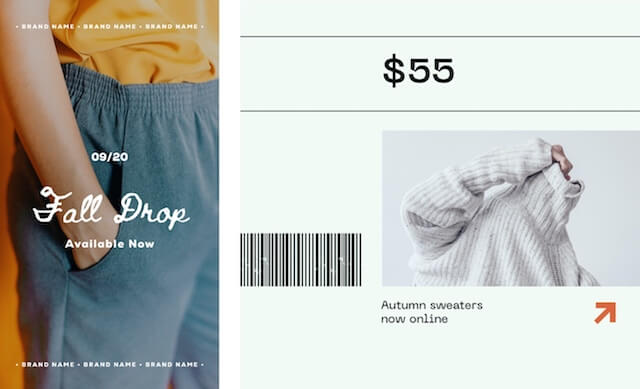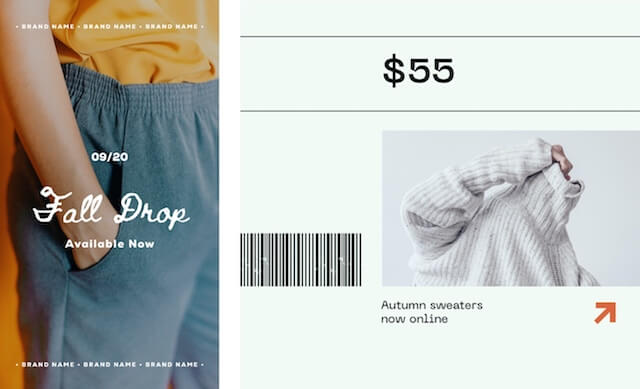 Related: GoDaddy Studio — Create eye-catching imagery for your brand
Be timely with seasonal trends
For many companies, September signifies the end of the back-to-school season. This is the final time for industries in this area to do a big push before families finish their shopping for the new school year.
Consider targeting this seasonal trend in your September social media calendar if your business specializes in:
School supplies
Kids' clothing
Meal prep
Family health
Daycare
Remember, strategic social media calendars are built around your target audience. Cater to their needs accordingly by highlighting your key products at the right time.
Don't forget about global audiences
If you're connected to global audiences in different locations (and if you're selling online, there's a good chance you are), you'll want to think about ways to hone in on other seasonal trends.
Take our friends located in the Southern Hemisphere, for example. This is the time of year they head into spring, which is something to note on your September social media calendar. If you do choose to reach those customers with seasonal posts, try to target posts directly to those regions, so your North American customers aren't targeted with spring posts meant for your Australian customers.
In this case, you can use the wonder of nature to position your brand firmly in the minds of those looking to start afresh. Florists are a natural fit here, but so are companies working in outdoor space like:
Wellness
Fashion
Restaurants and more
National and religious holidays
Celebratory get-togethers are much sweeter this year now that lockdown restrictions are starting to ease up.
Expect folks to be more excited about upcoming national and religious holidays.
Take advantage of this enthusiasm where you can on your September social media calendar.
Labor Day
Labor Day, celebrated on the first Monday in September unofficially marks the end of summer in the United States. It typically signifies a time of getting together to enjoy the last days of the season.
But for many online businesses, it also means planning out a September social media calendar with events or specials focused on spending time with loved ones and small gatherings (think barbecues, picnics, and outdoor fairs).
Rosh Hashanah
This holiday falls on September 6th and is a time when the Jewish community celebrates a new year and a fresh start. For brands, this is a time to send well wishes to your Jewish community, as they spend time together on this special day.
Yom Kippur
September 15th and 16th are days that are reserved for forgiveness and spiritual reflection within the Jewish community. Social messages that wish to acknowledge this holiday should be more humble and avoid celebratory or excess tones.
20th anniversary of 9/11
September 11th is a time for all Americans to remember and honor the men and women who lost their lives on 9/11. It's also a time for ordinary citizens to recognize and appreciate first responders and military personnel working hard within their communities.
Your message shouldn't be celebratory here. Rather, it should portray a level of respect and appreciation, and an acknowledgement of the anniversary.
Sports and entertainment
When planning your September social media calendar, consider any sports-related content that may appeal to your audience. The U.S. Open and college football are two major sporting events that occur during this month, so let's dive in on how you can tap into this category through social planning.
The U.S. Open
The U.S. Open continues this month and runs up until September 12th. This means you'll want to get your balls in a row and your chalk marks lined up, as you make a play for all things tennis.
Key industries that would benefit here include any sports-related:
If you're an outdoor venue, you could also consider organizing a viewing party to drum up a celebratory atmosphere.
Create specials and share them to your social platforms to draw customers in.
College football
If you haven't yet jumped on the bandwagon for college football season, you're not too late. These events go on until the championship game in early January and can benefit businesses like:
Sports bars
Retailers specializing in outdoor equipment
Sporting good shops
Since many fans weren't able to cheer for their teams in social gatherings last year, now's the time to get in on the heightened excitement. Plan ahead on your September social media calendar and celebrate these events if it relates to your business. This is especially important if you're in a college town with a big football presence, like Ann Arbor, Michigan or College Station, Texas.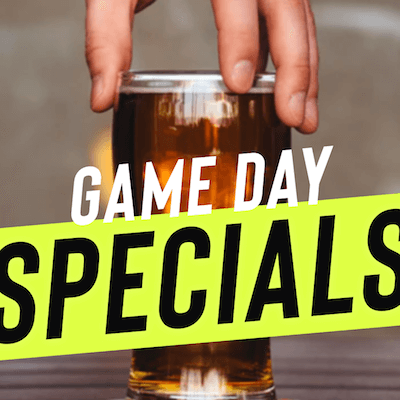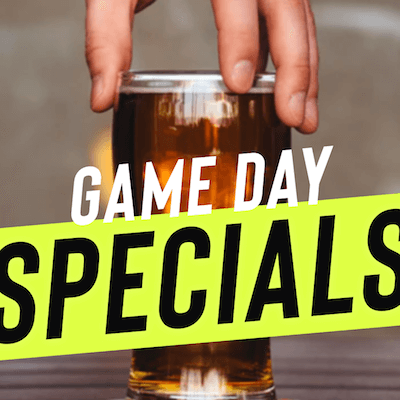 Awareness months and days
September includes some important awareness events that you can use to educate and inspire your audience. Of course, this will depend on the space you're in and the brand voice you have. But planning your September social media calendar with the right choices will help elevate your online engagement.
International Literacy Day
International Literacy Day falls on September 8th, and it's the perfect time to promote all the great literary minds, works and wisdom of the world.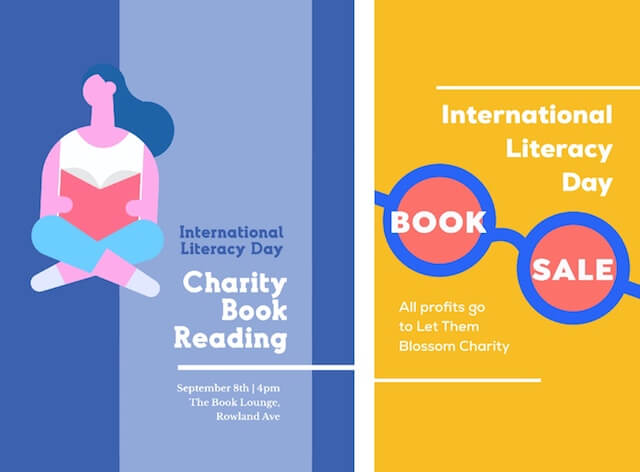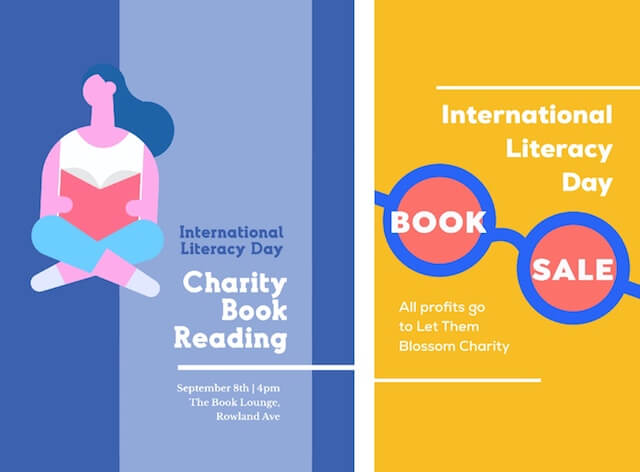 Anyone in the education industry can get involved here, but here are other example industries that should participate:
Charities promoting literacy
Bookshops
Booksellers
Independent authors
Libraries
All of the above have a chance to step into the spotlight on a day that falls squarely within their area of expertise.
Deaf Awareness Month
National Deaf Awareness Month is about raising awareness for anyone with varying degrees of hearing loss, ranging from mild to moderate or severe cases.
Charities can obviously use this time for very targeted messaging, but any brand can create content that centers around hearing loss education.
Be sure to include subtitled videos, too. You can create them directly around the theme or have them relate to more generalized content you're posting.
National Hispanic Heritage Month
Spanning a month, from September 15th to October 15th, National Hispanic Heritage Month nudges Hispanic-owned businesses to the fore.
More than just a promotional window, this is a great opportunity to tell your brand's story. It could also deepen your connection to your audience — especially when it comes to engaging more with your Hispanic followers.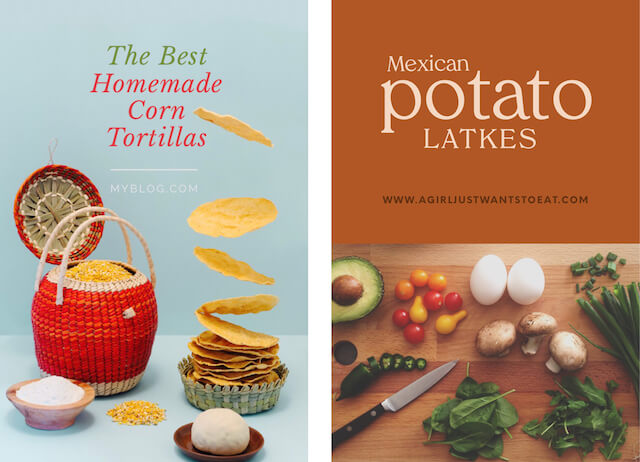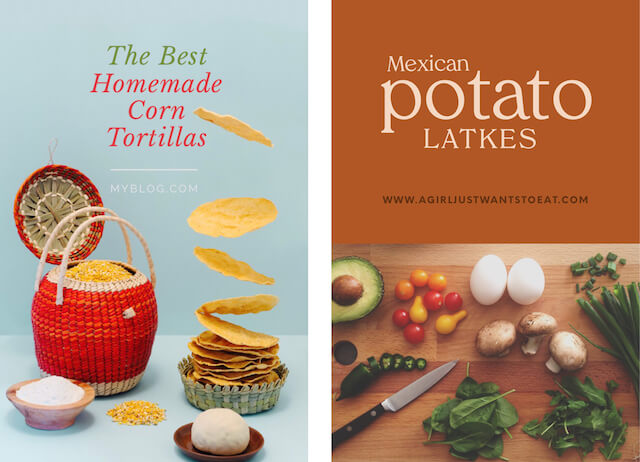 Any business can use this opportunity to connect with their Hispanic audience. But the following industries should prioritize this a bit more on their September social media calendar:
Restaurants
Educational institutions
Non-profit organizations
When it comes to your social campaigns, think about connecting through:
Dialogue
Awareness
Pure celebration
These techniques are great for brands looking to start conversations within the Hispanic community, but make sure to be open to learning more along the way.
International Day of Peace
If there's one thing we can all agree on, it's that the world needs more peace. International Day of Peace, on September 21st, is the perfect time to educate or inspire your audience with concepts of goodwill.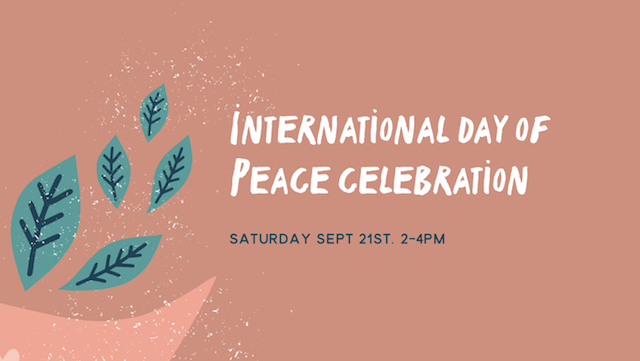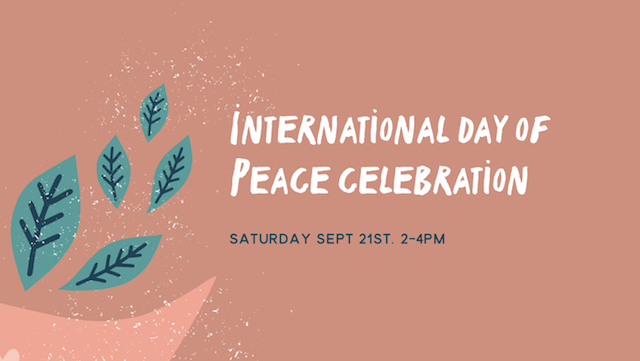 Charities, educational institutions, political organizations, and health and wellness brands have great opportunities to plan campaigns for International Peace Day.
Again, this can be an excellent theme to connect with your audience in a positive way. You should especially consider adding it to your September social media calendar if this message closely aligns with your brand.
Trending months and days
If you're looking to celebrate the less serious stuff, try adding these trending events to your September social media calendar.
National Yoga Month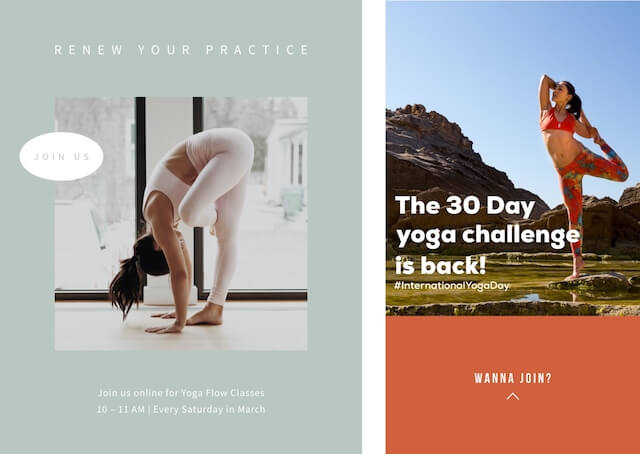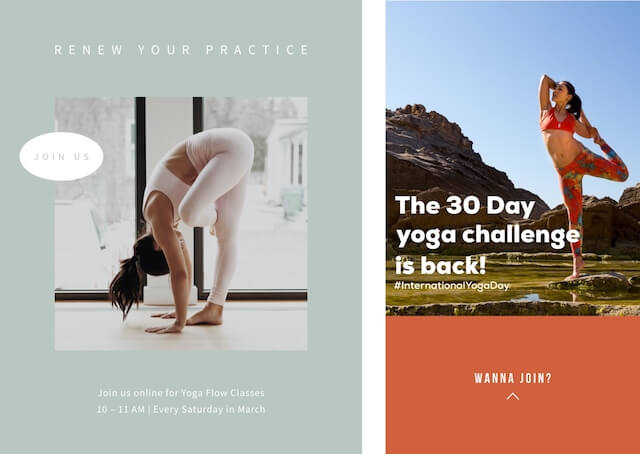 Join the many yogis across the U.S. and unite with them to say "namaste" all month long. Anyone offering the following products or services can get involved:
Yoga classes
Retail (think yoga gear and equipment)
Health and wellness brands
Fitness brands
Travel brands (yoga retreat, anyone?)
Invite your audience to meet you in downward dog with fun graphics or create a hashtag challenge that promotes physical and mental well-being.
World Heart Day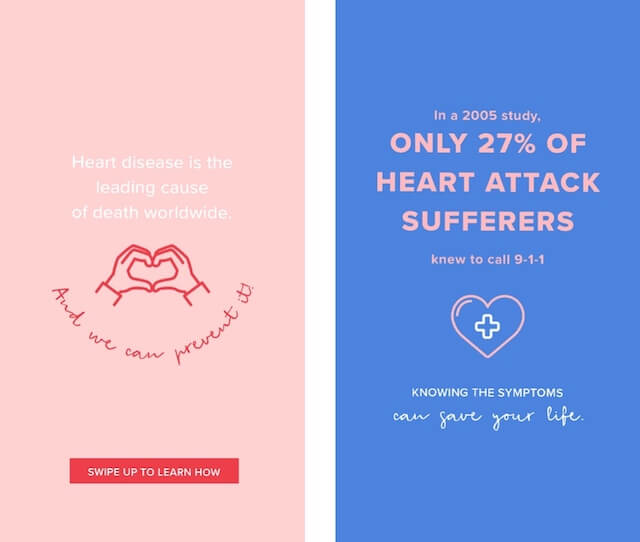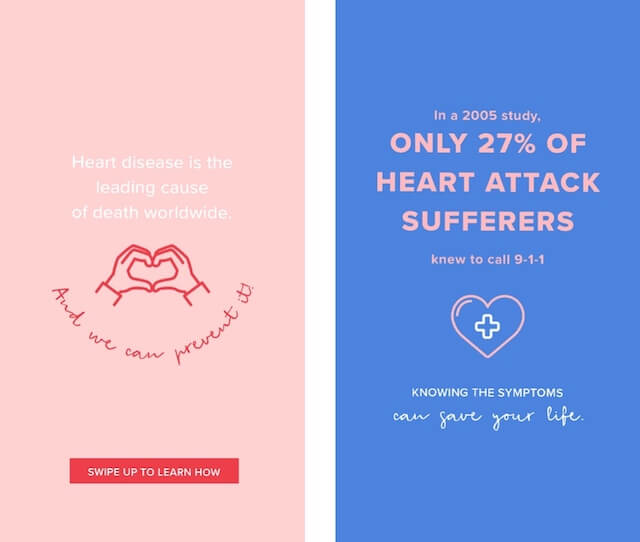 Our hearts literally keep us alive as they pump blood around our body to our vital organs. They also have metaphorical references in books and poems that have spanned for centuries. But World Heart Day on September 29th is all about educating people on the importance of the magical pump in our chests.
Health and wellness businesses, medical organizations and nonprofits, food and beverage brands, and doctors' offices can promote World Heart Day on social media.
Social campaigns that target this day should focus on healthy foods and habits that contribute to good heart health.
World Tourism Day
Never has the tourism industry needed our support like they do now. While the global pandemic put a stop to most international travel last year, this industry is still curtailed to varying degrees in different countries.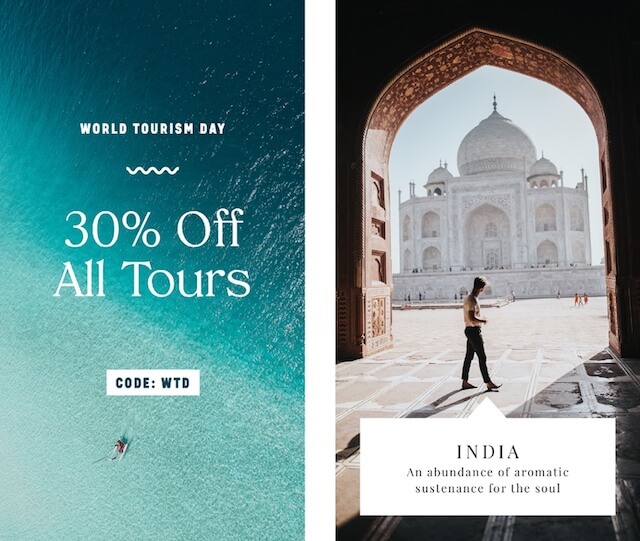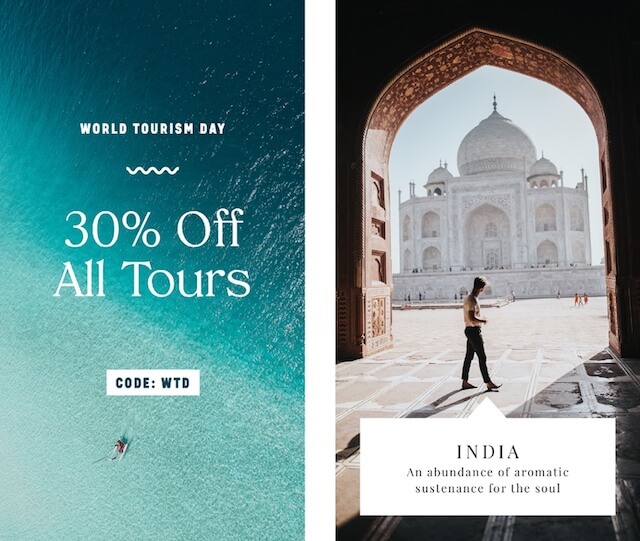 Still, many industries can continue to celebrate World Tourism Day on September 27th by promoting a sense of wanderlust, including:
Travel agencies
Restaurants
Hotels
Airlines
Entertainment spaces (think casinos, shopping, or popular tourist destinations)
As more countries begin to open up more, the travel industry should seize every opportunity they can on this day.
National Video Games Day
If you're in the gaming space, you're in an industry that continues to be on the up and up. Video games continue to take center stage in popular youth culture and many gamers celebrate in the U.S. on September 12th.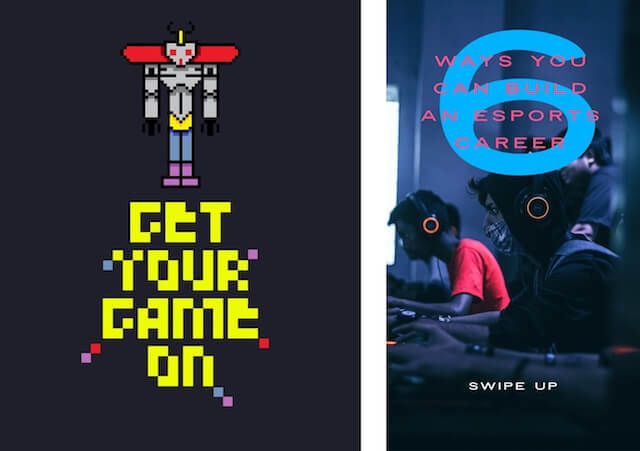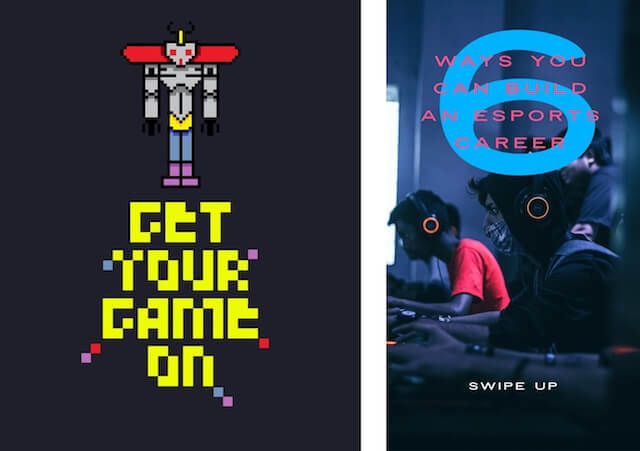 This the perfect opportunity to engage with your audience through:
Giveaways
Specials
Competitions or other events
If your brand's online persona aligns with any humorous or witty audiences, this is a day you should mark on your September social media calendar.
International Podcast Day
The popularity of podcasts continues to grow exponentially – not least due to our homebound habits in the wake of the pandemic. If you haven't already, you ought to at least consider getting in on the podcast action. September 30th is International Podcast Day, so it's a great day to launch a podcast or promote the one you already have.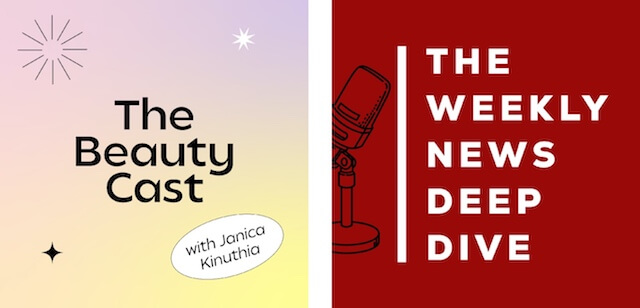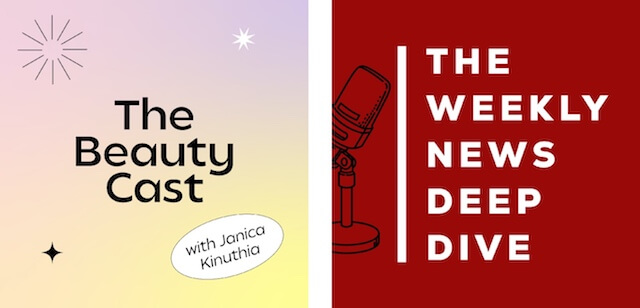 If you're not producing podcasts, you could also showcase the ones you love that relate best to your business and industry. You can do this by promoting it through a blog post or social media.
Update your designs and promos accordingly
Posting on a special theme relating to one of the events above is easy and impactful.
You can use these opportunities to update your brand identity for maximum impact.
Try doing this for a day, a week or month that aligns with the holiday you're celebrating.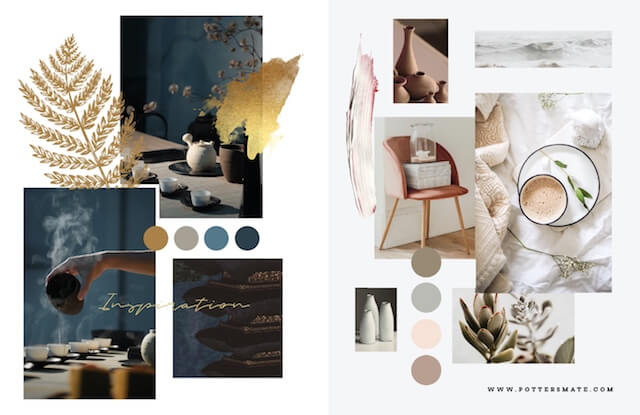 Having your templates ready and accessible in a tool like GoDaddy Studio is a super simple way to keep the design process quick and uncomplicated. When it's made easy, creating your content during the month of September can literally save hours out of your day. Utilize this extra time to plan your September social media calendar strategically with events that relate to your business most.
Create some beautiful visual content for the month of September, with GoDaddy Studio. Try it for for free now.
The ultimate guide to optimizing a website for lead generation
Get up to 30%* off! Get going with GoDaddy!
You're probably creating websites with the goal of connecting with more customers and growing a business. But if you want to connect with more customers, you need a lead generation guide to help you to optimize those websites.
This process involves finding ways to reach customers, like optimizing the site for search engines, as well as setting up a site so that it's designed to generate as many leads as possible from the traffic it generates.
In this post, we're going to cover everything that you need to know about lead generation.
We'll start with an introduction to lead generation and why it's important. Then, we'll share some actionable tips that you can implement on a website to start generating more leads today.
What is lead generation?
Lead generation is the process of generating interest in a product or service. A person who is interested in what you have to offer is called a "lead." Once you generate a potential lead, you want to "capture" their information, which is why you'll see the term "lead capture" used alongside "lead generation."
Typically, you'll "capture" a person's information using some type of form or chat — this could be a form in the site's content, a popup, a chatbot, a notification bar, etc.
Lead generation isn't just about collecting the contact information of as many people as possible, though.
You want to go after qualified leads, which are people who really do have a genuine interest in a product or service and are likely to convert into paying customers or clients.
Typically, lead generation works something like this:
You attract traffic to a website using strategies like search engine optimization (SEO) and content marketing. You want to try to reach the type of people who might be interested in the product(s) or service(s) offered.
Once you get people on a site, you use web forms or chatbots to collect their information. You can then store that information in a customer relationship management tool (CRM) to more easily track and engage with leads.
With a person's information in the CRM, it's time to start converting them into a customer, either with additional marketing content or direct sales (or both!).
Why is lead generation important for a website?
When you're building websites for your clients, optimizing for lead generation is very important.
Your goal for the website probably isn't to just have "a website." Instead, you want the website to help achieve a business need. In most cases, that business need is getting more customers, which requires lead generation.
When building websites, it's easy to get caught up in the design and just focus on creating a great-looking end product. But having a good-looking website isn't the only thing, or even the most important thing. You also need to have a website that gets results.
Think about this… would you rather have:
A stunning website that wins design awards and generates 50 leads per month.
A good-looking website that won't win design awards, but generates 250 leads per month.
Of course most people want both! But if you had to pick, option #2 would be the best, right?
And that's the really important thing to understand.
If you can move beyond creating just a website and get to a website that generates leads, the business will be much more successful, with a steady stream of potential customers for whatever it's offering.
How to optimize a website for lead generation
Now that you know what lead generation is and why it's important, let's get into some tactics for how you can optimize the websites that you build for lead generation.
Optimize for search engines
Ranking your site's content in search engines like Google is one of the best ways to reach qualified leads. With search engines, you already know that people are searching for keywords that relate to a business — all you need to do is get them onto the site to capture their information.
Here are some tips to do that:
Optimize content to match search queries
One of the best ways to generate qualified leads is to create content that potential leads might be interested in. You can then rank that content in Google so that people find it when they're searching.
The content doesn't have to be directly promotional. In fact, it's often more authentic to not be overtly promotional in the content that you create. Instead of trying to sell people right away, focus more on getting them onto a site and collecting their details — you can always convert them later on once you have a relationship.
For example, let's say the site is for online personal training and your client is looking to reach potential clients. You could write an article on a topic like "the best ways to get bigger biceps."
This article isn't directly promotional — it's just providing information. However, the same types of people who are interested in learning how to get bigger biceps are also the types of people who might be interested in hiring a personal trainer to help them achieve their goals.
Once you get them on the site, you can capture their information and start working to convert them into customers.
Of course, creating content is only one part of the puzzle — you also need to optimize the content for SEO. To do that, here are some tips:
Perform keyword research — Keyword research helps you discover the queries that people are searching for so that you can match your content to the exact phrases people use in search engines.
Write for humans, but pay attention to SEO — You should always write content for humans, but it's still important to include the target keyword in your post, especially in the title and periodically in the body of content.
You can learn more about content optimization in this post.
Install essential SEO plugins
If you're trying to optimize a WordPress site for SEO, it's essential to install a dedicated WordPress SEO plugin so that you can implement good on-page SEO best practices.
A good SEO plugin will help you:
Set SEO titles and meta descriptions — These let you control what users see when a site appears in Google.
Analyze SEO optimization — Many SEO plugins can analyze content for a focus keyword and help make improvements, such as optimizing the keyword density of content.
Implement technical SEO — SEO plugins help you implement important tactics like redirecting attachment pages and just generally making the core WordPress software more SEO friendly.
Integrate with Google Search Console — Plugins can help you integrate a site with Google Search Console to track its performance in Google search.
There are lots of great SEO plugins, but here are some of the best:
All of the plugins above have free versions available at WordPress.org.
Optimize for Page Experience (speed and user experience)
In 2021, Google will launch its new Page Experience update, which is an update to its search algorithm to factor in page speed and other user experience metrics as SEO ranking factors.
If you want to set up a site for success in Google, that means you also need to focus on optimizing the website for performance.
There are a lot of ways that you can optimize for performance:
Use page caching to reduce server processing time.
Minify your site's JavaScript and CSS code to reduce its size without changing functionality.
Reduce the size of your pages, as paying special attention to image optimization can usually result in large reductions in page size because images account for about half of the size of the average web page. You can also use server compression technologies like Gzip and Brotli.
On WordPress, make sure you're using a lightweight theme and try to limit the number of plugins that you use to only those that are essential.
Consider using a content delivery network (CDN), especially if your site has a global audience.
You can use tools like PageSpeed Insights and WebPageTest to analyze your site's performance. In general, Google recommends that your site's Largest Contentful Paint time be under 2.5 seconds to do well in the Page Experience algorithm update.
Optimize for Security
A site's security can play a key role in lead generation, as security issues can reduce trust with your potential leads and also cause issues with your search engine optimization efforts.
Use HTTPS
HTTPS is a technical protocol that encrypts the data that moves between visitors' web browsers and a website. In order to activate HTTPS on a website, you need to install an SSL certificate.
There are two ways that using HTTPS can improve a site's lead generation:
First, using HTTPS boosts trust with visitors and lets them know that the data they submit via lead generation forms is secure. In fact, if you have a lead generation form on a site and you don't use HTTPS, some web browsers (like Chrome) will even mark the page as insecure — you can see an example in this blog post from the Chromium team.
Second, using HTTPS can also help you optimize a site for search engines, which is important for reasons that we discussed in the previous section. Since 2014, Google has used HTTPS as a small ranking factor in its search results, so adapting HTTPS will give your website a slight edge in the search results. Every little bit counts when it comes to SEO, so you shouldn't ignore any advantage that you can give your site, no matter how small it is.
Consider a security plugin
Beyond using HTTPS, it's just generally important to keep your site secure. Malicious actors are always on the lookout to find ways to infect your site with malware or spammy SEO links. Having your site infected will hurt trust with your potential leads and can also cause issues with your site's search engine optimization, as Google removes infected sites from its results and many browsers will block access to infected sites (e.g. Google Chrome Safe Browsing).
To help mitigate threats, you can use a security plugin like Sucuri Security for WordPress.
Optimize for mobile
When you're optimizing for lead generation, it's important to pay special attention to mobile visitors.
It's easy to focus on desktop visitors when you're optimizing a site for conversions, but more than half of all website traffic happens on mobile devices nowadays, so you're missing out on a huge source of potential leads if you don't optimize for mobile lead generation.
Implement response design
Optimizing for mobile starts with responsive design at a minimum.
What is responsive design?
It's the idea that your website will automatically adjust to show an optimized design no matter what device a visitor is using. Someone browsing on a desktop will see a desktop-optimized design and someone browsing on a smartphone will see a smartphone-optimized design.
Nowadays, most content management systems (CMS) include built-in features or themes to make responsive websites. For example, most themes for WordPress are responsive by default. The same is true for most website builders.
Test for mobile-friendliness
In addition to having a responsive design, you also want to make sure that a site doesn't have any mobile usability issues that might make it difficult for mobile visitors to interact.
Google will also start using mobile-friendliness as an SEO ranking factor in its Page Experience update, so optimizing for mobile-friendliness is another useful tactic to optimize for SEO.
To see if a site has any issues, you can use Google's free Mobile-Friendly Test tool. The tool will flag any issues on your site and give you some tips for how to fix the problem.
Google Search Console also includes a report that lets you see mobile issues that Google discovers.
Optimize for lead capture and conversion
If you've done everything so far, you're ready for the last step — the actual lead generation forms.
There are lots of different ways that you can capture leads' information. Here are some popular options:
Web forms — Place lead capture forms in the actual content, either on a dedicated landing page or as part of a page, such as in the sidebar.
Popups — Experiment with different types of popups, such as modals, slide-ins, notification bars, and more.
Live chat — Use live chat and/or chatbots as an interactive way to capture lead information in a more conversational format.
Tools like HubSpot can help you create customizable web forms to place anywhere on your site. HubSpot also offers a free WordPress plugin that lets you create forms from inside your WordPress dashboard, along with other types of lead capture tactics including popups and chatbots.
When creating your forms, you need to think about what fields you include in your forms. There's a fine line between using too few form fields and too many. As a rough rule…
More form fields equal lower conversation rates for your form.
Fewer form fields equal less qualified leads because you don't have as much information about a person.
For most businesses, the optimal lead capture form will be somewhere in the middle. You want enough form fields to add at least some lead qualification, but not so many fields that you discourage visitors from filling out the form and lower conversion rates.
Beyond the form itself, you should also experiment with different placements and lead capture methods.
For example, you can see if a modal popup generates more qualified leads than a basic web form. Or if your interactive chatbot is more effective than the popup.
Experimenting with these types of details can help you boost your conversion rates, which means more leads end up in your CRM.
Use our lead generation guide to start optimizing websites today
If you want to create successful websites, optimizing for lead generation is key. Having a website is great, but having a website that generates leads is what will help your business grow and succeed.
In this post, we've introduced you to what lead generation is and why you need to care about it.
We've also covered some of the most important areas that you need to focus on if you want to optimize your website for lead generation.
Implement these tips today and you'll be generating more leads in no time.
The post The ultimate guide to optimizing a website for lead generation appeared first on GoDaddy Blog.
Make your brand pop — How to pick your brand graphic style
Get up to 30%* off! Get going with GoDaddy!
Picking a brand graphic style is one of the most creative and stimulating phases of the brand building process. This is where you'll make some bold upfront decisions about the personality of your brand and the market you want to appeal to. Your brand will begin to glow with its own particular energy.
The bull's eye we're aiming for here lies right in between the expected and the unexpected.
Creating an instant first impression of what your brand is all about means using certain conventions that viewers are familiar with. At the same time, you want to avoid the trap of sameness to ensure that your brand is distinct in its category.
Here are three goals to think about as you consider your options:
Pick a broad brand graphic style. Go with a category that feels most suited to your brand. This could include something that doesn't just look cool, but also helps to establish the right context and industry.
Use aesthetic guard-rails to narrow down decisions. Be selective when it comes to choosing the graphics, colors, and fonts that will add up to your unique brand identity. Careful consideration at this stage will ultimately make your design process faster and easier. Slow down at the start to speed up at the end.
Curate your selected graphics. You can save them in GoDaddy Studio for easy access in ongoing design work.
Related: GoDaddy Studio — Create eye-catching imagery for your brand
Striking the right balance between strategy and creativity
This task isn't always easy, but we're here to show you how to hit the right note with your brand graphic style and identity.
For example, we might associate a real estate brand with a corporate style: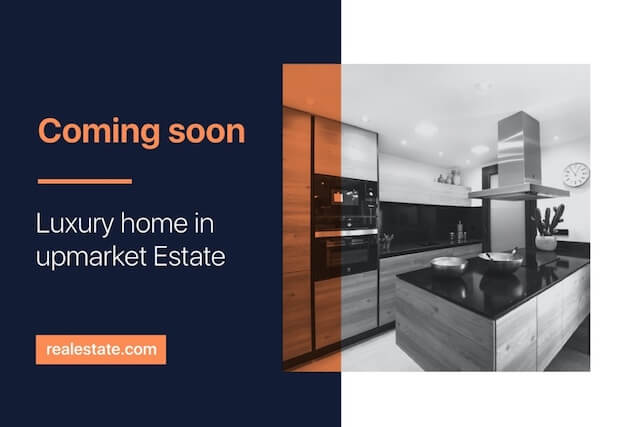 But a savvy new agency with a playful aesthetic might seem more approachable. They're more likely to be in touch with the younger generation, if that's who they're targeting.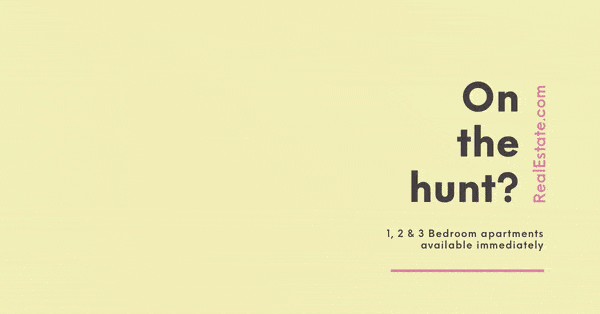 On the flipside, you'll need to consider your brand's style. If it's too bold and playful it could create an impression of being wild and reckless. Some people might hesitate in making their life's largest financial investment with you.
Why it's important to be consistent
Being consistent is not only about making your life easier, but also about developing consistency with your brand's visual identity. If you're switching up your graphics every two weeks, customers have to constantly rewire their associations with your style.
By keeping things consistent, people will become familiar with your brand on sight. Over time, they'll feel like they know you. Consistency and reliability are traits that define trustworthy people — and the same is true for your brand.
This definitely doesn't mean locking yourself into a very specific aesthetic. We're setting up guidelines for your brand, not laws.
Your brand graphic style should be able to expand, evolve, and adapt to different situations.
But these will be variations of a consistent theme. Try to avoid knee-jerking departures from the brand identity you're building over time.
You should absolutely keep an eye out for new trends that you can incorporate into your designs. This will help you keep things fresh and relevant. At the same time, make sure they work within your world. Don't get distracted by every shiny new thing on your Instagram feed.
Building a brand identity is a process. You need to commit to it and see it through to ultimately reap the benefits.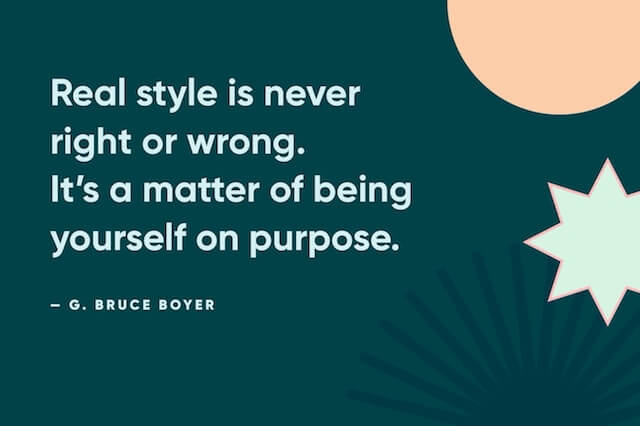 Defining a brand graphic style
Labels can be problematic, but they're useful when considering big aesthetic categories for your brand's style. You might ultimately describe your unique style as "Neo-Glitchwave-Industrial" or "Maximalist-Tropical-Psychedelia," but we need to start with broad strokes at first.
Style is of course subjective, but there are some categories that are universally agreed upon. If nothing else, these categories help designers and clients communicate better with each other.
It's also useful to know how we categorize our content in the GoDaddy Studio app, so you can find what you're looking for easily. We typically refer to ten key design themes, or brand graphic styles, from which almost any variation or combination is possible:
Bold
Organic
Modern
Minimal
Playful
Street
Elegant
Corporate
Classic
Luxury
As we take take a closer look at each one, consider the following ideas:
The characteristics of each style
Typography usage
Industries they suit best
Availability within GoDaddy Studio (make sure to stock up your brand's design toolkit!)
While there's definitely logic involved in making these decisions, your eye will almost certainly gravitate towards the brand graphic style that feels right for your brand. Trust these instincts.
Bold
This style is completely unmissable in contemporary design and is easy on the eye. Let's take a look at what makes this design style so unique.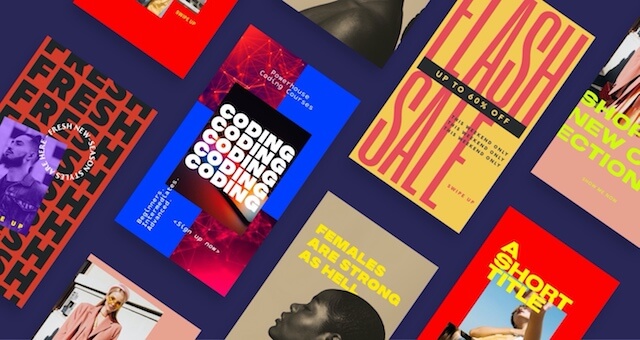 Key characteristics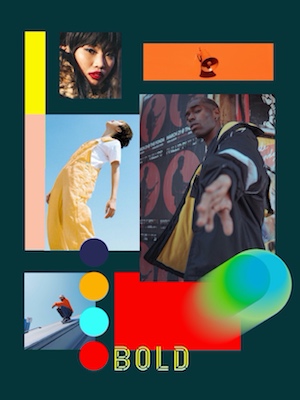 As the name implies, the foundation of this aesthetic includes big chunky shapes, graphics, and colors. Bold is also a kind of personality too. Think of it as an individual (or a brand) with confidence, charisma, and vision.
It's key characteristics are:
High impact
High contrast
Clean
Geometric
Super-sized
Although this brand graphic style isn't very complex, words and shapes can be super-sized to dominate the composition. Its aesthetic is striking, typically quite geometric, with very deliberate composition. You'll also notice that impactful photographic imagery is often part of the package.
Typography style
Typography plays a big role here. It frequently steals the show altogether with text as design. Bold fonts tend to be from the Sans-Serif family and include styles that are:
Fat
Wide
Bold Condensed
Display fonts that sometimes have design detail (think inlaid textures or patterns)
As such, bold styling often revolves around unmissable messaging.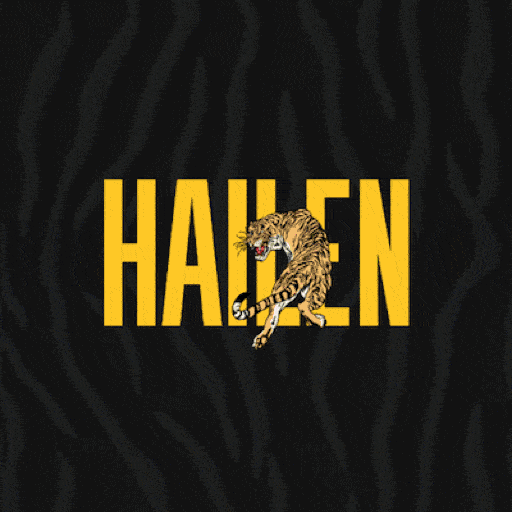 Unlike street style, which has a big overlap with similar industries, bold keeps things:
Texture, fading, and imperfection aren't big features of this brand graphic style. These are better explored through flat or high contrast color expression. There's also no sense of nostalgia, since bold is of the here and now.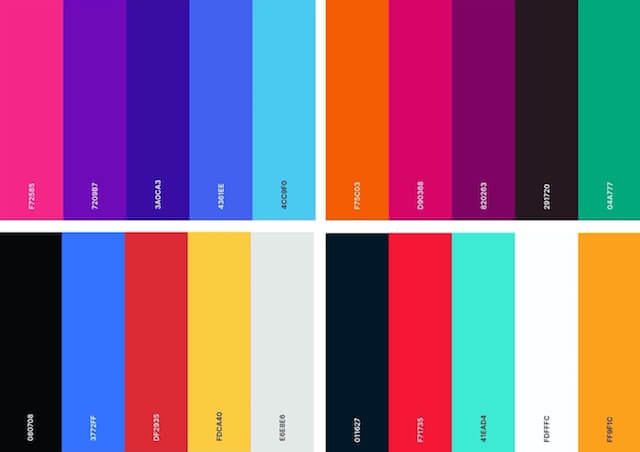 Industries best suited for
Anyone can be bold, but these are the industries most likely to adopt a brave and striking aesthetic, reflective of their progressive attitude:
Urban lifestyle brands
Urban fashion brands
Art & design sectors
Music industry
Product retail industry
Tech industry
What to check out in GoDaddy Studio
When picking out graphics for your bold brand style, think abstract shapes and high contrast patterns.
Avoid literal objects, detailed illustrations, and textures if possible.
You can create simple patterns by playfully stacking basic shapes in high contrast colors. Using shapes as clean, slick, stickers is a noteworthy trend within the bold domain.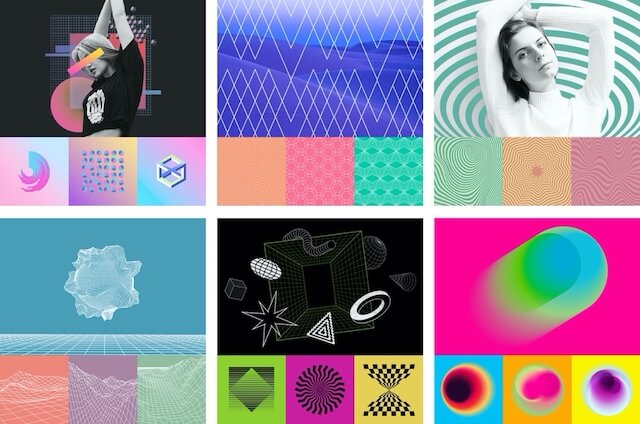 If a bold brand graphic style feels like the right fit for your brand, the easiest way to get started is with our Be Bold layout collection in GoDaddy Studio. It's all set up for multiple platforms, in one cohesive style. You can even switch out the fonts, colors, and imagery to suit your brand, but the professional design work has already been done for you.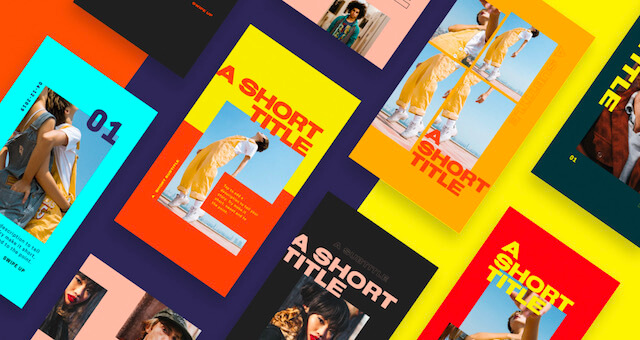 Organic
Classical brand graphic styles typically revolve around:
Geometry is the framework that holds everything together in a precisely measured way. Fluid, organic design rebels against this formalism with a more intuitive approach.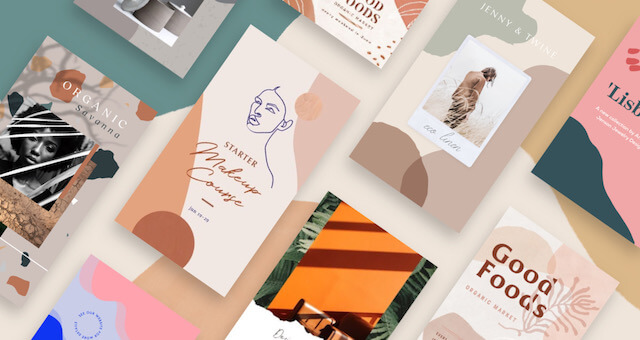 Key characteristics
Organic design often evokes a feeling of harmony and flow, which is more natural than mechanical. Key style characteristics include choices that are:
Fluid
Flowing
Harmonious
Natural
Handmade
If you're seeking out a very expressive brand graphic style – more spontaneous than rational – then you've arrived at the right chapter in our story.
The organic brand style can draw on a very handmade aesthetic. It often calls to mind the texture and curvaceousness of the living world (think pebbles, leaves, and rivers). For brands moving in this direction, your color palette will inevitably reference nature. You should draw from the tones of: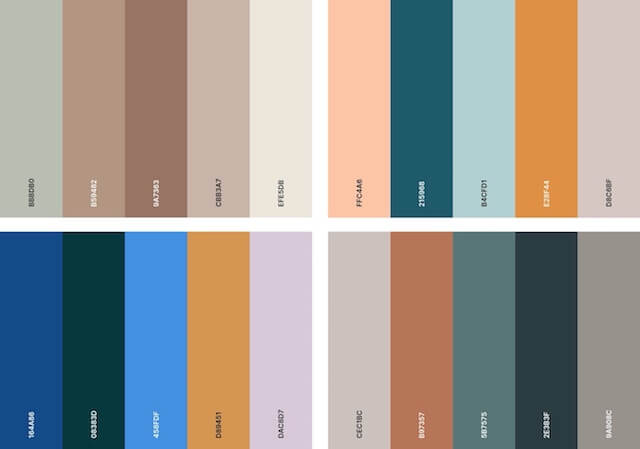 Typography style
Anything that resembles imperfection is a hallmark of this visual brand graphic style. It's not a bad idea to pick an expressive organic font for headlines. You can even pair this with a simple and legible sans-serif for copy in your designs. Fonts in this dimension would typically be:
Loose
Flowing
Handwritten
Other types of fonts that make sense here could include:
Brush scripts
Handmade lettering
Textured fonts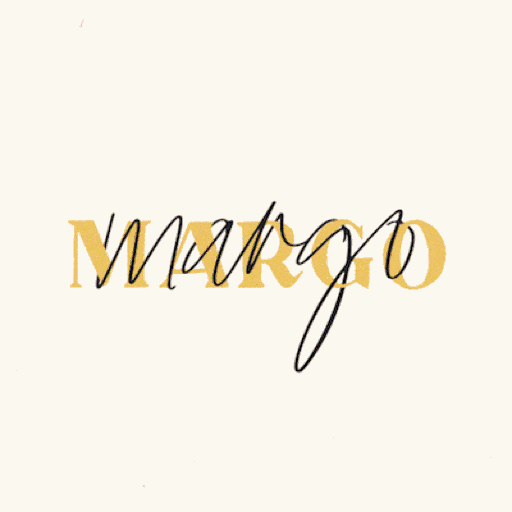 The organic style can also be applied in a more vibrant "pop" mode. It should present as fluid and overlap shapes in flat or bright colors. In this more clean-cut approach, your fonts should be drawn from the same collections as a bold or modern aesthetic.
Industries best suited for
Industries that you're most likely to see playing in the world of organic brand graphic style, include:
Beauty
Skincare
Lifestyle
Retail – crafted, product
Bloggers
Fashion
Art
Alternative health & wellness
Health Food
Wellness professionals: physio, nutritionist etc.
What to check out in GoDaddy Studio
There's plenty of brand graphic style choices in this department. Stock up on a wide range of the following options to customize your brand's organic identity:
Shapes
Illustrations
Decorative flair
Beyond our range of fluid shapes and patterns, you can choose from these handmade choices as complementary graphics:
We collaborated with Morgan Harper Nichols on an artist edition layout collection for GoDaddy Studio. Morgan's symphony of painted shapes and lines makes this collection a wonderful example of the organic brand style.
It features bright and earthy tones that are paired with handwritten lettering. You could use this as the basis for your own visual identity, adding your distinct fonts, graphics and color palette.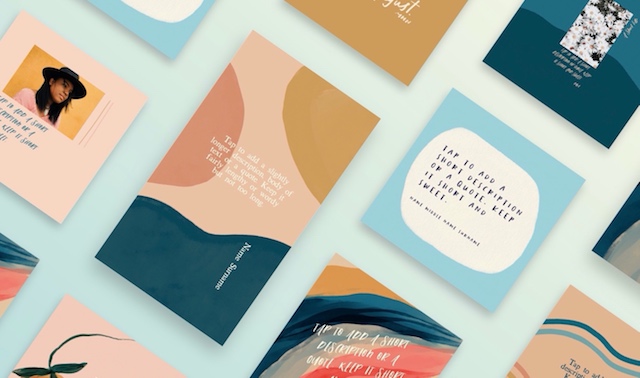 Modern
Modern doesn't necessarily mean contemporary or the opposite of old-fashioned. In the aesthetic sense of the word, this brand style references a specific time period between the 1940s and the 1960s. This is when a clean-cut, restrained, and functional brand graphic style rose to popularity.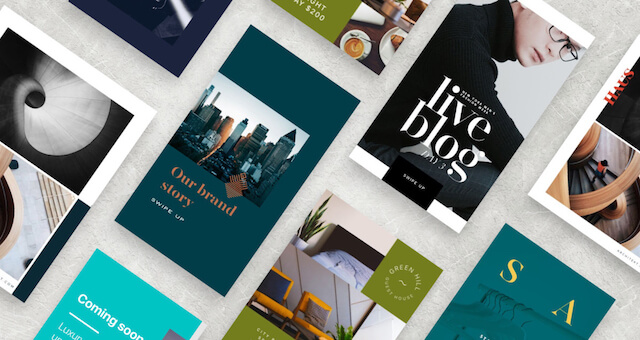 Key characteristics
Today, modern design is constantly evolving. But some of its central characteristics remain rooted in the new ideas of this era. Some of these key style characteristics include:
Contemporary
Clean
Structured
Strong
Minimalist
More contemporary interpretations use a clean or crisp layout as the foundation of a design. They also layer the following brand graphic styles on top of this as a point of contrast:
Shapes
Vivid colors
Synthetic textures
Typography style
Modern brand graphic style uses blocking of color and strong imagery, with highly legible text. The typefaces can be structured Display Sans Serifs or Serifs, but they should always be legible and strategically placed. The white space is less than that seen on minimal aesthetics, thus steering them apart.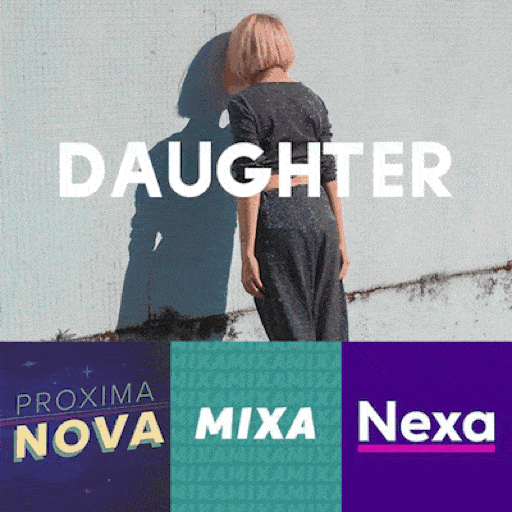 Colors tend to be neutral and mixed with contrasted tones like charcoal, black, or a stronger hue. You'll normally see one color as the accent, mixed in with white or neutral tones.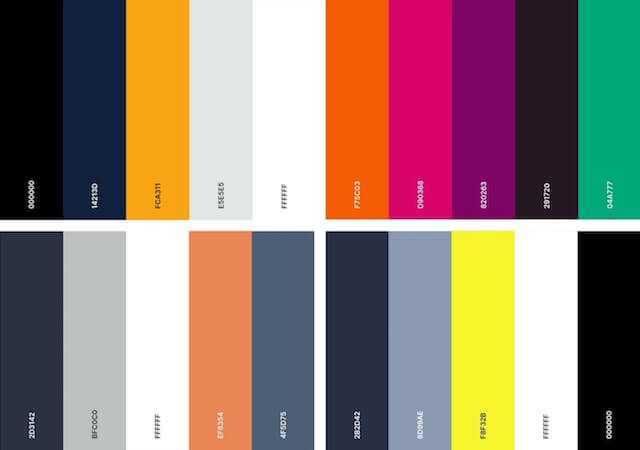 Industries best suited for
Industries that would typically lean towards a modern style include:
High end product/retail
Architecture/Interiors
Fashion
High-end Real Estate
Lifestyle brands
Hospitality (eg. Hotels)
Business (Finance, Legal)
What to check out in GoDaddy Studio
If a modern design is the brand graphic style for you, check out the curated selection of the Graphic Packs. Bear in mind that some subtle graphics — like high contrast patterns or delicate texture — could also add visual interest to an otherwise structured modern design.

Monochrome is a brilliant example of a unified brand identity in a modern style. We've created this layout collection for you to bypass all the tricky design decisions. It's made so you can easily switch out your graphics, fonts, and images. Within minutes, you could have a cross-platform campaign ready to go. Start to imagine the perception of your brand with a more professional look and feel.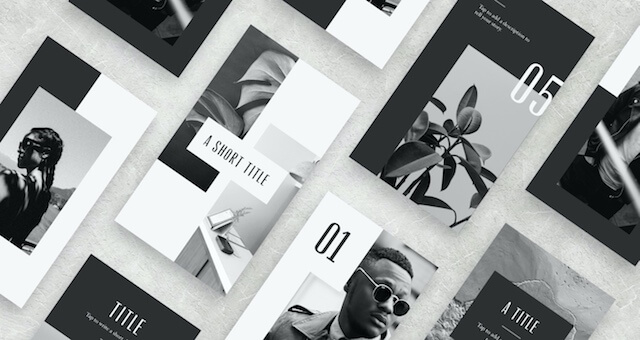 Minimal
Less is more is the minimalist mantra. It's often said that the best design is invisible. This is especially true when working with this brand graphic style.
Key characteristics
This design doesn't try to steal the show — it's chiefly about showcasing the content. A minimal brand style graphic sets up a subtle, but highly efficient framework for this.
Its key style characteristics include:
Precision
Balance
Grids
Space
Restraint
The overriding look and feel is:
Most minimal brand graphic styles include a large amount of empty space in the composition. It attempts to focus the eye rather than allowing it to explore the page. This is a no-frills attitude that suggests confidence in your offering. It shows that you value quality over quantity and that your brand is focused, with clarity of vision.
Typography style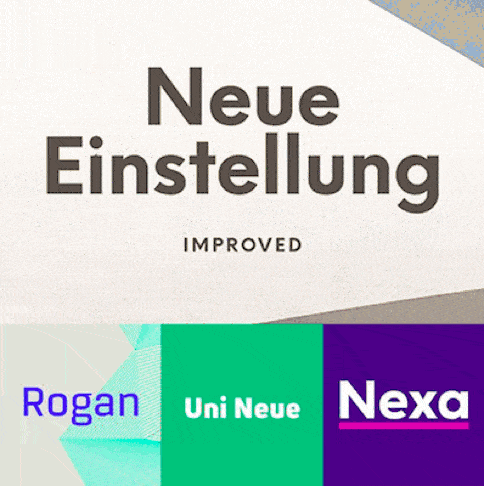 The heart of every minimalist design is a typeface that's clean and easy to read. A contemporary take on minimalism would usually rely on simple Sans-Serif fonts or one of the on-trend Delicate Serifs. Classical Roman serifs would also feel right at home in a more elegant or luxurious brand graphic style.
Color palettes are very limited and subdued in this design expression. It falls in line with maintaining focus on the core message and transmits a feeling of visual tranquility. Hues tend to be natural or pastel, with subtle contrast created through darker and lighter tones of the same color.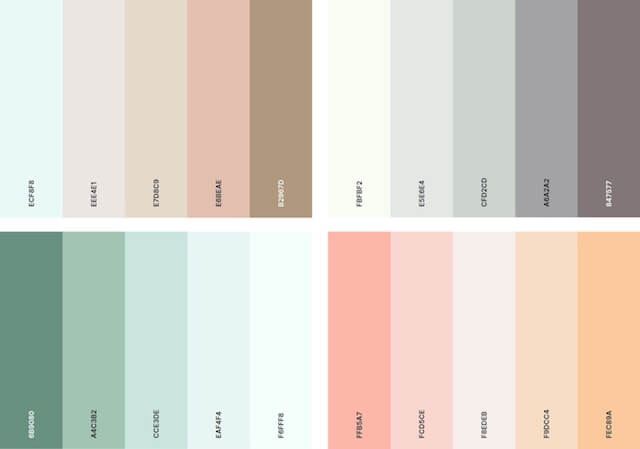 Industries best suited for
The minimal aesthetic is for brands that want something simple, but memorable. The content is more of the hero than the design style here. Categories where you're likely to see this style dominate include:
Fashion
Beauty & Skincare
Health and Wellness
Consulting
Graphic Design
Home Decor
Design
On a minimalist canvas, graphics ought to be used sparingly and with great consideration. Clutter is a big no-no, so you're likely to only use one or two simple shapes, lines, or markings as an accent in a spacious design. Repeating patterns are generally a bit overwhelming in this style. If you're looking for illustrations, think thin, hand-drawn sketches, and doodles.
What to check out in GoDaddy Studio
The Retail Modern Minimal layout collection in GoDaddy Studio is a great example of how a minimalist visual style can be used to develop a slick, coherent, and professional brand identity. You can easily customize this professional design with your own colors, fonts, and imagery, and create your own minimal masterpiece in minutes.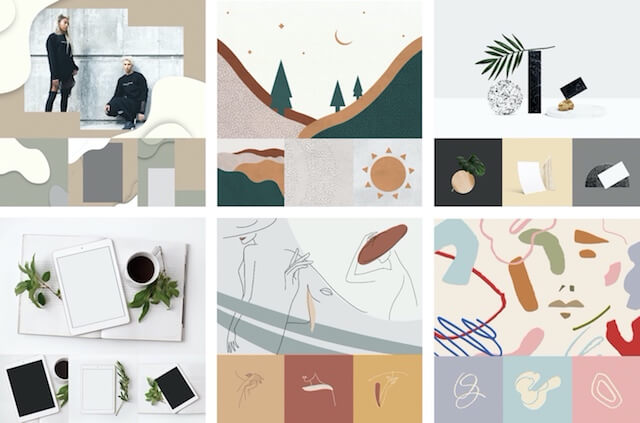 Playful
You'll probably know your brand graphic style is destined to be playful at the very sight of the word. If you have a playful brand, this is likely already woven into the DNA of your product, your company, and your view of the world.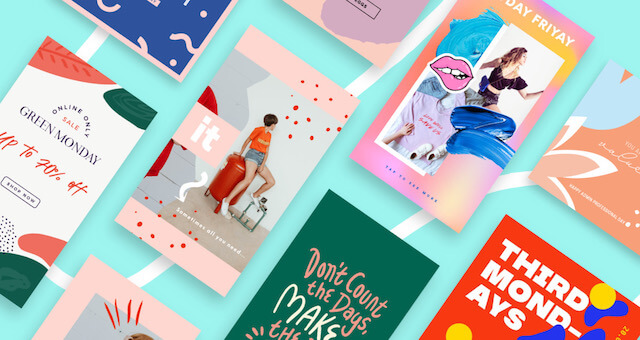 Key characteristics
Brands aimed at kids are obvious candidates here, but a playful aesthetic in design has universal appeal. It typically conjures up a sense of being:
Fun
Loose
Energetic
Child-like
Humorous
Spontaneous
Whether it's cryptocurrency or frozen yoghurt, this brand graphic style is for those that want to be seen as friendly and approachable. It puts people at ease and can make dreaded adulting necessities (like insurance, finance, travel, real estate etc.) less daunting and even appealing.
Don't be fooled into thinking playful is synonymous with silly. Some of the world's biggest brands opt for this approach in their brand identity or multi-million dollar campaigns. Childlike expression has been a surging trend in both art and fashion for a while now. It often overrides structured designs and represents unbridled creative energy with:
Spontaneous patterns
Marks
Doodles
Typography style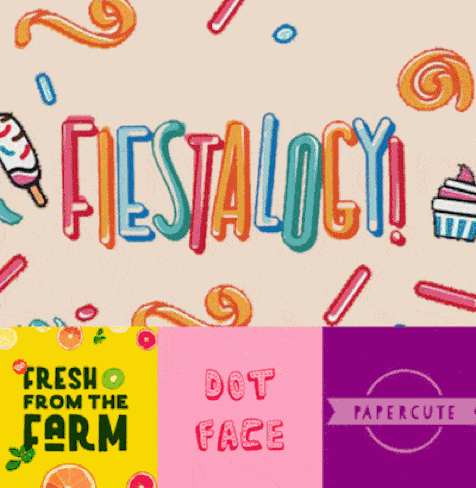 This visual brand graphic style is synonymous with handwritten and rounded typefaces. It rejects machine-made typography in favor of a more handmade look and the feel is indicative of the underlying spirit that celebrates:
Humanity
Authenticity
Simplicity
It's an emotive approach that focuses more on feeling rather than logic. Beyond communicating a message, it ought to be fun to look at and ignite a teeny spark of joy.
There aren't too many hard rules in the color department here, but it goes without saying that bright and vivid hues would be the order of the day. There's also more license to pick out a wider color palette than with other brand graphic styles. In fact, it's often the experimentation of unusual color combinations that adds the playfulness to this design.
Industries best suited for
Again, don't think too literally here. A playful visual style is broadly applicable. Some of the most obvious industries that might consider this colorful and energetic approach would be:
Babies & kids
Food & drinks
Restaurants
Clothing apparel
Arts, DIY and crafts
Designers
What to check out in GoDaddy Studio
If you're looking for graphics to build up your playful brand identity, your biggest problem is probably going to be one of choice. A playful brand graphic style really opens itself up to using graphics as decorative elements that add energy and curiosity to your design.
GoDaddy Studio has thousands of choices to choose from, but our Collage option is a playful example with diverse graphics. Illustrations often make sense here and can range from:
Cute
Simplified
Realistic
Sketchy
Abstract
Try to narrow it down to one style that suits your specific flavor and remember to stay consistent with your selection.
Street
The culture of rebellion has many guises that range from punk to hip-hop to vaporwave. These examples form the foundation of the street aesthetic and have a broad style that caters to a huge range of brands in the music, fashion, and lifestyle domains.
Key characteristics
This brand graphic style is highly susceptible to trend cycles and often hard to pin down because of its constant evolution.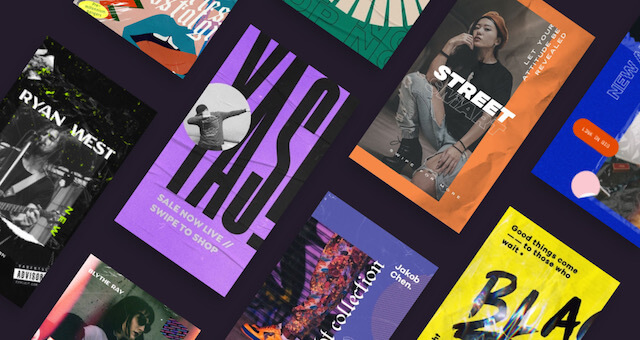 However, the following key characteristics offer a more general overview:
Raw
Real
Rough
Gritty
Grunge
Of course, there are some overarching characteristics that tend to orbit around what the street style is rebelling against. Pixel-perfect precision and classical graphic design ideals have little place in the street style playbook. Designers who work in this visual brand graphic style often strive to distort, fade, warp, or deconstruct their imagery.
A street style design aims to move away from perfection and not towards it.
Wilder variations of street style might even go so far as to be considered anti-design and the goal can be considered a beautiful chaos. It has compositions that intrigue viewers because of its unconventional complexity.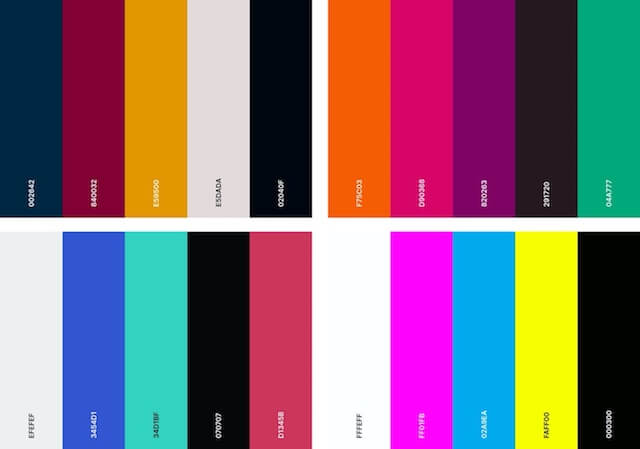 Color palettes are defined by a willingness to experiment and stand out with striking or unexpected combinations. This is where you're most likely to see neon or synthetic hues, often swirling with energy.
Typography style
You'll want to pick out a couple of unique Display fonts to hero your collection. Typography in this domain doesn't whisper — it shouts. Some adjectives to look out for here, include:
Bold
Chunky
Warped
Textured
You could even consider something as dramatic as an 18th century blackletter font.
Industries best suited for
Unsurprisingly, this brand graphic style is popular with the vanguards of street culture. This could include:
Artists
Musicians
Magazines
Bars
It's also a great option for any brand with a rock 'n roll edge, including but not limited to:
Urban/streetwear fashion brands
Culture/lifestyle blogs
Footwear brands
Music industry
Bars & clubs
Automotive/motor industry
What to check out in GoDaddy Studio
In terms of curating your graphics collection in GoDaddy Studio, a street brand identity would begin by delving into a wide array of analogue textures.
Try considering things like:
Film frames
Dust and grain
Light leaks
Plastic wrapping
Glued poster
Wrinkled paper
Gritty gradients
Digital glitches
You can also playfully layer your design with:
Stickers and barcodes
Textured illustrations
Fluid shapes
Retro graphics
All of these options are appropriate in this domain and can help degrade your design into something beautiful and eye-catching.
Elegant
They say elegance is something you either have or you don't have. But they also say that perception is reality. With GoDaddy Studio, it's super easy to wrap your brand in an elegant brand graphic style for the world to see.
Key characteristics
Borrowing traits from other categories, elegant design finds middle ground between classicism and modernity. It's timeless, but very much in tune with the here and now. You can also consider it to be luxurious, but try to avoid any excess.
Although it is similar to minimalism, you don't have to be afraid of adding some flair. Other adjectives to describe its key characteristics include:
Graceful
Stylish
Refined
Delicate
Premium
Quality
Sophistication
Restraint is important in this brand graphic style. Well balanced compositions reflect a brand or an individual in control. It also signifies a clear vision and attention to detail.
Try not to include anything that doesn't need to be on the page. Every letter, image, and color should be absolutely gorgeous and well thought-out.
Your color palette should be similar to minimalism, but your hues could be a little richer or deeper. There's no need to stick to the nearly invisible and delicate tones of the minimalist approach.
Subtle textures wouldn't be out of place either. You don't want to go with anything too dramatic, but you could allude to quality materials like:
Handmade paper
Marble
Gold leaf
Crystal
Anything monochrome (black and white) also works best in an elegant mode.
Typography style
An elegant font collection would almost certainly revolve around Serif fonts. This probably won't include the classical Roman variety, but something with an expressive twist. You can consider going with Delicate Serifs or Didones, since they both are wildly on-trend right now. A slender script font could also be a useful addition.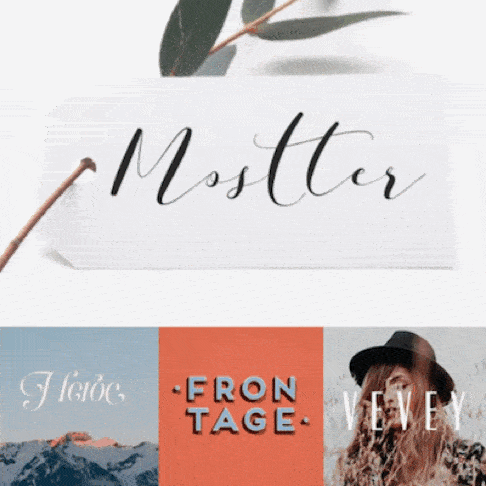 Industries best suited for
Industries that might be best suited for an elegant brand graphic style, include:
Finance
Real Estate
Consultancy
Legal
Construction
What to check out in GoDaddy Studio
In an elegant visual identity, think of your graphics as jewelry complementing a little black dress. Too much is tacky, but the perfect piece in the right position simply changes everything.
Gold compliments this style best and works well on backgrounds that are:
Subtle floral patterns or illustrations invoke the natural world, while leafy shadows can breathe soft realism into your scene.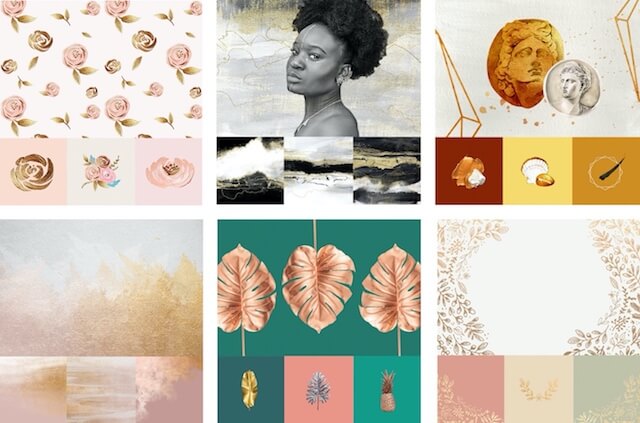 The "All That Glitters" layout collection in GoDaddy Studio is a stunning example of an elegant brand graphic style. It's conveniently wrapped up and ready to go across multiple platforms. You can personalize this professional design in minutes by simply replacing any fonts, graphics and images with your own. No kidding, it's that easy.
Corporate
Corporate is synonymous with professionalism. We tend to use the word when we're referencing:
Big businesses
Companies
Firms
It's best used for institutions where trust, rationality and expertise are paramount.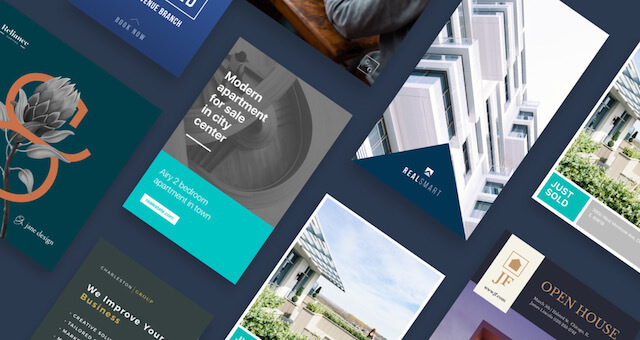 Key characteristics
With this brand graphic style, you'll want to go with a clear and direct design approach — without much visual flamboyance. Think of these adjectives when envisioning your brand style:
Professional
Formal
Cassical
Structured
Trustworthy
This kind of brand identity isn't only for banks and law firms though. Corporate styling is equally useful for the little guy who wants to create a professional first impression.
It signifies trustworthiness, regardless of the industry.
Although you may not be on the cover of Forbes magazine just yet, remember that your identity is all about how you want to be perceived. So why not dress the part?
Typography style
A corporate brand graphic style tends to lean on tradition, alluding to the idea of continuity. It's unsurprising then that variations on classical Serif typefaces dating back to the Roman era, remain the most popular in this style.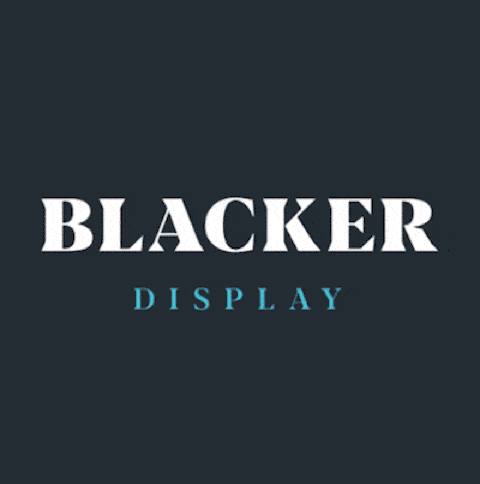 As restrained as it is, subtlety is key when it comes to colors, patterns, and graphics. It's often the tiniest little textural or color nuance that pops subtly from a neutral design. To use corporate technology, you can think of it as the design that separates middle-management from the top executives. It also communicates a sense of attention to detail that adds to the perception of professionalism.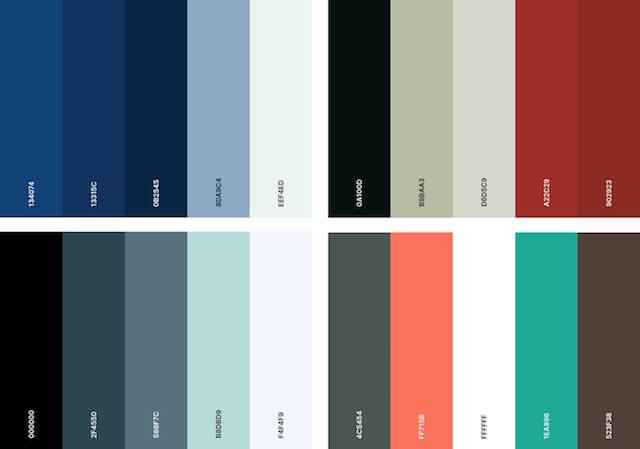 Industries best suited for
Industries that you're most likely to see adopt a corporate brand graphic style include:
Finance
Real estate
Consultancy
Legal
Construction
News blogging/broadcast
What to check out in GoDaddy Studio
If you think your brand is the kind that looks good in a three-piece business suit with a fresh shave, then GoDaddy Studio has a wide range of graphics to complement your corporate aesthetic.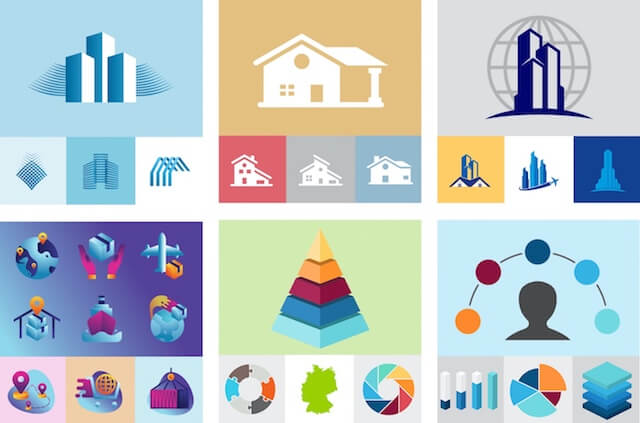 To start, try out "The New Black" layout collection for your corporate brand identity. It's one of the top corporate example packs we have in our library. Besides that, you can also explore the hundreds of other options we have in-app.
Classic
If trends are like waves on the shore, coming in and going out, then classic design is the ocean. Essential graphic design principles have remained steadfast for centuries, simply because they work so well.
Key characteristics
This brand graphic style captivates viewers, effortlessly. It is as though our brains are hardwired to decode it automatically.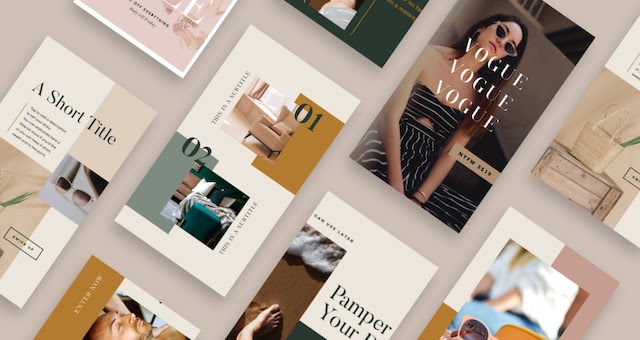 You can think of this style as:
Timeless
Functional
Crafted
Traditional
Refined
This design does have a gold standard and its persistence over time is the proof. Modern or elegant designs don't stray very far from it, whereas the street aesthetic is defined by its reaction to it.
Classic design should be executed with a:
Clear purpose
Learned discipline
Masterful craft
While some might think classic is a safe option, we'd argue that going timeless is a bold move that asserts prestige in your category. Your brand isn't just a passing fad. It's here to stay and your impeccable visual identity makes that apparent.
Any color can be incorporated into this brand graphic style, but harmony and balance should prevail over expressionism. Pick out a limited palette of natural hues that complement each other, along with the photographs in your designs. You can use our Color Picker tool to select specific colors in your image. Grounded tones are particularly on trend right now and work beautifully in a classic brand graphic style.
Typography style
Timeless fonts tick only two boxes: precision, and legibility. You'll more than likely be drawn towards the broader serif font family, but there are countless nuances that give each typeface its own personality.
Didones and delicate serifs are on the rise and are both quintessentially timeless.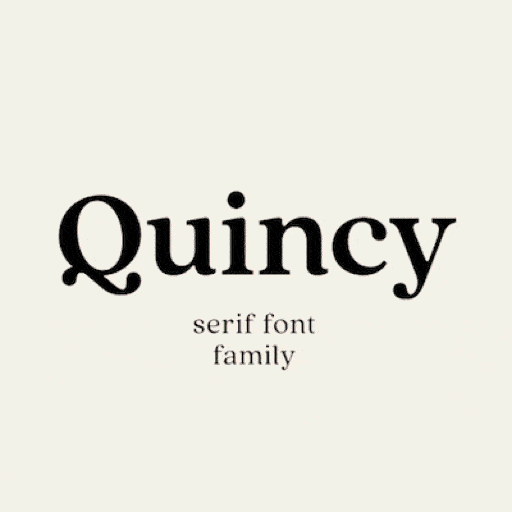 Industries best suited for
Timeless brand styling is considered agnostic and can be used for almost any brand with a design-forward persona. You're likely to encounter it in industries such as:
Beauty
Skincare
Health
Fashion
Lifestyle
Interior decor/design
Architecture
Retail
Wellness
There's nothing more timeless than nature. For this reason, it's likely that botanical and organic patterns or illustrations work so effortlessly in this brand graphic style. Flowers have been used as decorative elements throughout history — from Samurai armor to Dutch still-life painting – and persist as iconic graphics to this day. But you'll need to narrow it down way more than that when selecting your brand's graphics. This is especially true, since GoDaddy Studio has hundreds of diverse options.
What to check out in GoDaddy Studio
The easiest way to wade into the ocean of timeless design styles is to begin with one of our layout collections in GoDaddy Studio. We offer a full kit of professionally designed templates on multiple platforms, ready to edit-and-go in minutes.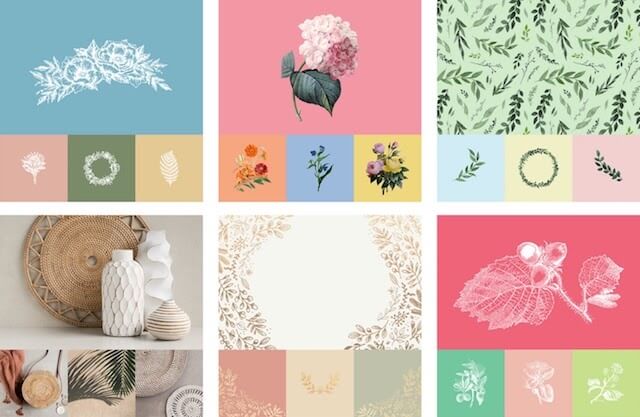 Look out for "Cover Story" as a great example of a classic template. You can customize it with your brand's fonts, colors, graphics and images.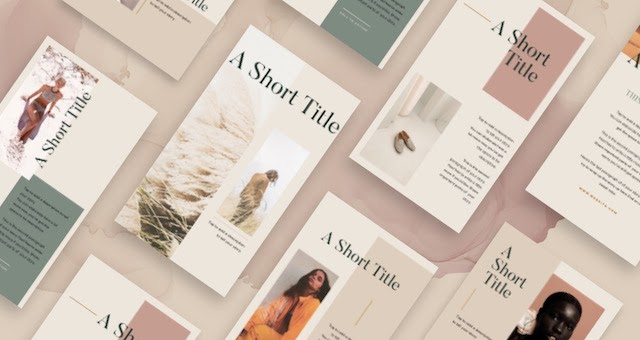 Luxury
If you've got it, flaunt it. Design can be an invisible backdrop to your product or your service, but it can also strongly reinforce a desired association.
In the case of luxury brand graphic styles, you can associate any of the following words with its design:
Sophisticated
Opulent
Expensive
Detailed
Premium
A brand identity flecked with gold or carved in marble will make it instantly apparent that your offering is only for a select few. In short, it's easy enough to make your brand look super-duper high end.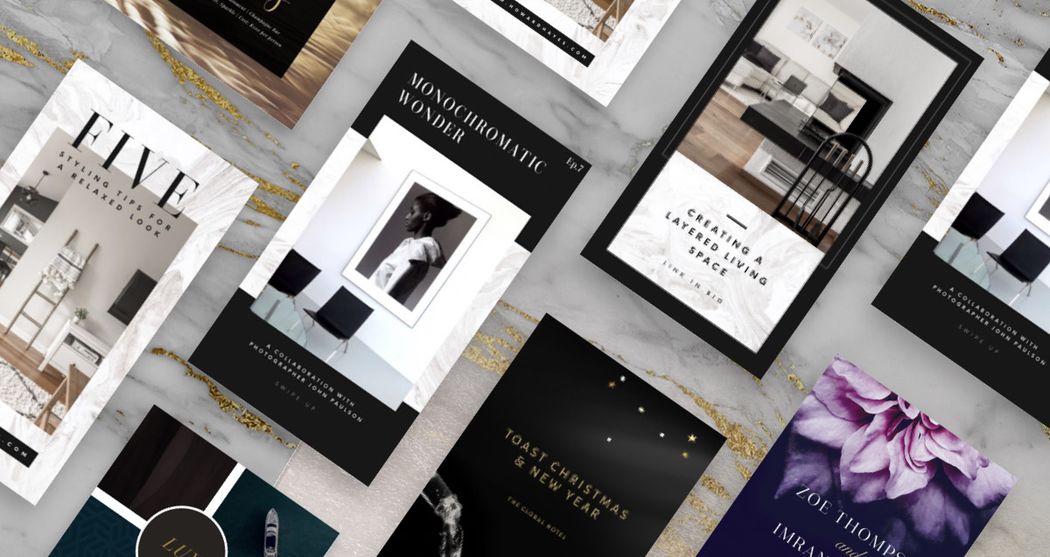 Bear in mind that a luxury brand graphic style doesn't need to feel exclusive to the point of being alienating. It can also project a sense of:
Think of it as curling up under very expensive linen on a very luxurious and comfortable mattress. You also don't want to confuse luxury with excess. This can end up coming off as garish, so you'll have to be careful here.
Restraint and very careful attention to detail is the true hallmark of a luxury design style.
Building upon a classical, even minimalist framework, ornate motifs don't scream for attention. But when you notice them, the intricacy and consideration is unmistakable. A luxury design color palette is often based on physical substance.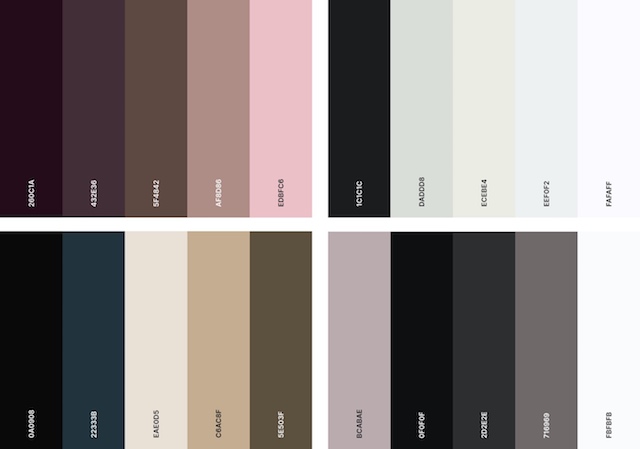 More specifically, it draws from the appearance and texture of the world's rarest materials:
Gold
Silver
Sapphire
Emerald
Pearl
Onyx
Marble
Red wine
Velvet
Typography style
Very classical typefaces work well in a luxury visual style, since there's an inherent association with antiquity and tradition. Fonts that are most often associated with the luxury design, include:
Ornate scripts
Calligraphy
Cursive fonts
Keep in mind that these fonts ought to feel very delicate and precise, rather than spontaneously handwritten.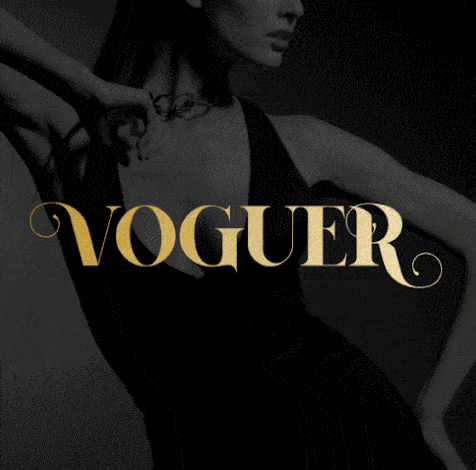 Industries best suited for
Almost every sector will have premium players. A luxury brand graphic style could help bolster their reputation for sophistication. We've seen brilliant examples of luxury branding in all of these industries:
Fashion
Home decor
Event planning
Restaurants
Bars
Real estate
Legal
Architecture
Beauty
Hospitality
What to check out in GoDaddy Studio
Your graphic kit for a luxury brand would invariably look towards incorporating luxurious textures like:
These textures could even be blended into your text. Ornate motifs from the very luxurious Art Nouveau era also make for sophisticated flourishes and frames. Patterns can also be useful here and often include details that are:
Intricate
Delicate
Repeating
You can think of it as something that resembles imported wallpaper in a 5-star hotel. Keep this mind as you create your luxury brand with GoDaddy Studio. You can start today and bring it to life with our endless supply of beautiful graphics.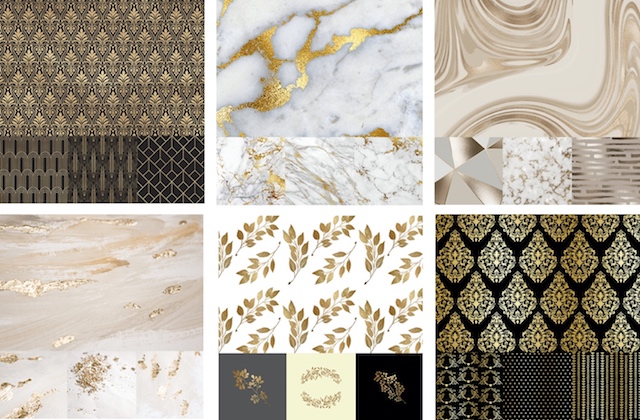 The post Make your brand pop — How to pick your brand graphic style appeared first on GoDaddy Blog.