Everything you need to know about Amazon's affiliate program
Get up to 30%* off! Get going with GoDaddy!
Amazon is one of the largest retailers in the world. In fact, in the U.S. alone, it's responsible for about 40 percent of all online sales. And anyone can access a share of the retail giant's profits — all you need to do is have a website and sign up for the Amazon affiliate program.
Amazon's affiliate program, also known as Amazon Associates, is an affiliate marketing program that allows users to monetize their websites, blogs or social media. Amazon affiliate users simply place links to Amazon products on their site, and when a customer makes a purchase via one of their links, the user receives a commission. Read on to learn how you can participate in Amazon's affiliate program and discover strategies you can use to maximize your profits.
What is affiliate marketing?
Affiliate or associate marketing programs like Amazon's are basically arrangements in which an online merchant like Amazon pays affiliate websites a commission to send them traffic and/or sales. Affiliate sites link to the merchant site and are paid according to the program's agreements. Amazon's affiliate program, for example, pays affiliate sites based on the number of people they send to Amazon who also make purchases on the site within 24 hours.
There are several benefits to affiliate marketing for both the merchant and participating affiliates. For the merchant, it's an opportunity to expand its reach and increase sales through affordable marketing. Because affiliate marketing is performance-based — affiliates are paid only when the desired action takes place — participants in the affiliate program are also motivated to drive conversions.
For affiliates, an associate marketing program provides an opportunity to become involved in ecommerce without having to establish or maintain their own store. It also provides the opportunity to monetize a website, blog or social media and earn a commission.
There are three types of affiliate marketing:
Pay-per-sale: In this type of program, the merchant pays an affiliate when the affiliate sends a customer who makes a purchase. Some merchants pay the affiliate a fixed rate per sale, while others, like Amazon, pay a percentage of the sale.
Pay-per-click: In this arrangement, the affiliate is paid based on how many visitors arrive at the merchant's site via the affiliate link, and the affiliate is paid regardless of whether visitors make a purchase.
Pay-per-lead: This type of program pays affiliates based on the number of visitors to the merchant's site who sign up as leads or fill out the requested information on the website.
Amazon falls in the first category, and affiliates can earn as much as $20,000 a year depending on their platform size. So, how does it work?
How does Amazon's affiliate program work?
Amazon Associates is essentially a referral program that pays a commission to referring websites. So when you send a customer to Amazon via a link on your website, you get a percentage of the sale of whatever they purchase over the next 24 hours.
Your commission varies, though, depending on what type of item a customer purchases. Refer to the chart below to see what Amazon's fixed standard program fee rate is for various product categories.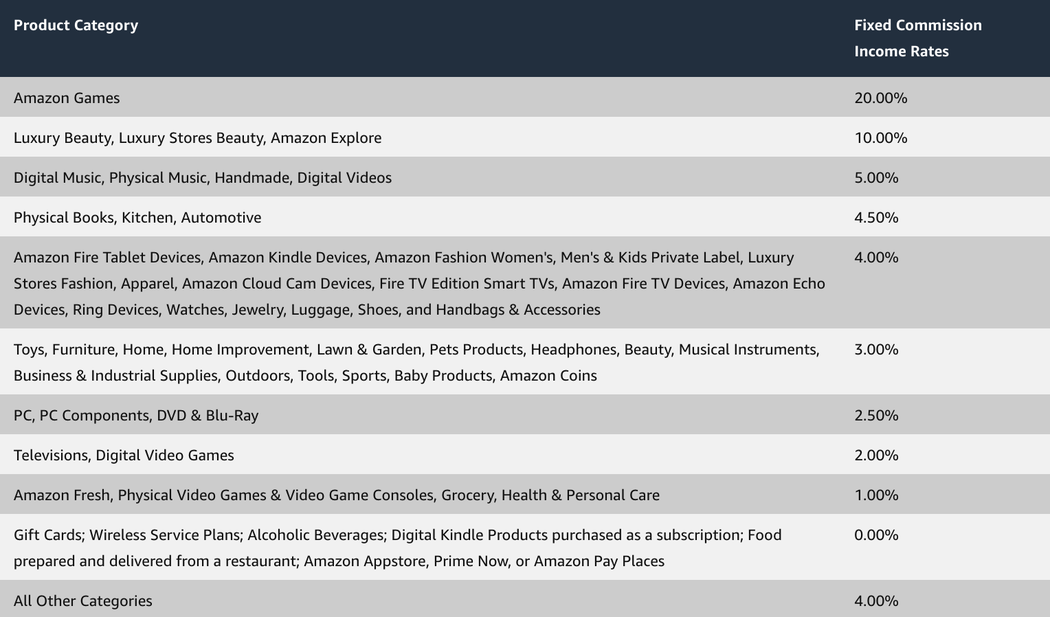 It's important to keep in mind that the percentage of the sale you receive isn't the only factor in your commission. Your conversion rate also matters because it reflects how many people are actually clicking an affiliate link and making a purchase after visiting your site.
Your conversion rate is the percentage of visitors to your website who make a purchase via your affiliate link out of the total number of visitors to your site. For example, if during the month of August, your website receives 5,000 visitors and 10 of those visitors made a purchase after clicking on your affiliate link, that would be a conversion rate of 0.2 percent.
The average affiliate conversion rate is 0.5 percent to 1 percent. However, some affiliates regularly have much higher conversion rates.
Estimating your potential Amazon affiliate profits can be tricky and involves more than just your conversion rate and Amazon's fee rates. Learn more about estimating profits from Amazon Associates links — and get access to a free calculation tool — here.
Because you get a percentage of everything a customer buys from Amazon within 24 hours of when they arrive at Amazon.com from an affiliate link, there's also the potential to earn more revenue from products that you don't specifically advertise. For example, if you run a beauty blog that features affiliate links to luxury beauty items, which have a fee rate of 10 percent, you may get 10 percent of the purchase of a high-end moisturizer, but also 8 percent of the cost of a box of dog treats if the customer also purchases biscuits.
However, to earn a commission from Amazon purchases, a customer must place an order within 24 hours of arriving at Amazon.com from your affiliate link. Once that 24-hour window closes — or if the customer re-enters Amazon through another affiliate's link, you won't earn any fees from subsequent purchases. However, if the customer returns to Amazon via one of your affiliate links, a new 24-hour window opens, and you'll again be eligible to earn fees based on the customer's order.
If a customer arrives at Amazon from one of your affiliate links, adds an item to their shopping cart, and leaves Amazon without completing their order, it's still possible for you to earn a percentage of that sale. As long as the item was added to the shopper's cart within that 24-hour window, you'll receive the referral fee if the order is placed before the shopping cart expires, which is typically 90 days.
Amazon Affiliate program: Pros and cons?
Earning income simply for linking to an Amazon product may seem like a no-brainer, but there are a few things to consider before becoming an Amazon affiliate.
Pros
First, and most importantly, anyone can easily become an Amazon affiliate. You can register and start sharing affiliate links in just a few minutes.
Amazon is an ecommerce authority. The retail giant is a trusted, well-known brand, so affiliates don't need to sell visitors on purchasing from the website.
There are many products to advertise. With more than 3 billion items for sale, in addition to services like Prime Video, there's no shortage of products to promote via affiliate links.
Participants earn income from products besides the ones they link to. When you send traffic to Amazon via an affiliate link, and that user makes a purchase, you get a percentage of everything they purchase within 24 hours. And because Amazon is skilled at conversion and upselling, it's very likely that a customer will add multiple items to their cart.
Cons
A major downside to Amazon's affiliate program is that commissions are very low in some categories. While the Amazon Associates program has a commission rate of up to 10 percent for some items, such as luxury beauty products, others, such as video game consoles, are as low as 1 percent. Some other cons include:
The Amazon Associates Program Operating Agreement can be difficult to understand and is frequently updated, so members can easily be found not in compliance if they don't stay up to date.
If you don't already have a website with product reviews or other suitable content that would be a good fit for affiliate links, creating one can require a lot of time, effort, and upkeep.
Given the benefits and challenges, who should become an Amazon affiliate?
Just because you don't have a personal blog or a website with product reviews doesn't mean you shouldn't become an Amazon affiliate. You can launch a website that includes affiliate links to products you endorse and continue to add content and links over time. While your site may not be immediately profitable, this is a good way to create a steady stream of additional income in the long term.
If you have a YouTube channel or are interested in starting one, you can also include affiliate links in YouTube videos. Adding affiliate links to videos can make them more professional and enhance the user experience by providing additional value.
Amazon affiliate links can also be shared on social media sites like Facebook and Twitter, making the affiliate program a great option for anyone who's active on social media. You don't need a large following to benefit from using such links. Promoting products you know and love is powerful word-of-mouth marketing, and friends and family may be more likely to take your recommendations because you're a trusted source.
How to become an Amazon affiliate
Registering for the Amazon Associates program is a simple process. To begin, simply visit affiliate-program.amazon.com and click "Sign up."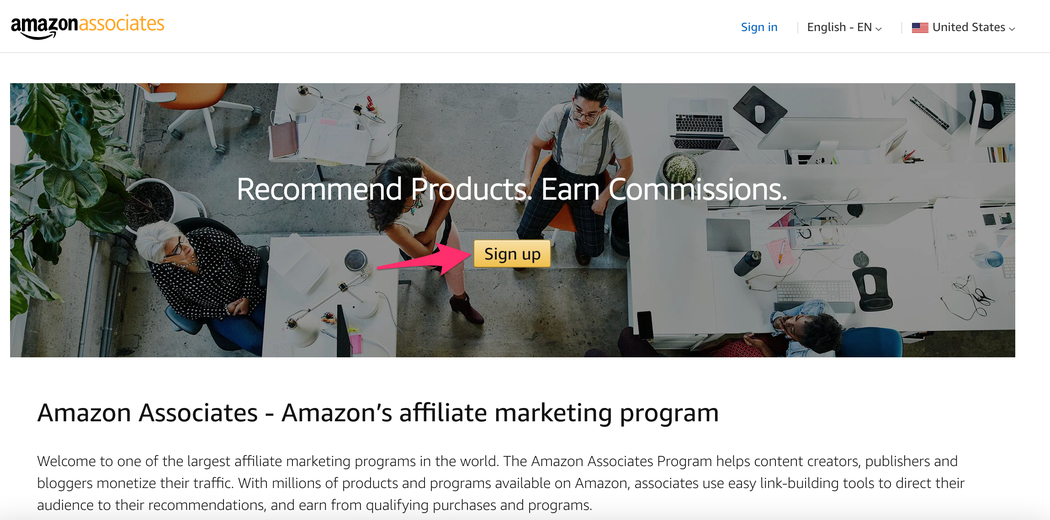 First, you'll have to enter your account information, including your name, address and phone number. Next, you'll be asked to enter the websites and mobile app URLs where you plan to display banners, ads or affiliate links. You can enter up to 50 websites and mobile app URLs combined.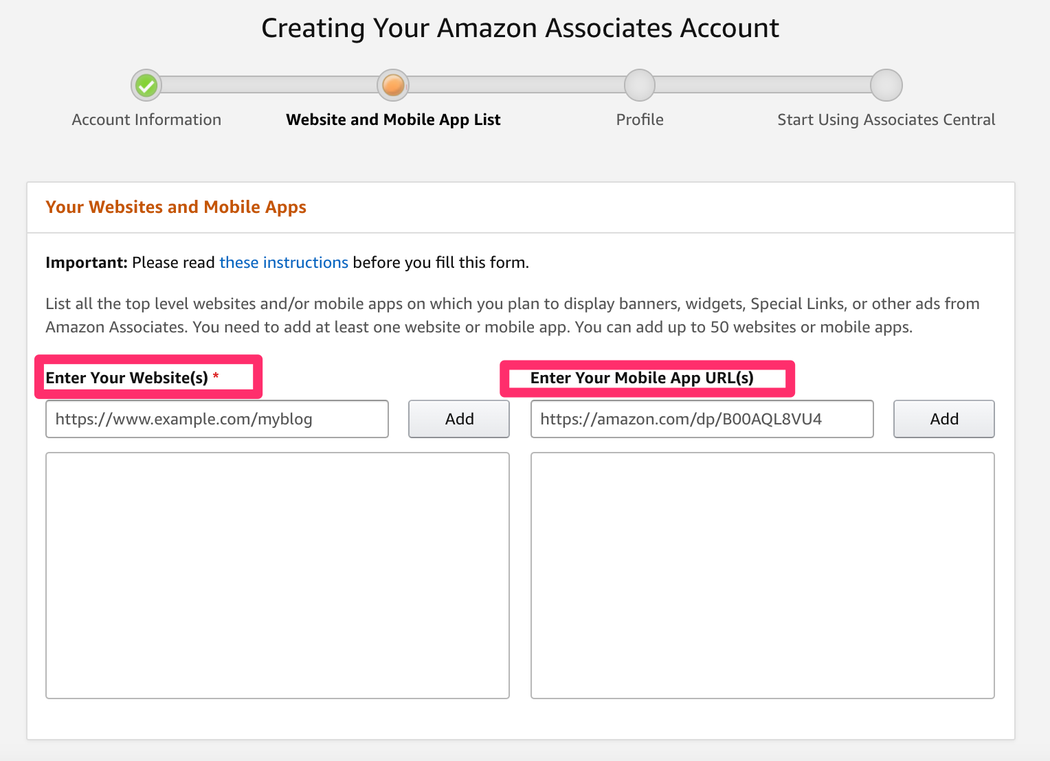 In the following section, you'll select a store ID and provide information about your websites or mobile apps and what kind of products you intend to promote, as illustrated below.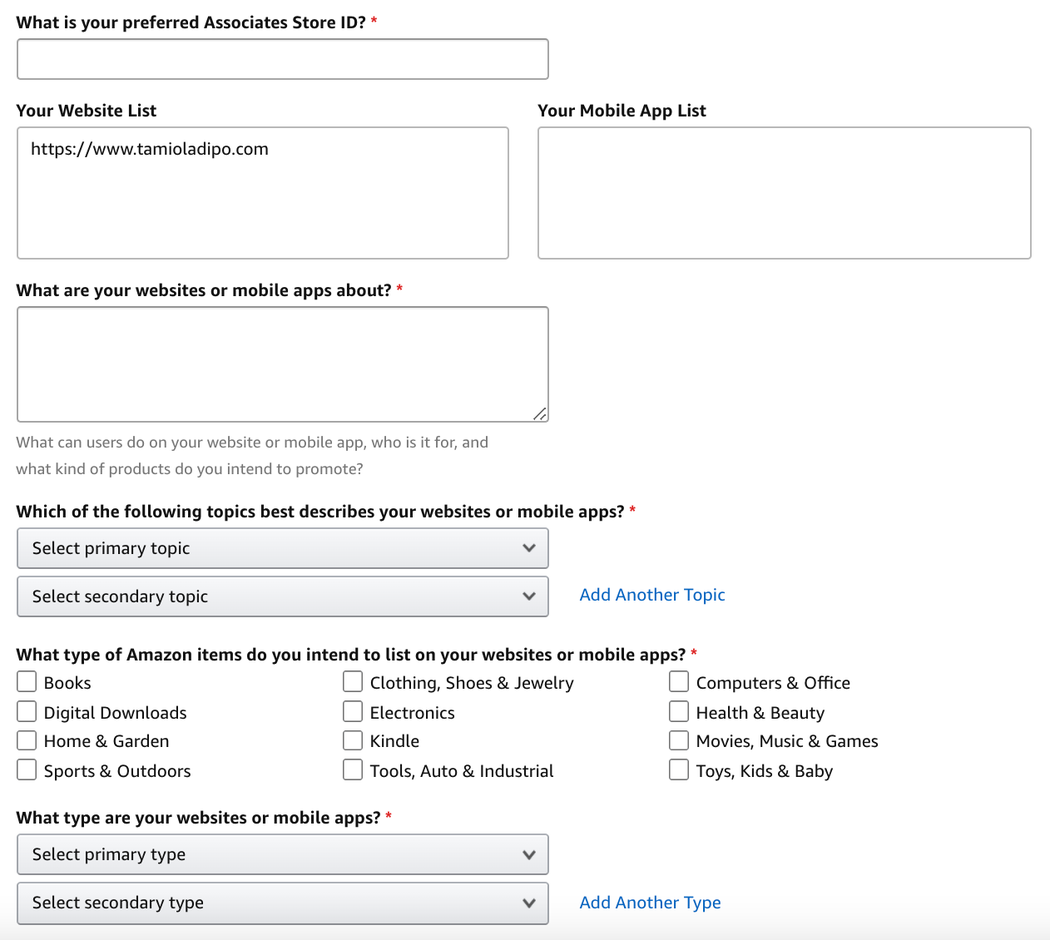 You'll also choose the topics from a drop-down menu — such as apparel, books, gaming or movies — that best describe your websites or mobile apps.
Next, you'll need to describe how you drive traffic to your sites, how you generate income from your sites and apps, how you typically build links and how many total unique visitors you get on a monthly basis.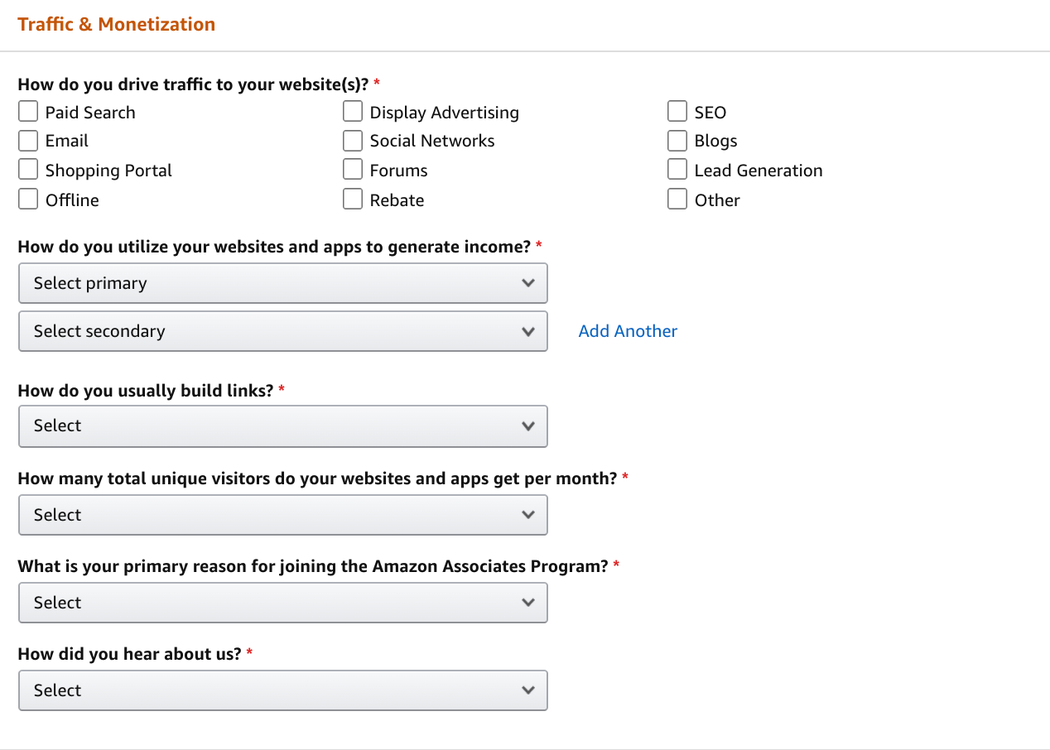 Once this section is complete, you simply have to enter your phone number, click "Call Me Now" and answer when you receive a call from Amazon. You'll be instructed to input a four-digit PIN, and then your account will be set up.
From here, you can choose whether to enter your payment and tax information now or later, and then proceed to your dashboard to begin creating Amazon affiliate links.
How to create Amazon affiliate links
Once you've created your account, you'll be taken to your Amazon Associates dashboard, where you'll be able to view a variety of analytics, including earnings revenue, as well as create affiliate links. You can create Amazon affiliate links in two ways: by using the Product Link Tool or using SiteStripe.
Creating affiliate links with Amazon's Product Link Tool
The Product Link Tool is the most common way to create an affiliate link. To access it, simply click "Product Linking" at the top of the Amazon Associates dashboard and select "Product Links," as illustrated below.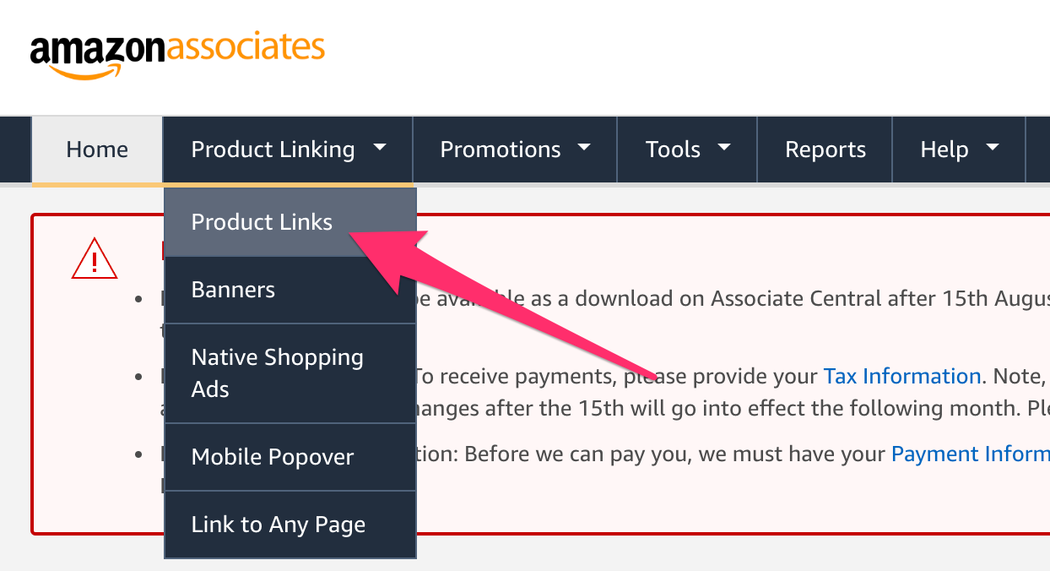 This will take you to a screen where you can search for a product. You can enter a search term that's fairly generic, such as "headphones," or you can search for a specific brand, model or product. For example, if you're creating an affiliate link for a review, you can search for the term "headphones," or more specifically, for the exact product you're reviewing, like "Sony Noise Cancelling Headphones."

Once you've entered your query, the search results will appear below, and you can select the product you'd like to create an affiliate link for. To get this link, simply click "Get link" next to the product you'd like to advertise, as in the example below.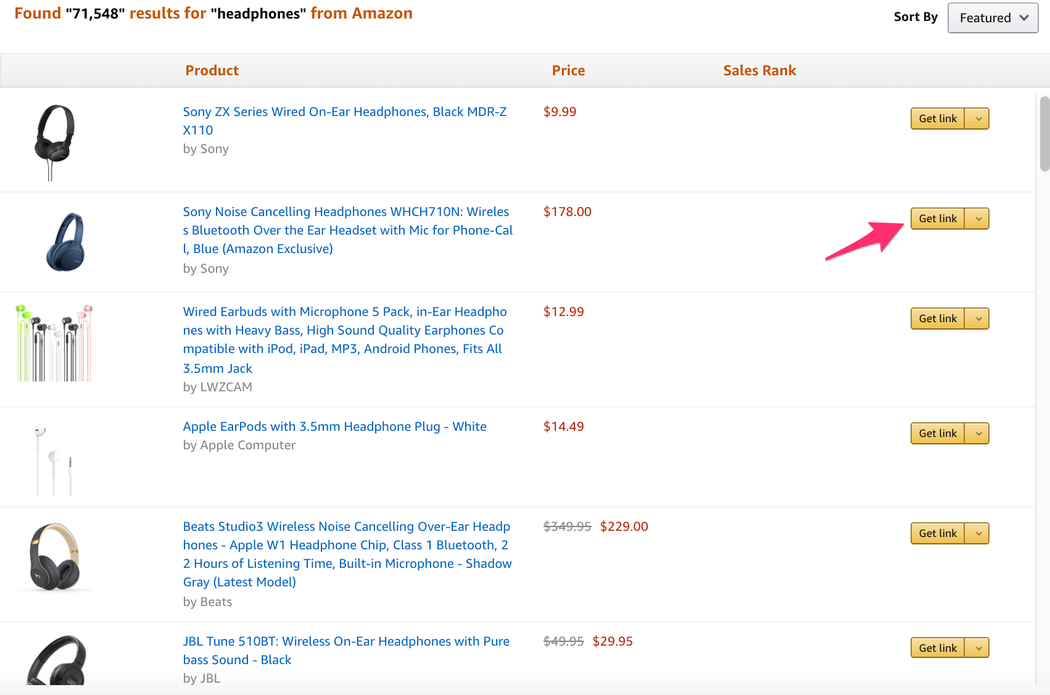 A box will pop up with your affiliate link, and you can copy the HTML code for your site as-is, or you can customize it first. Your ad can be an image and text, just text or an image only. You can also customize the look of the ad. For example, you could change the title or price color to match the branding of your website.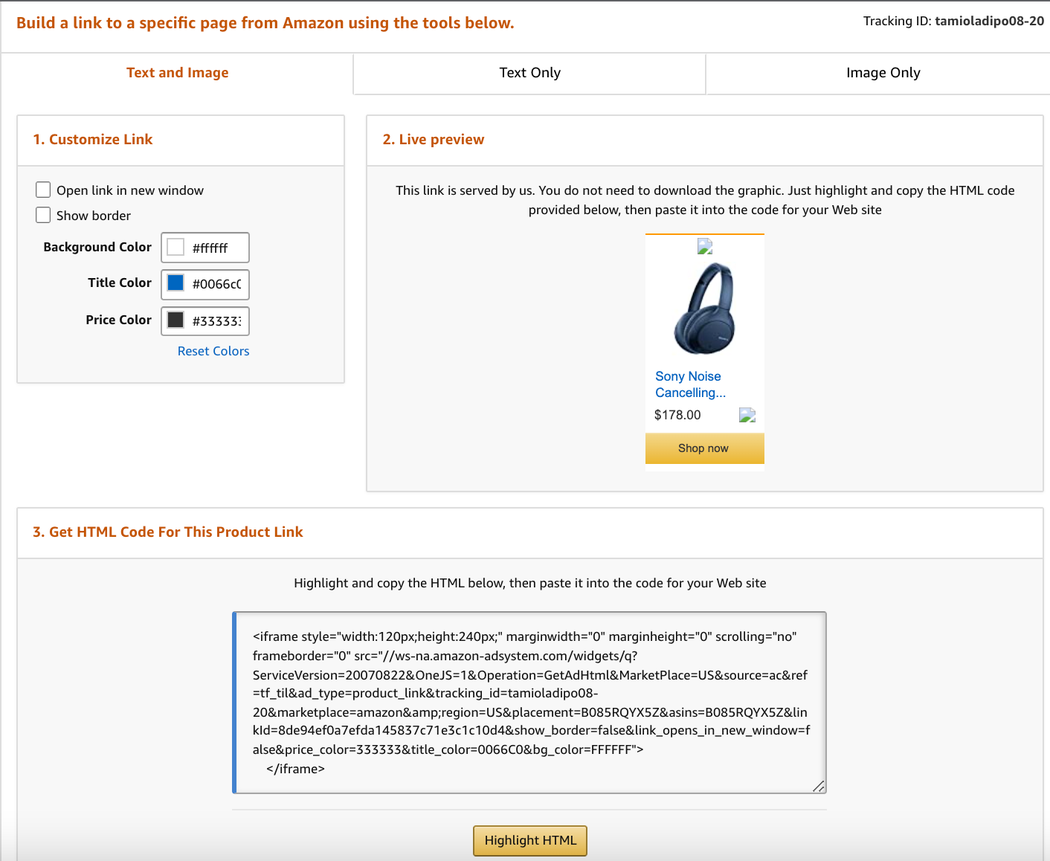 Once the code is copied, simply paste it into the code for your website.
Create affiliate links with SiteStripe
The SiteStripe tool allows you to create an affiliate link directly from any item's Amazon product page. Once you've set up your Amazon Associates account, the tool will automatically appear at the top of any Amazon.com page as long as you're logged into your account.
To use SiteStripe, simply visit any Amazon product page for the item you'd like to create an affiliate link for.
The SiteStripe bar at the top of the page enables you to create several different types of links. You can create a native ad as illustrated above, or you can get a plain-text link, an image with an embedded link, or a text-plus-image ad. You can also click to share on Facebook or Twitter.
Once you've selected the type of affiliate link you'd like, the ad code will appear in a box beneath it, and you'll simply need to copy the code and paste it on your website or social.
Amazon affiliate program: Getting paid
Profits earned from Amazon's affiliate program are paid approximately 60 days following the end of each calendar month.
Payments can be made by direct deposit, by check or via Amazon gift card. The payment option you select plays a role in how often you'll receive payment because Amazon has a minimum payment amount for each type, as indicated below.
Direct deposit: If you choose to receive payments via direct deposit, you'll need to provide Amazon with your banking information, which includes the bank name, account number and other identifying information. Amazon will hold payment until you earn the payment minimum of $10.
Check: For payment by check, you need to supply Amazon with only a mailing address. Amazon will hold your payment until you reach the minimum payment of $100 + a $15 check-processing fee.
Amazon gift card: For this payment method, Amazon will send gift cards to the primary email address on your account in the amount you've earned. Fees will be held until you reach the payment minimum of $10.
Strategies to maximize profits from the Amazon Affiliate program
Looking to turn your website into a profitable Amazon affiliate site? Try these tips to grow traffic to your site and maximize your Amazon payouts.
1. Find a niche.
Websites that earn most of their revenue through the Amazon Associates program are known as niche sites, and the key to setting up a successful niche site is to first determine which part of the ecommerce marketplace you'll target.
Finding a profitable, low-competition niche can be challenging, but it's a good idea to look for a niche that you have knowledge of or an avid interest in. For example, if you're into natural skincare, you may want to start a beauty blog, or if you're interested in gaming, you may want to review games or gaming consoles.
Creating review-focused content is one of the best ways to establish a profitable affiliate site; however, it can be repetitive and challenging to upkeep if you're writing about home improvement products when you have no interest in the topic. You'll also struggle to create compelling content if you don't understand the market or the audience you're targeting.
However, having an interest in your topic alone isn't enough to make your niche site competitive. Before settling on a niche, do some keyword research to determine how competitive various niches are and which keywords you could most easily rank for.
2. Create regular, original content.
While you can promote Amazon products on social media or on YouTube, most people — including those making six figures from affiliate links — do it by blogging. While writing single product reviews of various Amazon products is a popular option, there are other ways to create review-oriented content that can be more engaging.
Writing roundups of a few similar products can be effective. This could include reviews of the "The 5 Best Handheld Mixers" or creating a roundup of several reviews that declares a winner and a runner-up, such as "The Best Fitness Tracker You Can Buy on Amazon." For example, in the screenshot from Wirecutter below, the writer reviewed a few mosquito control devices and identified the top pick that performed the best.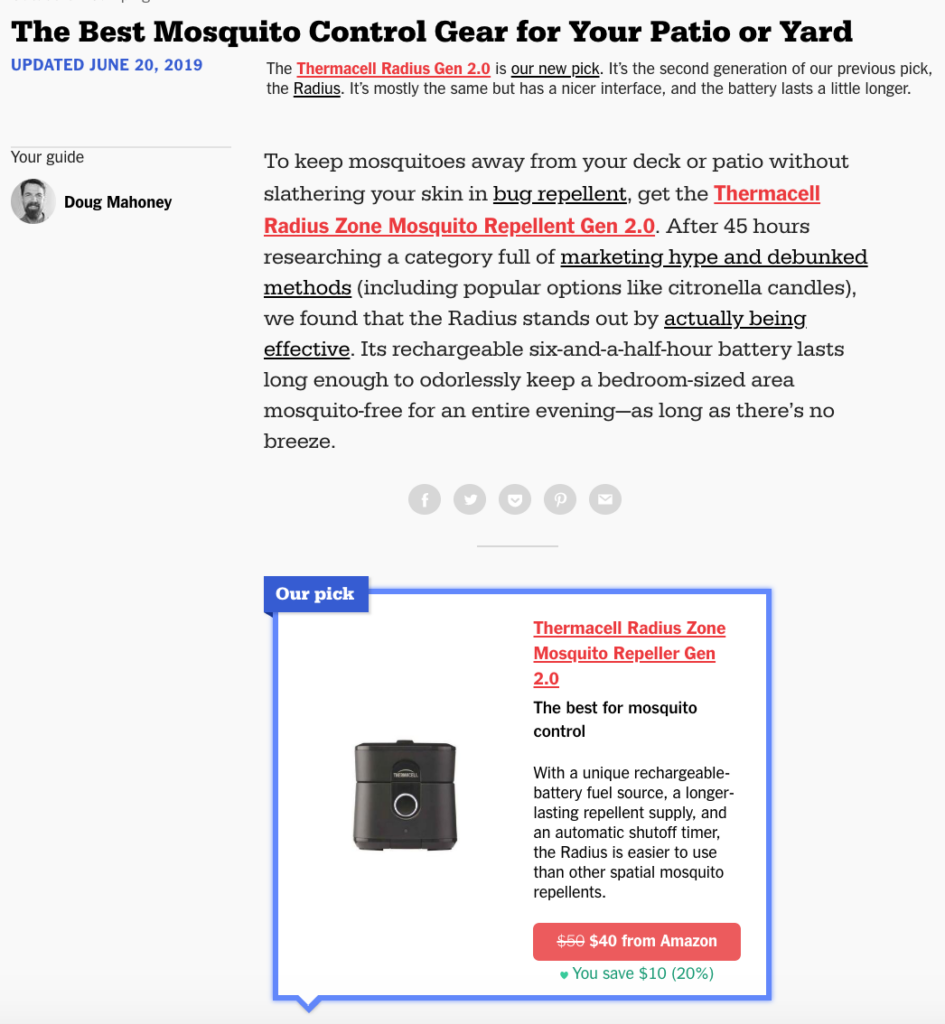 Another option is to create product tutorials or articles that demonstrate how a specific product provides solutions, such as "How to Use Your Ninja Air Fryer" or "10 Tips to Use Your Ninja Air Fryer." For example, the screenshot from Wirecutter below is from an article titled "How to Back Up Your Computer," which details the process of backing up a computer and highlights various products you can use.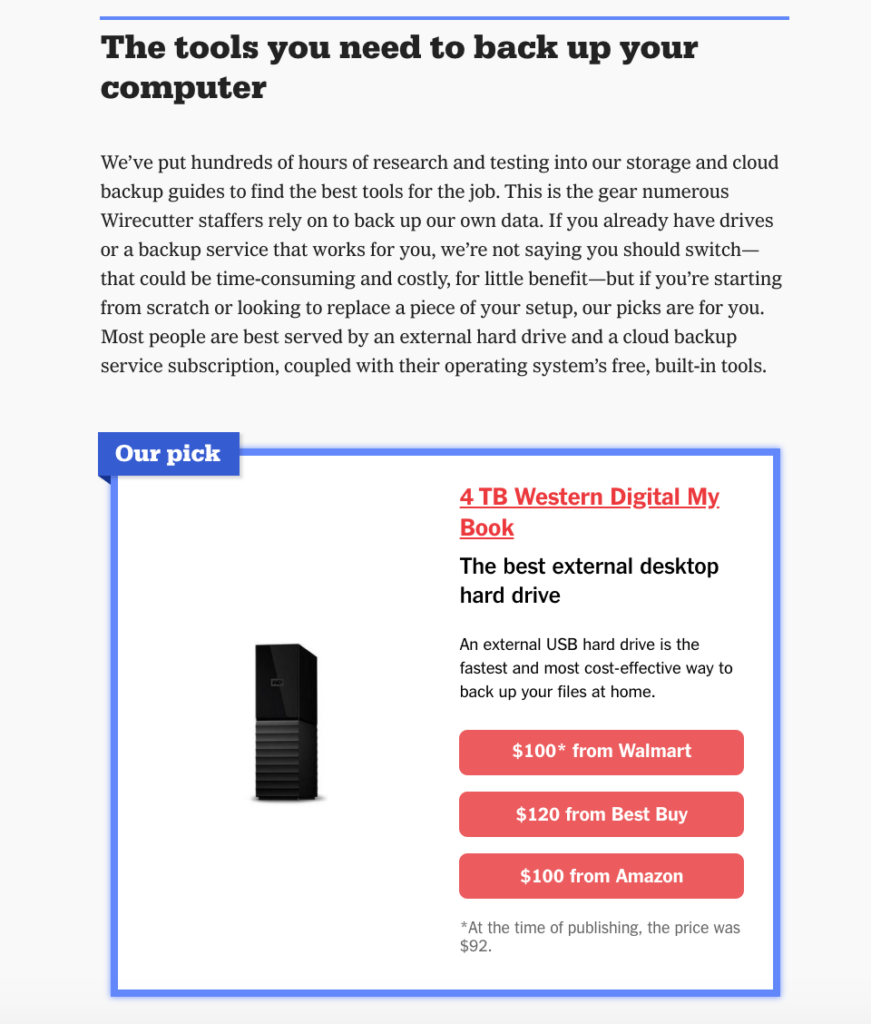 It's also important to post regularly to keep your site up to date and to create unique content that doesn't simply rehash a product's Amazon description. If you're not testing a product yourself, read other people's reviews of it to create content that's both original and useful for potential buyers.
3. Optimize for specific products.
Most traffic to affiliate websites comes from product-related searches or searches for reviews of specific products, so use long-tail terms and use the exact keyword in your URL. For example, if you're writing a review of a certain appliance, include the product's brand and model number, such as "Review of AmazonBasics Hardside Spinner Luggage – 28-Inch," both in the title and the URL if you can.
To learn more about optimizing for search, check out eCommerce SEO — How to boost eCommerce search rankings in 8 steps.
4. Use a link localizer.
Link localizers enable you to redirect visitors from certain countries to a specific site. For example, if a UK-based user visits your website and clicks an Amazon affiliate link, a link localizer will direct the user to amazon.co.uk. If you don't use a link localizer for your affiliate links, you won't get paid a commission for the foreign traffic you drive to Amazon.
Is Amazon's affiliate program right for you?
There's a lot to consider before signing up for Amazon Associates. If you already have a website with suitable content that you can add affiliate links to, it can be a simple way to start earning additional income in the long term.
If you're creating a website from scratch with the goal of making it profitable via Amazon affiliate links, the process of launching a site and populating it with reviews and product-related content can be time-consuming. However, developing a niche site optimized with affiliate links also has the possibility of becoming profitable in the short term.
5 Ways to Control Your Inventory So It Doesn't Control You
Managing inventory is a task that can make or break your small business. With too much inventory, profits suffer and storerooms overflow. With too little, items get back-ordered, customers get frustrated and business is lost. And striking a balance is hard, especially with disruptions to the global supply chain in the last few years causing delayed deliveries.
While you can't control the supply chain, you can take steps to prevent common problems like product shortages and excess stock. Here's how.
1. Stick to the story
Donna Daniel owns and operates three connected small businesses in Claremont, California: The Grove Clothing, The Grove Home and The Outdoor Store, which sell women's clothing, home goods and unisex adventure-themed gear, respectively. To run all three of her stores, Daniel needs to keep an impressive variety and quantity of inventory in stock — and ensure it moves quickly to make room for seasonal items and new shipments.
To keep her inventory cohesive within each store, she arranges it in themed displays — or what she calls "stories" — which tie together dozens of different items to appeal to a color, season or activity.
"I don't buy anything outside of the stories," she says, which helps her collect data on sales and seasonal trends, and keeps her stock to what's most likely to sell.
She keeps most of her inventory on the shop floor, with stock in each store's backroom and larger items in a nearby storage unit. In the backrooms and warehouse, she stores items according to product type and size — not by story — so employees can easily restock displays and substitute a similar item if necessary.
2. Double down on your reliable inventory
"Just-in-time inventory is much more difficult to do today," says Mark Baxa, president and CEO of the Council of Supply Chain Management Professionals, a global trade association for supply chain professionals. Baxa adds that since the supply chain is less stable than it was pre-pandemic, businesses may need to lean on their most reliable products and vendors.
Courtney Cowan, owner and founder of Los Angeles bakery Milk Jar Cookies, keeps supply needs and consumer demand stable with a very consistent product line. Her 16-flavor menu has "changed very little" in the bakery's nine-year history, though she leaves room for a rare seasonal standout to join the rotation. Since her store pre-mixes and preserves dough in a deep freezer, she can ensure that her bestsellers are always in stock.
Though some businesses may prefer a bit more variety, in uncertain times — over-ordering on go-to products with a dependable profit margin can help fill the gaps and keep sales steady.
3. Keep products moving
Longtime retailers know that while running out of inventory is bad, having too much can be worse. "Too much backstock eats up all your capital," Daniel says. She prevents this from happening by planning ahead and using sales sections to make room for new merchandise.
Daniel reorders seasonal inventory as far as a year ahead by using recent sales reports as a baseline. But with this commitment to hundreds of new products arriving every month, she makes sure that items don't sit on shelves for more than a few weeks.
"I do not like merchandise hanging around," she says, explaining that if an item isn't clearing out quickly enough, she'll move it to the sales rack and discount it until it's gone.
Though selling an item for a fraction of its original price may seem painful, it may be worth doing to keep inventory moving and keep customers coming back for new products.
4. Get to know your supply chain
Especially in periods of supply chain disruption, getting to know your vendors can make a big difference in your day-to-day operations. "Hold your supplier base accountable," Baxa says. He suggests finding the "shortest path" possible, including finding local and sustainable suppliers, to help ensure consistent, reliable supply.
Daniel follows the same principle, sourcing her inventory from mostly local vendors so she can pick up items instead of shipping. She weighs several factors, including production time, available quantity and shelf life to figure out how much to order and how often.
Cowan's inventory is perishable, so she needs her wholesale ingredients to arrive on a tight schedule. Her bakery receives truck deliveries directly from the restaurant supplier Sysco and wholesale store Costco, which keeps her supply chain close to home.
"We keep it as centralized as possible," Cowan says. For special ingredients like nuts and candy, she places advance orders with small online vendors.
Clear communication with vendors can help business owners figure out limitations, plan ahead and mitigate risk.
5. Use a point-of-sale system with inventory management tools
For the past five years, Daniel has been using Lightspeed, a POS system with standout inventory management tools. The software can track her inventory across all three of her stores, and it generates reports that help her analyze seasonal sales data and follow her businesses' growth.
This data is essential for her to plan reorder points and determine which items will reliably sell. Especially with a small staff and multiple locations, an all-in-one POS system can help minimize costs and labor.
Best POS for inventory management
Lightspeed Retail POS
Cost: Software $69 per month (billed annually) and up. Hardware quote-based.
Lightspeed's retail point-of-sale system is built for inventory management. It can keep detailed records of your products across multiple locations and set automatic reorder points, so you don't run out. The software also offers employee and customer relationship management tools, as well as advanced analytics features on its higher-priced plans.
You have the option to use a third-party payment processor, or Lightspeed's in-house processor with per-transaction fees at 2.6% plus 10 cents for swipe, dip and contactless payments and 2.6% plus 30 cents for keyed-in transactions.
Square for Retail
Cost: Software free and up. Hardware from free card reader to $799 terminal and up.
Square's retail-specific POS software offers inventory management tools and multi-location capabilities as well. The free version has a variety of other useful features including reporting tools, customer and employee management. Email marketing, loyalty programs and payroll are available with a higher-priced plan or as a paid add-on.
Though its inventory management isn't quite as deep as Lightspeed's, Square's user-friendly interface and accessible pricing make it a great choice for most retail businesses. Payment processing fees vary per plan, but with the free retail plan, costs are 2.6% plus 10 cents per in-person transaction, 2.9% plus 30 cents per online transaction and 3.5% plus 15 cents per keyed transaction.
Shopify POS
Cost: Software $29 to $299 and up. Hardware $49 and up.
Shopify's point-of-sale system is geared for businesses that primarily sell online. The software tracks inventory, hides out-of-stock products on your website and offers basic inventory analysis. It also facilitates drop-shipping, curbside pickup and local delivery options, plus access to vendors and third-party applications.
Shopify helps businesses manage inventory across online and in-store locations. Its Pro version can create purchase orders, run inventory counts, perform advanced inventory analysis and generate low-stock reports. However, it's not ideal for a business that only sells in store. Payment processing varies by plan, with in-person fees starting at 2.4% with Shopify POS Lite.
14 community management tips for meaningful connections with customers
Get up to 30%* off! Get going with GoDaddy!
The idea for sharing community management tips came to me about a year ago. That's when I synced up with the GoDaddy Community team to host a webinar for small business owners. As hundreds of attendees rolled into the Zoom, I had a realization: "GoDaddy has a strong community."
Behind every good brand and business, there's a solid community of supporters, stakeholders, and sometimes, even haters.
But building a community and maintaining connections is one of the most misunderstood and least talked about topics within the small business world. For a business with fewer than five employees and a handful of customers, community building might seem like just another marketing tactic that is just out of reach.
To help small businesses build and manage an online community, I asked other business owners and marketers what community management tips they had for creating meaningful connections with customers.
14 community management tips to create meaningful customer connections
Given that creating and maintaining a strong community can help retain and attract customers, consider following these 14 community management tips:
Be quick to address negative experiences
Filter out spam
Showcase success
Send a postcard
Get your customers involved in important decisions
Bring Up topics that encourage engagement
Provide talking points and engage with your community
Engage regularly
Be the face of your brand
Choose a channel that works
Create content that addresses customers' specific needs
Consider a brand ambassador program
Reward loyalty
Recognize the importance of inclusivity
Read on to learn more.
1. Be quick to address negative experiences
A bad customer experience can quickly escalate to a brand reputation crisis, and the company's response must be fast to revert the situation.
Monitoring social channel mentions is an easy way to keep an eye on conversations surrounding your brand and detect potential concerns.
Once a customer posts a comment that threatens your brand reputation, listen, honestly apologize and be willing to solve the issue in the best possible way. Your unsatisfied customer will feel appreciated and perhaps even become a brand advocate.
-Rebeca Sena, GetSpace.digital
2. Filter out spam
The most important thing you should be doing in regards to community management is interacting with your community, and you cannot do that properly if you have to work through a bunch of spam. There are many programs out there, even some within the different social media sites, that can filter out spam in your comments and messages so you can focus on addressing your community. Plus, getting rid of the spam and moderating harmful comments creates a better space for your community to contact you through.
-Jacob Dayan, Community Tax
3. Showcase success
Develop case studies from your successful community members. This is a practical way of propagating the core values of your online community and encouraging new users to join your community.
The more these members contribute to the community, the more impact these case studies have. You can start by creating basic reports to identify the members who are actively contributing high-quality content, assisting other members, and elevating the community.
-Hasan Farahani, Yocale
4. Send a postcard
Many of my customers spend $15–$20K on medical care in Latin America. I send my customers handwritten postcards to remind them of their journey, thank them for their business, and to stay engaged while they recover from procedures like dental implants or plastic surgery.
The cost in time and money is very low, but a human touch in the healthcare space is increasingly rare.
-Wesley Jacobs, Apollo Medical Travel
5. Get your customers involved in important decisions
Taking the time to follow up with your most active customers and getting their insights on important decisions makes them feel like their opinions are truly valued and cared for.
In the long run, this forges a strong connection between you and your audience that relies on more than simply a transaction.
An added benefit of doing this is that you may even get some eye-opening suggestions and creative ideas that could end up benefiting your business.
-Harry Morton, Lower Street 
6. Bring up topics that encourage engagement
Meaningful connections need to originate from a common source that offers a moment of relatability, which can further build brand trust. Social platforms offer numerous opportunities for these types of exchanges. When managing your social community, bring up topics that encourage engagement so you can connect on a level that goes beyond the basic company/customer relationship. In doing so, the consumer will feel more at ease to comment, ask questions and even provide more detailed feedback.
-Lindsay McCormick, Bite 
7. Provide talking points and engage with your community
It's important to recognize that community management is an ongoing responsibility. If you want to see your community thrive, you must create opportunities for customers to voice their opinion, communicate with other community members and provide you with feedback. Finding success is contingent on your ability to encourage participation from users, so you must provide talking points and give them plenty of avenues to stay involved.
If you leave your community dormant without your administrative oversight, engagement will start to dwindle as fewer users initiate conversations and take part.
Communities rarely function autonomously, so be sure to play an active role as you connect with and safeguard your community.
This gives you a chance to speak with your customers on a personal level, helping you learn about their likes, dislikes, objections and pain points directly—all of which are crucial in building meaningful connections with customers.
-Mike Grossman, GoodHire
8. Engage regularly
The best community management tip is to engage regularly and don't neglect questions or threads you didn't start—even better if they aren't getting a lot of feedback. If you're lucky enough to have the opportunity to regularly interact with your customers, make sure you're commenting often and have a badge next to your name letting them know you're a moderator or part of the company. That will really cement that feeling of connection and letting members feel heard. Plus, we've found that a community manager can really breathe life into a topic by offering input and pushing it to the front of that community for more engagement.
-Sylvia Kang, Mira
9. Be the face of your brand
Revealing the human side of your brand is without a shadow of a doubt an efficient strategy to boost your customers' connection. It conveys transparency and accountability, building a stronger human bond. Consumers tend to trust people more than a company, and showcasing real people will make you and your brand easier to remember and trust.
-Chiara Sternardi, Passport-photo.online
10. Choose a channel that works
The best way to build an authentic community is to have everyone communicate using the same social media platform. Make that a crucial part of your strategy.
If it's a professional audience that you're going after, choose LinkedIn. If it's a broader audience, use Facebook or Instagram. If it's a young audience, try Snapchat or WhatsApp. If it's a politically charged audience, maybe try Twitter.
YouTube is a great way to encourage people to watch videos that provide clear instructions on how a product or service works.
Users flock to YouTube for instructions on everything from how to change batteries on a device to playing scales on a guitar. The comment section can be useful for feedback purposes, and it also can be a way for customers to communicate with one another.
-Joel Jackson, Lifeforce
11. Create content that addresses customers' specific needs
By creating audience and buyer personas based on different client categories, content marketers can create social content that speaks to people rather than just industries. Learn where your customers hang out online using your social media demographics. Then, narrow those results using audience research to help you define a specific audience and channel. You can then customize communications by researching the LinkedIn profiles of potential customers. Doing so will allow you to identify different stakeholders within the organization and determine their pain points. You can then create better content that addresses their challenges. But it's all about finding an interesting angle for each segment.
Content that is too broad won't result in authentic engagement with your followers.
Social media posts that offer helpful information are guaranteed to stand out in your clients' feeds, resulting in more likes, shares and leads.
-Daniel Tejada, Straight Up Growth
12. Consider a brand ambassador program
A great way to create authentic connections with customers is with an acquisition and advocacy program like a brand ambassador program. For example, if a user can get five people to sign up for a service or product, they become an ambassador.
These brand ambassadors can help your business acquire new users. You can reward them with swag and access to special products or services … maybe even a special event!
-Jennifer Pieniazek, Resume Now
13. Reward loyalty
You can create meaningful connections by rewarding loyal customers to show how much you appreciate them. Just like any relationship, whether it's personal or professional, people appreciate rewards. Show your customers that they matter and are top of mind in your decision-making. That's how you create a stronger, more loyal customer base—one that will continue to pay attention for new initiatives and future rewards.
-Alyssa Berman-Waugh, Level Home, Inc.
14. Recognize the importance of inclusivity
To create meaningful connections with customers, recognize and accept diversities within your community. Each of your customers will differ in terms of their culture, orientation, ability and life experience. It's imperative that you celebrate these differences and welcome input from individuals of all walks of life as you advocate for equity and inclusivity. This will develop your community's reputation and attract diverse groups in greater numbers.
Communities that cater to just one group of people almost always become echo chambers, creating a suboptimal environment for connections to form and important discussions to take place.
By listening, asking questions, and welcoming input from diverse groups of individuals, you'll cement your community as a welcoming place for diversity and insight to flourish.
In doing so, your ability to build a rapport and create meaningful, lasting connections with your customers will blossom.
-Patrick Casey, Felix
The community management tips used in this article were gathered using Terkel.
Terkel creates community-driven content featuring expert insights. Sign up at terkel.io to answer questions and get published.
How Online Presence Makes Your Business More Trustworthy
Have you ever made a dining decision based on a review you saw on the internet? You may have picked a product because it seemed "more trustworthy" online. It's also a deal breaker if it isn't handled correctly.
Customers are more inclined to believe in your company if it presents itself well on the internet. Whether a startup or a large corporation, your online appearance and behaviour matter to your consumers if you own an offline or online company.
Why Should Your Business Go Online?
In addition to being available for your consumers, here are other reasons to consider your online presence.
It Improves Your Company's Accessibility
When you don't sell anything online, a solid online presence can help you make more money from the internet if you aren't engaged on social media.
Before making a purchase, most consumers do internet research to learn more about the company and the goods. Being at the right place at the right time is simply good business.
It Takes Care of Your Marketing and Branding
An internet presence provides a steady supply of customers for your company. Customer feedback and social media participation may help boost purchases. It's easier for consumers to identify your online presence with a website or social media account.
It May Boosts Your Company's Credibility
Having an online presence is essential for your organisation to be taken seriously. A startup might have difficulty being accepted as a legitimate organisation in its early stages. It's essential to have a strong internet presence before people take you seriously. It's easier to get quick loans at gdayloans.com.au to expand your company.
It Aids in the Comprehension of Your Target Market
When you have an online presence, you can engage with your audience in a two-way conversation to get valuable feedback or evaluations. In addition, it helps you learn more about your prospective consumers and the things they're looking for. If a restaurant uses polls on its Facebook page, it may determine which specials and goods are most popular with its patrons.
How Can You Evaluate and Enhance Your Company's Web Presence?
Analysing your online reputation simply means monitoring what others say about you online. Then you make it work for you.
You can monitor and enhance your company's online appearance by following these three steps.:
Monitor Mentions of Your Business
Monitoring your company's internet mentions can help you track what's being said about you and mitigate unfavourable publicity. This can also help you identify communication gaps.
Google Alerts can help you track online references of your company. Set up notifications for your business/product name and relevant keywords, and you'll be alerted promptly whenever you're mentioned anyplace online.
Analyse Your Website Traffic
The source of your traffic (and how much) might assist you in evaluating your internet presence. It may be necessary to expand your internet activities beyond your website. For example, low social media traffic might imply a poor social presence.
Tracking your website's traffic with Google Analytics might reveal secret traffic sources that your Google search may have overlooked. It will also help you find unnoticed remarks or backlinks.
Assess Your Social Media Engagement
Your social media presence affects your online reputation as well. Active consumers on your social media platforms help build trust and confidence.
Consider checking a company's and a competitor's Facebook accounts. You may observe that one firm interacts with clients while the other has a few likes but no comments. Which do you prefer?
Bottom Line
An active social media presence gives the impression of reliability while also conveying a sense of humanity and authenticity. Your audience will be more engaged as your social media presence improves.
To keep up with your target audience, you need to be one step ahead of them online. The first step is to become well-versed in everything your consumers discover about your company through the internet. Your internet presence must be understood, monitored, and improved to reach this goal.