How to Start a Landscaping or Lawn Care Business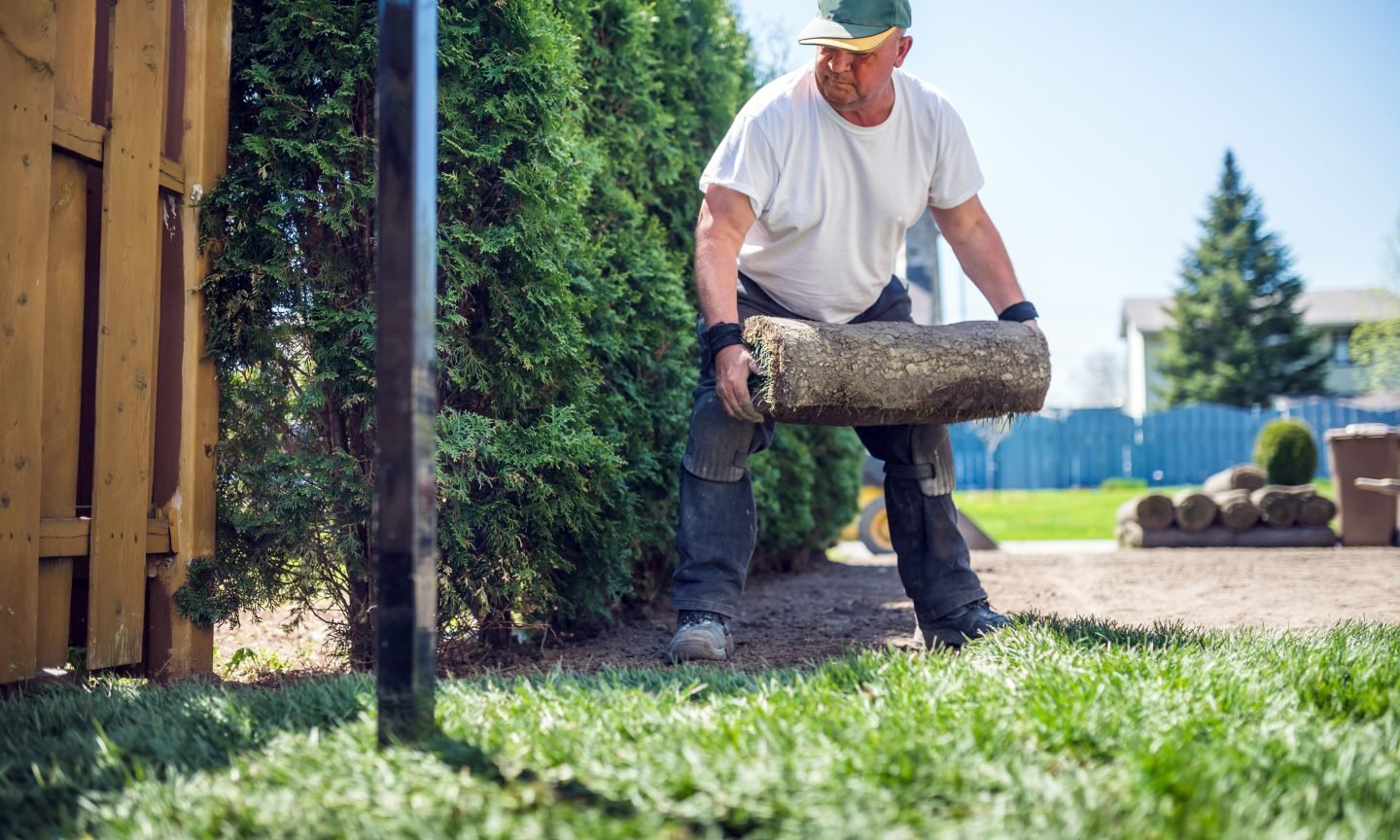 Anyone with a yard knows that maintaining it is a lot of work. So it's no surprise that there are so many landscaping businesses out there to help eliminate the need for mowing, weeding, treating, and doing more lawn maintenance yourself.
If you, however, are someone who loves to do yard work and the smell of freshly cut grass or a newly mulched garden is your favorite, you may have wondered how to start a landscaping business of your own and whether it's the right move for you. Before you make the decision to start your own landscaping business, you'll probably want to learn a little bit more about how to start a business in the first place.
The landscaping business is booming; and if you live somewhere with a warm climate, you may be able to work nearly year-round. The landscape services industry makes $93 billion in revenue each year and employs more than 1 million people, according to the National Association of Landscape Professionals.
If this sounds like the right move for you, keep reading to find out how to start a landscaping business of your own.
How to start a landscaping business in 5 steps
Considering the range and depth of landscaping—from residential to commercial, maintenance to removal, and designing to tree care—the economics of starting your own landscaping business are remarkably simple. It can be as easy as renting a lawnmower and knocking on doors.
While you might have bigger aspirations than reliving childhood memories of cutting the neighbor's grass, this is actually a viable way to get started in an industry where the barrier to entry is low.
"My previous company was a lawn care business that I grew from myself and a push mower to over 125 employees," says Bryan Clayton, the founder of GreenPal, an online lawn care ordering service that is a bit like the Uber of landscaping.
"Most customers have to deal with shoddy and unprofessional competitors," says Clayton. "Creating a successful landscaping business is almost easy if you simply answer the phone when your customer calls, return their voicemails promptly, and do the work that you agree to with your clientele."
Sounds simple enough, right? But what else can a landscaping business owner do to move beyond the basics? Here are some tricks of the trade as you start your landscaping business.
Step 1: Decide what services you want to offer and whether you want to rent or buy equipment.
The first step to starting a landscaping business is to acquire your arsenal of landscaping equipment. Once you decide which actual services you want your landscaping business to offer, you'll know what equipment you need. Then it'll be time to decide whether you want to buy it outright, or opt for the cheaper option of renting.
Starting out, you have the option to rent your equipment or to buy lower-grade equipment. But as your landscaping business grows, so will equipment needs and costs—and you could easily spend the same amount on maintaining cheap equipment as the price of purchasing higher-grade machines.
"Most landscape contractors will need to spend five to 10 hours a week maintaining their equipment at first by sharpening blades or changing oil, spark plugs, air filters, fuel filters, and so on," says Clayton.
So what are the basics of good landscaping equipment you'll need to know when starting a landscaping business?
There are a handful of manual tools any good landscaper should have at their disposal: shovels (such as square-mouth, spade, and trench), wheelbarrows, tillers (such as rear-tine tillers or cultivators), and more powerful items like chainsaws and drills. But this isn't where the real expenses lie. The cost of larger equipment might surprise you.
"Most people don't know this, but the riding lawnmowers that you see commercial landscape operators running cost over $12,000 themselves," says Clayton.
Landscape contractors need to make even bigger investments, according to Clayton:
"Landscape contractors also need to purchase or finance a decent truck, which costs at least $10,000 used, and a trailer, which costs $5,000+," Clayton says. "Also, for landscape construction, you will need in most cases a front-end loader, which will cost $10,000 to $50,000 by itself."
All told, Clayton estimates that landscape construction and maintenance businesses need to bring between $40,000 to $50,000 worth of equipment to a customer's property. That's why you might want to start off with rentals—which puts set-up costs at a more reasonable ballpark of $3,000, according to Clayton—but don't depend on them forever.
Step 2: Get the required business insurance, licenses, and an EIN.
Red tape is our least favorite kind of tape. But it exists for a reason, and there are a few things that you'll need to get in order before you can officially start a landscaping business.
There are a few necessary forms of business insurance you need to obtain to conduct business at all. The most important is general liability insurance, which covers everything from the cost of repairs to legal fees to damages that need to be paid out if you or an employee accidentally causes damage. Accidents—like running over a sprinkler head with the mower, for example—happen, and you want to be covered when they do.
You might also need workers compensation insurance, depending on what state you're operating in, though as Clayton puts it, "Many states require both insurances to operate a legitimate business regardless of whether you have employees or not." Workers comp covers you in the event an employee is injured on the job, from medical expenses to court costs.
Other forms of insurance that aren't required, but may come in handy, include inland marine insurance (for coverage of goods damaged in transit), commercial auto insurance (you can't use your personal vehicle for most of what you lug around, and your personal policy won't cover your commercial vehicles), and commercial umbrella insurance (which expands your coverage in case you're hit with a major settlement).
Additionally, if you're looking to apply pesticides as part of your services, most states have a pesticide charter that needs to be acquired. Clayton calls this "a very involved process" and doesn't recommend it until you're well-established in your field.
Before you start operating your business, make sure you also have any business licenses you need for the state you're operating in and that you've registered to pay taxes and received your employer identification number, also called a business tax ID number.
The rules around which business licenses you need and where to get them vary from state to state, so check the specifics for the state where your business will be operating before you start your landscaping business.
Step 3: Get employment law liability insurance before you scale.
This tip is so important it gets its own standalone section. Another form of insurance you'll need when starting a landscaping business is employment law liability insurance, that covers your business in case you make mistakes around calculating overtime and wage and hour violations.
Considering the uncertainty around the future of overtime wages, and the fact that many small business owners tend to go it alone at first without the aid of a lawyer or an accountant, this insurance could be a life-saver—or more accurately, a business-saver.
Clayton describes his "personal nightmare" that resulted from not having this insurance as follows:
"In 2009 my company was audited by the Department of Labor and they determined that our crew leader managers could not be paid a salary—they needed to be paid as hourly wage employees," he says. "This, in turn, kicked in additional overtime charges that were due to 80 employees, and it resulted in a $450,000 fine that my company had to pay."
Not having that insurance almost killed Clayton's company. Take his experience as a lesson that having that insurance in place—particularly before you scale—is crucial to your landscaping business.
Step 4: Develop a marketing plan and decide on prices.
When it comes to marketing your landscaping business, you already know where to start: Facebook and other social media, as well as SEO tactics, will increase your search visibility on Google and other search engines.
Of course, word-of-mouth marketing is always the best, especially in hyper-local markets, but that comes with doing good work overtime. So while you wait for the glowing reviews to be passed around town, consider setting up your social accounts first as you start your landscaping business.
Clayton says that mastering all of the typical marketing channels, and putting a starting budget of $500 to $2,000 in place to acquire your first 10 to 100 customers, is the best way to start. A digital marketing expert may be necessary to bring your game to the next level once you expand your landscaping business.
When you're first starting your landscaping business, you should also decide on the prices of your services so you can include those in your marketing efforts. Any potential customers will want to know what they'll be charged for the various landscaping services your business will offer.
When you're deciding on your rates, it's a good idea to check out the competition and see what prices similar businesses are offering, then go from there. But remember, you can always adjust rates as you go.
Step 5: Get your business financials in order.
When you're starting a landscaping business, it's crucial that you keep your finances on track. And we're probably past the days of using a pen and paper to keep track of all your business expenses, schedules, and accounts. Even spreadsheet applications, though capable of handling large quantities of information, are a bit outdated.
Luckily, there are plenty of business apps out there that can help your landscaping business operate more smoothly. There are apps and software to help with everything from inventory management and payroll to employee timesheets so you can focus on the important things—like actual landscaping work.
Clayton also recommends Xero accounting software for new landscape contractors. Xero is a system for billing invoices and accounts receivable, as well as payroll (good for smaller companies, from five to 10 employees) and fixed asset management. Rather than calculating the depreciation of your fixed assets yourself, let the software handle it.
Starting a landscaping business: The economics
Most lawn care operators make between $30 and $50 per hour. If you're interested in going further—if you feel like you have the work ethic, dedication, people skills, and willingness to learn (be it about new technologies like management software or small business marketing)—little is stopping you from starting your own landscaping business.
Clayton went on to sell his business in 2013, in the largest acquisition in the lawn care industry in a decade, before starting GreenPal. And remember: He got started on his own, with just a push mower to his name. Success isn't guaranteed to everybody who gets into landscaping, but it's a field that shows no sign of disappearing anytime soon. And there's no time like the present to capitalize on people's love of a well-manicured lawn.
The final word
As mentioned above, a major part of landscaping is fairly simple: Answer the phone, get back to your clients, get your work done when you say you will. This mindset should never fade, especially as you're trying to get ahead of other competitors in your field.
"If you do the work you say you will do on the day that you promise for the price that you agreed on, most issues will take care of themselves," says Clayton. Now, get out there and start your landscaping business.
This article originally appeared on JustBusiness, a subsidiary of NerdWallet.
How to Start a Niche Foam Party Business: Kid's Party
Foam parties have become popular and are great fun. If you didn't know what a foam party is, it is a party or event where participants have fun dancing amidst foam created by a machine. The machine creates bubbles of foams that envelop the place, creating a fun environment at the party. If you are a business person, then a foam party business is a great idea.
You can get a foam machine and use it to throw foam parties and make money from it – relatively affordably.
Can you make money through foam parties?
Yes, you can make money if you have a foam machine. Parties are common, and party-goers get bored with the usual stuff. A foam party is an innovative way of partying. It allows participants to let go, dancing in joy amidst the foam. This kind of party would be popular, and you can make money by offering a different experience to participants.
Creating a niche market
When you want to make money from a business, you will find that there are many others with the same idea. You need to do something different so you can succeed. This is where finding a niche market helps. A niche market is a specific category to which you can cater. Kids Foam Party is such a niche market. While there are many businesses catering to foam parties in general, foam parties for kids is a niche idea. This is a business idea that can help you succeed and make money.
Planning your business
Now that you have found your niche, it is important to plan your business before you get started. The first thing is to be clear with what you are offering. You are offering a foam party, which is an event where there is a dance floor filled with suds. When this party is offered for kids, they will enjoy it the most. They would not only dance but play in the foam and have a great time in general.
Taking proper safety precautions like setting the depth of the foam and insisting on face coverings ensure there are no problems.
What do you need?
It is obvious that you need a foam machine if you plan to run foam parties. A foam machine is not too expensive. However, you need not buy one immediately. Since you are starting off with a new business, you can get a foam machine for rent. This is a cheaper option allowing you to rent a machine and use it whenever you need it. This will allow you to do a pilot run of your party business.
If the response is good and you start getting many events, then you can consider buying your own foam machine. This would work out better for you.
Planning and executing foam parties for kids
With these basic concepts in mind, it is time you start planning your parties. Since you have chosen the niche of foam parties for kids, you need to explore different options. You can have foam parties to celebrate birthdays. There can even be parties for no reason but just to allow kids to have fun. Explore different themes for foam parties and plan the events.
Here are a few considerations to keep in mind while planning and executing foam parties for kids:
You need to find a venue to host the foam party. The ideal location is outdoors, so the foam does not create a mess inside. When the weather does not permit, you need to find indoor venues with a fairly big hall to organize the event.
Apart from the machine, you need the foam solution to create foam. You need to have sufficient foam machine solution to last the entire party.
Safety is a very important issue in foam parties. This is all the more important when you are dealing with kids. You need to have a clear plan for ensuring safety in your foam party. Communicate the plan with your clients so they are assured of the safety arrangements.
If you are doing the party indoors, you need a tarp to cover the floor and walls. It is important to cover up all the electric and other outlets to avoid them being damaged.
Placing plastic furniture is better since it won't get damaged due to bubbles.
Safety arrangements for the kids are very important. Wearing shoes is a must. You can insist on goggles or face coverings to prevent allergies from the suds. You need to take adequate precautions to prevent kids from skidding and falling during the party. There is always a risk of accidents at a foam party, and you need to do everything to prevent it.
Preferably, get a waiver from guests to protect against liabilities.
With all this planning, you are now ready to execute foam parties and make neat profits from them.
What open source-based startups can learn from Confluent's success story
It's common these days to launch an enterprise startup based on an open source project, often where one the founders was deeply involved in creating it. The beauty of this approach is that if the project begins to gain traction, you have the top of the sales funnel ready and waiting with potential customers when you move to commercialize your business.
In the past, this often meant providing help desk-style services for companies who appreciated what the open source software could do but wanted to have the so-called "throat to choke" if something went wrong. Another way that these companies have made money has been creating an on-prem version with certain enterprise features, particularly around scale or security, the kind of thing that large operations need as table stakes before using a particular product. Today, customers typically can install on-prem or in their cloud of choice.
"A key aspect of these kinds of technology-developer data products is they have to have a combination of bottom-up adoption and top-down SaaS, and you actually have to get both of those things working well to succeed." Jay Kreps
In recent years, the model has shifted to building a SaaS product, where the startup builds a solution that handles all the back-end management and creates something that most companies can adopt without all of the fuss associated with installing yourself or trying to figure out how to use the raw open source.
One company that has flirted with these monetization approaches is Confluent, the streaming data company built on top of the open source Apache Kafka project. The founding team had helped build Kafka inside LinkedIn to move massive amounts of user data in real time. They open sourced the tool in 2011, and CEO and co-founder Jay Kreps helped launch the company in 2014.
It's worth noting that Confluent raised $450 million as a private company with a final private valuation in April of $4.5 billion before going public in June. Today, it has a market cap of over $22 billion, not bad for less than six months as a public company.
Last month at TC Sessions: SaaS, I spoke to Kreps about how he built his open source business and the steps he took along the way to monetize his ideas. There's certainly a lot of takeaways for open source-based startups launching today.
Going upmarket
Kreps said that when they launched the company in 2014, there were a bunch of enterprise-size companies already using the open source product, and they needed to figure out how to take the interest they had been seeing in Kafka and convert that into something that the fledgling startup could begin to make money on.
"There have been different paths for different companies in this space, and I think it's actually very dependent on the type of product [as to] what makes sense. For us, one of the things we understood early on was that we would have to be wherever our customers had data," Kreps said.
5 Hobbies That Make Money and How To Get Started
Money-making hobbies range from walking dogs to blogging to creating and selling homemade goods.
Read about these profitable hobbies, as well as what you can expect to make.
1. Driving
Enjoy cruising around town? Give others a ride and make money by becoming an Uber or Lyft driver. Uber drivers make an estimated $5 to $20 an hour, and Lyft drivers earn about $5 to $25 an hour, according to SideHusl.com, a review site for money-making platforms. Note that earnings depend in part on when, where and how often you drive.
To become an Uber or Lyft driver, you must be the minimum age to drive in your area. You must also meet specific requirements related to your driver's license, insurance and vehicle. Learn about these exact requirements in our guide to becoming an Uber or Lyft driver.
If you enjoy driving but don't want people in your car, look into becoming a full-service Instacart shopper, which involves shopping for and delivering groceries. Uber Eats and Amazon Flex also offer opportunities to deliver food and other products to homes. Each of these gigs has its own set of requirements, though, so do your research before signing up.
2. Caring for dogs
If your favorite hobbies involve belly rubs, smooches and long walks in the neighborhood, try Wag or Rover. These apps enable you to walk, dog-sit or board pups overnight for money.
Rover and Wag work in similar ways. They both require you to be at least 18 years old, pass a background check and meet other requirements. For both, you create a profile, set your own rates, and use the app to choose which gigs to take. (See our Rover vs. Wag comparison for more specific sign-up and payment information, as well as how the apps vary in the services they allow.)
On both apps, the amount you earn depends on what you charge, how much you receive in tips, and which types of services you provide. As you would guess, boarding typically pays more than walking a dog, for example. But both companies take a bite from your earnings. Rover charges a 20% service fee per booking, and Wag takes 40%.
3. Blogging
If you have a blog that gets decent traffic, try making money from it. Blogging for money can take a few forms. One way is to host ads on your blog through a service like Google AdSense, which is free. Here's the gist, according to Google: If your website is approved, then you choose where on it you would like ads to appear. Then advertisers bid to place ads where you designated, with the winner's ads appearing in that spot. (People make money on YouTube through the same service.)
You earn some money when a reader clicks on one of these ads — but determining exactly how much you'll make is tricky. Explore our guide to Google AdSense to learn more about it.
You could also try writing sponsored content, meaning companies pay you to write about their products. Or, become an affiliate through the Amazon Associates program. That involves linking to an Amazon product from your content and earning a commission when one of your readers clicks through and buys that item. Learn more about how to make money on Amazon through your blog.
4. Posting to social media
Love posting to social media and building a following? On Instagram and TikTok, many users earn money through sponsored photos and videos. Say you regularly post about your at-home exercise regimen. You may agree to post about a retailer's resistance bands or sweatpants in exchange for cash or free products. (Sponsorships and affiliate marketing are also ways to make money from podcasts, in case that's one of your hobbies.)
Sponsors may reach out to you to set up this kind of arrangement; you could contact them; or, in some cases, you may consider working through a third-party agency.
The type of content you post, as well as your number of followers and their engagement, will likely impact sponsorship opportunities. Learn more about how to make money on Instagram or on TikTok.
5. Selling your wares
There's a marketplace for just about everything. So if you're skilled in a hobby, consider trying to profit from it. For example, if you create jewelry or have an eye for thrifting quality clothes, try selling those items at a local flea market or yard sale, or on a neighborhood website such as Nextdoor or Facebook Marketplace.
Or look into an online market that could attract a wider range of buyers. Consider Etsy for crafts or Poshmark if you want to sell clothes online.
These websites charge fees that will cut into your profits. This guide to selling stuff online will help you think through the math and determine if your hobby can become a viable business.
What to consider before making money from your hobbies
Before taking any of the routes listed above, keep in mind that this work will likely affect your taxes. See our guide to self-employment taxes, which includes expenses you can deduct, and how to avoid penalties.
And as you aim to profit from your hobbies, consider whether you will continue to enjoy them through this new business lens. Let's say knitting helps you relax. Will it continue to do so if you're pricing, promoting and shipping your homemade wares through an online marketplace? And that blogging hobby: Will writing still be fun or cathartic if you're occasionally throwing in a sponsored post?
It may be hard to answer these questions until you give the money-making approach a shot. But it's worth reflecting on the potential trade-offs as you think about turning your hobby into a job.
Money management made easy
NerdWallet tracks your income, bills, and shows you ways to save more.