How to Start a Landscaping or Lawn Care Business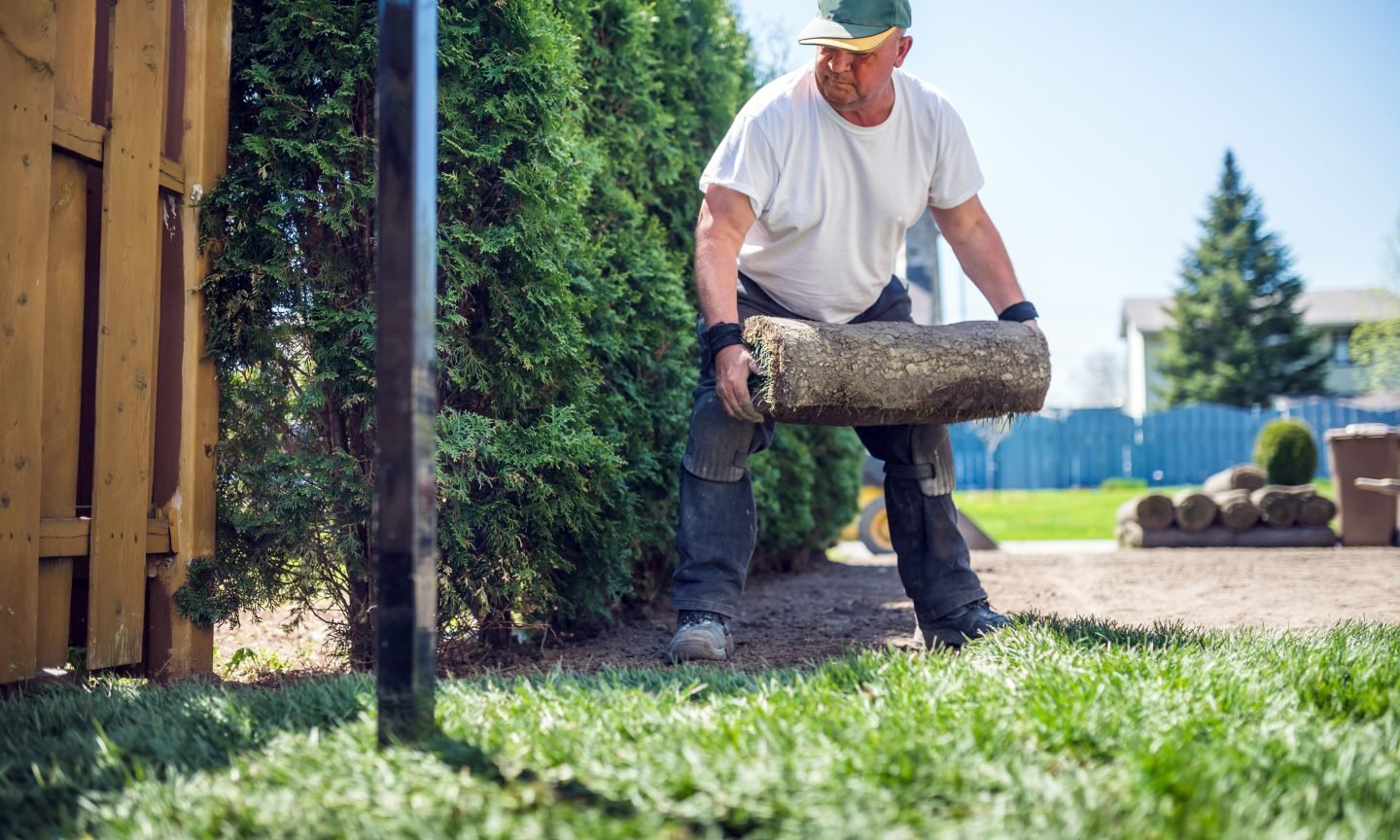 Anyone with a yard knows that maintaining it is a lot of work. So it's no surprise that there are so many landscaping businesses out there to help eliminate the need for mowing, weeding, treating, and doing more lawn maintenance yourself.
If you, however, are someone who loves to do yard work and the smell of freshly cut grass or a newly mulched garden is your favorite, you may have wondered how to start a landscaping business of your own and whether it's the right move for you. Before you make the decision to start your own landscaping business, you'll probably want to learn a little bit more about how to start a business in the first place.
The landscaping business is booming; and if you live somewhere with a warm climate, you may be able to work nearly year-round. The landscape services industry makes $93 billion in revenue each year and employs more than 1 million people, according to the National Association of Landscape Professionals.
If this sounds like the right move for you, keep reading to find out how to start a landscaping business of your own.
How to start a landscaping business in 5 steps
Considering the range and depth of landscaping—from residential to commercial, maintenance to removal, and designing to tree care—the economics of starting your own landscaping business are remarkably simple. It can be as easy as renting a lawnmower and knocking on doors.
While you might have bigger aspirations than reliving childhood memories of cutting the neighbor's grass, this is actually a viable way to get started in an industry where the barrier to entry is low.
"My previous company was a lawn care business that I grew from myself and a push mower to over 125 employees," says Bryan Clayton, the founder of GreenPal, an online lawn care ordering service that is a bit like the Uber of landscaping.
"Most customers have to deal with shoddy and unprofessional competitors," says Clayton. "Creating a successful landscaping business is almost easy if you simply answer the phone when your customer calls, return their voicemails promptly, and do the work that you agree to with your clientele."
Sounds simple enough, right? But what else can a landscaping business owner do to move beyond the basics? Here are some tricks of the trade as you start your landscaping business.
Step 1: Decide what services you want to offer and whether you want to rent or buy equipment.
The first step to starting a landscaping business is to acquire your arsenal of landscaping equipment. Once you decide which actual services you want your landscaping business to offer, you'll know what equipment you need. Then it'll be time to decide whether you want to buy it outright, or opt for the cheaper option of renting.
Starting out, you have the option to rent your equipment or to buy lower-grade equipment. But as your landscaping business grows, so will equipment needs and costs—and you could easily spend the same amount on maintaining cheap equipment as the price of purchasing higher-grade machines.
"Most landscape contractors will need to spend five to 10 hours a week maintaining their equipment at first by sharpening blades or changing oil, spark plugs, air filters, fuel filters, and so on," says Clayton.
So what are the basics of good landscaping equipment you'll need to know when starting a landscaping business?
There are a handful of manual tools any good landscaper should have at their disposal: shovels (such as square-mouth, spade, and trench), wheelbarrows, tillers (such as rear-tine tillers or cultivators), and more powerful items like chainsaws and drills. But this isn't where the real expenses lie. The cost of larger equipment might surprise you.
"Most people don't know this, but the riding lawnmowers that you see commercial landscape operators running cost over $12,000 themselves," says Clayton.
Landscape contractors need to make even bigger investments, according to Clayton:
"Landscape contractors also need to purchase or finance a decent truck, which costs at least $10,000 used, and a trailer, which costs $5,000+," Clayton says. "Also, for landscape construction, you will need in most cases a front-end loader, which will cost $10,000 to $50,000 by itself."
All told, Clayton estimates that landscape construction and maintenance businesses need to bring between $40,000 to $50,000 worth of equipment to a customer's property. That's why you might want to start off with rentals—which puts set-up costs at a more reasonable ballpark of $3,000, according to Clayton—but don't depend on them forever.
Step 2: Get the required business insurance, licenses, and an EIN.
Red tape is our least favorite kind of tape. But it exists for a reason, and there are a few things that you'll need to get in order before you can officially start a landscaping business.
There are a few necessary forms of business insurance you need to obtain to conduct business at all. The most important is general liability insurance, which covers everything from the cost of repairs to legal fees to damages that need to be paid out if you or an employee accidentally causes damage. Accidents—like running over a sprinkler head with the mower, for example—happen, and you want to be covered when they do.
You might also need workers compensation insurance, depending on what state you're operating in, though as Clayton puts it, "Many states require both insurances to operate a legitimate business regardless of whether you have employees or not." Workers comp covers you in the event an employee is injured on the job, from medical expenses to court costs.
Other forms of insurance that aren't required, but may come in handy, include inland marine insurance (for coverage of goods damaged in transit), commercial auto insurance (you can't use your personal vehicle for most of what you lug around, and your personal policy won't cover your commercial vehicles), and commercial umbrella insurance (which expands your coverage in case you're hit with a major settlement).
Additionally, if you're looking to apply pesticides as part of your services, most states have a pesticide charter that needs to be acquired. Clayton calls this "a very involved process" and doesn't recommend it until you're well-established in your field.
Before you start operating your business, make sure you also have any business licenses you need for the state you're operating in and that you've registered to pay taxes and received your employer identification number, also called a business tax ID number.
The rules around which business licenses you need and where to get them vary from state to state, so check the specifics for the state where your business will be operating before you start your landscaping business.
Step 3: Get employment law liability insurance before you scale.
This tip is so important it gets its own standalone section. Another form of insurance you'll need when starting a landscaping business is employment law liability insurance, that covers your business in case you make mistakes around calculating overtime and wage and hour violations.
Considering the uncertainty around the future of overtime wages, and the fact that many small business owners tend to go it alone at first without the aid of a lawyer or an accountant, this insurance could be a life-saver—or more accurately, a business-saver.
Clayton describes his "personal nightmare" that resulted from not having this insurance as follows:
"In 2009 my company was audited by the Department of Labor and they determined that our crew leader managers could not be paid a salary—they needed to be paid as hourly wage employees," he says. "This, in turn, kicked in additional overtime charges that were due to 80 employees, and it resulted in a $450,000 fine that my company had to pay."
Not having that insurance almost killed Clayton's company. Take his experience as a lesson that having that insurance in place—particularly before you scale—is crucial to your landscaping business.
Step 4: Develop a marketing plan and decide on prices.
When it comes to marketing your landscaping business, you already know where to start: Facebook and other social media, as well as SEO tactics, will increase your search visibility on Google and other search engines.
Of course, word-of-mouth marketing is always the best, especially in hyper-local markets, but that comes with doing good work overtime. So while you wait for the glowing reviews to be passed around town, consider setting up your social accounts first as you start your landscaping business.
Clayton says that mastering all of the typical marketing channels, and putting a starting budget of $500 to $2,000 in place to acquire your first 10 to 100 customers, is the best way to start. A digital marketing expert may be necessary to bring your game to the next level once you expand your landscaping business.
When you're first starting your landscaping business, you should also decide on the prices of your services so you can include those in your marketing efforts. Any potential customers will want to know what they'll be charged for the various landscaping services your business will offer.
When you're deciding on your rates, it's a good idea to check out the competition and see what prices similar businesses are offering, then go from there. But remember, you can always adjust rates as you go.
Step 5: Get your business financials in order.
When you're starting a landscaping business, it's crucial that you keep your finances on track. And we're probably past the days of using a pen and paper to keep track of all your business expenses, schedules, and accounts. Even spreadsheet applications, though capable of handling large quantities of information, are a bit outdated.
Luckily, there are plenty of business apps out there that can help your landscaping business operate more smoothly. There are apps and software to help with everything from inventory management and payroll to employee timesheets so you can focus on the important things—like actual landscaping work.
Clayton also recommends Xero accounting software for new landscape contractors. Xero is a system for billing invoices and accounts receivable, as well as payroll (good for smaller companies, from five to 10 employees) and fixed asset management. Rather than calculating the depreciation of your fixed assets yourself, let the software handle it.
Starting a landscaping business: The economics
Most lawn care operators make between $30 and $50 per hour. If you're interested in going further—if you feel like you have the work ethic, dedication, people skills, and willingness to learn (be it about new technologies like management software or small business marketing)—little is stopping you from starting your own landscaping business.
Clayton went on to sell his business in 2013, in the largest acquisition in the lawn care industry in a decade, before starting GreenPal. And remember: He got started on his own, with just a push mower to his name. Success isn't guaranteed to everybody who gets into landscaping, but it's a field that shows no sign of disappearing anytime soon. And there's no time like the present to capitalize on people's love of a well-manicured lawn.
The final word
As mentioned above, a major part of landscaping is fairly simple: Answer the phone, get back to your clients, get your work done when you say you will. This mindset should never fade, especially as you're trying to get ahead of other competitors in your field.
"If you do the work you say you will do on the day that you promise for the price that you agreed on, most issues will take care of themselves," says Clayton. Now, get out there and start your landscaping business.
This article originally appeared on JustBusiness, a subsidiary of NerdWallet.
How to Kick-Start Your Online Clothing Resale Gig
With the recent rise of resale apps like Depop and Poshmark, the idea of selling old clothes online is becoming more fashionable. Many people have turned clothing resale into a lucrative side gig or even a full-time job, gaining thousands of followers and making dozens of sales per week.
The secondhand-clothing market is projected to more than triple by 2030, according to a 2021 study by reselling platform Mercari and research firm GlobalData, as more fashion enthusiasts clean out their closets and search thrift stores to find valuable pieces to resell.
But whether you have a collection of band T-shirts or office attire, finding success on these platforms takes time and effort. Before diving into your closet, there are a few things to know.
You set your prices
Unlike consignment and resale shops, you can price items yourself on an online platform. Before listing a piece of clothing, look it up on multiple platforms to find out what it's currently selling for. Depending on age, condition and brand, prices can vary widely.
You can also take advantage of direct messaging to negotiate with buyers and use features on apps like Depop and Poshmark that let you accept offers and create multi-item discounts.
"Sales can be sporadic," says Andres Castillo of Los Angeles, who sells rare designer pieces through Depop, eBay and Instagram under the name Debonair Vintage. With rare or high-value items, it may take a while to find the right buyer, especially if you're looking to break even or make a profit.
There's a big time commitment
"I treat [reselling clothes] like my job," says Eve Perez, a full-time student in Lebanon, Pennsylvania, who sells under the name Fitsfinesse and was featured in Teen Vogue in 2021 for her Depop success. She responds to messages daily, on top of taking product photos, sewing custom pieces, and packaging and shipping orders.
Communicating clearly with first-time buyers is essential: "If you don't build that relationship, then you won't get sales and returning customers," she adds.
Although you have control over the prices, reselling online takes much more time and energy than selling to consignment stores. According to Depop, sellers who list consistently — around 15 items per week — sell more over time.
"It takes a lot of time and dedication," says Castillo. Top-notch sellers have to learn to take eye-catching photos, understand shipping rates, negotiate over text, and research brands and trends to make the most of their inventory.
Overhead costs add up
Yes, you can set your prices — but there are a few overhead costs to factor in. Online resale platforms charge commission fees, plus additional fees for shipping through the platform or accepting payments through a processor like PayPal. Depop takes 10% of every sale and eBay takes 15%; Poshmark takes $2.95 for items under $15 and 20% for items over $15. PayPal, which integrates with Depop, Poshmark and eBay, charges another 3.49% plus 49 cents per transaction for payment processing.
On top of that, you'll need to pay for packaging, label printing and possibly storing inventory including bins, hangers and shelves. Top sellers also recommend adding a personal touch in shipments, like free stickers, small accessories or a thank-you note. When all those costs add up, you may find that only higher-value items are worth listing.
You can cut costs by reusing shipping mailers and boxes, and printing labels at your local FedEx or UPS store instead of purchasing a label printer. Or, reduce shipping costs for buyers by bundling several items into a single shipment, which can motivate buyers to purchase more from your shop.
The social aspect is a priority
The most successful online resellers have one thing in common: a strong personal brand. Finding your niche and building a loyal following is essential to long-term success on a resale platform.
"It's like Instagram, but for selling," says Perez, who focuses on curating a consistent aesthetic and marketing her shop on social media platforms like TikTok.
Castillo grew his business by catering to a very specific market: vintage designer collectors, specifically for Moschino and Chanel. He sells across several platforms, using his Instagram to rent pieces out to stylists for photo shoots and red-carpet events. Though he targets a fairly small community, his narrow focus helps him reach his ideal buyers.
Other top sellers on resale platforms can be seen taking a similar approach, with shop themes ranging from band T-shirts to vintage gowns. "Lean into your personal taste," says Castillo. Even if you don't have a curated collection to sell, personalized packaging or a unique photo background can help your items stand out.
Both Perez and Castillo emphasize the importance of cross-linking social media platforms to reach as many potential customers as possible. Creating a dedicated Instagram Business account and following other online sellers and designers can help drive buyers to your shop. Check popular pages for trendy hashtags and add those to your posts. Making the time to promote on social media can help transform your closet into some serious income.
Turning Your Hobby into a Business? Here is What You Need to Know
Do you dream of one day quitting your job and following your passion in life? You can do it! Many successful entrepreneurs turned their hobbies into profitable businesses.
Do you have a hobby? Doing the things you love keeps you engaged with life, gives your mind a focus, and helps you enhance your concentration. Investing time in your hobby also provides you with a great way to relax, unwind, and relieve daily stress.
You shouldn't be ashamed of your hobby even if your friends and family don't share it. Only because they find interest in something else doesn't mean that no one in the world shares the same interests that you do. In fact, millions of people engage in the same hobby as you do daily.
So if you thought that no one shared your enthusiasm for this activity until now, think again. Whatever activity you can imagine, millions of other people on the planet are doing it as you read this article.
If you're one of the individuals who wonder how they can transform their hobby into a successful venture, this article provides information on how to start a business based on the things you love.
Do a Self-assessment
Do you know what it takes to turn your hobby into a lucrative business? Do you have the required stamina and energy to take the necessary steps and transform it into a venture? Yes, it would be nice to spend your days doing what you love and making money, but make sure you don't ruin your hobby by transforming it into a business. You started pursuing it to blow off some steam, but you could take its charm away if you add a lot of pressure on it to deliver money.
Research to understand what starting a business in this sector implies and make sure there's a paying public before you bet the farm on it. Running a successful company requires plenty of work and responsibility, two things that could take the fun out of your hobby.
Test The Idea
If you decide that you have what it takes to turn your passion into a business, the next step is to test the concept by starting a side hustle. When the profits reach a level that allows you to cover monthly bills and support yourself, you can quit your job and pursue this venture.
However, don't leave your present job if your side gig doesn't make enough cash flow to last you at least two years. Be ready for the shock you'll get when you turn from getting a monthly salary to having to pay taxes yourself. To make sure that you won't worry about housing, food, or monthly bills, save up at least two years of living expenses.
Research
Before investing time, money, and effort into starting a business, take a look at the market and see what your future competitors are doing. Research the niche online, on social media and among the public to see what customers expect from you and what other companies provide.
You can research the market on your own or hire a professional company to do it for you. It's recommended to work with specialists because they know the aspects that require extra attention and can help you determine if starting a business in this niche is worth it.
Make a list of your biggest 10 competitors and analyse their activity to figure out what they do to position themselves as leaders in the industry. Check their website, evaluate its functionality, and have a look at their Google ranking. Remember that people start searching for a product or service online in the present digital world, and it's crucial to rank high in search engines to reach your ideal customer.
After doing research, you'll have a clear idea of what you're dealing with in terms of competition.
Write a Business Plan
The business plan serves as a blueprint for your company, and you'll definitely need it if you want to apply for a loan. However, don't skip creating a business plan because it's quite useful in starting your venture, even if you don't seek funding. Research shows that the business people who make a detailed business plan are 16% more likely to develop a profitable business.
Here are some elements your business plan should include:
Financial plan
Executive summary
Business overview
Management team
List of services and products
Marketing and sales plans
Marketing strategies
Metrics and milestones
If you want to transform your hobby into a profitable business, you need to take it seriously and write a complete business plan.
Build a Brand
Branding is essential when trying to build an easy-to-recognise business. It would help if you had a unique business name and logo that match your company's personality and values. Pick brand colours that resonate best with your target audience, and craft a message they resonate with.
You can use free online tools to create a logo and elements for your business cards and advertising materials. Canva is such a solution that provides access to a huge library of elements.
Establish a Strong Web Presence
In the digital era, all businesses need an online presence to attract attention and reach their target audience, no matter their size or specific. You should create a website that allows you to present the benefits your clients get if they purchase your products and even create a shop page that allows them to buy online. However, establishing a solid web presence extends beyond creating a website. It also implies creating and maintaining the page, connecting it to social media profiles, and posting regularly on the blog.
Your purpose is to brand your company as an authority in the industry that also provides valuable pieces of advice beyond selling products.
Try to be consistent in how you present yourself to your public because you need to establish an image. Your web presence and brand are the main elements that impact your company's identity and help loyal clients differentiate your products from your competitors.
Q&A With Dr Ryan Shelton on Starting Up a Natural Healthcare Business
"Dr Ryan Shelton is the Medical Research Director For Zenith Labs. He believes that there is a way to help sick people with natural treatments complimenting the conventional pharmaceutical approach. He has created a regimen of natural treatments consisting of holistic and complementary medicine, and it's all backed up by science-based research.
Dr Ryan Shelton had dreams about being a doctor from a young age. His love for helping people inspired him to study the human body and how its internal and external environments change it for the better or for the worse.
Dr Shelton's path to becoming a doctor was anything but typical. His undergraduate education focused on biochemistry and genetics. After attending medical school for one year he withdrew to "think in slow motion" and received another degree in Philosophy. He left because he disagreed with the way doctors were being taught to practice medicine. Dr Shelton believed that the better way to treat his patients was to heal their whole bodies rather than just treating the symptoms.
After receiving his Philosophy degree, Dr Shelton understood how important it would be to be able to treat or prevent chronic diseases holistically. He returned to medical school, where he earned his Naturopathy Doctorate. Now, Dr Ryan Shelton gets to follow his passion by helping his patients achieve their best overall health through natural remedies.
With chronic disease being on the rise, Naturopaths like Dr Shelton want to do their best to try and stop it from spreading by treating patients holistically. He does this by turning their food into medicine first and using natural remedies to increase their overall health. His goal is to balance his patient's systems, and he passionately believes that his ultimate goal is to help his patients achieve optimal health.
Dr. Ryan Shelton's work with Zenith Labs has helped him attract patients interested in pursuing wellness rather than focusing solely on disease care. His successful medical practice complements this passion, as does the company he founded. Whether you're looking to improve your overall wellness or just want an alternative to the traditional pharmacological regimen, Dr Ryan Shelton has a plan for how to help you.
Hello Dr. Shelton, can you briefly tell us who you are and what you do?
Currently, I'm the medical research director for Zenith Labs and a Naturopathic Doctor with a successful private practice. I am also the Wellness Director and on the admissions team for a behavioral therapeutic program.
For the last few years, I've been running an online supplement business where people outside of where I am can get the same kind of advice that I give to my in-person patients from anywhere in the world. I do my best to promote a concept of total wellness and natural health solutions.
I have developed several natural health regimens over the years based on my research. I'm working hard to teach people that everything else will follow if they improve their overall health.
Please describe your company in a few words
Yes, it is a company, but really what we're trying to promote here is a culture. Sure, we could go online and sell supplements till the cows come home. Lots of people do that. This naturalistic approach has been my life's work ever since I was in medical school. I initially left medical school because I felt that the traditional way medicine was practiced was to treat the symptoms rather than treat the whole person.
I'm working hard to use my company as a vehicle to teach my customers and patients that they can improve their total body health, which makes healing other symptoms easier.
What is your company's biggest achievement in recent years?
The surge in online business, I would say, has been our best achievement in recent years. When we first moved into this space, I felt like the company wasn't getting the attention it deserved. We did traditional promotions and bought advertising, but nothing was really getting us over that plateau.
Just when I thought I might have to just let it go, word of mouth started spreading, and it spread like crazy. Satisfied patients were telling other people about what they'd experienced by using these treatments, and those people turned out in droves to get these benefits for themselves.
In what direction do you see natural healthcare going?
The coolest thing I think I have seen recently is that natural medicine is becoming more and more mainstream all the time. For a long time, people who preferred natural remedies were seen as "uninformed" or "Weird."
Nowadays, people are flocking to find out what natural remedies they can incorporate into their own life. We've all seen so many odd things come from big pharma over the past ten years, so is it any wonder people are looking for a way that they can take charge of their own health. It will become much more focused on environmental medicine, lifestyle medicine, and anti-aging medicine.
We will begin using natural treatments not in response to crises, but rather to promote a level of optimal health not yet seen in the general population.
Which recent developments in your industry do you find exciting?
The way in which people seem to be flocking to natural medicine. It's no longer on the fringes of people's thoughts. I see people take a more open-minded approach to learn about things that natural healers from around the world have known for centuries.
The general attitude that people have, that they want to discover things for themselves rather than just taking the proscribed wisdom as gospel, is really exciting. I feel like I'm getting closer and closer to being able to reach more people than ever before.
Again, environmental medicine and anti-aging, natural agents specifically targeting your unique specific genes and DNA to promote optimal health. The days of degeneration and disease are hopefully going away soon.
What keeps you motivated?
My vision. It's been front and center in my mind since I was a child. I watched so many of my older relatives that suffered from chronic conditions just wither away with the traditional medical approaches. I knew there had to be a better way, and I feel like I've found it.
What keeps me motivated is the drive to bring what I've found to as many people as possible, so maybe they won't have to watch their loved ones suffer as I did.
What advice would you give someone starting out in the health field?
Hang in there. It's the best advice I could give anyone. Medical school is tough, and it should be. Then you'll have your residency and boards, which are brutal. Becoming a doctor is a privilege that we, as a society, only bestow on those who have proven themselves to be the best at what they do.
If being a medical professional is your dream, then hang in there, and fight for it tooth and nail until you've achieved your dream.
Thanks for your time, Dr Shelton!