How to use Google Analytics Enhanced Ecommerce features to gain more customers
Get up to 30%* off! Get going with GoDaddy!
As a business owner, you may be wondering how customers are engaging with your ecommerce website. Are they enjoying the products you have to offer or is there more you could be doing to help boost online sales? With Enhanced Ecommerce Reports in Google Analytics (GA), you have the ability to analyze sales reports and monitor consumer behavior for different products you sell online. Utilizing these reports strategically will allow you to build and improve your business over time.
The best way to utilize Enhanced Ecommerce Reports will depend on:
What questions you want answered
The reports you want to use to research data
What you want to do with the info you collect
The goals you want to set and how to optimize and reach them
Additionally, Enhanced Ecommerce Reports help you drill down into purchase and transaction data for your business.
Examples of things you can research include:
Product and transaction data
Average order value
Ecommerce conversion rate
Time to purchase and more
Below, we'll discuss how your business can benefit from this information. Plus, run through a breakdown of the different features you can use to forecast goals and gain more customers.
Related: Using Google Analytics and Google Search Console to find out what's bringing people to your website
What businesses benefit from Enhanced Ecommerce features?
There are two types of Ecommerce Reports that GA supports: Standard and Enhanced. The Standard version is the original tracking report and is helpful if you only need data that occurs after purchases are made (aka the end of the sales funnel). Many startups and smaller businesses begin with this option first, then move up to Enhanced Ecommerce later on.
Businesses that want to track the entire customer journey, from beginning to end, should look no further than Enhanced Ecommerce Reports.
These reports do everything that Standard Ecommerce Reports do, but with a much wider scope of information.
You can drill down into specific questions like:
How many people are viewing your product details page?
What stage of the journey are people abandoning their carts?
Are your coupons and promotions generating a healthy amount of revenue?
Typically, larger and more advanced ecommerce businesses benefit more from these reports since they have a wider range of products.
It allows them to see where they can optimize their product listings, marketing investments, checkout process and more.
It's important to note that enabling Enhanced Ecommerce features requires resources and planning to get started. It's the main reason why businesses with a limited budget often opt for the Standard version first.
You can learn more about Standard Ecommerce Reports here to see if it's right for you.
How to enable Enhanced Ecommerce reporting
While having this amount of information at your fingertips is great for business, it does require a more advanced understanding of technical know-how (like coding and javascript). This is because you'll need to implement tracking codes for every page of your site that you want to track.
Additionally, only select third-party ecommerce platforms (WooCommerce included) can integrate with the Enhanced Ecommerce Plugin.
So, hiring an experienced web developer to help run things more smoothly (and efficiently) is a major recommendation here.
But if you have the technical chops to DIY it yourself, you can reference this handy guide from Neil Patel to get started.
Once all the coding and page tracking is in place, you can then turn on the Enhanced Ecommerce view within GA by going to Admin > Ecommerce Settings (in the "View" column). Google also has a detailed step-by-step guide you can reference to easily accomplish this.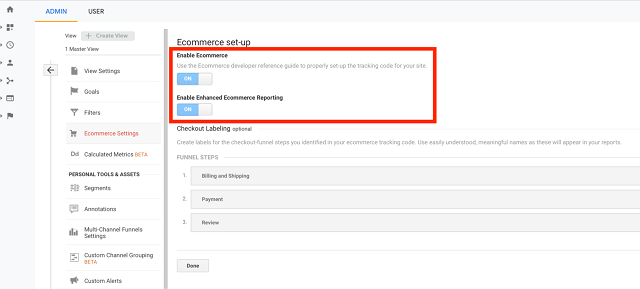 If you're just beginning, you can also experiment with a demo GA account to get a feel for how it works. Note that you'll need to be using the Universal Analytics version of GA to follow along. But it's good practice to browse through the different features to see if it's the right move for your business.
A quick breakdown of the Enhanced Ecommerce Reports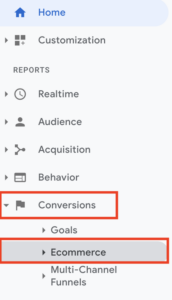 Now that we know the pros and cons of this plugin, let's dive into the specific reports it has to offer. You can navigate to the Enhanced Ecommerce Reports by clicking the "Conversions" tab in the GA menu on the left and then scrolling down to "Ecommerce."
Overview Report
In the "Overview" section, you'll start out with a dashboard that shows the following information:
Revenue & conversion rates
Transactions
Marketing (campaigns, promotions, coupons, affiliation)
Product performance (top sellers/low sellers)
You can think of this page as a type of business health report, along with additional data on how your users are interacting with your page.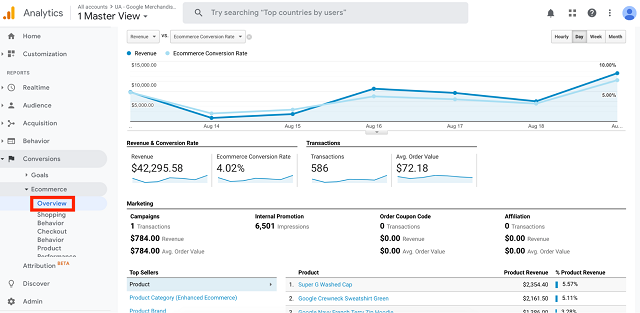 Shopping Behavior Report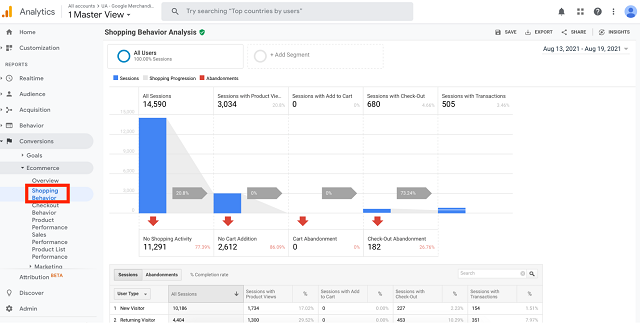 The Shopping Behavior Report is where you'll go when you want to see how your customers are moving along the sales funnel. It'll provide details on how your new and returning visitors are interacting with your site, based on sessions coming from:
Product views: High product views with low checkout rates could indicate you need to better optimize your product listings. Work with your content team to see how you can make your listings better with added tutorials, videos or reviews.
Add to cart: A high add-to-cart rate with a low checkout rate could signify an issue with your pricing. Work with your marketing department to draft up better promos and check out competitor pricing to see if you need to make some adjustments.
Checkout: If your checkout rate is low, you may need to optimize the checkout process better. Work with your web developer to make the process easier and more convenient for customers to use.
These three indicators will help you get a better sense of where your users are getting stuck in the customer journey. Use the data you collect here to set goals for your team and overall business.
Related: 10 tactics to turn impulse shopping into stone-cold sales
Checkout Behavior Report
The Checkout Behavior Report is similar to the Shopping Behavior Report, except that it concentrates more on the different stages of your checkout process. You can use this data to see what stage of the checkout process your users are abandoning their carts.
Most ecommerce businesses have multiple steps for customers to fill out before their transaction is complete. But it's possible your audience may prefer a single-page method, too. You can work with your developer to configure customized labeling for each of your checkout steps under Admin > View > Ecommerce Settings.
Possible points of interest to keep an eye on include:
URL issues: Unwarranted redirects or page links that look untrustworthy can dissuade a customer from following through on a transaction. Ensure that all your links are working properly and optimize your checkout pages so that customers know your site is safe to use. GoDaddy Payments offers streamlined verification and advanced encryption to protect you and your customer's personal data.
Payment pages: If you're noticing a high abandon rate within your payments page, it could mean it's time to analyze how efficient it is. Opt for features that make the process more convenient with things like one-click pay or seek out mobile-friendly solutions that make the process run smoother on different devices.
Specific customer preferences: The way your audience interacts with your checkout process could be different from how they interact with other ecommerce sites. The best way to tell what works best for your audience is to conduct A/B testing. This could help determine whether your customers prefer things like single or multi-page checkouts.
When in doubt, consult with your web developer and UI/UX team to see how you can better optimize your checkout process using the data collected from this report.
Product Performance Report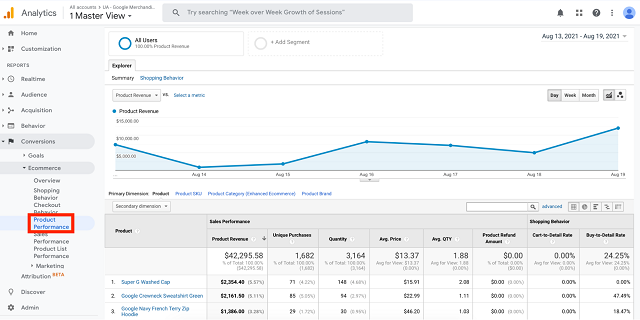 The Product Performance report is a great way to see how well your products are doing when it comes to sales and customer interaction. You'll notice the report is separated by Sales Performance and Shopping Behavior metrics.
Sales Performance
Metrics under this category will give you a sales breakdown by product, SKU, category or brand. You can find and toggle these different views in the Primary Dimension bar under the graph at the top.
Each view will give you information using the metrics below:
Product revenue
Unique purchases
Quantity
Average price
Average quantity
Product refund amount
If you want to dive a little further, you can add a Secondary Dimension using the dropdown menu under the Primary Dimension bar.
This will serve as a type of filter that shows you other insights like:
What landing pages are bringing in the most product sales?
Which devices (mobile vs. desktop) are customers using most to buy certain products?
How effective are your campaigns with promoting products?
Use this information to help you prioritize the areas that can increase your conversion rate most.
Shopping Behavior
This category of metrics will show you the number of customers that are adding products to their carts compared to the number of people finishing their purchase.
These two metrics are categorized by:
Cart-to-detail rate
Buy-to-detail rate
The average percentage at the top of each column is a good indicator to use as a reference when looking at the numbers for each product. GA will automatically show you a list with the best performers at the top. But if you want to view products with lower than average numbers, you can add a filter by clicking the Advanced button near the top of the metric columns.
For more information on filters, check out this GA tutorial that breaks it down even further.
Sales Performance Report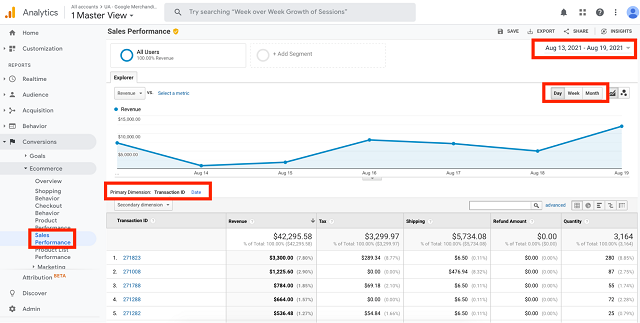 The Sales Performance Report is what you'll use when you want to track your sales over a specific time period. You can customize the date range you want to look into by clicking the dropdown menu in the upper right corner. Below the dropdown menu, you'll have options to view the visual graph based on day, week or month.
This information will help you get a sense of sales based on two dimensions:
Transaction ID: This represents the purchase information from a specific transaction. It's typically linked to your ecommerce shopping platform and works in tandem with your CMS.
Date: Sorting this report by date will automatically show you the dates with the highest sales.
Clicking either the Purchase ID or Date number will show you the revenue and quantity metrics of products sold within that transaction or date.
When you're in the main summary page, you'll view other metrics like:
Revenue
Tax
Shipping
Refund Amount
Quantity
You can use this report to pinpoint high transaction dates or dates with high peaks of sales in certain products (like seasonal items). This will allow you to concentrate your marketing efforts (think coupons and promotions) towards those specific areas.
However, you can also use this report to help you target the lower trending sales by switching up your product offerings or branching out to new markets (going global can help).
Product List Performance Report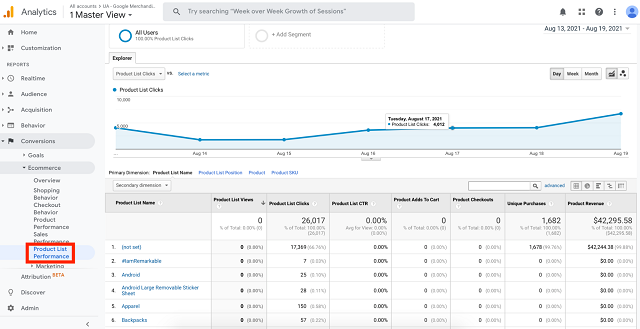 The Product List Performance report helps you view data for specific groups or categories you have listed for products on your ecommerce website. This snapshot allows you to view which products are performing well and which ones could benefit from additional optimization.
Like the Checkout Behaviour report, you can work with your web developer to customize your groupings the way you see fit.
Here are three different ways most ecommerce businesses tend to group their products:
Categories: Brands can separate a wide range of products into categories that are typically found within a navigation menu. For example, a fashion brand might categorize its products by handbags, dresses, and shoes.
Search results: You can create a list that categorizes all the products that show up whenever someone types specific keywords into a query.
Related products: This list can be made to represent add-ons or suggested items under a product details page.
Once you have your lists configured the way you want them, you can then compare your top performers against your low performers using specific filters in the advanced settings.
Why it all matters
Setting up the Enhanced Ecommerce plugin takes a bit of time and money, but it's well worth the investment in the long run.
The reports found within Enhanced Ecommerce will give you a wide scope of information that tracks the entire customer journey.
It's filled with insight on areas of opportunity for your business, along with key areas of success.
Remember, anything that makes the customer experience more convenient and user-friendly will help boost your overall sales and conversion rates.
Do your research, analyze the results, and work with your team to tackle goals that can help grow your ecommerce business successfully.
The post How to use Google Analytics Enhanced Ecommerce features to gain more customers appeared first on GoDaddy Blog.
What is a dedicated IP address and why do you need one?
Get up to 30%* off! Get going with GoDaddy!
Whether you're new to remote work or a seasoned pro looking to up your game, you might be wondering, "What is a dedicated IP address?" or "Do I really need a dedicated IP for remote work?" Both are valid questions — especially now.
Since the shift to remote work, businesses and employees have dealt with increasing security risks and threats. Many telecommuters use VPNs or SSL certificates for a secure remote work experience, but it's often not enough. Business owners and organizations are also advised to get a dedicated IP address for an added layer of protection.
The question is – is a dedicated IP worth it if you're working outside of a traditional office space?
Before you decide whether to get a dedicated IP address or not, read on to learn to basics and benefits, including:
What is an IP address?
An internet protocol (IP) address is a unique address assigned to individual computers, servers, domains, or devices over the internet or a local network. Whenever you access a website, your computer communicates to the webserver through the IP address.
IP addresses consist of four sets of numbers, each separated by periods (x.x.x.x), ranging from 0 to 255, which comes out to around 4.2 billion combinations.
The conventional IP address we're used to is the IPv4 (IP version 4). It was created in the 1980s and used a 32-bit system that didn't account for how fast the internet would grow. We have long since exhausted those 4.2 billion combinations. Thus, a new internet addressing system called IPv6 was deployed in 1999.
IP addresses and the Domain Name System (DNS)
IP addresses aren't random. They are produced and assigned by the Internet Assigned Numbers Authority (IANA), part of the Internet Corporation for Assigned Names and Numbers (ICANN).
The ICANN is a non-profit organization that maintains internet security. One of its functions is to maintain the domain name system (DNS). You can think of the DNS as a phonebook that matches domain names to IP addresses.
The DNS was born because IP addresses are composed of a string of numbers – making it difficult for users to remember which numbers belonged to which website. Without the DNS, you would have to type in "64.233.187.99" to get to Google and other IP addresses to get to other websites.
How IP addresses work
Your network, devices and the internet use IP addresses to communicate with each other. Let's look at how IP addresses work when connecting your device to the internet.
Before your device can access the internet, it must connect to a network. That network would likely be your Internet Service Provider (ISP) if you're at home, while it would be public Wi-Fi if you're outside your home network.
Internet activity goes through the ISP, which is shared with your device using an IP address. In this case, the ISP assigns an IP address to your device. That assigned IP address, however, is temporary. When you turn your modem or router off, your device gets disconnected from the network. Or, when you travel, your device uses another network to connect to the internet.
That new network you connect to (hotel, coffee shop, or airport Wi-Fi) shares a different IP address. This is but one of many examples of how devices use IP addresses to communicate with each other.
There are several types of IP addresses, which we'll explore in the next section.
Different types of IP addresses
There are different types of IP addresses, which are further subdivided into different categories.
Consumer IP addresses and website IP addresses are the main types of IP addresses.
Consumer IP address
Consumer IP addresses are assigned to devices connected to the internet. There are two kinds of consumer IP addresses: private and public IP addresses.
These types describe a network's location: private IP addresses are used inside a network, while public IP addresses are used outside.
Private IP vs. Public IP
Your network router assigns private IP addresses to your devices to communicate with it internally. In contrast, your ISP assigns public IP addresses. The public IP is the primary address associated with your internet network.
Private IP addresses exist because multiple devices connect to a household's network. Modern homes have computers, smartphones, tablets and even Bluetooth-enabled devices such as speakers, printers or smart TVs connecting to a router at any given time.
Because your router connects to so many devices, it needs a way to identify each item. Thus, it generates private IP addresses that differentiate each device on the internal network.
While each device connected to the network has its own private IP address to communicate with the router, remember that all devices simultaneously access the internet through the router as well. Thus, they all have the same public IP address.
Public IP addresses are further classified into two kinds – static and dynamic. These types describe a network's permanency.
Dynamic IP vs. Static IP
A dynamic IP address is an IP address that often changes, while a static IP address does not change. ISPs and web hosting companies automatically assign dynamic IP addresses while they manually create static IP addresses.
Dynamic IP addresses are the most common type of IP address. They are only active for a certain amount of time, after which they expire. Once the computer disconnects from the network, it receives a new IP address or requests a new one.
Advantages of dynamic IP addresses include cost savings and security. ISPs buy multiple IP addresses and assign them to users. Automating the movement of IP addresses means there's no need to get users their original IP addresses. Once a user is disconnected, ISPs can reassign a new IP address and give new users the old one to use.
Additionally, a changing IP makes it harder for criminals to hack into your network.
Individuals and businesses seldom use static IP addresses. Servers hosting large websites or providing email and FTP services use static IP addresses so other devices can easily find them on the web.
Website IP address
The website IP address is the other type of IP address besides the consumer IP.
If consumer IPs are assigned to devices connected to the internet, website IPs are used for web hosting packages. There are two types of website IPs: shared and dedicated.
We'll be focusing on these two types, specifically dedicated IP addresses.
Dedicated IP address vs. Shared IP address
You can get a dedicated IP address and shared IP address from hosting providers, but the main difference is the number of users assigned to it.
Dedicated IPs are exclusive to a single account, while a shared IP is assigned to multiple users.
Shared IP addresses are often common to shared hosting accounts. This type of web hosting plan hosts multiple websites on the same server, making it possible for these domains to share an IP address.
But, while shared IP addresses are common in shared hosting plans, it is also possible to have a shared IP address without a shared server. For instance, some Managed WordPress hosting plans share IP addresses but not server resources.
Shared IP addresses are often dynamic IPs, while dedicated IP addresses are static. You have sole use over them once they're assigned to you.
Important: Don't confuse a dedicated IP address with a dedicated server; you can get a dedicated IP address without signing up for a dedicated hosting plan.
Benefits of a dedicated IP address
There are several benefits to having a single IP address dedicated to your use. It's fast and secure, and there's a smaller chance of your IP getting blacklisted.
Let's explore each benefit in detail:
1. Secure remote access
A dedicated IP address allows employees to connect to company resources securely. It enables you to control access to specific resources and sensitive company assets. You can do this by allowing specific IP addresses and restricting access to servers and gateways you choose.
2. Reduced risk of IP blacklisting
Another benefit of a dedicated IP address is safety and location privacy. Some people prefer it when they can't be traced.
While sharing an IP address is generally safe, it risks country-specific blocking of your website. Other websites on your server might perform illegal activities such as sending out spam emails, viruses, or malware that could get your websites blocked by search engines.
When you use a dedicated IP address for remote work or otherwise, there is zero chance of your IP getting blocked — unless you do something malicious intentionally.
3. Faster and safer file transfer
A dedicated IP ensures faster site speeds. You don't have to contend with web traffic because you're the only one using the IP address.
A dedicated IP also allows you to build a file transfer protocol (FTP) server to share files within an organization. A private FTP server offers better protection and a faster file transfer rate.
4. Improved email deliverability
You will benefit from a dedicated IP address if you send large volumes of emails; anything above 100,000+ per year is considered a large volume.
The main reason?
An IP's reputation can impact your email delivery rate.
Email services such as Gmail and Yahoo trust emails from dedicated IPs more than those from shared IP addresses. They often double-check emails from shared IP addresses because spam emails are more likely to come from accounts hosted on those IPs.
5. Direct access to your website
Dedicated IP addresses allow you to access your website directly using the IP address since it's the only domain mapped to that IP. For example, typing in "64.233.187.99" would lead you directly to Google because that is its dedicated IP address.
While it's not the main advantage of having a dedicated IP, it is a handy perk when domain servers are down.
Dedicated IP address: A must-have for remote workers
Bottom line: Beef up your cybersecurity efforts with a dedicated IP address. It securely connects you to your remote server and improves site speed. That's a win-win for remote workers and their employees and clients.
Need a dedicated IP address for remote work? Enjoy the benefits of dedicated IP by purchasing a GoDaddy dedicated IP as an add-on, or get one free by signing up for a GoDaddy dedicated hosting plan.
3 Ways Marketers Can Earn — and Keep — Customer Trust
A 2021 survey of 1,000 consumers concluded that more than 80% consider trust a deciding factor in their buying decisions, despite the fact that only 34% trust the brands they use. As trust in institutions diminishes, consumers are increasingly skeptical of where they put their money and receive their information. The author recommends three marketing strategies for brands to maintain and foster trust in their brands: 1) Do not overspin, 2) Avoid half-truths, and 3) Read the room and adjust.
It is no big secret that our world has a trust problem. Amid a global pandemic, economic crisis, and political instability set against a backdrop of deep cultural malaise, people no longer know where (or whom) to turn to for dependable information amid widespread disinformation and propaganda.
Similarly, government leaders, briefly seen as the most trusted institutions at the beginning of the pandemic per the 2021 Edelman Trust Barometer, squandered that goodwill when they could not halt the virus or restore economic stability. And per the 2021 Edelman Trust Barometer, trust in U.S. CEOs is at 47%, and credibility has basically hit rock bottom in Japan (18%) and France (22%) as consumers wake up to the indignities and absurdities of unfettered capitalism.
Yes, trust is in short supply, yet it remains a vital currency in sustainable customer relationships. A 2021 survey of 1,000 consumers concluded that more than 80% consider trust a deciding factor in their buying decisions, despite the fact that only 34% trust the brands they use. Consumers, of course, are not a monolith. And as it so happens, age is a key differentiator in understanding the intricacies of the public's confidence in and perception of the news media, in particular.
Per a Gallup/Knight Foundation survey, older Americans tend to rely on maybe one or two sources for all their information, and they prioritize brand reputation and political slant when evaluating an outlet's credibility. Conversely, younger adults (18- to 34-year-olds) are more likely to gather information from numerous sources and place more of a premium on how open that outlet is with its facts, research, and processes.
Younger consumers also view national news outlets with more skepticism, with just 29% saying they trust them compared to 41% of adults over 55. A credible media landscape is always critical, but with the line between marketing and media blurring each day, news organizations' morale fiber can sometimes be linked to that of a brand.
To summarize, ​​older adults are more brand-conscious, while younger adults are more process-conscious. As marketing experts, we can apply these findings to our brand messaging to develop credibility with our intended audiences as they age and evolve. Here is how.
1. Do not overspin.
Though Edelman found that trust in CEOs hit an all-time low in 2021, the same study revealed that businesses are still considered more trustworthy than governments, NGOs, and the news media. With such power comes great responsibility. CEOs and other business leaders must address today's most pressing challenges and focus on societal engagement with great fervor. According to the 2021 Edelman Trust Barometer, 53% of respondents believe that business leaders have a duty to fill the information void left by the news media.
This is not the time for corporate platitudes. People are smarter than you think. If you attempt to fool them, they will find out — and the hit to your credibility will outweigh any short-term gains that you made.
Think back to summer 2020, when PR teams across industries jumped to distribute public denouncements of systemic racism. People were quick to call out the performative allyship of companies such as Glossier, whose public anti-racism pledge was at odds with former employees' recounts of on-the-job discrimination and toxicity. So make sure you back up any announcements with actual steps. For example, Ben & Jerry's is not one for empty promises, and its statement on racial injustice held a lot more weight because company leaders have a track record of on-the-ground activism.
Keeping your message free of excessive spin goes a long way with the public and protects you from potential PR gaffes down the line.
2. Avoid half-truths.
Pfizer has been in the news a lot this past year — mostly for good reasons. CEO Albert Bourla and his team cleared myriad hurdles to develop an innovative, effective Covid-19 vaccine in record time. But back in 2006, Pfizer was in the news for less-than-glowing reasons after launching a $258 million ad campaign for a cholesterol drug with Robert Jarvik, inventor of the first permanent artificial heart, as the face of it.
The tagline — "Just because I'm a doctor doesn't mean I don't worry about my cholesterol" — was catchy, but there was one problem: Jarvik was not licensed to practice medicine and, in fact, had never practiced medicine. The ads drew swift criticism that resulted in a congressional investigation and millions in monetary losses for Pfizer.
In the court of public opinion, omission is akin to lying. If a claim requires omission, then do not use it; and if you do make a mistake, own up to it. In fact, you may find consumers more forgiving if you show any semblance of contrition. Being vulnerable about where you have fallen short in the past suggests honesty, which sits at the foundation of consumer trust, brand affinity, and long-term engagement.
3. Read the room and adjust.
When was the last time you checked the pulse of your customer base? You should be continually evaluating the effectiveness of your marketing efforts by asking yourself these key questions:
What is our customer sentiment? Negative? Positive?
What are our favorability ratings? Are they rising? Dropping?
Is our audience engaging with our content?
And did we follow through on our promises?
By regularly checking whether consumers are picking up what you are putting down, you will find that you can more easily meet and even exceed their ever-evolving preferences. For example, Bryanna Evans, the social media manager at home fragrance brand SECC, told Buffer that her team's social media-powered strategy focuses on in-feed customer engagement. Not only does the social team respond whenever someone leaves a comment, but it also nurtures consumer interest by regularly posting quizzes, contests, and giveaways. As a result, SECC has built an army of loyalists and grown its monthly revenue from $20,000-$30,000 to more than $100,000.
The fight for consumer trust is ongoing — and it will not be going away anytime soon. But savvy marketers can use authentic brand messaging to engender stronger customer relationships that stand the test of time. Implement these three steps to begin building a reputation as a reliable information source that people depend on.
How to Improve Email Deliverability
If you're running a business, you need an email list. And you need to send great emails, obviously. But if those great emails aren't making it to people's inboxes, then what's the point?
If you've been putting a lot of hard work into your email marketing but not seeing the results you want, then maybe your email deliverability could use some help. I'm going to share the four key factors that will help make sure more of your emails stay out of spam and land in the inbox.
And if you don't have an email list yet, this will set you up for success right from the start!
The Four Pillars of Email Deliverability
When it comes to email, it's all about deliverability. You can have the fanciest automations, the best copy, the best upsells, downsells, follow-ups… But if nobody's getting those emails in their inbox, then it's all for nothing.
This is where you're up against the algorithms of the email giants that control more than 50 percent of the world's inboxes: Google, Microsoft, and Yahoo!. You've got to understand what they're looking for—and play by their rules.
The good news is that it's not that difficult to stay on the good side of the algorithms. Anyone can avoid the spam folder as long as they follow a few key guidelines.
There are four main pillars of email deliverability, and they form the acronym RACE:
Reputation
Authentication
Content
Engagement
Pat and email deliverability expert Adrian Savage covered these four pillars in depth in SPI episode 498:
Reputation
In business, as in everything, reputation matters. If you've got a lousy reputation, no one's going to want to listen to you.
When it comes to email marketing, you need to focus on what's known as your sending reputation.
You see, the big mailbox providers are monitoring the emails you're sending, and most importantly, how people are reacting to them.
The more they see people marking your emails as spam or ignoring or deleting them, the more they're going to mark down your sending reputation. And they're more likely to send your emails right to the spam folder.
That's the simple version, but it means that everything you do with your email marketing has to be focused on preserving and improving your sending reputation.
How to Improve Your Sending Reputation
So what can you do to improve and maintain your reputation with the big email services?
First, use common sense. If you feel like you're gaming the system, you probably are—and you're eventually going to get found out.
A (not so) great example is downloading lists of email addresses from the internet.
The only legitimate way to get ahead now with your email list is to send emails only to people who have specifically asked you to contact them.
If you buy a list and start emailing people who haven't given you permission, you're much more likely to get spam complaints, which will hurt your sending reputation.
And what's the only definition of spam that matters in the eyes of the mailbox providers? Whatever the recipient thinks it is.
There are also businesses out there, like Spamhaus and Cloudmark, that operate email addresses called spam traps. If you send an email to a spam trap address, then you may be added to blocklists that tell the world you're a low-reputation sender.
If you do decide to buy a list of addresses for some reason, make sure you really trust the person providing the data—it's much better to control it yourself.
Next, you'll want to clean your email list regularly. That way, you'll avoid hitting what's called a recycled spam trap.
Here's how that works.
Suppose 10 years ago you had a Hotmail address that you'd stopped using, and Microsoft canceled your account. For the next few months, if anyone tried to email you, they'd receive an error saying the mailbox didn't exist. But a few months later, Microsoft might reopen that address and repurpose it to catch senders who weren't looking after the hygiene of their email list.
Send enough emails to spam trap addresses, and you'll end up on a blocklist.
So, only send emails to people who have said they want to hear from you, and keep your email list clean so you don't get caught in recycled spam traps.
Authentication
Authentication is the second crucial piece of improving your email deliverability.
It's all about telling the world that you're sending legitimate emails.
You've probably received spam from someone spoofing an email address that isn't theirs. It's relatively easy to spoof an address you don't own—what's not so easy is to authenticate one.
Authentication is what sets you apart from the spammers, and there are two steps you need to take to authenticate your email address.
The good thing is, this is usually a one-time thing you do when you're setting up your email platform.
The two authentication steps involve a couple of acronyms.
Domain Keys Identified Mail (DKIM)
The first one is domain keys identified mail, or DKIM. This is how you get your email platform to digitally sign every email that you send.
You'll need to look at your platform to determine how exactly to configure DKIM, because they all do it slightly differently. If you're stuck, then find someone who can help you, because it is probably the most important single thing that will make the difference between hitting the spam folder and hitting the inbox.
Here's guidance on setting up DKIM with some of the most popular email service providers (ESPs):
Sender Policy Framework (SPF)
The second side of authentication is something called sender policy framework, or SPF.
SPF helps identify which mail servers are allowed to send email on behalf of your domain. This communicates which platforms you trust to send emails on your behalf, which can reduce the incidence of email spoofing—people pretending to send mail as you. Like DKIM, it's a one-time thing, but crucial.
Doing those two things—setting up your SPF and DKIM settings—is going to make a huge difference in deliverability. And don't be afraid to seek help if you need it.
Here's guidance on setting up SPF with the popular ESPs:
Content
In the recent past, it was relatively easy to avoid the spam folder by being careful about the content in your emails: don't use swear words, don't mention Viagra, and don't mention "free."
Today's spam filters are much more sophisticated, and the big email providers use a ton of artificial intelligence to figure out what's junk and what's legit.
In 2005, you might have gotten away with writing "free" as "fr.e–e" in an email, but today that's a one-way ticket to the spam folder.
Making it to the inbox in 2022 is a lot more about being authentic with your email content. Here, another acronym comes in handy: WILF, which stands for:
Words
Images
Links
Frequency
Words
Words are important, obviously. And when it comes to email deliverability, it means writing emails the way you'd have a conversation with someone.
Write like yourself. The more your emails sound like they've been coming from you, the more authentic it sounds, the more likely those big sophisticated algorithms are going to recognize it as authentic.
In most cases, shorter is also better. Don't cut it down at the expense of not getting your message across, but don't waffle unnecessarily. Because, let's face it, people's attention spans are getting shorter.
At the same time, don't stress too much about content either. There are no hard and fast rules here, and you don't want to follow a rule at the risk of ruining your message.
You can always send a few test emails and see what happens. Just remember, however, that email has evolved, and no two people have exactly the same email experience anymore. The same email might end up in Spongebob's inbox and Squidward's spam folder.
But you can still learn some things by looking at the big picture of what you're sending over time. If you notice that emails written a certain way are getting delivered more often than others, use that as a data point to guide how to craft your email content going forward.
Images and Links
Here's where things get even more interesting. To include images or not include images in your emails? And what about links? One? None? Many?
First, remember that there are exceptions to every rule. But in general—and testing bears this out—the more images you've got in an email, the more likely it's headed to the junk folder. And the same goes for the number of links.
One of the quickest ways for an email to be viewed as a promotion by Google is if it has a graphical banner at the top, because that makes it look like a promo. So just cut to the chase with your message.
If you need images in the middle of the email to reinforce or illustrate things, that's a different story. But only include them if they're going to actually add value, not just for the sake of it. If you can manage three or fewer images in total, perfect.
It's the same with links: the more you use, the more your email looks like a promotion. One of the biggest mistakes people make is using a bunch of little social media icons in their email signature. Before you know it, you've got five additional images with links in your email, you're in the promotions tab.
When it comes to links, also be careful about linking to websites you don't control. You can't always be certain whether the domain you're linking to has a good domain reputation or not. It's much better to only link to content that you're in control of—like the stuff on your own website.
Frequency
Finally, there's frequency. The more frequently you send emails to the people who want to receive them, the better you're going to do. In the good old days, it was sufficient to send an email newsletter out once a month, but these days, mailbox providers are looking for consistency and engagement (which we'll talk about in a second).
The more frequently you send emails to the people that want to read them, the better it's going to look for your engagement. If you're sending out an email three times a week, then you're a lot more likely to reach more of your audience more quickly than if you're sending one email a month.
That doesn't mean you need to send an email every day—if you can, then great, if you've got enough to talk about—but the more frequently you can share some really cool value, the more people are going to love you, and more importantly, the more the mailbox providers will love you as well.
Engagement
While authentication is something you set up once and pretty much forget, engagement is something you need to pay attention to on an ongoing basis.
By engagement we're talking about, are people reading your emails? Are they opening them? Are they clicking the links? Are they actually reading them properly? Or are they just deleting it without reading?
One of the worst ways to hurt your engagement is when you send something out, it lands in the spam folder, and no one rescues it.
When someone signs up to your email list for the first time, that may be the only chance you've got to keep your emails out of their spam folder. So direct them to a thank-you page that instructs them to check the spam folder for your first email and move it to their inbox if need be. If they don't, they may never see another email from you in their inbox again.
That's the most important thing.
The other is maximizing the number of people engaging by improving your open rates. Here's where it's important to clean your email list regularly, so you're only sending email to the people who are likely to read it.
It can be scary to clean your email list regularly—because it means deleting people from your list—but it's absolutely a great thing to do for your email engagement, and for the health of your email list.
Why? It will show Google and Microsoft and Yahoo! that what you're sending is of greater interest to your subscribers. The higher they see your open rate, the more likely they are to increase your domain reputation. The better your reputation, guess what? The next email you send is more likely to land in the inbox. It's a virtuous cycle.
More Email Marketing Resources
If you're just getting started building your email list, the best time to start thinking about and implementing these email deliverability best practices is now.
And if you've had a list for a while and things have gotten stagnant, the best time to start is… also now.
If you need more support with your email marketing, you're in the right place! Here are a few more resources to help you build an audience and create more revenue with a robust email marketing practice: