How to use Google Analytics Enhanced Ecommerce features to gain more customers
Get up to 30%* off! Get going with GoDaddy!
As a business owner, you may be wondering how customers are engaging with your ecommerce website. Are they enjoying the products you have to offer or is there more you could be doing to help boost online sales? With Enhanced Ecommerce Reports in Google Analytics (GA), you have the ability to analyze sales reports and monitor consumer behavior for different products you sell online. Utilizing these reports strategically will allow you to build and improve your business over time.
The best way to utilize Enhanced Ecommerce Reports will depend on:
What questions you want answered
The reports you want to use to research data
What you want to do with the info you collect
The goals you want to set and how to optimize and reach them
Additionally, Enhanced Ecommerce Reports help you drill down into purchase and transaction data for your business.
Examples of things you can research include:
Product and transaction data
Average order value
Ecommerce conversion rate
Time to purchase and more
Below, we'll discuss how your business can benefit from this information. Plus, run through a breakdown of the different features you can use to forecast goals and gain more customers.
Related: Using Google Analytics and Google Search Console to find out what's bringing people to your website
What businesses benefit from Enhanced Ecommerce features?
There are two types of Ecommerce Reports that GA supports: Standard and Enhanced. The Standard version is the original tracking report and is helpful if you only need data that occurs after purchases are made (aka the end of the sales funnel). Many startups and smaller businesses begin with this option first, then move up to Enhanced Ecommerce later on.
Businesses that want to track the entire customer journey, from beginning to end, should look no further than Enhanced Ecommerce Reports.
These reports do everything that Standard Ecommerce Reports do, but with a much wider scope of information.
You can drill down into specific questions like:
How many people are viewing your product details page?
What stage of the journey are people abandoning their carts?
Are your coupons and promotions generating a healthy amount of revenue?
Typically, larger and more advanced ecommerce businesses benefit more from these reports since they have a wider range of products.
It allows them to see where they can optimize their product listings, marketing investments, checkout process and more.
It's important to note that enabling Enhanced Ecommerce features requires resources and planning to get started. It's the main reason why businesses with a limited budget often opt for the Standard version first.
You can learn more about Standard Ecommerce Reports here to see if it's right for you.
How to enable Enhanced Ecommerce reporting
While having this amount of information at your fingertips is great for business, it does require a more advanced understanding of technical know-how (like coding and javascript). This is because you'll need to implement tracking codes for every page of your site that you want to track.
Additionally, only select third-party ecommerce platforms (WooCommerce included) can integrate with the Enhanced Ecommerce Plugin.
So, hiring an experienced web developer to help run things more smoothly (and efficiently) is a major recommendation here.
But if you have the technical chops to DIY it yourself, you can reference this handy guide from Neil Patel to get started.
Once all the coding and page tracking is in place, you can then turn on the Enhanced Ecommerce view within GA by going to Admin > Ecommerce Settings (in the "View" column). Google also has a detailed step-by-step guide you can reference to easily accomplish this.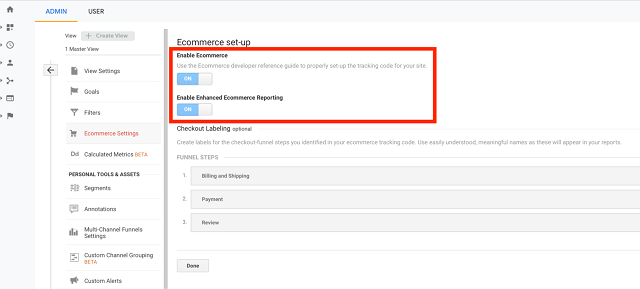 If you're just beginning, you can also experiment with a demo GA account to get a feel for how it works. Note that you'll need to be using the Universal Analytics version of GA to follow along. But it's good practice to browse through the different features to see if it's the right move for your business.
A quick breakdown of the Enhanced Ecommerce Reports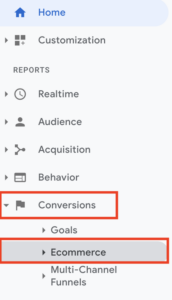 Now that we know the pros and cons of this plugin, let's dive into the specific reports it has to offer. You can navigate to the Enhanced Ecommerce Reports by clicking the "Conversions" tab in the GA menu on the left and then scrolling down to "Ecommerce."
Overview Report
In the "Overview" section, you'll start out with a dashboard that shows the following information:
Revenue & conversion rates
Transactions
Marketing (campaigns, promotions, coupons, affiliation)
Product performance (top sellers/low sellers)
You can think of this page as a type of business health report, along with additional data on how your users are interacting with your page.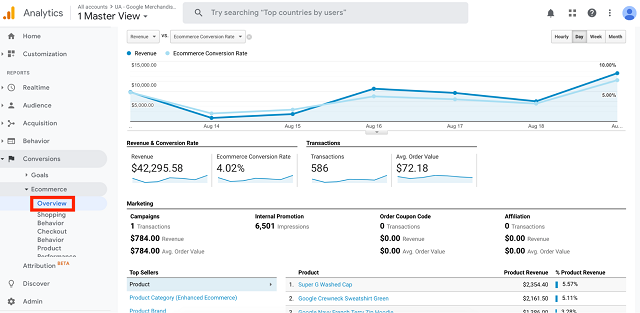 Shopping Behavior Report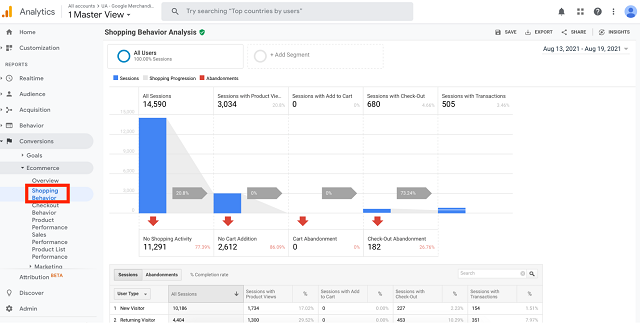 The Shopping Behavior Report is where you'll go when you want to see how your customers are moving along the sales funnel. It'll provide details on how your new and returning visitors are interacting with your site, based on sessions coming from:
Product views: High product views with low checkout rates could indicate you need to better optimize your product listings. Work with your content team to see how you can make your listings better with added tutorials, videos or reviews.
Add to cart: A high add-to-cart rate with a low checkout rate could signify an issue with your pricing. Work with your marketing department to draft up better promos and check out competitor pricing to see if you need to make some adjustments.
Checkout: If your checkout rate is low, you may need to optimize the checkout process better. Work with your web developer to make the process easier and more convenient for customers to use.
These three indicators will help you get a better sense of where your users are getting stuck in the customer journey. Use the data you collect here to set goals for your team and overall business.
Related: 10 tactics to turn impulse shopping into stone-cold sales
Checkout Behavior Report
The Checkout Behavior Report is similar to the Shopping Behavior Report, except that it concentrates more on the different stages of your checkout process. You can use this data to see what stage of the checkout process your users are abandoning their carts.
Most ecommerce businesses have multiple steps for customers to fill out before their transaction is complete. But it's possible your audience may prefer a single-page method, too. You can work with your developer to configure customized labeling for each of your checkout steps under Admin > View > Ecommerce Settings.
Possible points of interest to keep an eye on include:
URL issues: Unwarranted redirects or page links that look untrustworthy can dissuade a customer from following through on a transaction. Ensure that all your links are working properly and optimize your checkout pages so that customers know your site is safe to use. GoDaddy Payments offers streamlined verification and advanced encryption to protect you and your customer's personal data.
Payment pages: If you're noticing a high abandon rate within your payments page, it could mean it's time to analyze how efficient it is. Opt for features that make the process more convenient with things like one-click pay or seek out mobile-friendly solutions that make the process run smoother on different devices.
Specific customer preferences: The way your audience interacts with your checkout process could be different from how they interact with other ecommerce sites. The best way to tell what works best for your audience is to conduct A/B testing. This could help determine whether your customers prefer things like single or multi-page checkouts.
When in doubt, consult with your web developer and UI/UX team to see how you can better optimize your checkout process using the data collected from this report.
Product Performance Report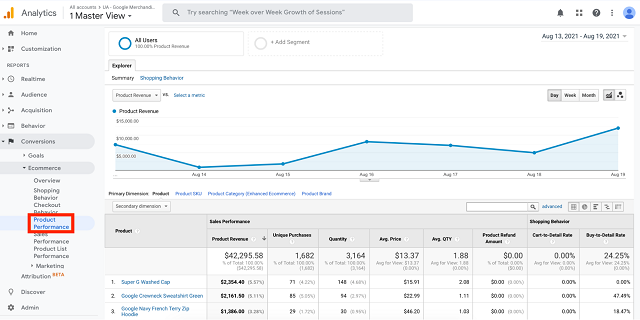 The Product Performance report is a great way to see how well your products are doing when it comes to sales and customer interaction. You'll notice the report is separated by Sales Performance and Shopping Behavior metrics.
Sales Performance
Metrics under this category will give you a sales breakdown by product, SKU, category or brand. You can find and toggle these different views in the Primary Dimension bar under the graph at the top.
Each view will give you information using the metrics below:
Product revenue
Unique purchases
Quantity
Average price
Average quantity
Product refund amount
If you want to dive a little further, you can add a Secondary Dimension using the dropdown menu under the Primary Dimension bar.
This will serve as a type of filter that shows you other insights like:
What landing pages are bringing in the most product sales?
Which devices (mobile vs. desktop) are customers using most to buy certain products?
How effective are your campaigns with promoting products?
Use this information to help you prioritize the areas that can increase your conversion rate most.
Shopping Behavior
This category of metrics will show you the number of customers that are adding products to their carts compared to the number of people finishing their purchase.
These two metrics are categorized by:
Cart-to-detail rate
Buy-to-detail rate
The average percentage at the top of each column is a good indicator to use as a reference when looking at the numbers for each product. GA will automatically show you a list with the best performers at the top. But if you want to view products with lower than average numbers, you can add a filter by clicking the Advanced button near the top of the metric columns.
For more information on filters, check out this GA tutorial that breaks it down even further.
Sales Performance Report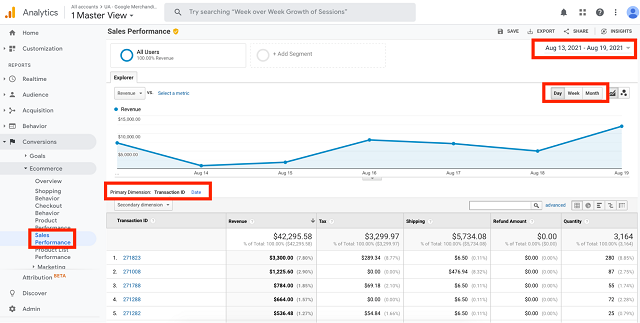 The Sales Performance Report is what you'll use when you want to track your sales over a specific time period. You can customize the date range you want to look into by clicking the dropdown menu in the upper right corner. Below the dropdown menu, you'll have options to view the visual graph based on day, week or month.
This information will help you get a sense of sales based on two dimensions:
Transaction ID: This represents the purchase information from a specific transaction. It's typically linked to your ecommerce shopping platform and works in tandem with your CMS.
Date: Sorting this report by date will automatically show you the dates with the highest sales.
Clicking either the Purchase ID or Date number will show you the revenue and quantity metrics of products sold within that transaction or date.
When you're in the main summary page, you'll view other metrics like:
Revenue
Tax
Shipping
Refund Amount
Quantity
You can use this report to pinpoint high transaction dates or dates with high peaks of sales in certain products (like seasonal items). This will allow you to concentrate your marketing efforts (think coupons and promotions) towards those specific areas.
However, you can also use this report to help you target the lower trending sales by switching up your product offerings or branching out to new markets (going global can help).
Product List Performance Report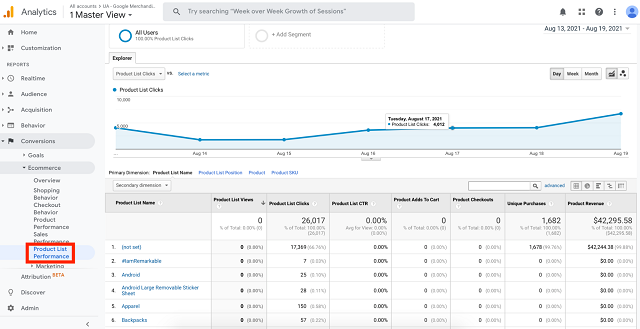 The Product List Performance report helps you view data for specific groups or categories you have listed for products on your ecommerce website. This snapshot allows you to view which products are performing well and which ones could benefit from additional optimization.
Like the Checkout Behaviour report, you can work with your web developer to customize your groupings the way you see fit.
Here are three different ways most ecommerce businesses tend to group their products:
Categories: Brands can separate a wide range of products into categories that are typically found within a navigation menu. For example, a fashion brand might categorize its products by handbags, dresses, and shoes.
Search results: You can create a list that categorizes all the products that show up whenever someone types specific keywords into a query.
Related products: This list can be made to represent add-ons or suggested items under a product details page.
Once you have your lists configured the way you want them, you can then compare your top performers against your low performers using specific filters in the advanced settings.
Why it all matters
Setting up the Enhanced Ecommerce plugin takes a bit of time and money, but it's well worth the investment in the long run.
The reports found within Enhanced Ecommerce will give you a wide scope of information that tracks the entire customer journey.
It's filled with insight on areas of opportunity for your business, along with key areas of success.
Remember, anything that makes the customer experience more convenient and user-friendly will help boost your overall sales and conversion rates.
Do your research, analyze the results, and work with your team to tackle goals that can help grow your ecommerce business successfully.
The post How to use Google Analytics Enhanced Ecommerce features to gain more customers appeared first on GoDaddy Blog.
The Benefits of LinkedIn Ads
LinkedIn wouldn't necessarily be the first platform that comes to mind when considering social media advertising. However, if you are a B2B organisation, the platform can allow you to reach professionals across the globe. LinkedIn allows you to generate brand awareness across targeted professional sectors and reach out to decision makers directly.
Advertising is all about targeting the right people. Users of LinkedIn tend to be older, professional and have a higher income than the average user of other social media platforms. So if that is your target market, LinkedIn offers a great opportunity to reach them. Professionals use LinkedIn for business networking purposes so users are generally in work mode so engaging with them should be easier than on other platforms.
Here we outline the six main advantages that LinkedIn Ads have over other social media platforms.
1. Variety of ad formats
LinkedIn offers a number of options for advertising:
Sponsored content – this type of ad appears in people's feeds, it is the least personal form but good for promoting content from your business page and encouraging people onto it.
Text ads – these are only viewable by people using a desktop. With these you can choose the audience you want to target and you only pay per click.
Message ads – these appear in users' inboxes and are proven to be good for conversion.
Video ads – great for storytelling, you can also retarget users who have watched the video, aiding conversion rates.
Dynamic ads – these allow you to fully personalise your ad by showing user's photo, name and title within the advert.
2. Generate high quality leads
The ability to target professionals and gain good quality leads is the primary benefit of LinkedIn ads. Users are looking at work-related content so will be more open to solutions for their business needs.
With more than 800 million users in over 220 countries and territories, LinkedIn is the biggest social network for professionals and businesses alike. 4 out of 5 LinkedIn members drive business decisions and the platform has been rated the best for lead generation by marketers.
By using LinkedIn advertising, you can access their Lead Accelerator feature. This feature allows businesses to follow their best prospects and offer more targeted ads directly to them. This includes remarketing to website visitors, which helps nurture leads, making them more likely to become customers.
3. Targeting
LinkedIn allows you to target specific demographics, enabling you to create much more personal advertising campaigns. Facebook lets you target interest and behaviour based factors however LinkedIn is the right medium to use if you want to target individuals based on their industry and job. You can filter your audience by:
Age
Location
Company name
Company size
Degree subject
Job title
Seniority
Industry
Member skills
These variables make the platform the ideal choice for B2B organisations wanting to target decision-makers.
4. Remarketing
LinkedIn allows you to specifically target people who have shown an interest in your products. Matched audiences show you which users have visited your website and the pages that they went on. This allows you to target them with specific ads in the hope that they will return to your website and convert to a customer.
Matched audiences can be created with:
Account Targeting – Uploading a CSV of company names to LinkedIn allows you to target decision-makers.
Website Retargeting – Target the users who have visited your website and re-engage them to aid conversions.
Contact Targeting – Uploading a CSV of email addresses of your contacts to LinkedIn enables you to nurture your leads and prospects even further.
5. Increased conversion rates
The ability to target specific groups, nurture them and remarket to them will increase your conversion rates.
A year-long study by HubSpot found that on average, LinkedIn ads convert users to leads at a 6.1 per cent conversion rate. This compares to 2.58 per cent for Google search ads.
MD of exhibition stand contractor Black Robin Exhibits, Alan Jenkins, managed to achieve a conversion rate of 8.2% with a LinkedIn campaign earlier this year, he said "We were delighted with the results, it wasn't a huge investment, we could set the budget and the conversion rate was fantastic".
6. High control
A big benefit of LinkedIn advertising is the high degree of control that you can have. You can set a specific start time for your advert and specify when it will end. As well as this, you can set daily budgets to ensure your advertising costs are kept at the right level for your business.
Conclusion
Setting up a LinkedIn campaign is not straight-forward due to the variety of advert types and different ways of targeting. But the platform has a number of advantages over other social media sites if your target market is professional businesspeople.
B2B organisations will be able to target specific demographics with personal ads, nurture and remarket to them. All this will increase conversion rates, making LinkedIn a valuable marketing tool.
Beginners' guide to Instagram Reels
Get up to 30%* off! Get going with GoDaddy!
If you haven't already heard the news, according to Instagram, they're no longer a photo-sharing app. Shocking, right? The company announced they want to start focusing more on video content, like that offered through Instagram Reels, as opposed to being the original square photo-sharing app they're known for being.
"At Instagram, we're always trying to build new features that help you get the most out of your experience. Right now we're focused on four key areas: Creators, Video, Shopping and Messaging." — Adam Mosseri, Instagram CEO
This makes total sense because short, engaging videos (shown to us by hyper-accurate algorithms) have proven to keep our attention more effectively than ever before. So effectively that 93% of marketers who use video say it's an important part of their marketing strategy. Additionally, users are twice as likely to share video content with their friends and family than any other type of content, including social media posts, blog posts/articles and product pages.
So if you've been hesitant to start making Instagram Reels or just needed a little encouragement, we'll cover the basics, give you some ideas on what content to create for your business or brand, and help you understand the data behind it all.
But, before we do, let's talk about why Instagram Reels needs to be included in your marketing strategy.
What are Reels and why should you start using them?
Instagram Reels rolled out in late 2020 and the feature has continued to increase in popularity. Reels provide creators with a way to produce and share short, engaging videos using a collection of mainstream music and user-generated audio.
With more advanced editing tools, such as speed controls, filters and transitions, you can effortlessly edit multi-clip Reels up to 30 seconds long, entirely within the Instagram app, which is amazing if you don't want to use multiple apps and extra equipment to film, edit and post to social media.
Reels are definitely a useful feature of the platform as a whole that is worth exploring. When it comes to metrics, Reels receive 22% more engagement than videos posted directly to a feed. In addition to IGTV, Live and Stories, Instagram Reels are another great tool for you to use to get noticed on the platform and reach potential customers.
Nearly two-thirds of Instagram users are between 18 and 29, with 18- to 34-year-olds the most active age group. That means there's a ton of opportunity for businesses to be discovered by your target audience on this platform. So, if your Instagram strategy needs a boost to stay top-of-mind and ahead of the competition, Reels could be your solution.
Related: How to plan an Instagram marketing strategy to attract business
Instagram Reels small business content ideas
If your business is active on Instagram but hasn't posted a Reel just yet, don't worry, it's not too late to start. Accounts that don't follow you can find your content while scrolling on the Explore page, which is why it's so important for brands to be active where their target audience is.
Don't let lack of inspiration hold you back, here are some simple and effective video ideas:
Educational content‍
The best way to increase your reach and engagement is to give your viewers value. If you can create something that is helpful, users are more likely to like it, share it with their friends and follow you for more. That ultimately, tells the algorithm your content is worth being promoted to others on the app.
For example, you can create shareable workout, cooking or crafting videos just by showing your step-by-step process.
Showcase your products‍ or services
Highlight what makes your business unique with Reels dedicated to each product or service you offer. This could be a tutorial on how to best use your products or a way to update customers on new offerings.
Create original content‍
Easier said than done, but I know that behind-the-scenes content, user-generated content and FAQs are always a big hit with loyal audiences.
You also have a few different ways to get trending and possibly even viral. You can use trending hashtags, popular audio clips or filters and get discovered among other videos with those elements.
Re-creating a popular trend while highlighting your brand is one of the quickest (but not the easiest) ways for business growth with Instagram Reels.
How to optimize your Instagram Reels
Like with any social media platform, there are always hidden steps you can take to increase the likelihood your content gets seen and please the almighty algorithm.
For example, many users who create content for TikTok have started uploading those same videos as Reels. Seems like a logical time saver, right? Well, Instagram has not only clearly advised against re-posting content that's "visibly recycled from other apps," it has also updated its algorithm to recognize and prevent it from performing well on their platform.
That being said, here are some tips on how to optimize your Reels for the best results:
Try to record (vertically), edit and add effects to your reels from within the app, rather than uploading a video you've created elsewhere.
It's also important to use text overlays, hashtags, audio, and descriptive captions to let Instagram add you to an algorithm relevant to the content.
@ other accounts, when appropriate. Just like hashtags, you'll get more reach by including their name in your content.
Use custom thumbnails. Doing so will make it easier for users to find videos they want to watch when scrolling on your account. It's also a great way to incorporate your branding and help your feed look cohesive.
Sharing your Reels to your Stories and even on your feed will get more people to see it. You can share it when you post it or, if you have posted enough that day, share on a day when you don't have anything else to post.
Algorithms are constantly changing, and not always for the better. Doing just a little bit of research to stay on top of current trends and best practices will pay off in the long run.
Related: 3 ways to use Instagram Stories for digital storytelling
Understanding Instagram Reels Insights
Finally, you'll need a way of knowing if your hard work is paying off.
Instagram has included a dedicated tab, which is similar to the Insights tab on your static posts and videos, that details the metrics relating to your Reels. With the Instagram Reels Insights, business owners can see important metrics like accounts reached, plays, likes, comments, saves and shares.
By knowing what type of accounts you're reaching with your Reels and which content formats are most engaging with your audience, you'll be able to adjust your content to better serve your target audience and grow your account.
Measuring these stats is the best way to make sure all the efforts you're putting in to engage your fans is actually working.
Once you have a good idea of where your metrics are on average, try experimenting with the time of day, type of content and hashtags you use when posting your Reels. Start thinking of ways to get in front of new users with videos like tutorials, bloopers or more user-generated content. You could even share customer testimonials or success stories for added social proof.
Final thoughts on Instagram Reels
I know I personally struggled with the idea of including yet another item on my content creation checklist, but I've found that even just repurposing a few old clips from videos on my YouTube channel into Reels has proved effective in increasing my engagement and reach on Instagram.
Exploring a new feature of social media can be intimidating and overwhelming at times, but Reels seems to be a fun new way to expand your social media presence through the use of short videos. I recommend testing it out and seeing how well it works for you and your audience. You might find it to be your new favorite tool in your social media strategy.
5 Strategies to Drive Customer Engagement
Engaging with your customers is the key to driving sales and growing your company. However, some businesses are not sure how to do this effectively. It means that when they finally manage to engage with their customers, they are not entirely sure what worked. Knowing how to drive customer engagement is all about knowing your customers.
Here are 5 strategies that you can use to drive customer engagement.
Communication is the Key
Communication between your company and your customers is fundamental to engagement. If your customers are trying to talk to you about your products or services, then you should listen to them. Avoiding contact will simply drive them to another company.
Here are some tips you should follow.
1. Listen to Your Customers and Never Assume
If you have a customer that approaches you on social media or any other channel, it is vital that you engage them in a conversation. Their initial message might not be the complete story, so you need to work with them to find the right answer.
Once you have found out what the customer wants, go through your products with them and pinpoint what works for them. Your sales team must never assume that they know what their customers want, or they might find the customer goes elsewhere.
2. Seek Help with Engagement
Sometimes no matter what you try, you are unable to engage with your customers or retain them. It may be that there are strategies that you haven't considered or lack the knowledge to implement.
This is where companies such as TCC Global can help. By helping you and your marketing team to engage with your customers and create brand loyalty, you can start to grow your business.
3. Respond Quickly to Questions
There is nothing more frustrating for customers than asking a question on social media and not getting a reply. Even a delay of a few hours can be enough to cause someone to look elsewhere.
If your business has a presence on social media, then it is vital that it is monitored at least during business hours.
4. Chat to Your Customers
There is a temptation to use your means of communication to just sell products. While this is an important part, there should also be more customer engagement through conversation.
If you find something interesting, tell your customers on social media. Reply to them if they answer you and keep the conversation going.
5. Blog About the Popular Questions
If you are seeing a trend in questions your customers are asking, then it may be a good idea to write a blog post about it.
Blog posts will drive visitors and potential customers to your website and from there they may go to your products. Answering these popular questions will also save time for your customers and build loyalty.
Conclusion
So, there you have it – 5 strategies to drive customer engagement. These are just a few of the ways your company can build a relationship with its customers and build a loyal following.
It is important to remember to stay engaged with your customers even after they make a purchase.