How to write product descriptions to increase sales
Get up to 30%* off! Get going with GoDaddy!
This post was originally published on June 24, 2019, and was updated on June 7, 2021.
When it comes to setting up and managing an eCommerce business, learning how to write product descriptions may seem like a relatively simple task. On the flip side, if you sell multiple products, it can feel monotonous and repetitive. However, product descriptions shouldn't be glossed over or written in a hurry. They're a small but mighty tool that can work wonders for customer interest and sales.
An effective product description has the power to convert a browser into a customer.
Research shows that 87% of shoppers say that detailed product content is important to their overall purchase decision. Moreover, eCommerce sales are at an all-time high with consumers spending $861.12 billion online with U.S. retailers in 2020, a 44% increase from the previous year. You can't afford to miss a piece of that pie with lackluster product descriptions.
A successful product description requires the right balance of storytelling, rich content and SEO awareness. Use the following guide (with real-life examples) to learn how to write product descriptions that will boost your sales.
Related: How to create a compelling eCommerce product page
Learn how to write product descriptions that tell a story
As you write product descriptions, try to describe an experience, not just the product itself.
Focus on making the reader envision themselves using (and enjoying) your product.
If appropriate, go as far as describing a time or place.
For example, look at the description for the below Bumble and bumble hair product. There's a tagline under the product name "Sweat fearlessly. Clean Instantly." Immediately, you already understand what this product does. Then the description further explains how you feel post-workout with sweaty hair, and how it can combat that issue. The benefit icons are just the cherry on top! (More on benefits later…)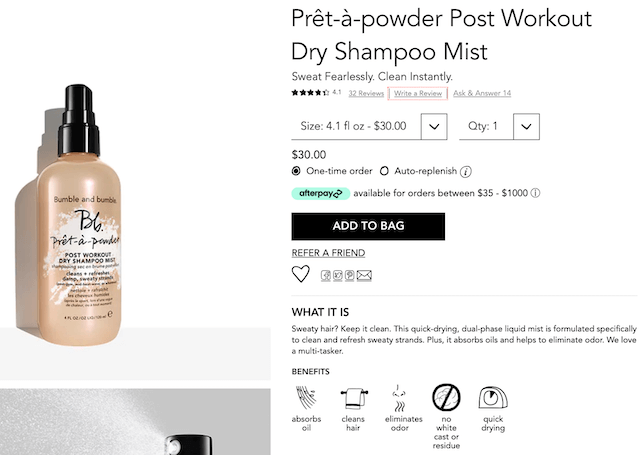 Product descriptions that tell a story are persuasive to potential customers, nudging them towards the "add to cart" button. The story doesn't have to be all flowery language — it can also include informative details. In fact, consumers are 131% more likely to buy from a brand after they consume educational content .
Apple is the masterclass example of marrying storytelling with information within their product descriptions. Cameron Craig, who worked in PR for Apple, told the Harvard Business Review:
"Our mission was to tell the story of how our innovative products give customers the power to unleash their creativity and change the world."
You can see just that in the product description of the latest MacBook Air. The copy immediately educates the reader on how this product will optimize their personal and professional lives. They also break down complex technological specs (like CPUs) and explain what that means for users in practice, i.e., you can complete more tasks and waste less battery.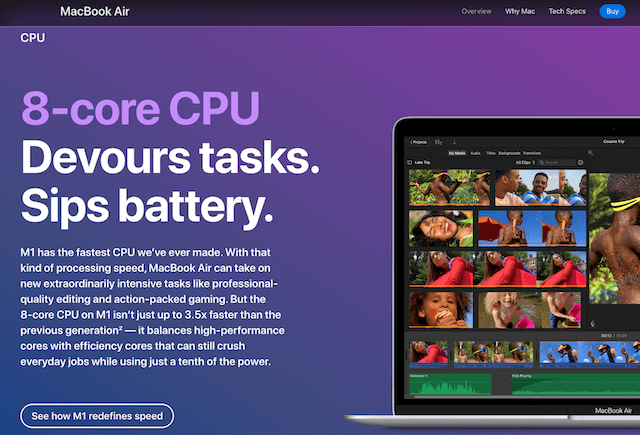 Write product descriptions that highlight your unique value proposition
What makes your product different from the rest? Your unique value proposition (UVP) is your product's differentiator, it's what makes it noteworthy, and also worth buying. You should include your UVP near the beginning of your product description to quickly convince customers.
If you aren't sure what that might be, do a little competitor research to see what other brands say about similar products and figure out why yours is different.
For example, refer to GoPro's description of their latest Hero9 camera. They highlight that the device takes 5K video and has 7x more resolution than typical HD content.
Not only do they speak about their best selling points but they also explain why this version is better than the previous iterations. The copy describes the benefits of Hypersmooth 3.0, the latest update to their stabilization technology.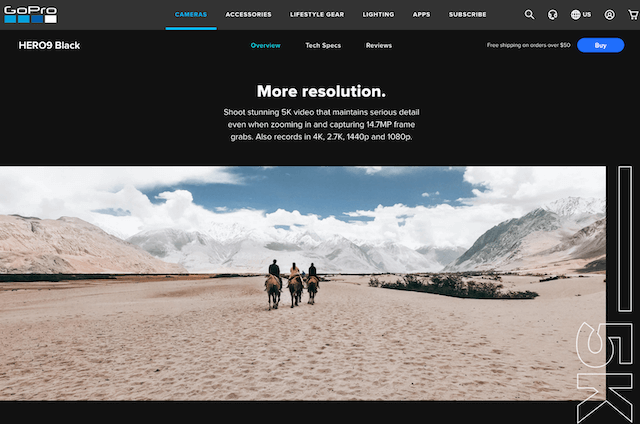 Related: How to write and use a unique selling proposition
Master product descriptions that consider your target customer
As you explore how to write product descriptions, think not only about your target customer, but also how they will use the product.
Focus on the benefits for the customer, not just the features of the product.
While features are important and have their place (more on that later), benefits create compelling copy that convinces the customer why they need the product.
When thinking about the product and customer, ask yourself:
How will it make their life easier?
What problem will it solve?
What advantages will it provide?
Those are the types of benefits you should highlight first and foremost in your product description.
Read the first two paragraphs in Goop's description for a skincare product. It immediately dives into what the product will do for the customer's skin, describing, in detail, all the results users can expect.
Use product descriptions that match your tone to your buyer persona
When you write a product description, you also want to consider your target customer so that you can speak directly to their buyer persona.
One way to accomplish this is by matching the tone of the product description to your ideal customer.
For instance, if your audience is millennial consumers and you're selling a lifestyle product, you can inject humor and frivolity to catch their attention.
On the other hand, if you sell professional-level tech products targeted toward business buyers, you'll want to keep the tone more serious and detailed.
The perfect example of tone is Dollar Shave Club, a brand that made a name for itself with irreverent humor. Notice how their product description reflects its overall brand voice (and matches the tone of their audience) with tongue-in-cheek jokes.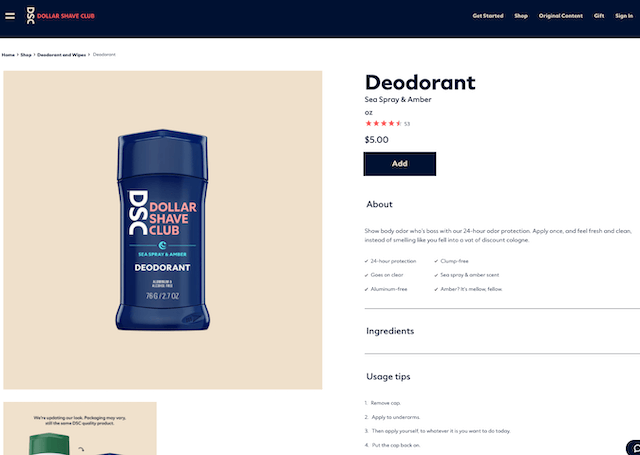 Make your product descriptions concise and scannable
The above-the-fold section of your product page should contain the best copy. Remember that every word matters. Potential customers can scroll or click for more information if they'd like. That means your initial product description should be concise and to the point.
Whether you offer an expandable description or tabs below the fold with more features and details, the idea is to make the first product description scannable to hook the customer.
Scannability is also crucial for mobile customers so that they can see product descriptions easily on their phones.
Make sure to keep mobile-friendliness in mind as 79% of smartphone users made a purchase on their mobile device in the past six months.
Many brands use bullet points to help with scannability in their product descriptions. Notice how Home Depot includes bullet points in both its initial product description, as well as the expanded product overview.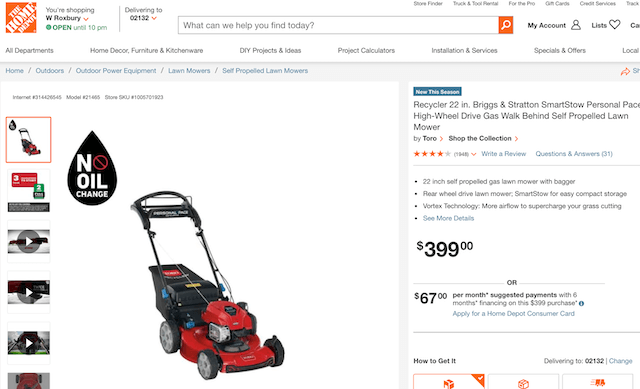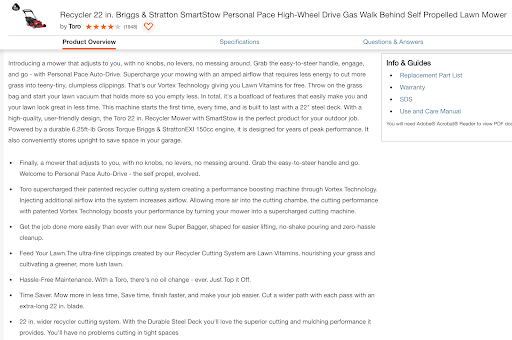 Include multiple high-quality images with product descriptions
Holding a product is vital to certain consumers. Even with the eCommerce boom from the pandemic, a recent survey found that 46% of people still prefer to shop in stores. And 33% say it's because they want to see, touch, feel and try out items.
You don't necessarily need to hire a professional photographer to take product pictures (although if you have the budget, it can be worth it). High-res camera phones with portrait mode make it increasingly easier for eCommerce business owners to DIY product images.
When possible include images of the product in use, like someone wearing a piece of clothing, a customer using a tool — or even a screenshot of a digital product. These types of images help contextualize the product in action, which makes it seem more real and tangible.
Note how Thrive Market overcomes the issue of selling spices (becasue it's essentially just a ground-up powder, it's tough to really spotlight in an exciting way). But they still use pictures to their advantage, showing the packaging, so customers know what to expect. They also incorporate an image of a meal that uses the spice, helping to put the product into context.
Related: How to take product photos that will help sell your goods
Incorporate customer testimonials with product descriptions
User-generated content (UGC) is a powerful tool in driving sales for your eCommerce business.
Customer testimonials and reviews are the best types of UGC to include in product descriptions.
Reviews help to provide social proof that other satisfied customers purchased and used your product, which goes a long way to encourage potential buyers.
Recent research confirms that UGC influences the consumer purchase decision process.
Depending on the layout and format of your eCommerce site, you can include a link to the product review page, or have native reviews underneath the product description.
Some brands opt to cherry-pick positive reviews or testimonials and include it as a quote in their product description.
Related: Generate reviews — 8 ways to get more product reviews

Make product descriptions searchable with SEO
If you want more customers to find your product with organic search (via search engines such as Google or Bing), write product descriptions with SEO in mind.
Each individual product page on an eCommerce site is another opportunity to include high-quality content that's indexed by search engines.
When product descriptions are optimized for search engines, those indexed pages will ideally rank for your target keywords. In other words, a potential customer types in a query related to your product/brand, and your site appears as a top result in the Search Engine Results Page (SERP).
If you haven't already, do some basic keyword research, so you know what terms and phrases to include in your product description. Keywords are terms that directly relate to your product that a potential customer might type into a search engine when looking to find it.
Make a list of keywords and naturally include them in product descriptions, details and anywhere on your product page.
Don't forget about long-tail keywords— these represent longer phrase/question searches rather than specific two- to five-word keywords. To give you an idea, instead of the keyword "cleaning supplies," a long-tail keyword would be "affordable organic cleaning spray solution."
Google tells us more and more consumers use conversational search queries. Searches with "do I need" grew in popularity by 65% — these are searches like: "what size generator do I need?"
Their advice on using this to your advantage? "Lock down keywords and phrases typically associated with [your] businesses and then consider natural language search phrases that customers might be using to find them."
Make product descriptions that include useful and technical details
After you craft and hone your initial product description, include technical and specific product details. As you've seen in the examples above, the product details section typically comes below the fold and under the initial product description.
However, that doesn't mean it's not as important.
Consumers have specific needs and concerns when it comes to purchasing a product, and details can be a make or break when it comes to conversion. Just think: what if someone has a skin allergy and can't find the materials for a clothing item?
Your goal with product details should be to answer any question before a customer asks it, and provide useful information to help them on their buying journey.
A good example is Macy's — they include the height and clothing size of the models in their product pictures. These details give the buyer additional insight into how items fit on an actual person, for example where a dress hem might fall.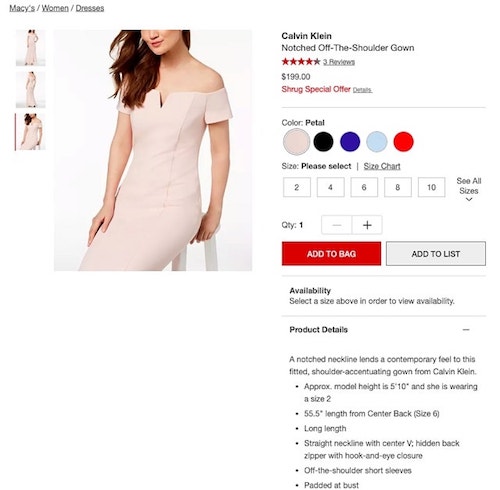 A/B test your product descriptions
Once you nail down how to write product descriptions, don't stop there. A/B test descriptions against one another to try out different tactics and find the best options. You can formally A/B test with marketing tools such as Google Optimize, Optimizely or Visual Website Optimizer.
Alternatively, you can do informal A/B testing by using different versions or formats for descriptions on similar products to see which sells better over a certain period of time.
Every eCommerce business is different, and there's no-one-size-fits-all formula when it comes to product descriptions.
Testing your product pages will allow you to improve your descriptions to increase traffic and sales.
Make sure to check in with all product pages, if one seems to be selling better than the rest, try to repurpose that description on the low-selling products. Remember that data and metrics will help you refine your process.
Editor's note: With dedicated product pages, GoDaddy Online Store makes it easy to update your product descriptions.
Learn how to write product descriptions to drive more sales
Product descriptions have the power to increase sales for your eCommerce business dramatically, yet large and small companies alike can struggle with them. Whether you have 10 or 10,000 products, it can be challenging to write unique, customer-attracting descriptions. But trust us, when you put in the effort, using the above tips, you'll see the ROI!
The main takeaway? Don't get disheartened when setting up your eCommerce store. Follow this guide, and with a little creativity, strategy, and persistence, your product descriptions will increase conversions for your online store.
This article includes content originally published on the GoDaddy blog by Erik Deckers.
The post How to write product descriptions to increase sales appeared first on GoDaddy Blog.
3 Ways Marketers Can Earn — and Keep — Customer Trust
A 2021 survey of 1,000 consumers concluded that more than 80% consider trust a deciding factor in their buying decisions, despite the fact that only 34% trust the brands they use. As trust in institutions diminishes, consumers are increasingly skeptical of where they put their money and receive their information. The author recommends three marketing strategies for brands to maintain and foster trust in their brands: 1) Do not overspin, 2) Avoid half-truths, and 3) Read the room and adjust.
It is no big secret that our world has a trust problem. Amid a global pandemic, economic crisis, and political instability set against a backdrop of deep cultural malaise, people no longer know where (or whom) to turn to for dependable information amid widespread disinformation and propaganda.
Similarly, government leaders, briefly seen as the most trusted institutions at the beginning of the pandemic per the 2021 Edelman Trust Barometer, squandered that goodwill when they could not halt the virus or restore economic stability. And per the 2021 Edelman Trust Barometer, trust in U.S. CEOs is at 47%, and credibility has basically hit rock bottom in Japan (18%) and France (22%) as consumers wake up to the indignities and absurdities of unfettered capitalism.
Yes, trust is in short supply, yet it remains a vital currency in sustainable customer relationships. A 2021 survey of 1,000 consumers concluded that more than 80% consider trust a deciding factor in their buying decisions, despite the fact that only 34% trust the brands they use. Consumers, of course, are not a monolith. And as it so happens, age is a key differentiator in understanding the intricacies of the public's confidence in and perception of the news media, in particular.
Per a Gallup/Knight Foundation survey, older Americans tend to rely on maybe one or two sources for all their information, and they prioritize brand reputation and political slant when evaluating an outlet's credibility. Conversely, younger adults (18- to 34-year-olds) are more likely to gather information from numerous sources and place more of a premium on how open that outlet is with its facts, research, and processes.
Younger consumers also view national news outlets with more skepticism, with just 29% saying they trust them compared to 41% of adults over 55. A credible media landscape is always critical, but with the line between marketing and media blurring each day, news organizations' morale fiber can sometimes be linked to that of a brand.
To summarize, ​​older adults are more brand-conscious, while younger adults are more process-conscious. As marketing experts, we can apply these findings to our brand messaging to develop credibility with our intended audiences as they age and evolve. Here is how.
1. Do not overspin.
Though Edelman found that trust in CEOs hit an all-time low in 2021, the same study revealed that businesses are still considered more trustworthy than governments, NGOs, and the news media. With such power comes great responsibility. CEOs and other business leaders must address today's most pressing challenges and focus on societal engagement with great fervor. According to the 2021 Edelman Trust Barometer, 53% of respondents believe that business leaders have a duty to fill the information void left by the news media.
This is not the time for corporate platitudes. People are smarter than you think. If you attempt to fool them, they will find out — and the hit to your credibility will outweigh any short-term gains that you made.
Think back to summer 2020, when PR teams across industries jumped to distribute public denouncements of systemic racism. People were quick to call out the performative allyship of companies such as Glossier, whose public anti-racism pledge was at odds with former employees' recounts of on-the-job discrimination and toxicity. So make sure you back up any announcements with actual steps. For example, Ben & Jerry's is not one for empty promises, and its statement on racial injustice held a lot more weight because company leaders have a track record of on-the-ground activism.
Keeping your message free of excessive spin goes a long way with the public and protects you from potential PR gaffes down the line.
2. Avoid half-truths.
Pfizer has been in the news a lot this past year — mostly for good reasons. CEO Albert Bourla and his team cleared myriad hurdles to develop an innovative, effective Covid-19 vaccine in record time. But back in 2006, Pfizer was in the news for less-than-glowing reasons after launching a $258 million ad campaign for a cholesterol drug with Robert Jarvik, inventor of the first permanent artificial heart, as the face of it.
The tagline — "Just because I'm a doctor doesn't mean I don't worry about my cholesterol" — was catchy, but there was one problem: Jarvik was not licensed to practice medicine and, in fact, had never practiced medicine. The ads drew swift criticism that resulted in a congressional investigation and millions in monetary losses for Pfizer.
In the court of public opinion, omission is akin to lying. If a claim requires omission, then do not use it; and if you do make a mistake, own up to it. In fact, you may find consumers more forgiving if you show any semblance of contrition. Being vulnerable about where you have fallen short in the past suggests honesty, which sits at the foundation of consumer trust, brand affinity, and long-term engagement.
3. Read the room and adjust.
When was the last time you checked the pulse of your customer base? You should be continually evaluating the effectiveness of your marketing efforts by asking yourself these key questions:
What is our customer sentiment? Negative? Positive?
What are our favorability ratings? Are they rising? Dropping?
Is our audience engaging with our content?
And did we follow through on our promises?
By regularly checking whether consumers are picking up what you are putting down, you will find that you can more easily meet and even exceed their ever-evolving preferences. For example, Bryanna Evans, the social media manager at home fragrance brand SECC, told Buffer that her team's social media-powered strategy focuses on in-feed customer engagement. Not only does the social team respond whenever someone leaves a comment, but it also nurtures consumer interest by regularly posting quizzes, contests, and giveaways. As a result, SECC has built an army of loyalists and grown its monthly revenue from $20,000-$30,000 to more than $100,000.
The fight for consumer trust is ongoing — and it will not be going away anytime soon. But savvy marketers can use authentic brand messaging to engender stronger customer relationships that stand the test of time. Implement these three steps to begin building a reputation as a reliable information source that people depend on.
How to Improve Email Deliverability
If you're running a business, you need an email list. And you need to send great emails, obviously. But if those great emails aren't making it to people's inboxes, then what's the point?
If you've been putting a lot of hard work into your email marketing but not seeing the results you want, then maybe your email deliverability could use some help. I'm going to share the four key factors that will help make sure more of your emails stay out of spam and land in the inbox.
And if you don't have an email list yet, this will set you up for success right from the start!
The Four Pillars of Email Deliverability
When it comes to email, it's all about deliverability. You can have the fanciest automations, the best copy, the best upsells, downsells, follow-ups… But if nobody's getting those emails in their inbox, then it's all for nothing.
This is where you're up against the algorithms of the email giants that control more than 50 percent of the world's inboxes: Google, Microsoft, and Yahoo!. You've got to understand what they're looking for—and play by their rules.
The good news is that it's not that difficult to stay on the good side of the algorithms. Anyone can avoid the spam folder as long as they follow a few key guidelines.
There are four main pillars of email deliverability, and they form the acronym RACE:
Reputation
Authentication
Content
Engagement
Pat and email deliverability expert Adrian Savage covered these four pillars in depth in SPI episode 498:
Reputation
In business, as in everything, reputation matters. If you've got a lousy reputation, no one's going to want to listen to you.
When it comes to email marketing, you need to focus on what's known as your sending reputation.
You see, the big mailbox providers are monitoring the emails you're sending, and most importantly, how people are reacting to them.
The more they see people marking your emails as spam or ignoring or deleting them, the more they're going to mark down your sending reputation. And they're more likely to send your emails right to the spam folder.
That's the simple version, but it means that everything you do with your email marketing has to be focused on preserving and improving your sending reputation.
How to Improve Your Sending Reputation
So what can you do to improve and maintain your reputation with the big email services?
First, use common sense. If you feel like you're gaming the system, you probably are—and you're eventually going to get found out.
A (not so) great example is downloading lists of email addresses from the internet.
The only legitimate way to get ahead now with your email list is to send emails only to people who have specifically asked you to contact them.
If you buy a list and start emailing people who haven't given you permission, you're much more likely to get spam complaints, which will hurt your sending reputation.
And what's the only definition of spam that matters in the eyes of the mailbox providers? Whatever the recipient thinks it is.
There are also businesses out there, like Spamhaus and Cloudmark, that operate email addresses called spam traps. If you send an email to a spam trap address, then you may be added to blocklists that tell the world you're a low-reputation sender.
If you do decide to buy a list of addresses for some reason, make sure you really trust the person providing the data—it's much better to control it yourself.
Next, you'll want to clean your email list regularly. That way, you'll avoid hitting what's called a recycled spam trap.
Here's how that works.
Suppose 10 years ago you had a Hotmail address that you'd stopped using, and Microsoft canceled your account. For the next few months, if anyone tried to email you, they'd receive an error saying the mailbox didn't exist. But a few months later, Microsoft might reopen that address and repurpose it to catch senders who weren't looking after the hygiene of their email list.
Send enough emails to spam trap addresses, and you'll end up on a blocklist.
So, only send emails to people who have said they want to hear from you, and keep your email list clean so you don't get caught in recycled spam traps.
Authentication
Authentication is the second crucial piece of improving your email deliverability.
It's all about telling the world that you're sending legitimate emails.
You've probably received spam from someone spoofing an email address that isn't theirs. It's relatively easy to spoof an address you don't own—what's not so easy is to authenticate one.
Authentication is what sets you apart from the spammers, and there are two steps you need to take to authenticate your email address.
The good thing is, this is usually a one-time thing you do when you're setting up your email platform.
The two authentication steps involve a couple of acronyms.
Domain Keys Identified Mail (DKIM)
The first one is domain keys identified mail, or DKIM. This is how you get your email platform to digitally sign every email that you send.
You'll need to look at your platform to determine how exactly to configure DKIM, because they all do it slightly differently. If you're stuck, then find someone who can help you, because it is probably the most important single thing that will make the difference between hitting the spam folder and hitting the inbox.
Here's guidance on setting up DKIM with some of the most popular email service providers (ESPs):
Sender Policy Framework (SPF)
The second side of authentication is something called sender policy framework, or SPF.
SPF helps identify which mail servers are allowed to send email on behalf of your domain. This communicates which platforms you trust to send emails on your behalf, which can reduce the incidence of email spoofing—people pretending to send mail as you. Like DKIM, it's a one-time thing, but crucial.
Doing those two things—setting up your SPF and DKIM settings—is going to make a huge difference in deliverability. And don't be afraid to seek help if you need it.
Here's guidance on setting up SPF with the popular ESPs:
Content
In the recent past, it was relatively easy to avoid the spam folder by being careful about the content in your emails: don't use swear words, don't mention Viagra, and don't mention "free."
Today's spam filters are much more sophisticated, and the big email providers use a ton of artificial intelligence to figure out what's junk and what's legit.
In 2005, you might have gotten away with writing "free" as "fr.e–e" in an email, but today that's a one-way ticket to the spam folder.
Making it to the inbox in 2022 is a lot more about being authentic with your email content. Here, another acronym comes in handy: WILF, which stands for:
Words
Images
Links
Frequency
Words
Words are important, obviously. And when it comes to email deliverability, it means writing emails the way you'd have a conversation with someone.
Write like yourself. The more your emails sound like they've been coming from you, the more authentic it sounds, the more likely those big sophisticated algorithms are going to recognize it as authentic.
In most cases, shorter is also better. Don't cut it down at the expense of not getting your message across, but don't waffle unnecessarily. Because, let's face it, people's attention spans are getting shorter.
At the same time, don't stress too much about content either. There are no hard and fast rules here, and you don't want to follow a rule at the risk of ruining your message.
You can always send a few test emails and see what happens. Just remember, however, that email has evolved, and no two people have exactly the same email experience anymore. The same email might end up in Spongebob's inbox and Squidward's spam folder.
But you can still learn some things by looking at the big picture of what you're sending over time. If you notice that emails written a certain way are getting delivered more often than others, use that as a data point to guide how to craft your email content going forward.
Images and Links
Here's where things get even more interesting. To include images or not include images in your emails? And what about links? One? None? Many?
First, remember that there are exceptions to every rule. But in general—and testing bears this out—the more images you've got in an email, the more likely it's headed to the junk folder. And the same goes for the number of links.
One of the quickest ways for an email to be viewed as a promotion by Google is if it has a graphical banner at the top, because that makes it look like a promo. So just cut to the chase with your message.
If you need images in the middle of the email to reinforce or illustrate things, that's a different story. But only include them if they're going to actually add value, not just for the sake of it. If you can manage three or fewer images in total, perfect.
It's the same with links: the more you use, the more your email looks like a promotion. One of the biggest mistakes people make is using a bunch of little social media icons in their email signature. Before you know it, you've got five additional images with links in your email, you're in the promotions tab.
When it comes to links, also be careful about linking to websites you don't control. You can't always be certain whether the domain you're linking to has a good domain reputation or not. It's much better to only link to content that you're in control of—like the stuff on your own website.
Frequency
Finally, there's frequency. The more frequently you send emails to the people who want to receive them, the better you're going to do. In the good old days, it was sufficient to send an email newsletter out once a month, but these days, mailbox providers are looking for consistency and engagement (which we'll talk about in a second).
The more frequently you send emails to the people that want to read them, the better it's going to look for your engagement. If you're sending out an email three times a week, then you're a lot more likely to reach more of your audience more quickly than if you're sending one email a month.
That doesn't mean you need to send an email every day—if you can, then great, if you've got enough to talk about—but the more frequently you can share some really cool value, the more people are going to love you, and more importantly, the more the mailbox providers will love you as well.
Engagement
While authentication is something you set up once and pretty much forget, engagement is something you need to pay attention to on an ongoing basis.
By engagement we're talking about, are people reading your emails? Are they opening them? Are they clicking the links? Are they actually reading them properly? Or are they just deleting it without reading?
One of the worst ways to hurt your engagement is when you send something out, it lands in the spam folder, and no one rescues it.
When someone signs up to your email list for the first time, that may be the only chance you've got to keep your emails out of their spam folder. So direct them to a thank-you page that instructs them to check the spam folder for your first email and move it to their inbox if need be. If they don't, they may never see another email from you in their inbox again.
That's the most important thing.
The other is maximizing the number of people engaging by improving your open rates. Here's where it's important to clean your email list regularly, so you're only sending email to the people who are likely to read it.
It can be scary to clean your email list regularly—because it means deleting people from your list—but it's absolutely a great thing to do for your email engagement, and for the health of your email list.
Why? It will show Google and Microsoft and Yahoo! that what you're sending is of greater interest to your subscribers. The higher they see your open rate, the more likely they are to increase your domain reputation. The better your reputation, guess what? The next email you send is more likely to land in the inbox. It's a virtuous cycle.
More Email Marketing Resources
If you're just getting started building your email list, the best time to start thinking about and implementing these email deliverability best practices is now.
And if you've had a list for a while and things have gotten stagnant, the best time to start is… also now.
If you need more support with your email marketing, you're in the right place! Here are a few more resources to help you build an audience and create more revenue with a robust email marketing practice:
Branding Mistakes That Can Cripple Small Businesses
Small businesses operate in a highly competitive market, and branding can be vital in standing out. The branding process should be done thoughtfully and deliberately.
Small businesses need to invest in their brands keenly to create a winning identity. However, in branding, emerging businesses need to avoid common mistakes like lack of brand strategy and failure to research market competition.
Lack of a Brand Strategy
You need to develop a brand strategy while detailing your business objectives. The strategy should be comprehensive and understand the business landscape while highlighting your competition. You also need to define your brand alongside your type of customers.
Note that an ideal brand strategy is developed as a creative partnership involving the client, the strategist, and the designer. In some cases, you can leverage services of third parties like Agency Boon to get ideas on different strategies.
A comprehensive strategy will assist you in working out what products and services you should focus on. From this position, you can make the right decisions to enter and grow in the market. With a strategy, every team member is aware of their role in advancing your business goals. Even when you are alone, the strategy will guide you on how to win over customers.
Not Researching Your Competition
A new small business should understand its competition since it acts as a guide to attracting customers. Researching the competition enables you to understand what other established companies in your niche have done. Understanding competition allows you to determine where other businesses have failed and how you can avoid their mistakes in your new venture. While reviewing your competition, look at products, services, target audiences, websites and social media platforms.
Note that failure to consider these factors will likely result in you being unable to understand the competition better alongside running the risk of replicating their strategy, which might fail.
Not Understanding the Target Audience
Before you start selling your products into the market, you need to understand who your right audience is and how you plan to satisfy their needs. Generally, understand their demands and expectations. Once you do identify your target audience, designing the brand message becomes easier. Additionally, having knowledge of your audience is an indicator that your customers feel valued and likely to engage with your business.
Inconsistency
Inconsistency in any business sends a message that you don't understand what you are offering. Small businesses need to present a consistent identity mainly due to benefits like fostering a sense of trust and comfort for clients. In most cases, starting a business with an inconsistent image can be viewed as unprofessional and untrustworthy.
To meet consistency, consider having a style guide for your business's visual and verbal elements.
Failure to Collect Feedback
Feedback is key to improving your business. If you have feedback channels, your customers will feel at home as they consider your business trustworthy. Additionally, you need to focus on collecting feedback from the proper channels and sources. However, limiting your sources to positive reviews will not give you an accurate picture of the business.
Avoid feedback from friends, family members, employees, and relatives.
Endnote
Managing a brand has its challenges, especially for small businesses. However, following the right branding strategies will likely elevate your business, especially if you have the right strategy in place.