How to write product descriptions to increase sales
Get up to 30%* off! Get going with GoDaddy!
This post was originally published on June 24, 2019, and was updated on June 7, 2021.
When it comes to setting up and managing an eCommerce business, learning how to write product descriptions may seem like a relatively simple task. On the flip side, if you sell multiple products, it can feel monotonous and repetitive. However, product descriptions shouldn't be glossed over or written in a hurry. They're a small but mighty tool that can work wonders for customer interest and sales.
An effective product description has the power to convert a browser into a customer.
Research shows that 87% of shoppers say that detailed product content is important to their overall purchase decision. Moreover, eCommerce sales are at an all-time high with consumers spending $861.12 billion online with U.S. retailers in 2020, a 44% increase from the previous year. You can't afford to miss a piece of that pie with lackluster product descriptions.
A successful product description requires the right balance of storytelling, rich content and SEO awareness. Use the following guide (with real-life examples) to learn how to write product descriptions that will boost your sales.
Related: How to create a compelling eCommerce product page
Learn how to write product descriptions that tell a story
As you write product descriptions, try to describe an experience, not just the product itself.
Focus on making the reader envision themselves using (and enjoying) your product.
If appropriate, go as far as describing a time or place.
For example, look at the description for the below Bumble and bumble hair product. There's a tagline under the product name "Sweat fearlessly. Clean Instantly." Immediately, you already understand what this product does. Then the description further explains how you feel post-workout with sweaty hair, and how it can combat that issue. The benefit icons are just the cherry on top! (More on benefits later…)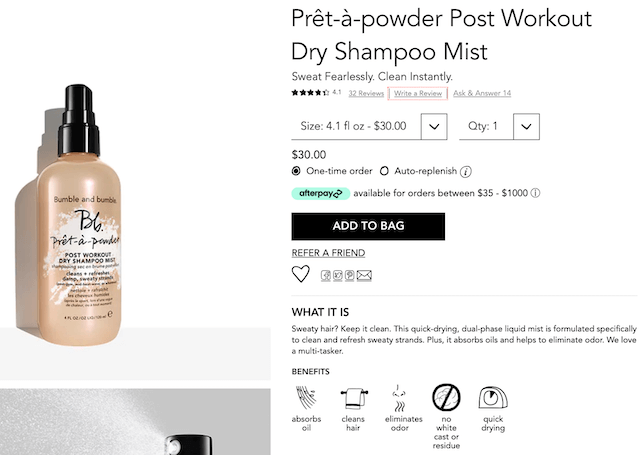 Product descriptions that tell a story are persuasive to potential customers, nudging them towards the "add to cart" button. The story doesn't have to be all flowery language — it can also include informative details. In fact, consumers are 131% more likely to buy from a brand after they consume educational content .
Apple is the masterclass example of marrying storytelling with information within their product descriptions. Cameron Craig, who worked in PR for Apple, told the Harvard Business Review:
"Our mission was to tell the story of how our innovative products give customers the power to unleash their creativity and change the world."
You can see just that in the product description of the latest MacBook Air. The copy immediately educates the reader on how this product will optimize their personal and professional lives. They also break down complex technological specs (like CPUs) and explain what that means for users in practice, i.e., you can complete more tasks and waste less battery.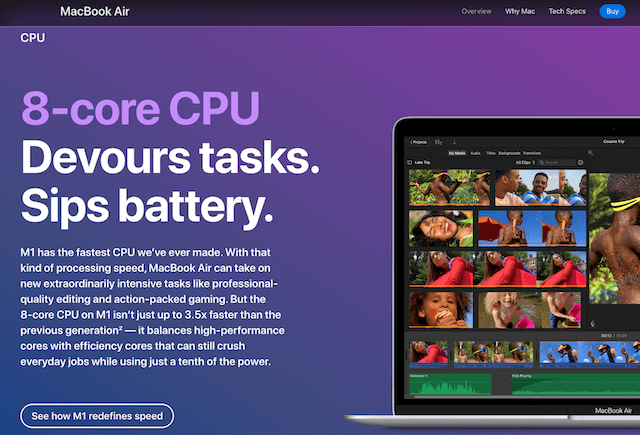 Write product descriptions that highlight your unique value proposition
What makes your product different from the rest? Your unique value proposition (UVP) is your product's differentiator, it's what makes it noteworthy, and also worth buying. You should include your UVP near the beginning of your product description to quickly convince customers.
If you aren't sure what that might be, do a little competitor research to see what other brands say about similar products and figure out why yours is different.
For example, refer to GoPro's description of their latest Hero9 camera. They highlight that the device takes 5K video and has 7x more resolution than typical HD content.
Not only do they speak about their best selling points but they also explain why this version is better than the previous iterations. The copy describes the benefits of Hypersmooth 3.0, the latest update to their stabilization technology.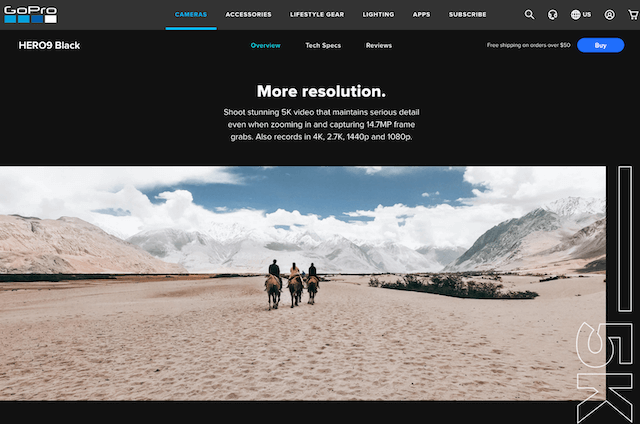 Related: How to write and use a unique selling proposition
Master product descriptions that consider your target customer
As you explore how to write product descriptions, think not only about your target customer, but also how they will use the product.
Focus on the benefits for the customer, not just the features of the product.
While features are important and have their place (more on that later), benefits create compelling copy that convinces the customer why they need the product.
When thinking about the product and customer, ask yourself:
How will it make their life easier?
What problem will it solve?
What advantages will it provide?
Those are the types of benefits you should highlight first and foremost in your product description.
Read the first two paragraphs in Goop's description for a skincare product. It immediately dives into what the product will do for the customer's skin, describing, in detail, all the results users can expect.
Use product descriptions that match your tone to your buyer persona
When you write a product description, you also want to consider your target customer so that you can speak directly to their buyer persona.
One way to accomplish this is by matching the tone of the product description to your ideal customer.
For instance, if your audience is millennial consumers and you're selling a lifestyle product, you can inject humor and frivolity to catch their attention.
On the other hand, if you sell professional-level tech products targeted toward business buyers, you'll want to keep the tone more serious and detailed.
The perfect example of tone is Dollar Shave Club, a brand that made a name for itself with irreverent humor. Notice how their product description reflects its overall brand voice (and matches the tone of their audience) with tongue-in-cheek jokes.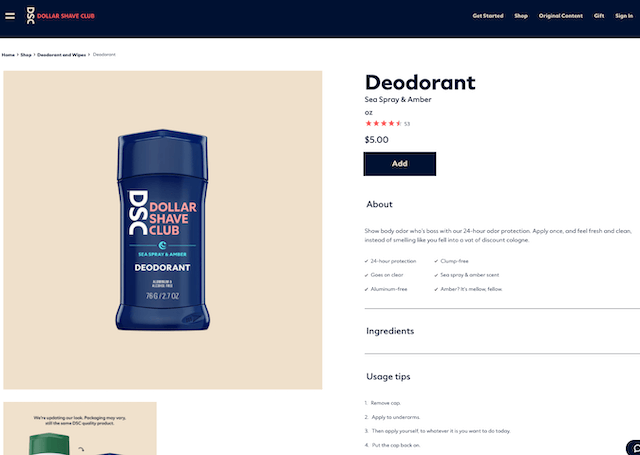 Make your product descriptions concise and scannable
The above-the-fold section of your product page should contain the best copy. Remember that every word matters. Potential customers can scroll or click for more information if they'd like. That means your initial product description should be concise and to the point.
Whether you offer an expandable description or tabs below the fold with more features and details, the idea is to make the first product description scannable to hook the customer.
Scannability is also crucial for mobile customers so that they can see product descriptions easily on their phones.
Make sure to keep mobile-friendliness in mind as 79% of smartphone users made a purchase on their mobile device in the past six months.
Many brands use bullet points to help with scannability in their product descriptions. Notice how Home Depot includes bullet points in both its initial product description, as well as the expanded product overview.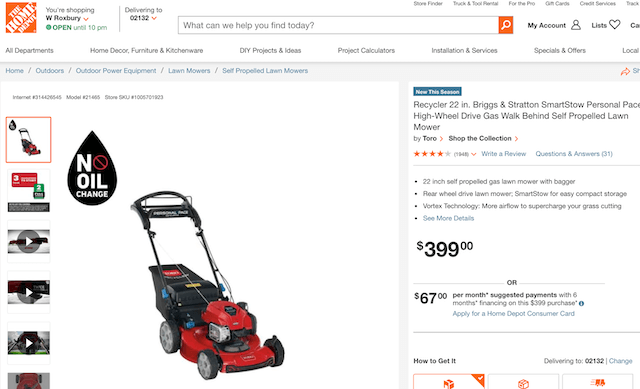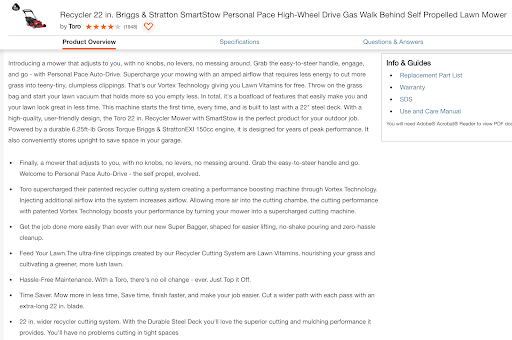 Include multiple high-quality images with product descriptions
Holding a product is vital to certain consumers. Even with the eCommerce boom from the pandemic, a recent survey found that 46% of people still prefer to shop in stores. And 33% say it's because they want to see, touch, feel and try out items.
You don't necessarily need to hire a professional photographer to take product pictures (although if you have the budget, it can be worth it). High-res camera phones with portrait mode make it increasingly easier for eCommerce business owners to DIY product images.
When possible include images of the product in use, like someone wearing a piece of clothing, a customer using a tool — or even a screenshot of a digital product. These types of images help contextualize the product in action, which makes it seem more real and tangible.
Note how Thrive Market overcomes the issue of selling spices (becasue it's essentially just a ground-up powder, it's tough to really spotlight in an exciting way). But they still use pictures to their advantage, showing the packaging, so customers know what to expect. They also incorporate an image of a meal that uses the spice, helping to put the product into context.
Related: How to take product photos that will help sell your goods
Incorporate customer testimonials with product descriptions
User-generated content (UGC) is a powerful tool in driving sales for your eCommerce business.
Customer testimonials and reviews are the best types of UGC to include in product descriptions.
Reviews help to provide social proof that other satisfied customers purchased and used your product, which goes a long way to encourage potential buyers.
Recent research confirms that UGC influences the consumer purchase decision process.
Depending on the layout and format of your eCommerce site, you can include a link to the product review page, or have native reviews underneath the product description.
Some brands opt to cherry-pick positive reviews or testimonials and include it as a quote in their product description.
Related: Generate reviews — 8 ways to get more product reviews

Make product descriptions searchable with SEO
If you want more customers to find your product with organic search (via search engines such as Google or Bing), write product descriptions with SEO in mind.
Each individual product page on an eCommerce site is another opportunity to include high-quality content that's indexed by search engines.
When product descriptions are optimized for search engines, those indexed pages will ideally rank for your target keywords. In other words, a potential customer types in a query related to your product/brand, and your site appears as a top result in the Search Engine Results Page (SERP).
If you haven't already, do some basic keyword research, so you know what terms and phrases to include in your product description. Keywords are terms that directly relate to your product that a potential customer might type into a search engine when looking to find it.
Make a list of keywords and naturally include them in product descriptions, details and anywhere on your product page.
Don't forget about long-tail keywords— these represent longer phrase/question searches rather than specific two- to five-word keywords. To give you an idea, instead of the keyword "cleaning supplies," a long-tail keyword would be "affordable organic cleaning spray solution."
Google tells us more and more consumers use conversational search queries. Searches with "do I need" grew in popularity by 65% — these are searches like: "what size generator do I need?"
Their advice on using this to your advantage? "Lock down keywords and phrases typically associated with [your] businesses and then consider natural language search phrases that customers might be using to find them."
Make product descriptions that include useful and technical details
After you craft and hone your initial product description, include technical and specific product details. As you've seen in the examples above, the product details section typically comes below the fold and under the initial product description.
However, that doesn't mean it's not as important.
Consumers have specific needs and concerns when it comes to purchasing a product, and details can be a make or break when it comes to conversion. Just think: what if someone has a skin allergy and can't find the materials for a clothing item?
Your goal with product details should be to answer any question before a customer asks it, and provide useful information to help them on their buying journey.
A good example is Macy's — they include the height and clothing size of the models in their product pictures. These details give the buyer additional insight into how items fit on an actual person, for example where a dress hem might fall.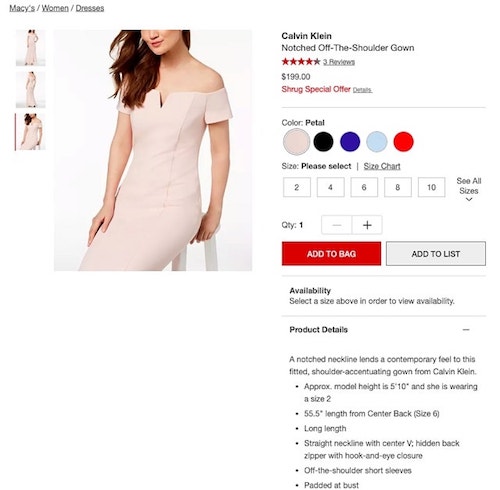 A/B test your product descriptions
Once you nail down how to write product descriptions, don't stop there. A/B test descriptions against one another to try out different tactics and find the best options. You can formally A/B test with marketing tools such as Google Optimize, Optimizely or Visual Website Optimizer.
Alternatively, you can do informal A/B testing by using different versions or formats for descriptions on similar products to see which sells better over a certain period of time.
Every eCommerce business is different, and there's no-one-size-fits-all formula when it comes to product descriptions.
Testing your product pages will allow you to improve your descriptions to increase traffic and sales.
Make sure to check in with all product pages, if one seems to be selling better than the rest, try to repurpose that description on the low-selling products. Remember that data and metrics will help you refine your process.
Editor's note: With dedicated product pages, GoDaddy Online Store makes it easy to update your product descriptions.
Learn how to write product descriptions to drive more sales
Product descriptions have the power to increase sales for your eCommerce business dramatically, yet large and small companies alike can struggle with them. Whether you have 10 or 10,000 products, it can be challenging to write unique, customer-attracting descriptions. But trust us, when you put in the effort, using the above tips, you'll see the ROI!
The main takeaway? Don't get disheartened when setting up your eCommerce store. Follow this guide, and with a little creativity, strategy, and persistence, your product descriptions will increase conversions for your online store.
This article includes content originally published on the GoDaddy blog by Erik Deckers.
The post How to write product descriptions to increase sales appeared first on GoDaddy Blog.
The Benefits of LinkedIn Ads
LinkedIn wouldn't necessarily be the first platform that comes to mind when considering social media advertising. However, if you are a B2B organisation, the platform can allow you to reach professionals across the globe. LinkedIn allows you to generate brand awareness across targeted professional sectors and reach out to decision makers directly.
Advertising is all about targeting the right people. Users of LinkedIn tend to be older, professional and have a higher income than the average user of other social media platforms. So if that is your target market, LinkedIn offers a great opportunity to reach them. Professionals use LinkedIn for business networking purposes so users are generally in work mode so engaging with them should be easier than on other platforms.
Here we outline the six main advantages that LinkedIn Ads have over other social media platforms.
1. Variety of ad formats
LinkedIn offers a number of options for advertising:
Sponsored content – this type of ad appears in people's feeds, it is the least personal form but good for promoting content from your business page and encouraging people onto it.
Text ads – these are only viewable by people using a desktop. With these you can choose the audience you want to target and you only pay per click.
Message ads – these appear in users' inboxes and are proven to be good for conversion.
Video ads – great for storytelling, you can also retarget users who have watched the video, aiding conversion rates.
Dynamic ads – these allow you to fully personalise your ad by showing user's photo, name and title within the advert.
2. Generate high quality leads
The ability to target professionals and gain good quality leads is the primary benefit of LinkedIn ads. Users are looking at work-related content so will be more open to solutions for their business needs.
With more than 800 million users in over 220 countries and territories, LinkedIn is the biggest social network for professionals and businesses alike. 4 out of 5 LinkedIn members drive business decisions and the platform has been rated the best for lead generation by marketers.
By using LinkedIn advertising, you can access their Lead Accelerator feature. This feature allows businesses to follow their best prospects and offer more targeted ads directly to them. This includes remarketing to website visitors, which helps nurture leads, making them more likely to become customers.
3. Targeting
LinkedIn allows you to target specific demographics, enabling you to create much more personal advertising campaigns. Facebook lets you target interest and behaviour based factors however LinkedIn is the right medium to use if you want to target individuals based on their industry and job. You can filter your audience by:
Age
Location
Company name
Company size
Degree subject
Job title
Seniority
Industry
Member skills
These variables make the platform the ideal choice for B2B organisations wanting to target decision-makers.
4. Remarketing
LinkedIn allows you to specifically target people who have shown an interest in your products. Matched audiences show you which users have visited your website and the pages that they went on. This allows you to target them with specific ads in the hope that they will return to your website and convert to a customer.
Matched audiences can be created with:
Account Targeting – Uploading a CSV of company names to LinkedIn allows you to target decision-makers.
Website Retargeting – Target the users who have visited your website and re-engage them to aid conversions.
Contact Targeting – Uploading a CSV of email addresses of your contacts to LinkedIn enables you to nurture your leads and prospects even further.
5. Increased conversion rates
The ability to target specific groups, nurture them and remarket to them will increase your conversion rates.
A year-long study by HubSpot found that on average, LinkedIn ads convert users to leads at a 6.1 per cent conversion rate. This compares to 2.58 per cent for Google search ads.
MD of exhibition stand contractor Black Robin Exhibits, Alan Jenkins, managed to achieve a conversion rate of 8.2% with a LinkedIn campaign earlier this year, he said "We were delighted with the results, it wasn't a huge investment, we could set the budget and the conversion rate was fantastic".
6. High control
A big benefit of LinkedIn advertising is the high degree of control that you can have. You can set a specific start time for your advert and specify when it will end. As well as this, you can set daily budgets to ensure your advertising costs are kept at the right level for your business.
Conclusion
Setting up a LinkedIn campaign is not straight-forward due to the variety of advert types and different ways of targeting. But the platform has a number of advantages over other social media sites if your target market is professional businesspeople.
B2B organisations will be able to target specific demographics with personal ads, nurture and remarket to them. All this will increase conversion rates, making LinkedIn a valuable marketing tool.
Beginners' guide to Instagram Reels
Get up to 30%* off! Get going with GoDaddy!
If you haven't already heard the news, according to Instagram, they're no longer a photo-sharing app. Shocking, right? The company announced they want to start focusing more on video content, like that offered through Instagram Reels, as opposed to being the original square photo-sharing app they're known for being.
"At Instagram, we're always trying to build new features that help you get the most out of your experience. Right now we're focused on four key areas: Creators, Video, Shopping and Messaging." — Adam Mosseri, Instagram CEO
This makes total sense because short, engaging videos (shown to us by hyper-accurate algorithms) have proven to keep our attention more effectively than ever before. So effectively that 93% of marketers who use video say it's an important part of their marketing strategy. Additionally, users are twice as likely to share video content with their friends and family than any other type of content, including social media posts, blog posts/articles and product pages.
So if you've been hesitant to start making Instagram Reels or just needed a little encouragement, we'll cover the basics, give you some ideas on what content to create for your business or brand, and help you understand the data behind it all.
But, before we do, let's talk about why Instagram Reels needs to be included in your marketing strategy.
What are Reels and why should you start using them?
Instagram Reels rolled out in late 2020 and the feature has continued to increase in popularity. Reels provide creators with a way to produce and share short, engaging videos using a collection of mainstream music and user-generated audio.
With more advanced editing tools, such as speed controls, filters and transitions, you can effortlessly edit multi-clip Reels up to 30 seconds long, entirely within the Instagram app, which is amazing if you don't want to use multiple apps and extra equipment to film, edit and post to social media.
Reels are definitely a useful feature of the platform as a whole that is worth exploring. When it comes to metrics, Reels receive 22% more engagement than videos posted directly to a feed. In addition to IGTV, Live and Stories, Instagram Reels are another great tool for you to use to get noticed on the platform and reach potential customers.
Nearly two-thirds of Instagram users are between 18 and 29, with 18- to 34-year-olds the most active age group. That means there's a ton of opportunity for businesses to be discovered by your target audience on this platform. So, if your Instagram strategy needs a boost to stay top-of-mind and ahead of the competition, Reels could be your solution.
Related: How to plan an Instagram marketing strategy to attract business
Instagram Reels small business content ideas
If your business is active on Instagram but hasn't posted a Reel just yet, don't worry, it's not too late to start. Accounts that don't follow you can find your content while scrolling on the Explore page, which is why it's so important for brands to be active where their target audience is.
Don't let lack of inspiration hold you back, here are some simple and effective video ideas:
Educational content‍
The best way to increase your reach and engagement is to give your viewers value. If you can create something that is helpful, users are more likely to like it, share it with their friends and follow you for more. That ultimately, tells the algorithm your content is worth being promoted to others on the app.
For example, you can create shareable workout, cooking or crafting videos just by showing your step-by-step process.
Showcase your products‍ or services
Highlight what makes your business unique with Reels dedicated to each product or service you offer. This could be a tutorial on how to best use your products or a way to update customers on new offerings.
Create original content‍
Easier said than done, but I know that behind-the-scenes content, user-generated content and FAQs are always a big hit with loyal audiences.
You also have a few different ways to get trending and possibly even viral. You can use trending hashtags, popular audio clips or filters and get discovered among other videos with those elements.
Re-creating a popular trend while highlighting your brand is one of the quickest (but not the easiest) ways for business growth with Instagram Reels.
How to optimize your Instagram Reels
Like with any social media platform, there are always hidden steps you can take to increase the likelihood your content gets seen and please the almighty algorithm.
For example, many users who create content for TikTok have started uploading those same videos as Reels. Seems like a logical time saver, right? Well, Instagram has not only clearly advised against re-posting content that's "visibly recycled from other apps," it has also updated its algorithm to recognize and prevent it from performing well on their platform.
That being said, here are some tips on how to optimize your Reels for the best results:
Try to record (vertically), edit and add effects to your reels from within the app, rather than uploading a video you've created elsewhere.
It's also important to use text overlays, hashtags, audio, and descriptive captions to let Instagram add you to an algorithm relevant to the content.
@ other accounts, when appropriate. Just like hashtags, you'll get more reach by including their name in your content.
Use custom thumbnails. Doing so will make it easier for users to find videos they want to watch when scrolling on your account. It's also a great way to incorporate your branding and help your feed look cohesive.
Sharing your Reels to your Stories and even on your feed will get more people to see it. You can share it when you post it or, if you have posted enough that day, share on a day when you don't have anything else to post.
Algorithms are constantly changing, and not always for the better. Doing just a little bit of research to stay on top of current trends and best practices will pay off in the long run.
Related: 3 ways to use Instagram Stories for digital storytelling
Understanding Instagram Reels Insights
Finally, you'll need a way of knowing if your hard work is paying off.
Instagram has included a dedicated tab, which is similar to the Insights tab on your static posts and videos, that details the metrics relating to your Reels. With the Instagram Reels Insights, business owners can see important metrics like accounts reached, plays, likes, comments, saves and shares.
By knowing what type of accounts you're reaching with your Reels and which content formats are most engaging with your audience, you'll be able to adjust your content to better serve your target audience and grow your account.
Measuring these stats is the best way to make sure all the efforts you're putting in to engage your fans is actually working.
Once you have a good idea of where your metrics are on average, try experimenting with the time of day, type of content and hashtags you use when posting your Reels. Start thinking of ways to get in front of new users with videos like tutorials, bloopers or more user-generated content. You could even share customer testimonials or success stories for added social proof.
Final thoughts on Instagram Reels
I know I personally struggled with the idea of including yet another item on my content creation checklist, but I've found that even just repurposing a few old clips from videos on my YouTube channel into Reels has proved effective in increasing my engagement and reach on Instagram.
Exploring a new feature of social media can be intimidating and overwhelming at times, but Reels seems to be a fun new way to expand your social media presence through the use of short videos. I recommend testing it out and seeing how well it works for you and your audience. You might find it to be your new favorite tool in your social media strategy.
5 Strategies to Drive Customer Engagement
Engaging with your customers is the key to driving sales and growing your company. However, some businesses are not sure how to do this effectively. It means that when they finally manage to engage with their customers, they are not entirely sure what worked. Knowing how to drive customer engagement is all about knowing your customers.
Here are 5 strategies that you can use to drive customer engagement.
Communication is the Key
Communication between your company and your customers is fundamental to engagement. If your customers are trying to talk to you about your products or services, then you should listen to them. Avoiding contact will simply drive them to another company.
Here are some tips you should follow.
1. Listen to Your Customers and Never Assume
If you have a customer that approaches you on social media or any other channel, it is vital that you engage them in a conversation. Their initial message might not be the complete story, so you need to work with them to find the right answer.
Once you have found out what the customer wants, go through your products with them and pinpoint what works for them. Your sales team must never assume that they know what their customers want, or they might find the customer goes elsewhere.
2. Seek Help with Engagement
Sometimes no matter what you try, you are unable to engage with your customers or retain them. It may be that there are strategies that you haven't considered or lack the knowledge to implement.
This is where companies such as TCC Global can help. By helping you and your marketing team to engage with your customers and create brand loyalty, you can start to grow your business.
3. Respond Quickly to Questions
There is nothing more frustrating for customers than asking a question on social media and not getting a reply. Even a delay of a few hours can be enough to cause someone to look elsewhere.
If your business has a presence on social media, then it is vital that it is monitored at least during business hours.
4. Chat to Your Customers
There is a temptation to use your means of communication to just sell products. While this is an important part, there should also be more customer engagement through conversation.
If you find something interesting, tell your customers on social media. Reply to them if they answer you and keep the conversation going.
5. Blog About the Popular Questions
If you are seeing a trend in questions your customers are asking, then it may be a good idea to write a blog post about it.
Blog posts will drive visitors and potential customers to your website and from there they may go to your products. Answering these popular questions will also save time for your customers and build loyalty.
Conclusion
So, there you have it – 5 strategies to drive customer engagement. These are just a few of the ways your company can build a relationship with its customers and build a loyal following.
It is important to remember to stay engaged with your customers even after they make a purchase.