How to write product descriptions to increase sales
Get up to 30%* off! Get going with GoDaddy!
This post was originally published on June 24, 2019, and was updated on June 7, 2021.
When it comes to setting up and managing an eCommerce business, learning how to write product descriptions may seem like a relatively simple task. On the flip side, if you sell multiple products, it can feel monotonous and repetitive. However, product descriptions shouldn't be glossed over or written in a hurry. They're a small but mighty tool that can work wonders for customer interest and sales.
An effective product description has the power to convert a browser into a customer.
Research shows that 87% of shoppers say that detailed product content is important to their overall purchase decision. Moreover, eCommerce sales are at an all-time high with consumers spending $861.12 billion online with U.S. retailers in 2020, a 44% increase from the previous year. You can't afford to miss a piece of that pie with lackluster product descriptions.
A successful product description requires the right balance of storytelling, rich content and SEO awareness. Use the following guide (with real-life examples) to learn how to write product descriptions that will boost your sales.
Related: How to create a compelling eCommerce product page
Learn how to write product descriptions that tell a story
As you write product descriptions, try to describe an experience, not just the product itself.
Focus on making the reader envision themselves using (and enjoying) your product.
If appropriate, go as far as describing a time or place.
For example, look at the description for the below Bumble and bumble hair product. There's a tagline under the product name "Sweat fearlessly. Clean Instantly." Immediately, you already understand what this product does. Then the description further explains how you feel post-workout with sweaty hair, and how it can combat that issue. The benefit icons are just the cherry on top! (More on benefits later…)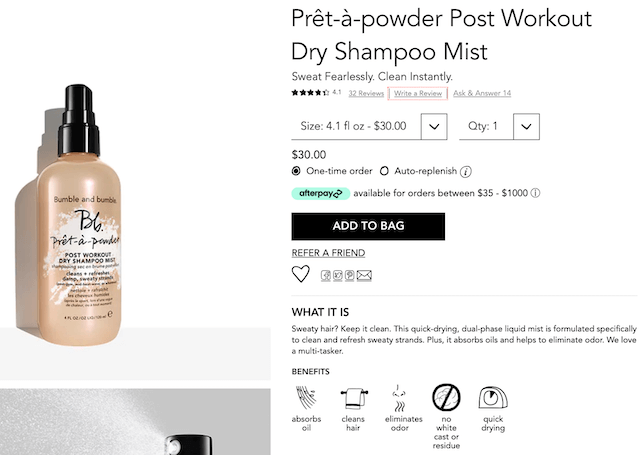 Product descriptions that tell a story are persuasive to potential customers, nudging them towards the "add to cart" button. The story doesn't have to be all flowery language — it can also include informative details. In fact, consumers are 131% more likely to buy from a brand after they consume educational content .
Apple is the masterclass example of marrying storytelling with information within their product descriptions. Cameron Craig, who worked in PR for Apple, told the Harvard Business Review:
"Our mission was to tell the story of how our innovative products give customers the power to unleash their creativity and change the world."
You can see just that in the product description of the latest MacBook Air. The copy immediately educates the reader on how this product will optimize their personal and professional lives. They also break down complex technological specs (like CPUs) and explain what that means for users in practice, i.e., you can complete more tasks and waste less battery.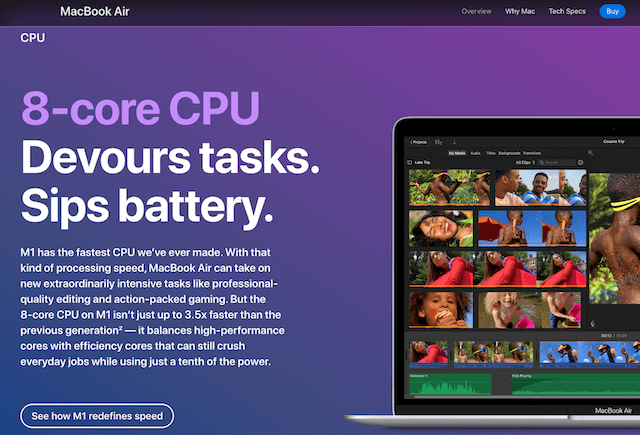 Write product descriptions that highlight your unique value proposition
What makes your product different from the rest? Your unique value proposition (UVP) is your product's differentiator, it's what makes it noteworthy, and also worth buying. You should include your UVP near the beginning of your product description to quickly convince customers.
If you aren't sure what that might be, do a little competitor research to see what other brands say about similar products and figure out why yours is different.
For example, refer to GoPro's description of their latest Hero9 camera. They highlight that the device takes 5K video and has 7x more resolution than typical HD content.
Not only do they speak about their best selling points but they also explain why this version is better than the previous iterations. The copy describes the benefits of Hypersmooth 3.0, the latest update to their stabilization technology.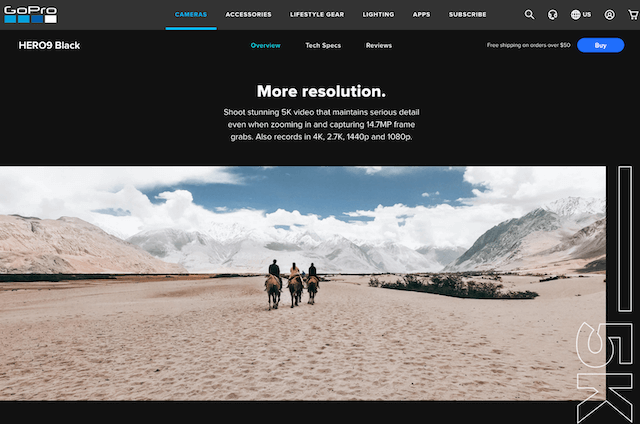 Related: How to write and use a unique selling proposition
Master product descriptions that consider your target customer
As you explore how to write product descriptions, think not only about your target customer, but also how they will use the product.
Focus on the benefits for the customer, not just the features of the product.
While features are important and have their place (more on that later), benefits create compelling copy that convinces the customer why they need the product.
When thinking about the product and customer, ask yourself:
How will it make their life easier?
What problem will it solve?
What advantages will it provide?
Those are the types of benefits you should highlight first and foremost in your product description.
Read the first two paragraphs in Goop's description for a skincare product. It immediately dives into what the product will do for the customer's skin, describing, in detail, all the results users can expect.
Use product descriptions that match your tone to your buyer persona
When you write a product description, you also want to consider your target customer so that you can speak directly to their buyer persona.
One way to accomplish this is by matching the tone of the product description to your ideal customer.
For instance, if your audience is millennial consumers and you're selling a lifestyle product, you can inject humor and frivolity to catch their attention.
On the other hand, if you sell professional-level tech products targeted toward business buyers, you'll want to keep the tone more serious and detailed.
The perfect example of tone is Dollar Shave Club, a brand that made a name for itself with irreverent humor. Notice how their product description reflects its overall brand voice (and matches the tone of their audience) with tongue-in-cheek jokes.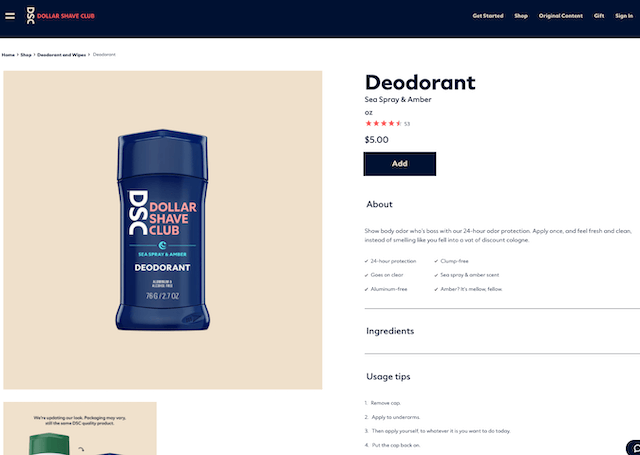 Make your product descriptions concise and scannable
The above-the-fold section of your product page should contain the best copy. Remember that every word matters. Potential customers can scroll or click for more information if they'd like. That means your initial product description should be concise and to the point.
Whether you offer an expandable description or tabs below the fold with more features and details, the idea is to make the first product description scannable to hook the customer.
Scannability is also crucial for mobile customers so that they can see product descriptions easily on their phones.
Make sure to keep mobile-friendliness in mind as 79% of smartphone users made a purchase on their mobile device in the past six months.
Many brands use bullet points to help with scannability in their product descriptions. Notice how Home Depot includes bullet points in both its initial product description, as well as the expanded product overview.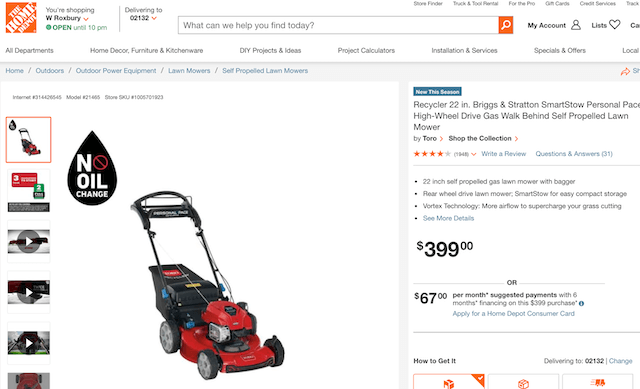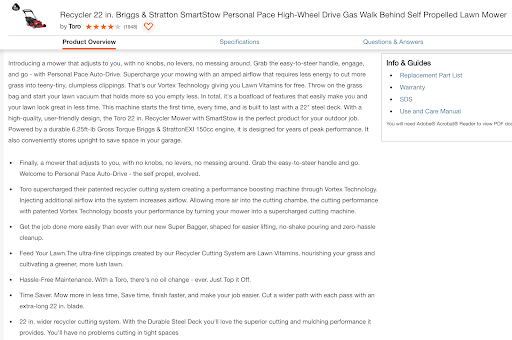 Include multiple high-quality images with product descriptions
Holding a product is vital to certain consumers. Even with the eCommerce boom from the pandemic, a recent survey found that 46% of people still prefer to shop in stores. And 33% say it's because they want to see, touch, feel and try out items.
You don't necessarily need to hire a professional photographer to take product pictures (although if you have the budget, it can be worth it). High-res camera phones with portrait mode make it increasingly easier for eCommerce business owners to DIY product images.
When possible include images of the product in use, like someone wearing a piece of clothing, a customer using a tool — or even a screenshot of a digital product. These types of images help contextualize the product in action, which makes it seem more real and tangible.
Note how Thrive Market overcomes the issue of selling spices (becasue it's essentially just a ground-up powder, it's tough to really spotlight in an exciting way). But they still use pictures to their advantage, showing the packaging, so customers know what to expect. They also incorporate an image of a meal that uses the spice, helping to put the product into context.
Related: How to take product photos that will help sell your goods
Incorporate customer testimonials with product descriptions
User-generated content (UGC) is a powerful tool in driving sales for your eCommerce business.
Customer testimonials and reviews are the best types of UGC to include in product descriptions.
Reviews help to provide social proof that other satisfied customers purchased and used your product, which goes a long way to encourage potential buyers.
Recent research confirms that UGC influences the consumer purchase decision process.
Depending on the layout and format of your eCommerce site, you can include a link to the product review page, or have native reviews underneath the product description.
Some brands opt to cherry-pick positive reviews or testimonials and include it as a quote in their product description.
Related: Generate reviews — 8 ways to get more product reviews

Make product descriptions searchable with SEO
If you want more customers to find your product with organic search (via search engines such as Google or Bing), write product descriptions with SEO in mind.
Each individual product page on an eCommerce site is another opportunity to include high-quality content that's indexed by search engines.
When product descriptions are optimized for search engines, those indexed pages will ideally rank for your target keywords. In other words, a potential customer types in a query related to your product/brand, and your site appears as a top result in the Search Engine Results Page (SERP).
If you haven't already, do some basic keyword research, so you know what terms and phrases to include in your product description. Keywords are terms that directly relate to your product that a potential customer might type into a search engine when looking to find it.
Make a list of keywords and naturally include them in product descriptions, details and anywhere on your product page.
Don't forget about long-tail keywords— these represent longer phrase/question searches rather than specific two- to five-word keywords. To give you an idea, instead of the keyword "cleaning supplies," a long-tail keyword would be "affordable organic cleaning spray solution."
Google tells us more and more consumers use conversational search queries. Searches with "do I need" grew in popularity by 65% — these are searches like: "what size generator do I need?"
Their advice on using this to your advantage? "Lock down keywords and phrases typically associated with [your] businesses and then consider natural language search phrases that customers might be using to find them."
Make product descriptions that include useful and technical details
After you craft and hone your initial product description, include technical and specific product details. As you've seen in the examples above, the product details section typically comes below the fold and under the initial product description.
However, that doesn't mean it's not as important.
Consumers have specific needs and concerns when it comes to purchasing a product, and details can be a make or break when it comes to conversion. Just think: what if someone has a skin allergy and can't find the materials for a clothing item?
Your goal with product details should be to answer any question before a customer asks it, and provide useful information to help them on their buying journey.
A good example is Macy's — they include the height and clothing size of the models in their product pictures. These details give the buyer additional insight into how items fit on an actual person, for example where a dress hem might fall.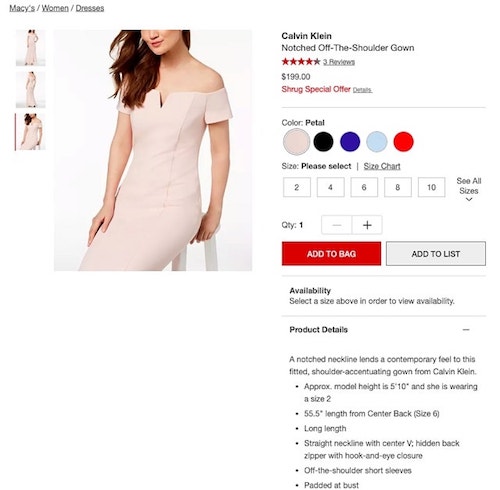 A/B test your product descriptions
Once you nail down how to write product descriptions, don't stop there. A/B test descriptions against one another to try out different tactics and find the best options. You can formally A/B test with marketing tools such as Google Optimize, Optimizely or Visual Website Optimizer.
Alternatively, you can do informal A/B testing by using different versions or formats for descriptions on similar products to see which sells better over a certain period of time.
Every eCommerce business is different, and there's no-one-size-fits-all formula when it comes to product descriptions.
Testing your product pages will allow you to improve your descriptions to increase traffic and sales.
Make sure to check in with all product pages, if one seems to be selling better than the rest, try to repurpose that description on the low-selling products. Remember that data and metrics will help you refine your process.
Editor's note: With dedicated product pages, GoDaddy Online Store makes it easy to update your product descriptions.
Learn how to write product descriptions to drive more sales
Product descriptions have the power to increase sales for your eCommerce business dramatically, yet large and small companies alike can struggle with them. Whether you have 10 or 10,000 products, it can be challenging to write unique, customer-attracting descriptions. But trust us, when you put in the effort, using the above tips, you'll see the ROI!
The main takeaway? Don't get disheartened when setting up your eCommerce store. Follow this guide, and with a little creativity, strategy, and persistence, your product descriptions will increase conversions for your online store.
This article includes content originally published on the GoDaddy blog by Erik Deckers.
The post How to write product descriptions to increase sales appeared first on GoDaddy Blog.
5 ways to make your small business bigger
Get up to 30%* off! Get going with GoDaddy!
Small business is proving to be big business amid the ongoing coronavirus pandemic. Somewhat surprisingly, the entrepreneurial spirit is thriving, despite the economic recession. There's no time like the present to consider ways to make your small business bigger.
Startups reached a record high during the 16-month period from March 2020 to June 2021. Data from NPR's The Indicator from Planet Money reveals that people started more than 440,000 businesses in June 2021. The Wall Street Journal also reported more than 3.2 million applications for employer identification numbers (EINs) were filed in 2020.
Small businesses already in existence have managed to get creative with their business models and quickly pivoted their offerings to meet customer needs in 2020.
Startups just launching are equally cognizant of what it means to pivot, innovate on the fly, and retain the need to be nimble and resilient during uncertain times.
Ready to make your small business bigger?
As I write this in August 2021, it's a bit difficult for me to predict how Q3 and Q4 of this year will pan out. However, what I do know is that small businesses can ensure their companies continue growing in 2021 and beyond if they take these five steps now — if they haven't already:
Build a website.
Review your business plan.
Build a business support system.
Consider B Corporation Certification.
Listen to your customers.
Let's get started building your business!
1. Build a website
One of the most valuable tools in a small business's toolkit is its website. Websites help create visibility for small businesses. Customers, both existing and new, are looking for your business online.
How can building a website benefit your business? Having a basic website acts as a home base, especially if you have a brick-and-mortar storefront. It allows customers to find you, learn about your offerings and services, and contact you for more information.
More advanced websites may be optimized using keywords and relevant copy for SEO purposes. This allows the website to rank higher in search engines and to reach customers in local and national markets.
A well-designed website also may help create a seamless customer experience. Customers can make purchases through the site and businesses can use a website to accept payments and process orders. How else can you make your small business bigger by leveraging your website?
Showcase your offerings through high-resolution photography, establish a blog, link to social media platforms where your business maintains an active presence, and encourage customers to sign up for newsletters where they may learn more about new and exciting news about your business.
Surprisingly, statistics show that only 50% of small business owners have a website.
The good news is that it's quite easy to get started creating a small business website. You may work alongside website building and hosting companies or hire a website developer to help build an impressive and functional website for your business.
Editor's note: Want a beautiful website in no time? Try GoDaddy's Websites + Marketing Website Builder. It's easy to use, visually appealing, and easily integrates with social media platforms.
2. Review your business plan
Many entrepreneurs draft a business plan when they start a business.
This document details what the business does, analyzes its target audience and competitors, examines cash flow and what makes the business profitable, and sets timelines to reach business goals.
As time progresses, small business owners are encouraged to return to their business plan to review it and refine its components.
Here are a few questions that may help you begin the review process.
What milestones was your business able to achieve after a year like 2020?
How long did it take to reach these goals? Will you need to adjust timelines to reach future goals?
Have there been changes to your company's offerings, such as new products, services or pricing?
Is your target market growing or shrinking? For example, you may find that while your business originally intended to reach millennials, it has caught the interest (and sales) of Gen Z as well.
Do you have new members of management or staff? If so, you may decide to update the About Us section of your site with their biographies.
How has cash flow changed over the last year for the business? If it has improved dramatically from one quarter to the next, what factors contributed to these changes?
Remember that reviewing your business plan does not mean focusing on making a perfect business plan. This is an ever-changing document that is meant to better understand how each area of your business — from its financials to its marketing strategy — is being built for growth and success.
3. Build a business support system
As an entrepreneur, you shouldn't have to go it alone trying to make your small business bigger. There will be moments when you have questions you'd like to get answered, need a shoulder to lean on when moving through the ouch spots or simply want good people to cheer you on when you succeed.
Build up a business support system. Aside from close family and friends, some of the people you may wish to add to this system include mentors and business coaches who can provide relevant insight.
You can find mentors for your business through platforms like SCORE and even take workshops that provide free business training to learn new skills and acquire the necessary knowledge it takes to run your business.
Another crucial part of your support system should include individuals with legal and accounting backgrounds. Legal professionals can help if you have questions about your business formation and accountants or CPAs can answer your tax and bookkeeping questions.
4. Consider B Corporation Certification
Amid a year of civil unrest and the ongoing impact of climate change on our planet, customers are expecting more from businesses. They want to spend their hard-earned dollars with companies that are honest, transparent and walk the walk when it comes to sustainability.
Do you want to truly make a difference with your business and allow your company to be the best for the world rather than in the world?
You may consider obtaining B Corporation Certification, which allows a business to balance purpose and profit and use business as a force for good. Becoming a Certified B Corporation is a voluntary process that is completed with the assistance of B Lab.
Think of it as an audit. Most entities that decide to designate their businesses as Certified B Corps start off as limited liability companies or corporations. The business must pass a test known as the B Impact Assessment (BIA). The company also must be able to meet legal requirements and meet with a B Lab Standards analyst for an assessment review before they are approved as a Certified B Corporation.
Before you begin the process, consider consulting a legal professional to determine if a Certified B Corp designation is the right decision for your business.
5. Listen to your customers
Earlier, I mentioned that having a website can be a helpful tool in creating a seamless customer experience. Whether you're launching a new startup or growing your existing business, take the time to listen to your customers.
Listening to customers allows businesses to do more than just respond to their needs.
This is the time to get to know and understand your customers. Problems facing customers during COVID-19 might be different than they were before the pandemic.
Dine-in restaurants, for example, initially dealt with the issue of being able to serve customers. In the past, a customer would be able to enjoy a meal indoors, but that was not an option during the first few months of the pandemic. Many restaurants resolved this issue by listening to customers and providing take-out and delivery services. Some even installed drive-throughs to make it easier to place orders and help customers get exactly what they needed.
Listen to customers and pay attention to the needs of your target market. Identify their problems and pain points.
How can your offerings act as a solution? Is it possible to develop new products if your existing services are unable to help solve these problems?
Study and plan how you will best be able to serve customers in calm and challenging times alike. Reach out for customer feedback on a year-round basis and keep a sharp eye on customer behavior changes and audience interests. The bigger the business, the more investors will take interest in your startup — and its loyal customer base!
The above content should not be construed as legal or tax advice. Always consult an attorney or tax professional regarding your specific legal or tax situation.
The post 5 ways to make your small business bigger appeared first on GoDaddy Blog.
Planning your September social media calendar with GoDaddy Studio
Get up to 30%* off! Get going with GoDaddy!
When it comes to planning your social media content, the important thing is to think about what engages your target audience most. Businesses across varying industries can utilize their social content for strategic advertising purposes. Using GoDaddy Studio can help you plan your September social media calendar more efficiently with tools to create content based on this month's trending events.
Examples of social content you can plan for this month include:
Auto specials
Live music events
Outdoor craft fairs
Last-chance summer clothing offers
Late summer meal specials at restaurants
Below, we'll share our best tips for success and give you plenty of ideas to plan out your September social media calendar.
Key tips for a successful September social media calendar
Before we dive into specific dates to start planning for, it's important we review a few logistics that'll help your social campaigns attract more viewers. Think about these points as you get started.
Go for a design that's warm and cozy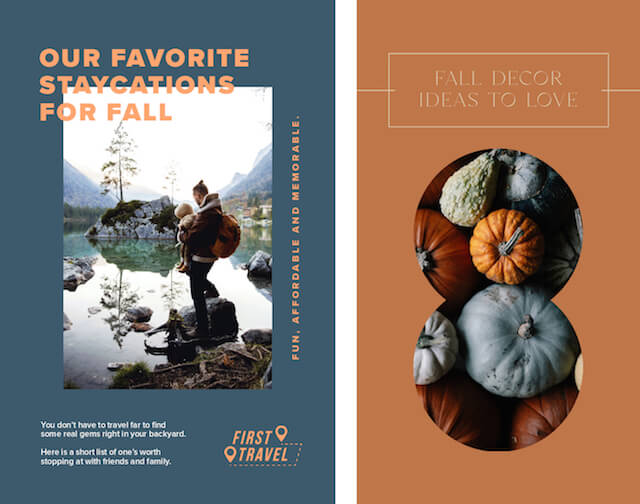 As you look forward to planning your September social media calendar, think about adopting a fall look for your marketing campaigns. This could mean adorning your messages with warm hues like:
Burnt orange
Lemony yellow
Deep crimson
Anything that inspires a sense of coziness is good here. You can add these touches to:
Seasonal sales
New ranges
Fall menus and more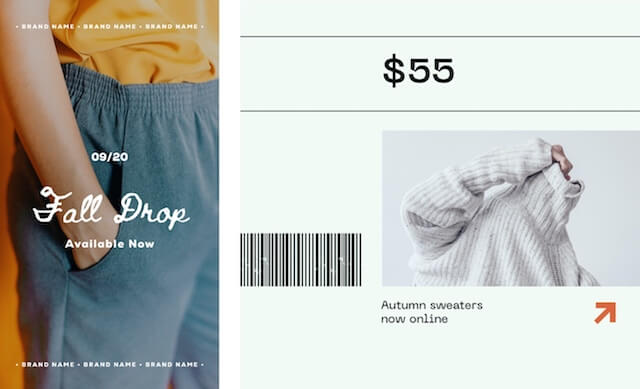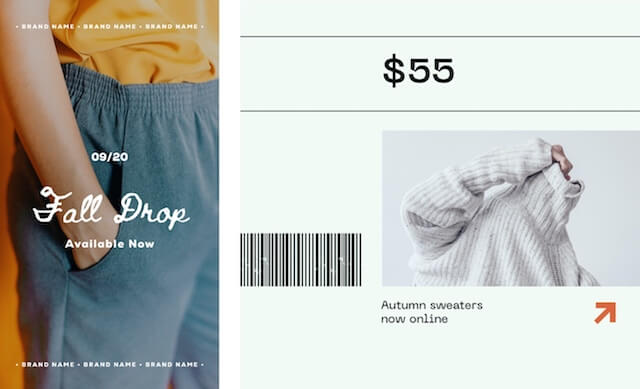 Related: GoDaddy Studio — Create eye-catching imagery for your brand
Be timely with seasonal trends
For many companies, September signifies the end of the back-to-school season. This is the final time for industries in this area to do a big push before families finish their shopping for the new school year.
Consider targeting this seasonal trend in your September social media calendar if your business specializes in:
School supplies
Kids' clothing
Meal prep
Family health
Daycare
Remember, strategic social media calendars are built around your target audience. Cater to their needs accordingly by highlighting your key products at the right time.
Don't forget about global audiences
If you're connected to global audiences in different locations (and if you're selling online, there's a good chance you are), you'll want to think about ways to hone in on other seasonal trends.
Take our friends located in the Southern Hemisphere, for example. This is the time of year they head into spring, which is something to note on your September social media calendar. If you do choose to reach those customers with seasonal posts, try to target posts directly to those regions, so your North American customers aren't targeted with spring posts meant for your Australian customers.
In this case, you can use the wonder of nature to position your brand firmly in the minds of those looking to start afresh. Florists are a natural fit here, but so are companies working in outdoor space like:
Wellness
Fashion
Restaurants and more
National and religious holidays
Celebratory get-togethers are much sweeter this year now that lockdown restrictions are starting to ease up.
Expect folks to be more excited about upcoming national and religious holidays.
Take advantage of this enthusiasm where you can on your September social media calendar.
Labor Day
Labor Day, celebrated on the first Monday in September unofficially marks the end of summer in the United States. It typically signifies a time of getting together to enjoy the last days of the season.
But for many online businesses, it also means planning out a September social media calendar with events or specials focused on spending time with loved ones and small gatherings (think barbecues, picnics, and outdoor fairs).
Rosh Hashanah
This holiday falls on September 6th and is a time when the Jewish community celebrates a new year and a fresh start. For brands, this is a time to send well wishes to your Jewish community, as they spend time together on this special day.
Yom Kippur
September 15th and 16th are days that are reserved for forgiveness and spiritual reflection within the Jewish community. Social messages that wish to acknowledge this holiday should be more humble and avoid celebratory or excess tones.
20th anniversary of 9/11
September 11th is a time for all Americans to remember and honor the men and women who lost their lives on 9/11. It's also a time for ordinary citizens to recognize and appreciate first responders and military personnel working hard within their communities.
Your message shouldn't be celebratory here. Rather, it should portray a level of respect and appreciation, and an acknowledgement of the anniversary.
Sports and entertainment
When planning your September social media calendar, consider any sports-related content that may appeal to your audience. The U.S. Open and college football are two major sporting events that occur during this month, so let's dive in on how you can tap into this category through social planning.
The U.S. Open
The U.S. Open continues this month and runs up until September 12th. This means you'll want to get your balls in a row and your chalk marks lined up, as you make a play for all things tennis.
Key industries that would benefit here include any sports-related:
If you're an outdoor venue, you could also consider organizing a viewing party to drum up a celebratory atmosphere.
Create specials and share them to your social platforms to draw customers in.
College football
If you haven't yet jumped on the bandwagon for college football season, you're not too late. These events go on until the championship game in early January and can benefit businesses like:
Sports bars
Retailers specializing in outdoor equipment
Sporting good shops
Since many fans weren't able to cheer for their teams in social gatherings last year, now's the time to get in on the heightened excitement. Plan ahead on your September social media calendar and celebrate these events if it relates to your business. This is especially important if you're in a college town with a big football presence, like Ann Arbor, Michigan or College Station, Texas.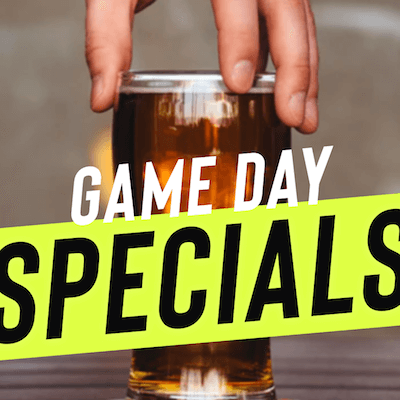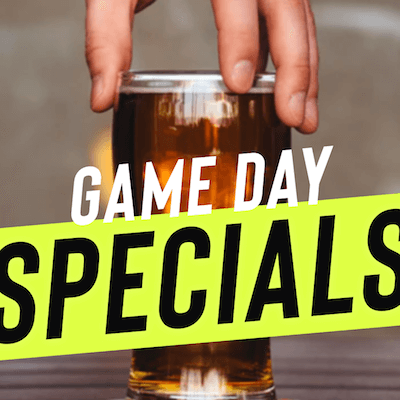 Awareness months and days
September includes some important awareness events that you can use to educate and inspire your audience. Of course, this will depend on the space you're in and the brand voice you have. But planning your September social media calendar with the right choices will help elevate your online engagement.
International Literacy Day
International Literacy Day falls on September 8th, and it's the perfect time to promote all the great literary minds, works and wisdom of the world.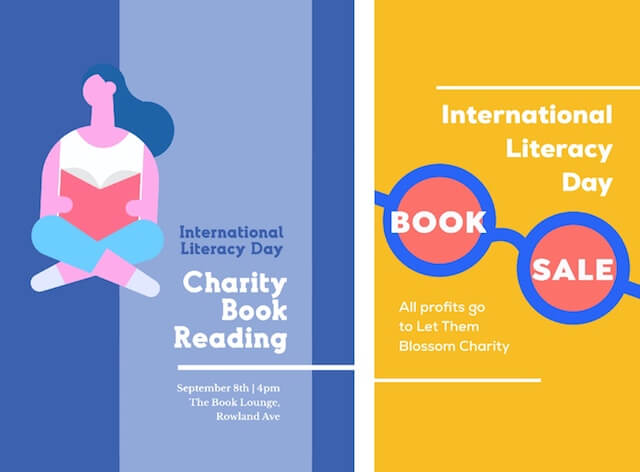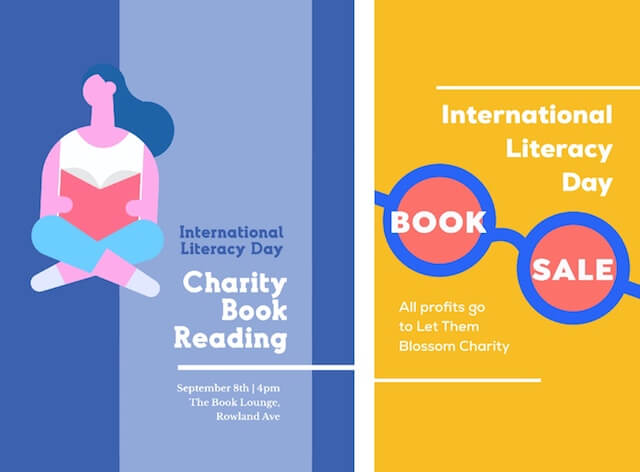 Anyone in the education industry can get involved here, but here are other example industries that should participate:
Charities promoting literacy
Bookshops
Booksellers
Independent authors
Libraries
All of the above have a chance to step into the spotlight on a day that falls squarely within their area of expertise.
Deaf Awareness Month
National Deaf Awareness Month is about raising awareness for anyone with varying degrees of hearing loss, ranging from mild to moderate or severe cases.
Charities can obviously use this time for very targeted messaging, but any brand can create content that centers around hearing loss education.
Be sure to include subtitled videos, too. You can create them directly around the theme or have them relate to more generalized content you're posting.
National Hispanic Heritage Month
Spanning a month, from September 15th to October 15th, National Hispanic Heritage Month nudges Hispanic-owned businesses to the fore.
More than just a promotional window, this is a great opportunity to tell your brand's story. It could also deepen your connection to your audience — especially when it comes to engaging more with your Hispanic followers.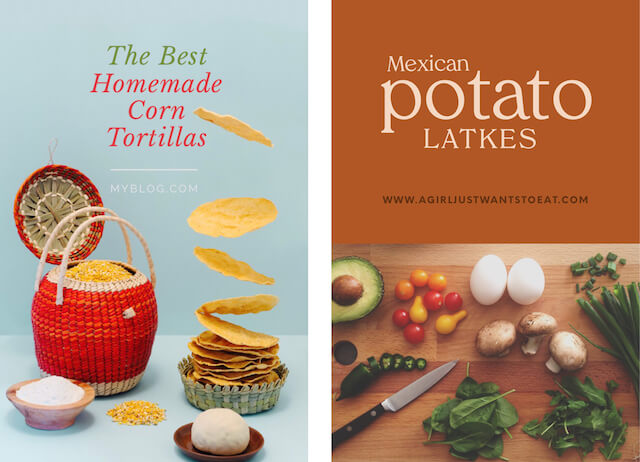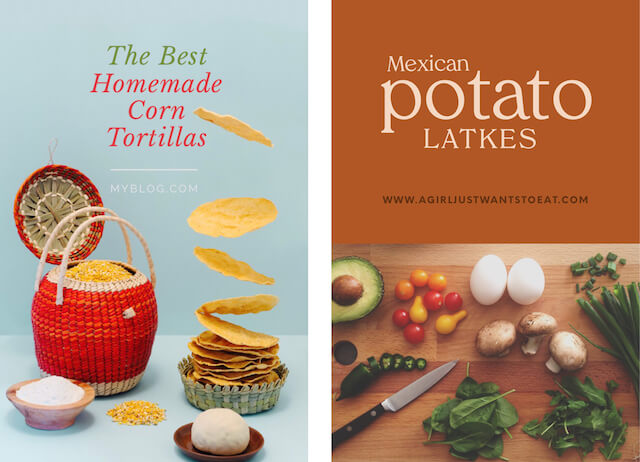 Any business can use this opportunity to connect with their Hispanic audience. But the following industries should prioritize this a bit more on their September social media calendar:
Restaurants
Educational institutions
Non-profit organizations
When it comes to your social campaigns, think about connecting through:
Dialogue
Awareness
Pure celebration
These techniques are great for brands looking to start conversations within the Hispanic community, but make sure to be open to learning more along the way.
International Day of Peace
If there's one thing we can all agree on, it's that the world needs more peace. International Day of Peace, on September 21st, is the perfect time to educate or inspire your audience with concepts of goodwill.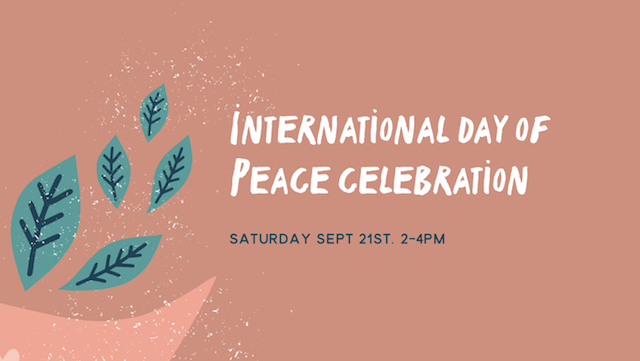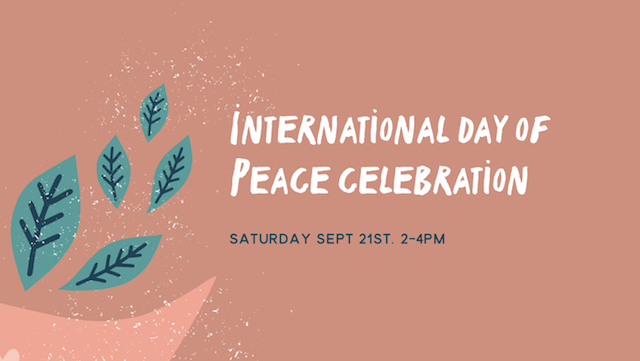 Charities, educational institutions, political organizations, and health and wellness brands have great opportunities to plan campaigns for International Peace Day.
Again, this can be an excellent theme to connect with your audience in a positive way. You should especially consider adding it to your September social media calendar if this message closely aligns with your brand.
Trending months and days
If you're looking to celebrate the less serious stuff, try adding these trending events to your September social media calendar.
National Yoga Month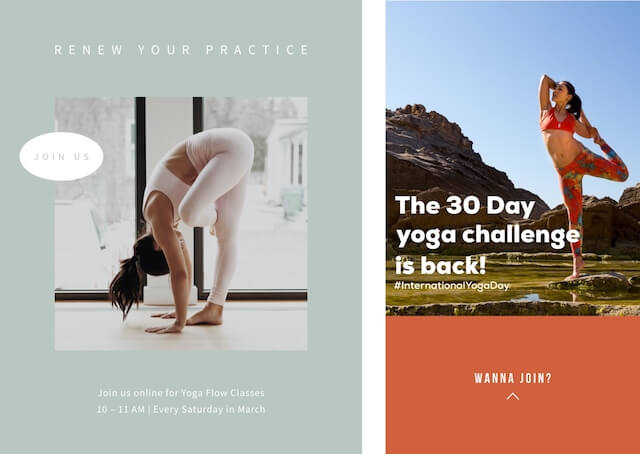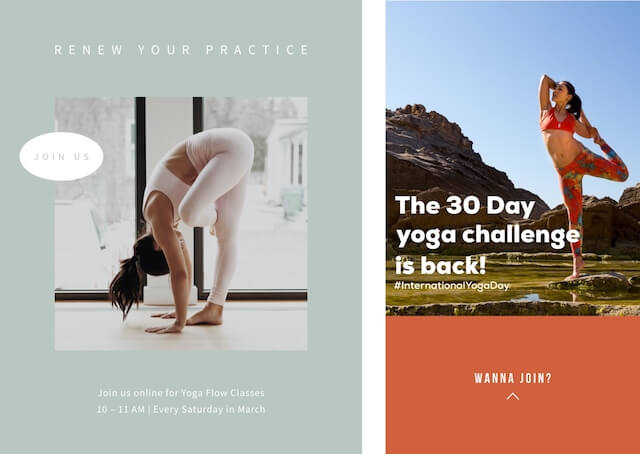 Join the many yogis across the U.S. and unite with them to say "namaste" all month long. Anyone offering the following products or services can get involved:
Yoga classes
Retail (think yoga gear and equipment)
Health and wellness brands
Fitness brands
Travel brands (yoga retreat, anyone?)
Invite your audience to meet you in downward dog with fun graphics or create a hashtag challenge that promotes physical and mental well-being.
World Heart Day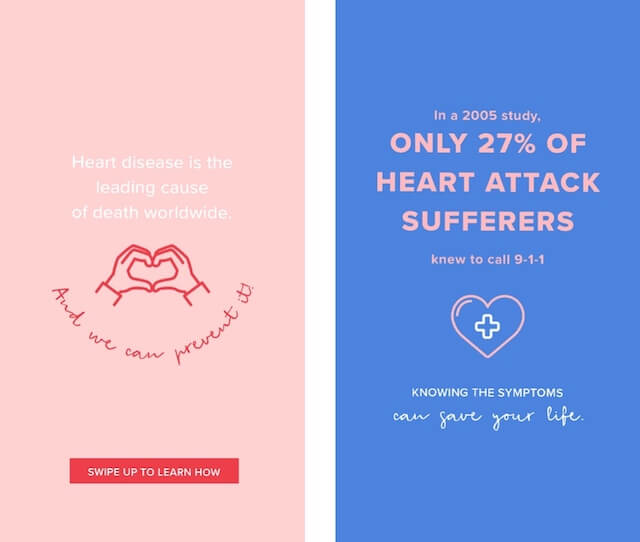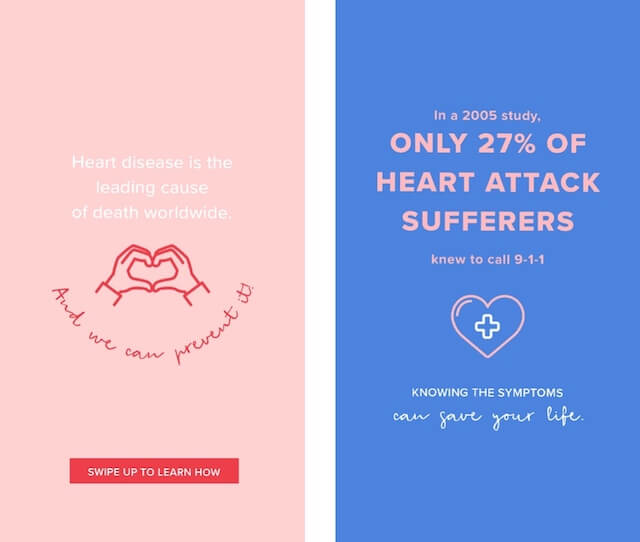 Our hearts literally keep us alive as they pump blood around our body to our vital organs. They also have metaphorical references in books and poems that have spanned for centuries. But World Heart Day on September 29th is all about educating people on the importance of the magical pump in our chests.
Health and wellness businesses, medical organizations and nonprofits, food and beverage brands, and doctors' offices can promote World Heart Day on social media.
Social campaigns that target this day should focus on healthy foods and habits that contribute to good heart health.
World Tourism Day
Never has the tourism industry needed our support like they do now. While the global pandemic put a stop to most international travel last year, this industry is still curtailed to varying degrees in different countries.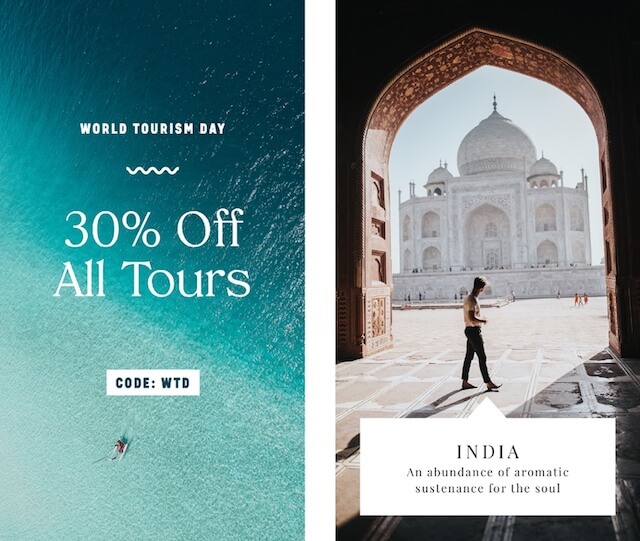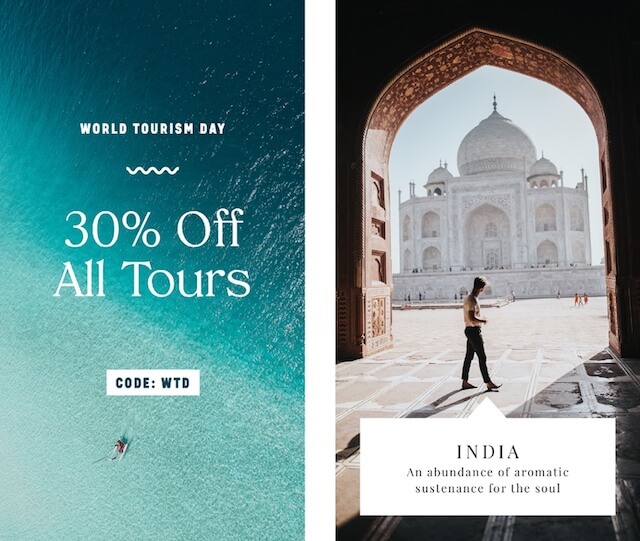 Still, many industries can continue to celebrate World Tourism Day on September 27th by promoting a sense of wanderlust, including:
Travel agencies
Restaurants
Hotels
Airlines
Entertainment spaces (think casinos, shopping, or popular tourist destinations)
As more countries begin to open up more, the travel industry should seize every opportunity they can on this day.
National Video Games Day
If you're in the gaming space, you're in an industry that continues to be on the up and up. Video games continue to take center stage in popular youth culture and many gamers celebrate in the U.S. on September 12th.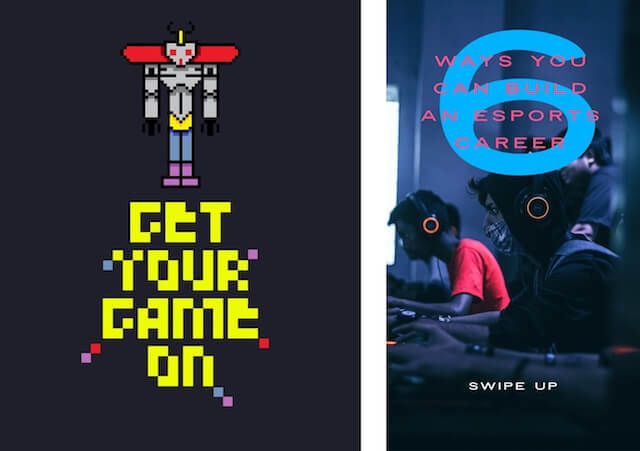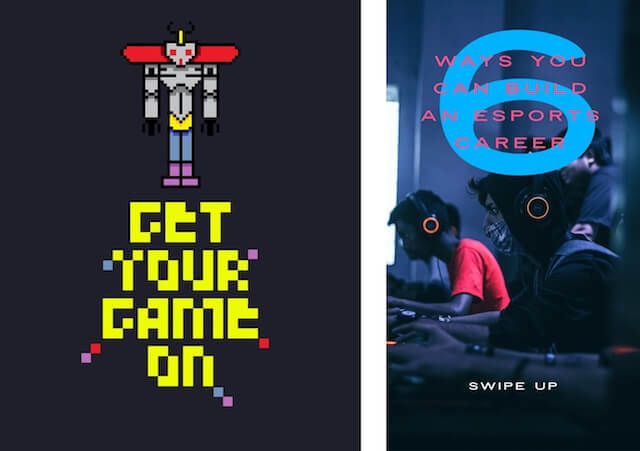 This the perfect opportunity to engage with your audience through:
Giveaways
Specials
Competitions or other events
If your brand's online persona aligns with any humorous or witty audiences, this is a day you should mark on your September social media calendar.
International Podcast Day
The popularity of podcasts continues to grow exponentially – not least due to our homebound habits in the wake of the pandemic. If you haven't already, you ought to at least consider getting in on the podcast action. September 30th is International Podcast Day, so it's a great day to launch a podcast or promote the one you already have.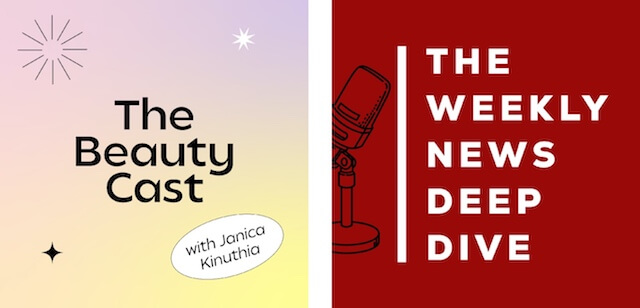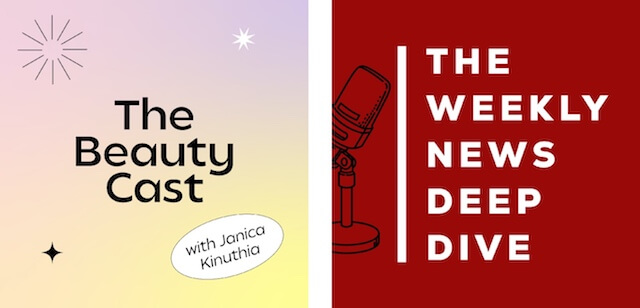 If you're not producing podcasts, you could also showcase the ones you love that relate best to your business and industry. You can do this by promoting it through a blog post or social media.
Update your designs and promos accordingly
Posting on a special theme relating to one of the events above is easy and impactful.
You can use these opportunities to update your brand identity for maximum impact.
Try doing this for a day, a week or month that aligns with the holiday you're celebrating.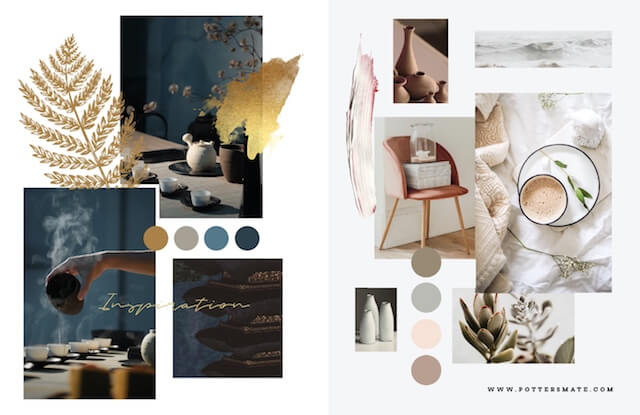 Having your templates ready and accessible in a tool like GoDaddy Studio is a super simple way to keep the design process quick and uncomplicated. When it's made easy, creating your content during the month of September can literally save hours out of your day. Utilize this extra time to plan your September social media calendar strategically with events that relate to your business most.
Create some beautiful visual content for the month of September, with GoDaddy Studio. Try it for for free now.
The ultimate guide to optimizing a website for lead generation
Get up to 30%* off! Get going with GoDaddy!
You're probably creating websites with the goal of connecting with more customers and growing a business. But if you want to connect with more customers, you need a lead generation guide to help you to optimize those websites.
This process involves finding ways to reach customers, like optimizing the site for search engines, as well as setting up a site so that it's designed to generate as many leads as possible from the traffic it generates.
In this post, we're going to cover everything that you need to know about lead generation.
We'll start with an introduction to lead generation and why it's important. Then, we'll share some actionable tips that you can implement on a website to start generating more leads today.
What is lead generation?
Lead generation is the process of generating interest in a product or service. A person who is interested in what you have to offer is called a "lead." Once you generate a potential lead, you want to "capture" their information, which is why you'll see the term "lead capture" used alongside "lead generation."
Typically, you'll "capture" a person's information using some type of form or chat — this could be a form in the site's content, a popup, a chatbot, a notification bar, etc.
Lead generation isn't just about collecting the contact information of as many people as possible, though.
You want to go after qualified leads, which are people who really do have a genuine interest in a product or service and are likely to convert into paying customers or clients.
Typically, lead generation works something like this:
You attract traffic to a website using strategies like search engine optimization (SEO) and content marketing. You want to try to reach the type of people who might be interested in the product(s) or service(s) offered.
Once you get people on a site, you use web forms or chatbots to collect their information. You can then store that information in a customer relationship management tool (CRM) to more easily track and engage with leads.
With a person's information in the CRM, it's time to start converting them into a customer, either with additional marketing content or direct sales (or both!).
Why is lead generation important for a website?
When you're building websites for your clients, optimizing for lead generation is very important.
Your goal for the website probably isn't to just have "a website." Instead, you want the website to help achieve a business need. In most cases, that business need is getting more customers, which requires lead generation.
When building websites, it's easy to get caught up in the design and just focus on creating a great-looking end product. But having a good-looking website isn't the only thing, or even the most important thing. You also need to have a website that gets results.
Think about this… would you rather have:
A stunning website that wins design awards and generates 50 leads per month.
A good-looking website that won't win design awards, but generates 250 leads per month.
Of course most people want both! But if you had to pick, option #2 would be the best, right?
And that's the really important thing to understand.
If you can move beyond creating just a website and get to a website that generates leads, the business will be much more successful, with a steady stream of potential customers for whatever it's offering.
How to optimize a website for lead generation
Now that you know what lead generation is and why it's important, let's get into some tactics for how you can optimize the websites that you build for lead generation.
Optimize for search engines
Ranking your site's content in search engines like Google is one of the best ways to reach qualified leads. With search engines, you already know that people are searching for keywords that relate to a business — all you need to do is get them onto the site to capture their information.
Here are some tips to do that:
Optimize content to match search queries
One of the best ways to generate qualified leads is to create content that potential leads might be interested in. You can then rank that content in Google so that people find it when they're searching.
The content doesn't have to be directly promotional. In fact, it's often more authentic to not be overtly promotional in the content that you create. Instead of trying to sell people right away, focus more on getting them onto a site and collecting their details — you can always convert them later on once you have a relationship.
For example, let's say the site is for online personal training and your client is looking to reach potential clients. You could write an article on a topic like "the best ways to get bigger biceps."
This article isn't directly promotional — it's just providing information. However, the same types of people who are interested in learning how to get bigger biceps are also the types of people who might be interested in hiring a personal trainer to help them achieve their goals.
Once you get them on the site, you can capture their information and start working to convert them into customers.
Of course, creating content is only one part of the puzzle — you also need to optimize the content for SEO. To do that, here are some tips:
Perform keyword research — Keyword research helps you discover the queries that people are searching for so that you can match your content to the exact phrases people use in search engines.
Write for humans, but pay attention to SEO — You should always write content for humans, but it's still important to include the target keyword in your post, especially in the title and periodically in the body of content.
You can learn more about content optimization in this post.
Install essential SEO plugins
If you're trying to optimize a WordPress site for SEO, it's essential to install a dedicated WordPress SEO plugin so that you can implement good on-page SEO best practices.
A good SEO plugin will help you:
Set SEO titles and meta descriptions — These let you control what users see when a site appears in Google.
Analyze SEO optimization — Many SEO plugins can analyze content for a focus keyword and help make improvements, such as optimizing the keyword density of content.
Implement technical SEO — SEO plugins help you implement important tactics like redirecting attachment pages and just generally making the core WordPress software more SEO friendly.
Integrate with Google Search Console — Plugins can help you integrate a site with Google Search Console to track its performance in Google search.
There are lots of great SEO plugins, but here are some of the best:
All of the plugins above have free versions available at WordPress.org.
Optimize for Page Experience (speed and user experience)
In 2021, Google will launch its new Page Experience update, which is an update to its search algorithm to factor in page speed and other user experience metrics as SEO ranking factors.
If you want to set up a site for success in Google, that means you also need to focus on optimizing the website for performance.
There are a lot of ways that you can optimize for performance:
Use page caching to reduce server processing time.
Minify your site's JavaScript and CSS code to reduce its size without changing functionality.
Reduce the size of your pages, as paying special attention to image optimization can usually result in large reductions in page size because images account for about half of the size of the average web page. You can also use server compression technologies like Gzip and Brotli.
On WordPress, make sure you're using a lightweight theme and try to limit the number of plugins that you use to only those that are essential.
Consider using a content delivery network (CDN), especially if your site has a global audience.
You can use tools like PageSpeed Insights and WebPageTest to analyze your site's performance. In general, Google recommends that your site's Largest Contentful Paint time be under 2.5 seconds to do well in the Page Experience algorithm update.
Optimize for Security
A site's security can play a key role in lead generation, as security issues can reduce trust with your potential leads and also cause issues with your search engine optimization efforts.
Use HTTPS
HTTPS is a technical protocol that encrypts the data that moves between visitors' web browsers and a website. In order to activate HTTPS on a website, you need to install an SSL certificate.
There are two ways that using HTTPS can improve a site's lead generation:
First, using HTTPS boosts trust with visitors and lets them know that the data they submit via lead generation forms is secure. In fact, if you have a lead generation form on a site and you don't use HTTPS, some web browsers (like Chrome) will even mark the page as insecure — you can see an example in this blog post from the Chromium team.
Second, using HTTPS can also help you optimize a site for search engines, which is important for reasons that we discussed in the previous section. Since 2014, Google has used HTTPS as a small ranking factor in its search results, so adapting HTTPS will give your website a slight edge in the search results. Every little bit counts when it comes to SEO, so you shouldn't ignore any advantage that you can give your site, no matter how small it is.
Consider a security plugin
Beyond using HTTPS, it's just generally important to keep your site secure. Malicious actors are always on the lookout to find ways to infect your site with malware or spammy SEO links. Having your site infected will hurt trust with your potential leads and can also cause issues with your site's search engine optimization, as Google removes infected sites from its results and many browsers will block access to infected sites (e.g. Google Chrome Safe Browsing).
To help mitigate threats, you can use a security plugin like Sucuri Security for WordPress.
Optimize for mobile
When you're optimizing for lead generation, it's important to pay special attention to mobile visitors.
It's easy to focus on desktop visitors when you're optimizing a site for conversions, but more than half of all website traffic happens on mobile devices nowadays, so you're missing out on a huge source of potential leads if you don't optimize for mobile lead generation.
Implement response design
Optimizing for mobile starts with responsive design at a minimum.
What is responsive design?
It's the idea that your website will automatically adjust to show an optimized design no matter what device a visitor is using. Someone browsing on a desktop will see a desktop-optimized design and someone browsing on a smartphone will see a smartphone-optimized design.
Nowadays, most content management systems (CMS) include built-in features or themes to make responsive websites. For example, most themes for WordPress are responsive by default. The same is true for most website builders.
Test for mobile-friendliness
In addition to having a responsive design, you also want to make sure that a site doesn't have any mobile usability issues that might make it difficult for mobile visitors to interact.
Google will also start using mobile-friendliness as an SEO ranking factor in its Page Experience update, so optimizing for mobile-friendliness is another useful tactic to optimize for SEO.
To see if a site has any issues, you can use Google's free Mobile-Friendly Test tool. The tool will flag any issues on your site and give you some tips for how to fix the problem.
Google Search Console also includes a report that lets you see mobile issues that Google discovers.
Optimize for lead capture and conversion
If you've done everything so far, you're ready for the last step — the actual lead generation forms.
There are lots of different ways that you can capture leads' information. Here are some popular options:
Web forms — Place lead capture forms in the actual content, either on a dedicated landing page or as part of a page, such as in the sidebar.
Popups — Experiment with different types of popups, such as modals, slide-ins, notification bars, and more.
Live chat — Use live chat and/or chatbots as an interactive way to capture lead information in a more conversational format.
Tools like HubSpot can help you create customizable web forms to place anywhere on your site. HubSpot also offers a free WordPress plugin that lets you create forms from inside your WordPress dashboard, along with other types of lead capture tactics including popups and chatbots.
When creating your forms, you need to think about what fields you include in your forms. There's a fine line between using too few form fields and too many. As a rough rule…
More form fields equal lower conversation rates for your form.
Fewer form fields equal less qualified leads because you don't have as much information about a person.
For most businesses, the optimal lead capture form will be somewhere in the middle. You want enough form fields to add at least some lead qualification, but not so many fields that you discourage visitors from filling out the form and lower conversion rates.
Beyond the form itself, you should also experiment with different placements and lead capture methods.
For example, you can see if a modal popup generates more qualified leads than a basic web form. Or if your interactive chatbot is more effective than the popup.
Experimenting with these types of details can help you boost your conversion rates, which means more leads end up in your CRM.
Use our lead generation guide to start optimizing websites today
If you want to create successful websites, optimizing for lead generation is key. Having a website is great, but having a website that generates leads is what will help your business grow and succeed.
In this post, we've introduced you to what lead generation is and why you need to care about it.
We've also covered some of the most important areas that you need to focus on if you want to optimize your website for lead generation.
Implement these tips today and you'll be generating more leads in no time.
The post The ultimate guide to optimizing a website for lead generation appeared first on GoDaddy Blog.