JB Owen, Top Female Transformation Leader, Ignites Humanity With Upcoming Book, Film, And Charity Collaboration Project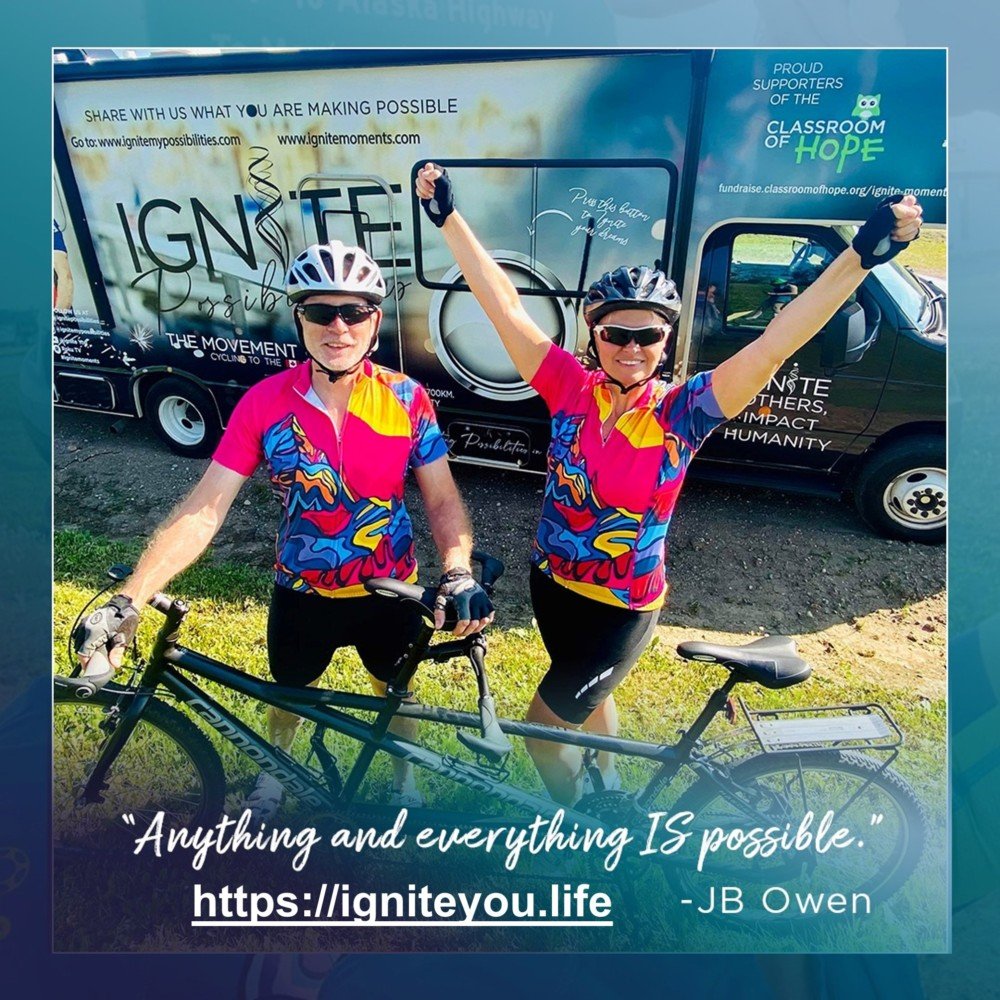 JB Owen, Top Female Transformation Leader, Ignites Humanity With Upcoming Book, Film, And Charity Collaboration Project
Ignite Publishing announces Ignite Humanity, a project compiling the wisdom and insight of global thought leaders in both book and video format, all while raising money to build schools and homes for those in need.
Ignite Publishing (https://igniteyou.life) CEO and Founder JB Owen is about to embark on an ambitious new project: Ignite Humanity. A combination of a book, a documentary, a TV series, and a fundraising initiative for charity, Ignite Humanity's purpose is to uplift, inspire, and positively change humanity around the world. Ignite Humanity brings together high-level thought and legacy leaders who have made a major humanitarian impact on a global scale. Compiling the best wisdom from the brightest leaders, Ignite Humanity is a project about how we can come together, create community, and collectively work towards a better, enlightened future for all.
The program begins in June 2022, when executive producers JB Owen and Peter Giesin hit the road to cycle their tandem bike 10,000 km across Canada, where they will stop along the way to interview and film individuals who have had an 'Ignite Moment' in their lives that has inspired them to Ignite humanity. This will be the third year the duo has embarked on a summer-long cycling trip for charity, but this is the first year they are ramping things up by turning their experience into an opportunity to show the world how amazing, generous, kind, giving, and supportive people are. "With everything going on in the world, people need to see that goodness and kindness, that giving and caring still prevail," says Owen.
In 2020, Owen and Giesin cycled over 5,000km to raise money for The Sunshine Foundation, a charity that supported kids in Canada living with severe physical disabilities or life-threatening illnesses. In 2021, they cycled over 6,500km through the prairies up to the Top of the World Highway in the Yukon, raising money for the Ignite Possibilities School of Hope initiative, a fundraiser working to build a school for underprivileged children in Cambodia.
With that giving spirit in mind, Owen and Giesin plan to continue raising money for the School of Hope by cycling coast to coast, stopping along the way to learn from Humanity Leaders and everyday people making an impact in their communities. These messages of hope, change, and legacy for a better future for all will be recorded in both the book and in film.
Ignite has had major success in the past with its books. With 19 compilation books and 8 solo-authored books becoming international bestsellers in the past 3 years. They have gone bestsellers in 13 countries, with authors from over 47 different countries around the globe. Ignite knows the power, diversity, and inclusion that needs to go into a book designed to transform lives. Ignite Humanity is no exception.
THE BOOK
The Ignite Humanity book will be a compendium of all the transformative thoughts and ideas each author has used to ignite the world. This compilation book featuring dozens of authors will have a chapter dedicated to each thought leader's story, told in their own words, each containing a powerful, innovative message for change. People need to read stories of hope, perseverance, and innovation. Stories bring us together, connect us, and share ideas with the power to change the world. They transcend race, color, and creed, When you read a story that moves your heart to believe that you can create positive change on this planet, that moves the needle forward on humanity.
THE Documentary and TV SERIES
The Ignite Humanity TV series is set to film this summer, featuring the authors on screen sharing their powerful Ignite Moments; those pivotal moments that lead to enlightenment, show you a new way forward or create a major rippling effect in your life. They are moments that transform your life into something bigger and better. Producers Owen and Giesen are set to interview all participants located in Canada on location with their film crew, while those outside the country will be interviewed virtually. Ignite will have an exciting, dynamic line-up of participants from around the world including Les Brown, Sir Dr. James Dentley, and David Meltzer just to name a few. The entire project will be an innovative look at how great minds are creating radical, positive change in their communities and the world at large.
THE CHARITY
Ignite is furthering its impact by including a charity component in the Ignite Humanity project. Ignite has a long-standing partnership with the charity Classroom of Hope, which builds schools and homes in areas where many children do not have access to education. Currently, Ignite runs the Ignite Possibilities School of Hope initiative, which seeks to build a school in Cambodia. Forthcoming is Ignite's Homes of Hope initiative, which aims to build 100 homes made of recycled materials for those who lost their homes during the 2018 earthquake in Lombok, Indonesia. A portion of the profit made from Ignite Humanity will go to these initiatives and the book and TV series will serve as a platform to fundraise for these amazing charity projects.
JB Owen says of the project, "If you want to make a difference, you have to be the difference. Ignite is looking for innovators, leaders, and global change-makers who will add depth and breadth to this important initiative by sharing how they are impacting the planet in a positive way. They want to showcase those individuals who are moving the needle of humanity forward in a way that benefits others. They believe that the more we can spread the message of ways to Ignite Humanity, the more we can shift the paradigm and create a better Humanity for All. Nominate someone you know to be featured or apply yourself if your mission and goal is to Ignite Lives and Impact Humanity."
Sign up and learn more at: https://humanity.igniteyou.life.
Rebecca Macieira-Kaufmann, Founder of RMK Group and Author of FitCEO, Interviewed on the Influential Entrepreneurs Podcast
Rebecca Macieira-Kaufmann, Founder of RMK Group and Author of FitCEO, Interviewed on the Influential Entrepreneurs Podcast
Published on February 3, 2023
Rebecca Macieira-Kaufmann discusses how to EXCEED your potential personally and professionally. 
Listen to the interview on the Business Innovators Radio Network:
https://businessinnovatorsradio.com/interview-with-rebecca-macieira-kaufmann-founder-of-rmk-group-and-author-of-fitceo/
Regardless of someone's current career or life stage, it's never too late to exceed their potential and live the life they always wanted. The key is knowing where to start and how best to do it.
Rebecca explained: "The first step on this journey is knowing yourself: what are your strengths, weaknesses, values, and goals? Once you have a clear picture of who you want to be in your personal and professional lives, begin developing an action plan outlining the steps you need to take to reach your end goal. This includes short-term goals along with long-term ones. Having specific targets set out will make it easier for you to track progress and stay motivated and evaluate if any course corrections need to happen along the way."
Finding mentors and networking is also an essential part of the process. Having someone who can provide emotional support, feedback, and guidance, as people make their way through this journey will help keep them on track and give them a much better chance of success.
Finally, it's important to remember that personal growth doesn't happen overnight and requires persistent effort over time to yield results. People need to spend some time each day reflecting on how far they have come; when things don't go the way they want, they should take a step back, learn from the mistakes made, and move forward again with renewed enthusiasm!
Exceeding potential is possible – all it takes is dedication and hard work!
About Rebecca Macieira-Kaufmann
Rebecca is a seasoned CEO and veteran Fortune 50 Global Executive. She draws on deep expertise in the financial services industry and has a demonstrated track record of leading highly successful business turnarounds, scaling new businesses, and expanding operations globally. In June 2020, Rebecca founded RMK Group, LLC, an advisory and consulting service focused on fintech, digital currency, and payment systems. She is a frequently sought-after speaker on leadership and business transformation, life and work integration, culture change, and building high-performing teams. She recently wrote a book, FitCEO: Be the Leader of Your Life, about achieving holistic health—at work, home, and play.
Learn more:  https://rmkgroupllc.com/  or https://fitceobook.com/
Yorkshire Pair Finish Snow Sculpture In Record Time For Arctic Competition
Yorkshire Pair Finish Snow Sculpture In Record Time For Arctic Competition
Published on February 3, 2023
Two Yorkshire men have been competing with artists from all over the world in their second snow sculpture competition this month, completing their creation in record time.
Fitness coach Martin Sharp, from York, and tree surgeon Justin Scott, from Driffield, were pitted against sculptors from Spain, Sweden, Taiwan, France and the United States in the Kiruna International Snow Sculpture Competition 2023. The pair completed their sculpture, known as Figurative Animate X Three, in just two days, which was the new record for the event, which is held 140km north of the Arctic Circle in Swedish Lapland.
The creation – an abstract human figure with three sides – was the second snow sculpture created by the team in January. They had already competed in Shapes in White, an international snow sculpture competition in Austria, where their snow boat called Unsinkable 2 was awarded ninth place.
Martin, who runs the fitness and lifestyle coaching business Sharp Fit For Life, said it was the first time they had entered the Kiruna contest and the experience had been completely different.
The 45-year-old said: "In Austria, we were working on top of a mountain at high altitudes, whereas here we were sculpting in a city with everyday life going on around us. As it was lower altitude, we didn't get tired as quickly so it felt easier and we were delighted to be the first to finish our sculpture in just two days.
"It took us about 15 or 16 hours in total – the snow was very soft, which meant we could pile through it quickly but the finish wasn't as crisp as we'd hoped. There has also been a great sense of camaraderie between the sculptors with people sharing ideas and borrowing tools.
"The thing we have really enjoyed is that lots of people have been coming to watch the sculptures take form, including lots of children. There have been school parties coming to take a look and have a go at creating their own smaller snow sculptures and high school students worked with two sculptors to create a play park made out of snow."
Although the pair weren't named as the winner or runner-up, they were proud of their efforts and celebrated finishing with some traditional Lapland activities including dog sledding, a skidoo ride and a visit to an ice hotel.
Sarah Stockham, Founder and Owner of Reiki Claremont, Announces the Release of Continuing Education Reiki Classes for Dentists Practicing in America
Sarah Stockham, Founder and Owner of Reiki Claremont, Announces the Release of Continuing Education Reiki Classes for Dentists Practicing in America
Published on February 2, 2023
Sarah Stockham is the founder and owner of Reiki Claremont, a language of self-care, where she teaches all levels of the Affective Reiki Method and leads personalized Reiki sessions supporting peace filled mind by design.
Sarah Stockham announces that Continuing Education through CE Approved, which is an approved AGD PACE Provider, is now available through her healing center, Reiki Claremont, based in Claremont, CA.
According to Sarah, Reiki Claremont is offering approved Continuing Education through Affective Reiki Method's Level 1 & 2 course. This course is designed to help dentists in America further their education in the field of Reiki. The course is made up of three live Zoom sessions, each one 3 hours and 20 minutes, for a total of 10 hours of instruction, practice, and time to ask questions.
"Additionally, students will receive a pre-recorded option that includes a library of 'how to' videos allowing students to have the tools they need to practice Reiki in either person or through distance," Sarah stated.
She continued, "Reiki, as described by the National Center for Complementary and Alternative Medicine, is an energy-based healing practice that uses light touch and intentional energy transfer to facilitate the body's natural ability to heal itself. It has been used for centuries to help those suffering from physical, mental and emotional issues."
Reiki is effectively used to increase a sense of calm and reduce anxiety in hospitals across America, like the internationally renowned hospital in Pasadena California.
With over a decade of teaching Reiki to medical doctors, coaches, PhDs, psychologists and college students, Sarah Stockham of Reiki Claremont, believes that students can apply the same techniques in their business or personal lives.
"I feel like a spiritual sommelier; pairing the flavors of best healing practices with what life puts on your plate," Stockham shared.
Traditional Reiki lineages use four levels, each with their own training and attunements. Through her upcoming Affective Reiki Method Level 1 & 2 courses, she is offering an opportunity to delve deeper into the practice. The Affective Reiki Method courses are broken down into Levels 1 & 2.
Reiki Level One teaches the basics of noninvasive hand positions for a "hands on" Reiki treatment.
Reiki Level Two covers how to send Reiki to someone who is not in the room and is commonly called "Distance Reiki".
Participants have the chance to not only learn the fundamentals of both "in person Reiki" & "distance Reiki" but also best practices.
"Affective Reiki Method courses are built on the idea we can learn and apply techniques to support a peace filled mind by design," Sarah affirmed.
The course is available from 5PM to 8:20 PM PT/ 8PM to 11:20 PM ET on:
February 27th, 2023
March 6th, 2023
March 13th, 2023
Once completed, participants are eligible to receive C.E credits from CE Approved which is an approved AGD PACE Provider.
All those interested in learning more about Reiki methods should sign up now and receive an email with the Zoom link for the Affective Reiki Method course.
Upon successfully completing the Affective Reiki Method Level 1 and 2 course, which will include sending Reiki Claremont an email with how the student want their name printed on the certificate, they can request continuing education credits that come from CE Approved which is an approved AGD PACE Provider.
For over a decade Sarah Stockham has been teaching Reiki and applying it in her own life. She knows how powerful it can be and wants to share her knowledge with others. With the upcoming Affective Reiki Method Level 1 & 2 courses she hopes to inspire others to take this chance to deepen their understanding of the practice and discover its potential benefits.
"Savor being present by accessing the five senses.  Be willing to 'walk on'," Sarah concluded.
About Reiki Claremont and Sarah Stockham
Reiki Claremont is a reiki healing center based in Claremont, CA. It specializes in traditional reiki lineages and offer classes on Level 1 & 2 of the Affective Reiki Method. It strives to create a supportive safe space for individuals to learn reiki and experience its healing benefits.
Sarah started her Reiki healing journey following the financial downturn of 2008. Personally, facing serious medical and financial challenges, she learned her father was diagnosed with terminal cancer. Following a 15-minute Reiki session, she experienced the best night of sleep in 4 years.  Curious and intrigued to learn more about her Reiki experience, Sarah studied with multiple teachers. As Sarah shared this gift, Reiki had the same effect on others. Teaching Reiki is Sarah's passion as Reiki is a foundational healing modality.
To register for the Affective Reiki Method Level 1 & 2 visit: https://courses.reikiclaremont.com/CEApproved4AGD-ARM1-2
For more information about Reiki Claremont, visit: www.reikiclaremont.com
Connect with Sarah Stockham on Social Media:
https://instagram.com/sarahstockham
https://youtube.com/@SarahStockham