Main Street Businesses That Found Success—and Ideas to Start Your Own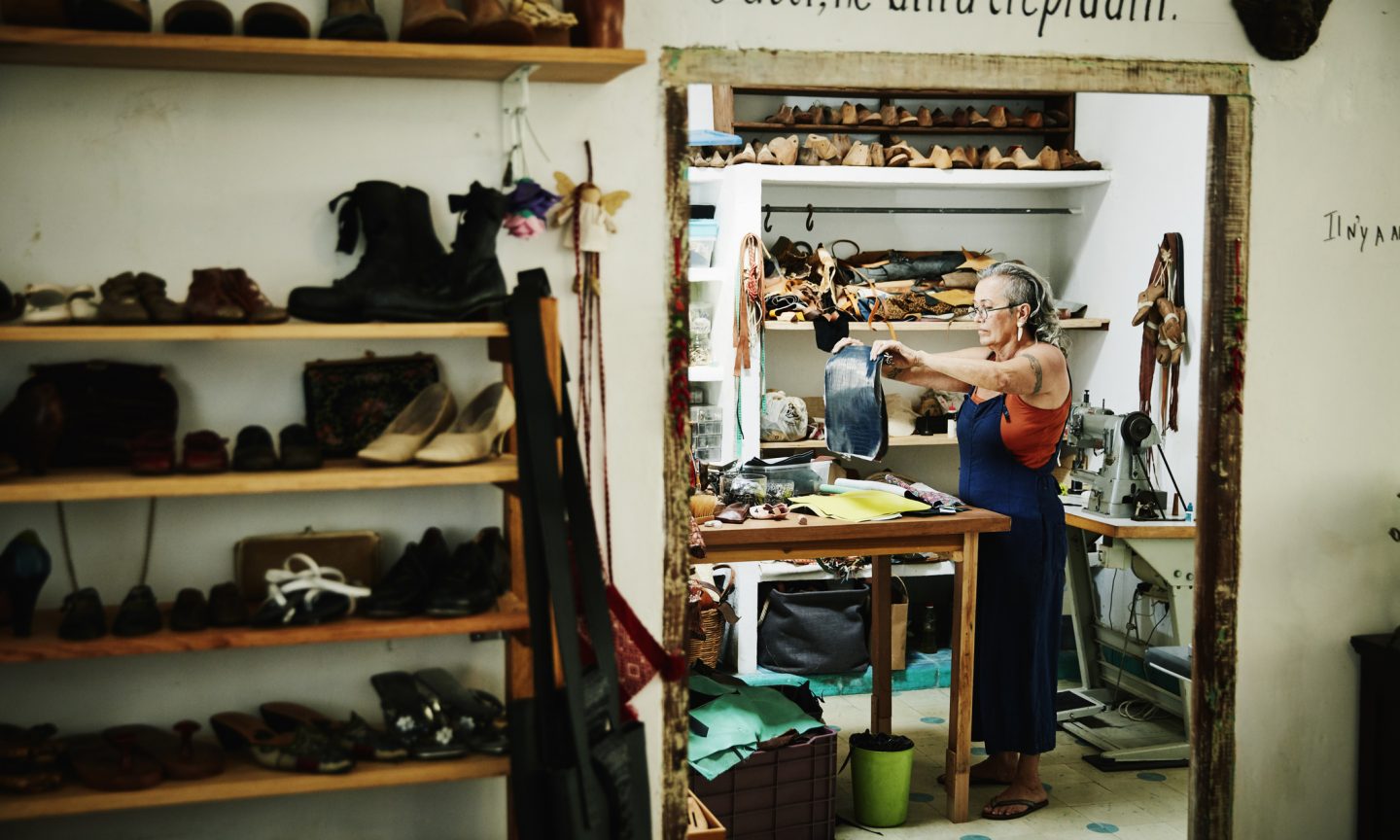 In the age of big-box stores and multi-national conglomerates, it's easy to get nostalgic for the bygone days spent at your local Main Street business. Maybe you even dream of starting your own business inspired by the times when people went shopping at the neighborhood market, buying shoes from the local cobbler, or stopping at the mom-and-pop diner down the street for a burger and a slice of pie.
Those were the days, right?
As it turns out, those good old days are still happening today!
According to the U.S. Small Business Administration's small business profiles, businesses with fewer than 500 employees and generating less than $7 million in revenue still account for 99.9% of all U.S. businesses. That's an overwhelming portion of the economy.
What's more, Main Street businesses make up about two-thirds of the businesses in the country and employ up to 24 million people, according to the SBA.
Main Street might not look exactly like it used to, but small businesses are still out there.
For one thing, social media and the proliferation of online shopping have sent a lot of small businesses online for the majority of their revenue.
But even with a different look and feel, small businesses in America are still thriving through the same attention to detail, community focus, and top-notch customer service that we've always known and loved.
Main Street business, defined
You might think of a "Main Street" business as one of the essential establishments that frequently make up the center of town. Some of the oldest ones have rich histories and are beloved businesses. They're very similar to small-town businesses and tend to be very central to the community in which they're situated.
A Main Street business is sometimes also distinguished from other businesses based on size. "Main Street" businesses are often juxtaposed against the "Wall Street" businesses that tend to be massive and lacking in the personal, small business touch that Main Street businesses bring to the game.
Main Street business ideas
Before chain and big-box stores became the norm, each town or city had its own locally owned businesses. Many of these were on Main Street and when it came time to run errands, people would head to their favorite Main Street businesses to buy what they needed.
These days, Main Street businesses might be the sort of things you expect to be in the town center, some of the most important stores you would visit frequently. Whether you just want to learn more about Main Street businesses, or are considering starting one of your own, here are some Main Street business ideas.
Convenience store
Convenience stores are exactly that, convenient. While these stores don't usually have the vast selection a big-box store does (mostly because they're a fraction of the size), they do have just enough to satisfy a shopper's needs. While not everyone will buy their entire household's worth of groceries from their Main Street convenience store, it's the perfect solution when you need to grab something in a pinch, or only need a few items to supplement a larger grocery haul. From staples like milk and bread to more specific items like ice cream or paper towels, your local convenience store probably has it.
This is what makes a convenience store such a good option as a Main Street business idea. As with any business, you should analyze any competitors in the area before opening your own, though. If your town already has both big-box and smaller mom-and-pop grocers, you probably won't find much success by introducing another convenience store into the mix.
Pharmacy
The small town pharmacy is another great Main Street business venture. While there are a lot of big chain pharmacies out there, they really struggle to capture the personal touch and charm of a local pharmacy where the people behind the counter know their clients personally. Plus, proximity is a big selling point. If there's no convenient pharmacy in your town, then there's definitely a need. When someone is sick and needs to fill a prescription, they don't want to travel far, after all.
This is a Main Street business that requires some specific training and has a little more red tape associated with it than your average business, but if you're excited about the idea and willing to put in the work, it can be worth it.
Dry cleaner
A dry cleaner is an essential Main Street business in any town. Whether you have an entire work wardrobe of dry-clean-only clothes, or a few special occasion or seasonal pieces that need extra care, nearly everyone has to go to a dry cleaner at some point. As with the Main Street business ideas above, proximity plays a large role. No one wants to travel far to drop off or pick up their dry cleaning. Additionally, this is a business built on trust—people are trusting you to clean their nicer clothing. With a Main Street dry cleaning business, your customers will appreciate the personal touch and individualized service you can offer.
Some dry-cleaning businesses also employ a tailor so you can also offer alterations and small repairs to clients' clothing as well. Plus, if done correctly, a dry cleaner can be an eco-friendly small business, which is a valuable addition to any Main Street.
Coffee shop
A coffee shop is a classic Main Street establishment that can fill a need for almost everyone—whether as a weekend treat while out running errands, a daily stop on the way to work, or a place to catch up with friends over a brew and a bite, no Main Street is complete without a coffee shop.
And your coffee shop doesn't have to stop at coffee—teas and other specialty drinks, baked goods, or even a full menu can help bring in customers.
Salon and barbershop
A salon or barbershop is a classic Main Street business that every town needs. What makes them such staples when it comes to Main Street businesses is that everyone needs somewhere to have their hair cut, and having a place to go that's right in the center of town is a convenient and reliable option for many.
If you're thinking about starting a salon, consider what you can offer clients that other establishments might not. Perks like referral programs, refreshments, or even personalized welcome boards can go a long way to make your clients feel appreciated and pampered.
Jewelry shop
If you've got an eye for accessories, opening a jewelry shop can be a great Main Street business to start. It can be hard to find quality jewelry from a store that isn't a chain, and even harder to find an experienced jeweler to repair and clean your sentimental jewelry.
If you offer repair and cleaning services as well, your Main Street jewelry business will be even more popular.
Brewery
A town brewery or beer hall is a newer business that's gaining in popularity. It's not the easiest business to open, and you'll need significant space and resources, but a craft brewery makes a great addition to any Main Street or town center.
If you're wondering how to start a brewery, our guide can help you get started. In the last decade or so more and more breweries or beer halls carrying numerous local beers have been popping up in the center of towns across the country. Not only do they offer a great gathering place, but they can also be family and pet-friendly locations as well.
Tutoring and exam prep services
If you live in a town with a lot of school-aged children in it, opening a tutoring and test prep service could prove a lucrative Main Street business. Offering personalized tutoring along with preparation courses for exams like the SAT, ACT, and AP exams could mean a booming business.
Some parents are willing to pay significant money to help their children ace their college entrance exams, or score high enough on their AP exams to help knock out some college credit before they head off to higher education.
And during the school year, offering individual tutoring sessions for students of all ages can help supplement the business as well.
Gift and flower shop
Whether for an occasion or just because, flowers are always a great addition, which makes opening up a flower and gift shop a classic Main Street business idea.
Florists can sell bouquets on a daily basis for those looking to gift them, but they can also work with event planners and venues for special occasions like weddings or parties. Combining a florist shop with a gift shop is a key way to make your business a one-stop-shop for your customers who need to pick up a cute card and a small gift or bunch of flowers or houseplant for the housewarming or birthday party they're headed to.
Main Street businesses that found success
It can never hurt to get a little inspiration from Main Street businesses that have already had some success. While the options listed above are certainly some viable Main Street business ideas, below we'll go over some businesses that have turned their Main Street business ideas into a success.
Creative Main Street businesses
Literature, fine art, creative crafts, and more are classic Main Street businesses that benefit from staying small.
These creative small businesses are so positively charming, we don't know why we'd ever shop anywhere else!
Atomic Books
A longtime staple for Baltimore book lovers, coloring enthusiasts, and comic aficionados, Atomic Books embraces its local market and is a well-established Main Street business.
The store was founded in 1992 by Scott Huffines and is now run by Ben Ray and Rachel Whang. The store exhibits many local masters' works and hosts an assortment of events, readings, stand up, and book and music clubs.
If you're a John Waters fan (the man behind the movie Hairspray), the owners at Atomic can even help get your notes and gifts delivered straight to him—they've managed his fan mail for years!
Fernweh Woodworking
With a commitment to keeping woodworking not only alive, but also fresh, Justin Nelson works tirelessly from his Oregon home to handcraft one-of-a-kind artwork pieces that deliver both utility and aesthetic. His business, Fernweh Woodworking, produces tables, chairs, home decor, and more.
A former marine and firefighter, Nelson has broken away from strict military culture to embrace the diversity, passion, and fulfillment in operating a small business. Nelson consistently builds loyalty and engagement with his customers through prizes and giveaways on social media, as well as through the level of attention and care given to each and every piece.
Murder by the Book
Based in Houston, Texas, this one-of-a-kind mystery bookstore is one of the oldest and largest specialty stores in the country. Featuring every variety of new and used books, first edition collectibles, and even magazines in the mystery genre, Murder by the Book has become a local favorite for readers who enjoy a good thrill.
The store's owners have kept their small business charm alive by regularly hosting luncheons with mystery authors and themed book discussion groups, as well as offering frequent shopper and event attendance reward programs.
Valhalla Tattoo
Located in an old Victorian house in Southern Pines, North Carolina, Valhalla Tattoo focuses on clean, bold, and colorful artistry.
The shop is run by veterans Craig Morrison, Gabe Drummond, and Matt Nelson, who also give back to their veteran community. Every year, Valhalla holds a fundraiser to donate the proceeds from 31 tattoos to the Special Operations Warrior Foundation. The number 31 represents the 31 U.S. soldiers lost in 2011 when a Chinook helicopter was shot down in Afghanistan, as three of those killed were from the Southern Pines area.
Each tattoo artist has their own distinct style, encompassing traditional, geometric, mehndi, and realistic designs.
Fashion and accessory Main Street businesses
Social media, pop-up events, and word-of-mouth connections make the fashion industry a great place to be a small business owner.
Even as much larger companies seek to dominate the market, we'll always hold a special place in our hearts for small, community-focused businesses like these.
Cobra Rock Boot Company
Out in Marfa, Texas, an isolated town in the West Texas plains, Colt Miller and Logan Caldbeck handcraft all-American leather boots at Cobra Rock Boot Company.
Each pair of boots takes about two weeks to make, and multiple pairs are made at the same time. The couple spends so much time, along with a few other shoemakers, completing orders that they barely have enough time to release new designs, and most orders must be pre-ordered.
From the painstaking process of making each pair of boots to the personalized bags in which each order is delivered, it's easy to see the handcrafted, genuine touches that make this business the very definition of small-town Texas charm.
Savage Seeds
What once began as a mother's decision to hand-make safe and natural toys for her child evolved into Savage Seeds, a small business devoted to ethically hand-making clothing from non-toxic materials in the U.S.
All toys continue to be made by owner C.V. Savage and tested by her own children. Each order is designed with great attention to every detail, from the materials to the designs and packaging—which includes a packet of seeds and planting instructions.
Savage Seeds' dedication to positively impacting the lives of others extends beyond delivering an exceptional product, but also to supporting other businesses that are ethically earning a living.
Food and beverage Main Street businesses
There's nothing quite as classically Main Street as good food made by your hometown natives.
Here are a few of our favorite Main Street businesses in the food and beverage sector.
Astoria Bier & Cheese
With "happy cows (and goats and sheep!) = happy cheeses = happy ABC = happy YOU" in mind, this Astoria, New York-based specialty beer and cheese shop has seen great success.
Founded in 2009 by native Astorian Yang Gao, Astoria Bier & Cheese has a rotating selection of craft beers on tap and a very fun menu of items from the cheese that they sell in-store.
The staff's dedication to knowing customers by name and remembering their preferences, as well as sourcing snacks and bar items through fellow local businesses, has made Astoria Bier & Cheese a local favorite.
Braven Brewing
What once began as a hobby for roommates Marshall Thompson and Eric Feldman became a renowned brewery in Brooklyn, New York.
With the last brewery on "Brewers Row", where Braven Brewing is currently located, closing down in 1976, the two have revived a great history of brewing in the Bushwick community. The brewery is loyal to its surrounding community—local artists were hired to design the company's logo and local businesses supply their ingredients.
Nellino's Sauce
After earning the distinction of worst student in his Italian class at Dickinson College, founder Neal McTighe went on to earn a PhD in the language and build a business around authentically making Italian premium tomato sauce.
The premium sauces offered at Nellino's Sauce in Raleigh, North Carolina, are made with quality ingredients and culinary traditions that would impress even the pickiest of pasta enthusiasts.
And even as Nellino's sauces become available from more and more retailers nationwide, this business continues to stick to its roots of only the finest homemade sauce.
Health and fitness Main Street businesses
Besides the 24-hour big box gyms that seem to be popping up on every corner around the country, more and more small businesses are pushing back with a more holistic approach to health and fitness.
For customers who prefer a more personalized experience, Main Street businesses like these are a welcome local sight.
The Bloom Method Fitness
From her home in the mountains of Boulder, Colorado, Brooke Cates developed her pregnancy fitness method, "The Bloom Method" to cater to preconception, prenatal, and postpartum women.
Cates' goal is to have women develop the mental and physical abilities that encourage healthy pregnancies, smooth labor, healthier babies, and easier recovery from labor.
Although Cates' methods have caught the attention of moms-to-be all over the country, her dedication to personalized, one-on-one coaching makes this fitness fanatic the definition of Main Street charm.
Kona Skate Park
Located in the heart of sunny Jacksonville, Florida, Kona Skatepark is the oldest outdoor privately owned skate park in the United States… and possibly the world.
Even as its fame in the skating community grows, this small business shows an ongoing commitment to its local community by hosting skate camps for all ages and ability levels, as well as ongoing classes for all ages.
Household goods Main Street businesses
From the home office, to the kitchen, to what hangs on the walls—unique and creative small businesses around the country are giving department and discount stores a run for their money with unique and popular offerings.
Instagram and other social media sites help to spread the word about many of these Main Street businesses, helping them to gain traction even outside their immediate communities.
Mindfulnest
Opened in 2009 by artisan friends Diane Jackson and Amanda Vernon, Santa Monica, California's Mindfulnest is quite literally a modern Main Street standard.
The small shop features locally made art, jewelry, gifts, and accessories—often including pieces made by the owners themselves. And by consistently investing in their local community—particularly through Santa Monica's weekly Farmer's Market events, Jackson and Vernon continue to secure their place as a long-term Santa Monica staple.
Outdoor and farming Main Street businesses
Once upon a time, words like sustainability and environmental footprint weren't what you'd typically associate with charming small businesses.
But these days, what could be better for the local community than a business focused on keeping us healthy for the long haul?
That's why these environmentally friendly Main Street businesses get high praise on our list.
Detroit Dirt
What exactly can be charming about dirt?
With the composting company Detroit Dirt, just about everything!
Detroit Dirt partners with local companies to recycle waste into fertile soil for community gardens, encouraging urban farming as a way to revitalize this historic city. Though still a for-profit business, this team aims to do a lot more than simply sell dirt. They also aim to lower transportation costs, reduce the city's environmental footprint, develop neighborhoods, and install a long-lost pride for the city of Detroit.
Meyers Farm
Based in Bethel, Alaska, Meyers Farm is a sustainable pesticide-, herbicide-, and chemical fertilizer-free farm.
Their fertilizers are made out of compost made from the Alaskan Bush and are infused with salmon. And not only are husband and wife team Tim and Lisa Meyers committed to chemical-free sustainability, but they have also overcome the many challenges of growing produce in their permanently frozen Alaskan hometown in order to provide their community with local, fresh, and affordable produce.
Weddings, events, and hospitality Main Street businesses
There's something about a wedding that makes us especially nostalgic for all things small and local.
And because small businesses are often better able to cater to local interests and tastes that may not translate to a national audience, events and hospitality are one industry where small businesses are most likely to thrive.
Here are just a couple of our favorite vendors who have a special eye on creating a comfortable atmosphere.
Chimes Bed and Breakfast
Entering from the historic Chimes Bed and Breakfast's vast front porch, each of the five rooms within this 30-year-old bed and breakfast in the Uptown/Garden District of New Orleans has its own private entrance.
Owners Jill and Charles Abbyad take pride in helping each guest design itineraries to experience New Orleans at their own perfect speed.
Even as chain hotels and Airbnb properties threaten to overtake the New Orleans hospitality scene, the Abbyad family's dedication to creating personalized customer experiences has guaranteed the ongoing success of this unique and charming New Orleans establishment.
Southern Weddings Magazine
While not many would think of a magazine as a Main Street business, the women at Southern Weddings have proven an ongoing dedication to keeping things down-home.
From their headquarters at editor-in-chief Lara Casey's Chapel Hill, North Carolina, home, Southern Weddings publishes both a once annual print edition and an ongoing online magazine that prioritizes family and rejects bridezilla culture, focusing instead on the trends, venues, and companies that embody traditional southern values.
Chief among this team's top tips for southern brides?
"We believe in picking a wedding date based on the SEC football schedule!"
The final word
Though these businesses represent different industries, values, and points of view, each and every one maintains its own unique personality and commitment to the local communities it serves—the common traits that continue to define Main Street charm.
If you're considering starting your own Main Street business, here's some inspiration to help you along. And hopefully, you'll also be inspired to check out the Main Street businesses in your area and support your local entrepreneurs.
This article originally appeared on JustBusiness, a subsidiary of NerdWallet.
4 Tips for Starting an Industrial Business
The industrial sector is a broad category that covers businesses involved in the manufacturing, production, and distribution of goods. Small industrial companies are growing across the country and there are many opportunities for entrepreneurs to get involved in this sector.
As with any type of business, there are certain things you need to do to set yourself up for success. Here are four tips for starting an industrial business:
1. Do Your Research
Market research means figuring out who your target customers are and what they want or need. There are a number of different ways to do this, but some of the most common include surveys, interviews, focus groups, and observation.
Surveys can give you a good overview of customer opinions while interviews or focus groups can help you to delve deeper into specific issues. Observing potential customers in their natural environment can also be helpful in understanding their behavior and needs.
2. Choose the Right Niche
When it comes to starting an industrial business, one of the most important decisions you'll make is choosing the right niche. There are a number of factors to consider when making this choice, and it's important to do your research before settling on a particular industry.
First, you'll need to identify the needs of your potential customer base, such as the products or services they need. Once you have a good understanding of the market, you can then start to narrow down your options. Consider the competition in each niche and decide which one offers the best opportunity for success. When making your final decision, it's essential to choose a niche that you're passionate about.
3. Create a Business Plan
In today's competitive marketplace, it's more important than ever to choose the right niche for your industrial business. When you specialize in a specific industry or type of product, you can better meet the needs of your target market and stand out from the competition. How do you know what niche is right for your business? Here are a few things to consider:
First, think about your strengths. What does your company do better than anyone else? What unique skills or experience do you bring to the table? Use these strengths to narrow down your focus and choose a niche that you're passionate about.
Next, consider your target market. Who are you trying to reach with your products or services? What needs do they have that you can address? When you choose a target market and understand their needs, you'll be better able to choose a niche that meets their demands.
Finally, don't be afraid to experiment. Trying new things is essential for any business, so don't be afraid to test out different niches to see what works best for you. By keeping these tips in mind, you can be sure to choose the right niche for your industrial business.
4. Optimize Your Processes
Through industrial control engineering, you will be able to identify opportunities for improvement and design solutions that achieve the desired results. In many cases, these solutions involve the use of automation and other advanced technologies.
By optimizing industrial business processes, industrial control engineers can help to improve efficiency and increase productivity. In addition, they can also help to improve safety conditions by reducing the potential for accidents. As industries continue to grow and become more complex, the demand for qualified industrial control engineers is likely to increase.
Endnote
With an increased demand for industrial operations and manufacturing, there has never been a better time to start an industrial business. By following these four tips, you can be sure to set your business up for success.
How to Find the Right Business Coach — and Avoid the Wrong One
At its best, business coaching can connect you with a mentor and supporter who helps you generate ideas, make plans and execute on them.
But at its worst, a business coaching offer can cost you time, energy and money — without much to show for it.
Here's what to expect from a business coach, how to find a coach that suits you and how to spot red flags.
What a business coach can do
Business coaches draw on their professional experience to help you set and achieve your own business goals.
"I'm here to help you, and I'm here to raise your level of knowledge in whatever way I can," says Gary Robinson, who chairs the Memphis, Tennessee, chapter of SCORE. SCORE offers free business mentoring for entrepreneurs nationwide.
Some ways a business coach or mentor might do this include:
Offering feedback on your ideas and suggesting new ones.

Giving you templates and other tools that help you make plans.

Connecting you with resources in your region or your industry.

Giving you deadlines and holding you accountable to them.
Some business coaches may also offer coursework or group training sessions on particular topics, like sales.
Working with a coach should help you identify opportunities you hadn't seen before or develop new strategies for pursuing those opportunities, says Sophia Sunwoo, who coaches women and nonbinary entrepreneurs through Ascent Strategy, her New York City-based firm.
"[Coaches] don't necessarily have to have all the answers," Sunwoo says. "But they are the people that know how to maneuver and create a bunch of different thinking paths for their clients."
What a business coach can't do
A business coach isn't the same as a consultant, whom you would hire to perform a specific task. A coach or mentor could look over your business plan, for example, but they wouldn't write it for you.
"If you were to hire me as a consultant, you would expect me to roll up my sleeves and pitch in and work with you to get things done, and you would pay me for that," Robinson says. Coaches, on the other hand, "try to show you how to do things so that you can do them [yourself]."
Business coaches are also not therapists, Sunwoo says. Entrepreneurship can be emotionally and mentally taxing, but it's important that coaches refer clients to mental health professionals when necessary.
Business coaching red flags
If a business coaching opportunity "promises guaranteed income, large returns, or a 'proven system,' it's likely a scam," the Federal Trade Commission warned in a December 2020 notice.
In 2018, the FTC took legal action against My Online Business Education and Digital Altitude, which purported to help entrepreneurs start online businesses. The FTC alleged these companies charged participants more and more money to work through their programs, with few customers earning the promised returns.
In both cases, these operations paid settlements, and the FTC issued refunds to tens of thousands of their customers in 2021 and 2022.
To avoid offers like these, the FTC recommends that you:
Be wary of anyone who tries to upsell you right away or pressures you to make a quick decision.

Search for reviews of the person or organization online.

Research your coach's background to see if they've accomplished as much as they say.
Sunwoo says to also be skeptical of one-size-fits-all solutions. A coach should customize their advice to your personality and skill set, not ask you to conform to theirs.
"The moment that a business coach pushes you to do something that is really not compatible with your personality or your beliefs or values," Sunwoo says, "that's a huge problem."
How to find the right coach — maybe for free
Here's how to find a coach that will be as helpful as possible.
Determine whether you need advice or to hire someone. A coach isn't the right fit for every business owner. If you need hands-on help organizing your business finances, for instance, you may need a bookkeeping service or accountant. And take legal questions to an attorney.
Seek out the right expertise. A good coach should be aware of what they don't know. If they're not a good fit for your needs — whether that's expertise in a particular industry or a specialized skill set, like marketing — they might be able to refer you to someone who's a better fit.
Consider free options. There may be some in your city or region:
SCORE offers free in-person and virtual mentoring in all 50 states, plus Guam, Puerto Rico and other U.S. territories.

See if your city has a Small Business Development Center, Veterans Business Outreach Center or a Women's Business Center. All are funded by the U.S. Small Business Administration and offer free training and advising for entrepreneurs.

Do an online search for city- or state-specific programs. Philadelphia, for example, offers a business coaching program designed for entrepreneurs who want to qualify for particular business loan programs. Business incubators often offer courses or coaching.
Make sure your coach is invested in you. They should take the time to learn about you, your business and its unique needs, then leverage their own experiences and creativity to help you.
"I'm on your team now," Robinson says of his clients. "Let's do this together and make this a success."
Are There SBA Loans for the Self-Employed?
Many of the same SBA loans are available to both self-employed people and more formally structured businesses, such as limited liability companies and corporations. However, self-employed individuals, like sole proprietors and independent contractors, might face a higher barrier to entry for having limited credit history, inconsistent revenue or no collateral. If they can't qualify for an SBA loan, other business financing options are available.
Who qualifies as self-employed?
Sole proprietors, independent contractors and partnerships all fall under the self-employed category. In these cases, there is no legal distinction between the business owner and the business itself. Sole proprietors, for example, are solely responsible for their business's gains and losses, while LLCs and corporations are legally distinct from their owners. This distinction helps protect the owners' personal assets if their business runs into legal or financial issues.
Are self-employed SBA loans hard to get?
While a sole proprietorship is much easier to set up than an LLC or corporation, lenders may be more hesitant to finance them for a few reasons:
Self-employed business owners are legally responsible, as individuals, for any debt and liabilities that their businesses take on. If someone sues their business, for instance, their personal assets — not just their business — could be at stake. This makes it riskier for lenders to finance them.

Sole proprietorships and independent contracting businesses may have lower revenue or less collateral to offer since they're often a business of one. This could make it more difficult for them to prove that they can pay back the loan, plus interest. And it may require more paperwork.

Some banks set lending minimums that surpass what a self-employed business owner is looking for, either because the business owner doesn't need that much funding or doesn't qualify for it.

Since there is no legal distinction between the self-employed business owner and their business, they may lack business credit history. To establish business credit, you'll want to register the business, obtain an employer identification number and open a separate business bank account and credit card to keep your business and personal finances separate.
SBA loans for the self-employed
SBA microloan: Best for small loans and more lenient requirements
Applying for an SBA microloan is a great option for self-employed business owners, especially if they've been turned down by traditional banks and don't need more than $50,000 in funding. In fact, the average SBA microloan is around $13,000, according to the SBA. SBA microloans are administered by nonprofit, community-based organizations that can also help train applicants in business practices and management. And because the loans are small, the application process may be easier — applicants may have limited credit history and typically don't need as high of a credit score as they do for an SBA 7(a) loan.
SBA 7(a) small loan: May not require collateral
Funds from the SBA's most popular 7(a) lending program can be used for a variety of business-related purposes, such as working capital or purchasing equipment. While the maximum SBA 7(a) loan amount is $5 million, SBA 7(a) small loan amounts don't exceed $350,000. And if the 7(a) small loan is for $25,000 or less, the SBA doesn't require lenders to take collateral.
SBA Express loan: Best for quicker application process
SBA Express loans are a type of 7(a) loan for businesses that need quick financing and no more than $500,000. The SBA responds to these loan applications within 36 hours as opposed to the standard five to 10 days, which may speed up the process for borrowers working with non-SBA-delegated lenders. Additionally, borrowers might not have to fill out as much paperwork — the SBA only requires Form 1919. Beyond that, lenders use their own forms and procedures.
SBA loan alternatives
Online lenders
Self-employed business owners turned down for SBA or traditional bank loans may be able to qualify for financing with an online lender. These lenders offer options such as term loans and lines of credit, and they often process applications faster and have more lenient requirements. However, applicants should expect to pay significantly more in interest than they would with an SBA loan.
Business credit cards
Not only can business credit cards help build your business credit history and pay for everyday business purchases, but they can also help finance larger purchases (within your approved credit limit). And if you qualify for a credit card with a 0% introductory APR offer, you'll have multiple months to pay off the balance interest-free. Just make sure you're able to pay off your purchase before the intro offer ends and a variable APR sets in.