Promo toolkit: How to run a competition
Get up to 30%* off! Get going with GoDaddy!
As we all grapple with the new business landscape set forth by the pandemic, your brand could use all the attention it can get. Many consumers are anxious, cash-strapped, and desperate for a ray of light in the gloom, which is why a social media competition could lighten the mood on both ends. If you've ever wondered how to run a competition on social media, now's the time to roll up your sleeves and dive in.
Running a competition is something you can do right away to create buzz for your business and generate positive engagement from your customers.
When someone believes they could win a competition, there's a psychological effect that generates warm and fuzzy feelings. These feelings bring positivity to your brand, along with a boost in organic promotion — especially since all winners love sharing the good news with friends and family.
Done with empathy and authenticity, a competition could come across as a generous gesture when your brand gives something away. It offers a renewed sense of human connection with your customers in a way that the pandemic can't interfere with. Competitions will always be valuable for brand visibility and new leads or sales, but they're also an expression of giving back.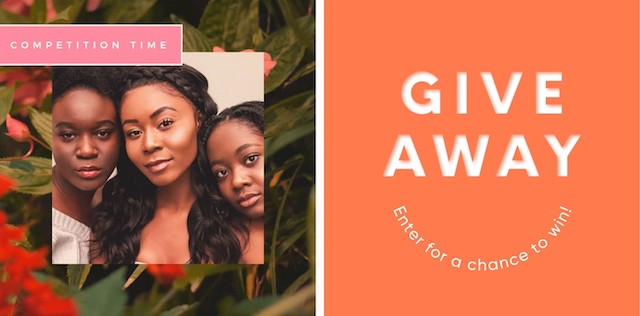 Why running a competition is important
A competition is a great brand-building opportunity that brings your product or service into the spotlight – especially if it's the prize in question. You can put it into the hands of new consumers and make them feel special at the same time. If your brand is new, launching a competition can also help fast-track awareness and make your product instantly desirable.‍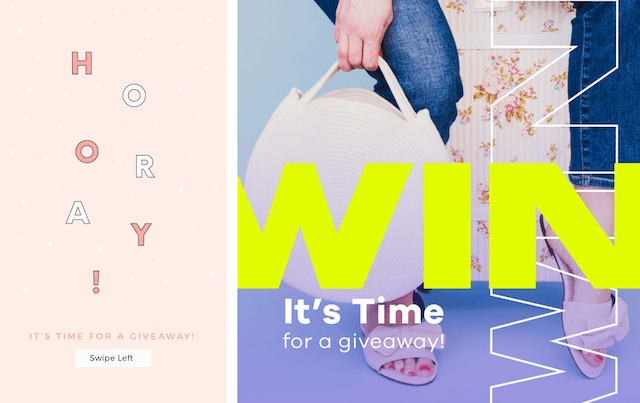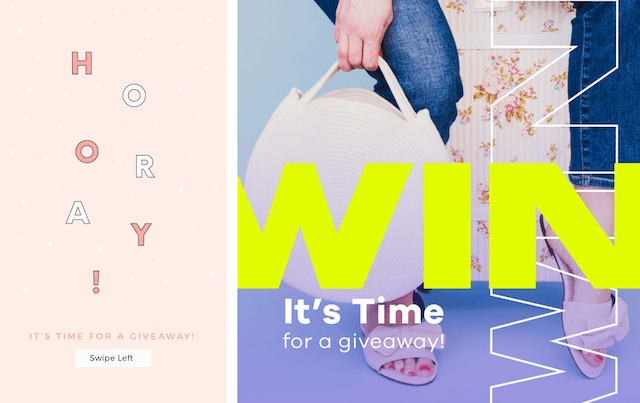 Brands often create competitions in the form of:
Contests
Lucky draws
Giveaways
These kinds of competitions make us pay attention to what a brand is offering by involving it in the competition mechanism. With a worthwhile prize at stake, audiences are typically more prone to:
Using your product
Researching how it works
Promoting and sharing it with friends and family
Innovating your product even further
Leveraging these efforts can, in turn, result in loads of engaging content. It can also lead to valuable consumer insights, along with increased brand awareness.
How to run a competition without losing money
Giving a prize away isn't just a random act of kindness. Well, of course, it could be, but your business should ideally benefit in return for what you're offering.
Running a competition is a trade-off, and it's a delicate balance to strike.
Gaining or engaging customers is always going to cost some marketing dollars. It's worthwhile to know the cost amount when weighing up how generous you can be. An expensive prize will turn more heads in your direction, but it could count as a loss for you.
If the amount of users entering the threshold from "chance taker" to "new customer" is less than expected, this could affect your bottom line.
Do the math and make it count. Make sure to stir up some big brand energy while you have the extra attention.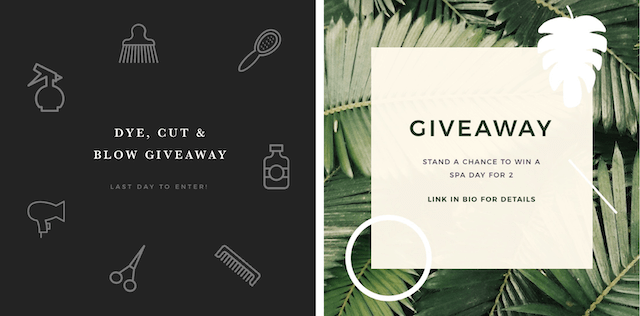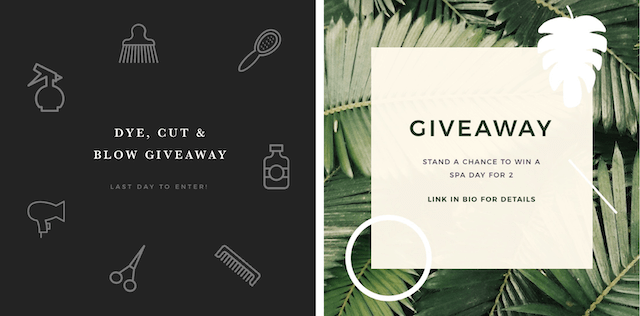 Getting noticed
A desirable prize is the foundation of a great competition, but you can also ramp up the desirability with a stunning design. A good social graphic can make people stop scrolling and start reading.
Show your users what they stand to win in its best possible light.
Impactful images are the most direct route to the "must enter now!" part of the brain.
Competitions have terms of engagement, which require us to (in the words of Vanilla Ice) "stop, collaborate, and listen." Drawing folks in to see what's involved, and deciding whether or not to give it a go, is your first challenge. And that requires reading. Ugh!
Typography
Design and typography are your biggest friends here. Keep things as uncluttered as possible to keep your audience's eyes on the prize. Clean, bold sans-serifs are great for impact and legibility. You don't always have to stick with your brand's regular typeface – draw attention to something out of the ordinary. Consider adding a BIG BOLD display font to your brand's collection, specifically for promotions.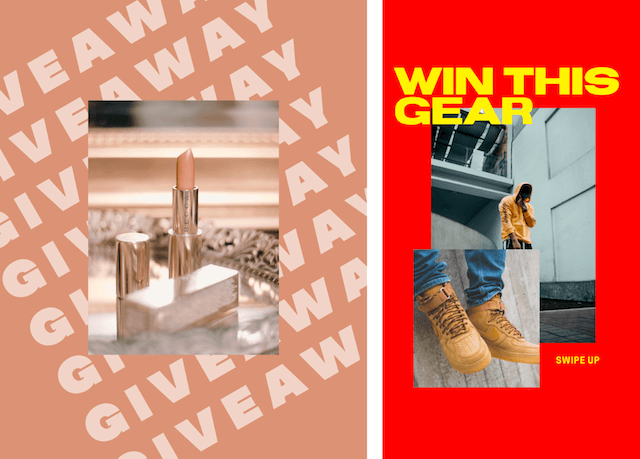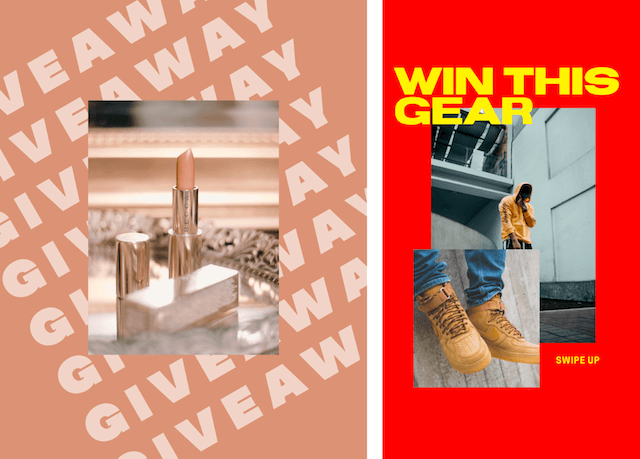 The marketing calendar
As with all promotions, it's wise to consult the marketing calendar when you're planning a competition. Tapping into the prevailing mood and time of year makes your competition seem relevant. Look for something that's happening right now.
Seasonality should also guide your prize. If you're giving something away, try to offer immediately useful prizes. For example, giving away baking products during the holidays are more appealing than giving away concert tickets in colder weather.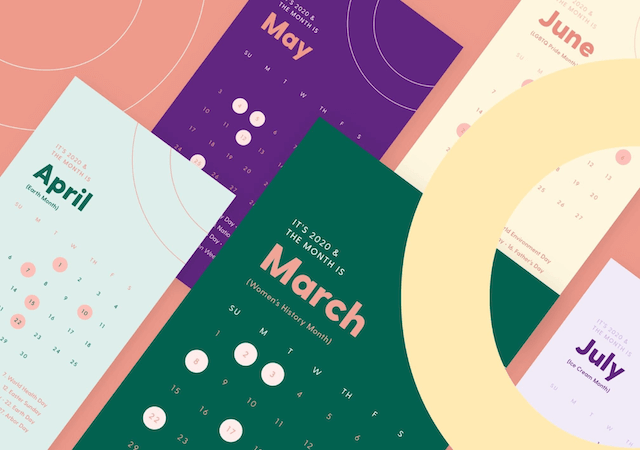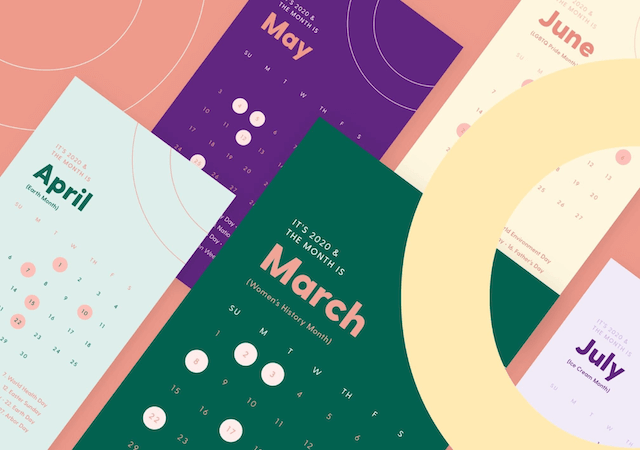 Special days on the calendar can also thematically tie up your competition. Make sure to gear it towards a relevant audience like:
An Xbox on National Video Game Day
Tickets to the World Cup Final
A designer dress during Fashion Week
A trip to Ireland for St. Patrick's Day
Take precise aim and incentivize the crowd most likely to sign up, with the thing they want most.
Your own special days are also a good excuse to be generous. Celebrate your business birthday or important milestones by sharing the love with your audience. Popular milestones to consider include:
Number of followers
Product launches
Winning an award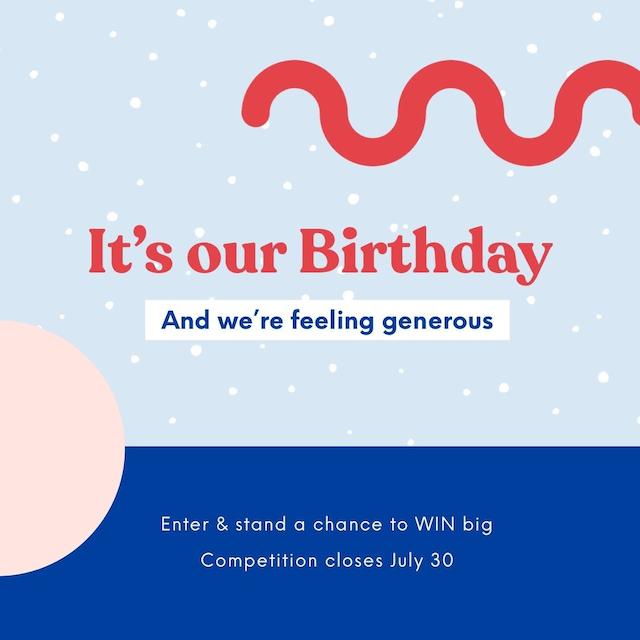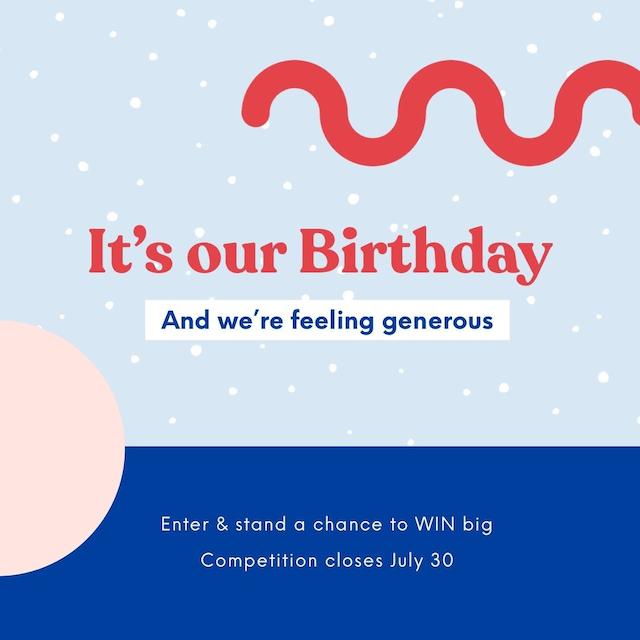 Key tactics to try‍
These are a few variants of the competition you might want to try when building your own brand or small business. Below we'll review some of the key tactics you can consider implementing right away.
Like and comment to win‍
This is like the plain white t-shirt of competitions. It takes seconds to get involved, increases your chances of getting plenty of takers, and helps spike your social engagement. But it's a very fleeting and generic engagement.
Many users are likely to forget all about it as soon as the next pretty thing pops up on their feed. If you're inviting comments, use them as market research and consider asking questions like:
What's your favorite thing about us?
Where would you like us to go next?
Get to know your customers' needs and desires better.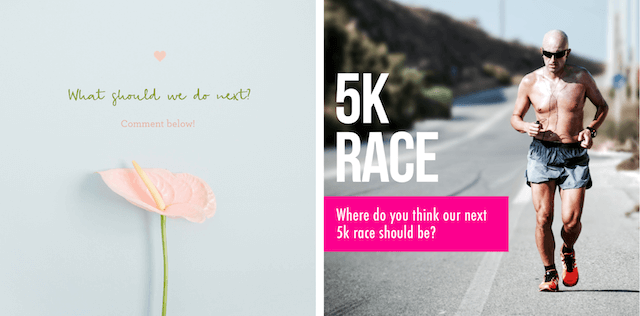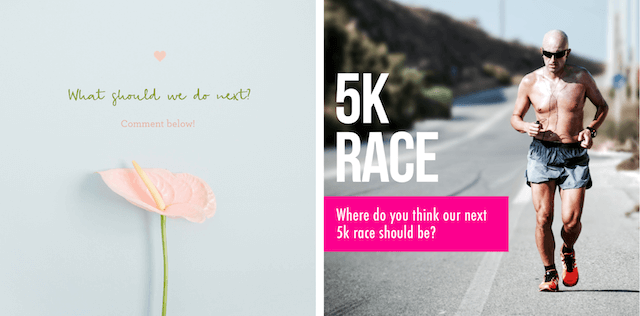 Vote to win
A variant of the "Like and Comment" approach is the "Vote to Win" method. This is another secret weapon that market researchers use to learn more about their target audience. For example, market researchers in the pet industry might ask their fanbase if they are more into dogs or cats.
It's also super useful when you're faced with a significant product or strategy decision for your brand. Invite your customers to vote for things they'd like to see more of. This could include:
Design decisions: Should we go with lilac or peach for our product?
Geographical input: Would you like to see our next pop-up even in Portugal or Greece?
Logo advice: Will the owl or the one with the raven be better?
Let the wisdom of the crowd decide and reward them accordingly.
Follower milestones
Like we said earlier, competitions can sometimes be an act of kindness. Giving something away to your fans and supporters when you hit 100, 1000, or 1000000 followers is a cool thing to do.
It shows your gratitude and generosity toward your fanbase. You could even tie it into any of the other tactics we've discussed earlier.
Alternatively, you could just take a moment to acknowledge the folks who are helping you make your dream come true. There's nothing wrong with a lil' humblebrag to let the world know you're moving on up.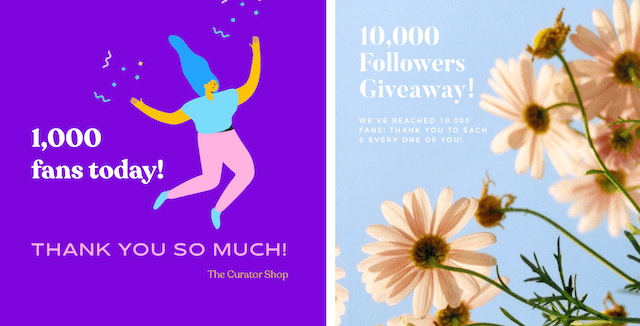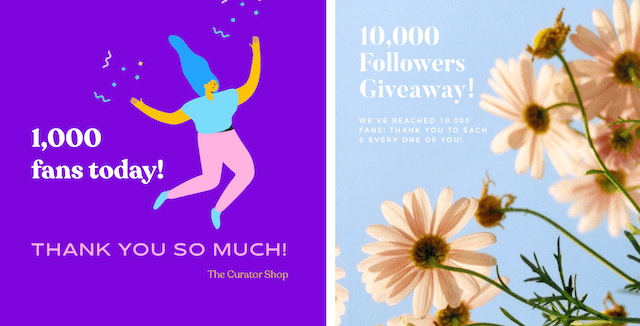 Surprise a follower
If your followers know they stand a chance to randomly win something every day, week, or month (just for being in your extended squad), they're likely to sign up and hang around. And, when they win, you can make somebody's day.
You'll need to sift through contest-tourists to find your true tribe though. But if you can afford a regular giveaway, you'll keep a constant energy in your feed.‍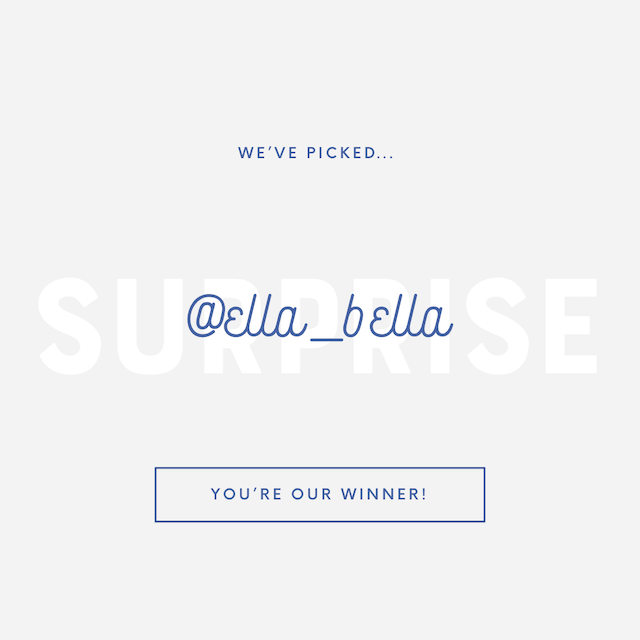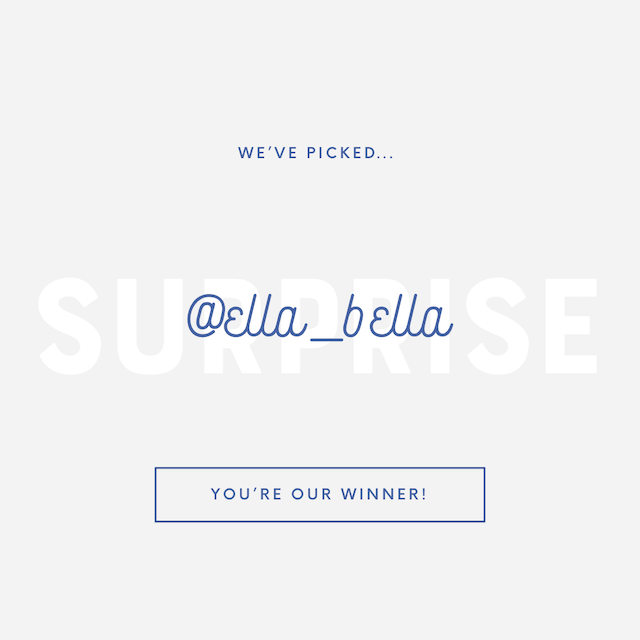 Create to win
If you know your audience has creative inclinations, use this to your advantage. Encourage them to create content for you and build your brand awareness in the process. You can use this as a lens to view your product in the hands of real people and in the real world. User-generated content can be a goldmine for your brand because it's:
Authentic
Engaging
Relevant
Competitions like these also attract more interest, since the winner is decided more on merit than luck. The barrier to entry is a little higher, but the valuable collateral someone stands to gain is well worth a big, shiny prize.‍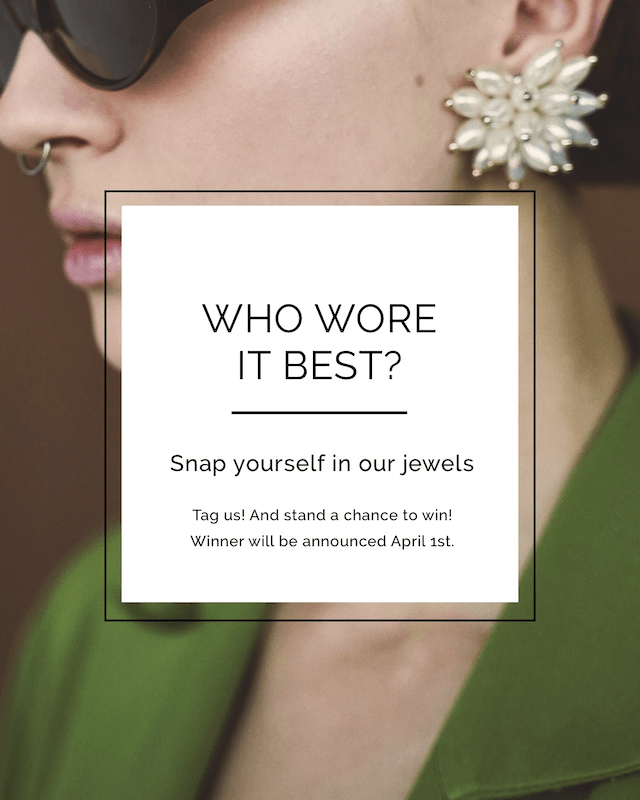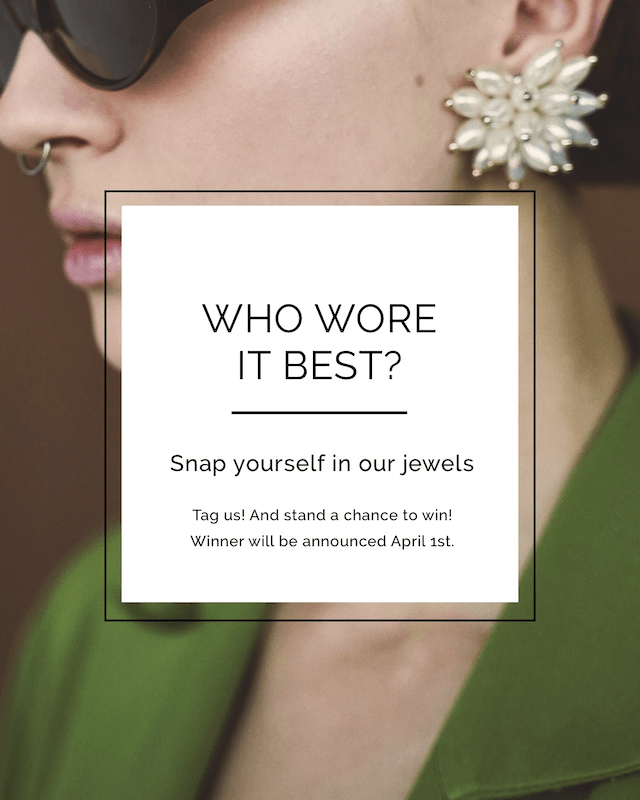 Outsource ideas‍
The law of averages dictates that there will always be a few geniuses amongst your audience. A red hot prize is a good way to recognize and draw them out. Depending on your industry, the following examples can help give you an idea of how to get them interested. Invite them to participate in things like:
Creating a new logo redesign
Adding insight to a new recipe you'd like to develop
Making art for the cover for your new album
Try targeting followers with valuable talents and insights, then reward them handsomely. Make a fuss over the winner by interviewing them on your blog or nudging your followers towards their other work. People thrive on recognition – which could be considered part of the prize.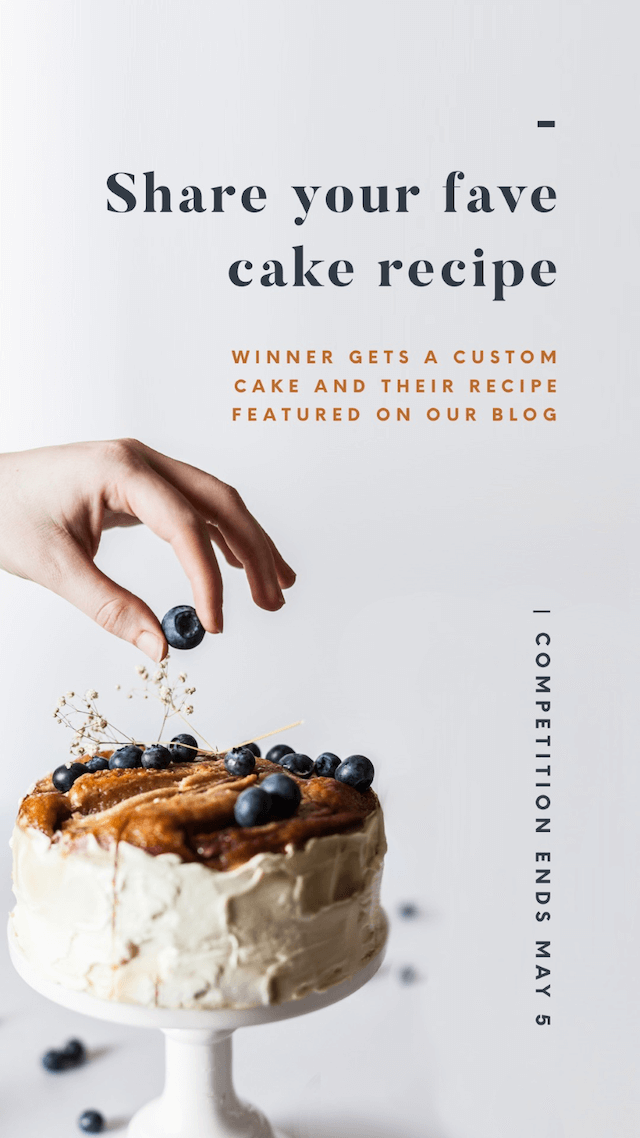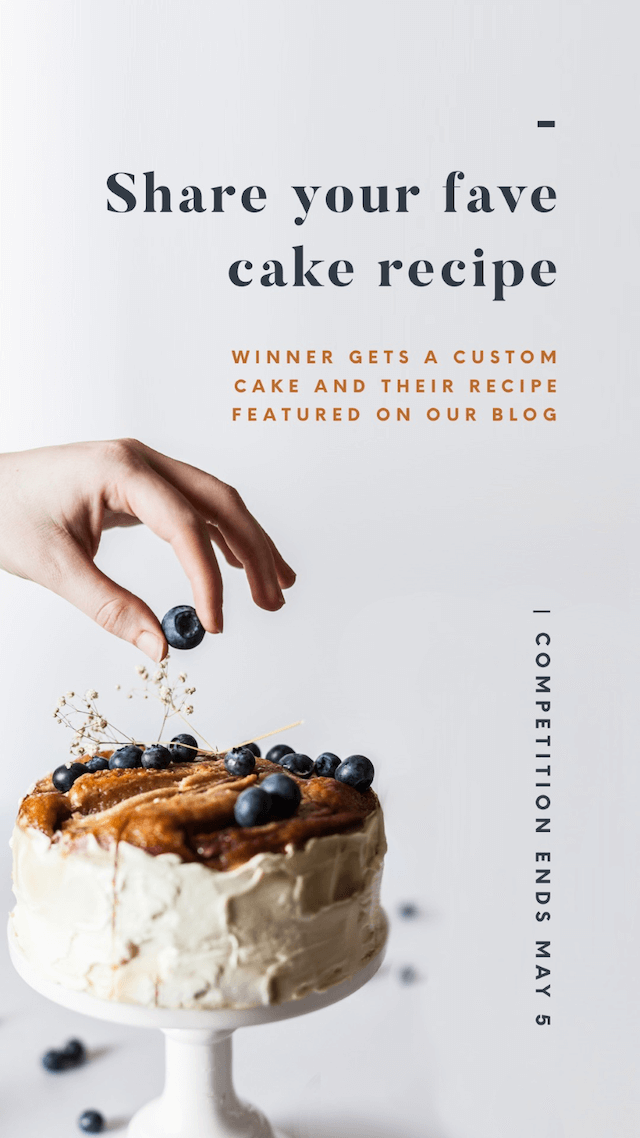 Checklist
Competitions require all your ducks to be in a very neat row before announcing it to the world. You'll want to make sure to pre-empt anything before you go live. Do this by making sure you've got the essentials in place. The checklist below will help you safeguard your bases.
The prize‍
The central character in this story is the grand prize. You could include a few tiered prizes or ten identical ones. Just make sure we know exactly what's up for grabs. ‍
The mechanism‍
The last thing you want is to be spending half your day tending to a torrent of questions. Make the entry mechanism and the contest criteria unmissable. Aim for being crystal clear by asking yourself how the winner will be decided in advance. This could be determined by:
A vote
An executive decision
A draw
Whichever route you decide to go with, it's all crucial stuff that affects your audience's decision to enter.‍
Delivery‍
Once the winner is selected, how are you going to get the prize delivered to them and when? Make sure you know this and communicate it in advance. A disgruntled winner is the easiest way for a competition to backfire.‍
Measuring success‍
An important question to ask yourself is: What are you trading the prize for? You should ideally have some way to measure this by referencing data that determines if your competition ended up being a win for your brand. Worked even better than expected? Great! Now, how can you make it bigger next year? ‍
Terms and conditions‍
Competitions bring emotions into play and you need to manage these. Everyone wants to win and sometimes people become desperate over it because it's important to them. The best way to mitigate against a peeved customer is to be fair and transparent from the get-go.‍
Unmissable social media posts‍
Uptake is a product of hype and hype is a product of preparation. So, set some time aside to design some banging graphics. Use these to usher in as many people as possible to your competition. You'll be amazed at how a vibrant design can sub-consciously dial up the excitement. Make it stand out by downloading the GoDaddy Studio app and creating your masterpiece on the go.
All images within this post are available as editable templates in GoDaddy Studio.
Image by: Ekaterina Shevchenko on Unsplash
In Business, Image Matters. How to Improve Yours?
Your business may boast of excellent products and/or services. However, nowadays, excellent products and services simply aren't enough to help a business survive and thrive in the long run. What your business also needs is a strong image – one that can help it stand out from its competitors.
But how exactly do you go about improving the image of your business? To know the answer to this question, read on as we take you through all the steps you can and must take to take your business forward towards success.
1. Face-to-face interactions with people
We may be living in the digital age, but nothing can beat face-to-face interactions when it comes to telling people about your business. Here are some ways through which you can inform people about your business and what it's all about:
Meet people and start conversations
It's unrealistic to expect that people will know about your business if you don't reach out to them. So, start going out and attending events.
Business-centric open meetings and conferences would be the best place to start. At these events, you'll run into several businessmen like yourself. You should make the most of these opportunities to start conversations with others from the world of business. This will gradually let people know about your business and the products and/or services it has to offer.
Prepare a pitch
When you meet potential customers, you have to be prepared to speak spontaneously about your business. At this juncture, it's important that you don't fumble or sound unconfident. After all, what you tell people about your business will form impressions in their minds – and you'd want those impressions to be positive, wouldn't you?
This is where preparing a pitch can come in incredibly handy. Write it down first and then keep practicing it out loud, and make changes where necessary.
Participate in community events
Your local community is the first pillar of support for your business. So, get out there and try playing a role in all community events. At these events, you should promote your business in a friendly and welcoming manner.
This should encourage members of your local community to take an interest in your business and what it has to offer. Sure, this may not result in immediate sales, but it will definitely improve your business's public visibility.
2. Make your business appear professional
A surprising fact is that the modern-day consumer values professionalism more than the quality of products and services. Of course, product and service quality is important, but if your business lacks professionalism, it will lose out on customers.
So, to make your business appear professional, you can put the following steps into practice:
Invest in a business website
The internet is arguably the biggest platform for businesses nowadays, which is why you should invest in a dedicated website for your business. We recommend hiring professional web developers and designers to curate your business website. This will ensure that your website looks and feels professional.
Apart from setting up a website, you should also pay attention to its content. Quite simply, it should have all the information that your target audience may want to know, i.e., contact information and information about the business. Your business website should also have a blog with consistent posts. This can go a long way towards ensuring your expertise within your niche.
Set up a dedicated email account for your business
Using your personal email account as your business's email account is nothing short of a criminal offense. That's why you should set up a dedicated business email account. It'll help you achieve consistency with your branding, and it'll also allow your business to look professional to the people who subscribe to your business newsletters.
To set up a business email account, you need to first create a domain name and then get in touch with an email provider. Two of the best email providers out there include Office 365 for Business and Google Apps for Business. Both options provide business-class email along with features such as online storage and document editing. The best thing about these options is that they're quite inexpensive.
Provide 24/7 Customer Service
These days, consumers expect the companies they buy products and services from to be available for them 24/7. Fortunately, the widely availble virtual assistant and reception services such as those provided by www.virtualreception.com.au can do that for you – both on and off office hours – to any types and sizes of business, from freelancing digital nomads to multinational corporations.
3. Set up your social media for success
Social media platforms such as Twitter, Instagram and Facebook are excellent places to market your business and its products. Here are a few ways to make your business succeed on social media:
Create business profiles
On all major social media platforms, you have the option of setting up personal profiles and business profiles. It's best to create the latter type of profile as it is designed specifically for business purposes.
During the setup process, make sure that you include relevant info in the bio sections. Don't forget to add links to your official website and other social media handles as well.
Post relevant content regularly
All social media algorithms tend to favor accounts that post relevant content on a consistent basis. So, irrespective of the social media platforms you're active on, make sure that you're posting new content as much as possible.
Not posting regularly can limit your business account's reach and stall its growth on social media.
Keep branding elements consistent across all platforms
If your Instagram page looks drastically different from your Facebook page, your target audience is bound to get confused. That's why it's vital to use similar branding elements across all social media platforms.
The branding elements you should focus on keeping consistent include your business's logo, its imagery, and its voice, i.e., the tone of communicating with your audience.
Encourage users to engage with you on social media and interact with them: Through the use of call-to-action (CTA) messages, you can encourage your followers on social media to engage with your posts. You should also spare time to respond to your followers' comments.
Takeaway
There are quite some things to consider in your endeavor to increase your buisness image. However, focusing on the three above is more than sufficient to get started: Meet people and tell the about your business; make an effort to be professional, especially in your online presence; and lastly, make use of social media platforms to your advantage.
Be sure to do a lot of trials-and-errors so that you can form the best practices for your company.
14 community management tips for meaningful connections with customers
Get up to 30%* off! Get going with GoDaddy!
The idea for sharing community management tips came to me about a year ago. That's when I synced up with the GoDaddy Community team to host a webinar for small business owners. As hundreds of attendees rolled into the Zoom, I had a realization: "GoDaddy has a strong community."
Behind every good brand and business, there's a solid community of supporters, stakeholders, and sometimes, even haters.
But building a community and maintaining connections is one of the most misunderstood and least talked about topics within the small business world. For a business with fewer than five employees and a handful of customers, community building might seem like just another marketing tactic that is just out of reach.
To help small businesses build and manage an online community, I asked other business owners and marketers what community management tips they had for creating meaningful connections with customers.
14 community management tips to create meaningful customer connections
Given that creating and maintaining a strong community can help retain and attract customers, consider following these 14 community management tips:
Be quick to address negative experiences
Filter out spam
Showcase success
Send a postcard
Get your customers involved in important decisions
Bring Up topics that encourage engagement
Provide talking points and engage with your community
Engage regularly
Be the face of your brand
Choose a channel that works
Create content that addresses customers' specific needs
Consider a brand ambassador program
Reward loyalty
Recognize the importance of inclusivity
Read on to learn more.
1. Be quick to address negative experiences
A bad customer experience can quickly escalate to a brand reputation crisis, and the company's response must be fast to revert the situation.
Monitoring social channel mentions is an easy way to keep an eye on conversations surrounding your brand and detect potential concerns.
Once a customer posts a comment that threatens your brand reputation, listen, honestly apologize and be willing to solve the issue in the best possible way. Your unsatisfied customer will feel appreciated and perhaps even become a brand advocate.
-Rebeca Sena, GetSpace.digital
2. Filter out spam
The most important thing you should be doing in regards to community management is interacting with your community, and you cannot do that properly if you have to work through a bunch of spam. There are many programs out there, even some within the different social media sites, that can filter out spam in your comments and messages so you can focus on addressing your community. Plus, getting rid of the spam and moderating harmful comments creates a better space for your community to contact you through.
-Jacob Dayan, Community Tax
3. Showcase success
Develop case studies from your successful community members. This is a practical way of propagating the core values of your online community and encouraging new users to join your community.
The more these members contribute to the community, the more impact these case studies have. You can start by creating basic reports to identify the members who are actively contributing high-quality content, assisting other members, and elevating the community.
-Hasan Farahani, Yocale
4. Send a postcard
Many of my customers spend $15–$20K on medical care in Latin America. I send my customers handwritten postcards to remind them of their journey, thank them for their business, and to stay engaged while they recover from procedures like dental implants or plastic surgery.
The cost in time and money is very low, but a human touch in the healthcare space is increasingly rare.
-Wesley Jacobs, Apollo Medical Travel
5. Get your customers involved in important decisions
Taking the time to follow up with your most active customers and getting their insights on important decisions makes them feel like their opinions are truly valued and cared for.
In the long run, this forges a strong connection between you and your audience that relies on more than simply a transaction.
An added benefit of doing this is that you may even get some eye-opening suggestions and creative ideas that could end up benefiting your business.
-Harry Morton, Lower Street 
6. Bring up topics that encourage engagement
Meaningful connections need to originate from a common source that offers a moment of relatability, which can further build brand trust. Social platforms offer numerous opportunities for these types of exchanges. When managing your social community, bring up topics that encourage engagement so you can connect on a level that goes beyond the basic company/customer relationship. In doing so, the consumer will feel more at ease to comment, ask questions and even provide more detailed feedback.
-Lindsay McCormick, Bite 
7. Provide talking points and engage with your community
It's important to recognize that community management is an ongoing responsibility. If you want to see your community thrive, you must create opportunities for customers to voice their opinion, communicate with other community members and provide you with feedback. Finding success is contingent on your ability to encourage participation from users, so you must provide talking points and give them plenty of avenues to stay involved.
If you leave your community dormant without your administrative oversight, engagement will start to dwindle as fewer users initiate conversations and take part.
Communities rarely function autonomously, so be sure to play an active role as you connect with and safeguard your community.
This gives you a chance to speak with your customers on a personal level, helping you learn about their likes, dislikes, objections and pain points directly—all of which are crucial in building meaningful connections with customers.
-Mike Grossman, GoodHire
8. Engage regularly
The best community management tip is to engage regularly and don't neglect questions or threads you didn't start—even better if they aren't getting a lot of feedback. If you're lucky enough to have the opportunity to regularly interact with your customers, make sure you're commenting often and have a badge next to your name letting them know you're a moderator or part of the company. That will really cement that feeling of connection and letting members feel heard. Plus, we've found that a community manager can really breathe life into a topic by offering input and pushing it to the front of that community for more engagement.
-Sylvia Kang, Mira
9. Be the face of your brand
Revealing the human side of your brand is without a shadow of a doubt an efficient strategy to boost your customers' connection. It conveys transparency and accountability, building a stronger human bond. Consumers tend to trust people more than a company, and showcasing real people will make you and your brand easier to remember and trust.
-Chiara Sternardi, Passport-photo.online
10. Choose a channel that works
The best way to build an authentic community is to have everyone communicate using the same social media platform. Make that a crucial part of your strategy.
If it's a professional audience that you're going after, choose LinkedIn. If it's a broader audience, use Facebook or Instagram. If it's a young audience, try Snapchat or WhatsApp. If it's a politically charged audience, maybe try Twitter.
YouTube is a great way to encourage people to watch videos that provide clear instructions on how a product or service works.
Users flock to YouTube for instructions on everything from how to change batteries on a device to playing scales on a guitar. The comment section can be useful for feedback purposes, and it also can be a way for customers to communicate with one another.
-Joel Jackson, Lifeforce
11. Create content that addresses customers' specific needs
By creating audience and buyer personas based on different client categories, content marketers can create social content that speaks to people rather than just industries. Learn where your customers hang out online using your social media demographics. Then, narrow those results using audience research to help you define a specific audience and channel. You can then customize communications by researching the LinkedIn profiles of potential customers. Doing so will allow you to identify different stakeholders within the organization and determine their pain points. You can then create better content that addresses their challenges. But it's all about finding an interesting angle for each segment.
Content that is too broad won't result in authentic engagement with your followers.
Social media posts that offer helpful information are guaranteed to stand out in your clients' feeds, resulting in more likes, shares and leads.
-Daniel Tejada, Straight Up Growth
12. Consider a brand ambassador program
A great way to create authentic connections with customers is with an acquisition and advocacy program like a brand ambassador program. For example, if a user can get five people to sign up for a service or product, they become an ambassador.
These brand ambassadors can help your business acquire new users. You can reward them with swag and access to special products or services … maybe even a special event!
-Jennifer Pieniazek, Resume Now
13. Reward loyalty
You can create meaningful connections by rewarding loyal customers to show how much you appreciate them. Just like any relationship, whether it's personal or professional, people appreciate rewards. Show your customers that they matter and are top of mind in your decision-making. That's how you create a stronger, more loyal customer base—one that will continue to pay attention for new initiatives and future rewards.
-Alyssa Berman-Waugh, Level Home, Inc.
14. Recognize the importance of inclusivity
To create meaningful connections with customers, recognize and accept diversities within your community. Each of your customers will differ in terms of their culture, orientation, ability and life experience. It's imperative that you celebrate these differences and welcome input from individuals of all walks of life as you advocate for equity and inclusivity. This will develop your community's reputation and attract diverse groups in greater numbers.
Communities that cater to just one group of people almost always become echo chambers, creating a suboptimal environment for connections to form and important discussions to take place.
By listening, asking questions, and welcoming input from diverse groups of individuals, you'll cement your community as a welcoming place for diversity and insight to flourish.
In doing so, your ability to build a rapport and create meaningful, lasting connections with your customers will blossom.
-Patrick Casey, Felix
The community management tips used in this article were gathered using Terkel.
Terkel creates community-driven content featuring expert insights. Sign up at terkel.io to answer questions and get published.
How Online Presence Makes Your Business More Trustworthy
Have you ever made a dining decision based on a review you saw on the internet? You may have picked a product because it seemed "more trustworthy" online. It's also a deal breaker if it isn't handled correctly.
Customers are more inclined to believe in your company if it presents itself well on the internet. Whether a startup or a large corporation, your online appearance and behaviour matter to your consumers if you own an offline or online company.
Why Should Your Business Go Online?
In addition to being available for your consumers, here are other reasons to consider your online presence.
It Improves Your Company's Accessibility
When you don't sell anything online, a solid online presence can help you make more money from the internet if you aren't engaged on social media.
Before making a purchase, most consumers do internet research to learn more about the company and the goods. Being at the right place at the right time is simply good business.
It Takes Care of Your Marketing and Branding
An internet presence provides a steady supply of customers for your company. Customer feedback and social media participation may help boost purchases. It's easier for consumers to identify your online presence with a website or social media account.
It May Boosts Your Company's Credibility
Having an online presence is essential for your organisation to be taken seriously. A startup might have difficulty being accepted as a legitimate organisation in its early stages. It's essential to have a strong internet presence before people take you seriously. It's easier to get quick loans at gdayloans.com.au to expand your company.
It Aids in the Comprehension of Your Target Market
When you have an online presence, you can engage with your audience in a two-way conversation to get valuable feedback or evaluations. In addition, it helps you learn more about your prospective consumers and the things they're looking for. If a restaurant uses polls on its Facebook page, it may determine which specials and goods are most popular with its patrons.
How Can You Evaluate and Enhance Your Company's Web Presence?
Analysing your online reputation simply means monitoring what others say about you online. Then you make it work for you.
You can monitor and enhance your company's online appearance by following these three steps.:
Monitor Mentions of Your Business
Monitoring your company's internet mentions can help you track what's being said about you and mitigate unfavourable publicity. This can also help you identify communication gaps.
Google Alerts can help you track online references of your company. Set up notifications for your business/product name and relevant keywords, and you'll be alerted promptly whenever you're mentioned anyplace online.
Analyse Your Website Traffic
The source of your traffic (and how much) might assist you in evaluating your internet presence. It may be necessary to expand your internet activities beyond your website. For example, low social media traffic might imply a poor social presence.
Tracking your website's traffic with Google Analytics might reveal secret traffic sources that your Google search may have overlooked. It will also help you find unnoticed remarks or backlinks.
Assess Your Social Media Engagement
Your social media presence affects your online reputation as well. Active consumers on your social media platforms help build trust and confidence.
Consider checking a company's and a competitor's Facebook accounts. You may observe that one firm interacts with clients while the other has a few likes but no comments. Which do you prefer?
Bottom Line
An active social media presence gives the impression of reliability while also conveying a sense of humanity and authenticity. Your audience will be more engaged as your social media presence improves.
To keep up with your target audience, you need to be one step ahead of them online. The first step is to become well-versed in everything your consumers discover about your company through the internet. Your internet presence must be understood, monitored, and improved to reach this goal.