Promo toolkit: How to run a competition
Get up to 30%* off! Get going with GoDaddy!
As we all grapple with the new business landscape set forth by the pandemic, your brand could use all the attention it can get. Many consumers are anxious, cash-strapped, and desperate for a ray of light in the gloom, which is why a social media competition could lighten the mood on both ends. If you've ever wondered how to run a competition on social media, now's the time to roll up your sleeves and dive in.
Running a competition is something you can do right away to create buzz for your business and generate positive engagement from your customers.
When someone believes they could win a competition, there's a psychological effect that generates warm and fuzzy feelings. These feelings bring positivity to your brand, along with a boost in organic promotion — especially since all winners love sharing the good news with friends and family.
Done with empathy and authenticity, a competition could come across as a generous gesture when your brand gives something away. It offers a renewed sense of human connection with your customers in a way that the pandemic can't interfere with. Competitions will always be valuable for brand visibility and new leads or sales, but they're also an expression of giving back.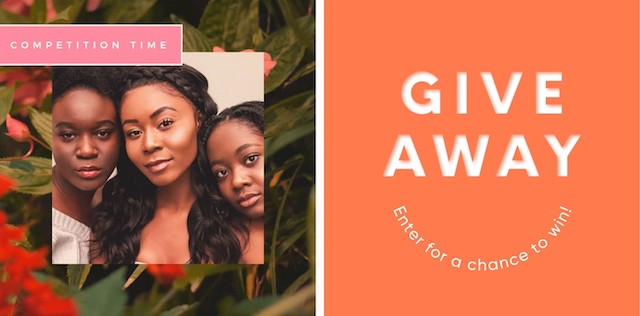 Why running a competition is important
A competition is a great brand-building opportunity that brings your product or service into the spotlight – especially if it's the prize in question. You can put it into the hands of new consumers and make them feel special at the same time. If your brand is new, launching a competition can also help fast-track awareness and make your product instantly desirable.‍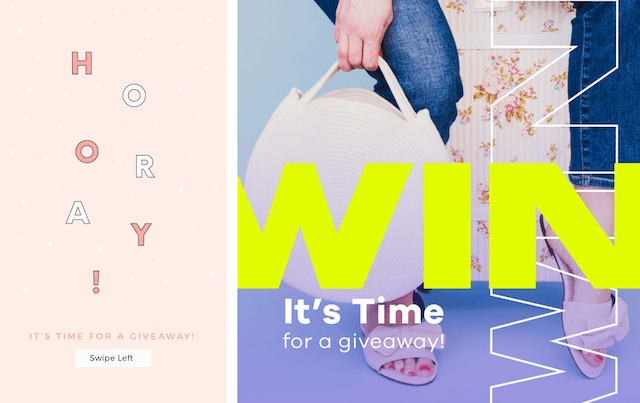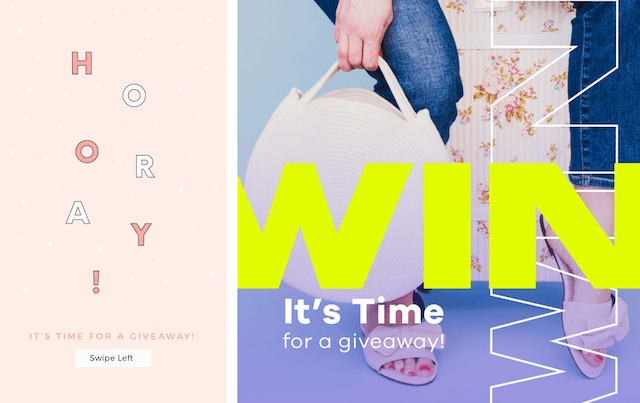 Brands often create competitions in the form of:
Contests
Lucky draws
Giveaways
These kinds of competitions make us pay attention to what a brand is offering by involving it in the competition mechanism. With a worthwhile prize at stake, audiences are typically more prone to:
Using your product
Researching how it works
Promoting and sharing it with friends and family
Innovating your product even further
Leveraging these efforts can, in turn, result in loads of engaging content. It can also lead to valuable consumer insights, along with increased brand awareness.
How to run a competition without losing money
Giving a prize away isn't just a random act of kindness. Well, of course, it could be, but your business should ideally benefit in return for what you're offering.
Running a competition is a trade-off, and it's a delicate balance to strike.
Gaining or engaging customers is always going to cost some marketing dollars. It's worthwhile to know the cost amount when weighing up how generous you can be. An expensive prize will turn more heads in your direction, but it could count as a loss for you.
If the amount of users entering the threshold from "chance taker" to "new customer" is less than expected, this could affect your bottom line.
Do the math and make it count. Make sure to stir up some big brand energy while you have the extra attention.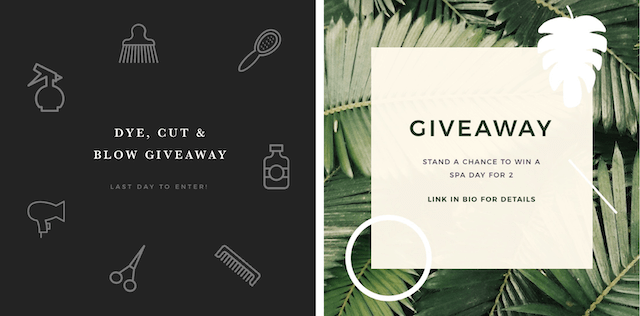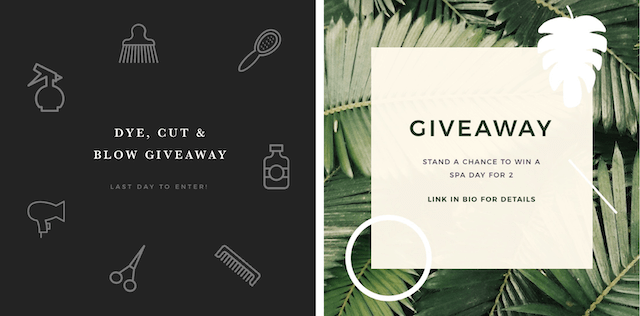 Getting noticed
A desirable prize is the foundation of a great competition, but you can also ramp up the desirability with a stunning design. A good social graphic can make people stop scrolling and start reading.
Show your users what they stand to win in its best possible light.
Impactful images are the most direct route to the "must enter now!" part of the brain.
Competitions have terms of engagement, which require us to (in the words of Vanilla Ice) "stop, collaborate, and listen." Drawing folks in to see what's involved, and deciding whether or not to give it a go, is your first challenge. And that requires reading. Ugh!
Typography
Design and typography are your biggest friends here. Keep things as uncluttered as possible to keep your audience's eyes on the prize. Clean, bold sans-serifs are great for impact and legibility. You don't always have to stick with your brand's regular typeface – draw attention to something out of the ordinary. Consider adding a BIG BOLD display font to your brand's collection, specifically for promotions.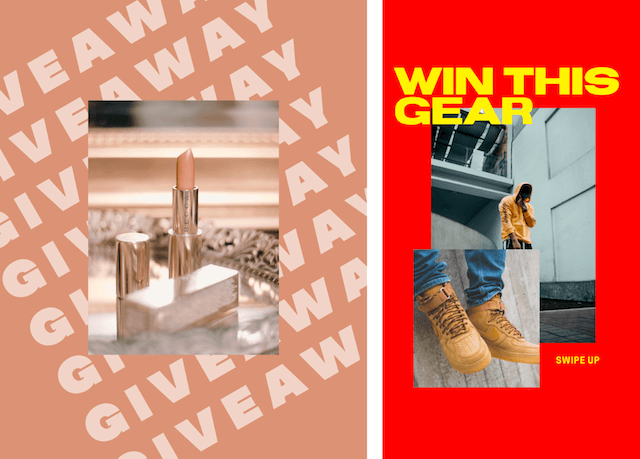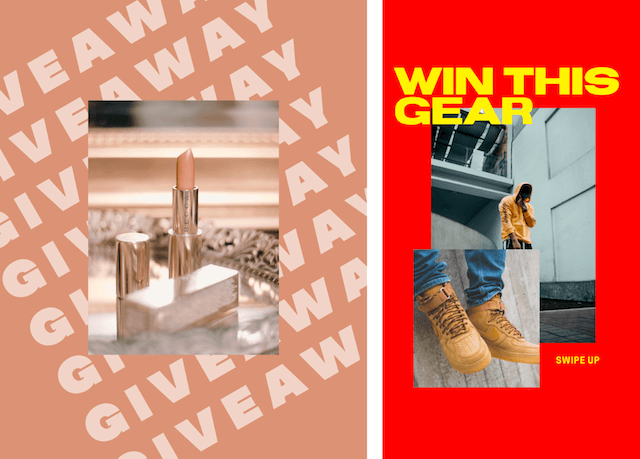 The marketing calendar
As with all promotions, it's wise to consult the marketing calendar when you're planning a competition. Tapping into the prevailing mood and time of year makes your competition seem relevant. Look for something that's happening right now.
Seasonality should also guide your prize. If you're giving something away, try to offer immediately useful prizes. For example, giving away baking products during the holidays are more appealing than giving away concert tickets in colder weather.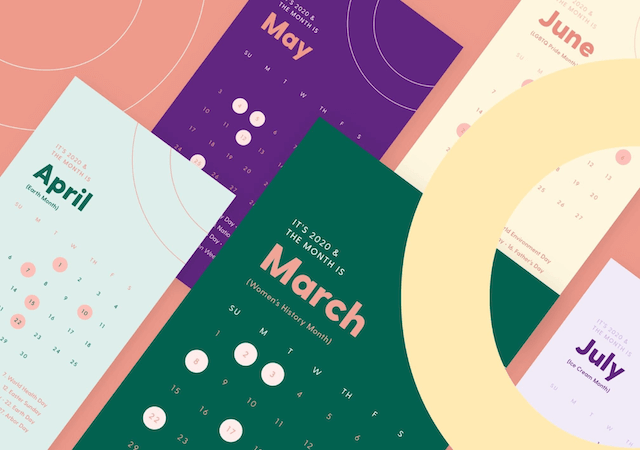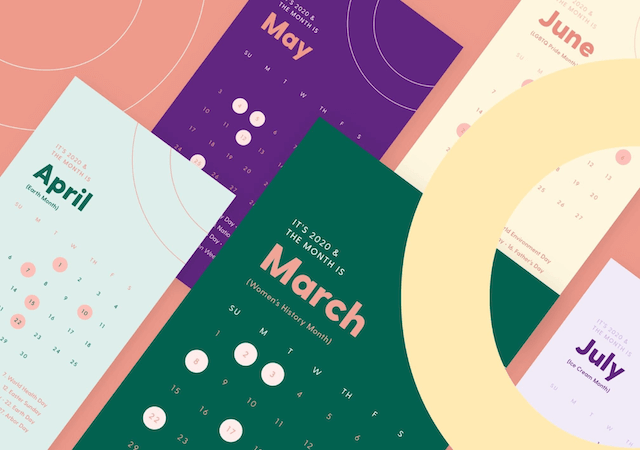 Special days on the calendar can also thematically tie up your competition. Make sure to gear it towards a relevant audience like:
An Xbox on National Video Game Day
Tickets to the World Cup Final
A designer dress during Fashion Week
A trip to Ireland for St. Patrick's Day
Take precise aim and incentivize the crowd most likely to sign up, with the thing they want most.
Your own special days are also a good excuse to be generous. Celebrate your business birthday or important milestones by sharing the love with your audience. Popular milestones to consider include:
Number of followers
Product launches
Winning an award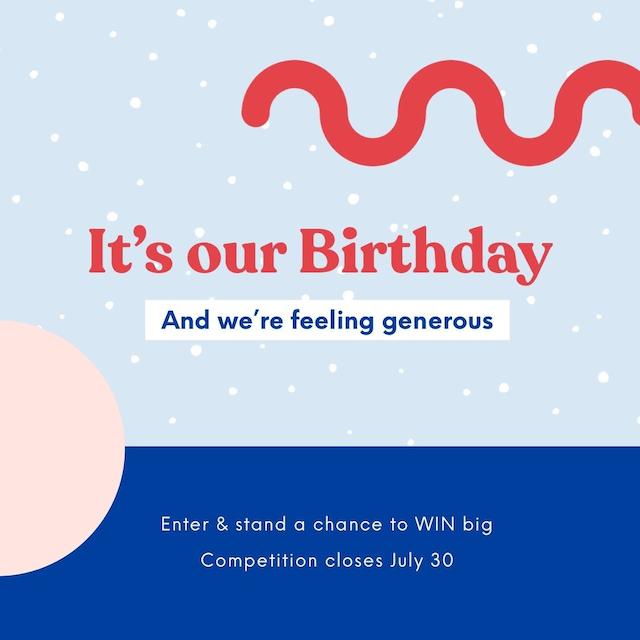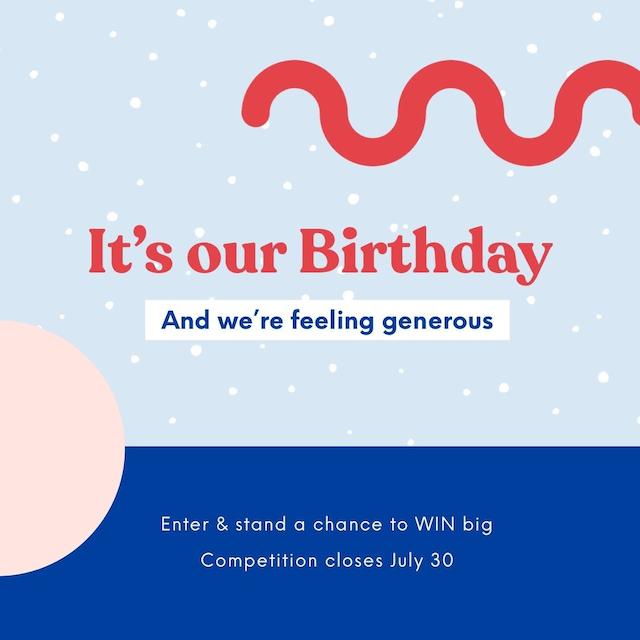 Key tactics to try‍
These are a few variants of the competition you might want to try when building your own brand or small business. Below we'll review some of the key tactics you can consider implementing right away.
Like and comment to win‍
This is like the plain white t-shirt of competitions. It takes seconds to get involved, increases your chances of getting plenty of takers, and helps spike your social engagement. But it's a very fleeting and generic engagement.
Many users are likely to forget all about it as soon as the next pretty thing pops up on their feed. If you're inviting comments, use them as market research and consider asking questions like:
What's your favorite thing about us?
Where would you like us to go next?
Get to know your customers' needs and desires better.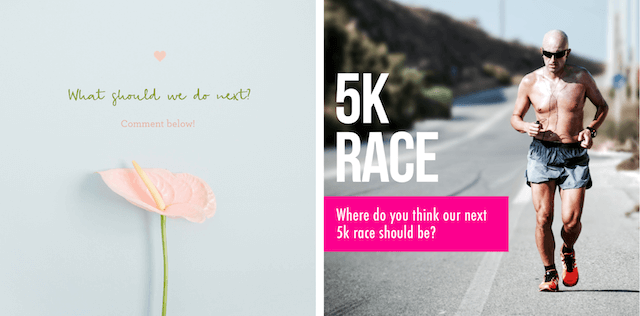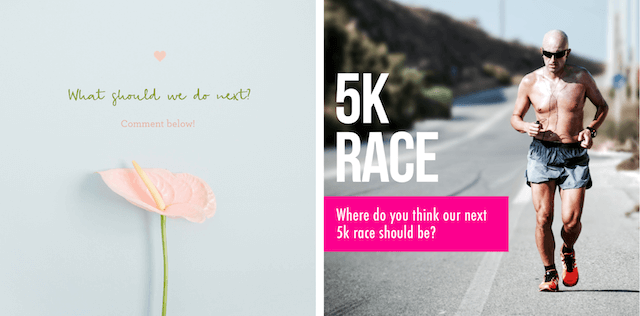 Vote to win
A variant of the "Like and Comment" approach is the "Vote to Win" method. This is another secret weapon that market researchers use to learn more about their target audience. For example, market researchers in the pet industry might ask their fanbase if they are more into dogs or cats.
It's also super useful when you're faced with a significant product or strategy decision for your brand. Invite your customers to vote for things they'd like to see more of. This could include:
Design decisions: Should we go with lilac or peach for our product?
Geographical input: Would you like to see our next pop-up even in Portugal or Greece?
Logo advice: Will the owl or the one with the raven be better?
Let the wisdom of the crowd decide and reward them accordingly.
Follower milestones
Like we said earlier, competitions can sometimes be an act of kindness. Giving something away to your fans and supporters when you hit 100, 1000, or 1000000 followers is a cool thing to do.
It shows your gratitude and generosity toward your fanbase. You could even tie it into any of the other tactics we've discussed earlier.
Alternatively, you could just take a moment to acknowledge the folks who are helping you make your dream come true. There's nothing wrong with a lil' humblebrag to let the world know you're moving on up.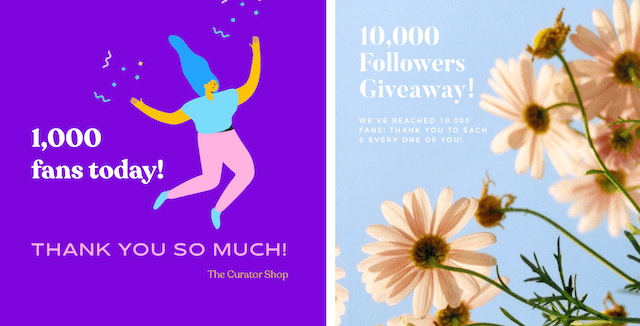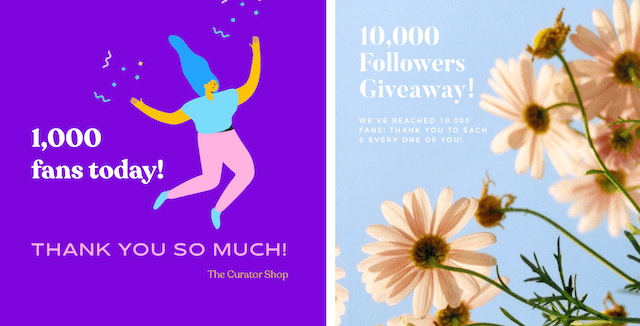 Surprise a follower
If your followers know they stand a chance to randomly win something every day, week, or month (just for being in your extended squad), they're likely to sign up and hang around. And, when they win, you can make somebody's day.
You'll need to sift through contest-tourists to find your true tribe though. But if you can afford a regular giveaway, you'll keep a constant energy in your feed.‍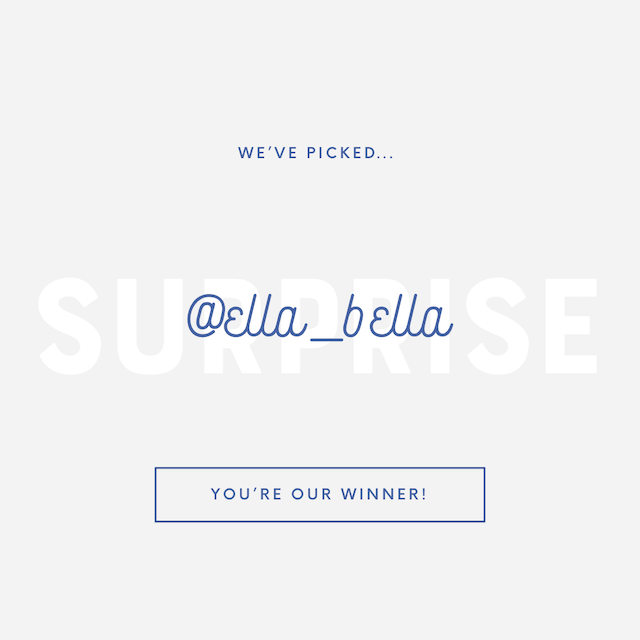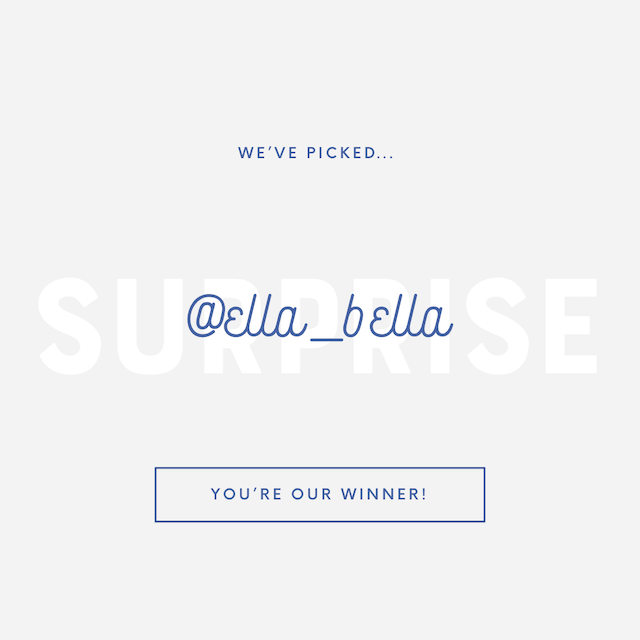 Create to win
If you know your audience has creative inclinations, use this to your advantage. Encourage them to create content for you and build your brand awareness in the process. You can use this as a lens to view your product in the hands of real people and in the real world. User-generated content can be a goldmine for your brand because it's:
Authentic
Engaging
Relevant
Competitions like these also attract more interest, since the winner is decided more on merit than luck. The barrier to entry is a little higher, but the valuable collateral someone stands to gain is well worth a big, shiny prize.‍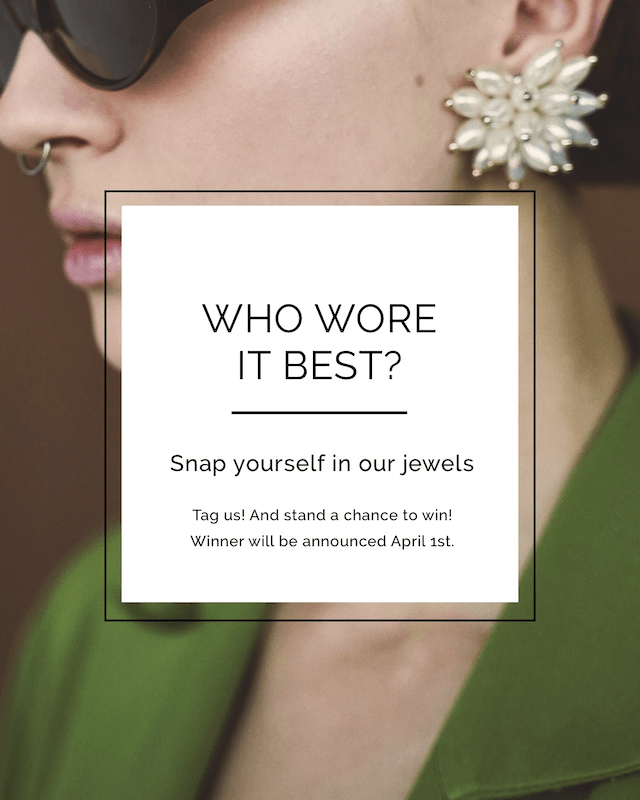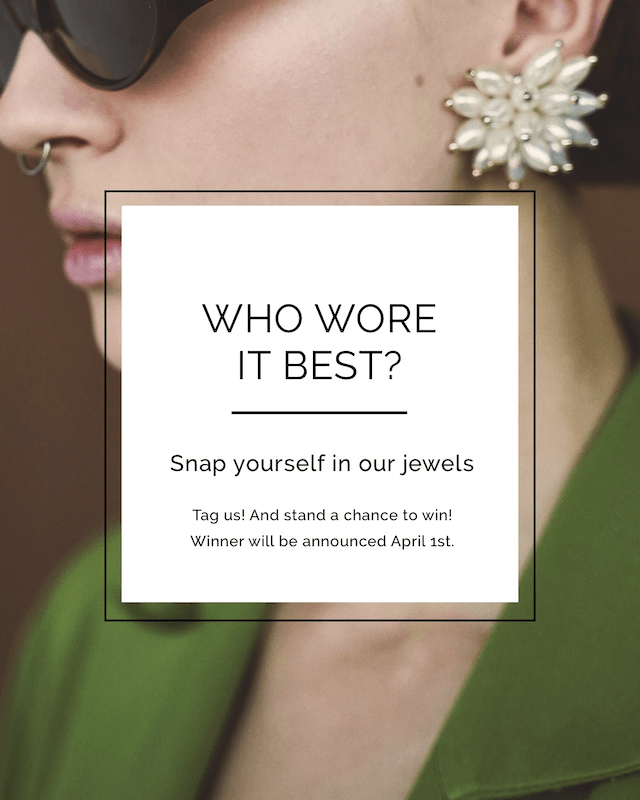 Outsource ideas‍
The law of averages dictates that there will always be a few geniuses amongst your audience. A red hot prize is a good way to recognize and draw them out. Depending on your industry, the following examples can help give you an idea of how to get them interested. Invite them to participate in things like:
Creating a new logo redesign
Adding insight to a new recipe you'd like to develop
Making art for the cover for your new album
Try targeting followers with valuable talents and insights, then reward them handsomely. Make a fuss over the winner by interviewing them on your blog or nudging your followers towards their other work. People thrive on recognition – which could be considered part of the prize.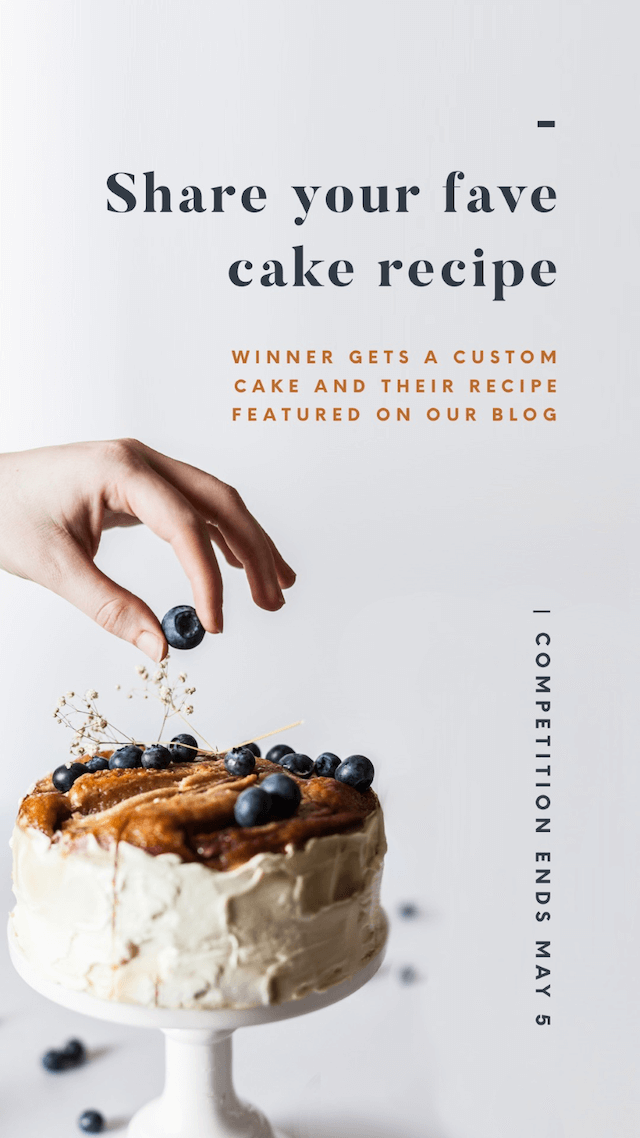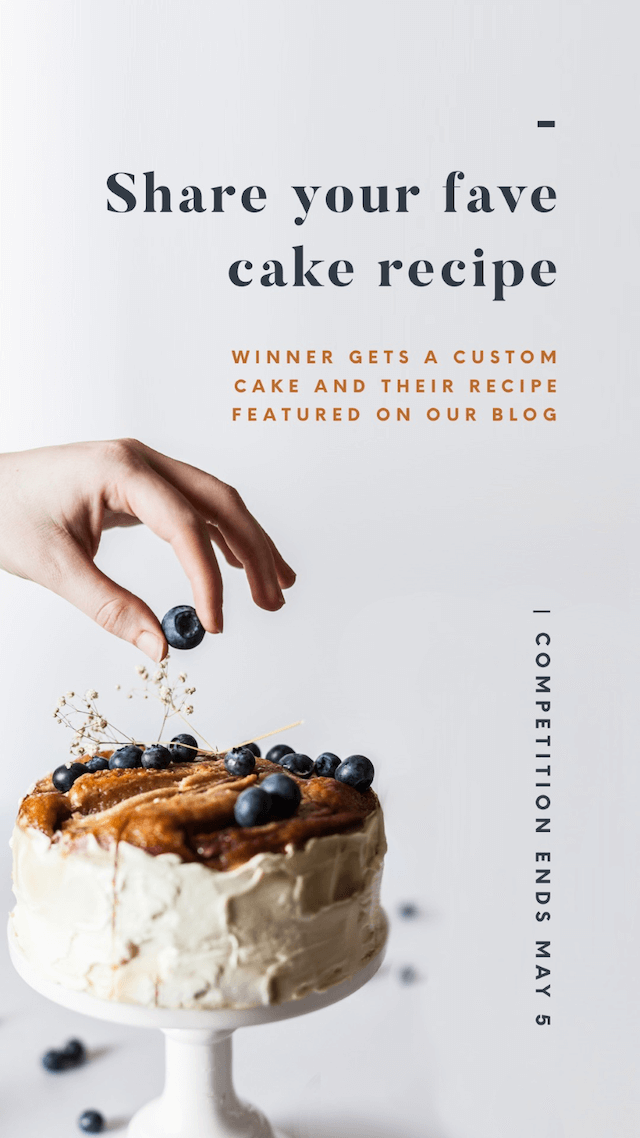 Checklist
Competitions require all your ducks to be in a very neat row before announcing it to the world. You'll want to make sure to pre-empt anything before you go live. Do this by making sure you've got the essentials in place. The checklist below will help you safeguard your bases.
The prize‍
The central character in this story is the grand prize. You could include a few tiered prizes or ten identical ones. Just make sure we know exactly what's up for grabs. ‍
The mechanism‍
The last thing you want is to be spending half your day tending to a torrent of questions. Make the entry mechanism and the contest criteria unmissable. Aim for being crystal clear by asking yourself how the winner will be decided in advance. This could be determined by:
A vote
An executive decision
A draw
Whichever route you decide to go with, it's all crucial stuff that affects your audience's decision to enter.‍
Delivery‍
Once the winner is selected, how are you going to get the prize delivered to them and when? Make sure you know this and communicate it in advance. A disgruntled winner is the easiest way for a competition to backfire.‍
Measuring success‍
An important question to ask yourself is: What are you trading the prize for? You should ideally have some way to measure this by referencing data that determines if your competition ended up being a win for your brand. Worked even better than expected? Great! Now, how can you make it bigger next year? ‍
Terms and conditions‍
Competitions bring emotions into play and you need to manage these. Everyone wants to win and sometimes people become desperate over it because it's important to them. The best way to mitigate against a peeved customer is to be fair and transparent from the get-go.‍
Unmissable social media posts‍
Uptake is a product of hype and hype is a product of preparation. So, set some time aside to design some banging graphics. Use these to usher in as many people as possible to your competition. You'll be amazed at how a vibrant design can sub-consciously dial up the excitement. Make it stand out by downloading the GoDaddy Studio app and creating your masterpiece on the go.
All images within this post are available as editable templates in GoDaddy Studio.
Image by: Ekaterina Shevchenko on Unsplash
The Benefits of LinkedIn Ads
LinkedIn wouldn't necessarily be the first platform that comes to mind when considering social media advertising. However, if you are a B2B organisation, the platform can allow you to reach professionals across the globe. LinkedIn allows you to generate brand awareness across targeted professional sectors and reach out to decision makers directly.
Advertising is all about targeting the right people. Users of LinkedIn tend to be older, professional and have a higher income than the average user of other social media platforms. So if that is your target market, LinkedIn offers a great opportunity to reach them. Professionals use LinkedIn for business networking purposes so users are generally in work mode so engaging with them should be easier than on other platforms.
Here we outline the six main advantages that LinkedIn Ads have over other social media platforms.
1. Variety of ad formats
LinkedIn offers a number of options for advertising:
Sponsored content – this type of ad appears in people's feeds, it is the least personal form but good for promoting content from your business page and encouraging people onto it.
Text ads – these are only viewable by people using a desktop. With these you can choose the audience you want to target and you only pay per click.
Message ads – these appear in users' inboxes and are proven to be good for conversion.
Video ads – great for storytelling, you can also retarget users who have watched the video, aiding conversion rates.
Dynamic ads – these allow you to fully personalise your ad by showing user's photo, name and title within the advert.
2. Generate high quality leads
The ability to target professionals and gain good quality leads is the primary benefit of LinkedIn ads. Users are looking at work-related content so will be more open to solutions for their business needs.
With more than 800 million users in over 220 countries and territories, LinkedIn is the biggest social network for professionals and businesses alike. 4 out of 5 LinkedIn members drive business decisions and the platform has been rated the best for lead generation by marketers.
By using LinkedIn advertising, you can access their Lead Accelerator feature. This feature allows businesses to follow their best prospects and offer more targeted ads directly to them. This includes remarketing to website visitors, which helps nurture leads, making them more likely to become customers.
3. Targeting
LinkedIn allows you to target specific demographics, enabling you to create much more personal advertising campaigns. Facebook lets you target interest and behaviour based factors however LinkedIn is the right medium to use if you want to target individuals based on their industry and job. You can filter your audience by:
Age
Location
Company name
Company size
Degree subject
Job title
Seniority
Industry
Member skills
These variables make the platform the ideal choice for B2B organisations wanting to target decision-makers.
4. Remarketing
LinkedIn allows you to specifically target people who have shown an interest in your products. Matched audiences show you which users have visited your website and the pages that they went on. This allows you to target them with specific ads in the hope that they will return to your website and convert to a customer.
Matched audiences can be created with:
Account Targeting – Uploading a CSV of company names to LinkedIn allows you to target decision-makers.
Website Retargeting – Target the users who have visited your website and re-engage them to aid conversions.
Contact Targeting – Uploading a CSV of email addresses of your contacts to LinkedIn enables you to nurture your leads and prospects even further.
5. Increased conversion rates
The ability to target specific groups, nurture them and remarket to them will increase your conversion rates.
A year-long study by HubSpot found that on average, LinkedIn ads convert users to leads at a 6.1 per cent conversion rate. This compares to 2.58 per cent for Google search ads.
MD of exhibition stand contractor Black Robin Exhibits, Alan Jenkins, managed to achieve a conversion rate of 8.2% with a LinkedIn campaign earlier this year, he said "We were delighted with the results, it wasn't a huge investment, we could set the budget and the conversion rate was fantastic".
6. High control
A big benefit of LinkedIn advertising is the high degree of control that you can have. You can set a specific start time for your advert and specify when it will end. As well as this, you can set daily budgets to ensure your advertising costs are kept at the right level for your business.
Conclusion
Setting up a LinkedIn campaign is not straight-forward due to the variety of advert types and different ways of targeting. But the platform has a number of advantages over other social media sites if your target market is professional businesspeople.
B2B organisations will be able to target specific demographics with personal ads, nurture and remarket to them. All this will increase conversion rates, making LinkedIn a valuable marketing tool.
Beginners' guide to Instagram Reels
Get up to 30%* off! Get going with GoDaddy!
If you haven't already heard the news, according to Instagram, they're no longer a photo-sharing app. Shocking, right? The company announced they want to start focusing more on video content, like that offered through Instagram Reels, as opposed to being the original square photo-sharing app they're known for being.
"At Instagram, we're always trying to build new features that help you get the most out of your experience. Right now we're focused on four key areas: Creators, Video, Shopping and Messaging." — Adam Mosseri, Instagram CEO
This makes total sense because short, engaging videos (shown to us by hyper-accurate algorithms) have proven to keep our attention more effectively than ever before. So effectively that 93% of marketers who use video say it's an important part of their marketing strategy. Additionally, users are twice as likely to share video content with their friends and family than any other type of content, including social media posts, blog posts/articles and product pages.
So if you've been hesitant to start making Instagram Reels or just needed a little encouragement, we'll cover the basics, give you some ideas on what content to create for your business or brand, and help you understand the data behind it all.
But, before we do, let's talk about why Instagram Reels needs to be included in your marketing strategy.
What are Reels and why should you start using them?
Instagram Reels rolled out in late 2020 and the feature has continued to increase in popularity. Reels provide creators with a way to produce and share short, engaging videos using a collection of mainstream music and user-generated audio.
With more advanced editing tools, such as speed controls, filters and transitions, you can effortlessly edit multi-clip Reels up to 30 seconds long, entirely within the Instagram app, which is amazing if you don't want to use multiple apps and extra equipment to film, edit and post to social media.
Reels are definitely a useful feature of the platform as a whole that is worth exploring. When it comes to metrics, Reels receive 22% more engagement than videos posted directly to a feed. In addition to IGTV, Live and Stories, Instagram Reels are another great tool for you to use to get noticed on the platform and reach potential customers.
Nearly two-thirds of Instagram users are between 18 and 29, with 18- to 34-year-olds the most active age group. That means there's a ton of opportunity for businesses to be discovered by your target audience on this platform. So, if your Instagram strategy needs a boost to stay top-of-mind and ahead of the competition, Reels could be your solution.
Related: How to plan an Instagram marketing strategy to attract business
Instagram Reels small business content ideas
If your business is active on Instagram but hasn't posted a Reel just yet, don't worry, it's not too late to start. Accounts that don't follow you can find your content while scrolling on the Explore page, which is why it's so important for brands to be active where their target audience is.
Don't let lack of inspiration hold you back, here are some simple and effective video ideas:
Educational content‍
The best way to increase your reach and engagement is to give your viewers value. If you can create something that is helpful, users are more likely to like it, share it with their friends and follow you for more. That ultimately, tells the algorithm your content is worth being promoted to others on the app.
For example, you can create shareable workout, cooking or crafting videos just by showing your step-by-step process.
Showcase your products‍ or services
Highlight what makes your business unique with Reels dedicated to each product or service you offer. This could be a tutorial on how to best use your products or a way to update customers on new offerings.
Create original content‍
Easier said than done, but I know that behind-the-scenes content, user-generated content and FAQs are always a big hit with loyal audiences.
You also have a few different ways to get trending and possibly even viral. You can use trending hashtags, popular audio clips or filters and get discovered among other videos with those elements.
Re-creating a popular trend while highlighting your brand is one of the quickest (but not the easiest) ways for business growth with Instagram Reels.
How to optimize your Instagram Reels
Like with any social media platform, there are always hidden steps you can take to increase the likelihood your content gets seen and please the almighty algorithm.
For example, many users who create content for TikTok have started uploading those same videos as Reels. Seems like a logical time saver, right? Well, Instagram has not only clearly advised against re-posting content that's "visibly recycled from other apps," it has also updated its algorithm to recognize and prevent it from performing well on their platform.
That being said, here are some tips on how to optimize your Reels for the best results:
Try to record (vertically), edit and add effects to your reels from within the app, rather than uploading a video you've created elsewhere.
It's also important to use text overlays, hashtags, audio, and descriptive captions to let Instagram add you to an algorithm relevant to the content.
@ other accounts, when appropriate. Just like hashtags, you'll get more reach by including their name in your content.
Use custom thumbnails. Doing so will make it easier for users to find videos they want to watch when scrolling on your account. It's also a great way to incorporate your branding and help your feed look cohesive.
Sharing your Reels to your Stories and even on your feed will get more people to see it. You can share it when you post it or, if you have posted enough that day, share on a day when you don't have anything else to post.
Algorithms are constantly changing, and not always for the better. Doing just a little bit of research to stay on top of current trends and best practices will pay off in the long run.
Related: 3 ways to use Instagram Stories for digital storytelling
Understanding Instagram Reels Insights
Finally, you'll need a way of knowing if your hard work is paying off.
Instagram has included a dedicated tab, which is similar to the Insights tab on your static posts and videos, that details the metrics relating to your Reels. With the Instagram Reels Insights, business owners can see important metrics like accounts reached, plays, likes, comments, saves and shares.
By knowing what type of accounts you're reaching with your Reels and which content formats are most engaging with your audience, you'll be able to adjust your content to better serve your target audience and grow your account.
Measuring these stats is the best way to make sure all the efforts you're putting in to engage your fans is actually working.
Once you have a good idea of where your metrics are on average, try experimenting with the time of day, type of content and hashtags you use when posting your Reels. Start thinking of ways to get in front of new users with videos like tutorials, bloopers or more user-generated content. You could even share customer testimonials or success stories for added social proof.
Final thoughts on Instagram Reels
I know I personally struggled with the idea of including yet another item on my content creation checklist, but I've found that even just repurposing a few old clips from videos on my YouTube channel into Reels has proved effective in increasing my engagement and reach on Instagram.
Exploring a new feature of social media can be intimidating and overwhelming at times, but Reels seems to be a fun new way to expand your social media presence through the use of short videos. I recommend testing it out and seeing how well it works for you and your audience. You might find it to be your new favorite tool in your social media strategy.
5 Strategies to Drive Customer Engagement
Engaging with your customers is the key to driving sales and growing your company. However, some businesses are not sure how to do this effectively. It means that when they finally manage to engage with their customers, they are not entirely sure what worked. Knowing how to drive customer engagement is all about knowing your customers.
Here are 5 strategies that you can use to drive customer engagement.
Communication is the Key
Communication between your company and your customers is fundamental to engagement. If your customers are trying to talk to you about your products or services, then you should listen to them. Avoiding contact will simply drive them to another company.
Here are some tips you should follow.
1. Listen to Your Customers and Never Assume
If you have a customer that approaches you on social media or any other channel, it is vital that you engage them in a conversation. Their initial message might not be the complete story, so you need to work with them to find the right answer.
Once you have found out what the customer wants, go through your products with them and pinpoint what works for them. Your sales team must never assume that they know what their customers want, or they might find the customer goes elsewhere.
2. Seek Help with Engagement
Sometimes no matter what you try, you are unable to engage with your customers or retain them. It may be that there are strategies that you haven't considered or lack the knowledge to implement.
This is where companies such as TCC Global can help. By helping you and your marketing team to engage with your customers and create brand loyalty, you can start to grow your business.
3. Respond Quickly to Questions
There is nothing more frustrating for customers than asking a question on social media and not getting a reply. Even a delay of a few hours can be enough to cause someone to look elsewhere.
If your business has a presence on social media, then it is vital that it is monitored at least during business hours.
4. Chat to Your Customers
There is a temptation to use your means of communication to just sell products. While this is an important part, there should also be more customer engagement through conversation.
If you find something interesting, tell your customers on social media. Reply to them if they answer you and keep the conversation going.
5. Blog About the Popular Questions
If you are seeing a trend in questions your customers are asking, then it may be a good idea to write a blog post about it.
Blog posts will drive visitors and potential customers to your website and from there they may go to your products. Answering these popular questions will also save time for your customers and build loyalty.
Conclusion
So, there you have it – 5 strategies to drive customer engagement. These are just a few of the ways your company can build a relationship with its customers and build a loyal following.
It is important to remember to stay engaged with your customers even after they make a purchase.