Sage Intacct Accounting Software Review 2021
Sage Intacct is an all-inclusive cloud-based financial management and business accounting software — and according to the Sage Intacct website, is the first and only preferred provider of the American Institute of CPAs (AICPA), designed for full accounting and financial management for CFOs and CIOs. Sage is best-suited for larger businesses or small businesses that are growing extremely quickly.
Sage Intacct is a cloud-based accounting software — meaning you can access your account anywhere you have an internet connection. This being said, however, unlike other accounting software options on the market, including other Sage accounting software products, Sage Intacct does not have a dedicated mobile app to allow you to manage your account on the go.
Additionally, as an enterprise-level software, it's important to explain a little more about how Sage Intacct works. In short, whereas many small-business accounting platforms offer standard software plans — each of which has a specific list of features for a certain price — Sage Intacct can be uniquely customized to meet your particular needs.
Although Sage Intacct offers six overarching modules as part of its software (listed below), you can pick and choose the ones you need as part of your plan.
Core financials: Manage essential accounting tasks and processes.

Dashboards and reporting: View real-time insights and statistics about your business performance.

Billing: Automate revenue and billing processes.

Budgeting and planning: Create and manage budgets and collaborate within your organization.

Platform: Integrate with other platforms and tools to meet your business's needs.

Advanced functionality: Utilize additional modules to further automate and streamline financial processes.
Overall, the first five modules seem to come standard with the Sage Intacct accounting software and the modules that fall under "advanced functionality" can be added separately — like with additional costs.
As you can see, Sage Intacct has an unparalleled amount of features and integration options to offer business owners. With all of this functionality, therefore, you're probably wondering what the Sage Intacct pricing looks like.
Unfortunately, unlike many other accounting software platforms that are priced on a standard monthly or annual subscription basis, Sage Intacct's pricing is quote-based. In essence, this means there is no standard Sage Intacct cost, and instead, pricing is customized based on your business. Therefore, in order to find out how much it would cost your business to use Sage Intacct, you would have to contact its sales team and work with them directly.
This being said, however, it's very likely that the cost of Sage Intacct will vary based on a number of factors, such as:
The size of your business.

Your business's industry.

The specific features you need.

The level of customization and automation you need.
It's very likely that if you only need the functionality of Sage's standard modules, your price point will be lower than if you require any of the advanced functionality modules. Likewise, if you only need the Core Financials module, and don't require Budgeting and Planning or Billing, your Sage Intacct cost will be even lower.
Nevertheless, as an enterprise-level accounting software system, it's safe to say that Sage Intacct is going to have a higher price point, especially if you consider the cost of Sage 50cloud, Sage's desktop-based accounting product. When it comes to Sage 50, pricing starts at around $50 per month and ranges all the way to nearly $330 per month. Similarly, this pricing structure can lead you to assume that the larger your business and the more you require from your accounting software, the higher the Sage Intacct pricing will be.
At the end of the day though, although you may see some Sage Intacct users writing about their pricing experiences online (which will be discussed below), the only way to know how much it will cost your business to use this accounting software is to contact the Sage sales team and receive a customized quote.
Sage Intacct customer reviews
So, what do customers have to say about their experience with Sage Intacct?
Overall, online Sage Intacct reviews are mostly positive. It seems that a sizable number of Sage Intacct users are satisfied with their experience and would recommend the product to other business owners.
More specifically, the positive Sage Intacct reviews highlight:
Saved time by using the platform.

The flexibility of the cloud-based system.

Impressive customization.

Integration opportunities and more.
In particular, one reviewer mentioned that Sage Intacct is a worthwhile step up from QuickBooks — but at the same time, it doesn't include the same level of guidance for the user as QuickBooks does.
On the other hand, although there didn't seem to be wholly negative reviews with any sort of consistency, there were some areas that users often mentioned as drawbacks:
Reporting: Users wrote that the reporting functions left something to be desired and seemed inflexible considering the enterprise-level of the software.

Learning curve: Many customers felt that Sage Intacct required a large learning curve and could, on the whole, be more user-friendly.

Cost: Although users didn't mention the specific price they were paying, many users wrote that Sage Intacct was expensive, especially if you required more than the standard modules.
Now that you're familiar with all the various details of Sage Intacct, let's evaluate how this accounting software stands out as a solution for small-business owners. What are the most beneficial aspects of Sage Intacct — and likewise, what are the most notable drawbacks?
Let's continue our Sage Intacct review by starting with the positives. Here are three advantages to consider:
Automation and customization
If you read any information about Sage Intacct on its website, there are two words you'll see used to describe this accounting software again and again: automation and customization. At the end of the day, as an enterprise-level accounting solution designed to handle more than simple business bookkeeping and accounting, but the whole of a business's financial processes, automation and customization are key to this platform.
One of the largest benefits of Sage Intacct is that every facet of its software can be customized to your business — features, workflows, modules, reports, users, etc. Additionally, each of these customizable features, in fact, every capability that Sage Intacct offers, seems to be designed with the goal of automating and streamlining your processes.
Therefore, with this extremely detailed level of both automation and customization, Sage Intacct seems to be designed for businesses that need to manage complex and nuanced processes and would largely benefit from a single software that allows them to seamlessly handle everything in one place.
Advanced features
As you can see, not only does Sage Intacct include advanced features within its core accounting software, but it also offers extended modules to add even greater capabilities to your platform.
With functionality for financial processes like budgeting, multi-location, multi-currency, revenue recognition and team collaboration, Sage Intacct offers detailed features far beyond what you'll find with many other small-business accounting software options like Wave or Zoho Books.
This being said, as an accounting software designed to manage the full range of financial processes, there's no doubt that Sage Intacct includes the tools that allow you to do so. Therefore, as an enterprise-level software with an incredibly impressive feature set, Sage Intacct can truly serve businesses that need these advanced features and overall level of financial management.
Integrations
Finally, on top of all of the advanced features, automation and customization Sage Intacct offers, another benefit of this accounting software is the integration opportunities it offers.
Sage Intacct includes built-in integration with both Salesforce and Avatax, as well as allows you to integrate as many other tools and platforms as your business requires using their APIs and SDKs.
Therefore, despite the wide variety of features that Sage Intacct includes within its platform, if you're missing a function or service you already use, you have the option to add it to Sage — thereby further increasing the number of business processes you'll be able to manage within one system.
Cons of Sage Intacct
Despite these notable benefits, just like any other accounting software out there, Sage Intacct has downsides to consider as well.
Let's discuss two of the biggest drawbacks of this Sage product.
Pricing
With a quote-based system, there's no way to know what Sage Intacct pricing will actually be without going through the process of working with its sales team. Although this process is intended to offer a price customized to your business, it's less than ideal — as you have no way of knowing whether you're receiving a fair price, especially compared to what Sage is charging other businesses.
Additionally, without knowing what the cost of Sage Intacct looks like upfront, it's harder to compare Sage Intacct to other accounting software options on the market. Ultimately, transparent, upfront pricing is certainly preferable when it comes to business tools like accounting software.
This being said, although we can't be totally sure of Sage Intacct's pricing — comparing this product to Sage's other products, as well as other enterprise-level accounting software platforms, like QuickBooks Enterprise (plus customer reviews) — it's safe to say Sage Intacct is probably going to be on the high end of the pricing spectrum. With a high cost, possibly hundreds of dollars per month, this price point is going to be unaffordable for many small-business owners.
Extensive capabilities
Although Sage Intacct's vast feature set can be beneficial for a certain type of business owner, there's no doubt that it also can be a barrier-to-entry for many other businesses. With advanced functionality even within its basic "core financials" features, this Sage software is certainly not going to appeal to beginners or those with little accounting experience. Similarly, if you're looking for the fastest and easiest way to get accounting software set up for your small business, Sage Intacct is not going to be your best option.
Ultimately, though Sage Intacct will be able to fulfill the needs of larger businesses, it's relatively unapproachable for small-business owners. With an overwhelming amount of features, customization options and (likely) a high price point, it's simply going to be more than many small businesses need.
Top alternatives to Sage Intacct
Before you decide whether Sage Intacct is the right choice for your business, it's worth looking into top accounting software alternatives. With all of the accounting solutions on the market, there are a variety of Sage Intacct alternatives to choose from — however, it's probably best to consider these options in two ways.
First, we'll discuss an enterprise-level alternative that closely compares to Sage Intacct in terms of features and probable pricing. Second, we'll consider a top accounting software alternative that can accommodate a wider variety of smaller and midsize businesses.
QuickBooks Enterprise
Of all the products that fall into the QuickBooks suite, QuickBooks Enterprise is the most robust — and therefore, most equatable with Sage Intacct. QuickBooks Enterprise offers 6x the capacity of any other QuickBooks version, and like Sage Intacct, it includes features allowing businesses to manage the whole of their accounting and financial processes.
One of the big differences between Sage Intacct and QuickBooks Enterprise, however, is that Enterprise is a desktop-based software — unless you pay an additional cost for online hosting. And unlike Sage Intacct, QuickBooks Enterprise is available in three different plans — Silver, Gold and Platinum — so that you can choose the option that works best for your business.
This being said, like Sage Intacct, Enterprise is extremely customizable and includes capabilities for payments, billing, inventory, forecasting, invoicing, sales orders, integrations and more. Plus, if you opt for the Gold or Platinum level of Enterprise, you receive built-in, full-service QuickBooks payroll. Pricing for QuickBooks Enterprise Silver starts at $145 per month for one user, or $1,213 per year for one user. With the higher-level plans and more users, the monthly and annual prices increase accordingly.
Therefore, as an enterprise-level solution known as one of the most feature-rich accounting products on the market, QuickBooks Enterprise is a worthy alternative to larger businesses that are considering Sage Intacct.
Xero accounting
On the other hand, if your business doesn't need such extensive accounting software like Sage Intacct or QuickBooks Enterprise, you might instead consider a solution like Xero accounting. With three different plan options, a significant feature set and numerous integration options, Xero can accommodate businesses of all shapes and sizes.
Xero's three plans — Early, Growing and Established — cost $9, $30 and $60 per month, respectively, making this accounting software much more affordable than either Sage Intacct or QuickBooks Enterprise. And while Xero is much more affordable, it isn't lacking in terms of features. Xero offers tools for reconciliation, inventory, invoicing, bills, expenses, projects, purchase orders, fixed assets and more. Plus, Xero integrates with over 700 third-party services and platforms. Moreover, the Xero system is known for its usability, accessibility and mobility.
Therefore, with a lower price point, user-friendly platform and substantial capabilities, Xero offers a much more fitting accounting solution for business owners who don't need all of the complex and advanced features of Sage Intacct.
Designing a campaign for holiday sales with GoDaddy Studio
Get up to 30%* off! Get going with GoDaddy!
With Black Friday and the holiday season fully upon us, it's time to pull out all the stops and get selling. Now's your best chance before 2021 draws to a close, so here's some advice — and visual inspiration — to set your campaign for holiday sales up for success.
The final months of the year bring with them an ongoing series of promotional opportunities. Consumers are looking for bargains, and they're ready for the celebratory rituals of giving and receiving gifts. After a difficult two years, they want to treat themselves and those they care about — and as a business owner, here's your opportunity to give your customers exactly what they're looking for.
In addition to any seasonal promotions for winter that bring your product or service into the spotlight (think all things snowy and cozy like candles, sweaters, soup, hot yoga and ski trips!), the end of November marks Black Friday, which flows seamlessly into the holiday season, and then the new year.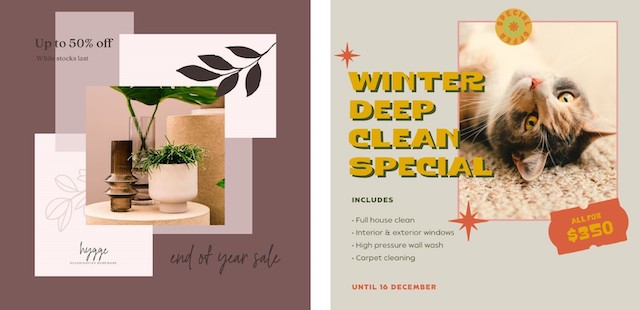 Also bear in mind that Black Friday is no longer just a single day on the calendar. Not only is it extended into the following week via Cyber Monday (and the more benevolent Small Business Saturday and Giving Tuesday), but there's also a growing trend to minimize gridlock on Black Friday by running "early bird sales" up to a month ahead.
Related: The seller's guide to Black Friday/Cyber Monday (BFCM)
This is your chance to shine, to step into the spotlight and seize your moment. Bear in mind that you need to do it properly though. The competition is fierce, so throwing out a single post the day before your sale starts just isn't going to cut it.
Devote some time to developing a simple strategy for your seasonal sales campaign — trust us, you'll reap the benefits from just some basic planning.
What's the simplest way to do this? Think in phases.
To make the most of your campaign, we'd suggest moving through five interconnected stages, but feel free to pick out any individual ideas that you think would work for you.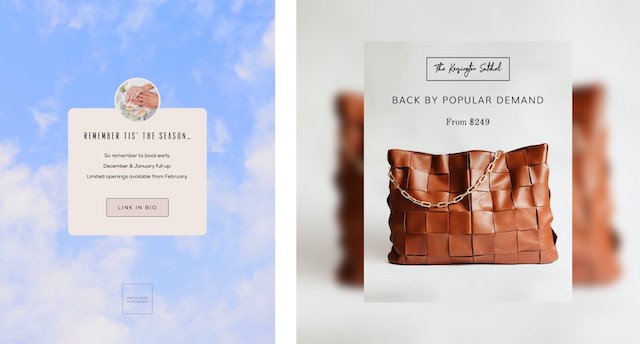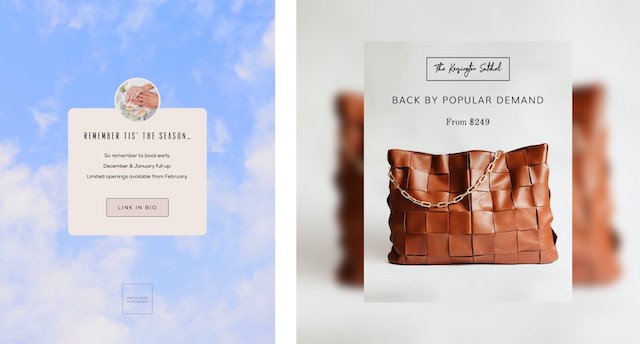 Phase 1: Engage your audience and find new leads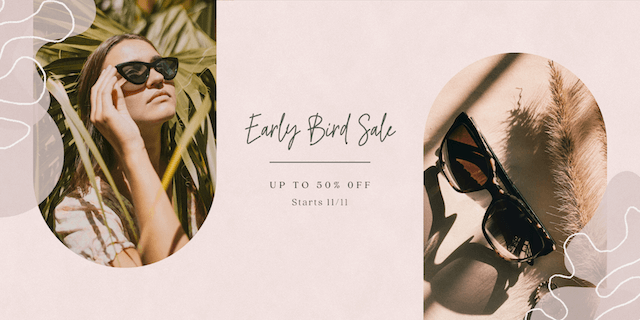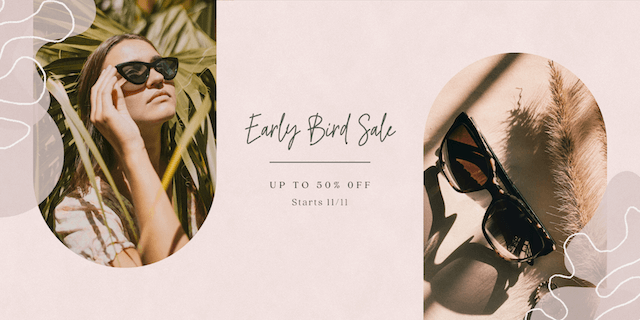 Before you start slashing your prices, take the time to ensure that you have a receptive audience.
Have you been engaging with them lately, or have you let that slide a little bit?
The easiest way to do this is to shift your thinking to your customer's perspective. It's not only about the promotion you're willing to offer — what about the type of promotion that your audience really wants? Before you lock in your strategy, ask your followers what types of promotions they're hoping for. What products would they love to see on sale, or in their Christmas stocking this year.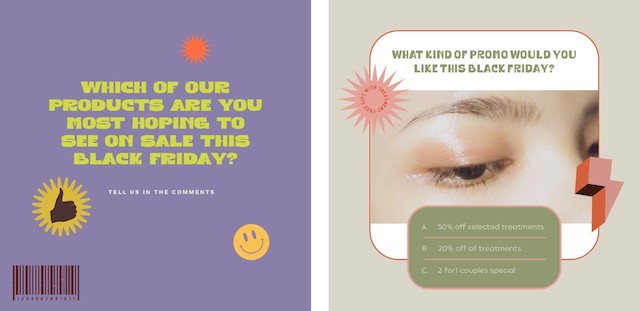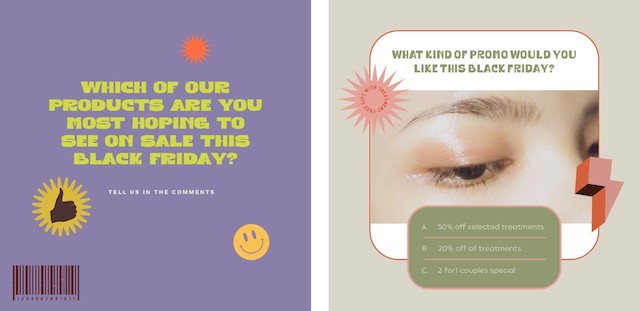 Try polls, "This/That" posts, or asking your audience to share wish lists and gift guides. With the prospect of a bargain in sight, it's a great time to get some good data on what products or services are most in demand.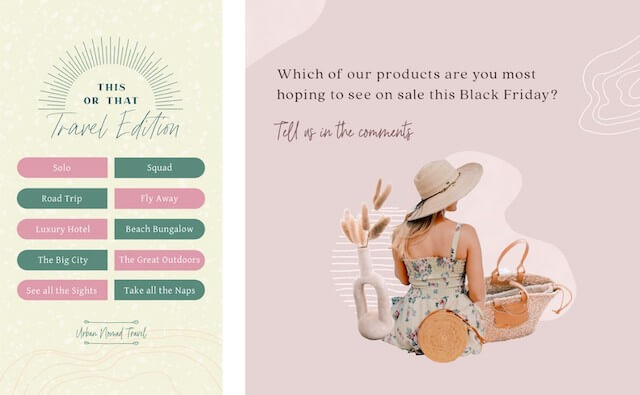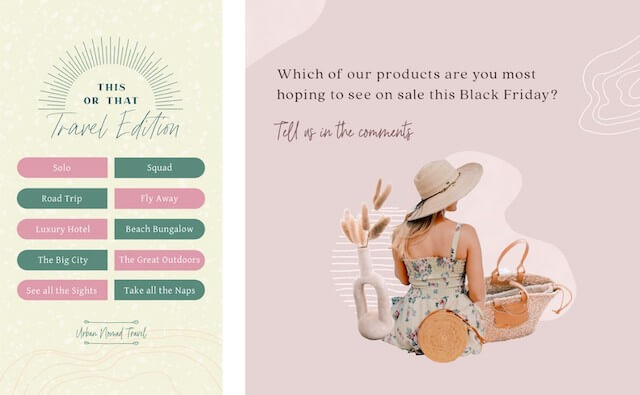 Now is also a great time to generate new leads. The prospect of an exclusive deal, or early access to a great sale, is as good a reason as any for somebody to sign up to your mailing list.
It's also a smart idea to target this mailing list with particular focus since these are amongst the most likely customers to act on a promotion as they've already expressed some interest in your brand.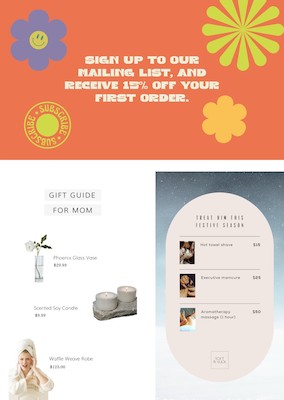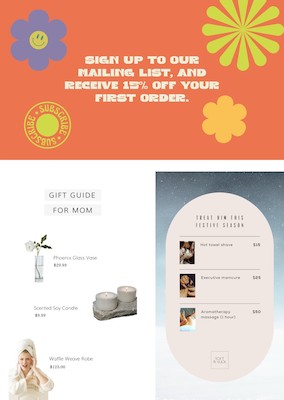 If you're going to put time and energy into your promotion and offer a fantastic deal that will activate engagement, it makes sense to gather the largest possible audience you can in the days leading up to the main event.
Remember, this is a two-way conversation — not a company broadcast.
Actively gauging your audience's interests by chatting with them builds your brand in their eyes, makes your seasonal promotion more desirable, and ultimately makes an impact on your bottom line.
Phase 2: Hype it up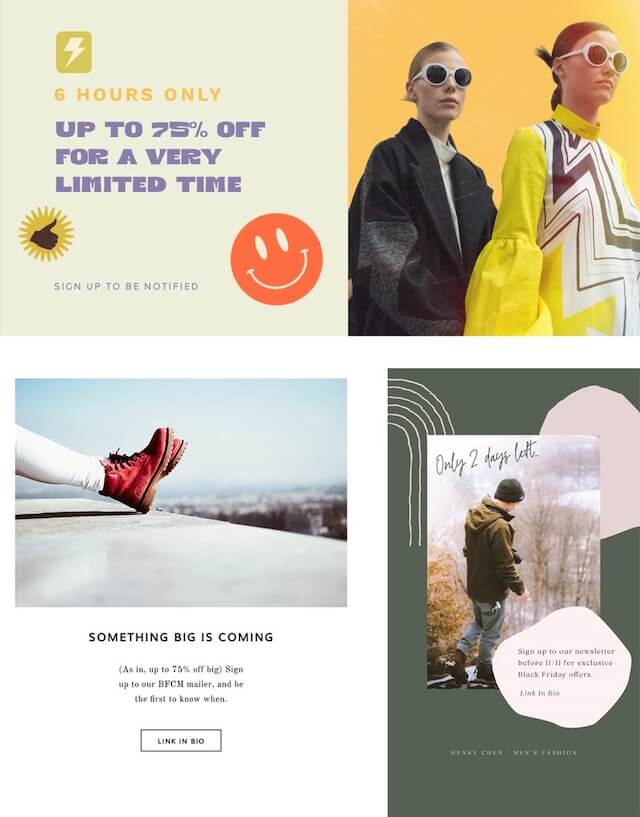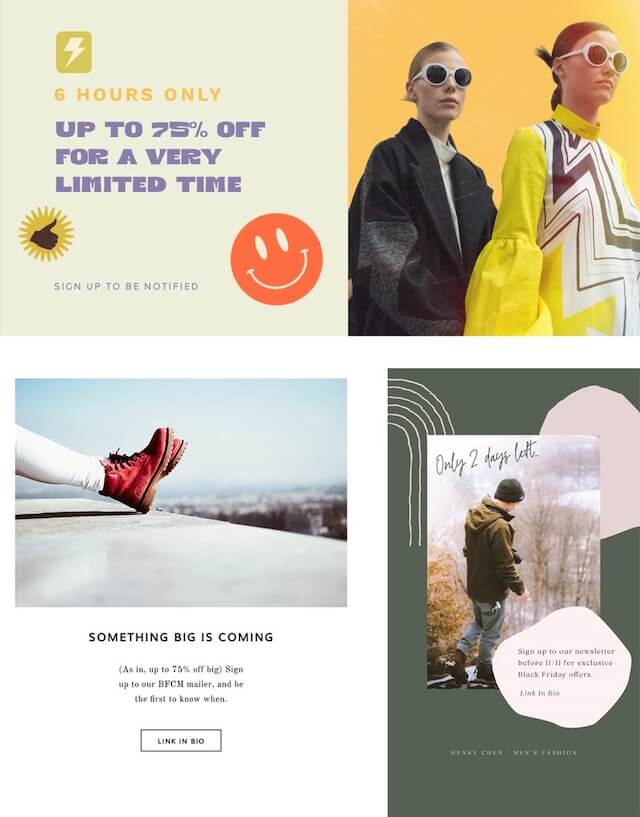 Once you've established the kind of seasonal promotion you're running, it's time to gradually build anticipation. To do this, you should stagger announcements strategically, not bombard your audience constantly, otherwise they'll quickly log off — or worse, unfollow your account.
Instead, start off by announcing the promotion on your social platforms. An email to your mailing list is also a great idea. And why not update your website headers while you're at it? Make it unmissable.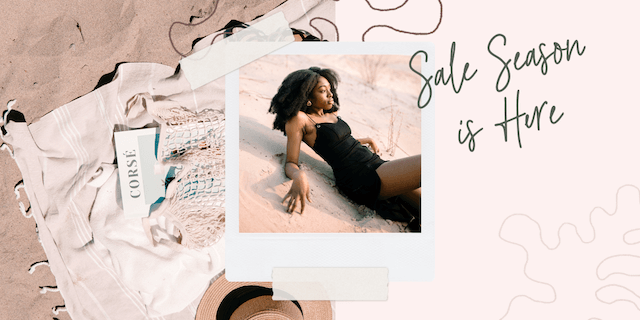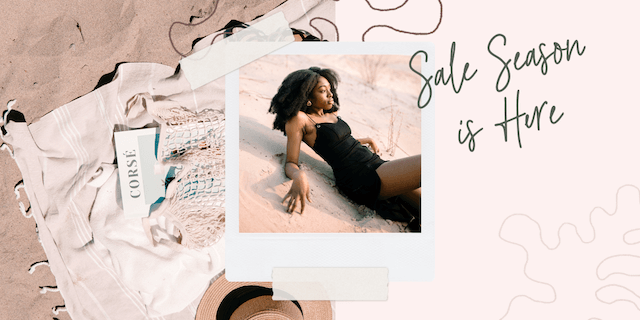 Perhaps offer a sneak peek, or gradually reveal elements of your special offer.
If you're offering multiple deals, you can start announcing these one at a time. Whether you sell products or services, consider building packages that offer a great incentive to make a bigger purchase. Perhaps smaller discounts build up to a much bigger one on Black Friday itself?
If your promotion is a big deal, let it infuse your brand's identity for the campaign period. That's the difference between a campaign and a once-off promotion — a campaign can take on an entire look and feel of its own, as it has its own unique identity.
By taking some time to design your series of posts, you also infer a certain presence to this promotion and in turn to your brand. If it looks professional and well considered, we're more likely to trust it amidst the selling frenzy.
Crazy bargains aside, it's still essential to project yourself as a brand that will follow through with all its promises.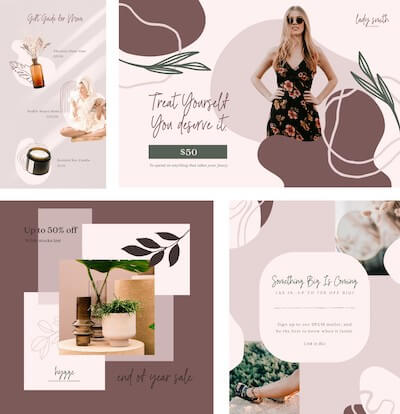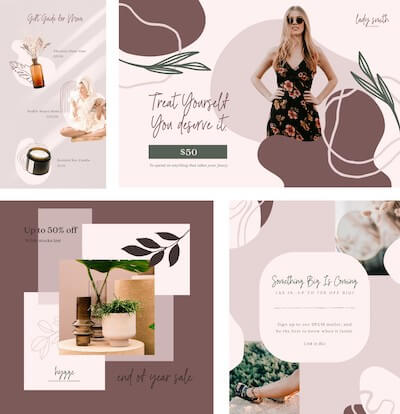 As we mentioned, be wary of over-hyping to the point that your audience becomes immune to new messaging — or even annoyed.
Each announcement should add some new, updated information. Avoid reposting the same content — keep evolving.
Don't only highlight the special deals either. Make customers aware of your general offerings, with price lists and featured products/services.
If you have very popular items or packages, or have recently restocked a bestseller, let everybody know about it while you're doing the work of drawing more attention to your brand.
It's still a good time to gather new leads and engage your audience, so continue to do this with posts that elicit responses or sign ups.
Anybody who pauses long enough to like, comment, or visit your site via one of these posts has more than likely taken note of your promotion.
It might be worth diverting some marketing dollars into a paid ad during the lead up to your promotion, since the return on your investment is an audience guaranteed to extend well beyond your reach of existing followers, letting you get quite specific as to who you're targeting.
And our final tip here: Don't underestimate the power of video in this crucial stage, where it's more important than ever to get your content noticed.
Moving images will always give you that little edge.
Phase 3: Sell, sell, sell!
As you approach the big day(s) of your sale, competition, giveaway or special event, draw as much attention as possible to the limited time offer. A deal like this doesn't come every day, remember. Cut to the chase: This is a time for some hard selling.
Flash sales are a great device to limit the window for decision making, and get folks pouncing on a once-in-a-lifetime deal.
People love a bargain and a little urgency is a great way to cut through contemplation. After all, nobody wants to miss out.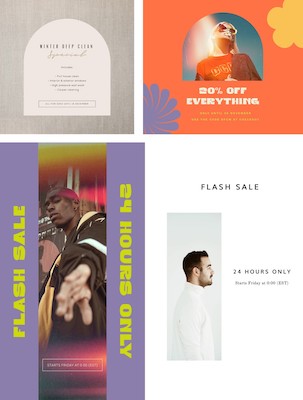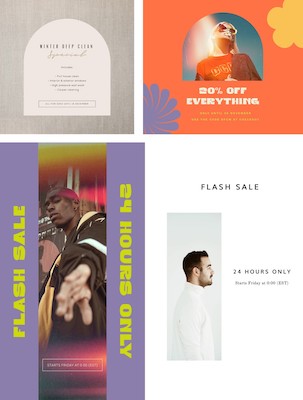 This is a rare opportunity to really activate your customer base. Many might have been sitting on the fence for months, even years, and your promotion is ready to convert them from a fan into a customer.
With the hyping and teasing done, it's time to lay bare what you have to offer.
Put your product or service front and center, publish menus and price lists, and make your sale prices visible.
Design is your best friend here, in the pursuit of eyeballs on your content.
This season we're loving the use of old school discount stickers in digital form. There's no easier way to highlight a discount or call-to-action (CTA) than with one of these incorporated into your design. As complex as the human mind is, it's still hardwired to notice these bright pops of color and associate them with a special offer of some sort.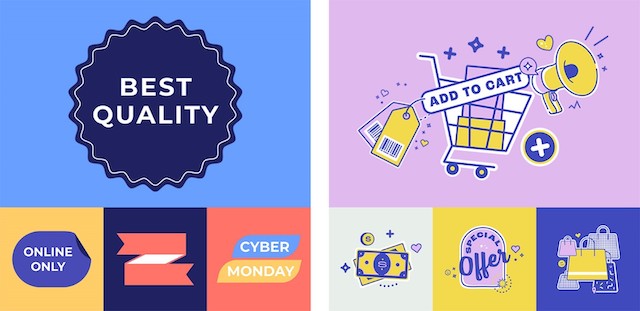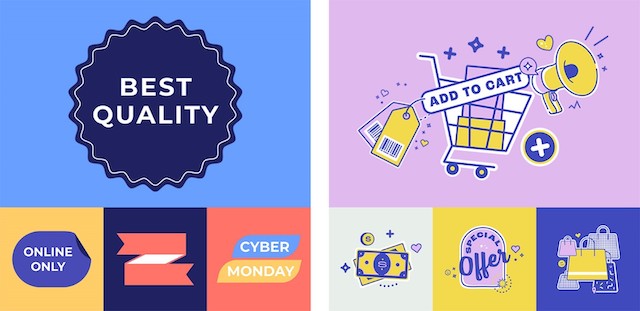 Make it unmistakably clear how to activate or redeem your promotional offer.
The number of steps it takes a customer to finally get their hands on what they're after is directly proportional to the number of potential customers you'll lose along the way. Make it simple and foolproof. Anybody who needs to puzzle through your promotion mechanism will quickly lose interest and spend their money at the online shop next door.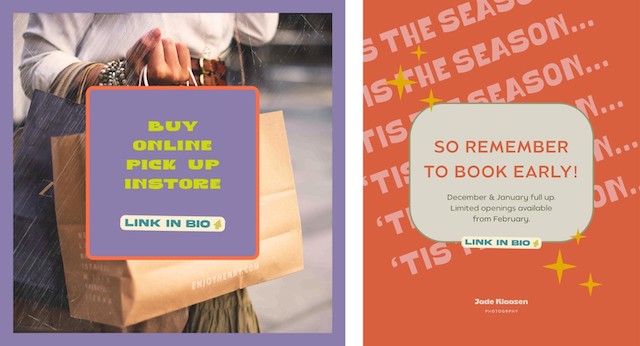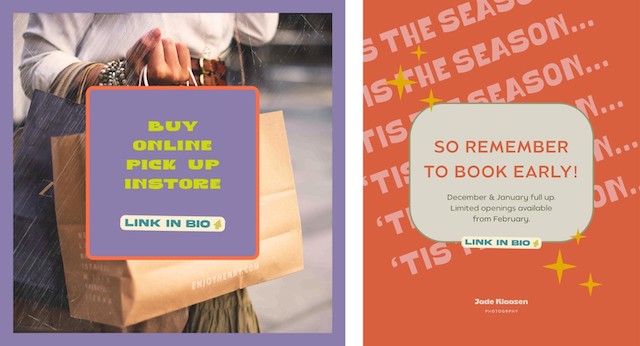 Don't forget the (less sexy) administrative side of running a successful promotion.
Make sure you cover the basics like posting holiday operating hours, delivery windows, terms and conditions and any other relevant notices you need to share.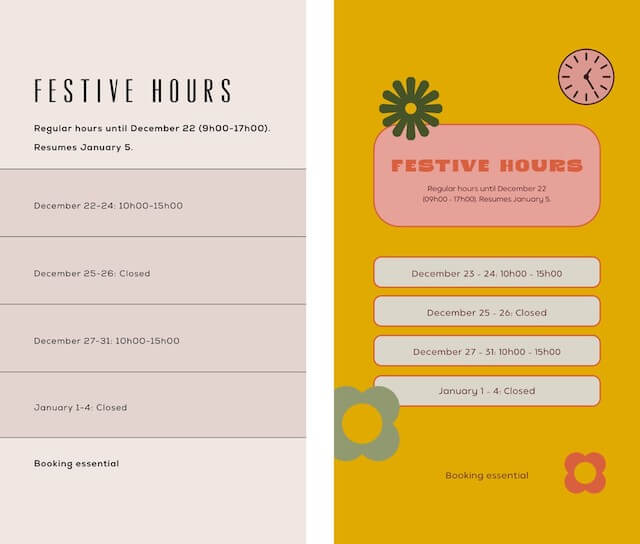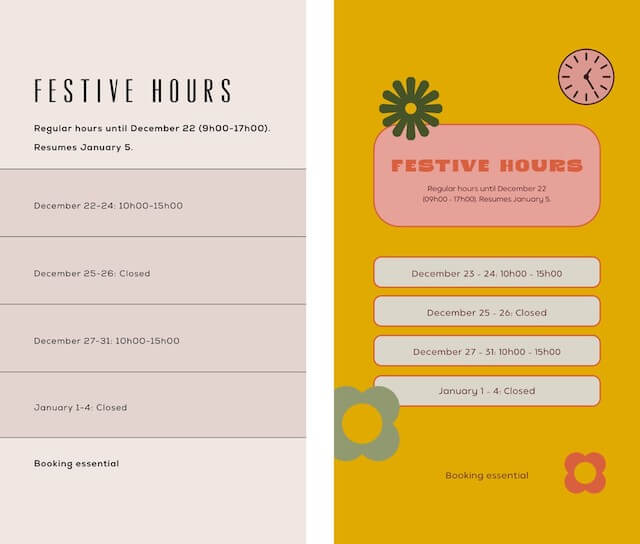 During the active period of your promotion, use your more ephemeral platforms (like IG and Facebook Stories) to post regular reminders to book, purchase, or otherwise take advantage of your seasonal deals.
It's worth giving that extra bit of steam here.
Phase 4: Seal the deal
The promotion is still in play until your customer is smiling, product in hand. Follow through is vital, so keep this in mind before you're stuck with too many orders to fulfill or a delivery service closed for the holidays.
But if delays or complications with fulfillment do arise, make sure you post this info and communicate with customers.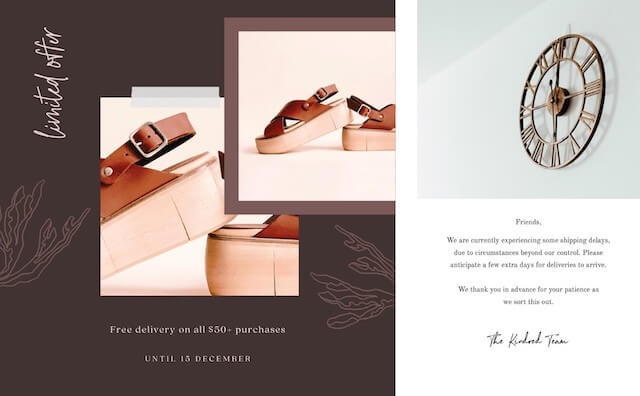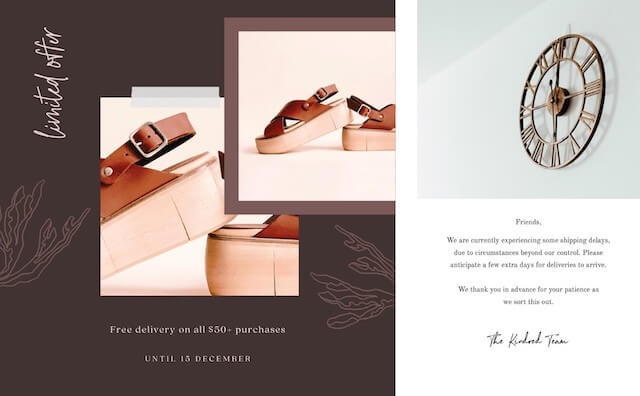 Your packaging is also an opportunity to sprinkle a little more joy on the experience of doing business with you. Consider thank you notes, stickers on the packaging (or inside as free gifts), and personalized messages to your customers. All of these can be created in GoDaddy Studio, using your campaign identity.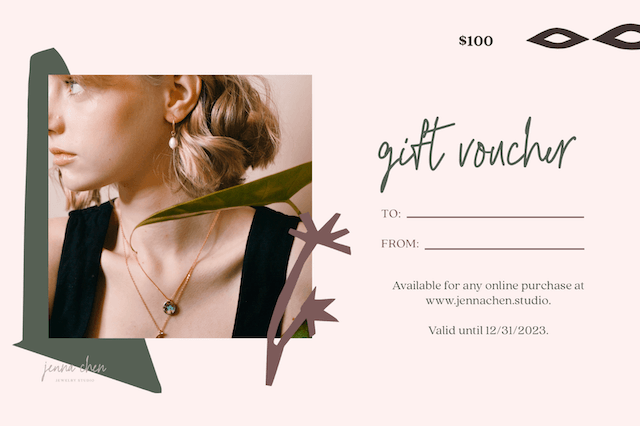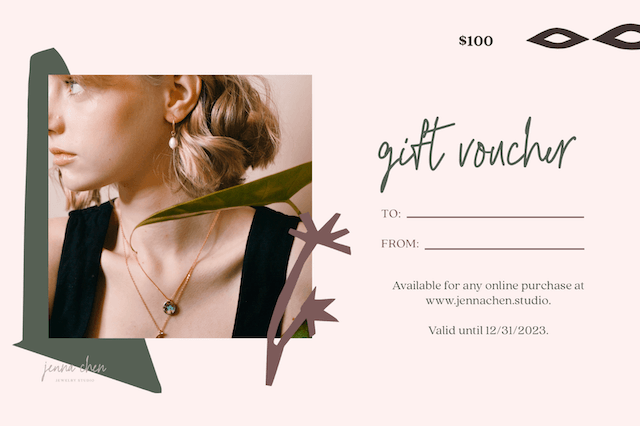 See this as an opportunity to thread the needle of your full campaign, using the same design look and feel all the way from announcing your special to the unboxing moment.
That kind of follow through leaves an afterglow of professionalism, increasing your odds of return business. It also adds that personal touch and spirit of connection — something we're all seeking more of these days.
And don't forget about sowing the seeds for re-engagement, encouraging customers to share their experience as soon as it lands.
In the next phase we'll look at how to do that, but it's much easier to get customers to respond in the midst of their excitement or delight than days or weeks later.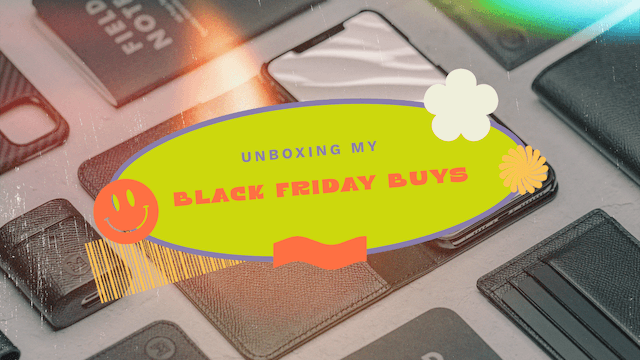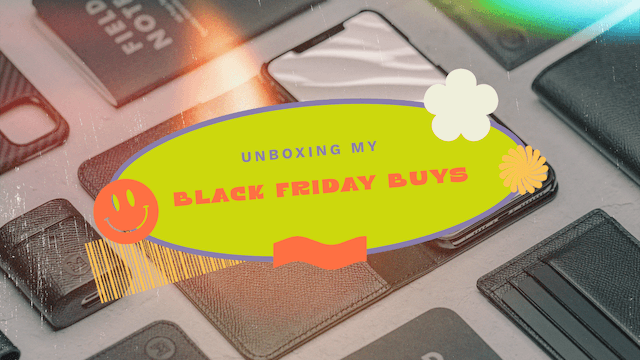 Phase 5: Re-engage your customers
The initial experience of your product or service is the best time to garner positive feedback from your customers.
Unboxing the product, using it for the first time, trying on the outfit/accessory for the first time, experiencing your service real time (spa, tour, meal, haircut), or the immediate post-satisfaction (freshly cleaned house, post-massage bliss, makeover glow-up, new tattoo) all present a window of opportunity to get happy customers giving you the best kind of advertising that money just can't buy: word of mouth.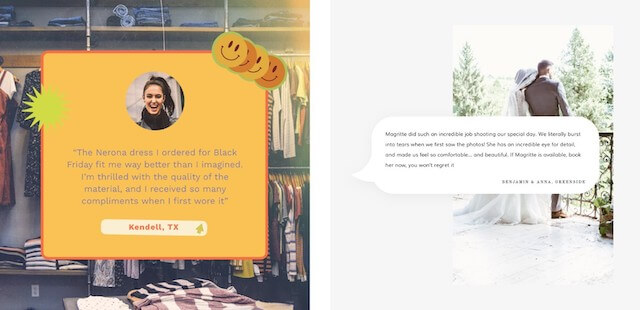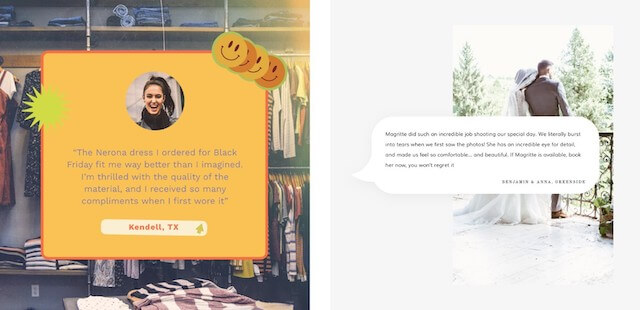 Try out incentives to activate customers during this moment.
Perhaps you can have some kind of competition for showing off your new dress, or haircut, or a creative moment with your product? Maybe trade a review for a discount on their next purchase.
It's a win-win situation: Already-satisfied customers stand a chance of gaining something extra, and you get some extra reach to new potential customers in their channels (make sure you make it obvious how to tag you though).
Testimonials are another form of pure gold you can mine during this period. We all know how valuable these can be when deciding whether or not to trust a new product or service, so always follow up with an email asking for feedback after the sale — you can use this as marketing collateral later.
Crucially, you're engaging your audience on the back of your promotion, using that momentum to keep your business moving from strength to strength, instead of simply sitting back and waiting for next year's big sale. This "after party" stage could last for a couple of days or even weeks — just enough time to bridge the gap between the next phase of your ongoing content strategy.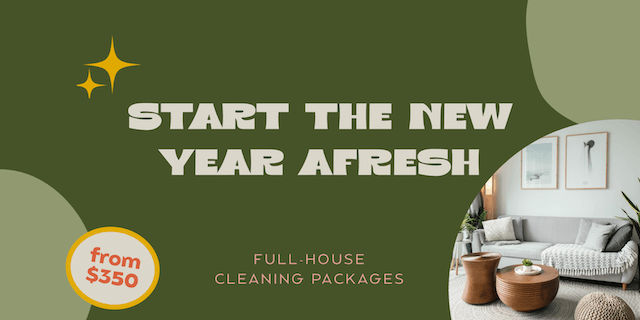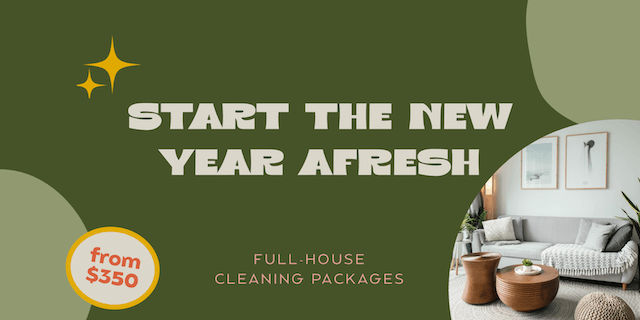 Essential types of ecommerce payment links and how to optimize them for success
Get up to 30%* off! Get going with GoDaddy!
Whatever your niche or industry, offering your customers or clients a mix of payment options will help to accelerate the success of your business. In addition to the likes of mobile transactions and buy-now-pay-later (BNPL) options, there is another powerful means of payment that will make your business extra attractive to potential clients or customers: the ecommerce payment link.
Payment links are swift, simple, and frictionless. Setting them up is also easier than you think—and there are different types of ecommerce payment links you can use to your business-boosting advantage.
Here, we will explain what ecommerce payment links are and how you can use them for your business.
Let's get started.
Editor's note: Want to get started with payment links right away? GoDaddy Payments offers Online Pay Links. With low transactions fees of 2.3% + 30 cents per online transaction, it's the lowest transaction fees compared to other leading providers.
What are ecommerce payment links, exactly?
An ecommerce payment link is a web or mobile-based innovation that allows a business to send their clients or customers a, well, link or button through a preferred medium (SMS, messenger, landing page, email, invoice, QR code, etc.) to complete their transaction.
You can send or present your customer with the payment link and once they click through, can complete the transaction by filling out a few quick details with ease.
The reason that ecommerce payment links are so effective is that they are incredibly streamlined. By making it as easy as possible to make a payment and confirm a transaction, you will reduce the risk of cart abandonment — earning more sales in the process.
Although this statement may seem counterproductive — if customers don't want to make a payment immediately, they can click back through and complete the transaction a little later (within a predetermined time frame).
This level of flexibility and autonomy will actually build trust, increasing your chances of repeat custom in the process.
Another key benefit of working with payment link providers to offer your customers these kinds of swift transactions is sheer convenience.
With payment links, you can remove the burden of card machines or complicated escrow processes — perfect if you're a small ecommerce business with a physical shop front or pop-up stores.
The link serves as a gateway to an easy-to-use payment page, where the customer can choose their preferred payment option. The whole process is streamlined and the direct yet non-intrusive nature of the ecommerce payment link means that you will remove potential kinks from your checkout or transaction journey. A real win-win.
Different types of ecommerce payment links
Now that you're up to speed with the concept of ecommerce links — and you know why they're so effective—let's look at the different types available in today's hyper-connected digital world.
The one-time link
This type of ecommerce payment link is arguably the most popular. You can roll this type of link out across almost every customer channel or touchpoint imaginable.
With the one-time payment link, the recipient (customer) can click on through and enter their payment details (choosing from a list of payment options) in their web or mobile browser. It's that simple. And as we said, the recipient can pay straight away or complete the transaction within a specified expiry period (always set an expiry time frame and make it clear when sending the link.
For your inspiration, here are the different touchpoints or mediums where you can send out one-time payment links:
As you can see, there's plenty of options when it comes to one-time payment links — and sending these links to customers offers you a prime opportunity for extra connection or engagement.
Tip: To get maximum value from your one-off payment links, you should always test your links and payment page design thoroughly before sending them out to your customers.
Your link URL should be customized to make them more personal (and easier to file) and your payment page should contain dropdown boxes detailing the different selection of payment options available. Test your links and payment process across every channel to ensure every step is optimized for both desktop and mobile.
Invoice payment link
If you're an ecommerce business that offers services or subscriptions, or you sell bulk items to your customers, the invoice payment link might be for you.
This type of transaction allows you to send a link to your customers via a well-designed email (the most effective medium for invoices). Upon receipt, your customers can click through to an invoice that contains all of your relevant company and transaction-based details and choose their payment method.
The good thing about this type of ecommerce link is the fact that you can send timely reminders if your customers have outstanding payments, engaging them with a little extra email marketing messaging in the process.
Tip: As payment invoice links work best when sent through email, you should place your efforts in your email's subject line, design and content.
Ensure your link and email are 100% functional and once it is, treat it as an approachable email marketing communication. Offering a little update on the company, sending additional product suggestions or offering an incentive (a deal or discount) for future purchases are all effective tactics.
"Buy now'" or CTA-style buttons
Not many people know this, but a payment button is a type of ecommerce payment link. While "buy now" and CTA-style payment buttons are standard practice on ecommerce sites, by getting into the payment link mentality, you can streamline your checkout process for increased success.
You can place a "buy now" button on your product pages as well as category landing pages (you can also add these buttons to your emails instead of sending a traditional link), sending your customers straight to your tested and optimized payment checkout. Creating a frictionless process will ultimately result in less confusion, more convenience and fewer abandonments.
Tip: First of all, you should ensure your link buttons are featured in the most convertible spot on your product or landing page.
You can do this by running A/B tests (two different versions of the same page) and seeing which performs best (which button gets the most click-throughs). The best thing about A/B testing is the fact that you can also test your button messages (text), designs, and colors to see which is most effective. Optimize your payment buttons and more people will be inspired to click through—that's the rule.
Once your customers do click through, you must ensure that your payment page design is as easy to navigate as possible and is completely seamless—you can use A/B testing for this, too.
Related: How to optimize your mobile checkout journey for small business success
Ecommerce payment links: Best practices
For further advice and inspiration, here are some ecommerce payment link best practices.
Substance over style
When developing your payment link process, it's vital that you treat every touchpoint and type (one-off, button, invoice link) individually.
Taking this approach means that you can drill down into each step of the process to ensure that your designs and messaging are slick, seamless, and require as little effort as possible.
While aesthetics are important, always prioritize function and form over style — add a little creative branding by all means, but never if it hinders the navigability of your links or payment pages.
Ensure your links are secure
With cybercrime on the rise, ensuring your payment pages, portals, links, and buttons are fully secure is critical.
One kink in the chain or payment data breach will cost your customers — and your brand reputation — big time.
That said, you should consult a cyber security professional (either in-house or external) to create 100% watertight payment link processes across all channels and touchpoints.
It's also important that you make it very clear to your customers that their data is safe in your hands by creating a clear, concise informational section in your privacy policy.
This will help you mitigate any unforeseen issues while building customer trust — which usually benefits sales.
Related: 7 small business network security tips
Work with the right payment link providers
Messaging, design, and security aside, the success of your payment link offerings will largely depend on the payment link provider that you choose.
When you're looking to commit to a payment link provider, you should consider your budget, your specific needs, and which touchpoints your customers engage with the most.
There are many platforms out there offering easy-to-use widgets or code, design features, and payment link engagement data. So, consider your key needs, set a workable budget, think about where you want to place or deliver your payment links, and conduct comparison research.
Final thoughts
Ecommerce payment links will give your audience the freedom and flexibility to buy your products in a way that suits them while making the entire checkout or transactional process swift and seamless. And, when you do that, great things will happen.
Explore the three main types of ecommerce payment links, take the time to understand where they're likely to perform the best, commit to a supplier that suits your needs—and start testing your efforts. The time is now.
For more news on the subject of customer transactions, read about how GoDaddy now offers point-of-sale devices and breakthrough low payment pricing.
PrimePay Payroll Review 2021: Features, Pricing, Alternatives
If you're in the market for payroll software, one name you may have heard is PrimePay. PrimePay launched in 1986 with the goal of saving small-business owners time by managing their logistical tasks. Today, PrimePay provides a variety of services, from HR to insurance and compliance — but its bread and butter is still payroll.
Let's take a closer look at PrimePay Payroll: How it works, its features and how much it costs. We'll also offer up some alternatives to PrimePay so you can understand your full range of options when deciding on a payroll service provider.
What is PrimePay Payroll?
PrimePay Payroll is a cloud-hosted payroll service, meaning it can be accessed from anywhere on the web and does not require the business owner to install or manage any software. The platform was designed specifically for small-business owners looking to track, manage and process payroll, and deliver payment to their employees.
But to say that is all PrimePay can do would be reductive. Built into the payroll platform are HR, time clock and workers compensation capabilities, allowing you to manage all aspects regarding payroll in one place.
To get started with PrimePay Payroll, you need to sign up for an account. This requires submitting some basic business information via a form on the PrimePay website, including your company name, number of employees and contact information. Once submitted, a PrimePay sales representative will contact you and walk you through the details of setting up your account.
Setup
With your account set up, you can configure it in accordance with how you run payroll. This includes creating your payroll calendar (weekly, bi-weekly, monthly, semi-monthly), entering tax, earnings, benefits deductions and workers compensation information, and linking your business bank account to the software.
Once you have completed these steps, you can start adding in employees. This is where PrimePay's HR capabilities come into play. To add an employee to PrimePay Payroll you must first add them to PrimePay HR. To do so, navigate to the HR portal from your account dashboard and click the "Add Employee" option. You will be prompted to provide the employee's classification (W-2, independent contractor), name, birthday, gender, address, date of hire and Social Security number.
You'll also provide the employee's pay schedule and pay method (direct deposit, prepaid check, paper check). Once all this information is entered, you must sync PrimePay HR with PrimePay Payroll by selecting the "Manage Employees" option in the HR portal. After HR and Payroll are synchronized, you can enter in all relevant federal, state and local tax withholdings information for the new employee in the Payroll portal, as well as earnings information.
Finally, if an employee opts for direct deposit, you must enter their bank name, account type (savings or checking), and account and routing number into the Payroll system.
Processing
With all of this information collected in the Payroll and HR systems, you can begin processing payroll for the employee. Processing payroll with PrimePay is a three-step process. When the next pay period comes, log into your payroll system and import your time and attendance data from PrimePay's time clock platform. Once the data is imported, you will be provided with the option to create checks for your employees. Select the "Calculate Your Checks" icon, which provides a preview of the pay information for each individual employee. Review the data and, if all looks right, click "Submit" to process payroll.
Taxes
When payroll is processed, PrimePay automatically calculates, files and pays local, state and federal taxes based on the information you have provided. Deductions for things like health benefits and savings contributions are also automatically calculated. For employees who opt to be paid by paper check, PrimePay Payroll offers free check signing, stuffing and sealing services.
At the end of the year, PrimePay will deliver tax forms for your employees for an additional fee. There is also an online portal that your employees can access to view pay stubs and tax forms. If there are ever any errors regarding taxation, PrimePay will fix the mistakes and pay any fines that may have been incurred.
Features of PrimePay Payroll
Most of what PrimePay Payroll can do is fairly typical amongst payroll platforms. Fortunately, PrimePay also offers a lot of extra functionality (like the HR and time clock platforms mentioned earlier) to really sweeten the pot for small-business owners. Let's take a look at some of the additional items:
Payroll reporting
PrimePay's payroll reports are designed to provide small-business owners with insights into their labor expenses. Reports range from departmental summaries, payroll journals and tax summaries, to customized 401(k) reports, direct deposit recaps, terminated employee history and more.
Payroll add-ons
For an extra cost, PrimePay will extend the functionality of your platform with a variety of add-ons. This includes adding a bank reconciliation file, electronic child support garnishment, general ledger imports, 401(k) imports and more. PrimePay does not list the cost of these add-ons on its website, so we recommend speaking to a sales representative if you are interested in adding any of these features.
Applicant tracking
Using PrimePay's built-in HR software, you can post job listings to major job boards. When someone applies for that role, their information will be automatically imported into the HR system. Once you make a hire, their information will be sent directly to Employee Onboarding.
Employee onboarding
Onboard new hires digitally via the PrimePay HR system. All the information entered during onboarding can also be transferred directly to Payroll. PrimePay will also handle all new hire paperwork and submit it to the appropriate state and federal agencies.
Time clock
As previously mentioned, Payroll subscribers have access to a cloud-based time clock that integrates directly with its system. The time clock can handle punch-in/punch-out functions for employees, scheduling, PTO management and overtime settings.
HR advisory
Within the HR portal, Payroll customers have access to a variety of free step-by-step guides on topics relating to human resources. For an extra $29 per month, you can also get access to an employee handbook builder, 200 employee training courses and a direct line to a certified HR professional.
Additional services
Although all of the aforementioned services come included or as extensions of the Payroll platform, PrimePay offers a variety of additional subscription services that may be of use to small-business owners, including benefits and merchant services, and additional HR and insurance services. Pricing is quote-based. Contact a sales representative for more.
Customer service
To contact customer service, you must submit an online form via the PrimePay Support Portal. For a faster solution, look through the documentation provided in the Support Portal on all the different facets of the PrimePay platform. PrimePay also maintains a blog with useful information.
Pricing of PrimePay Payroll
PrimePay Payroll's pricing is based on the number of employees you have and how frequently you run payroll. The PrimePay website features a tool where you can calculate your payroll costs based on your company's information. The price breakdown is as follows:
| | | | | |
| --- | --- | --- | --- | --- |
| | $42 per pay period plus $3.45 per check. | $60 per pay period plus $3.70 per check. | $60 per pay period plus $3.70 per check. | $95 per pay period plus $2.65 per check. |
| | $50 per pay period plus $2.75 per check. | $66 per pay period plus $2.90 per check. | $66 per pay period plus $2.90 per check. | $97 per pay period plus $2.65 per check. |
| | $116 per pay period plus $1.85 per check. | $131 per pay period plus $1.85 per check. | $131 per pay period plus $1.85 per check. | $163 per pay period plus $1.85 per check. |
*Semi-monthly payroll means payroll will be processed twice a month.
There are no contracts to sign with PrimePay. You can use the service month-to-month and cancel at any time. Note that PrimePay is currently offering a 60-day free trial.
HR services
Although PrimePay isn't the first payroll software to integrate HR services into its platform, it certainly offers a lot of functionality at no cost. When you sign up for the payroll platform, you get applicant tracking, new hire reporting, and onboarding and advisory services baked into the product. That's a lot of free features.
Ease of use
PrimePay Payroll is designed for small-business owners who have a lot on their plates. Therefore, it tries to make the payroll process as seamless as possible by integrating HR and time tracking functions into the payroll platform, and by making processing payroll a simple three-step process. For those who are new to payroll processing, you won't face a steep learning curve with PrimePay.
User reviews
Here is how PrimePay ranks on the major review sites:
G2 Crowd: 5 stars out of 5.

Capterra: 4.5 stars out of 5.

Better Business Bureau: A+ (not accredited).
In reviews, customers say they find PrimePay's UX extremely intuitive, and that they can process payroll very quickly using the platform. In addition, users find the PrimePay blog to be extremely informative, and that payroll consistently processes without any errors.
Scalability
It's not that you can't scale your business using PrimePay Payroll. But for businesses that have grown past the 100-employee mark, there are payroll service providers that can provide payroll solutions more tailored to your business needs. PrimePay's services are built to serve small and midsize businesses.
User reviews
There aren't many negative reviews of PrimePay Payroll on the major review sites. The most common complaints were that the reporting isn't as in-depth as some would like, and that it is hard to get a customer service representative on the phone quickly.
Automatic Data Processing (ADP)
ADP is a professional employer organization, meaning it offers payroll services and a whole lot more. For small businesses, ADP offers four plans: Essential Payroll, Enhanced Payroll, Complete Payroll and HR Pro. Based on which plan you subscribe to, you'll get access to some or all of those additional services. Among the additional services are an employee discount program, free background checks and legal assistance.
Gusto
An economical choice for businesses that don't have many employees is Gusto. Gusto is an all-in-one payroll/HR/benefits system. Its low-cost plan charges a flat rate of $39 per month plus $6 per employee per month. Some of the features that come with Gusto include 401(k) and workers' compensation management, and integrations with popular time tracking and accounting software. Gusto also has a new option for contractor-only employers, who simply pay the $6/employee rate and no base price.
A version of this article was first published on Fundera, a subsidiary of NerdWallet