The 5 Best Business Internet Services for 2021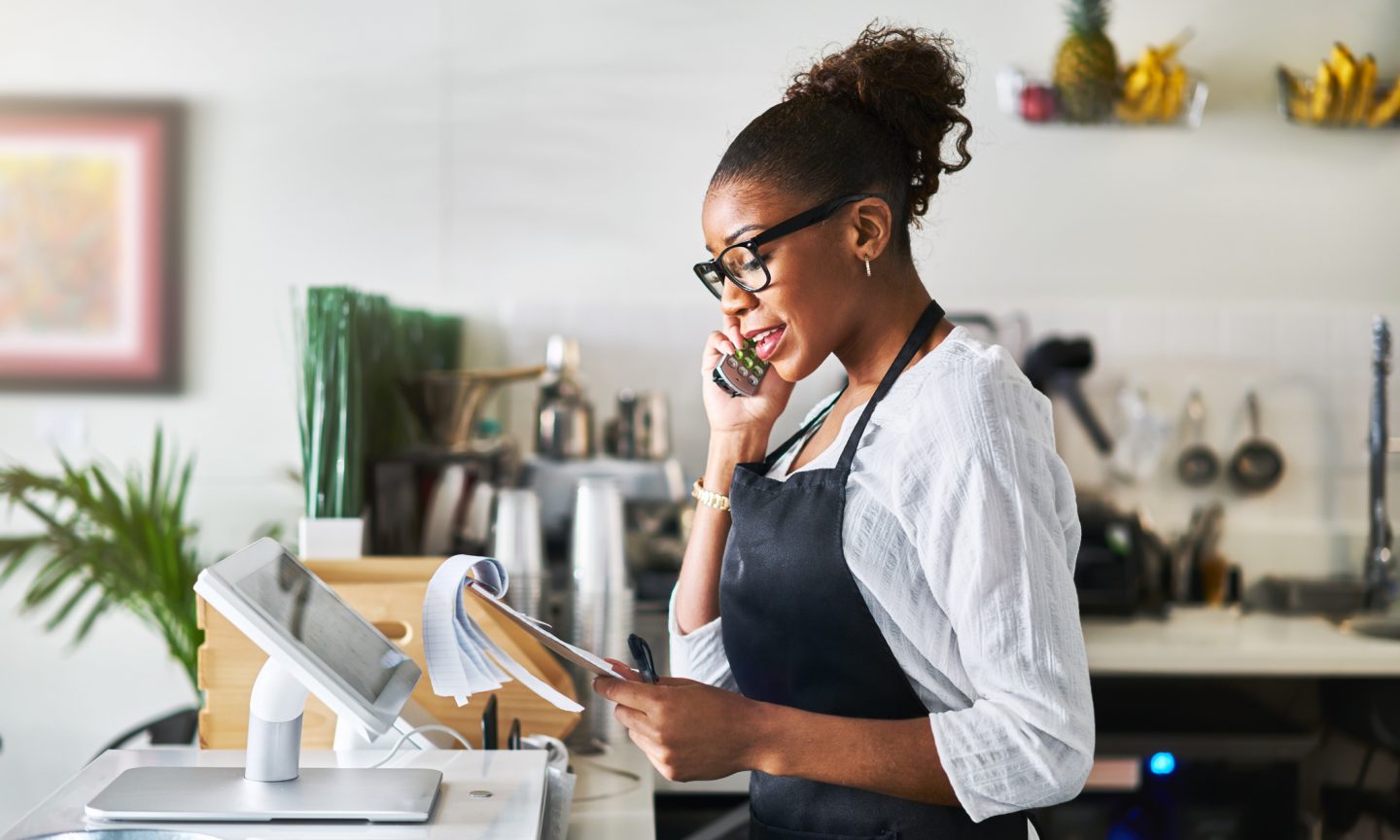 While researching business internet providers may not be the most exciting part of starting a business, it might be one of the most crucial: Whether you run a tech startup or a brick-and-mortar shop, it's likely that you rely pretty heavily on a reliable internet connection to get the job done.
And for business owners, an unreliable internet connection isn't merely a nuisance—it can spell the difference between optimal productivity and distracted, frustrated employees; or even a sale and a missed opportunity. Essentially, the best small business internet service should embody the adage "out of sight, out of mind." If you don't notice your internet acting up, then it's doing its job perfectly.
But there are so many telecommunications companies out there, offering so many internet services and packages (and, naturally, all of them claim to be the best). So, we've made the process a little easier for you by picking out the five small business internet service providers you should consider first.
What to look for in a business internet service provider
Comparison shopping on business internet providers can seem daunting (or at least tedious). Here are some guidelines to get you started.
First, begin by checking whether the provider in question is actually available in your area—naturally, this will be the easiest way to weed out internet service providers at the top of your search.
Next, consider the number of employees you have, the number of devices that require internet connection, and the bandwidth necessary for the kind of activities you need to perform, whether that's video conferencing, extra-large downloads, or simply web browsing. And if your company needs more than one solution from your provider—like phone, fax, cable, or web hosting services—then it might be most efficient to choose a bundle.
If your office only uses the internet mostly for emails and other simple functions, you can certainly get away with a provider's lowest bandwidth tier. But if you're running a company with many employees, or if you absolutely rely on the internet to conduct your business, opt for the fastest speed available. And if you're debating between packages, consider springing for the speed just above what you think you need. When it comes to your internet connection—which, for many businesses, is essentially their lifeline—it's better to make room in your budget for foolproof speeds, rather than contending with constant disruptions in your daily operations (and, eventually, paying for that faster speed anyway).
But before you sign any contract, make sure you thoroughly understand its terms. Pick out where additional fees, such as early cancellation or installation fees, might be hiding. Flexibility in your contract is key, too. If you're a quickly growing company, for instance, look out for your plan's policy on upgrading your services fee-free.
It's also worth checking out user reviews on your provider's customer service. These days, there's little more frustrating than spotty internet service—and an unavailable or subpar support system to help you fix it.
With those guidelines in mind, you can dig deeper into all five of the following business internet service providers, tailoring your research to suit your business's unique needs.
5 best business internet service providers
The following internet service providers aren't listed in any particular order. But based on a few key factors—including geographical availability, service speeds, customer reviews, pricing, and contract flexibility—we've deemed these five companies worth looking into first.
Verizon Fios Business
Verizon has been ranked the highest in customer satisfaction for small and medium businesses from J.D. Power for six years running—just one reason why Verizon Fios makes the list of the best business internet service providers.
Verizon Fios Business offers five internet plans, with download speeds ranging from 75 mbps up to 940 mbps. Prices range from $64.99 per month for the first year, then $69.99 per the month for the second; up to $214.99 per month for the first year, then $224.99 per month for the second. Fees and equipment charges aren't included in those prices, however.
All Verizon's contract lengths are two years, with an early cancellation fee of 35% of the base monthly charges for the remainder of the term.
On the downside, Verizon Fios Business is only available in certain metro areas in nine states on the East Coast. But they also offer several phone and internet bundles, some with the additional incentive of a Visa Prepaid Card of up to $200.
Pro: Great customer service and reliable connection.
Con: Service is limited to a handful of states on East Coast.
Spectrum Business
Spectrum Business offers three download speeds: 200 mbps, 400 mbps, and 940 mbps, with bundles starting at an incredibly affordable $44.99 per month. Pricing for other download speeds isn't readily available on their website, however. You'll have to enter your business's address to find out which offers are available, and at which prices, in your area.
Perhaps the best feature of Spectrum Business's internet services is that they're all contract-free. Instead of the standard one- or two-year contracts, Spectrum Business charges customers on a month-to-month basis. So if you're growing quickly and anticipate needing to upgrade, there's no need to worry about locking yourself into a multiple-year deal, and potentially encountering early-cancellation fees. Plus, Spectrum services are available in 41 states, including Hawaii.
Do be aware, however, that Spectrum Business customer reviews are less than stellar.
Pro: Affordable pricing and widely available.
Con: Mixed reviews on customer service.
Comcast Business
Servicing 39 states across the country, Comcast Business Internet stands out from the pack for offering one of the highest-speed services you'll find with their 1 gig (1,000 mbps) plan. Other than this "Blazing Speed" plan, Comcast Business offers four business internet tiers ranging from 25 mbps to 300 mbps. And signing up for their Comcast Business Connection Pro feature means that if your connection goes out, you'll be automatically connected to a 4G LTE wireless backup.
Pricing-wise, you'll need to provide your business's address to receive a quote. We were also unable to find contract details, but reviewers have stated that Comcast has two-year-long contracts, and their early termination fees are hefty. Also be aware that their highest-speed plan might not be available everywhere.
Pro: Super-fast download speeds.
Con: Large early cancellation fee.
Frontier
Although Frontier offers the slowest internet speeds on this list—ranging from just 7 to 40 mbps—their bundle prices are some of the lowest you're likely to find. And if you're a sole proprietor, have only a few employees, or simply don't rely too heavily on your internet service (if you run a brick-and-mortar store, for instance), Frontier's lower speeds may actually be just right for you.
On the lower range, Frontier's Business Max + Voice Service bundle gets you 7 mbps internet speed, free installation, a free WiFi router, and a business phone for just $49.98 a month for a two-year contract. Their highest-tier bundle, the Business Extreme + Voice, gets you the same add-ons as the Business Max + Voice, but with a 30 mbps internet speed.
Pro: Reasonably priced bundles.
Con: Low internet speeds.
AT&T Business
AT&T offers a few business internet packages at varying speeds and price points. Business owners who want the highest possible speeds with the most advanced features can opt for one of their three Dedicated Internet Service packages, which offers customers internet speeds of up to 400 mbps.
Of course, you will need to pay for those super-fast speeds. Prices for AT&T's Dedicated Internet Service packages range from $993 per month to $1,770 per month, and contracts range from 24 to 36 months. Keep in mind, though, that offer availability and pricing will vary depending on where you're located.
But if you don't want to shell out $1,000+ for your internet, AT&T does offer lower-priced options, too. Look into their AT&T Wireless Internet product; for either $60 or $100 per month, users get either 50 or 100 GB of data with a 4G LTE wireless device.
Pro: Super-fast internet speeds are available.
Con: High-speed plans can be pricey.
Which small business internet service is right for you?
First and foremost, the business internet provider that works best for your business is the provider that services your area—so always start your search by plugging in your business's address. Keep in mind that providers' offers and rates will vary according to your location, too.
On that note, it could be worth looking into regional business internet service providers in addition to the five marquee providers we mentioned here. It's possible that they'll offer internet speeds just as fast as the larger companies can, but at even better price points.
And if you're wary about locking yourself into a years-long contract, make it a priority to find either a provider that offers a month-to-month contract, or that doesn't incur punishing early termination fees. That way, your business can expand as much and as quickly as it possibly can—because the last thing you need to worry about is whether your internet connection can support your growth.
This article originally appeared on JustBusiness, a subsidiary of NerdWallet.
It's never been more clear: companies should give up on back to office and let us all work remotely, permanently
With the rise of the Delta Variant, companies should switch to all remote.
All-remote is better for workplace collaboration, the environment, and companies' bottom lines.
Companies that switch to all-remote should be intentional about collaboration and technology.
Jeff Chow is SVP Product at InVision.
This is an opinion column. The thoughts expressed are those of the author.
It's time to go back to the office for good – the home office.
With the CDC's recommendation that even fully vaccinated people wear masks indoors in areas with "substantial" and "high" transmission of COVID-19, employees across industries are wondering what the new future of work looks like. As the possibility of another shelter-in-place order looms, companies are deciding whether moving to a hybrid situation – simultaneously in-person and remote – is worth it.
It's not. Simply put, the concept of "forever remote" makes sense for numerous companies and industries. For many, America's "back to work" isn't a simple light switch, but many organizations are better off to shut the lights off at the traditional office. The switch to all remote will broaden a company's talent pool and increase employee happiness and retention, while limiting a lease and lowering its carbon footprint.
There are benefits to becoming a fully-remote organization. A top example is that the talent pool now goes national, or even international. Organizations are no longer limited to recruiting employees from a given radius to their offices. Asynchronous work helps to open the door for employees to work across time zones to get projects and deliverables completed in time.
InVision, where I work, has been all-remote since its inception. We have the luxury of hiring people living across the US and in 25 countries.
Additionally, without the need for a large physical office presence, companies can save hundreds of thousands of dollars, if not more, on leasing office space or building an expansive campus.
There is also evidence that eliminating an office for all employees to work remotely is better for the environment. Eliminating a daily commute, whether it's driving a vehicle or taking mass transit, helps cut down on emissions. This was initially noticed back in the spring and summer of 2020, when a decline in transportation due to the COVID-19 pandemic led to a 6.4% decrease in global carbon emissions, which is the equivalent of 2.3 billion tons. The United States had the largest drop in carbon emissions at 12%, followed by the entirety of the European Union at 11%.
In a June 2021 McKinsey survey of over 1,600 employed people, researchers found about one in three workers back in an office said returning to in-person work negatively impacted their mental health. Those surveyed also reported "COVID-19 safety and flexible work arrangements could help alleviate stress" of returning to the office. Not everyone who works for the same company is going to get along. In an all-remote environment, it is far easier for people who are at odds to simply avoid each other. HR won't have to spend nearly as much time mediating between (or terminating) office Hatfields and McCoys.
So, how exactly do you quickly pivot to remote again and stick with it? The key is intentionality. Teach managers to make a point of celebrating wins and good work on group calls. Build encouraging collaboration into managers' Key Performance Indicators (KPI)s. Take advantage of face-to-face opportunities by holding in-person, all-company all-hands meetings as a time to build culture, not a time to just do more work.
Treat working groups to dinner (use some of the money you saved on your lease!) and let them get to know each other as people. To be intentional, invest in new ways of working that are oftentimes better ways of working: reducing necessary meetings and adjusting more feedback sessions to asynchronous collaboration. Meetings that remain on calendars should be reserved for the purpose of being highly engaging and energizing moments for teams to brainstorm and do generative sessions.
Second is technology. By now, we're all familiar with the likes of Zoom, Slack, and Microsoft Teams, but there are other products that can actively improve collaboration (full disclosure: I work for InVision, which makes one such digital collaboration tool, namely Freehand).
Take a thorough look with your IT team (and talk to your employees) to see what they need on a day-to-day basis. What tools does your accounting team need? Do they differ from what the marketing team needs (spoiler alert: they do). And don't force everyone to use the same tools. If your accounting team loves Microsoft Excel, that's fine for them. I can guarantee, however, that your product design team is not going to use it.
Finally, invest in your employees' ability to make the transition (again).
GreenGen, which provides green energy solutions for businesses and infrastructure projects, had one of the most pioneering ideas. "We had our employees do a two-day work-from-home resiliency test. This was to ensure that everyone's home Wi-Fi was adequate so that all of our documents and materials were easily accessible online, and that we could troubleshoot any potential problems preemptively," said Bradford H. Dockser, Chief Executive Officer and Co-Founder of GreenGen. "Ensuring that our team members got monitors, mice, and keyboards at home made the transition seamless." With that sort of intentional stress test, GreenGen didn't skip a beat.
Above all, the main key to returning to the home office for good lies within communication. Technology and innovative products have helped to bring colleagues closer together virtually, as people work from anywhere at any time. Initial shelter-in-place orders taught many businesses across industries that remote work can be just as effective, if not more so, than the traditional office model. Businesses should make the call to go all-remote permanently. Their employees, their investors, and the environment will all thank you.
Some Saks Fifth Avenue and Lord and Taylor stores will become WeWork coworking spaces for $300 a month – see inside SaksWorks
Hudson's Bay Company has partnered with WeWork to create co-working spaces.
The SaksWorks will be built within existing or past Saks Fifth Avenue and Lord and Taylor stores.
The coworking spaces will have amenities like gyms, cafes, and restaurants.
Hudson's Bay Company (HBC) – the mastermind behind Saks Fifth Avenue and formerly Lord and Taylor – has partnered with WeWork to create "SaksWorks."
Source: BusinessWire
That's right. Your local Saks Fifth Avenue could become the next hotspot for freelancers, startups, and remote workers.
To tap into the ongoing coworking craze, HBC will be turning part of its real estate collection into WeWork-run SaksWorks.
This includes both existing or past Saks Fifth Avenue and Lord and Taylor stores, Konrad Putzier reported for the Wall Street Journal.
Source: Wall Street Journal
Several SaksWorks will also be located outside of the city for suburbanites who need a break from working from home.
All of the images shown below are from the partnership's Brookfield Place location in New York City, but there will also be three additional New York locations – in Manhasset, Scarsdale, and Saks Fifth Avenue's flagship in the city – and one in Greenwich, Connecticut.
The Brookfield Place location is replacing a former Saks Fifth Avenue Men's store, while the SaksWorks in Saks Fifth Avenue is taking the place of a 10th floor children's section.
Source: Wall Street Journal
The three other SaksWorks will take the place of Lord and Taylor stores, Steff Yotka reported for Vogue.
Source: Vogue
The first few SaksWorks will open its doors in September, but looking ahead, the team has plans to open more locations across North America.
In the future, this could include Los Angeles, Seattle, Philadelphia, and Boston, Amy Nelson, SaksWorks president, told the Wall Street Journal.
Source: Wall Street Journal
HBC's reputation for luxury goods seeps into the SaksWorks spaces …
… which will include plush amenities like on-site gyms, retail and restaurant spaces, cafes, and in-house events.
Like any other WeWork, SaksWorks will also have the prerequisite meeting spaces and open concept coworking spots.
As part of the collaboration, the SaksWorks locations will use WeWork's "workplace management technology," such as its booking app, according to a press release.
Source: BusinessWire
"With HBC, we take the first step toward expanding our technology platform product offering and providing a differentiated approach to how landlords can incorporate flexible space across their portfolio," Sandeep Mathrani, WeWork's CEO, said in the press release.
Source: BusinessWire
Prices will start at $299 a month, and the waitlist is already a few hundred people deep.
Source: Vogue
Section 321 Probably isn't Going Away Anytime Soon
With the change of administration in the U.S. in 2021, many American domestic businesses—and some from throughout the world—watched to see if the U.S. imposed trade tariffs would be lifted on China.
However, the tariffs remain in place which means that Section 321, a regulation that pertains to imports, is here to stay. On the bright side, this statute presents a money-saving opportunity for eCommerce business owners and a continued need for fulfillment companies in Canada and Mexico.
What is Section 321?
The statute, Section 321, categorizes certain goods that can be cleared through customs without extra taxes or duties. This allows business owners to avoid additional shipping expenses that would usually force them to increase prices and/or gain very little profit.
Likewise, by invoking Section 321 on imports while employing the services of a Mexican or Canadian fulfillment company, businesses can also save time by improving the efficiency of their logistics strategy.
What Has Prompted Frequent Use of Section 321?
China and the U.S. make up two of the largest economic powers in the world. In fact, as of 2019, trade between both countries equaled almost $559 billion in American dollars. This, in part, resulted from China's induction into the World Trade Organization in 2001. Flash forward a little over a decade and half later, tariffs were imposed on Chinese goods to hold the economic power accountable for a rash of intellectual theft, unfair trade practices, and to leverage the playing field between the two nations.
While during the election of 2020, President Biden had disagreed with President Trump's political or economic tactics in relation to dealing with China, he has not made any moves to lift the tariffs that were imposed by the previous administration. Rather, he has chosen to keep these measures in place that cover roughly $350 billion worth in goods imported from China. This decision stems from the first in-person meeting between President Biden and President Xi Jinping which did little to thaw the relationship between the two countries.
Thus, going with the bipartisan support of holding China accountable for its political missteps and for its unfair trade practices on the economic world stage, the tariffs remain in place for the time being.
Why is Section 321 Here to Stay?
So, what does this mean for companies that have traded with China? 66% of goods that are exported from China to the U.S. carry a tariff at an average rate of 19%. According to the Peterson Institute for International Economics, that's about 19% higher than before the trade war started.
Since American importers bear the cost of those duties, prices on items like televisions, baseball hats, luggage, bikes, and sneakers have gone up. This means that consumers might have noticed a difference on the price tag compared to years ago or a higher shipping cost once they reach "cart" on an eCommerce site.
Consequently, business owners have invoked Section 321 with the help of Canadian or Mexican fulfillment companies to cut the cost that's triggered by these tariffs.
How to Qualify for Section 321
While Section 321 enables businesses to avoid tariffs on some imported goods, you would have to make sure shipments do not exceed $800 in value. Additionally, you would have to remember that not all products fall under the eligibility of Section 321 coverage. These include:
Cosmetics
Dinnerware
Bio samples for lab analysis
Raw oysters
Plus, you would have your shipments to Canada or Mexico, where fulfillment companies will divide your goods into parcels that value $800 or less. They are then shipped to the U.S. but not all at the same time so as not to exceed the $800 limit.
How to Apply Section 321 to Your Business Strategy?
Depending on where you're located, you would partner with a fulfillment company in Canada or Mexico to come up with a plan of how to divide the shipment and schedule delivery. Furthermore, the fulfillment company would check the proper paperwork to ensure all necessary and correct information is given. With the shipments arriving in either of these two countries, you wouldn't have to be concerned about the tariffs because the destination from China would be Canada or Mexico. Neither of these countries have to pay a tariff (or as high of a tariff). Plus, technically, your supplies are "arriving from" Canada or Mexico who have a trade agreement in place with the U.S. that doesn't involve tariffs. So, this practice presents a mutually beneficial situation for your organization and the fulfillment company.
Because Section 321 doesn't appear to be going away anytime soon, you can ensure a timely delivery of your goods by securing the services of a Canadian or Mexican fulfillment company, depending on your location. These companies take care of the logistics and paperwork for you which saves time and money. They double check on the scheduling of the arrival of your imports to guarantee that they will meet the Section 321 criteria. All in all, this means that you won't have to worry about paying the high tariffs, and your customers can count on reasonable prices and receiving their products on time.