The Business Owner's Guide to Twitter
There is no shortage of ways business owners can spend their time. For online business owners, we're often optimizing for either 1) audience growth or 2) revenue growth.
One of the biggest questions we hear from business owners involves when to prioritize social media and to what degree. At SPI, we're big believers in the power of email. But a lot of online business owners have built large audiences on platforms like Facebook, Instagram, Twitter, LinkedIn, and now even Clubhouse.
But when it comes to social media, things get more complicated if your business is not tied to your personal brand. Do you create social profiles for your business, or focus on your own social channels as a way to drive awareness of your business?
For the most part, SPI has not had any brand social media accounts. But we're beginning to change that, starting with our new SPI Twitter account.
The Twitter-for-Business Opportunity
Twitter has changed a lot since it was created in 2006. For starters, the iconic tweet length of 140 characters has been doubled to 280.
Twitter also rolled out a feature called "Threads" that allows users to string related tweets together into a longer idea. Users had previously numbered their Tweets to denote what Marc Andreessen dubbed "Tweetstorms," but now Threads make it easy to share longer stories in a cohesive way.
If you're considering leveraging Twitter, be prepared to write!
As a result, there is a lot more high-quality writing on the platform than before.
That point is worth repeating: Because Twitter started as a "micro blogging" platform, it still caters first and foremost to written content as opposed to photos or videos (with the exception of memes). So if you're considering leveraging Twitter, be prepared to write!
Through the COVID-19 pandemic, Twitter's user base grew. It was originally predicted that Twitter would grow 2.8 percent in 2020, but the pandemic changed that. In October, eMarketer revised their 2020 forecast to growth of 8.4 percent.
With the world reopening, Twitter is forecasted to close 2021 with 2.4 percent growth, followed by 2.0 percent growth in 2022.
Nearly 69 million of Twitter's 315 million users are based in the U.S., but nearly 70 percent of all users are male. And according to Hootsuite, 57 percent of users are aged twenty-five to forty-nine.
If that sounds like your typical audience, let's talk about how to use Twitter effectively…
How People Use Twitter
Before we can talk about growth, there are two ideas that we've come to believe as truths when it comes to user behavior on Twitter:
People follow other people more than brands
People follow accounts that are consistent and predictable
Let's talk about each of these…
People Follow People on Twitter
Look at your own feeds on social media. As you scroll through, how many brands do you see as compared to individuals?
Odds are, it's pretty skewed towards individuals.
And the brands you do follow…what do they have in common?
If you enjoy following a brand account, it's likely that they have a very consistent and human brand voice. They probably don't feel like a "brand"—they feel like a person.
Humans are social creatures. And when it comes to social media…we'd rather socialize with other humans than faceless brands.
This doesn't mean you shouldn't have a brand account. As I already noted, SPI just created our own Twitter account. Rather, this speaks to the importance of having a strategy and brand voice on Twitter that sounds like a real person. More on this in a minute.
People Follow Twitter Accounts That Are Consistent and Predictable
People on Twitter (or any platform) are looking for one of two things: 1) entertainment or 2) education. Which need will your account fulfill?
At SPI, we're focused on education. We know that our audience follows us to learn about subjects like online business, podcasts, email marketing, affiliate marketing, courses, and community.
So our social media accounts need to fulfill that promise to our audience. If you follow SPI, you can expect to learn about those subjects!
What can people expect from you if they follow you?
The more consistent and predictable you are, the easier it will be to build a following, because it's clear to a potential follower what they'll gain by following you. Similar to email marketing, you need a compelling "opt in" to make it clear what you're offering.
How to Grow Your Business on Twitter
So how can you make the most of your business's Twitter presence? Like any other medium or platform, growth for your business on Twitter comes from publishing consistent, high-quality content! Namely, you'll have an advantage if you are:
Tweeting consistently
Tweeting about a consistent topic (or related topics)
Engaging in conversations around those same topics
The median Twitter user tweets once per month, while the most prolific users tweet 157 times per month, according to Pew Research. In fact, the top 10 percent of Twitter users account for 92 percent of the tweets on the platform.
One hundred fifty-seven tweets per month would be about five tweets per day … doable, but a lot! The point is, even if you're tweeting once or twice per day, you're standing out to the Twitter algorithm.
The more you tweet, the more impressions you'll receive, and the faster you'll grow!
You'll get more impressions the more your tweets are "retweeted." The retweet is much more powerful than a "like" from your followers.
And the more you tweet, the more likely you are to create something that resonates!
Another recent change to the Twitter algorithm is expanding the reach of tweets beyond someone's followers. Twitter will now display tweets from accounts that people you follow have engaged with – even if it wasn't a retweet.
This is a huge opportunity for your business, because it means more exposure to people who are not yet following you on Twitter.
But, again, the key is consistency in what you talk about about frequency in creating new tweets.
The Twitter "Community" Opportunity
One of the best ways to consistently engage in conversations around your topics of interest is by integrating into different Twitter Communities.
You'll likely read references to "Marketing Twitter" or "Community Twitter" or "VC Twitter." These phrases refer to Twitter "Communities" that are ideas but not official things to follow or engage.
These communities tend to form organically as individuals identify themselves as interested in certain topics and discussions. "Community Twitter" refers to the people on Twitter talking about Community-related topics. These communities are all relatively small, and you can find yourself inside the community simply by following the accounts actively tweeting about that topic.
Sometimes, people create Twitter Lists of the key accounts active in communities.
→ Follow the Team SPI list here or David Spinks's Community Builders List
By following a reputable List, you'll quickly experience what that Community is like. And by ingraining yourself in a community, you'll build relationships and credibility within that space.
Creating Your Own Business Twitter Community
A recent Twitter trend involves helping create community and showing belonging through the use of emojis.
This was made popular in the 2020 US Presidential race when candidate Andrew Yang encouraged his followers to use the blue hat 🧢 emoji next to their names to show they were supporting the campaign.
We've seen this enter the business world too, and the team at Morning Brew encouraged their team to add a coffee mug emoji ☕️ to their names. Now, when you're scrolling Twitter and see the coffee mug emoji, you may start to assume that the account is a Morning Brew employee.
But we see it in communities too. Recently, Dickie Bush created a 30-day writing community called Ship 30 for 30. As part of his onboarding to the program, he encourages people to add the ship 🚢 emoji to their names to show that they are participating.
These visual cues are a powerful way to create community, connection, and belonging.
The SPI Approach to Twitter
So how will SPI be leveraging Twitter?
Well, we are leaning into the idea that people tend to follow people. We've created the @teamSPI Twitter account (we'd love for you to follow us) but we'll be using our platform to amplify the voices of our team.
We have an incredibly talented team here at SPI. And we focus on different verticals within the company, from courses, to podcasting, solutions, affiliate marketing, community, and more.
So instead of trying to cover all those areas with our brand account, we're empowering our team to participate in the discussions and communities that they want to, and the @teamSPI account will amplify their voices.
We want to use the SPI platform to help elevate our team, and not the reverse.
So we invite you to follow along with us! Follow @teamSPI and you'll be following our team and their unique voices and experiences as it relates to online business.
Here's a tweet thread breaking down how we think about Twitter and how we'll be leveraging it. Our goal is to get to 1,000 followers on the @teamSPI account as quickly as possible, and your help would go a long way!
How to write product descriptions to increase sales
Get up to 30%* off! Get going with GoDaddy!
This post was originally published on June 24, 2019, and was updated on June 7, 2021.
When it comes to setting up and managing an eCommerce business, learning how to write product descriptions may seem like a relatively simple task. On the flip side, if you sell multiple products, it can feel monotonous and repetitive. However, product descriptions shouldn't be glossed over or written in a hurry. They're a small but mighty tool that can work wonders for customer interest and sales.
An effective product description has the power to convert a browser into a customer.
Research shows that 87% of shoppers say that detailed product content is important to their overall purchase decision. Moreover, eCommerce sales are at an all-time high with consumers spending $861.12 billion online with U.S. retailers in 2020, a 44% increase from the previous year. You can't afford to miss a piece of that pie with lackluster product descriptions.
A successful product description requires the right balance of storytelling, rich content and SEO awareness. Use the following guide (with real-life examples) to learn how to write product descriptions that will boost your sales.
Related: How to create a compelling eCommerce product page
Learn how to write product descriptions that tell a story
As you write product descriptions, try to describe an experience, not just the product itself.
Focus on making the reader envision themselves using (and enjoying) your product.
If appropriate, go as far as describing a time or place.
For example, look at the description for the below Bumble and bumble hair product. There's a tagline under the product name "Sweat fearlessly. Clean Instantly." Immediately, you already understand what this product does. Then the description further explains how you feel post-workout with sweaty hair, and how it can combat that issue. The benefit icons are just the cherry on top! (More on benefits later…)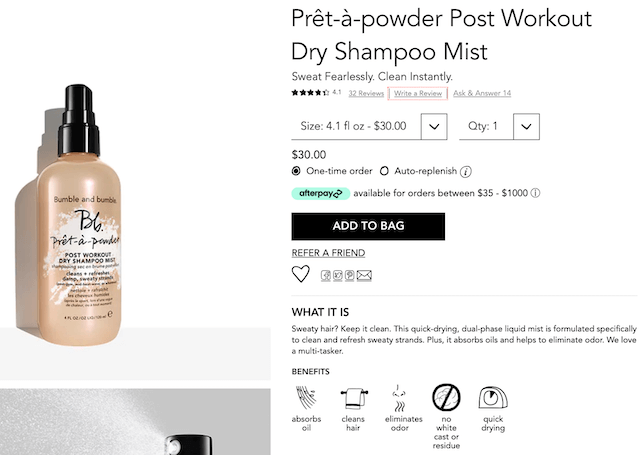 Product descriptions that tell a story are persuasive to potential customers, nudging them towards the "add to cart" button. The story doesn't have to be all flowery language — it can also include informative details. In fact, consumers are 131% more likely to buy from a brand after they consume educational content .
Apple is the masterclass example of marrying storytelling with information within their product descriptions. Cameron Craig, who worked in PR for Apple, told the Harvard Business Review:
"Our mission was to tell the story of how our innovative products give customers the power to unleash their creativity and change the world."
You can see just that in the product description of the latest MacBook Air. The copy immediately educates the reader on how this product will optimize their personal and professional lives. They also break down complex technological specs (like CPUs) and explain what that means for users in practice, i.e., you can complete more tasks and waste less battery.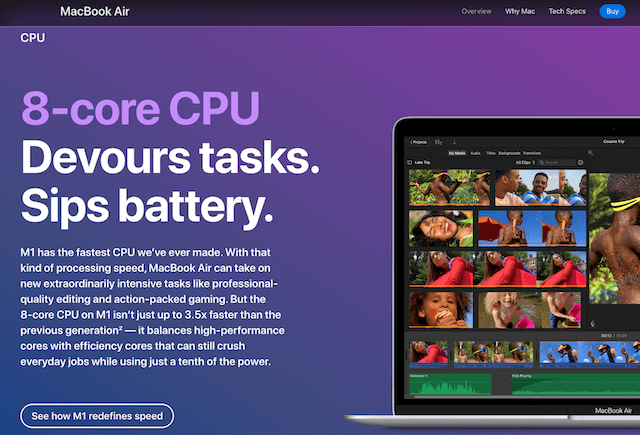 Write product descriptions that highlight your unique value proposition
What makes your product different from the rest? Your unique value proposition (UVP) is your product's differentiator, it's what makes it noteworthy, and also worth buying. You should include your UVP near the beginning of your product description to quickly convince customers.
If you aren't sure what that might be, do a little competitor research to see what other brands say about similar products and figure out why yours is different.
For example, refer to GoPro's description of their latest Hero9 camera. They highlight that the device takes 5K video and has 7x more resolution than typical HD content.
Not only do they speak about their best selling points but they also explain why this version is better than the previous iterations. The copy describes the benefits of Hypersmooth 3.0, the latest update to their stabilization technology.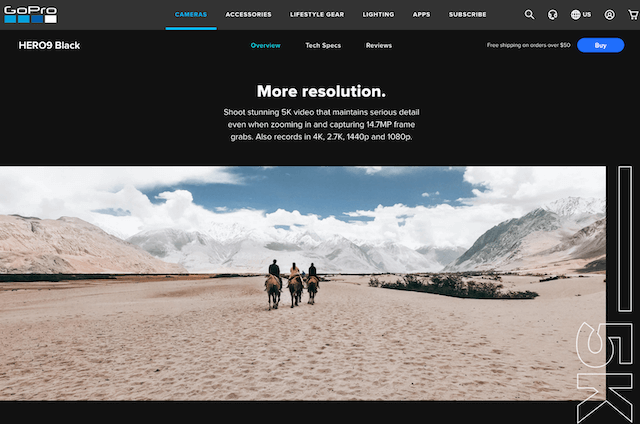 Related: How to write and use a unique selling proposition
Master product descriptions that consider your target customer
As you explore how to write product descriptions, think not only about your target customer, but also how they will use the product.
Focus on the benefits for the customer, not just the features of the product.
While features are important and have their place (more on that later), benefits create compelling copy that convinces the customer why they need the product.
When thinking about the product and customer, ask yourself:
How will it make their life easier?
What problem will it solve?
What advantages will it provide?
Those are the types of benefits you should highlight first and foremost in your product description.
Read the first two paragraphs in Goop's description for a skincare product. It immediately dives into what the product will do for the customer's skin, describing, in detail, all the results users can expect.
Use product descriptions that match your tone to your buyer persona
When you write a product description, you also want to consider your target customer so that you can speak directly to their buyer persona.
One way to accomplish this is by matching the tone of the product description to your ideal customer.
For instance, if your audience is millennial consumers and you're selling a lifestyle product, you can inject humor and frivolity to catch their attention.
On the other hand, if you sell professional-level tech products targeted toward business buyers, you'll want to keep the tone more serious and detailed.
The perfect example of tone is Dollar Shave Club, a brand that made a name for itself with irreverent humor. Notice how their product description reflects its overall brand voice (and matches the tone of their audience) with tongue-in-cheek jokes.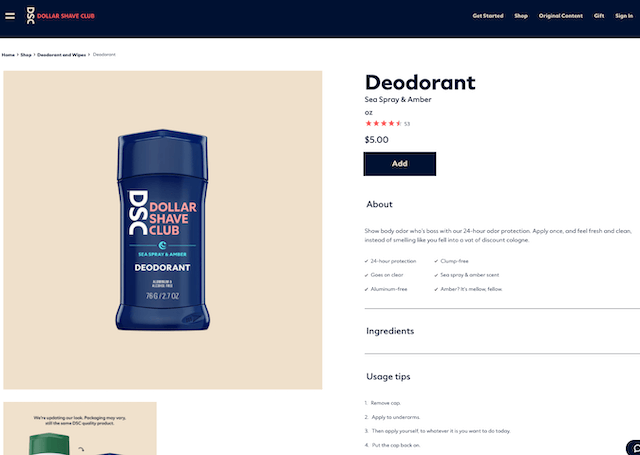 Make your product descriptions concise and scannable
The above-the-fold section of your product page should contain the best copy. Remember that every word matters. Potential customers can scroll or click for more information if they'd like. That means your initial product description should be concise and to the point.
Whether you offer an expandable description or tabs below the fold with more features and details, the idea is to make the first product description scannable to hook the customer.
Scannability is also crucial for mobile customers so that they can see product descriptions easily on their phones.
Make sure to keep mobile-friendliness in mind as 79% of smartphone users made a purchase on their mobile device in the past six months.
Many brands use bullet points to help with scannability in their product descriptions. Notice how Home Depot includes bullet points in both its initial product description, as well as the expanded product overview.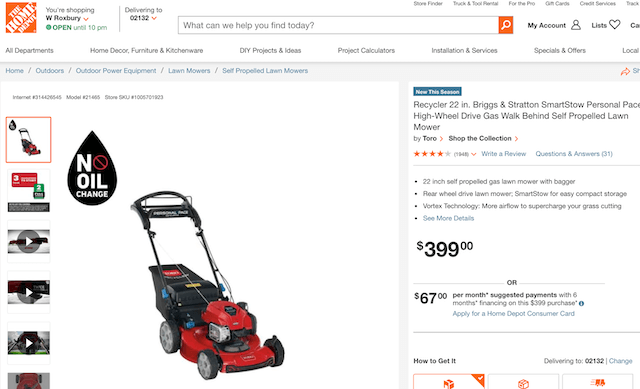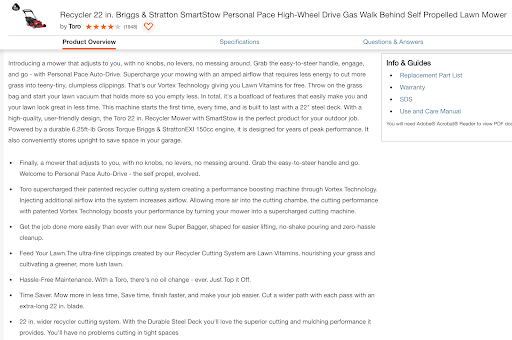 Include multiple high-quality images with product descriptions
Holding a product is vital to certain consumers. Even with the eCommerce boom from the pandemic, a recent survey found that 46% of people still prefer to shop in stores. And 33% say it's because they want to see, touch, feel and try out items.
You don't necessarily need to hire a professional photographer to take product pictures (although if you have the budget, it can be worth it). High-res camera phones with portrait mode make it increasingly easier for eCommerce business owners to DIY product images.
When possible include images of the product in use, like someone wearing a piece of clothing, a customer using a tool — or even a screenshot of a digital product. These types of images help contextualize the product in action, which makes it seem more real and tangible.
Note how Thrive Market overcomes the issue of selling spices (becasue it's essentially just a ground-up powder, it's tough to really spotlight in an exciting way). But they still use pictures to their advantage, showing the packaging, so customers know what to expect. They also incorporate an image of a meal that uses the spice, helping to put the product into context.
Related: How to take product photos that will help sell your goods
Incorporate customer testimonials with product descriptions
User-generated content (UGC) is a powerful tool in driving sales for your eCommerce business.
Customer testimonials and reviews are the best types of UGC to include in product descriptions.
Reviews help to provide social proof that other satisfied customers purchased and used your product, which goes a long way to encourage potential buyers.
Recent research confirms that UGC influences the consumer purchase decision process.
Depending on the layout and format of your eCommerce site, you can include a link to the product review page, or have native reviews underneath the product description.
Some brands opt to cherry-pick positive reviews or testimonials and include it as a quote in their product description.
Related: Generate reviews — 8 ways to get more product reviews

Make product descriptions searchable with SEO
If you want more customers to find your product with organic search (via search engines such as Google or Bing), write product descriptions with SEO in mind.
Each individual product page on an eCommerce site is another opportunity to include high-quality content that's indexed by search engines.
When product descriptions are optimized for search engines, those indexed pages will ideally rank for your target keywords. In other words, a potential customer types in a query related to your product/brand, and your site appears as a top result in the Search Engine Results Page (SERP).
If you haven't already, do some basic keyword research, so you know what terms and phrases to include in your product description. Keywords are terms that directly relate to your product that a potential customer might type into a search engine when looking to find it.
Make a list of keywords and naturally include them in product descriptions, details and anywhere on your product page.
Don't forget about long-tail keywords— these represent longer phrase/question searches rather than specific two- to five-word keywords. To give you an idea, instead of the keyword "cleaning supplies," a long-tail keyword would be "affordable organic cleaning spray solution."
Google tells us more and more consumers use conversational search queries. Searches with "do I need" grew in popularity by 65% — these are searches like: "what size generator do I need?"
Their advice on using this to your advantage? "Lock down keywords and phrases typically associated with [your] businesses and then consider natural language search phrases that customers might be using to find them."
Make product descriptions that include useful and technical details
After you craft and hone your initial product description, include technical and specific product details. As you've seen in the examples above, the product details section typically comes below the fold and under the initial product description.
However, that doesn't mean it's not as important.
Consumers have specific needs and concerns when it comes to purchasing a product, and details can be a make or break when it comes to conversion. Just think: what if someone has a skin allergy and can't find the materials for a clothing item?
Your goal with product details should be to answer any question before a customer asks it, and provide useful information to help them on their buying journey.
A good example is Macy's — they include the height and clothing size of the models in their product pictures. These details give the buyer additional insight into how items fit on an actual person, for example where a dress hem might fall.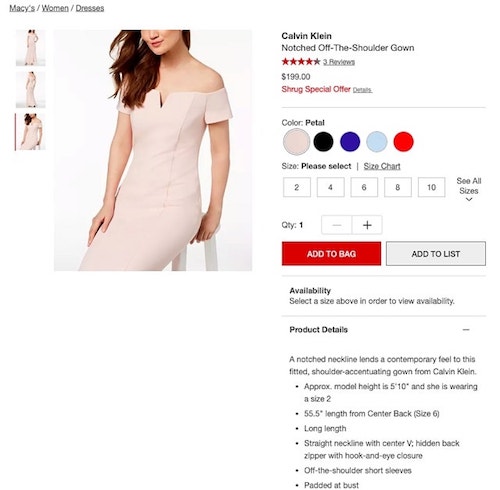 A/B test your product descriptions
Once you nail down how to write product descriptions, don't stop there. A/B test descriptions against one another to try out different tactics and find the best options. You can formally A/B test with marketing tools such as Google Optimize, Optimizely or Visual Website Optimizer.
Alternatively, you can do informal A/B testing by using different versions or formats for descriptions on similar products to see which sells better over a certain period of time.
Every eCommerce business is different, and there's no-one-size-fits-all formula when it comes to product descriptions.
Testing your product pages will allow you to improve your descriptions to increase traffic and sales.
Make sure to check in with all product pages, if one seems to be selling better than the rest, try to repurpose that description on the low-selling products. Remember that data and metrics will help you refine your process.
Editor's note: With dedicated product pages, GoDaddy Online Store makes it easy to update your product descriptions.
Learn how to write product descriptions to drive more sales
Product descriptions have the power to increase sales for your eCommerce business dramatically, yet large and small companies alike can struggle with them. Whether you have 10 or 10,000 products, it can be challenging to write unique, customer-attracting descriptions. But trust us, when you put in the effort, using the above tips, you'll see the ROI!
The main takeaway? Don't get disheartened when setting up your eCommerce store. Follow this guide, and with a little creativity, strategy, and persistence, your product descriptions will increase conversions for your online store.
This article includes content originally published on the GoDaddy blog by Erik Deckers.
The post How to write product descriptions to increase sales appeared first on GoDaddy Blog.
What Is a Niche Market and How to Find Yours
Jeff Bezos had a vision to build an "everything store"—an internet company that sold nearly every product type all over the world. In 2020, it's safe to say he was successful, as Amazon sells everything from web services for startups to Nicolas Cage pillowcases. But when Bezos launched Amazon 25 years ago, it was simply an online bookstore.
Amazon's origins are a fitting case study in niche marketing. One of the best ways to launch a business is by identifying an underserved segment of the market and tailoring your products or services to them. We understand finding a niche market can be difficult, which is why we're here to help. In this guide, we're going to explain the benefits of niche marketing and show you how to find a niche market for your business. But first, let's establish exactly what niche marketing is, and provide you with some examples of how it's done.
What is a niche market?
A niche market is a subset of a market on which a particular product or service is focused. The market subset is usually based on five different market segments: geographic, demographic, firmographic, behavioral, and psychographic.
Geographic segmentation splits a market based on its geographical boundaries, and is based on the assumption that our location informs what we buy to some degree. Demographic segmentation identifies markets based on demographic information such as gender, age, and income level.
Firmographic segmentation separates a market based on company or organization attributes, such as industry location, headcount, and revenue. Psychographic segmentation is about finding a market based on attitudes, aspirations, and values. Finally, behavioral segmentation is based on observed actions, such as usage rate or purchase preferences.
Niche marketing examples
A niche market is typically composed of a combination of different market segments and will inform the features, price range, and quality of the product or service. Examples of niche markets include:
Owners who like to dress up their dogs (demographic, behavioral)

Parents of children with an upcoming bar/bat mitzvah (demographic, psychographic)

Actors/actresses in need of SEO services in New York (firmographic, psychographic, geographic)
Each of these examples is based around an established industry (pet care, party planning, and SEO) and narrowed down to cater to a specific need identified within the market.
A niche market can be broad (i.e. soccer fans, people in need of legal help). However, it behooves small business owners just starting out to have a niche market that is as focused as possible (i.e. fans of the soccer club Manchester United, car accident victims in Philadelphia). As the business grows, it can broaden its niche to cater to new opportunities.
It's important to note that a business can also serve a broader audience than just its niche market. A law firm, for example, can do more than just work with car accident victims in Philadelphia. A niche marketing strategy is simply a way to leverage your expertise in one area to stand out from your competition.
A few examples of actual niche marketing companies include:
Square: This point of sale company offers simple software to many small businesses that were unable to process credit card payments or needed an easier way to handle these transactions.

Lululemon: This popular athletic and athleisure brand caters to women and men looking for trendy fitness apparel or comfortable loungewear.

Zen Courses: This online course-building company targets entrepreneurs and business owners who want to create their own workshops and courses, but aren't sure how to get started.
Why you should find your niche market
As a small business owner, tailoring your business to meet a specific demand in the market has several key benefits, including:
Fewer resources
While it may take time and money to drill down and find your specific market, working within and marketing to a niche market is usually cheaper and less time consuming than trying to appeal to a broader audience. This is because it takes less time and money to develop and market a product or service and provide customer service that caters to a smaller group of people.
"You can achieve brand saturation within a niche market in a way that you never could within a broad market without spending billions of dollars," says Gerard Boucher, founder and CEO of social media marketing agency Boucher + Co.
Less competition
A niche market is a niche market because it is underserved. Therefore, if you identify a niche market, there shouldn't be a lot of competition. Reduced competition can be good because it allows you to run your business the way you want without having to worry that you are being undercut or outmaneuvered by a rival.
However, if you find a niche market with little competition, one of two things are likely to happen: You'll foster competition by finding success in the market, or you'll realize that there is no competition because the market is not lucrative enough (we'll talk more about finding a lucrative market in the next section).
Brand loyalty
Because niche markets are small, businesses can more easily build brand loyalty by focusing on the quality of individual customer relationships. This can be done through more direct customer interactions, such as sending personalized emails and thank you cards, accommodating special requests, and offering custom services.
These types of actions foster repeat business, which is key to survival for any niche business.
SEO
If your business has a digital presence (and it should), niche marketing allows you to be hyper-focused on a few very specific keywords. This will help you rank highly in search engine results, which can be an enormous driver of traffic and sales. To help you get the most of your niche market from an SEO perspective, consider publishing content related to your niche.
Remember: Getting in front of the right people is better than getting in front of a lot of people who may not be interested in your business.
Highly targeted marketing
We mentioned that it is cheaper to market to a smaller number of people, but it is also more effective. That's because the members of a niche market are more similar to each other, meaning it is possible to craft marketing content that will resonate with a larger segment of the desired population. A smaller market also makes it easier to judge the impact of your marketing efforts.
Word-of-mouth growth
Another benefit of catering to a niche market is that people with similar interests tend to be in contact with each other. For example, fans of the television show "Game of Thrones" discuss their interest in online web communities. If you're doing a good job, people in your niche will spread the word to others, which is the most powerful form of marketing there is.
Focus your efforts
Focusing on a niche market affords you the opportunity to become really good at one specific thing. The better you are at what you do, the more you are considered an expert or leader in your market. This becomes a self-fulfilling cycle, as more customers will want to buy or work with the most experienced or well-regarded business in the market.
Establish a foothold
Finally, if you're just starting out, you're focused on establishing your position in the market. By finding a niche, you are guaranteed at least some demand for your product. This can help you establish an identity and build the foundation to eventually expand into a larger market.
How to find a niche market
Now that we know the benefits of finding a niche market, let's explore niche market opportunities for your business. If you've already launched your business, you may have considered some of these factors. If you're looking for business ideas, identifying a niche market can be a great starting point.
1. Choose from your interests
No matter what type of business you want to launch, it helps to start by asking yourself what you are interested in. Take a piece of paper and write down all of your hobbies, passions, and skills.
Once you have a list, consider your most important personal achievements and life lessons, and your approach to solving problems. Also ask yourself who you want to do business with, and where you want to do business.
How do these things apply to each item in your list of hobbies, passions, and skills? Ideally, your idea will arise naturally when you look at the combination of these factors. For example, you may love clothing and care deeply about the environment, so you decide to launch a line of eco-friendly leisurewear.
Considering all these things will ensure you choose a direction that you will be truly invested in. This is important because you will be spending a lot of time and energy in this niche, and your passion for the business will be your main motivating factor. In addition, if you don't care that much about your niche, your customers will sense it, and you will be seen as a phony.
2. Explore the potential market
Once you have discovered a niche that you are interested in, you need to determine if enough other people are interested in it that it can support a business. A great way to do this is by evaluating the internet and social media traffic around keywords related to your niche market.
There are several tools you can use to evaluate search volume for specific keywords:
Google AdWords Keyword Tool
While doing keyword research, keep in mind related terms that pop up, as these provide insight into other interests within your niche market. AdWords and UberSuggest also show you how competitive each keyword is. If there is a lot of competition, your market might not be as niche as you thought. Also keep in mind the popularity of keywords over time, as this can show you if interest is rising, falling, or seasonal.
Boucher says that if a keyword has under 500 searches per month, you are facing an uphill battle in terms of demand. "Ideally you want between 1,000 to2,000 searches per month. With a number like that, you can test your product without burning through cash," he explains.
Checking social media websites like Facebook, Pinterest, and Reddit can also provide a window into the interest in a particular niche topic. Check to see if there are a significant number of people posting about your niche, and if there are online groups where people discuss topics related to your niche. These people make ideal targets if your business decides to launch a social media marketing campaign.
Another approach you can take is asking people who you think would be prospective customers what their impressions are of your business. This can help you refine your idea and make it more market-friendly.
Finally, if there is any competition in your niche market, research them. How do they rank in search results? Is their marketing effective? What can you do better than what they are doing? Answering these questions can help solidify your business idea.
3. Determine profitability
Once you've found a niche market you're interested in and confirmed there is an audience, you need to determine if you can actually make money focusing on that market. Online this can be done by checking Amazon bestseller lists, affiliate marketplace product lists like ClickBank and ShareASale, and dropshipping marketplace bestseller lists.
Each of these platforms informs you of the popularity of specific products, as well as what they sell for, which can be valuable in determining your own price points.
Another approach you can take to determine your price point is through digital marketing. Boucher recommends launching a targeted social media marketing campaign featuring posts with different price points and comparing the engagement on each post.
"These online focus groups can inform you of which price is most palatable, as well as general consumer interest," says Boucher. "And it can all be done for a few hundred dollars."
4. Promote your product or service
Finally, you need to market your product, collect feedback based on your marketing, and re-tool accordingly. Fortunately, because your market is so small and specific, you shouldn't have to go through many variations of your marketing because the audience already has a lot of similar interests.
Boucher recommends marketing initially on social media as it allows for greater targeting and the ability to test multiple iterations of the same ad. As with any marketing campaign, it takes multiple impressions for a consumer to have brand recall. However, with niche marketing, it is common for a larger segment of the market to convert once they have brand recall.
"A niche market could have 5% to 10% of consumers with brand recall convert, compared to 1% to 3% in a broader marketing campaign," says Boucher.
The bottom line
In 2008, Wired Magazine co-founder Kevin Kelly popularized the idea of 1,000 True Fans. In short, the idea states that to be successful in any line of work, all you need is 1,000 loyal customers who will buy anything you produce. If you generate $100 profit from each fan, you will earn $100,000 annually.
When put into the context of niche marketing, this means identifying a profitable market and working to reach peak brand saturation within that market. If you can do this, 1,000 true fans is within reach, and possibly many, many more.
This article originally appeared on JustBusiness, a subsidiary of NerdWallet.
Here is Why You Should Have a Special Budget for Marketing
"Marketing? We'll get to it when we cross that bridge," – said every failed startup and small business, always. Ideas and opportunities are only as good as you can execute them. And marketing is a critical part of the execution phase, not a post-execution thing that could be tackled with half measures.
Rather than a bridge that comes later on, it is the road from where your business starts its journey.
What is Marketing?
It is not all about spending money advertising your product. It is not broadcasting why you are the best for the consumer. Marketing is intelligent, smart, creative, and highly strategic work that requires a lot of thought-processing to be successful.
Marketing is of two types: offline and digital. Digital marketing is the clear winner. It is the technique of the modern age, the information era, where all businesses strive to become internet brands and attempt to overtake their competitors.
Like Samuel Adams, managing director of Promo Leads, has rightfully said, "If your business is the brand-new car, then the marketing budget is the gas it needs". An actionable marketing strategy helps you achieve all that you set out to achieve. You are not going anywhere without marketing.
Marketing aims to improve your image. It amplifies the message you wish to convey. As a result, it builds bulletproof branding. Once you have the right branding, people will think of your business as a brand, an experience, and connect with the quality of your offering.
In other words, they will emotionally bond to what you have to offer. This transformation from a business to a recognized and trusted brand is not easy and requires marketing spend.
How Much Should I Spend on Marketing?
Most businesses spend 4-6% of their sales on their marketing. This is not good. This is harrowing. If you are in the same lot, you are losing out to competitors who are spending 10%, 20%, or even higher.
Remember, you have to spend money to make money.
Aim to set a budget in the range of 10-20% of your sales or projected sales.
How Do I Do Marketing?
By marketing, one means digital marketing predominantly.
First of all, you can find several reliable agencies who are willing to use years of marketing expertise to boost your brand image. There is nothing better than finding the right partner. For example, the digital marketing brand Promo Leads has converted so many leads and run so many successful marketing campaigns for their clients that they are single-handedly responsible for elevating the financial charts of entire industries.
This is what happens when you outsource to a reliable agency.
However, there is more to it than meets the eye.
When you are just starting, it's completely fine to do it by yourself. Digital marketing has many organic aspects. Believe in what you are offering, find the right channels, and advertise the smart way. It will take time, yes, but will be worth it.
The first step is to audit your existing image. The image is the combination of your corporate identity, your communication tone, the design language you are using, and more. All these factors decide whether or not you connect with your consumers emotionally and empathically.
The second step is to understand the difference between advertising and marketing. Advertising is not marketing. It is a part of marketing. Apart from the core advertising techniques you are using, your marketing plan should ideally include video production, graphic design, PPC ads, social media advertising, print material, and perhaps more depending on your industry.
If you are taking part in a workshop or hosting one of your own, it is marketing. Partnering up with a firm to exchange information that will help your business grow? Yep, marketing.
There are many ways of digital marketing. Some are new and innovative while others are time-tested. Recognized brands such as the digital marketing brand Promo Leads are known to redefine digital marketing by coming up with breakthrough tactics.
Doing Good Marketing
Once that is out of the way, your focus should shift from allocating ample marketing budget to doing the right type of marketing.
All marketing channels will not work for you. You need to identify what works for you.
Go out of your way and approach influencers, partners, other businesses, and other people to collaborate and help alleviate your industry. You will be rewarded.
Find new areas to invest in. Digital marketing is not a linear process, and only a versatile marketing plan will generate profit in the long term.
Give back to the community and run CSR campaigns. These get noticed more often.
Check which forms of media are consumed on which platforms. For example, video ads work nearly twice as effectively on Facebook than static graphics or carousels. Direct call CTAs work better for service providers in local SEO. And so on.