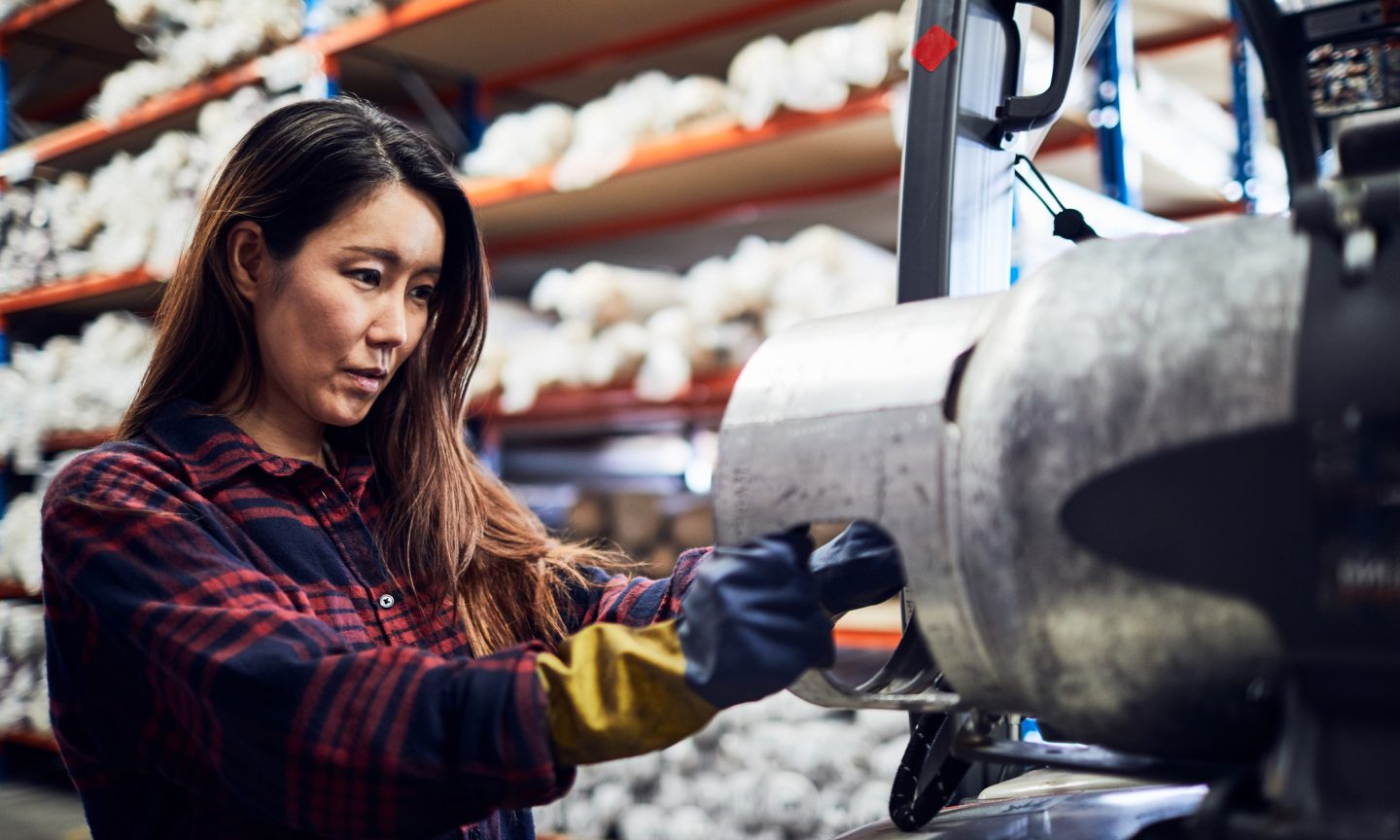 Depreciation is a calculation used to reduce the value of a fixed asset over a period of multiple years. Many small-business owners find this concept confusing because depreciation does not match cash flow. Instead, it is a calculation made and an entry recorded into the bookkeeping on a recurring basis.
Fixed assets lose their usefulness and value over time. This loss usually doesn't coincide with when the purchase is made, even if the purchase is made over time by making installment payments. Like accrual basis accounting, depreciation matches expenses to a given time period, but it isn't strictly an accrual basis concept. This calculation will appear on both cash basis and accrual basis financial statements.
The different depreciation formulas are:
Straight-line depreciation formula:
(Cost of asset – Scrap value of asset) / Useful life of asset = Depreciation expense
Units of production depreciation formula:
(Number of units produced / Life of asset in units) x (Cost of asset – Scrap value of asset) = Depreciation expense
Double declining balance depreciation formula:
100% / Life of asset = Depreciation rate
Sum of the years' digits depreciation formula:
(Remaining life of the asset / Sum of the years digits) x (Cost of asset – Scrap value of asset) = Depreciation expense
With these formulas in mind, let's take a closer look at each depreciation method and when you might want to use each.
Depreciation methods and examples
There are four common methods of depreciation used in accounting. These accounting methods differ from the depreciation schedules used for taxes. They are still important to know in order to determine how to make this calculation from a managerial perspective.
1. Straight-line depreciation
The most common method is called straight-line depreciation. It is also the simplest method. With straight-line depreciation, you subtract the estimated salvage or scrap value of the asset at the end of its useful life from the cost of the asset, then divide that value by the useful life of the asset. In other words:
(Cost of asset – Scrap value of asset) / Useful life of asset = Depreciation expense
Example: Let's say you purchase a piece of equipment for $260,000. You anticipate using the equipment for eight years, and you anticipate the scrap value will be $20,000. The calculation for depreciation of the vehicle under the straight-line method would be:
($260,000 – $20,000) / 8 = $30,000
In order to not skew your end-of-year financial statements, you want to make the depreciation entry each month:
$30,000 / 12 months = $2,500/month
Each month of the year, you would make the following journal entry:
Debit: Depreciation expense $2,500
Credit: Accumulated depreciation: Equipment $2,500
This will reduce your net income by $2,500 each month, and it will also offset the value of the asset on your balance sheet by $2,500 each month.
Note that you're not crediting the actual asset account on the balance sheet, but a separate account called "accumulated depreciation." The accumulated depreciation account will have a negative balance, which offsets the value of the asset without changing it on the balance sheet. You will often see these accounts as sub-accounts of the different types of fixed asset accounts on the balance sheet.
2. Units of production depreciation
The units of production depreciation method is similar to the straight-line method in that it is simple to calculate. Units of production depreciation is most often used for equipment that is expected to produce a certain number of items before it is no longer useful.
The formula for units of production depreciation is:
(Number of units produced / Life of asset in units) x (Cost of asset – Scrap value of asset) = Depreciation expense
Example: Let's say the equipment you purchased in the example for straight-line depreciation is a machine you will use to manufacture whatsits. The machine is expected to produce 120,000 whatsits before it is no longer useful. You pay $260,000 for the machine, and the scrap value is estimated to be $20,000.
Each year, you will determine how many units the machine produces. Let's assume in year one the machine produces 2,000 whatsits, in year two it produces 4,000 and in year three it produces 8,000:
Year 1: (2,000 / 120,000) x ($260,000 – $20,000) = $4,000
Year 2: (4,000 / 120,000) x ($260,000 – $20,000) = $8,000
Year 3: (8,000 / 120,000) x ($260,000 – $20,000) = $16,000
You will continue this calculation yearly until the machine reaches its production capacity of 120,000 whatsits.
As with the straight-line method, you will want to divide the depreciation expense by 12 and record it each month so you don't skew your financials in the last month of the fiscal year.
3. Double declining balance depreciation
Double declining balance depreciation is an accelerated depreciation method. Accelerated methods are used when you are dealing with assets that are more productive in their early years. The double declining balance method is often used for equipment when the units of production method is not used.
The calculations for accelerated methods are a bit more complex than those for straight-line or units of production methods, and so usually business owners using accelerated methods will set up a depreciation schedule — a table that shows the depreciation expense for each year of the asset's life — so they only have to do the calculations once.
Example: Let's say you don't know how many units your whatsit manufacturing machine can produce, but you know it's likely to last eight years. First, you'll need to calculate the rate of depreciation:
100% / Life of asset = Depreciation rate
You'll multiply the depreciation rate above by two because you are doubling the rate of depreciation:
Once you have your depreciation rate, will multiply that rate by the beginning value of the asset to get the depreciation expense for the first year:
Beginning value of asset x Depreciation rate = Depreciation expense
Finally, you need to calculate the value of the asset at the end of year one:
$260,000 (beginning value of asset) – $65,000 (depreciation expense) = $195,000
The depreciation calculation for year two follows the same formula, except now your beginning asset value is $195,000:
And the ending value for year two is calculated:
$195,000 – $48,750 = $146,250
You will continue with these calculations until you reach the scrap value of the asset.
4. Sum of the years' digits depreciation
Like double declining depreciation, sum of the years' digits depreciation is an accelerated method. The formula is:
(Remaining life of the asset / Sum of the years digits) x (Cost of asset – Scrap value of asset)* = Depreciation expense
*The second part of this equation is the depreciation base
Example: Let's stick with our whatsit machine for this example. First, let's calculate our depreciation base:
Cost of asset – Scrap value of asset = Depreciation base
$260,000 – $20,000 = $240,000
Next, you'll need to determine the "remaining life of the asset/sum of the years' digits" piece of the calculation. The remaining life is just as it sounds: It's the remaining life of the asset. For this example, in year one the remaining life will be eight years, in year two it will be seven years, and so on. The tricky bit of this equation is the "sum of the years' digits" piece.
Here's how the calculation would look in year one:
8 (remaining life) / (8+7+6+5+4+3+2+1) (sum of the years' digits) = 0.222
And now you multiply this factor by the depreciation base:
0.222 x $240,000 = $53,280
Our year one depreciation expense is $53,280. In year two, our calculation would look like this:
7 (remaining life) / (8+7+6+5+4+3+2+1) (sum of the years' digits) = 0.194
0.194 x $240,000 = $46,560
And our year three calculation would be:
6 / (8+7+6+5+4+3+2+1) = 0.167
0.167 x $240,000 = $40,080
You will continue with these calculations until there is no remaining life of the asset and you reach the asset's scrap value.
Depreciation for taxes
The four methods above are used for managerial and business valuation purposes. And although it's important to understand these methods, many small-business owners will only record depreciation as it is calculated by their accountants for the tax return. This ensures the balance sheet matches the tax return, which in turn makes it easier to validate the accuracy of the financial statements.
Tax depreciation is different from depreciation recorded for managerial purposes. Tax depreciation follows a system called MACRS, which stands for modified accelerated cost recovery system. MACRS is a form of accelerated depreciation, and the IRS publishes tables for each type of property. You can learn more about MACRS depreciation and review the tables on the IRS's website.
Using depreciation to manage cash requirements
One often-overlooked benefit of properly recognizing depreciation in your financial statements is that you can use this calculation to plan for and manage your business's cash requirements. This is especially helpful if you want your business to fund the acquisition of future assets rather than taking out a loan to acquire them.
Let's look back at our very first example. Because we've taken the time to determine the useful life of our equipment for depreciation purposes, we can make an educated assumption that the business will need to purchase a new piece of equipment within the next eight years. The earlier we can start planning for that purchase — perhaps by setting aside $2,500 per month in a business savings account — the easier it will be to fund the replacement of the equipment when the time comes.
A version of this article was first published on Fundera, a subsidiary of NerdWallet
Financial planners say their clients thank them most for 5 smart money tips
Financial planners say their clients get the most value from a handful of money tips.
Those tips include how to save for the near future, and how to choose the right life insurance.
Other advice: Time in the market is better than timing the market, and use your HSA to invest.
Vanguard Personal Advisor Services
When it comes to managing your personal finances, there's a lot of advice that gets floated around. You might find yourself asking friends for tips, reading articles for hours, or even scrolling social media to see what your favorite financial influencers have to say.
I spend a lot of quality time learning about finances and trying to figure out how to optimize and enhance my own portfolio. When I talk to financial planners and advisors, I find myself inundated with so much good information that it can be overwhelming. That's why I decided to try to find the best tips that financial planners give to their clients by asking them which tidbits of information make their clients thank them again and again. Here's what they had to say.
Don't just save for the faraway future
Many people work hard now and save for their future retirement. But Jake Northrup, a financial planner and advisor, says that it's not enough to just save for later on in life, and his clients appreciate his strategies that focus on the near future as well.
"You need to save in the right ways to provide you with the flexibility to use money throughout your life, rather than just waiting until age 59.5 when most pre-tax account penalties disappear," says Northrup.
He encourages his clients to save in different "buckets," each with a corresponding investment strategy: zero to five years, five to 15 years, and 15+ years.
"Many people handcuff their ability to enjoy money throughout life because they only save in their 401(k). By also saving into a Roth IRA and brokerage account, you give yourself the flexibility to utilize money much earlier in life," says Northrup.
Get a financial education
If there's one thing I've learned in my own personal finance journey, it's that you have to seek out personalized advice along the way. Financial planner Cody Garrett says that personalized education during the financial planning process always garners tremendous appreciation later on.
Says Garrett, "Unlike financial 'advice' that tells others what to do, education provides the clarity and confidence for families to make their own well-informed decisions. Given the uncertainty and financial variables out of our control on the path to and through retirement, having clarity about one's financial situation and a measurable action plan to refine the plan has greater value than the numbers on the page."
What kind of life insurance is needed
A big part of working with a financial planner or advisor is getting help figuring out what types of insurance you need. Charles H Thomas III, a financial planner, says that it means a lot to clients when he can help them plan for big situations that could happen later on.
"I work with lots of families who know they need life insurance to protect their children, but are unsure where to start or how much they need," says Thomas. "When I work with a family to see what future obligations need to be covered, like college, income replacement, and more, it removes a lot of stress and uncertainty from the decision."
Treat your HSA as a long-term investment account
Perhaps some of the best advice involves strategies that aren't so obvious.
Financial planner Kevin Mahoney finds that one of his most helpful pieces of advice is to treat your health savings account like a powerful long-term investment account.
"Many of the millennials with whom I meet have not considered how an HSA may fit into their overall investment strategy," says Mahoney. "For my peers who do have these accounts, they often spend the contributions in the same tax year or don't take advantage of the HSA's investment option. But the HSA's triple tax benefits mean that contributions invested today in low-cost, diversified funds can grow to significant amounts by the time retirement (and our larger healthcare expenditures) arrives."
Time in the market is better than timing the market
When it comes to getting advice on investing in the market, there are varying schools of thought. Financial planner Keith Onto says clients appreciate it when he reminds them that time in the market is more important than timing the market.
"I can't tell you how many times clients have reached out and asked whether now is the time to sell and move to cash in anticipation of the next correction," says Onto. "No one can consistently time the market, and more often than not the market has gone the opposite direction of what the client may expect. More importantly, the client needs to be reminded of the time horizon for their individual goals."
Related Content Module: More Financial Planner Coverage
7 trends in online payments to watch for in ecommerce
Get up to 30%* off! Get going with GoDaddy!
In our fast-paced business world, payment technologies are constantly evolving and changing. And it's important for all businesses, large and small, to be aware of the current trends in online payments in order to better stay ahead of the curve.
These days, most businesses that sell products and services online rely on online payment processing.  At its best, online payments are fast, convenient, and efficient, enabling customers to pay for things in a streamlined, accessible way — and encourage them to come back to your brand in the future.
But if your company offers a lackluster or inefficient payment system, it could be a massive detriment.
That's why it's so important to watch for the latest trends in online payments — and to keep up with them.
Let's explore the latest trends in online payments and how to ensure your business stays up to speed.
The latest trends in online payments
These are some of the most powerful trends in the world of online payments today:  
More payment options.
Temporary security code.
Contactless payment.
Biometric authentication.
Voice-based payments.
Convenient mobile POS.
Advanced security.
Let's dive into these trends and see how you can put them to work for your business.
1. More payment options
Your company probably accepts payments from a few different credit card and debit card providers already.
But do you accept Bitcoin? What about other types of cryptocurrency? Or mobile payment wallets?
Adding new forms of payment acceptance isn't especially difficult or expensive, and it could open the door to an entirely new segment of customers.
People who strongly prefer to pay for their goods with a niche payment method will be grateful they have the option with you, potentially increasing customer loyalty and helping to differentiate your brand from your competitors.
2. Temporary security code
If someone gets their hands on your credit card number, they can use it to make fraudulent purchases, right? Actually, this is increasingly not the case.
These days, major credit card providers are utilizing new forms of security, including temporary security codes that serve as a secondary form of authentication.
Your online payment processing system should accommodate these security features to keep your consumers safe.
3. Contactless payment
There are currently more than 300 million contactless cards in the United States alone, and that number is only growing.
Waving a credit card over a mobile phone is much more convenient than entering a long string of numbers — and it doesn't impose any additional security risk.
4. Biometric authentication
Similarly, we're seeing an increase in the number of businesses using forms of biometric authentication. Biometric authentication relies on the physical characteristics of a person to verify their identity; for example, facial ID or fingerprint readers can confirm that you are who you say you are, and decrease the chances of someone hijacking your identity.
While biometrics have some weaknesses and flaws, they help boost consumer trust and security overall.
5. Voice-based payments
Did you know that 35% of consumers now use smart speakers on a regular basis to buy things like groceries and home care products? That's why so many online brands are shifting their focus to cater to voice-based payments.
Streamlining the payment process for consumers with smart speakers has the potential to reward you in many different ways.
6. Convenient mobile POS
Online payments aren't just for consumers buying things online; they can also be used to streamline in-person purchases. With a better mobile point of sale (mPOS) solution, you can make payments faster, easier, and more secure for your customers, no matter where you choose to serve them.
Fortunately, you'll have a wide variety of provider options here; review your options carefully and find the best fit for your brand and your customers.
7. Advanced security
Credit card fraud is a serious issue, and it's only getting more pervasive. In the United States alone, consumers lose upwards of $10 billion in illegal transactions every year. Some of the security burden falls on your customers; it's their responsibility to ensure their credit card isn't stolen or misused.
However, it's also your responsibility to minimize the opportunities for cybercriminals to get away with fraud.
More companies are investing in machine learning and artificial intelligence (AI) based security, giving them the power to catch unusual activity and thwart it while also providing better safety measures to customers using their preferred payment methods responsibly.
How to stay on top of new trends
We've covered some of the most important trends in online payments to help you understand and incorporate them into your business. But payment trends change constantly.
New technologies emerge, customer preferences change, and agile competitors find new ways to streamline the online payment process. So how can you keep up?
1. Subscribe to top publications
First, look for major publications in the online payment processing space. Major brands in the banking and finance industry, including JP Morgan and Visa, often publish new articles and reports for consumers to remain informed.
Add these publications to your regular newsfeeds and check back regularly for new information. It's the best way to stay informed about upcoming technologies and significant trend shifts.
2. Follow influencers on social media
It's also a good idea to follow influencers in the online payment space. Though this industry isn't as fun as, say, travel, there's still a niche community of experts who are open with their opinions and proactive in finding new technologies to share with the world.
3. Pay attention to digital payment providers
You're already working with an online payment provider, so try to work closely with them in the future. Read their blog to stay on top of new and upcoming technologies.
Talk to your sales rep or customer service rep about your top concerns. Be willing to try new products or features that roll out, and don't become too complacent with your current system.
Editor's note: Check out everything GoDaddy Payments has to offer. You can take secure payments through your online store, or use Virtual Terminal and Pay Links — whatever works for you, all with no monthly fees.
4. Research your competition
Finally, pay attention to your top competitors. Go through their online checkout process and learn about new features they're adding to their website.
If they add something new or change something, it's a great opportunity to learn more and potentially close the gap.
Keeping up with the latest trends in online payments can be difficult, but it's much more manageable if you keep your company adaptable and commit to paying attention to the latest changes.
Be aware of new trends and technologies as they emerge — and be prepared to update your company's offerings if and when necessary.
The post 7 trends in online payments to watch for in ecommerce appeared first on GoDaddy Blog.
Section 321 Probably isn't Going Away Anytime Soon
With the change of administration in the U.S. in 2021, many American domestic businesses—and some from throughout the world—watched to see if the U.S. imposed trade tariffs would be lifted on China.
However, the tariffs remain in place which means that Section 321, a regulation that pertains to imports, is here to stay. On the bright side, this statute presents a money-saving opportunity for eCommerce business owners and a continued need for fulfillment companies in Canada and Mexico.
What is Section 321?
The statute, Section 321, categorizes certain goods that can be cleared through customs without extra taxes or duties. This allows business owners to avoid additional shipping expenses that would usually force them to increase prices and/or gain very little profit.
Likewise, by invoking Section 321 on imports while employing the services of a Mexican or Canadian fulfillment company, businesses can also save time by improving the efficiency of their logistics strategy.
What Has Prompted Frequent Use of Section 321?
China and the U.S. make up two of the largest economic powers in the world. In fact, as of 2019, trade between both countries equaled almost $559 billion in American dollars. This, in part, resulted from China's induction into the World Trade Organization in 2001. Flash forward a little over a decade and half later, tariffs were imposed on Chinese goods to hold the economic power accountable for a rash of intellectual theft, unfair trade practices, and to leverage the playing field between the two nations.
While during the election of 2020, President Biden had disagreed with President Trump's political or economic tactics in relation to dealing with China, he has not made any moves to lift the tariffs that were imposed by the previous administration. Rather, he has chosen to keep these measures in place that cover roughly $350 billion worth in goods imported from China. This decision stems from the first in-person meeting between President Biden and President Xi Jinping which did little to thaw the relationship between the two countries.
Thus, going with the bipartisan support of holding China accountable for its political missteps and for its unfair trade practices on the economic world stage, the tariffs remain in place for the time being.
Why is Section 321 Here to Stay?
So, what does this mean for companies that have traded with China? 66% of goods that are exported from China to the U.S. carry a tariff at an average rate of 19%. According to the Peterson Institute for International Economics, that's about 19% higher than before the trade war started.
Since American importers bear the cost of those duties, prices on items like televisions, baseball hats, luggage, bikes, and sneakers have gone up. This means that consumers might have noticed a difference on the price tag compared to years ago or a higher shipping cost once they reach "cart" on an eCommerce site.
Consequently, business owners have invoked Section 321 with the help of Canadian or Mexican fulfillment companies to cut the cost that's triggered by these tariffs.
How to Qualify for Section 321
While Section 321 enables businesses to avoid tariffs on some imported goods, you would have to make sure shipments do not exceed $800 in value. Additionally, you would have to remember that not all products fall under the eligibility of Section 321 coverage. These include:
Cosmetics
Dinnerware
Bio samples for lab analysis
Raw oysters
Plus, you would have your shipments to Canada or Mexico, where fulfillment companies will divide your goods into parcels that value $800 or less. They are then shipped to the U.S. but not all at the same time so as not to exceed the $800 limit.
How to Apply Section 321 to Your Business Strategy?
Depending on where you're located, you would partner with a fulfillment company in Canada or Mexico to come up with a plan of how to divide the shipment and schedule delivery. Furthermore, the fulfillment company would check the proper paperwork to ensure all necessary and correct information is given. With the shipments arriving in either of these two countries, you wouldn't have to be concerned about the tariffs because the destination from China would be Canada or Mexico. Neither of these countries have to pay a tariff (or as high of a tariff). Plus, technically, your supplies are "arriving from" Canada or Mexico who have a trade agreement in place with the U.S. that doesn't involve tariffs. So, this practice presents a mutually beneficial situation for your organization and the fulfillment company.
Because Section 321 doesn't appear to be going away anytime soon, you can ensure a timely delivery of your goods by securing the services of a Canadian or Mexican fulfillment company, depending on your location. These companies take care of the logistics and paperwork for you which saves time and money. They double check on the scheduling of the arrival of your imports to guarantee that they will meet the Section 321 criteria. All in all, this means that you won't have to worry about paying the high tariffs, and your customers can count on reasonable prices and receiving their products on time.