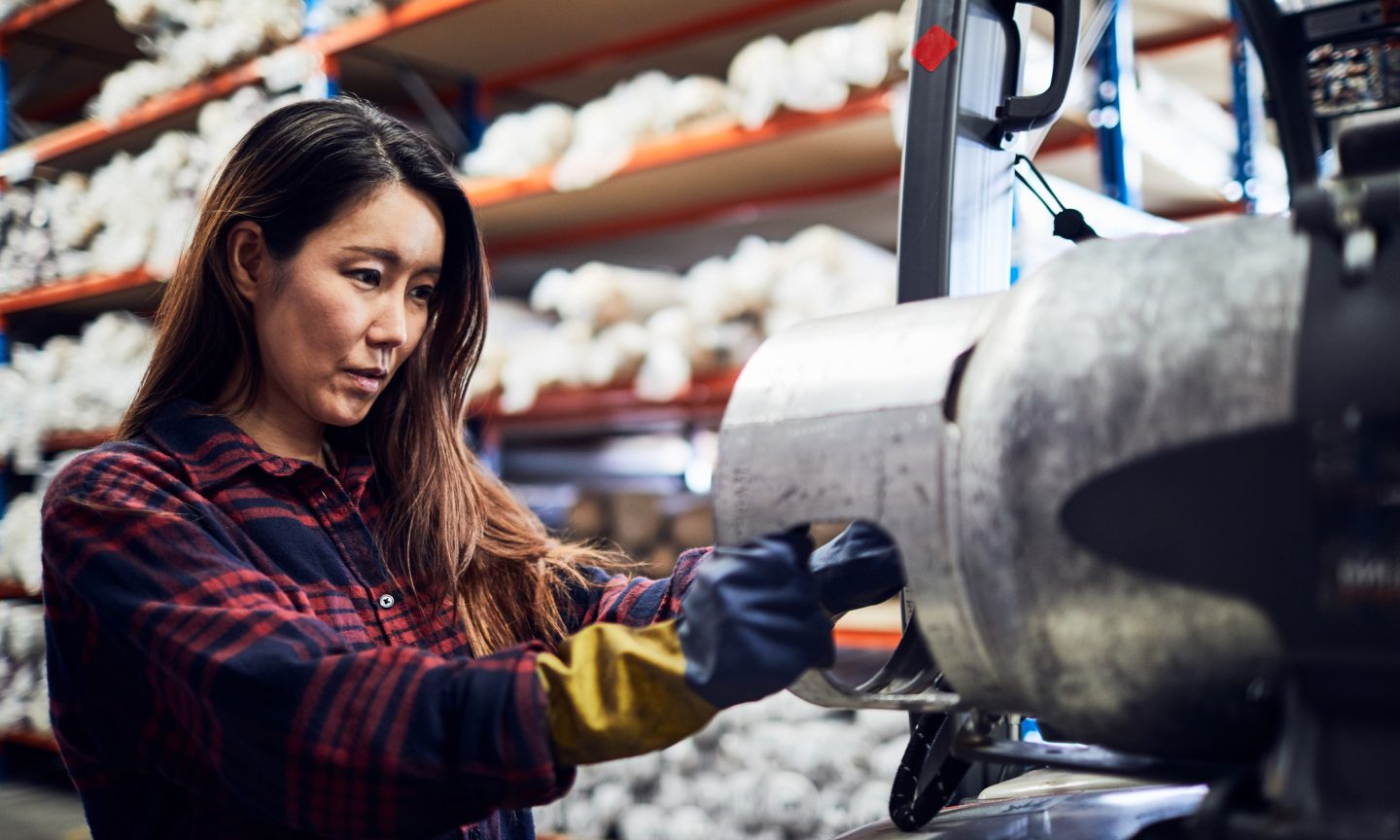 Depreciation is a calculation used to reduce the value of a fixed asset over a period of multiple years. Many small-business owners find this concept confusing because depreciation does not match cash flow. Instead, it is a calculation made and an entry recorded into the bookkeeping on a recurring basis.
Fixed assets lose their usefulness and value over time. This loss usually doesn't coincide with when the purchase is made, even if the purchase is made over time by making installment payments. Like accrual basis accounting, depreciation matches expenses to a given time period, but it isn't strictly an accrual basis concept. This calculation will appear on both cash basis and accrual basis financial statements.
The different depreciation formulas are:
Straight-line depreciation formula:
(Cost of asset – Scrap value of asset) / Useful life of asset = Depreciation expense
Units of production depreciation formula:
(Number of units produced / Life of asset in units) x (Cost of asset – Scrap value of asset) = Depreciation expense
Double declining balance depreciation formula:
100% / Life of asset = Depreciation rate
Sum of the years' digits depreciation formula:
(Remaining life of the asset / Sum of the years digits) x (Cost of asset – Scrap value of asset) = Depreciation expense
With these formulas in mind, let's take a closer look at each depreciation method and when you might want to use each.
Depreciation methods and examples
There are four common methods of depreciation used in accounting. These accounting methods differ from the depreciation schedules used for taxes. They are still important to know in order to determine how to make this calculation from a managerial perspective.
1. Straight-line depreciation
The most common method is called straight-line depreciation. It is also the simplest method. With straight-line depreciation, you subtract the estimated salvage or scrap value of the asset at the end of its useful life from the cost of the asset, then divide that value by the useful life of the asset. In other words:
(Cost of asset – Scrap value of asset) / Useful life of asset = Depreciation expense
Example: Let's say you purchase a piece of equipment for $260,000. You anticipate using the equipment for eight years, and you anticipate the scrap value will be $20,000. The calculation for depreciation of the vehicle under the straight-line method would be:
($260,000 – $20,000) / 8 = $30,000
In order to not skew your end-of-year financial statements, you want to make the depreciation entry each month:
$30,000 / 12 months = $2,500/month
Each month of the year, you would make the following journal entry:
Debit: Depreciation expense $2,500
Credit: Accumulated depreciation: Equipment $2,500
This will reduce your net income by $2,500 each month, and it will also offset the value of the asset on your balance sheet by $2,500 each month.
Note that you're not crediting the actual asset account on the balance sheet, but a separate account called "accumulated depreciation." The accumulated depreciation account will have a negative balance, which offsets the value of the asset without changing it on the balance sheet. You will often see these accounts as sub-accounts of the different types of fixed asset accounts on the balance sheet.
2. Units of production depreciation
The units of production depreciation method is similar to the straight-line method in that it is simple to calculate. Units of production depreciation is most often used for equipment that is expected to produce a certain number of items before it is no longer useful.
The formula for units of production depreciation is:
(Number of units produced / Life of asset in units) x (Cost of asset – Scrap value of asset) = Depreciation expense
Example: Let's say the equipment you purchased in the example for straight-line depreciation is a machine you will use to manufacture whatsits. The machine is expected to produce 120,000 whatsits before it is no longer useful. You pay $260,000 for the machine, and the scrap value is estimated to be $20,000.
Each year, you will determine how many units the machine produces. Let's assume in year one the machine produces 2,000 whatsits, in year two it produces 4,000 and in year three it produces 8,000:
Year 1: (2,000 / 120,000) x ($260,000 – $20,000) = $4,000
Year 2: (4,000 / 120,000) x ($260,000 – $20,000) = $8,000
Year 3: (8,000 / 120,000) x ($260,000 – $20,000) = $16,000
You will continue this calculation yearly until the machine reaches its production capacity of 120,000 whatsits.
As with the straight-line method, you will want to divide the depreciation expense by 12 and record it each month so you don't skew your financials in the last month of the fiscal year.
3. Double declining balance depreciation
Double declining balance depreciation is an accelerated depreciation method. Accelerated methods are used when you are dealing with assets that are more productive in their early years. The double declining balance method is often used for equipment when the units of production method is not used.
The calculations for accelerated methods are a bit more complex than those for straight-line or units of production methods, and so usually business owners using accelerated methods will set up a depreciation schedule — a table that shows the depreciation expense for each year of the asset's life — so they only have to do the calculations once.
Example: Let's say you don't know how many units your whatsit manufacturing machine can produce, but you know it's likely to last eight years. First, you'll need to calculate the rate of depreciation:
100% / Life of asset = Depreciation rate
You'll multiply the depreciation rate above by two because you are doubling the rate of depreciation:
Once you have your depreciation rate, will multiply that rate by the beginning value of the asset to get the depreciation expense for the first year:
Beginning value of asset x Depreciation rate = Depreciation expense
Finally, you need to calculate the value of the asset at the end of year one:
$260,000 (beginning value of asset) – $65,000 (depreciation expense) = $195,000
The depreciation calculation for year two follows the same formula, except now your beginning asset value is $195,000:
And the ending value for year two is calculated:
$195,000 – $48,750 = $146,250
You will continue with these calculations until you reach the scrap value of the asset.
4. Sum of the years' digits depreciation
Like double declining depreciation, sum of the years' digits depreciation is an accelerated method. The formula is:
(Remaining life of the asset / Sum of the years digits) x (Cost of asset – Scrap value of asset)* = Depreciation expense
*The second part of this equation is the depreciation base
Example: Let's stick with our whatsit machine for this example. First, let's calculate our depreciation base:
Cost of asset – Scrap value of asset = Depreciation base
$260,000 – $20,000 = $240,000
Next, you'll need to determine the "remaining life of the asset/sum of the years' digits" piece of the calculation. The remaining life is just as it sounds: It's the remaining life of the asset. For this example, in year one the remaining life will be eight years, in year two it will be seven years, and so on. The tricky bit of this equation is the "sum of the years' digits" piece.
Here's how the calculation would look in year one:
8 (remaining life) / (8+7+6+5+4+3+2+1) (sum of the years' digits) = 0.222
And now you multiply this factor by the depreciation base:
0.222 x $240,000 = $53,280
Our year one depreciation expense is $53,280. In year two, our calculation would look like this:
7 (remaining life) / (8+7+6+5+4+3+2+1) (sum of the years' digits) = 0.194
0.194 x $240,000 = $46,560
And our year three calculation would be:
6 / (8+7+6+5+4+3+2+1) = 0.167
0.167 x $240,000 = $40,080
You will continue with these calculations until there is no remaining life of the asset and you reach the asset's scrap value.
Depreciation for taxes
The four methods above are used for managerial and business valuation purposes. And although it's important to understand these methods, many small-business owners will only record depreciation as it is calculated by their accountants for the tax return. This ensures the balance sheet matches the tax return, which in turn makes it easier to validate the accuracy of the financial statements.
Tax depreciation is different from depreciation recorded for managerial purposes. Tax depreciation follows a system called MACRS, which stands for modified accelerated cost recovery system. MACRS is a form of accelerated depreciation, and the IRS publishes tables for each type of property. You can learn more about MACRS depreciation and review the tables on the IRS's website.
Using depreciation to manage cash requirements
One often-overlooked benefit of properly recognizing depreciation in your financial statements is that you can use this calculation to plan for and manage your business's cash requirements. This is especially helpful if you want your business to fund the acquisition of future assets rather than taking out a loan to acquire them.
Let's look back at our very first example. Because we've taken the time to determine the useful life of our equipment for depreciation purposes, we can make an educated assumption that the business will need to purchase a new piece of equipment within the next eight years. The earlier we can start planning for that purchase — perhaps by setting aside $2,500 per month in a business savings account — the easier it will be to fund the replacement of the equipment when the time comes.
A version of this article was first published on Fundera, a subsidiary of NerdWallet
Tax Article: Tax Guide for Self-Employed
Self-employed workers have a lot on their plate. Taxes, paperwork, and other administrative tasks can be complicated to navigate. If you're looking for a tax guide for self-employed workers, this blog post is your one-stop shop. We'll cover everything from what the IRS considers self-employment income to tips for filing taxes as an independent contractor. It's time to simplify your life with our guide.
Are You a Self-Employed Individual?
Many businesses hire workers on a contract basis to perform specific types of labor. Instead of getting a W-2 with taxes withheld, these individuals receive a 1099-MISC or 1099-NEC for their work for the company. In some cases, independent contractors are hired to perform specific tasks such as grocery shopping and delivery, transportation of passengers, and picking up food orders on behalf of other individuals or businesses. Additionally, those who conduct freelance labor are typically required to work under the terms of a written agreement. Consequently, you may be eligible to deduct expenses such as home office expenses, gas expenses, and mileage charges from your tax return.
If you work for yourself and are not an employee, you will pay taxes in a slightly different manner from that of an employee. In your capacity as a self-employed individual, you are responsible for paying federal income taxes and Social Security and Medicare taxes on your own time, either through quarterly anticipated tax payments or when you file your annual tax return. If your estimated tax payments are excessive, you will be entitled to a refund; if they are too small, you will be liable to pay tax on the difference.
Taxes on income must be paid at the time of earning it. If you do not pay enough tax during the year, you may be assessed fines. If your total self-employment income is at least $400, you must file a tax return with the IRS. Comparatively speaking, if you are an employee, you will have these payments routinely deducted from your income and partially paid for you by your employer.
You are essentially self if you carry on a trade or business or own and operate your own business, whether full-time or part-time, for-profit or profit-sharing. A self-employed individual can work as a sole proprietorship, an independent contractor, or a freelancer in their field of expertise. It does not matter whether you are paid in cash and do not receive a 1099-MISC or 1099-NEC; you are still deemed self-employed.
1. Sole Proprietor
As a sole proprietor, your business income and costs should be reported on your tax return Schedule C. Taxes on your self-employment earnings, such as Social Security and Medicare, will be your responsibility.
2. Partnerships and Corporations
If you have a business partner, you would most likely register as a partnership or corporation, depending on your circumstances. A partnership must submit an information return, but it is not required to pay federal income tax in most cases. Information returns are tax forms (the most common of which is Form W-2) that businesses and taxpayers must file with the Internal Revenue Service to record certain business transactions to the agency. Typically, Form K-1 is used to submit to the federal government an individual's share of the partnership and S-corporation revenue that they received.
Unlike a sole proprietorship or a partnership, a C-corporation is considered an independent tax-paying business for federal tax reasons. That implies the company may be able to take advantage of particular tax benefits. It also means that the profit it makes is taxed at the corporate level, then taxed again on the recipient's tax return if handed to shareholders as a dividend.
S-corporations are similar to partnerships in that their profits are usually reported on your tax return. However, they are identical to C-corporations in that the owner is generally paid a salary, and payroll taxes are withheld at the corporate level. At the end of the year, you may receive a Form W-2 detailing some or all of your earnings.
One of the benefits of being an S-corporation is that the taxpayer can set their remuneration, as long as the criteria are followed. However, because wages are subject to payroll taxes, there might be significant financial consequences if a person underpays himself when the business is profitable.
How to File Self Employment Taxes
Individuals who work for themselves are subject to the self-employment tax, which comprises Social Security and Medicare levies. It's comparable to how most wage earners' Social Security and Medicare taxes are deducted from their salary.
Schedule SE is used to calculate self-employment tax (SE tax) (Form 1040 or 1040-SR). Most wage earners' Social Security and Medicare taxes are calculated by their employers. Also, when calculating your adjusted gross income, you can deduct the employer-equivalent share of your SE tax. Wage workers cannot remove taxes on Social Security and Medicare.
The tax rate on self-employment is 15.3 percent. The rate is divided into 12.4% for social security (old-age, survivors, and disability insurance) and 2.9 percent for Medicare (hospital insurance).
For 2020, any combination of the Social Security part of self-employment tax, Social Security tax, or railroad retirement (tier 1) tax will apply to the first $137,700 of your total salary, tips, and net earnings. For 2021, the sum has been increased to $142,800. (For prior-year SE tax rates, see the Schedule SE for that year.)
All of your current year's combined salaries, tips, and net profits are liable to the 2.9 percent Medicare portion of the Self-Employment tax, Social Security tax, or railroad retirement (tier 1) tax.
Do not pay the 12.4 percent social security component of the SE tax on any of your net profits if your salaries and tips are subject to either social security tax or the Tier 1 part of railroad retirement tax, or both, and total at least $137,700. However, the 2.9 percent Medicare portion of the SE tax must be paid on all of your net earnings.
How to Pay Self-Employment Tax
You must have a Social Security number (SSN) or an individual taxpayer identification number (ITIN) to pay self-employment tax (ITIN).
If you don't have a Social Security number, fill out Form SS-5, Application for a Social Security Card. This form is available at any Social Security office or over the phone at (800) 772-1213. The form can be downloaded from the website for the Social Security Number and Card.
If you are a non-resident or resident alien who does not have or is not qualified for an SSN, the IRS will give you an ITIN. Fill out Form W-7, Application for IRS Individual Taxpayer Identification Number PDF, to apply for an ITIN.
As a self-employed person, you may be required to file Estimated quarterly Taxes. You can pay your self-employment tax with these predicted tax payments. For more information on paying your self-employment tax with Estimated taxes, see the Estimated Taxes page and Publication 505, Tax Withholding and Estimated Tax.
What Are the Benefits of Online Banking?
Many people these days turn to the internet for all sorts of purposes from doing their regular shopping to socializing, streaming movies, and much more. Another thing that a lot of people use internet technology for these days is to access financial services such as banking. Having to spend ages queueing up at banks and ATMs has become a thing of the past for many, as people now enjoy the many great benefits of online banking.
In years gone by, looking after your spending, saving, and checking accounts could be a challenge. You had to go through reams of paperwork, spend a lot of time at the bank to make transactions, spend hours glued to the phone, and more. These days, all you have to do is to logon, and you can choose from a wide range of online accounts such as a Chime spending account. In this article, we will look at some of the many benefits of online banking.
Some of the Main Benefits
There are many benefits that come with online banking, and this is why more and more people have turned to this solution over recent years. Some of the major benefits that you can look forward to when you opt for online banking are:
Avoiding Queues and Inconvenience
One of the major benefits for many people these days is that they can avoid the lengthy queues and inconvenience of having to go to the bank. If you have to visit the branch for various transactions, you could find yourself wasting a lot of time simply hanging around or having to travel to and from the bank to get your finances sorted out. When you have online banking, all you need to do is log into your account and you can sort out any transactions with ease and speed.
Saving Time and Hassle
Another of the benefits of doing your banking online is that you can save yourself a huge amount of time and hassle. This is something that many people are looking for, as they already have enough on their plates with work and family commitments. Rather than wasting time on lengthy phone calls where you are passed from pillar to post, you can just go online at your convenience to conduct transactions. In addition, you save yourself the time involved in going to a branch in order to deal with your banking.
Staying in Control of Finances
When you have access to online banking facilities, you will find it much easier to stay in control of your finances. You can see what is going on with your account at a glance, and this means that you can stay on top of your spending, transactions, income, and more. You can do this from the safety and privacy of your own home at a time that suits you.
These are some of the many benefits that you can look forward to when you turn to online banking.
3 Times You Need Money Advice From a Human
You can now manage most aspects of your money without ever consulting another human being. You can budget, borrow, save, invest, buy insurance, prepare your tax return and create a will — among many other tasks — by using apps, websites and software.
But technology still has limitations, especially when you're facing a money situation that's complex or involves judgment calls. Consider consulting a human expert in the following situations:
1. You're dropped by your homeowners insurance
Insurers typically can't cancel a policy after 60 days unless you fail to pay premiums, commit fraud or make serious misrepresentations on your application, according to the Insurance Information Institute, a trade group. However, insurers can decide not to renew your policy when it expires.
With auto insurance, you often have many options after such a "non-renewal." Even if you've had accidents or multiple claims, you typically can find coverage with companies that specialize in higher-risk drivers.
If a homeowners insurance company dumps you, however, you may have trouble finding coverage, says insurance consumer advocate Amy Bach. That's especially true if you were dropped because you made too many claims, or your area is considered high risk because of wildfires, extreme weather or crime, for example.
How would other companies know? Insurers share such information in databases, and application forms typically ask if you've been "non-renewed" by another insurer, Bach says.
Bach's nonprofit organization, United Policyholders, recommends seeking out an independent agent or broker who has relationships with several insurance companies. The agent or broker should know which insurers may be more receptive to your application and can put in a good word for you, Bach says. While most underwriting decisions are made by computers, there are still ways for human beings to override the algorithms.
"It will make a difference if [the agent or broker] can call an underwriter that they know and vouch for you as a good bet," Bach says.
If your area has been labeled high risk, ask your neighbors for referrals to agents or brokers who helped them find coverage. Otherwise, you can ask an accountant, attorney or financial planner if they have recommendations. Friends and family may be able to provide leads as well.
2. You're facing a "face-to-face" tax audit
Most IRS audits are conducted through the mail and are relatively routine. The IRS sends a letter requesting additional documentation to support a deduction or other tax break you've taken. If you mail back sufficient evidence, your case will be closed with no taxes owed. Otherwise, the IRS will mail you a bill.
However, if the IRS wants to meet with you, the stakes get much higher. In fiscal year 2020, the average amount of additional taxes recommended in face-to-face audits was nearly 10 times larger than the average for a correspondence audit: $72,210 versus $7,658, according to IRS statistics.
Even tax pros hire someone to represent them in face-to-face audits, says Leonard Wright, a San Diego certified public accountant and financial planner. Wright has plenty of experience: He was chief financial officer of a company that was audited, and his personal tax returns have been audited four times. In each case, he hired another CPA to represent him.
It's all too easy to say something you shouldn't when you're under scrutiny, Wright says. You could volunteer information that might not be helpful to your case, or get defensive or confrontational.
"You don't want it to become personal, and you don't want to ruffle the feathers of the auditor," Wright says.
If you used a tax preparer, you may assume that person can represent you in an audit, but that's not always the case. Typically CPAs, attorneys and enrolled agents can represent clients in IRS audits, but other tax pros usually can't. Your tax preparer may be able to refer you to someone who can represent you, or you can get referrals from friends, family or financial advisors.
3. You're creating an estate plan
Will-making software and estate-planning sites can help you create essential legal documents if money is tight. Otherwise, you should probably consult an attorney, says Betsy Hannibal, senior legal editor for self-help legal site Nolo.
"Why not get personalized advice that's tailored to your situation, if you can?" Hannibal says.
Getting help is particularly important if you need or want to do something complicated with your estate like putting conditions on a bequest, providing for someone with special needs or creating a trust, she says. You'll also want an attorney's help if you have a lot of debt, because there may be ways to protect your assets from creditors. Finally, consult an attorney if you think someone might contest your will. A lawyer can put additional protections into place and serve as a professional witness that you knew what you were doing, Bach says.
"If someone doesn't think you were in your right mind, going through an attorney can help make sure that (a legal challenge) can't go forward," she says.
This article is meant to provide background information and should not be considered legal guidance.
This article was written by NerdWallet and was originally published by the Associated Press.