Why you should offer multiple payment options to your customers
Get up to 30%* off! Get going with GoDaddy!
In the dawning of an ultra-connected age, consumers demand experiences that are swifter, simpler, and more seamless than ever—especially when it comes to online shopping. This is why it's important to offer multiple payment options.
To win on today's commerce or ecommerce battlefield, you must analyze every part of your customer journey to ensure the user experience (UX) you offer your customers is flawless, including the checkout.
Offering shoppers multiple payment options is likely to boost your conversion rates while encouraging customer loyalty.
Here we're going to explore the benefits of offering multiple payment options as well as the different methods available to budding commerce or e-commerce business owners.
Let's go.
Why you must offer multiple payment options to your customers
There are many business-boosting benefits to offering your customers multiple payment options. These are the big ones:
Convenience and expectation
The average global shopping cart abandonment rate for retail is 72.8%. Plus, 73% of shoppers will leave a poorly designed website for one that makes purchasing a product or service easier. One of the factors driving this large number is sluggish checkout processes that cause shoppers to hesitate and ultimately go elsewhere.
Today's consumers expect brands to meet their needs head-on. By offering multiple payment options, you will position yourself as a forward-thinking business with your customers' interests at heart. In turn, this will raise your brand profile while increasing your sales. Offering more payment options will also take the hesitation out of making a purchase.
Related: 7 resolutions for ecommerce businesses in 2021
Audience growth
By offering a wealth of seamless payment options, you can attract a wider audience. Different generations and demographics of shoppers prefer using different payment methods. Cater to them all and you will accelerate the growth of your audience.
Gen Zers and millennials, for instance, tend to prefer alternative payment methods like in-app purchasing mobile wallets and mobile payments while shoppers from Gen X like to use debit or credit cards.
If you set up a range of payment options across your main channels and touchpoints, you will encourage a wider audience of shoppers to purchase from you, and they will be more likely to return.
Brand trust
In the modern world of retail, consumers value trust. If your brand is seen as transparent and trustworthy, you will reach more customers and keep most of them.
Trust is a sustainable growth tool for any modern commerce or e-commerce business owner, and offering multiple payment options is an effective way to build it.
Providing a cohesive mix of safe, secure ways to pay will make your shoppers feel valued as well as protected, and your revenue will increase in tandem.
How to approach offering multiple payment options
To ensure the payment options your offer will provide you the best return on investment (ROI) while keeping your customers happy, making the right decisions is essential.
While offering every payment option imaginable might be tempting, it could actually make your checkout process messy while hindering the performance of your website.
There are a few considerations in your approach to offering multiple payment options that shouldn't be overlooked, including:
Know your customers
As we mentioned earlier, different age groups or demographics prefer different payment options.
By taking the time to get to know your customers based on your products or services, brand mission, buyer personas, and data based on previous purchases or customer engagements, you can make an informed decision on which payment options are best suited to your audience.
For example, if you identify that your target audience is primarily millennials within the 25- to 40-year-old age bracket, offering a full range of credit and debit card options as well as PayPal and mobile-based payment options is likely to earn the best results.
You should offer payment options that cater to a wider audience, but it's always best to invest the most time and resources into the four or five options that are most likely to resonate with your primary customers while attracting other potential shoppers as well.
Related: Top 20 questions to build a buyer persona that will skyrocket sales
Know your options
Once you've taken the time to get to know your audience, you should connect the dots by gaining a better understanding of your payment options.
To help you on your quest, here are some of the most tried, tested, and popular payment options for retailers:
Google Pay
Apple Wallet
PayPal
Credit and debit card (traditional and contactless)
Mobile-based incentive schemes (store credit and discount codes)
Payoneer
Klarna
Clearpay (seamless, modern installment-based payment method)
Bitcoin
Once you're up to speed on the latest payment available payment options and how they work, you can make an informed choice regarding which payment options you're going to add to your website or online store based on your audiences' needs or preferences.
When you're up and running with your payment options, you should closely monitor your sales sources and examine which payment options are performing the best. Any payment methods that are barely used and taking up valuable space on your checkout journey can be replaced with more effective options.
Editor's note: GoDaddy Payments lets you provide secure payments for your customers with low transactions fees. There are no long-term contracts, no subscription fees, no monthly minimums, or any hidden fees. All major credit and debit cards are accepted including Visa, Mastercard, American Express and Discover for a low transaction fee of 2.9% + 30 cents per transaction.
Work with the right tools
To make adding payments to your store or website as easy and frictionless as possible, you should invest in the right tools.
By using a CMS or a website builder tool that allows you to add payment options and widgets without technical skills, you can give your customers exactly what they want in minimal time (and with maximum success)—allowing you to focus on other important areas of your business as your sales grow.
GoDaddy's intuitive website builder tool offers the support, features, and functionality for creating a fully optimized online shopping space that accepts multiple options quickly and with confidence.
The post Why you should offer multiple payment options to your customers appeared first on GoDaddy Blog.
Sell anywhere — Tips for selling digitally
Get up to 30%* off! Get going with GoDaddy!
Within the world of retail, businesses are typically divided into two categories: brick-and-mortar or ecommerce. However, with the rapid changes occurring within the retail sector due to evolving consumer habits, the lines between these types of businesses are beginning to blur. Small businesses in particular are realizing the increasing importance of being able to sell anywhere, as well as the ability to accept fully online payments.
If you're a small business owner and you're not sure where to start, don't stress. We're here to help.
Sell anywhere: How to sell products digitally
At this point in the retail world, having a website is a foregone conclusion. The burgeoning expectation now, though, is that businesses are expected to offer products online as well.
Whether it be a traditional ecommerce transaction (pay online, shipped to the customer) or pay online and pick up in person, consumers are increasingly expecting flexibility in their transactions.
It's important that your business is able to meet these expectations.
If the thought of overhauling your business model is making you feel anxious, we'll show you how to easily and seamlessly sell your products anywhere your customers (and you) are.
Get your website up to speed.
Clearly display your products or services.
Offer multiple shipping or pickup options.
Make your payment options diverse and obvious.
Be where your customers are.
Ready? Let's jump into it.
1. Get your website up to speed
Selling products through your website requires an attractive and fast-loading site. It's difficult to overcome the impression that potential customers initially have when visiting your site. Website visitors only need half a second to form an opinion of the website they are visiting.
If you already have a website, you'll want to ensure that your website design is modern, mobile-friendly, and easy to use. For a deep-dive on this process, you can read an in-depth website redesign case study here.
Editor's note: If you don't have a website, or you'd prefer an easier way to create a beautiful and responsive website, GoDaddy's Websites + Marketing has you covered.
In addition to the design of your website, it's also important that your site loads quickly.
If users are leaving your site before your site even loads, that's bad news.
Overly large images and graphics are the primary culprits for slow loading speeds. To ensure that your site loads quickly, make sure that you're keeping images as small as possible. There are numerous free image compression tools online that can help you slim down your image sizes for optimal loading speeds.
Related: How to get a perfect Google PageSpeed score
2. Clearly display your products or services
Visitors are viewing your website to get a better idea about you and your business, so make it easy for them to see your products and services.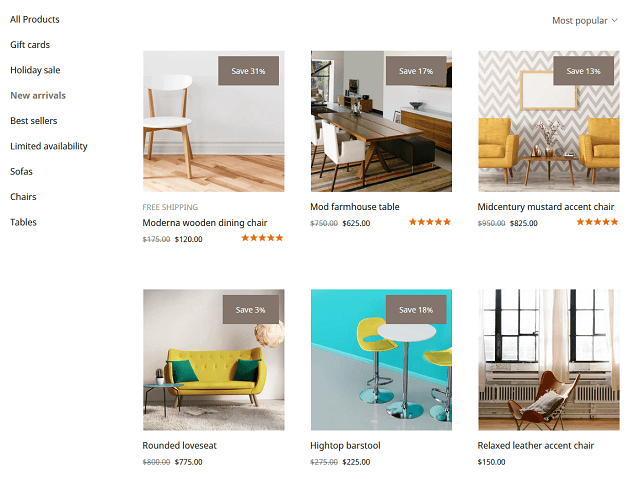 Additionally, you'll want to be sure to include winning product descriptions that will encourage your viewers to complete their purchases.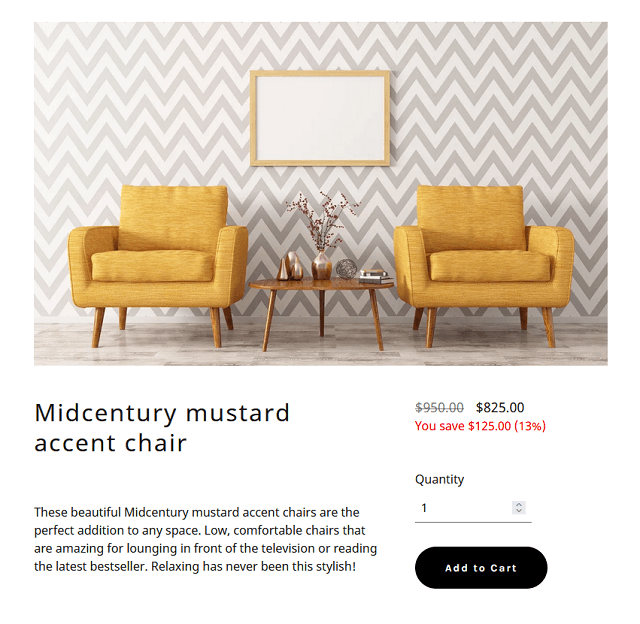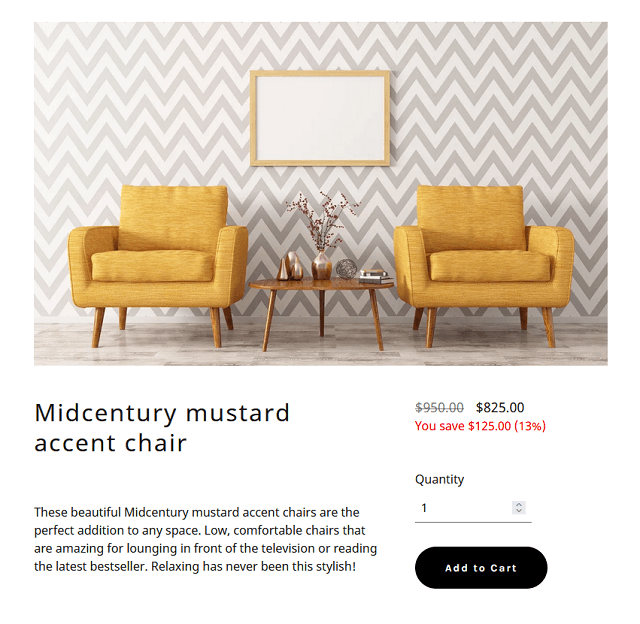 Related: How to write product descriptions to increase sales
3. Offer multiple shipping or pickup options
Depending on the type of business that you have, it's helpful to offer a range of shipping and/or pickup options for your customers. If you primarily do business at a physical location, having pickup or curbside delivery options will likely be your best-performing options.
If you're offering a service instead, then you may be able to consider in-person or virtual options (depending on the types of services that you offer).
If you're not sure where to start on shipping options, this guide can get you moving in the right direction.
4. Make your payment options diverse and obvious
Not offering a wide range of payment options can be a big turn-off for many visitors. As younger generations begin to enter the market, the preferences for types of payments are steadily shifting. Mobile pay, for example, is increasingly being expected as an option by Gen Z.
If you are selling products or services on a website, then the payment options you can offer will range from the traditional ecommerce offerings of debit/credit cards and PayPal to the newer buy-now-pay-later services offered through AfterPay or Klarna.
However, selling services in person — away from a website — will change your options when collecting payment on the go. You have the option of mobile peer-to-peer payment options through a mobile app, requesting payment through a generated URL, or collecting payment via debit/credit card through the use of a mobile payment terminal. There is, of course, the option of cash, but cash is rapidly plummeting as a payment of choice for many buyers.
Wherever and however you choose to sell your products, be sure that you clearly display the payment options that you accept. Uncertainty can turn buyers away, so try to avoid discouraging buyers from completing their purchases.
Editor's note: Looking for a fully integrated payment processing solution for wherever sales might happen? From in-person mobile transactions to online purchases, GoDaddy Payments can help you out.
5. Be where your customers are
When it comes to selling products, it's important to be aware of your market. If your products or services are hyperlocal, then it may suit your business better to offer those products locally, such as at a farmer's market or local convention. In those circumstances, it's imperative that you have a simple, secure way to accept payments. A point-of-sale (POS) device or mobile payment option would be perfect in that scenario.
If your products or services aren't limited to a single region, then an ecommerce website would serve your business better. Ecommerce nowadays includes social media, so you'll want to consider integrating social media marketplaces into your ecommerce strategy.
Know where your customers are and be there to meet their needs. Every business is unique, so it's important to fully consider your sales priorities and requirements.
Summing it up
Hopefully we've given you some ideas to help you get your business rolling.
Websites are an expectation of businesses nowadays, and while ecommerce is certainly great, it's important to consider the rapidly evolving business landscape when it comes to how businesses are selling.
The economy continues to shift quickly, so having multiple routes for doing business — whether in-person, over the phone, or online — will help your business remain successful.
How to optimize mobile checkout for small business success
Get up to 30%* off! Get going with GoDaddy!
In this hyper-connected mobile age, the average person spends almost four hours a day using their smartphones. So, is the average person spending time on your ecommerce site? More importantly to you, are they buying? In this post, we'll explain why it's essential to optimize your mobile checkout for your customers.
In addition to reading news content and checking their social media feeds, today's mobile users like to shop on the go — with studies showing that 79% of consumers made a purchase with their smartphone within the last six months.
As an entrepreneur or business owner, to stand out in your niche, optimizing your website for tablets or smartphones alone isn't enough — to ensure sustainable growth, you have to make your mobile checkout journey as smooth as possible.
Optimize your mobile checkout design
When you're optimizing your mobile checkout journey, design matters. Many people make the mistake of valuing looks over logistics — doing so will make your checkout journey confusing, prompting your mobile customers to abandon their purchase and go elsewhere.
On mobile especially, people like a user experience (UX) that is swift, simple and intuitive.
Any snags and it's unlikely that people will complete their purchases.
To make sure your checkout design is swift and responsive, you should:
Related: 4 COVID-19 mobile app trends every small business owner needs to know
Test your mobile checkout process efficiently
Testing your mobile checkout journey extensively (asking around 10 different people at a time to make a test purchase as if they were a customer) and noting any common difficulties or inefficiencies will empower you to fix any pressing issues head-on with a web developer.
Without regular mobile testing, you could miss small gaps or performance issues in your checkout journey.
Smooth and responsive design is essential, but without regular mobile testing, you're likely to miss small gaps or performance issues lurking within your checkout journey. If you don't ensure every last detail of your mobile checkout is fully optimized for success, your competitors will — so don't forget to test, test, test.
The goods news is: There are two distinct and stress-free ways you can test and optimize your mobile checkout journey for business-boosting glory:
Heap mapping tools will show you where your potential customers swipe and scroll, using heat-based visuals to show you where people interact most and least on every page. By running a heat map on your mobile checkout journey for specific periods, you will be able to see where people get stuck, get confused or lose interest. You can also see where your designs, action buttons, and design features work best.
Bonus tips to optimize your mobile checkout process
By making your design features as efficient as possible and testing your mobile processes regularly, you will create a smooth, seamless experience that will boost sales and improve customer loyalty. If people are onto a good thing, they will come back for more — if they find your checkout process tedious, they will go elsewhere. It's that simple.
To complement the tips and advice we've already shared, here are some additional mobile checkout optimization tips to try out once you've made those all-important initial improvements:
"Mobile is not the future, it is the now. Meet your customers in the environment of their choice, not where it is convenient for you."— Cyndie Shaffstall, mobile expert & founder of Spider Trainers
We hope that these mobile checkout optimization tips guide you to success and if you're looking to improve your business, check out Websites + Marketing Ecommerce and GoDaddy Payments.
The post How to optimize mobile checkout for small business success appeared first on GoDaddy Blog.
What's Your Sales Automation Strategy?
Faced with profitability challenges, a global consumer electronics firm decided to restructure its business with a focus on optimizing costs, sales productivity, and customer satisfaction. To achieve these goals, the company automated customer and product master data, disputes and claims resolution, stock replenishment, and discount management. The firm also deployed automated web-crawler tools to improve competitive intelligence-gathering. With buy-in from leadership, the company was able to reduce the cost of select processes by 15% in only three years.
The challenges faced by the consumer electronics firm are common among today's sales organizations. A recent McKinsey study shows that more than 30% of sales activities can be automated to improve efficiency and effectiveness. However, lack of awareness of automation's potential, inadequate tracking, return on investment (ROI) concerns, and delayed delivery challenges are hindrances to adoption. Many organizations that have overcome these challenges have still struggled to meet automation project targets, with only 50% reporting project success.
At the other end of the spectrum, companies are pioneering sales automation with inspiring results. Using five prominent technologies — machine learning (ML), robotic process automation (RPA), natural language processing/generation (NLG), smart workflows, and cognitive agents — companies are reducing costs, improving customer service and scaling operations.
In this article, we'll examine sales automation's overarching benefits, how it can be applied to standard sales processes, and how to successfully adopt new processes to improve your team's ability to sell. We will also detail five key principles to consider while building and executing on your sales automation strategy.
The Benefits of Sales Automation
A European telecommunications firm turned to an IBM Watson-based chatbot to improve its customer service operation. The firm leveraged user-behavior analyses and usage-pattern predictions to improve processes based off data from customer interactions with the chatbot. The telco used its findings to improve its outreach and enhance its Customer Value Management (CVM) function. The program has contributed approximately 10% of total activations, with 6% margin improvement. Approximately 26% of calls are now fully managed by the chatbot with no human intervention. The initiative has reduced costs while improving efficiency and customer satisfaction.
In addition to improved service, sales automation can improve accuracy and consistency by eliminating human errors and streamlining processes. It can boost scalability by allowing flexibility to grow key activities while sustaining execution quality. Customer coverage availability increases via the use of RPA and virtual agents and traceability expands, which improves audits and root-cause analyses.
Here are a few examples of how automation functions within each stage of the sales process:
Pre-Sales Improvements:
Automated web crawlers collect market and competitor data to analyze and predict, for example, an industry's total addressable market (TAM) and a customer's present and future potential. AI allows organizations to better project market trends by region, which can be used to automatically update sales frontline quotas. Organizations can use advanced analytics to automate and systemize sales-call plans. RPA and ML tools can automatically detect bottlenecks and their root causes in the sales process and help sales-funnel management. ML tools can automatically generate call-lists and guide salespeople to call the right customers with the appropriate topic at the right time.
Sales Improvements:
NLP-based tools can decrease request-for-proposal (RFP) response time. RPA and ML tools automatically analyze and export pricing schemes. Automated workflows can optimally accelerate discount/rebate setting and management. ML tools can generate insights on actions and behavior associated with high closing rates. Billing workflows in turn are automated via RPA-based account receivables and payable management (e.g., invoice generation and processing).
Post-Sales and Sales Operations Support:
RPA- and NLP-based tools allow the automation of customer feedback and behavior analysis, enabling call centers to improve customer satisfaction and first-call resolution (FCR) while freeing up full-time equivalent (FTE) capacity. RPA and ML tools can identify customers with a high probability of churn and auto-generate promotional offers to retain them.
Planning Your Sales Automation Strategy
To successfully deploy enterprise sales automation, companies need to plan the process in advance. Depending on the organizational maturity level, process mapping, and IT landscape, as well as the company's capabilities, we've mapped three routes that can yield an optimal result for each use case:
Organizations can fix and automate processes by first lifting the procedure to best-in-class before starting to automate.
They can automate first and fix later by finding quick solutions with existing capabilities to overcome key pain points followed by process optimization.
Or they can fix and outsource, which involves improving the process and then shifting to external service providers.
The consumer electronics firm and the telecommunications firm applied the fix and automate approach. It is comprised of the following three steps:
Step 1: Redesign and simplify the customer journey.
Eliminate unnecessary processes and outputs by removing unneeded approvals, data inputs, and reports. Then simplify forms and policies through the mapping of current and ideal-state processes and triage them based on complexity.
Step 2: Standardize policies and processing logics for triaged processes.
Organizations should capture existing best practices and ideal-state processes to codify in standard operating procedures. They should reduce the number of reports by consolidating customers' requirements and standardizing the format.
Step 3: Shift individual activities to customers or service providers.
Organizations should transfer some activities to customers by providing self-service digital portals. They should also identify service providers who can take over simplified and standardized processes.
Executing on Your Strategy
As organizations pursue sales automation, most start the journey with a highly fragmented IT landscape characterized by complex legacy applications and high maintenance costs. Typical IT development/implementation thus involves a trade-off between fast-business impact and consistent architecture. There are three potential approaches:
Start-up approach focuses on fast business impact and leads to excessive cost for maintenance; is typically not extendable.
All-in-one approach targets overall integration and leads to excessive development cost.
Stable island approach is a more recommended approach as well as a pragmatic midway, which balances impact and consistent architecture yielding viable end products. "Stable islands" is a stand-in term for viable end products.
Successful automation leaders typically leverage a "stable island approach" enabled by process redesign, agile practices, capability building, value-capture plans, and responsive IT support. The importance of the process design cannot be overstated, as automation is most effective when combined with an agile process redesign. Most organizations skip this step and fail to realize the full benefit of sales automation.
Five Principles for Sustained Sales Automation Success
We have identified five principles for a successful sales automation journey by dissecting the journeys of organizations that have failed and succeeded at this process.
1. Thorough Process Re-Design.
Carefully examine the sales process to insert value-adding activities and eliminate non-value-adding ones. Automating inefficient processes only transfers the inefficiency from humans to algorithms, often magnifying the inefficiency. The global consumer electronics firm invested up-front to understand the "as-is" sales process and worked with experts to create the "to-be" process.
2. Emphasis on Capabilities in Contrast to Deadlines.
Sales automation can offer consistent productivity improvements, but also can become unsustainable if implementation outpaces capability. Invest in tailoring your automation's capabilities, building to the needs of each key role. The global consumer electronics firm tracked skill development at a person-by-person level rather than being overly fixated on development timelines while building its automation center.
3. Clear Value-Capture Plans.
Some organizations pursue "small value" quick wins and miss bigger automation opportunities, while others take a cost-myopic view and ignore value from improved quality, speed, and flexibility. It is critical to prioritize the right use-cases while using action plans with clear milestones and timelines to guide implementation. Both the European telecommunications player and the global consumer electronics firm ensured that their automation business cases were rooted in hard data and communicated guidelines around testing, acceptance, and release with specific action plans.
4. Responsive IT Support.
IT plays a critical role in educating and training frontline workers, supporting automation planning, and ensuring security clearances. The global consumer electronics firm formed a development team within its sales function to create automation solutions fully in-house. The operations teams across Europe worked with the automation team to create success. This reduced external vendor involvement and enhanced custom solution flexibility.
5. Agile Practices.
A dual operating model of agility combined with automation mitigates implementation challenges. Such an operating model could iteratively deliver end-products via multi-deployed teams with shared KPIs while embracing experimentation and development via coaching and feedback.
Each sales automation journey requires its own unique planning and optimization. Use the techniques and principles we've provided as a guide to help explore your team's journey, while making sure to carefully adapt and modify as needed. No matter how you choose to employ sales automation within your organization, it would benefit you to begin researching and planning today.
The authors wish to thank Kay Chen, Bruno Lee and Mandy Woo for their contributions to this article.